---
On Thanksgiving, the NFL Faces a Collision of Crises
Posted: 23 Nov 2017 03:00 AM PST
The National Football League's tradition of playing on Thanksgiving Day is also its oldest. Back in 1920, the year the league was founded, 12 proto-football teams squared off in six Turkey Day matchups. Since then the NFL has hosted Thanksgiving games in every year but four—all during World War II—with the Dallas Cowboys and Detroit Lions emerging as annual hosts and other teams rotating through to play in front of a tryptophan-tripping, football-mad nation.
And as the NFL has ballooned into the most popular professional sports league in North America, its Thanksgiving custom has grown as well, adding pyrotechnics and halftime shows to impress massive TV audiences. Aside from the Super Bowl, no celebration better represents the NFL's largesse, cultural might, spectacle, and promise of escapism than Thanksgiving—the league's entire self-image, shrunken down to one day.
This Thanksgiving, however, the NFL faces a cornucopia of crises, from backlash over player protests to allegations of collusion to rising concerns over head injuries to sliding TV viewership. Fans fret over the league's quality of play and sponsors bemoan sagging ratings. Players decry racism in and out of football, while owners fear how such expression will affect their bottom lines. At times this fall, the games themselves have wound up smothered by one cacophonous controversy after another. This has been the NFL's most tumultuous season in recent memory and the first time in at least a generation the league's problems have seemed to overwhelm its product.
The top storyline in the NFL this season has not been Tom Brady's continued excellence or Carson Wentz's timely emergence or the surprising Rams and Jaguars. It has instead been the dozens of players across the league who have knelt, sat, or raised their fists during the national anthem in protest of police brutality and racial injustice. The demonstrations have prompted anger and admonishment from Donald Trump and backlash from fans who view such acts as disrespectful to America's flag and military.
And although player activism has slowed in recent weeks, its specter continues to hover. Take the Detroit Lions, who will kick off Thursday's Thanksgiving slate by hosting the Minnesota Vikings. In September, eight Detroit players knelt in protest days after Trump said NFL owners should fire "son of a bitch" athletes who disrespect the flag. The kneeling Lions drew not just boos from their own fans but also angry letters, prompting the team's owner Martha Ford to request they stand during future anthems. The players all eventually complied, though the running back Ameer Abdullah resumed protesting weeks later by raising a fist before his team's game at Green Bay earlier this month.
This Thursday, hours after Abdullah and his Lions teammates do or do not protest, the New York Giants defensive end Olivier Vernon will, in all likelihood, kneel before taking on Washington on the road. Vernon has knelt each week since September, despite the Giants owner John Mara's plea that all players stand. "What it would take for me to stand is if people can understand what the whole message is behind it," Vernon told Newsday last week. "But everybody doesn't see things that way and tries to distort what the message was from the beginning, which is basically social injustice on African Americans and police brutality."
The former San Francisco 49ers quarterback Colin Kaepernick will not be anywhere near Thursday's action, as he remains unsigned after initiating the wave of protests last fall, but his name will echo through living rooms every time, say, the Vikings quarterback Case Keenum throws an incomplete pass. Why, Kaepernick's defenders will wonder, do retreads like Keenum continue to receive opportunities while a former NFC-champion quarterback sits at home? That Keenum is enjoying a surprisingly productive season will seem beside the point. To many observers, poor quarterback play around the league serves as a weekly reminder of the alleged blackballing of Kaepernick.
Meanwhile, no one will loom over the NFL's Thanksgiving more than the Cowboys owner Jerry Jones, who has spent this fall sowing chaos on numerous fronts. Some owners have either accommodated or compromised with protesting players, but Jones issued an ultimatum: Stand during the anthem or be benched. ESPN revealed he has also pushed hard for the NFL at large to adopt a similar mandate, sparking a power struggle among league owners. When the Papa John's CEO John Schnatter recently blamed players' protests for his company's declining revenues, some owners reportedly wondered whether Jones (who owns more than 100 of the chain's franchises) had masterminded the comments.
As the protest issue simmers, Jones has feuded with the NFL commissioner Roger Goodell over Ezekiel Elliott's suspension, which the running back began serving last week after months of injunction requests and appeals. ESPN reported that a furious Jones told Goodell he would "come after [him] with everything I have," then later threatened to sue the league to hold up the commissioner's contract negotiations.
On Thursday afternoon, Jones's Cowboys will play the Los Angeles Chargers, who face a crisis of the existential variety. The franchise relocated this past summer from San Diego, a year after the Rams arrived in L.A. from St. Louis. From the day they showed up, the Chargers have received only tepid support from Angelenos, struggling to sell out even the puny 27,000-seat, soccer-specific stadium they are using until their new (much larger) home is completed in three years.
But, to the NFL, all of these issues pale next to one chief concern: TV ratings. The league has long sold itself as a bulletproof property in this area, and the prevailing wisdom always held that even if changing tastes, proliferation of options, and rampant cord-cutting chipped away at ratings for other kinds of programming, Americans would never give up their football. But for the second consecutive year, viewership is down, suggesting the league is no longer immune to the industry's broader trends. Whether the decline owes to backlash over player protests, quality of play, or over-saturation, the league seems vulnerable in a way it hasn't in decades.
In the NFL's ideal world, every fan would sit through Thursday's games while focused on nothing but football. The day's slate would offer an escape from the messy outside world. But this year, viewers will be faced with Jones's feud with Goodell and the players' ongoing protests, with Kaepernick's absence and the league's lagging ratings, with the rash of injuries to star players that will, for example, keep the Giants receiver Odell Beckham Jr. away from the field, and with the repetitive brain trauma these athletes will have invariably suffered (and continue to suffer) as part of their jobs.
As usual, Thanksgiving will showcase much of what the NFL is all about. This year, for once, that reality will work against them.
What Ending NAFTA Would Mean for America's Turkeys
Posted: 23 Nov 2017 02:00 AM PST
Don't let all the smiles at this year's presidential Thanksgiving-turkey-pardoning ceremony fool you; these are turbulent times for turkeys and their lobbyists in Washington, D.C.
The U.S. turkey industry is "still working to recover" from a massive outbreak of bird flu in 2015, which disrupted turkey production at home and had "a radical effect on the export market," as National Turkey Federation President Joel Brandenberger told me by email. This is particularly true in Mexico, by far the largest customer for American turkey-meat exports. (Since exports have dropped while domestic production has stayed steady, there's something of a glut in the U.S. market at the moment, which means the turkey you bought this year was probably a bit cheaper than in previous years.)
The damage, moreover, could have been much worse had there been no North American Free Trade Agreement—which encouraged Mexico and Canada, another top destination for U.S. turkey exports, to refrain from banning all U.S. poultry products in response to the outbreak. Instead, America's NAFTA partners trusted U.S. regulators to ensure that only non-contaminated fowl from unaffected parts of the country were approved for export. (China, which doesn't have a free-trade deal with the United States, issued a full ban and has yet to lift it, even though the outbreak is over.)
Now the durability of NAFTA is in serious doubt. Negotiations to update the accord, which launched after U.S. President Donald Trump threatened to withdraw from it, broke up this week in disagreement over the Trump administration's efforts to shift the terms of the deal dramatically in America's favor. Among the many sticking points, according to Agri-Pulse: demands "that Canada completely open its market to U.S. exports of chicken, turkey and eggs, something Canadian industry officials say they are vehemently opposed to."
The National Turkey Federation, which represents the interests of turkey farmers and processors, supports certain proposals to modernize NAFTA, such as greater access to the Canadian market for U.S. turkey products. But as Trump and his trade representative have signaled that the administration might terminate NAFTA altogether, the National Turkey Federation and other industry groups have enthusiastically endorsed the deal as a blessing for American agriculture.
As Kevin Brosch, an adviser to the poultry industry, told the House Committee on Agriculture earlier this year, the United States and Brazil are the two leading poultry-exporting nations, and trade pacts like NAFTA "have been the mechanisms that have helped to sustain U.S. world leadership in poultry exports." When NAFTA first came into force in 1994, he noted, "the United States had only limited [poultry] exports to Mexico." Now it exports roughly $1 billion in poultry products a year to its southern neighbor. (The turkey is native to North America. Only in recent decades have people elsewhere in the world acquired a taste for the bird, helping counteract stagnant demand for turkey products in the United States.)
"Our success in the Mexican market is a key component of the profitability of our industry, and means many thousands of U.S. jobs," Brosch said. "The majority of turkey exports go into Mexico for further processing, creating jobs on both sides of the border." U.S. states such as Minnesota and North Carolina, the two biggest turkey producers in the country, would suffer most if the NAFTA renegotiation collapses and the agreement is scrapped.
Such an outcome probably wouldn't ruffle Trump's feathers. He has, after all, described NAFTA as the "worst trade deal ever made." But while turkeys themselves might agree with the president, the producers who put turkey on your Thanksgiving table certainly do not. "I'm pleased to report that, unlike millions of other turkeys at this time of the year, Drumstick has a very, very bright future ahead of him," Trump said this week, in granting a pardon to a turkey from the Minnesota farm of the chairman of the National Turkey Federation. The chairman and his family stood nearby, beaming for the cameras. Nobody mentioned the future of NAFTA.
The Big Blue Losers in the GOP Tax Plans
Posted: 23 Nov 2017 02:00 AM PST
It's difficult to say whether the tax legislation Republicans are driving through Congress qualifies as a revenue bill—or an enemies list.
It isn't unusual for tax legislation to reward a political party's supporters, and the GOP bill emphatically upholds that tradition by funneling its tax savings primarily toward business and top earners. But the House and Senate plans are unusual in how explicitly they fund those benefits by punishing groups that have generally favored Democrats.
Those groups aren't the only losers: Because they are delivering such expensive tax savings to their favored constituencies, the GOP plans are forced to raise taxes on a surprisingly broad range of families just to keep their 10-year net loss of federal revenue to $1.5 trillion, itself a breathtaking amount. Future spending cuts that the bills make almost inevitable could also gore Republican voters, particularly older, blue-collar whites counting on Medicare and Medicaid.
But even within this broad reconfiguration, the bills still mark a milestone in the nation's political partitioning by so openly favoring Republican constituencies over Democratic-leaning ones. The big blue losers in the GOP tax plans include:
Taxpayers in Democratic-leaning states: To fund other tax cuts, the House and Senate plans rely heavily on retrenching the deduction taxpayers can now take for state and local taxes, known as SALT.
Of the 20 states where the highest percentage of taxpayers take that deduction, Hillary Clinton won 16 last year. Donald Trump, meanwhile, won 26 of the 30 states where the smallest percentage of taxpayers use the SALT deduction. In that way, the bill forces blue-state families to fund tax cuts for their red-state counterparts.
Homeowners in big-city markets: The impact of the SALT changes is magnified by the House bill's provision halving the maximum mortgage-interest deduction to $500,000. In most markets, this affects few taxpayers since few home prices exceed that threshold. But data from ATTOM Data Solutions, which tracks property information, show that provision could hurt one-fifth or more of homebuyers in the most expensive markets around major cities, particularly along the coasts—places like Seattle, Southern California, Silicon Valley and the San Francisco Bay area, Northern Virginia, and the New York City metropolitan area. All those places, like most large metropolitan centers, gave Clinton commanding margins.
Between the mortgage and SALT limits, the bills hit many upper-middle-class taxpayers, especially in blue states. The Institute on Taxation and Economic Policy calculates that by 2027 the Senate bill would raise taxes on about 45 percent of households between the 80th and 95th income percentiles in California, Virginia, New Jersey, and New York; and over one-third of such families in Oregon, Minnesota, and Illinois. Many of those families are precisely the white-collar suburbanites who have long resisted Trump.
In all, ITEP has calculated that by 2027 taxpayers in New York, New Jersey, Maryland, and California—which Clinton won— would pay nearly $17 billion more in federal income taxes. At the same time, those in Texas and Florida—which backed Trump—would pay over $31 billion less. "You can definitely see the ideological tilt here," Carl Davis, IRET's research director, told me.
Students: Nearly 60 percent of adults with a post-graduate degree, as well as 49 percent of those with a four-year college degree, voted against Trump. Both are losers in the House tax bill. The plan would tax as income the tuition waivers that many graduate students receive, and it would end the deductibility of interest on student debt. The Joint Committee on Taxation has estimated these changes, along with other retrenchments in the bill, would shift $71 billion in costs to students and their families over the next decade. The Senate legislation has not yet embraced either of those provisions. But, in another swipe at a higher-education system that many Republicans view as hostile, both bills would tax endowments at the wealthiest private schools.
Alternative-energy producers: The House bill leaves undisturbed the key tax breaks that benefit the staunchly Republican oil-and-gas industry, particularly the depletion allowance and a credit for intangible drilling costs. But it rolls back several credits that help alternative-energy sources more friendly to Democrats. The bill revokes a tax credit for purchasing electric vehicles, and it completely eliminates an investment tax credit for the solar industry that was scheduled to phase down but then stabilize at a lower level.
The House swipes hardest at a key wind-energy tax credit. The bill revamps that production credit—not only prospectively, but also retroactively—in ways that could threaten the financing for projects that would add up to 30 gigawatts of wind power to the grid. That's an amount equal to one-third of existing wind capacity, noted John Hensley, deputy director of industry data for the American Wind Energy Association. Those projects are concentrated in the "Wind Belt" states from Texas through the Dakotas that are mostly represented by GOP senators—which helps explain why the upper chamber hasn't yet embraced the House's changes.
Younger generations: The highly diverse and Democratic-leaning Millennial and post-Millennial generations could face a quadruple whammy under this bill. Just starting in their careers, or still in school, few would receive big tax savings. But in the legislation's aftermath, they could face cuts in domestic programs, such as education and scientific research, that invest in their productivity; and future restrictions on Medicare and Social Security, timed to bite after the GOP-leaning baby boom has already retired by the mid-2020s. Younger generations will also be handed the tab to pay the increased interest costs that will be due after the tax legislation increases the federal debt by that projected $1.5 trillion.
That grim ledger contrasts with the benefits both bills shower on business owners and the highest earners, groups that surely tilt disproportionately toward older whites. With this tax legislation, Trump and the Republican Congress are not only picking partisan favorites—they are engaging in a form of generational confiscation.
<em>The Atlantic</em> Daily: A Place at the Table
Posted: 22 Nov 2017 02:59 PM PST
What We're Following
Trump's Troubles: President Trump escalated his Twitter feud with LaVar Ball, the father of one of the UCLA basketball players released after being arrested in China for shoplifting, calling Ball an "ungrateful fool" for failing to thank him enough—and continuing a pattern of attacks on outspoken black people. Meanwhile, Trump's presidency has energized Democratic women, and it has exacerbated an existing gender gap among Republicans. Can the GOP win women back?
The #MeToo Movement: As more and more powerful men are accused of sexual misconduct, some observers have expressed worry that the tide of allegations has turned into unjust hysteria —but as Caitlin Flanagan argues, such critiques play into the same forms of sexism that perpetuate harassment. A closer look at some of the victims' stories that have been questioned reveals a worrying double standard: Throughout American history, women of color have been less likely to be believed.
Kids' Health: The Children's Health Insurance Program is running out of money as Congress has failed to reauthorize it for almost two months, leaving doctors and families uncertain whether the 9 million low-income kids it covers will continue to have access to health care. And the first video in our School Myths series addresses the misinformation that's often taught in health classes. Watch it here.
---
Snapshot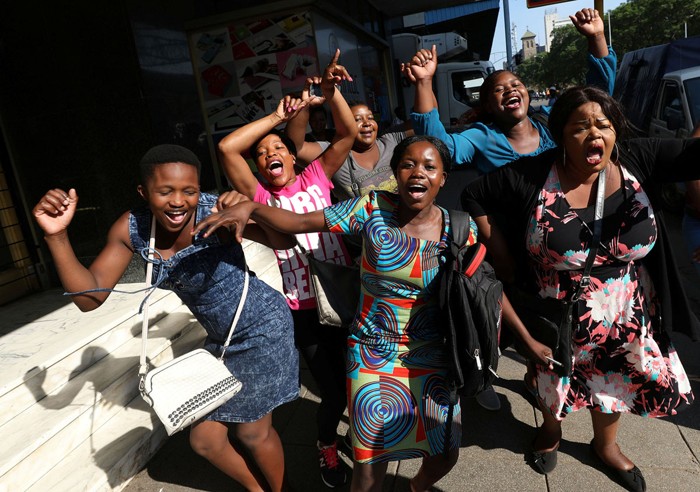 ---
Who We're Talking to
Masha Gessen, the author and activist, discusses what Russian President Vladimir Putin wants on the latest episode of The Atlantic Interview. Listen and subscribe here.
Cullen Murphy, an author and former managing editor of The Atlantic, describes his experiences growing up in a community of cartoonists—and, later, writing the comic strip Prince Valiant with his father.
Nicole Johnson, a Butterball Turkey Talk-Line expert, explains the appeal of over-the-phone advice for anxious cooks.
---
Evening Read
Sarah Maples on what it's like to be a woman veteran of the military:
The military doesn't just urge women, it requires them—especially if they want to succeed—to view themselves on the same playing field as their male counterparts. They are also expected to behave and perform in traditionally masculine ways—demonstrating strength, displaying confidence in their abilities, expecting to be judged on their merits and performance, and taking on levels of authority and responsibility that few women get to experience …

When many women leave the service, they expect that being a woman in the civilian community will be easier, but that isn't always the case. They have to prove their abilities all over again, earn their place at the table again. As veterans, they're not afraid to prove themselves. They proved themselves in boot camp. They proved themselves at tech training. They proved themselves every time they arrived at a new duty station. They have plenty of practice proving themselves. They can prove themselves one more time. The difference, this time, is that the individuals on the other end are not prepared for them to do so.
Keep reading here, as Maples describes the particular challenges women veterans face when they return to civilian life.
---
What Do You Know … About Science, Technology, and Health?
Four days after the Keystone Pipeline System spilled more than 200,000 gallons of oil in South Dakota, the Nebraska Public Service Commission agreed to approve the construction of the system's newest phase, Keystone XL—as long as TransCanada adds a 63-mile detour to the pipeline route. The Federal Communications Commission yesterday announced its plans to roll back Obama-era rules on net neutrality, meaning that internet providers will be much less regulated, but Ian Bogost argues that the internet's problems run deeper than what net neutrality can address. And Uber paid off hackers to cover up a data breach, while Fox News told its Twitter followers that they should decide for themselves whether the moon landing was a hoax.
Can you remember the other key facts from this week's science, tech, and health coverage? Test your knowledge below:
1. Wine from Trump Winery was spotted being sold at a hotel in ____________ National Park.
Scroll down for the answer, or find it here.
2. The average turkey weighed ____________ pounds in 1960.
Scroll down for the answer, or find it here.
3. Last year, the Butterball Turkey Talk-Line received a total of ____________ calls.
Scroll down for the answer, or find it here.
Answers: shenandoah / 15 / 92,635
---
Look Back
In honor of The Atlantic's 160th anniversary, we're sharing one article every day to mark each year of the magazine's history. From 1871, John Fiske investigates the roots of popular superstitions:
Jean Grenier was a boy of thirteen, partially idiotic, and of strongly marked canine physiognomy; his jaws were large and projected forward, and his canine teeth were unnaturally long, so as to protrude beyond the lower lip. He believed himself to be a werewolf …

Being brought before the parliament of Bordeaux, he stated that two years ago he had met the Devil one night in the woods and had signed a compact with him and received from him a wolf-skin. Since then he had roamed about as a wolf after dark, resuming his human shape by daylight. He had killed and eaten several children whom he had found alone in the fields, and on one occasion he had entered a house while the family were out and taken the baby from its cradle. A careful investigation proved the truth of these statements, so far as the cannibalism was concerned. There is no doubt that the missing children were eaten by Jean Grenier, and there is no doubt that in his own mind the half-witted boy was firmly convinced that he was a wolf.
Read more here, and find more stories from the archives here.
---
Reader Response
After David A. Graham made the case for embracing political conversations at Thanksgiving, readers are debating whether politics should have a place at the table. Ronnie's advice:
I'm tired of seeing people take some of the happiest days of the year, and some of the best opportunities for engaging with others, and use them as an excuse to b**** and moan. It's likely that if you can't handle conversations in which people don't automatically agree with you, you yourself are at fault to some degree. You are probably not trying hard enough to engage civilly, to listen, or to understand others.

And if someone is truly being belligerent or disrespectful, then end the conversation with a contrived excuse, steer it away from hot topics, or show some decorum and politely say that you see no point in continuing … Find something to be grateful for, engage others around you, and don't get bent out of shape if not everyone caters to your every opinion and preference.
Read David's essay here. We'll be celebrating the holiday too, so The Atlantic Daily will be on hiatus until Monday, November 27. Until then, you can find plenty to read (and debate) in our December issue. And be sure to check out the turkey-themed quiz in our Instagram story through Thursday afternoon.
Dear Readers: We're thankful for you. See you in a few days!
---
Verbs
Conferences digitized, drama deepened, crisis weathered, questions answered.
---
Time of Your Life
Happy birthday from Jon to Lee (twice the age of MTV); to Diane's husband, Jim (born around the time Franklin Roosevelt was elected to a fourth term as president); to Jane (a year younger than Captain America); to Margaret (twice the age of the euro); to Kak's sister Jan (a year younger than The Lord of the Rings); to Joyce (twice the age of Macintosh computers); to Emilio's wife, Anne (twice the age of the 24-hour news cycle); to Sandra's treasured friend Karen (a year younger than microwave ovens); and to Matt (13 years older than My So-Called Life).
Tomorrow, happy birthday to Patrice's best friend, Brad (a year younger than NASA); to Tatiana's significant other, Jeremy (twice the age of YouTube); and to Thomas (17 years older than the moon landing). And I, Abdallah, would like to wish a happy birthday to my dear aunt Ghudaf (one-third the age of The Atlantic).
And for Friday, happy birthday to Duffy's brother Drew (twice the age of the World Wide Web); to Colleen's father (a year younger than sunscreen); to Deborah (13 years older than The Monkees); to Krishna's sister Swarna (the same age as Hillary Clinton); to Rachel's boyfriend, Herman (who was 12 when the Berlin Wall collapsed); and to Pat's brother (the same age as UNESCO).
Do you or a loved one have a birthday coming up? Sign up for a birthday shout-out here, and click here to explore the Timeline feature for yourself.
---
Meet The Atlantic Daily's team here, and contact us here.

Did you get this newsletter from a friend? Sign yourself up here.
To Hell With the Witch-Hunt Debate
Posted: 22 Nov 2017 02:14 PM PST
One of the principal pleasures of Mad Men, on rich display beginning with the pilot episode, was looking at all of the crazy things people used to be able to do in offices: smoke, drink, and—if they were male—grope and corner and sexually humiliate the women, who could either put up with it or quit.
It's just about impossible to imagine someone lighting a cigarette in today's hyper-sanitized workplace; anyone with liquor on his or her breath at midday is usually targeted as a massive loser or frog-marched to human resources. But to look at the shocking and ever-growing list of prominent men recently and credibly accused of acts ranging from sexual harassment to violent rape is to realize that abhorrent treatment of women is alive and well in many American workplaces.   
Every day seems to add another man to the list, and precious few of them have flatly denied the accusations. The strangled, vague, blanket apology—intended not to rile up any other potential accusers, leaving plenty of maneuvering room if the charges end up in court—has become an art form.
How many women will find some kind of justice for terrible things that have happened to them at work? And how many women won't ever have to face such things because of this profound episode? We don't know the answer to either question, but we do know this: There is a gathering sense that all of this has just gone too far. It was fine in the beginning, when a handful of Hollywood monsters were brought to account. But as the tide keeps roaring onto the beach, depositing flotsam of all kinds, the sentiment has begun to turn. It seems that this is just too many women saying too many things about what has happened to them, and something needs to be done about it. The approaches are various: It's a witch hunt; it's a sex panic; it's destroying good men's careers.
One reason the "witch hunt" argument falls flat is because the person advancing it, on behalf of Harvey Weinstein, was Woody Allen. Asked about Weinstein, he told a BBC reporter, "You … don't want it to lead to a witch hunt atmosphere, a Salem atmosphere, where every guy in an office who winks at a woman is suddenly having to call a lawyer to defend himself. That's not right either."
It seemed a pretty long way down the ladder from the violent rapes described by Weinstein's accusers to jail time for a winker, but Allen introduced early-on an important theme: scale.
Obviously there are terrible acts that God and man frown upon, but was every little unwanted bit of sexual energy directed at a woman—within the naturally romantic and flirtatious environment of an office—going to cost him his job? This led to the sex panic argument.
Advanced by the progressive, mainstream press—a notorious redoubt of mashers and grabbers—it started with The New Yorker asking the question, "When Does a Watershed Become a Sex Panic?" and fretting that we might be on the verge of a "war on sex." Two days later, the first of Al Franken's two accusers came forward and it was clear that if a man apparently forced a wet kiss on you and took a sexual gag-photo of the two of you while you were asleep, you were going to have to walk it off. "Is This a 'Sex Panic' or a National Moment of Reckoning?" asked Salon, deciding that it was actually both. Poor Michelle Goldberg of The New York Times could barely contain her anxiety over wanting to be on the right side of history about Al Franken. On November 16, the paper published her column saying that he should be drummed out of the Senate, but then she had a bad weekend, apparently—had she said the right thing? Or the wrong thing?—and ran a second column in which she worried she was "participating in a sex panic."
Saying there's a sex panic on the grounds that women don't like having their asses grabbed is the 2017 way of calling women frigid. In the 1950s, the woman who slapped a man's face for an unwanted grope was mocked for not being sexually open, for being uptight. Now she's accused of participating in a "sex panic." But it's all the same thing across the generations: When women stand up to say "keep your hands off of me" there's a good chance they'll be called prudes. Saying there's a sex panic is a fancy way of saying that women's bodies don't completely belong to them the way their cars do. Someone can damage a woman's car in a very small way, and insurance companies take it seriously and pay for the repair. She owns that car, and has every right to protect it. But if someone grabs her butt without her permission, she needs to lighten up. What is she, a frigid bitch?
In the America of earlier generations, one thing that silenced women who wanted to report unwanted sexual acts was how important it was not to damage a man's career, his reputation, his family. Was one unpleasant event really enough to cause so much trouble to a respected member of the community, to a breadwinner? The importance of men's careers has also become a part of the new resistance. After the first Al Franken accusation, Joan Walsh wrote a piece in The Nation in which she urged readers  to remember that Franken was "a champion of Planned Parenthood," and also  "a committed feminist," which was helpful for those of us who didn't know that committed feminists sometimes—allegedly—jam their tongues down unwilling women's throats.  
I remember—a very long time ago, because I'm old now, and blessedly free from most male sexual aggression—the first time I was groped. It was a crowded bus, a hand came out of nowhere and what happened was so shocking to me, so intimate and wrong, that I stood there stunned. I wasn't even angry yet; I was just mortified. Afterward I started telling people, expecting that they would be outraged on my behalf. But the response was very different—the weary, way-of-the-world instruction: That's how it is. Even my mother, who had taught me so carefully from such an early age and in so many ways that my body was mine, was hardly riled by the story. "Bastard," she said, when I told her, and that was it.
You learn early on, if you're female, that your body mostly belongs to you. But if you are going to make a big fuss every time a hand grabs you on a crowded bus or train, every time a man forces a wet, unwanted kiss on you, you're going to become something men really don't like: bitter. And so you come to accept that for the most part your body belongs to you. But in a small way a little bit of it belongs to the men of the world. And I am reminded of the ancient words that washed over me in the churches of my childhood and the college chapels of my late adolescence, in the cathedrals and outdoor masses of my early life on my own: This is my body, which is given up for you.
<i>The Atlantic</i> Politics & Policy Daily: Talking Turkey
Posted: 22 Nov 2017 12:21 PM PST
Today in 5 Lines
President Trump blasted LaVar Ball in a series of tweets, calling him an "ungrateful fool" and a "poor man's version of Don King." Eight people have been rescued, and three remain missing, after a U.S. Navy plane crashed off the coast of Japan. Walter Shaub, the former director of the Office of Government Ethics, filed a complaint against White House aide Kellyanne Conway over her comments on the Alabama Senate race. John Rogers, the communications director for Alabama Senate candidate Roy Moore, resigned from the campaign. Enrollment in the federal health-insurance marketplace reached nearly 2.3 million people since the sign-up season began.
---
Today on The Atlantic
What About Women of Color?: The #MeToo movement has highlighted the prevalence of sexual harassment and assault, but it has a glaring blind spot. (Gillian B. White)

Don't Fight the Urge: Many Americans are afraid to broach the subject of politics with family members. But here's why you should go ahead and talk politics at Thanksgiving dinner anyway. (David A. Graham)

Partisan Energy: Republican strategists have been working for years to close the party's gender gap. Donald Trump is making that mission even harder. (Michelle Cottle)
Follow stories throughout the day with our Politics & Policy portal.
---
Snapshot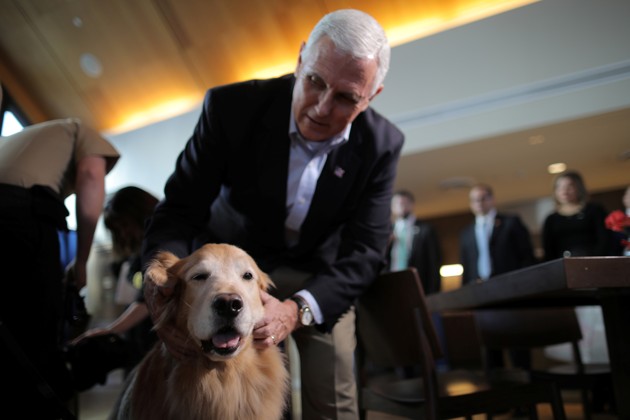 ---
What We're Reading
Trump's Secret Support: Before defending Roy Moore, President Trump reportedly told White House advisers that he saw parallels between the Alabama Senate candidate's predicament and his own experience being accused of sexual harassment. (Alex Isenstadt, Politico)
Ceding Power: Since John Kelly's arrival to the White House, the chief of staff has chipped away at Jared Kushner's influence. "Kelly has clipped his wings," said one Republican. (Gabriel Sherman, Vanity Fair)
The Wall No One Can See: While President Trump's U.S.-Mexico border wall has yet to be built, his administration is erecting very real barriers of a different kind. (Maria Sacchetti and Nick Miroff, The Washington Post)
An Era of Weaponized Politics: In order to be a society with zero tolerance for sexual harassment, Americans must make some serious distinctions. (Jonah Goldberg, National Review)
The Voices of the Resistance: Pod Save America, a podcast started by three former Obama staffers, has become the liberal equivalent of conservative talk radio. (Jason Zengerle, The New York Times)
'He Was Like an Octopus': Here is a list of the 13 women who have publicly accused Donald Trump of sexual misconduct, as well as the witnesses they provided. (Meg Kelly, The Washington Post)
---
Visualized
View the Guest Book: The White House refused to release visitor logs from five federal office buildings. Here they are, on ProPublica. (Derek Kravitz, Leora Smith, and Al Shaw)
Thanksgiving Science Quiz: What was the first cornucopia? Why were sweet potatoes popular in the 16th century? Test your knowledge here. (Bonnie Berkowitz, The Washington Post)
---
Question of the Week
In this story, The Atlantic's Derek Thompson writes that through its economic policies, the Republican Party seems to be waging a war on higher education. This week, we asked whether you think that's the case. Here's what you said:
"An educated population is more unlikely to tolerate the anti-democratic forces we see arising around us today: oligarchy, white-collar criminality, corporate corruption," writes J. Gary McDonald. "As Republicans have succumbed to the anti-democratic...influences that seem to be infesting their party, suppressing access to education would be as useful a vehicle for their agenda as voter suppression, partisan gerrymandering, and media manipulation."
Thomas White writes that he believes Republicans "see education as elitism, out of touch with the common man."
But Gayle sees it differently: "I wouldn't put the blame entirely on the Republicans as a party, but on the leadership who seem more intent in scoring a win at any cost without considering its long term implications for sustaining the value of opportunity for self-actualization regardless of economic status or background that has truly helped to make America 'great!'"
Thanks to everyone who weighed in, and keep an eye out for next week's Question of the Week.
Note: We are taking off the rest of the week and will return on Monday. Happy Thanksgiving!
-Written by Elaine Godfrey (@elainejgodfrey)
Zimbabwe Celebrates Mugabe's Downfall
Posted: 22 Nov 2017 11:30 AM PST
A week after members of the Zimbabwe Defence Forces assumed military control of parts of the capital city of Harare and placed President Robert Mugabe under house arrest, the 93-year-old leader of Zimbabwe announced he was resigning after a brutal 37-year reign. The current crisis was initiated by a power struggle between potential successors to Mugabe: First Lady Grace Mugabe and the former Vice President Emmerson Mnangagwa—who President Mugabe had fired earlier this month. The military sided with Mnangagwa, and Mugabe found he had run out of allies. Amid massive anti-Mugabe protests, a special session of parliament was called to impeach the President on November 21. In the middle of that assembly, the parliament speaker halted the proceedings to read Mugabe's letter of resignation aloud, setting off wild celebrations across the country.
As Trump Bragged About His Wine, It Was Sold at Shenandoah National Park
Posted: 22 Nov 2017 10:45 AM PST
In September, Bill Snape and his family took the 90-minute drive from their home near Washington, D.C., to the grounds of Shenandoah National Park. It was a trip they had made many times before, but this time Snape was taking it to check out a rumor. He had heard that something unusual was on sale at Skyland Lodge, a hotel on the park's premises.
At the gift shop of the lodge, Snape found what he was looking for: multiple cases of Trump wine, produced at the Trump family's nearby winery.
"At first, it just annoyed me. And then I thought, what is the law?" he told me on Wednesday. Snape is a senior counsel at the Center for Biological Diversity, an environmental advocacy organization.
Snape worries that the sale poses a major conflict of interest and may even violate the Constitution's emoluments clause. "Emoluments means advantage. You cannot use your public office for your personal advantage," he said.
The company behind Skyland Lodge has now confirmed that it sold Trump wine at Shenandoah National Park this year. This week, Snape and the Center for Biological Diversity filed a request under the Freedom of Information Act to learn how Trump wine came to be sold at Shenandoah in the first place.
The sale gets at a wrinkle in how the federal parks system operates: While Trump wine was on sale at Shenandoah National Park, the National Park Service wasn't actually the organization that was selling it. Delaware North, a company based in Buffalo, New York, operates the hotels and gift shops on the grounds of Shenandoah, including Skyland Lodge. It also manages attractions in Yosemite National Park and Grand Canyon National Park.
"At Shenandoah National Park we offer wines from several different Virginia vintners," said Glen White, a spokesman for Delaware North.
Up until September, he continued, the company had been offering wines from Trump Winery, as well as Kluge Estate (the name of the vineyard before Trump bought it) "because they are locally produced." (Snape said Trump wine was on sale until at least October.)
"This was only at Shenandoah, where it is a local product, and not at any other parks," White said. "The National Park Service did not request or require us to carry it."
Jeremy Barnum, a spokesman for the National Park Service, also told me that Delaware North had been selling Kluge Estate wine for years. He said the park service "does not specify what brands of these products should be sold" by concessioners like Delaware North.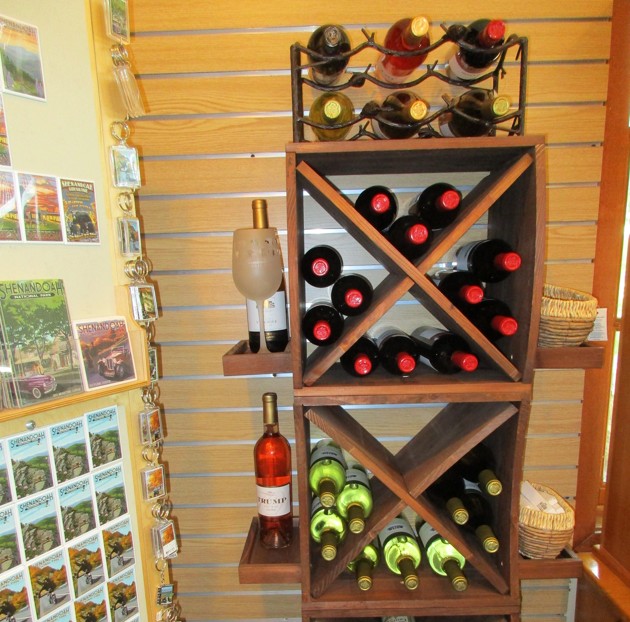 Delaware North is one of more than 500 companies with a contract to sell goods or services within a national park. The National Park Service says that concessioners across the country employ more than 25,000 people, who are not federal employees, and generate more than $1 billion in receipts.
But the wine was definitely still on sale at Shenandoah at the time that Donald Trump promoted it during a presidential press conference. After his statement on the white-supremacist march in Charlottesville, Virginia, in August, Trump told reporters: "I own actually one of the largest wineries in the United States—it's in Charlottesville."
The winery itself says this is not true: Donald Trump turned ownership of the property over to his son, Eric, in 2011. Town & Country magazine also disputes that Trump's winery is one of the largest in the country.
Snape says that even if a concessioner sold the wine—and not the park service—it still doesn't pass muster.
"It's like a Rubik's Cube, it looks bad from every angle," he told me. "Why is the concessioner behaving that way—is the concessioner looking for special favors? And why is the park service allowing it to be sold?"
"Whatever you want to say about George Bush or Jimmy Carter or Bill Clinton, we weren't eating Jimmy Carter peanuts, or buying George Bush oil, or using Bill Clinton condoms," he said. "Where is the line between the public duty and his personal profit seeking?"
Trump family investments and the National Park Service do not only overlap at Shenandoah National Park. The observation deck of Trump's new hotel in Washington—the Trump International, on Pennsylvania Avenue, just a few blocks from the White House—is operated and overseen by park-service rangers.
Donald Trump's Eternal Feud With Blackness
Posted: 22 Nov 2017 08:19 PM PST
When, in a game last Sunday in Mexico City versus the New England Patriots, the Oakland Raiders running back Marshawn Lynch chose to sit during the "Star Spangled-Banner," and then stood during the Mexican National Anthem, the idea of the multiverse—multiple realities and infinite branching probabilities—suddenly seemed inadequate. As soon as the cameras focused on Lynch, this plane of existence narrowed to a single undeniable probability: that President Donald Trump was going to tweet about it sometime soon.
Trump happily obliged fate. On Monday morning at 6:25am, in the block of time reserved for blasting people and things he's seen on cable news that he doesn't like, the president tweeted that "next time [the] NFL should suspend him for remainder of season." Utilizing the extra 140 extra characters Twitter recently bestowed, Trump was also able to imply that Lynch was a factor in the the NFL's sinking ratings. With that, Lynch became just the latest in a line of outspoken black people that Trump has attacked. It's kind of a thing for him.
Ten months into Trump's presidency, everything has changed, and everything has remained the same. In the onslaught of the 2017 newscycle, perhaps the one constant has been the president's use of his expansive bully pulpit to target prominent black people. In addition to Lynch, Trump is also feuding with LaVar Ball, the brash celebrity dad of LiAngelo Ball, a UCLA player whose shoplifting arrest in China turned into a minor international incident. In a bizarre feud, Trump attacked Ball and his family for not being quite grateful enough to the president for securing the younger Ball's freedom. LaVar Ball has refused to apologize or thank Trump, and has used the spectacle to engage in more carnival-barking, this time via a CNN interview.
This morning, Trump upped the ante in that battle, taking to Twitter in a predawn tirade against Ball, dedicating two tweets to calling the basketball dad an "ungrateful fool," and calling him "a poor man's version of Don King, but without the hair." In addition to those tweets, the president squeezed in another reiterating his criticism of the NFL for merely allowing players to kneel, all hours before addressing his policy meetings and a developing naval incident in the Philippine Sea involving missing military personnel.
This is all, of course, a sideshow in a week with numerous bombshell reports of sexual abuse among members of Congress and the media, with a major tax bill looming, and with plenty of other important domestic and foreign-policy issues to confront. But for Trump, the sideshow appears to be the real show. Of his 17 tweets and retweets this week, the president has dedicated seven to attacking black people or protests by black people.
On this topic, Trump is a broken record. He's repeatedly gone after NFL quarterback Colin Kaepernick and other black athletes for on-the-field protests, culminating in his "son of a bitch" attack in an Alabama rally in September.
Trump has raged against Golden State Warriors point guard Steph Curry for his refusal to visit the White House, and subsequently disinvited the whole team. He and his office have launched sustained, coordinated verbal assaults on the ESPN anchor Jemele Hill and Florida Representative Frederica Wilson. Trump has picked fights with the civil-rights hero Representative John Lewis, saying he was "all talk, talk, talk — no action or results." And, of course, the steam that got the Trump train started came from his long-running denigration of President Barack Obama, a campaign that ran the gamut from embracing birtherism to implying the former president was a lazy man who vacationed too much. This is an abridged list.
It seems trite to say that Trump likes to pick fights with black people—he picks fights with everyone, in the most shocking and crass ways—but the president does have a knack for knocking down the kinds of black folks members of his base want to see knocked down. There are plenty of people on all sides of the political and racial spectrums hoping LaVar Ball types will receive their comeuppance, but generally, Trump has saved his most sustained assaults for black people who are prominent and popular among young people, and for those who in a different era might have been considered "uppity."
"Uppityness" is today recognized as a slur, and how it got that way is instructive in explaining Trump's rise to power. Back when the lives and career prospects of black people were officially constrained by the state, and when social and cultural hierarchies were enforced on pain of death, black people who dared aspire to a life and world beyond those constraints were often branded with the label. The maintenance of those hierarchies depended on making examples of the outspoken and the ambitious. Though the implements have changed from the braided whips of the past to the verbal upbraidings of the present, the purpose of attacking uppity blacks has always been to reinforce the status quo and limit mobility, in all senses of that word.
There's a class inflection to uppity today, and it follows that most of the black people Trump has attacked are well-off—he often needles his black opponents as "ungrateful" for their stations. But his attacks serve the same purpose, regardless of the status of his targets. It's not even clear whether he truly harbors animosity toward the people he tagets or if he really knows much about them, but it's undeniable that Trump knows exactly what these attacks do for him. He may have little appetite to master policy or struggle to manage his office, but Trump is a savant when it comes to knowing how to harness white resentment and hostility towards outspoken people of color. This is perhaps his most bankable skill, and unfortunately for those who open Twitter in the mornings, the one he uses most liberally.
The proof is in the presidency, as well as in the polls. In the run-up to the election last year, most Republicans and Trump supporters either disagreed with or were up in the air on the fact that Barack Obama was born in the United States, a testament to the incredible power of Trump's racist birther campaign. According to an HBO Real Sports/Marist poll, Republicans largely support his outbursts over the NFL protests and Colin Kaepernick and overwhelmingly agree with his stance that protest should be banned from the sport altogether. And while approval ratings and views of Trump's fitness for office have plummeted across the board in the past couple months, white Americans have provided a resilient bastion of political support for Trump.
Whether Trump can continue going back to this particular well is anyone's guess. His sinking approval ratings even among whites may indicate that the well is running dry. But his constant fighting with prominent black folks draws on one of the oldest political strategies in the book. It's the same reason why the White House has been so embroiled in relitigating the Civil War and rehabilitating enslavers, and why Alabama GOP Senate candidate Roy Moore has resorted to Lost Cause mythology under fire over numerous sexual assault allegations. The enforcers of the racial status quo always maintain some measure of power.
Apart from their political effectiveness, though, Trump's feuds serve another purpose: They obscure the fact that he is a politician otherwise without identity. Without people of color to serve as a foil, there is no Trumpism. If not for his attacks on the Central Park Five, his birtherism, his slanders of immigrants, his "what the hell do you have to lose" exhortations, the travel bans, and his autonomic reactions against prominent black people, it's hard to see how Trump ever could have been elected in the first place.
This Isn't the End of the Merkel Era
Posted: 22 Nov 2017 09:44 AM PST
Angela Merkel has been chancellor of Germany for 12 years to the day, and many observers are predicting this anniversary could be her last. Murmurs about the "beginning of the end" of the German chancellor and a "world without Merkel" gained volume this week after Germany's coalition talks to form its next government collapsed, following the unexpected exit by the pro-business Free Democrats (FDP) from the negotiations. The crisis has led to speculation about whether this setback will lead to an unfavorable minority government or new elections—and whether Merkel can ultimately survive either.
It comes just two months after Germany's last general election, during which Merkel's Christian Democratic Union (CDU) party, with its Bavarian Christian Social Union (CSU) sister party, failed to earn enough parliamentary seats to form a government on their own. Faced with the center-left Social Democrats' (SPD) refusal to revive their "grand coalition" and her party's own refusal to enter into coalition with the far-right Alternative for Germany (AfD) party, the chancellor was left with no other choice than to attempt to form a three-way coalition with two smaller parties, the FDP and the Greens. This so-called "Jamaica" coalition (which derives its name because the involved parties' colors collectively correspond with the Jamaican flag) "could have gotten a lot done," Merkel said in the days following FDP's decision to leave the talks.
When asked if she would resign, she noted that she had campaigned on the promise of serving Germany for another term and sees "no reason to go back on that promise." When asked if she was afraid of what might happen if Germans returned to the polls for a repeat election, she said: "I'm not actually afraid of anything."
Fear isn't a feeling many would likely attribute to Mutti, or "Mother," as Merkel is affectionately known. "She is a great survivor, she is a great problem solver," Quentin Peel, an associate fellow with the Europe Program at Chatham House, and the Financial Times's former chief correspondent in Berlin, told me. "She is not a great visionary, but she is very steady." In fact, it was Merkel's reputation as a "safe pair of hands" for Germany in times of global political instability that many cited when explaining her fourth-term electoral victory in the country's September election. But with the makeup of the country's next government suddenly in limbo, there is growing doubt whether Merkel's hands are all that safe after all.
The most alarmist of these doubts are overstated, according to Peel, who noted that while Merkel "is clearly wobbled and ... clearly weakened," it's still a far cry from her being replaced at the helm of German leadership—in part because she lacks a clear successor within her party, but also because she remains extremely popular among the German population. "She survived as her party's champion as long as she was a winner," Peel said, noting that more than half of Germans would prefer for Merkel to remain chancellor. "The moment she looks like no longer being a winner, the rebels will start to mutter. And that's where you're getting this muttering coming from, I think. But they've got no alternative candidate."
Merkel's confidence that she will not resign suggests she knows this. But it could also stem from the fact that she's weathered crises far worse. "This is definitely a challenge and this has weakened her as a leader, but it's not as big as the refugee crisis," Marcel Dirsus, a political scientist at the University of Kiel, told me in reference to Merkel's 2015 decision to open Germany's borders to hundreds of thousands of refugees. That move prompted similar predictions of her political demise. "When the refugee crisis was unfolding, there was a legitimate fear … that Merkel was going to fall."
The eurozone crisis also caused doom and gloom forecasts for the chancellor's future. "That was the most complicated, the most prolonged, and the most difficult," Peel said of the multiyear debt crisis that implicated multiple European states. "At the end of the day, she, with the enormous help of Mario Draghi at the European Central Bank, stabilized the markets … at a cost of the austerity backlash and so on. But nonetheless, she was a huge stabilizing factor."
If Germany were to take the drastic step of holding another round of elections, there's no indication it would lead to Merkel's fall. If anything, polls suggest it would result in the same divisions delivered by the first election—an outcome that would force the parties back to coalition talks where they started. Dirsus said this could be avoided if the SPD withdrew their refusal to join the government for another grand coalition—a move the party's leader Martin Schulz has thus far ruled out. "There is now a lot of pressure on the Social Democrats to at least start coalition talks with Merkel because people are reminding them of their responsibilities to the country," Dirsus said, adding that: "there is no guarantee that [Schulz] would be the candidate again if there are new elections, so he doesn't really have an interest in new elections."
While there's no telling where Merkel will go after Jamaica, or how long her time as chancellor will last, it's unlikely this current political crisis will mark its end—at least not anytime soon. "We are seeing that the Merkel era is coming to an end, but I would be surprised if it is yet at an end," Peel said. "I would expect she would still be the chancellor for one more, possibly shorter government than before."
"At this point in time," Dirsus said, "she'll soldier on."
The Butterball Turkey Talk-Line Is Ready for the Future
Posted: 22 Nov 2017 10:11 AM PST
They say journalism is dying in the digital age. And paper maps. And human interaction. But the Butterball Turkey Talk-Line? The Butterball Turkey Talk-Line is thriving.
For the uninitiated, the Butterball Turkey Talk-Line is pretty much what it sounds like. During November and December, you can call a special hotline to ask questions about your turkey. Everything from "What size should I get to feed all my relatives?" to "How do you stuff a turducken?" is fair game. The talk-line has been around since 1981, it's staffed by 50 turkey experts, and it answers 10,000 turkey questions every Thanksgiving Day.
What makes a turkey expert, you ask? Their esteemed ranks include dieticians, home-ec teachers, and food stylists who take two months each year to counsel amateur bird cookers. They're all recruited by word of mouth and referrals, and on average, they come back for 16 years. All experts get the same training, but if your call gets answered by the food stylist and your question is more befitting of the dietician, no worries—they'll just lean over and ask.
In the early days, all of those questions came as phone calls. As Turkey Talk-Line expert Nicole Johnson put it, "Back then, it was just seven home economists, all women at the time, manning all their information." The hottest technology at the hotline was "an old-school Rolodex." But in 2006, Butterball began allowing panicked preparers of turkeys to send their inquiries via email. By 2012, they could chat with turkey experts using a tool on the company's website. And then in 2016 came the mother of all turkey-advising innovation: a texting help line.
No longer do customers have to wrangle the chat feature on Butterball's website while standing in the frozen section with a bird in each hand. Now, they can text photos and videos of their Thanksgiving successes and debacles. Butterball experts can send them links to recipes and video tutorials in response. When Johnson is manning the text line—staff usually divide their eight-hour shifts between speaking and digital communication—she'll often add an emoji for a touch of cute. Butterball even started a Change.org petition to get Unicode to add a Thanksgiving turkey emoji. (The existing icon of a live, unplucked, uncooked bird isn't good enough for Butterball.)
Interestingly enough, email still trumped the text line last year: In November and December 2016, the Butterball experts received 15,280 questions by email, about 8,000 by text, and just under 4,000 by chat. The real kicker, though, is that 92,635 people called Butterball last year. Ninety-two thousand people. On the phone. With their voices.
Why, I asked Johnson, would anyone bother calling just to find out how to cook a turkey? That's why we have Google!
Johnson is convinced that it's all about the personal connection. "There's something to be said about talking to someone over the phone," she told me. "You can hear the panic in their voice. And I think they hear our reassuring voices over the phone, and it calms them down. Particularly if they've been waiting for a long time to talk to us."
(It hadn't occurred to me that one could be placed on hold on a turkey hotline, but with 2,388 calls last Thanksgiving Day and only 50 experts, I guess it makes sense.)
As a card-carrying iGen-er, I couldn't understand why people would call the hotline when they could email or text—and not get put on hold or have to actually speak to anyone. When Johnson told me that she's noticed more people over the years asking how to cook turkey for just one or two guests, I thought, Ah, yes, people are calling because they're lonely. Normal, well-adjusted people don't actually want to talk about turkey that much. I shed a silent tear for the death of human interaction at the hands of the digital age.
But then, it happened. Twelve minutes into our phone call, I found myself telling Johnson how the only reason I found out about the Turkey Talk-Line at all was because a question about it had come up at my Monday-night trivia game. That's odd, I thought. Why did I need to share that?
Then, 15 minutes later, I was telling Johnson all about how my mom cooks our turkey (inside a buttered brown grocery-store paper bag, for the curious). And about how many of my cousins were coming. And about how excited I was to go home.
I started to understand why Johnson told me, "We have people who just want to talk to us every single year." Most of the turkey experts are veterans; the average tenure is 16 years. I could easily see them forming relationships with their callers, turning the warm-and-fuzzies up to 11 over the course of each call. Whatever the secret to phone marketing is, Butterball has it down pat.
"I think there's something to be said about hearing that voice over the phone," Johnson said. "I don't think that's ever going to lose its popularity. So I think we're going to be okay."
The Damage to Children's Health Insurance Is Already Being Done
Posted: 22 Nov 2017 08:18 PM PST
Right now, a draft of a letter informing thousands of Virginia parents that their kids might lose their health coverage just after the holidays is sitting on Linda Nablo's desk. "People are going to panic," Nablo, who is the chief deputy director of the Virginia Department of Medical Assistance Services, told me. "It's going to cause mass confusion. It's going to be an increase in the lack of trust in government, that government will do what it says it will do. People will lose their managed-care plans. They'll lose their provider. It's going to cause chaos."
Nablo and her colleagues have drafted the letter because, for more than 50 days, Congress has failed to reauthorize funding for the Children's Health Insurance Program, or CHIP, a federal-state initiative that covers about nine million lower-income kids. Within weeks, states will start running out of money, leaving them scrambling to patch the holes in their budgets or forced to suspend their programs and drop coverage—as Virginia expects it would have to do. "Every day that goes by, we're getting increasingly concerned," Nablo said. "Nobody ever anticipated we'd be in this situation. We're taking very concrete steps as if we're going to shut this program down."
Hill staffers insist and the states anticipate that Congress will pass new funding for CHIP in the coming weeks. But the situation has left doctors fuming, administrators bewildered, parents frightened, and politicians shocked. Even if no states end up running out of money and no kids end up losing coverage, the dithering has already diverted state resources, degraded state programs, and sapped state coffers, and Congress's dysfunction has pushed the stability of an effective, respected program with bipartisan support into doubt.
Created by the late Senator Ted Kennedy of Massachusetts and Senator Orrin Hatch of Utah, CHIP covers kids whose families earn too much to qualify for Medicaid but do not have employer-sponsored plans or cannot afford coverage on the Obamacare exchanges. The program works: It is credited with helping to cut the uninsured rate for kids by more than half, while also reducing hospitalization rates, improving kids' educational outcomes, and bolstering their families' economic well-being. It is also a safety-net rarity in today's polarized Washington, with strong and deep bipartisan support.
Federal funds for the program expired on September 30, but, caught up with the failed Obamacare repeal process and ongoing tax reform, Congress has thus far failed to act. Republicans in the House have passed a bill raising money for CHIP by shortening the grace period for late premium payments for Obamacare enrollees, something that would cause an estimated 700,000 people to lose coverage. "I reject the notion we have to rob Peter to pay Paul," Representative Debbie Dingell of Michigan objected on the House floor. "Or in this instance, jeopardize the future of Medicare and steal $6 billion from critical prevention programs to pay for children's healthcare." The House and Senate remain far apart on how to finance it, too.
Policymakers on both sides have promised that the money will be forthcoming, perhaps in a continuing resolution to keep financing the whole of the government due by December 8. The need is "not dire or urgent," Representative Pete Sessions, a Texas Republican, told The New York Times. "The money that is necessary to keep this program going is not in jeopardy." But Congress has struggled to pass simple, uncontroversial legislation for years now. The Kaiser Family Foundation estimates that eleven states will run out of funds by the end of December, and 32 states by the end of March—though those are only estimates, given the unprecedented nature of the funding lapse. "We have hope in Congress," Nablo said. "We just don't have confidence."
The 50 states, according to the intricacies of 50 budgets and the laws and policies governing their 50 CHIP programs, are figuring out what to do. That means figuring out how much money they have and how long they can extend coverage. It means figuring out whether they need to cap enrollment or let a program lapse. "It's not just trying to pinpoint the exact date" a state will run out of money, Jesse Cross-Call, a senior policy analyst at the Center on Budget and Policy Priorities, a Washington-based think tank, told me. "It's also executing whatever process is supposed to happen by statute or by whatever dictates the policy change at the state level. The process of putting together notices—states haven't had to that before. It's not like they can call up that Word document from two years ago and change the date on it."
It means figuring out how to enact a cap, freeze, or shutdown—something many states have never done. "We're beginning to figure out how to modify IT systems," Nablo told me. "There are at least two that will involve probably significant costs, to both cancel people with current coverage as well as to stop approving kids when they apply." She said the state was also figuring out how to modify a dozen contracts. States must also figure out how to inform parents and providers, with many states drafting and sitting on letters informing families of the program changes. "There's been this tension," said Robin Rudowitz of Kaiser. "States don't want to send notices out." But they also do not want to surprise their parents, and give them no time to try to find other coverage should their state's CHIP program end.  
The policy effects are already being felt in terms of wasted money and diverted personnel hours, state administrators have said. Some states have stopped pushing sign-ups too, something that might depress enrollment in the short and medium term, with lower-income and more disconnected parents not realizing that their kids are eligible. "We haven't been doing even our regular outreach activities," Stacey Shamblin, West Virginia's acting CHIP director, told the Charleston Gazette-Mail.
If states were to start to send their letters to parents—Nablo said Virginia is just days away from that point—the policy implications would be significant, health analysts have warned. Parents might find themselves confused by the program and less trusting in its soundness. Kids might never sign up, or might drop out. "It's not something you can easily turn on and off," Rudowitz said. "You could put in a cap. But the education and notices to beneficiaries—even if there is no cap, that reeducation can take a long time, and maybe doesn't reach everybody."  
A brief hiccup in state coverage would have yet more dire effects. During it, some kids might be denied care or their parents might get hit with significant medical bills. After it, parents might not recognize that they could re-enroll their kids. Arizona scaled back its CHIP program in 2014, and even after expanding it again its uninsured rate for children remains one of the highest in the country, double that of California. The effects are felt not just in terms of lost coverage, but lost care. "Some of the children went without needed health services and medications," a study by researchers at Georgetown University found. "A child with Lupus and heart and respiratory ailments was hospitalized because her family could not afford the doctor visits and medications she required. Other children did without medications for their asthma or ADHD."
A true program lapse would be worse. Nablo said she worried most about newborns and pregnant women in Virginia. "We put a lot of effort to get pregnant women enrolled early, to help get them prenatal care and to have healthy babies," she said. "It's great for the kid, great for the mother, and great for the taxpayer, so we're not paying for a kid in the NICU if we don't have to." She also said children currently undergoing treatment would be hard-hit. "We treat kids with cancer," she said. "We treat babies born with HIV. We treat babies addicted to substances. We have some really sick kids. We're paying for their treatment. To suddenly say, 'Sorry, you're on your own'? I can't imagine getting that word as a parent."
What is perhaps scariest: Even strong bipartisan support for CHIP has not protected it from the effects of polarization and the breakdown of the normal budgeting process in Congress. And it is kids who stand to bear the worst of the consequences.
<em>Mudbound</em> Is a Stirring Epic About America's Sins
Posted: 22 Nov 2017 08:43 AM PST
Dee Rees's Mudbound opens in media res: Two sparring brothers, Jamie (Garrett Hedlund) and Henry McAllan (Jason Clarke), are trying to bury their father on their Mississippi farm by digging a grave during a rainstorm. The entire endeavor is tinged with futility, as the horrible weather seemingly mocks their efforts. While they struggle, the African American Jackson family rides by with all their possessions strapped to their buggy as if they're fleeing the farm. Henry—who is white—sees them and asks the patriarch Hap Jackson (Rob Morgan) for help. Even with little context for the moment, viewers can tell from the look on Hap's face and the '40s period setting just how big a line Henry is crossing. It's just as easy to see that, despite the quiet insult, Hap can't decline.
Mudbound, which debuted on Netflix and in limited theaters last weekend, is an old-fashioned epic drama about race relations in the 1940s Deep South, adapted from Hillary Jordan's 2008 novel. The film touches on the evil of the Jim Crow era, the oft-ignored post-traumatic stress suffered by servicemen returning from World War II, and the stifling sexism of the time. Mudbound is beautifully shot, well-acted, and surprisingly sweeping for a movie with a relatively small budget of $10 million; if it's guilty of anything, it's perhaps trying to do too much at once, which is understandable given its novelistic scope.
But Rees, whose debut fiction feature Pariah announced her impressive talent as a director in 2011, has a gift for smaller, multilayered moments, like Henry's transgression in asking Hap to help bury his father. Even before the story gets underway, the audience can recognize how Henry is leveraging his institutional power over a black tenant living on his land. He can't technically order Hap to assist him, but Henry is taking advantage of a terrible legacy of slavery and subjugation, one he'd never openly acknowledge.
Before it explains what exactly drove the Jackson family from Henry's land or what killed Henry's father, Mudbound then cuts back to somewhat happier times. Even then, it's obvious that darker days are around the corner. Henry purchases his Mississippi farm seemingly as a way to prove his worth, to live independently off the land with his wife Laura (Carey Mulligan) and their children. Hap is a tenant on Henry's farm who dreams of buying his own land and living independently with his wife Florence (Mary J. Blige) and their kids. The two families' daily work, digging through the caked mud to plant their crops, is strikingly similar, but there's a vast gulf between them.
Rees (who co-wrote the script with Virgil Williams) explores that divide in various episodic tales. When their children get whooping cough, Henry and Laura compel Florence to help nurse the pair back to health, eventually taking her on as a maid (a job she resents, but with a salary she can't turn down). Henry's virulently racist father Pappy (Jonathan Banks) moves to live with the family and starts associating with similarly toxic folk in town, as well as openly sowing discord between the McAllans and the Jacksons.
Viewers also see the exploits of war: Henry's brother Jamie is a B-24 bomber, while Hap's oldest son Ronsel (Jason Mitchell) is a tank commander in the famed 761st Tank Battalion (the segregated unit known as the Black Panthers). Rees weaves in scenes of combat, of Henry and Ronsel both consorting with women in Berlin as the war winds down, and finally of their glorious returns home, where they're celebrated as heroes by their family but nonetheless alienated by a country they've been away from for so long.
Rees takes care to touch on the viewpoints of every member in her ensemble: from the open hatred of Pappy to the more sublimated prejudice of Henry, from the weary pliancy of Hap (who, on the subject of white people, advises his son that there's "no point in fighting, they're gonna win every time") to the understandable fury of Ronsel. The director is creating a portrait of an era in the way an old Hollywood epic would strive to do, both in her discursive storytelling and the gorgeous, Malickian photography of her cinematographer Rachel Morrison.
Still, Rees notably avoids the blinkered perspective such traditional stories often have; in doing so, she captures the racism of the period in ways both routine and heartbreaking. Mudbound never feels like it's driving at one particular message, or identifying one villain to blame. A character like Pappy would be the cartoon nemesis of a simpler tale, a problem to be dealt with or ignored, but to Rees he's a symptom, a festering boil that nobler characters like Jamie (or Henry, who quietly agrees with much of his father's way of thinking) can't lance. The bigotry of the time undergirds the film, but Mudbound doesn't let us forget just how thoroughly it also permeated American life.
The only problem is, in trying to tell so many stories, Mudbound neglects to develop some of its more fascinating ones. The relationship between Ronsel and Jamie, who bond over their shared wartime traumas, is genuinely enthralling (and helped by Mitchell and Hedlund's terrific performances), but it doesn't even get going until more than an hour into the movie, which runs for 134 minutes. Laura's internal monologue, meanwhile, plays a huge role in the first half, chronicling her and Henry's courtship and the eventual cooling of their passions when they move to the farm, but it fades in importance as the film goes on, leaving her arc hanging.
Mudbound is the kind of movie that deserves a huge audience, which its release on Netflix may help secure. But as a slow-building story that shines in its subtler moments and in its mesmerizing shots of the harsh but mystical Mississippi landscape, it's absolutely worth seeing on a big screen if possible. Beyond that, in a year when fissures in American race relations continue to be at the forefront of national discussion, Mudbound feels like a worthy antidote to the pop culture that has struggled to reflect this current reality. Rees's film understands the country's history of systemic oppression, but examines that through the fully imagined interiority of its characters—and without offering simple solutions.
Uber's Latest Bad Thing Is Not Just About Uber
Posted: 22 Nov 2017 12:27 PM PST
Uber was hacked last year, the company disclosed yesterday. Two hackers stole the contact information for 57 million people and the driver's-license numbers for 600,000 drivers. In the hierarchy of data value, this stuff is not high up on the list. And the breadth of the hack also pales in comparison to other recent breaches at Yahoo and Equifax.
But it's what happened after the hack that is drawing condemnation. Uber did not report the breach to regulators, as new CEO Dara Khosrowshahi now acknowledges they should have. And then they paid $100,000 to the hackers to keep quiet. And then they tried to make it seem as if the payment was a "bug bounty" paid as part of their normal security-testing operations, The New York Times reported. The hackers were even asked to sign nondisclosure agreements.
It's pretty ugly.
While it is widely acknowledged that companies (and civic entities) pay ransoms to hackers, it is considered poor form. It's also poor form—as well as possibly illegal—not to notify victims of data breaches. And it's also poor form to essentially fake a bug bounty.
In one version of this narrative, this can all be laid at the feet of Travis Kalanick, the deposed ruler of Uber who retains a board seat himself and a few other seats stuffed with his handpicked members.
But the man who lost his job over the hack is Joe Sullivan, who was the company's Chief Security Officer. In October, Bloomberg reported that Sullivan "runs a unit where Uber devised some of the most controversial weapons in its arsenal. Uber's own board is now looking at Sullivan's team, with the help of an outside law firm."
In fact, it would not be surprising if that probe led to this disclosure.
From the start of Uber's troubles, many in tech have tried to isolate the company from the herd. They did not want Uber's culture to reflect on the tech industry more broadly.  
But Sullivan was not a Kalanick stalwart. He only arrived at Uber in April of 2015. He began his tech career with four years at eBay, went to PayPal for 2.5 years, and then spent over six years at Facebook before being poached by Uber. Bloomberg's reporting indicates that Sullivan's role from nearly the moment he arrived at Uber was as "the keeper of some of Uber's darkest secrets."
Some public commentators seem to think Uber's response to this data breach is abhorrent and unusual. But, then how could a guy so deeply integrated into several major Silicon Valley companies have pushed it forward?
Doesn't it make sense to ask what attitudes and procedures Sullivan brought over from Facebook (and eBay and PayPal)?
This is the man who was responsible for security at the company that has amassed more data about people and their relationships and interests than any other in history. Either Uber corrupts all on contact or the integrity problems reach deeper into tech than the industry is willing to admit.
Network Neutrality Can't Fix the Internet
Posted: 22 Nov 2017 07:31 AM PST
In a new video advocating for network neutrality—a name for regulating internet providers like public utilities—the American Civil Liberties Union declares that "giant internet companies shouldn't have the power to mess with what we read, watch, and explore online." The ACLU is referring to broadband and wireless carriers like Comcast and AT&T, who would have the power to throttle, charge for, or even block access to services, websites, or other online resources if the Obama-era rules are rolled back.
Yesterday, Federal Communications Commission chairman Ajit Pai announced the agency's plans to do precisely that. The plan will likely pass along party lines at the next FCC meeting December 14.
It makes sense to construe broadband and wireless providers as common carriers, like telephone companies and utilities. And a majority of Americans, no matter their affiliation, support regulating internet providers in this manner. But advocates must also acknowledge that the internet is hardly a healthy environment for competition, consumer protection, and equity of use even with net-neutrality guidelines in place.
* * *
There's reason to believe that internet providers will abuse their power absent net-neutrality oversight: They have a history of doing so.
In 2007, Comcast throttled traffic to BitTorrent, a popular peer-to-peer service used (both legally and illegally) to distribute entertainment content in competition with Comcast's cable business. The FCC ruled the practice illegal in 2008, but its complaint against Comcast was ultimately dismissed due to a lack of regulatory authority to intervene in such cases. In 2012, AT&T blocked FaceTime, Apple's video-chat service, because it competed with AT&T's telephony offerings. The company reversed course after the threat of an FCC complaint on net-neutrality grounds. In 2014, Netflix filed an extensive opposition to the Comcast–Time Warner Cable merger, revealing that it had paid for direct access to Comcast broadband customers in consideration for delivery of its bandwidth-intensive streaming service. And in 2016, the FCC flagged AT&T for excluding DirecTV—a unit AT&T owns—from its customers' data allocation.
To prevent such blocking, throttling, and pay for play in internet content delivery, the FCC published the Open Internet Report and Order in 2015, declaring internet service providers common carriers under Title II of the Communications Act. It is these protections that Ajit Pai—who previously worked for Verizon, a company that could benefit from the change—hopes to withdraw.
Co-opting language common to net-neutrality proponents, Pai claims that reversing net neutrality will "restore internet freedom." Republican commissioner Brendan Carr adds that the plan will remedy "the Obama-era FCC's regulatory overreach." But Democratic commissioner Jessica Rosenworcel called the plan "ridiculous and offensive."
If the commission gives the new rules a nod next month, consumer groups will likely challenge them in court. But if the policy takes effect, broadband and wireless providers could resume blocking or throttling content, and they could establish "fast lanes" for content providers who pay fees for special access to online consumers. In theory, internet providers could also slice up internet service into paid tiers, charging consumers more for popular services. Even so, under the FCC's proposed rules, the carriers must disclose any restrictions or preferential payments.
* * *
Net-neutrality proponents often call the regulated internet "free and open," ideals that trace back to the libertarian origins of personal computing and cyberculture. Under this precept, computing and the internet are meant for everyone, and anyone should be able to use them to take a swing at personal or professional success. It's because of this supposed freedom and openness that successful companies like Google and Facebook were viable in the first place—access to customers absent gatekeepers. Indeed, net-neutrality proponents often cite start-ups as a first or primary justification for the policy. Netflix can afford to pay off Comcast at any price. But what about "the next Netflix?"
This story made some sense in 2005, when the FCC first offered positive policy guidance on net neutrality. The dot-com crash was a recent memory, Google had just gone public, and News Corp had just acquired the big social-network company of the time—Myspace. It made some sense in 2008, too, when the FCC pursued Comcast over BitTorrent, and in 2012 when AT&T blocked FaceTime. It even made some sense in 2015, when common carriage for ISPs was formally established. Net neutrality's popularity has always relied on the public's satisfaction with life online, and the business practices that facilitated it. Otherwise, there would be no reason to protect it from supposed destruction.
Until recently, that satisfaction was almost universal. Companies like Google and Facebook enjoyed widespread public trust and support. They often appeared to share the same "free and open" values that net-neutrality proponents celebrate. By contrast, everyone loves to hate telcos like AT&T, Comcast, and Verizon, old-economy oligopolies with terrible customer service that charge high prices for mediocre services.
But that's changed over the last year, as security breaches, privacy violations, election meddling, wealth inequality, and a host of other concerns have sullied the tech sector's reputation. The examples are so numerous it's impossible to list them anymore. Here's an ironic example: Hundreds of thousands of stolen and fraudulent identities reportedly corrupted the FCC's own net-neutrality comment process. Or consider two cases that came to light just yesterday, the same day Pai announced the FCC's plans to gut net neutrality: Android devices apparently have been sending their users' locations back to Google, even with location services disabled; and Uber reportedly paid hackers $100,000 to cover up a personal-data breach of 57 million of its customers. A public darling during the Obama years, when net neutrality won out, the tech industry has effectively become Big Tech, an aggressor industry along the lines of pharmaceuticals, oil, or tobacco.
* * *
It's true that one set of giant internet companies, like Comcast and Verizon, can't currently mess with what people read, watch, and explore online. But another faction of giant internet companies can and do exert that power and control. Google, Facebook, Apple, Amazon, Netflix, and others manage access to most of the content created and delivered via broadband and wireless networks. Google appears to handle over 63 percent of searches, and it is projected to control 80 percent of the search ad market by 2019. Facebook exerts enormous control over access to news online, and its unmanaged ad network appears to have torn democracy asunder.
Net-neutrality telecommunications policy might benefit the public by providing impartial access to online services. But even so, Big Tech's stranglehold on those services puts the lie to the underlying freedom and openness those services ultimately offer. When it comes to ISPs, a more effective solution would involve local-loop unbundling—requiring telcos to lease last-mile connections to competitors. Even if that worked and a thousand broadband providers bloomed, the internet would still operate in fundamentally the same way. All the internet Davids might not have to pay for placement with the telco giants, but they must do so to the tech Goliaths.
Local retailers have to manage their searchability on Google, or pay for ads to compete with big companies like Amazon. Restaurants must make sure they're listed on Google Maps and Yelp and OpenTable. Creating a mobile app requires payment of registration fees for listing products on the Google or Apple app stores, and a substantial commission on every sale or subscription. AT&T shouldn't block FaceTime, but Apple has also disallowed the publication of apps that compete with its services. And as for the "next Netflix," so much capital is now required to acquire customers for a successful start-up, the very idea of a bootstrapped one might romanticize an ecosystem long gone. It's absurd to think individual people or small businesses could bend Google or Facebook or the like to their will.
That's just old-fashioned capitalist competition, of course, not a violation of common carriage under the FCC's purview. But the Commission's desire to shift responsibility for internet-provider regulation to the FTC suggests an overdue need to bolster net neutrality with other regulatory oversight—including antitrust, an area the last administration ignored while Obama killed it on social media.
Removing ISPs' common-carriage designation would open the door to antitrust regulation of telcos by the Federal Trade Commission. That's where Pai thinks anticompetitiveness should be adjudicated, which is cold comfort for internet advocates.
So is Trump's chaotic interest in antitrust. Over the last year, the White House has suggested that Amazon in particular should be investigated for antitrust violations. Admittedly, Trump's distaste for the company might be motivated by personal rather than policy interests—Amazon CEO Jeff Bezos also owns The Washington Post, which has published reporting critical of the administration.
In another move that seems contrary to the FCC's support of telcos via a net-neutrality rollback, on Monday the Justice Department sued to block a merger of AT&T and Time Warner, a deal that the DOJ claims would unfairly benefit DirecTV. In this case, too, some have speculated that the administration really hopes to punish Time Warner–owned CNN, a network Trump famously despises. The Obama administration might have given tech too much freedom, but Trump's disorganized maelstrom hardly counts as policy, either.
* * *
Network neutrality would probably only aid in remedying the tech sector's ills. It could clear the way for new companies with different commitments to security, privacy, advertising, and social responsibility, for example.
But even if that's the case, the turning of the tides in tech reveals how imbalanced power online has become, even after several years of legitimate common-carriage protection. During that time, tech's worst habits have only worsened, and its oligopolistic power has only increased. All those hypothetical "next Netflixes" only hope to be acquired by Netflix, or Google, or Facebook anyway.
It's hard to square this reality with the simplistic righteousness of net-neutrality supporters. "URGENT," reads a social-share preview image for one advocacy website, "If you're not freaking out about net neutrality right now, you're not paying attention." Some proponents even compare the twilight of common carriage to the state-sponsored censorship of the internet in China or North Korea. Yes, internet service providers should be regulated as common carriers. But though necessary, that solution isn't sufficient.
It never has been. Way back in 2014, even before common carriage for ISPs was realized, I floated the same argument here at The Atlantic: "Common carriage is sensical and reasonable," I wrote. "But there's also something profoundly terrible about the status quo." But then as now, even despite the revelation of endless calamity at the hands of the industry that has benefitted from a supposedly free and open internet, questioning the legitimacy and justice of that freedom and openness is still considered obscene.
If the internet is to remain a public utility, it must also become a public utility worth using, and one that doesn't dismantle the society that would use it through neglect and deceit and malice. It's time to stop treating the internet as a flawless treasure whose honor must be protected from desecration. It hasn't been such for a long time, if indeed it ever was.
You are subscribed to email updates from The Atlantic.
To stop receiving these emails, you may unsubscribe now.
Email delivery powered by Google
Google, 1600 Amphitheatre Parkway, Mountain View, CA 94043, United States