---
In 'Battlefront II's Wake, More Governments Move Towards Regulating Loot Boxes
Posted: 22 Nov 2017 11:00 PM PST
More governments around the globe have clarified their stances on loot boxes as a form of gambling.
Belgium is the first Western country to definitively state that loot boxes are gambling and call for their regulation. Its investigation, launched a week ago, concluded that "the mixing of money and addiction is gambling."
The Minister of Justice, Koen Greens, added that "Mixing gambling and gaming, especially at a young age, is dangerous for the mental health of the child."
The country will be going through the European Union to ban the sale of virtual items when you don't know exactly what you're buying.
Meanwhile in the United States, Hawaii is leading the charge in eliminating gambling from games. Representative Chris Lee (D) had some very strong words in the below video:
He specifically refers to EA's Battlefront II and the recent controversy surrounding its loot boxes that gave gameplay advantages. At least, until they pulled all microtransactions.
However, it's good to see that he's focused not just on one game, but the actual predatory practices. EA certainly doesn't have a monopoly on those.
The Australian state of Victoria has weighed in, with a strategic analyst at the Victorian Commission for Gambling and Liquor Regulation releasing a statement saying the office of Victoria does consider this a gambling activity. What is unclear, it says, is the issue of jurisdiction and what powers the state has to regulate it.
Small thing there: it's the statutory regulator, not the government itself, and this was only with respect to Victorian law, so it may not be the case in other territories

— Alex Walker (@dippizuka) November 22, 2017
In the words of the strategic analyst:
What occurs with "loot boxes" does constitute gambling by the definition of the Victorian Legislation. Unfortunately where the complexity arises is in jurisdiction and our powers to investigate.

Legislation has not moved as quick as the technology; at both State and Federal level we are not necessarily equipped to determine the legality of these practices in lieu of the fact the entities responsible are overseas.
One relevant factor seems to be whether or not the provider is overseas or has "set up shop" in Victoria. It's unclear whether hosting game servers constitutes that or not.
Another Australian state, Queensland, isn't willing to go as far. The Office of Liquor and Gaming Regulation has said it doesn't consider loot boxes to be the same as a "gaming machine" — or, slot machine — and can't say whether it's outright "gambling."
China has had legislation on random chance in videogames for a while now, forcing publishers to disclose the odds of receiving any particular item when putting forward real money.
Recently, the ESRB – the ratings body in North America – stated it does not consider loot boxes to be gambling. The European equivalent, PEGI, has deferred the issue to individual gambling commissions in the region. It just got its first strong answer from Belgium.
The post In 'Battlefront II's Wake, More Governments Move Towards Regulating Loot Boxes appeared first on Fandom powered by Wikia.
Prepare for Winter With These 'Game of Thrones' Gifts
Posted: 22 Nov 2017 04:40 PM PST
Have a friend or family member in your life who is obsessed with Game of Thrones? Not sure what to get them this holiday season? Look no further than our handy gift guide. From Christmas ornaments to Funko Pop!s to family board games and prop replicas, we've got you covered!
These gift ideas are organized by price, ranging from lowest to highest. The prices may change, depending on Black Friday, Cyber Monday and holiday sales. 
Iron Throne Ornament ($9.99)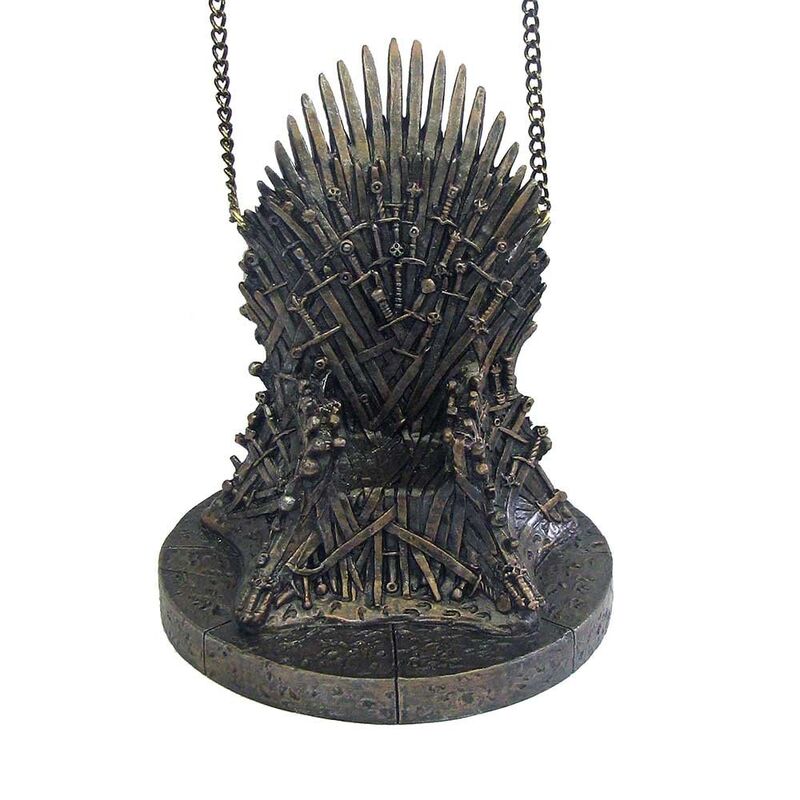 Rule Westeros this Christmas with your very own Iron Throne! Better yet, gift this miniaturized throne to someone in your life who is obsessed with Game of Thrones as we are. With this on their tree, they can make anyone "bend the knee" and pledge to House Stark, or whichever house is their favorite.
—
Available for $9.99 at ThinkGeek.
Jon Snow Funko Pop! ($13.00)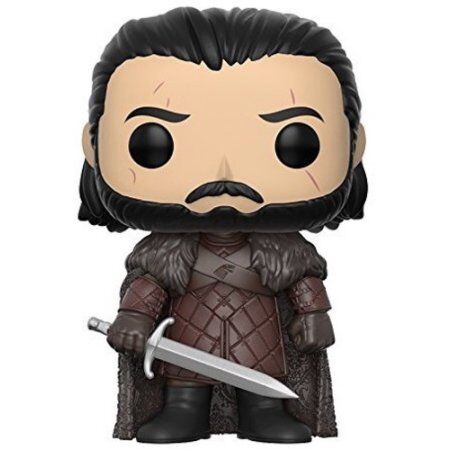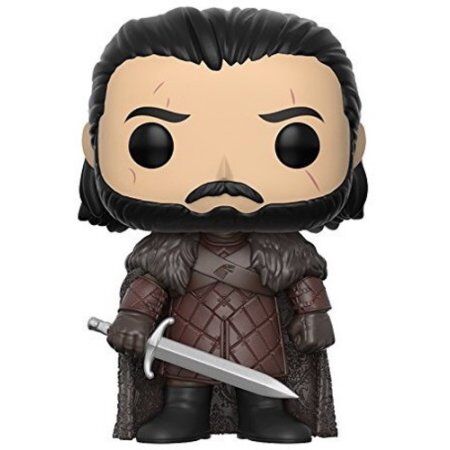 All hail Jon Snow — King in the North! This Funko Pop! is a perfect addition to any Game of Throne's fan Pop! collection. While Jon Snow's first Pop! featured him in the black robes of the Night's Watch, this Pop! reflects his new clothes as a member of House Stark and King in the North!
—
Available for $13.00 at Wal-Mart.
Game of Thrones Silver Armor Tumbler Set ($24.90)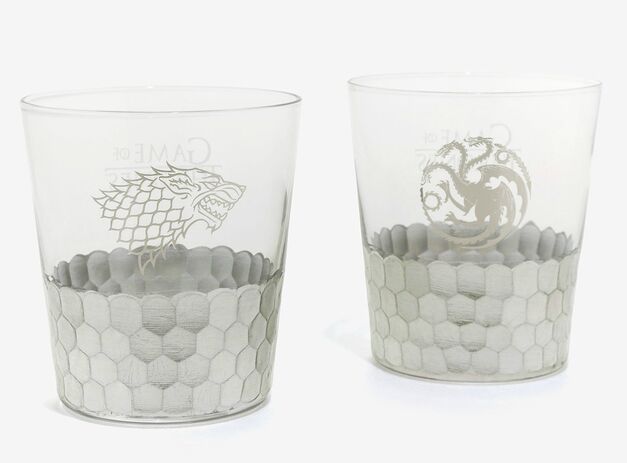 While the HBO series may be called Game of Thrones, the book series is actually called A Song of Ice and Fire. Fans of the show may have guessed that this title directly references the Season 7 developments between House Stark (Ice) and House Targaryen (Fire). Give these unique glasses to any friend who has been waiting patiently to toast to the union of these two great houses.
—
Available for $24.90 at BoxLunch.
House Sigil Ornament Set ($24.90)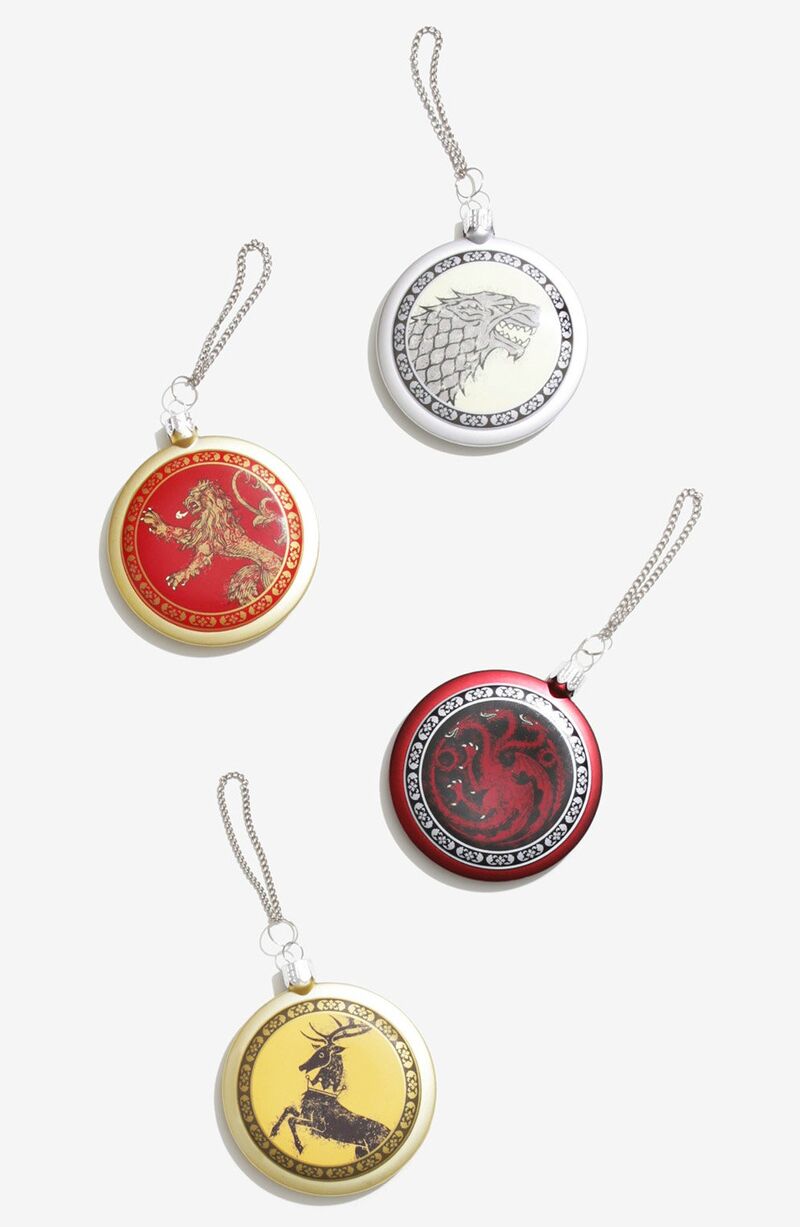 The great houses of Westeros come together in this festive ornament set. It includes the sigils of the noble House Stark, the wealthy House Lannister, the ambitious House Targaryen, and the now extinct House Baratheon. Let's keep the warring on the tree, and not at the dinner table this holiday!
—
Available for $24.90 at BoxLunch.
Map of Westeros Messenger Bag ($59.99)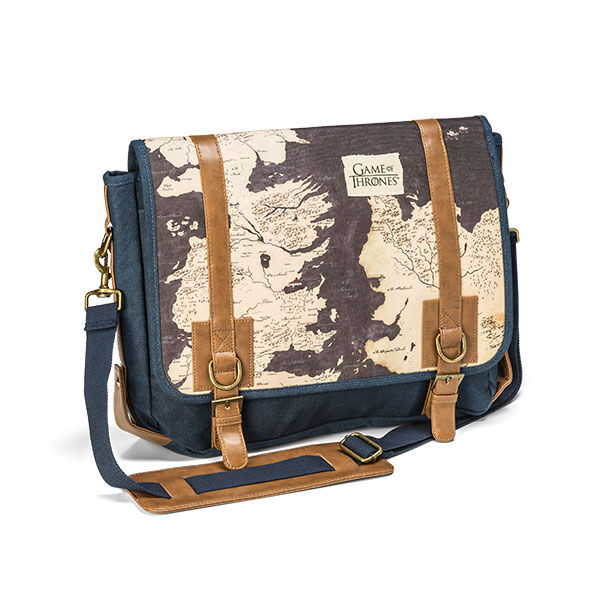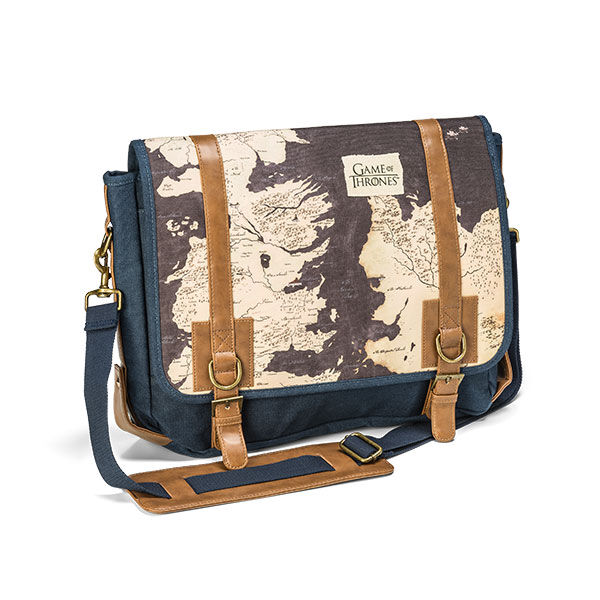 If you're going on a long, continent-spanning journey like Daenerys Targaryen, take along this messenger bag that features maps of Westeros and Essos. Even the scholarly Archmaesters of the Citadel would be jealous of such detailed work. Inside there's a hidden surprise; the bag is lined with the sigils of the great houses.
—
Available for $59.99 at ThinkGeek.
Game of Thrones Leather Book Set ($69.67)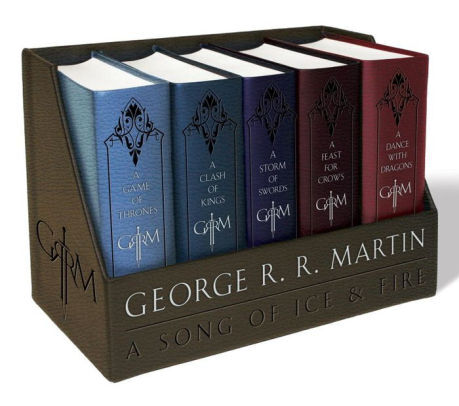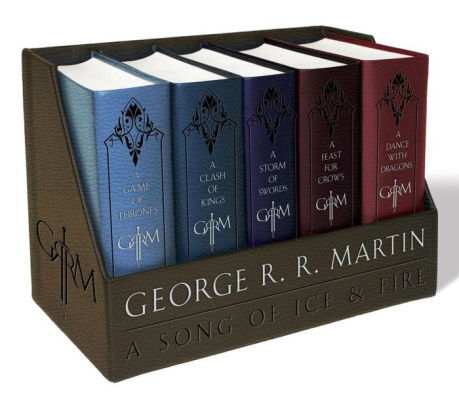 This beautifully bound leather book set is perfect for the Game of Thrones collector in your life. The set contains five books: A Game of Thrones, A Clash of Kings, A Storm of Swords, A Feast for Crows, and A Dance with Dragons, all written by George R.R. Martin. Whether your loved ones have read the book series or not, this set would look gorgeous on any shelf, especially bookended by the magnificent dragon's egg collection further down on this gift guide.
—
Available for $69.67 at Barnes and Noble.
Game of Thrones RISK ($75.00)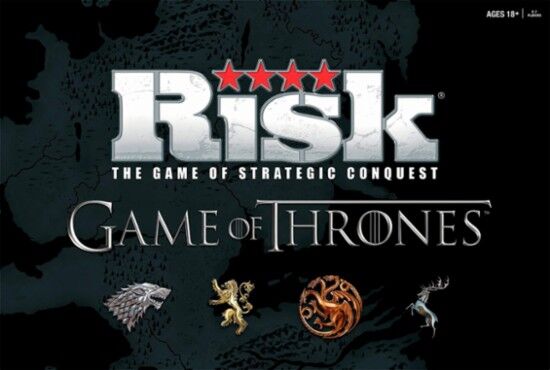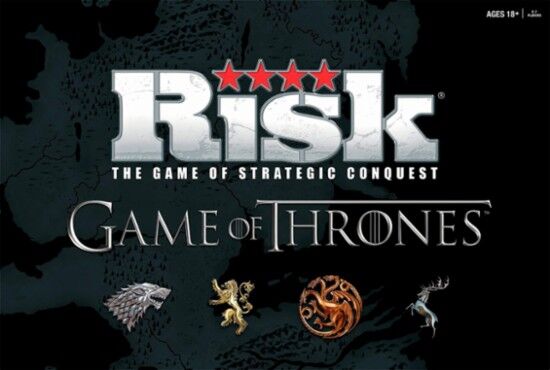 Now your friends and loved ones can really play the "game" of thrones to see who controls Westeros! RISK is the perfect game for a Game of Thrones adaptation because the show essentially is the game. Everyone wants to sit on the Iron Throne and control the Seven Kingdoms. Everyone on the show has an army that he or she is moving forwards for control. In the game you play as Houses Martell, Stark, Baratheon, Lannister, and Tyrell seek to win Westeros!
—
Available for $75.00 at Amazon.
Dragon Egg Book End Set ($149.99)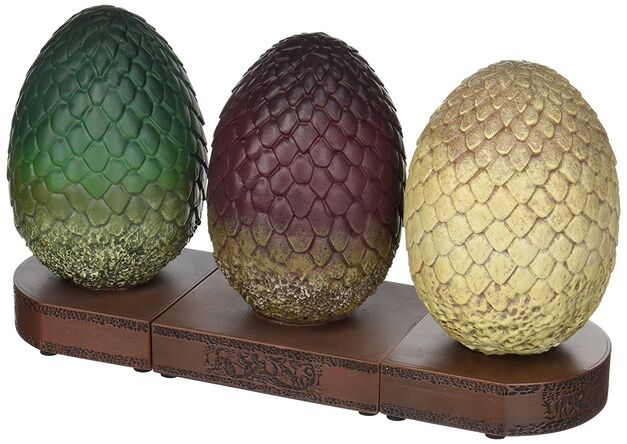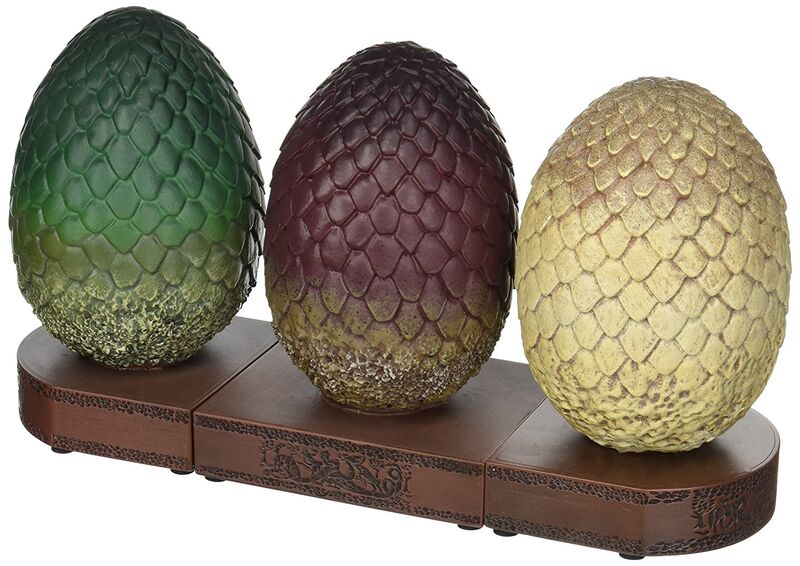 These dragon egg bookends will look perfect next to the book sets, the movie sets, or even on their own. Perfect replicas of Dany's dragon eggs, these come set on a gorgeous wooden stand. Viserion, Drogon and Rheagal are all represented here — just don't hold them too close to fire — or a real dragon may emerge 😉
—
Available for $149.99 at Amazon.
Game of Thrones Seasons 1-7 Blu-ray Set ($229.99)
Winter is coming … both to Westeros and in real-life. Why not pass those cold nights by watching all seven seasons of Game of Thrones? This epic collection is more precious than gold or dragon glass, and will set fans up for the eighth and final season which is yet to come.
—
Available for $229.99 at HBO.
Winterfell Replica Statue ($299.99)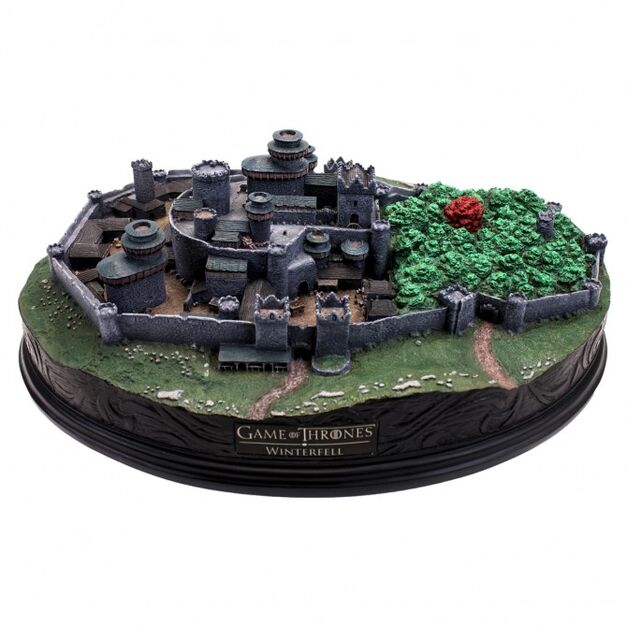 Anyone who has seen Game of Thrones knows just how stunning and intricate the opening credits are. Each land is shown in such detail. Now you can gift a piece of the opening credits to a friend or family member whose loyalties lie in the North with this replica of Winterfell. Winterfell has been the home of House Stark for generations. The outer wall, the castle home, even the Heart Tree in the Godswood has been reproduced here in spectacular detail.
—
Available for $299.99 at HBO.
The post Prepare for Winter With These 'Game of Thrones' Gifts appeared first on Fandom powered by Wikia.
13 Anime Shows to Binge-Watch on Netflix & Hulu This Thanksgiving Long Weekend
Posted: 22 Nov 2017 03:45 PM PST
With over 100 million subscribers worldwide, online streaming services like Netflix and Hulu have become the supreme overlords of TV shows and movies. These streaming giants have a lot of titles in their arsenal, and lately, they've been dipping their toe in the anime market bringing us some awesome anime series to binge-watch. So, if you're finished with your holiday obligations or you're just trying to avoid them, here are 13 anime series to binge-watch this Thanksgiving long weekend.
Knights of Sidonia
Number of episodes: 24 (2 seasons)
Genre: Action, Mecha, Sci-Fi, Space
Streaming service: Netflix
The perfect anime to start your Netflix binge-watching session is none other than the first Netflix original anime series, Knights of Sidonia. The energetic and equally wonderfully choreographed series documents a distant-future space opera involving the colony ship Sidonia trying to fight off aliens while looking for a world to call home.
[Zuleika Boekhoudt, FANDOM Contributor]
Black Lagoon
Number of episodes: 24 (2 seasons)
Genre: Action, Drama, Mafia, Pirates
Streaming service: Hulu
Black Lagoon tells the story of a young businessman, Rokuro, who soon comes to regret his decision to go on a business trip to Thailand. As within the Land of Smiles, lies the crime-ridden city of Roanapur, which is notorious as a haven for convicts and degenerates.
Before even arriving at Roanapur, Rokuro gets captured by a mercenary group called Black Lagoon. The group plans to hold Rokuro for ransom, but the scheme ultimately fails, as Rokuro's bosses refuse to pay any cent for him.
Now stranded and betrayed by his former employer, Rokurou decides to join his capturers. To survive in this crime-ridden city, Rokurou must change and prepare himself for the carnage that he's going to be living in.
[Zuleika Boekhoudt, FANDOM Contributor]
Cowboy Bebop
Number of episodes: 26 (1 season)
Genre: Action, Adventure, Comedy, Drama, Sci-Fi, Space
Streaming service: Hulu
Depending on who you ask, Cowboy Bebop is somewhere between a phenomenally great anime and the absolute best anime ever made (which was the opinion of my high school band teacher). Cowboy Bebop tackles the loneliness and search for meaning that comes with adulthood better than nearly any other anime.
Its setting in the space-exploring near-future is also so multi-faceted and well done that it feels like a reality we might one-day call home. Its soundtrack is also the stuff of legends and perhaps the best feature of this already immaculate anime.
At only 26 episodes, Cowboy Bebop is perfect for binge-watching. Fair warning, though, the biggest criticism against this show is that it ends, and viewers are no longer able to journey through space with The Bebop crew. So, prepare for the inevitable heartbreak. If you think you can handle it, you can watch the excellent dub on Hulu.
[Lucas DeRuyter, FANDOM Contributor]
Gungrave
Number of episodes: 26 (1 season)
Genre: Action, Drama, Sci-Fi, Super Power
Streaming service: Hulu
If supernatural and crime syndicates are more of your go-to anime, then Gungrave may be just for you. The series follows two friends, Brandon Heat and Harry MacDowell, as they move up the ladder in Millennion, the largest and most notorious mafia family in the area. While these two are so close that they even consider themselves as brothers, greed and jealousy prove stronger than their bond.
[Zuleika Boekhoudt, FANDOM Contributor]
Gate: Thus the JSDF Fought There!
Number of episodes: 24 (2 seasons)
Genre: Action, Military, Adventure, Fantasy
Streaming service: Hulu
In Gate, after a mysterious gate suddenly appears in the middle of Tokyo, Japan, the rest of the world is shocked when they learn that there's a whole other civilization filled with supernatural creatures. To learn more about this mysterious new world, Japan sends its elite military forces to investigate what these creatures want: peace or war.
While the 24-episode anime series may be just a glorification of the Japanese Self-Defense Forces (JSDF), it has a unique premise that will make you want more supernatural military action.
[Zuleika Boekhoudt, FANDOM Contributor]
Samurai Champloo
Number of episodes: 26 (1 season)
Genre: Action, Adventure, Comedy, Historical, Samurai
Streaming service: Hulu
Samurai Champloo is an anime that imagines a world where samurai culture and hip-hop culture are blended together. So, it's simultaneously amazing and ridiculous. Much like Cowboy Bebop, every episode focuses on characters trying to find their place in a world that no longer has a need for them, or who cannot reconcile with their unique circumstances. While it can be rather intense and relatable at times, there are also moments of levity.
Samurai Champloo is amazing because it covers some very relatable topics while also not taking itself too seriously. It succeeds in depicting the highs and lows of life in a way that feels wholly sincere and unique. This amazing anime is for anyone who wants their minds blown and hearts touched.
[Lucas DeRuyter, FANDOM Contributor]
Little Witch Academia
Number of episodes: 25 episodes (2 seasons)
Genre: Adventure, Comedy, Magic, Fantasy, School
Streaming service: Netflix
Some hocus-pocus here and an eye of newt there and you get Little Witch Academia. The magical series follows Atsuko as she enters the prestigious magic school, Luna Nova Academy and the fascinating situations she gets herself into while aspiring to become her idol, Shiny Chariot.
The series brings wonder, playfulness and beautiful graphics into one. But, that's not all. The visuals, the message of friendship and overcoming personal failings are thoroughly intertwined making it the perfect anime to binge-watch with the family.
[Zuleika Boekhoudt, FANDOM Contributor]
Btooom!
Number of episodes: 12 episodes (1 season)
Genre: Action, Sci-Fi, Psychological, Seinen
Streaming service: Hulu
Imagine waking up one morning on a beautiful island with no recollection of how you got there. That wouldn't be a bad situation to be in, right? For, 22-year-old Ryōta Sakamoto it's his worst nightmare. While on this seemingly deserted island, Ryōta quickly figures out what's going on: he's playing his favorite video game, Btooom!, which doesn't bode well if you're playing to stay alive.
[Zuleika Boekhoudt, FANDOM Contributor]
One-Punch Man
Number of episodes: 12 episodes (1 season)
Genre: Action, Sci-Fi, Comedy, Parody, Super Power, Supernatural
Streaming service: Netflix and Hulu
One-Punch Man is, almost indisputably, the best anime to be released in 2015. This amazing series is a deconstruction of the shōnen genre and makes nuanced commentary on how difficult it can be to live a fulfilling life and the value of self-betterment. It also has a dude who can kill giant monsters and insane aliens in a single punch.
This 12-episode anime flies by at a break-neck pace; making it perfect to binge on Netflix or Hulu. While this series might not be the perfect fit for you if you are less familiar with anime, anyone can appreciate the show's stunning animation and quirky collection of characters.
[Lucas DeRuyter, FANDOM Contributor]
The Devil is a Part-Timer!
Number of episodes: 13 episodes (1 season)
Genre: Comedy, Demons, Romance, Fantasy
Streaming service: Netflix and Hulu
Paying rent, doing chores, and working at a fast food chain are just the way of life. There's no excitement in these mundane tasks for the average person. But, for Satan, these are just small steps towards worldwide domination.
After being stranded in modern day Tokyo and left powerless, Satan must work at MgRonald's to make ends meet as, "conquering the world" isn't really much of a necessary skill.
Much of the humor in The Devil is a Part-Timer! stems from the Prince of Darkness scraping together as much cash as possible. And of course, the crazy fights that he gets into over the most mundane things. The series is genuinely funny and offers the right mix of personalities.
[Zuleika Boekhoudt, FANDOM Contributor]
Gargantia on the Verdurous Planet
Number of episodes: 13 episodes (1 season)
Genre: Action, Sci-Fi, Adventure, Mecha
Streaming service: Netflix and Hulu
In the distant future, humans live in space and their sole purpose is the extermination of a squid-like race of alien called Hideauze.
Ledo, a rank-and-file soldier, is separated from his fleet along with his mecha, Chamber. They land on a planet covered with water where people live on massive ships. You know, anime's answer to Hollywood's Waterworld.
Unable to speak their language, Ledo must learn to communicate with these people all the while trying to find a way back home.
Gargantia on the Verdurous Planet goes much deeper than it appears and explores some mature topics, such as cultural barriers and one's purpose in life. It's the perfect anime show to dissect and find out its true message and meaning in one binge-watching session.
[Zuleika Boekhoudt, FANDOM Contributor]
Castlevania
Number of episodes: 4 (1 season)
Genre: Horror, Supernatural, Vampires
Streaming service: Netflix
Some would argue that this incredible, four-episode Netflix series does not technically count as an anime. While there is an argument to be made there, it doesn't make Castlevania any less enjoyable. This show is all killer, no filler – with monstrous demons usually on the receiving end of that killing.
The dark, medieval setting of Castlevania and the personally motivated characters within it make this show a perfect fit for anyone looking to scratch their Game of Thrones itch. While the low episode count does make it perfect to knock out in an evening or a weekend, it does mean that you'll quickly be hungry for more. Thankfully, Netflix has made it clear that season two is in the works and that it will consist of eight episodes. While there is no official release date yet, it's great to know that this wonderful series will continue on.
[Lucas DeRuyter, FANDOM Contributor]
Your Lie in April
Number of episodes: 22 episodes (1 season)
Genre: Drama, Music, Romance, School, Shounen
Streaming service: Netflix and Hulu
Do you love music? Are you a hopeless romantic? Then prepare to jump on the roller coaster ride that is Your Lie in April. The 22-episode anime follows prodigy-pianist Kousei who, after losing his mother, also loses interest in playing the piano. But, when he meets the beautiful and somewhat brash Kaori, his life gets a new tune.
The balance of seriousness and humor, alternating between the two and then being united with the musical scores brings the whole series together. And when it comes to the drama, the passionate intensity between the characters alone is reason enough to binge-watch the series until it's melancholic finale.
[Zuleika Boekhoudt, FANDOM Contributor]
The post 13 Anime Shows to Binge-Watch on Netflix & Hulu This Thanksgiving Long Weekend appeared first on Fandom powered by Wikia.
10 Galactic Gifts Worthy of Star Wars Fans
Posted: 22 Nov 2017 03:09 PM PST
Everything is coming up Star Wars lately. Star Wars: The Last Jedi is expected to have one of the biggest opening weekends in box office history, the Han Solo movie is on its way and Lucasfilm is looking to make even more films over the next 10 years.
If you have a Star Wars lover in your life, check out our handy gift guide. These gifts range from toys for kids and collectors to virtual reality games for even the most die-hard fan.
These gift ideas are organized by price, ranging from lowest to highest. The prices may change, depending on Black Friday, Cyber Monday and holiday sales.
Ahsoka Itty Bitty ($7.95)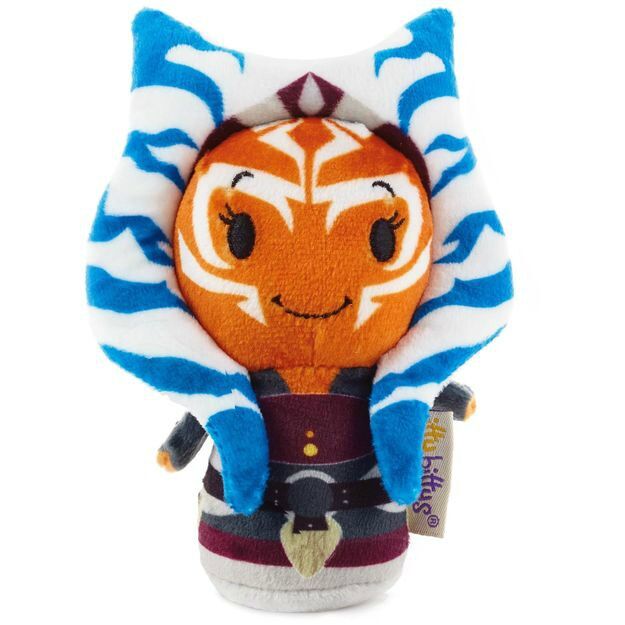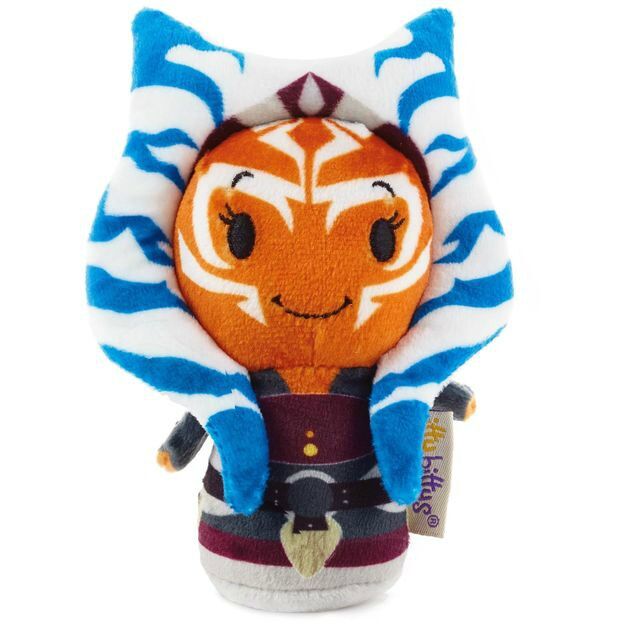 Ahsoka Tano is one of Star Wars' most beloved characters. From her valiant efforts in The Clone Wars animated series, to her surprise return in Star Wars Rebels, to her new solo title book, Ahsoka is a bonafide fan favorite. Tuck this "ittybitty" figure into the stocking or under the pillow of your favorite Star Wars fans.
—
Available for $7.95 at Hallmark.
The Last Jedi Ceramic Mug ($14.99)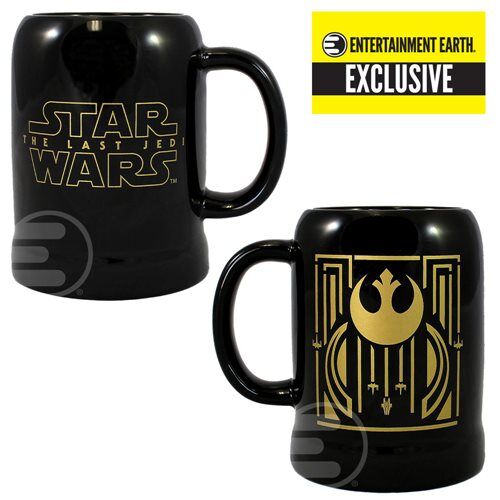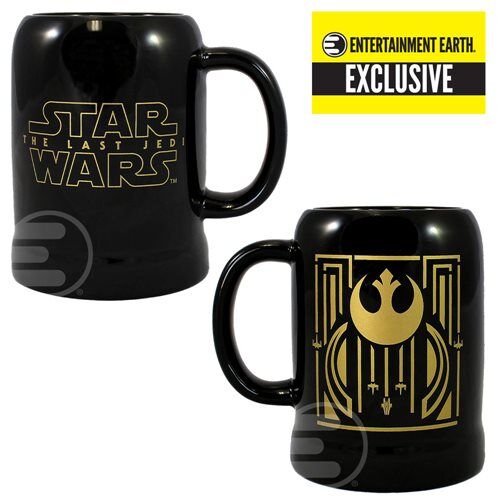 As The Last Jedi approaches, every Star Wars fan is looking for merchandise that is unique to their collection. Gift them this Entertainment Earth exclusive ceramic stein. It features The Last Jedi film logo in gold, as well as a Rebel Alliance symbol with two X-wings and one A-wing soaring from beneath it. These are being sold in limited quantities and will complete any Star Wars themed beverage collection.
—
Available for $14.99 at Entertainment Earth.
Princess Leia Enamel Pins ($14.95)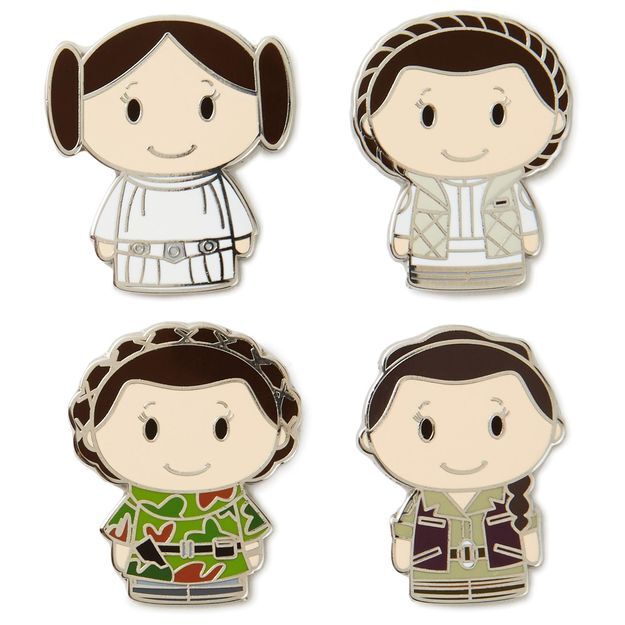 "To us, she'll always be royalty…" Commemorate the amazing Carrie Fisher with this four-pin collection of Princess Leia's most famous moments from the Original Star Wars trilogy. This set is perfect for any pin collector in your life or anyone who wants to carry with them a small reminder of Carrie's legacy as Princess — nay General — Leia Organa.
—
Available for $14.95 at Hallmark.
Rey Figure: Forces of Destiny  ($22.99)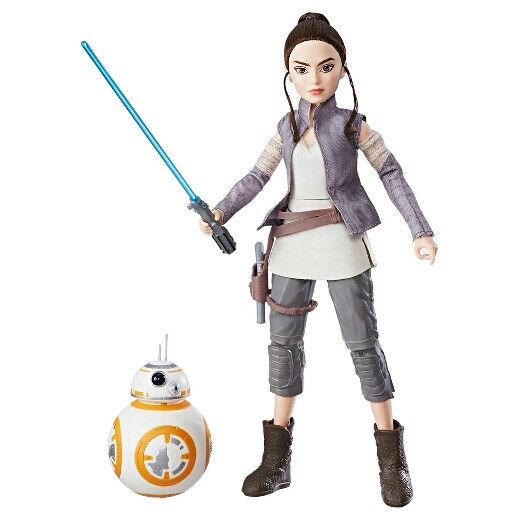 Rey's friendship with BB-8 is getting to be as important as Luke's friendship with R2-D2. Help the Star Wars lover in your love celebrate this budding dynamic duo with this Forces of Destiny figure set. Rey is sporting her iconic blue lightsaber, the one she'll be handing back to Luke at the beginning of The Last Jedi.
—
Available for $22.99 at Target.
Art of the Last Jedi ($25.00)
This stunning Art of Star Wars book is a must-have for movie lovers. This 256 page book covers everything in The Last Jedi, from sets to costumes to props to locations. It will walk your favorite Star Wars fan through the stunning landscapes where they shot the film, the art that influenced the new alien worlds and more. Written by Phil Szostak, this book goes perfectly with the previous Art of books for Rogue One and The Force Awakens.
—
Available for $25.00 at Amazon.
From a Certain Point of View ($35.00)
Another great book to gift this season is From a Certain Point of View. First a famous quote by Obi-Wan Kenobi, this book is a collection of 40 essays to commemorate Star Wars' 40th anniversary. Authors range from screenwriters to actors to comic book creators and more, including Rogue One scribe Gary Whitta, Star Trek alumni Wil Wheaton, Star Wars Bloodline and Lost Stars author Claudia Gray, comic book creators Greg Rucka, Matt Fraction, Kelly Sue DeConnick and so many more.
—
Available for $35.00 at Barnes and Noble.
Millennium Falcon Waffle Maker ($53.00)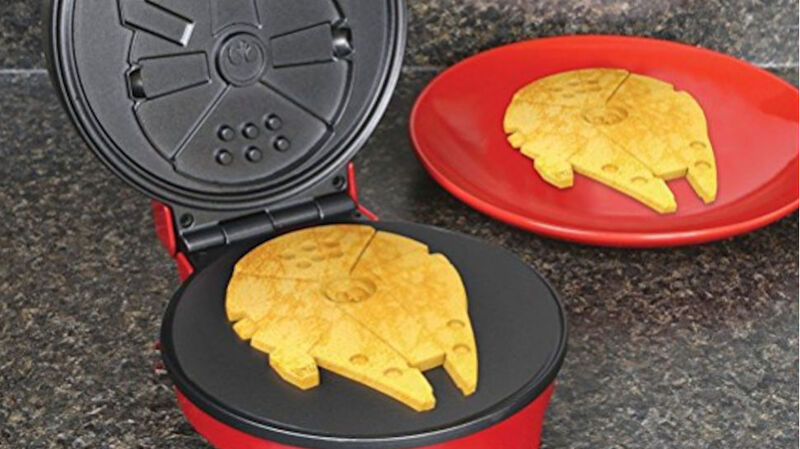 Gift this creative waffle maker to any Star Wars foodies in your life. This waffle maker can transport any friends to a galaxy far, far away in just a few short minutes. If you order this, think about also gifting a set of plates to go with these breakfast ships. Bed, Bath and Beyond also has appetizer plates, dinner plates and ice cream bowls. Hey, even the Exogorth thought the Millennium Falcon would be tasty 😉
—
Available for $53.99 at Jet.
Luke Skywalker Rebel Pilot Backpack ($69.00)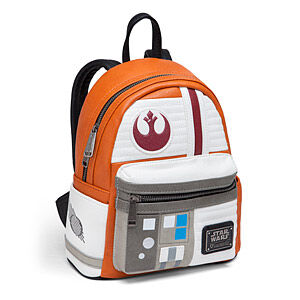 Every explorer in the galaxy needs a good pack. This backpack is perfect for aspiring pilots or anyone who wishes to join the Rebel Alliance. Designed to mimic the colors and textures of an X-wing pilot flight suit, this backpack will be perfect for the Star Wars fans in your life who long to be like Luke Skywalker, Poe Dameron, or Snap Wexley.
—
Available for $69.00 at ThinkGeek.
Tauntaun Sleeping Bag ($132.00)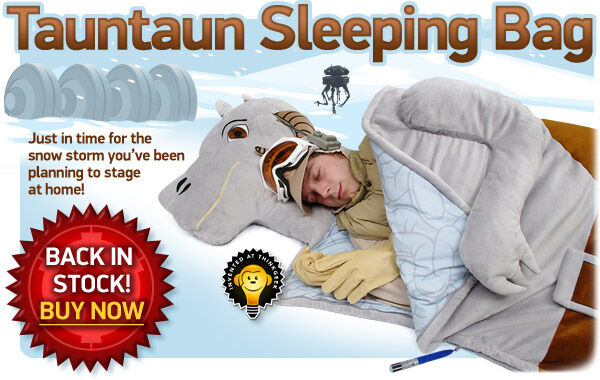 This item is for your friends or loved ones who love reenacting scenes from the original trilogy. This gift is also perfect for someone with a great sense of humor. The Tauntaun sleeping bag is great for winter camping and even comes with a built in pillow. No tauntauns were harmed in the making of this product.
—
Available for $132.00 at ThinkGeek.
Jedi Challenges AR Headset ($199.99)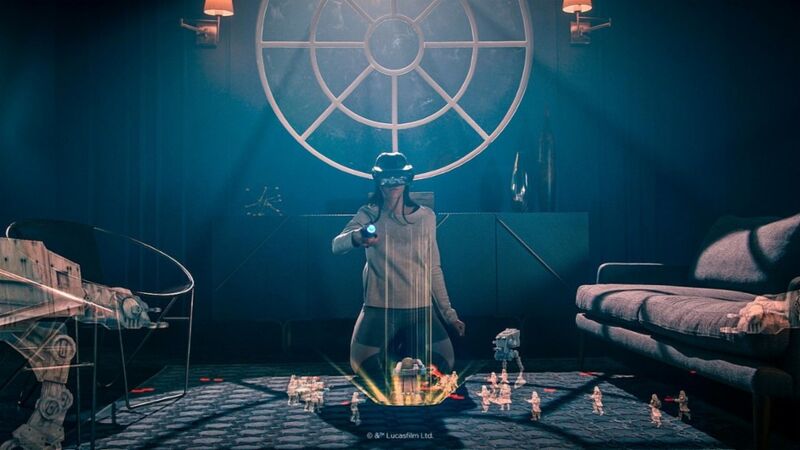 This is the gift for the Star Wars gamer in your life. Your friends and family members can enter the action themselves with the virtual reality headset. Via the official description: "Feel the Force as you fight for galactic peace with the Lenovo Star Wars™: Jedi Challenges AR headset. It works with an iOS or Android smartphone to enable the game app, letting you engage in virtual Jedi duels. This Lenovo Star Wars™: Jedi Challenges AR headset includes a lightsaber controller and a tracking beacon to arm you for battle."
FANDOM even got a chance to test it out!
—
Available for $199.99 at BestBuy.
The post 10 Galactic Gifts Worthy of Star Wars Fans appeared first on Fandom powered by Wikia.
'Skyrim' on the Nintendo Switch: Our Impressions
Posted: 22 Nov 2017 02:45 PM PST
I know what you're thinking. How many times has The Elder Scrolls V: Skyrim been re-released on consoles or remastered? I've lost count, to be honest. But here we are again, hopefully for the last time. Not to say I don't like Skyrim, I think we just want a new Elder Scrolls game!
I was a bit skeptical at the notion of Skyrim on the Switch. Would this Bethesda classic be able to look and feel as good as it's other console and PC iterations? Here is a quick run-down of our impressions.
Portable Mode
The Bad:
Honestly, there isn't much. The only qualms that I had while playing the game in it's portability has to do with the Switch's design and hardware. You may need to adjust joystick sensitivity and screen brightness as the game does encounter a lot of dark areas.
The Good:
You can play Skyrim anywhere and everywhere. How cool is that? It's really cool.
Visually, it's far exceeded my expectations. The game looks incredible on the Switch. Better than some older ports and console versions.
The screen size doesn't seem to be as much as a nuisance as I would have imagined. After the first few minutes, you aren't even that conscious of the fact you're playing on a small screen.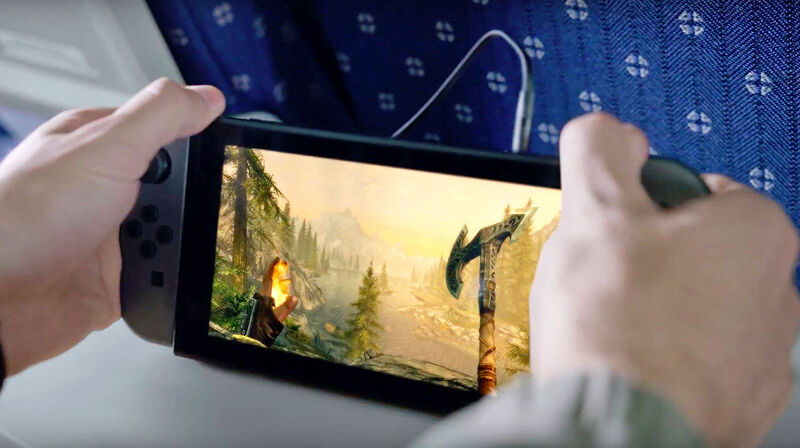 Motion Controls (with JoyCon Grip)
The Bad:
They're gimmicky. Flick down to attack, flick up to defend. Pretty repetitive and boring if you ask me.
The Good:
You can use the motion controls along with the default controls. So if you feel like switching it up, they're always on.
Adds a fun, interactive element to Skyrim, but it's only plausible to use motion controls using the Joy-Con Grip.
On the Big Screen
The Bad:
The Good:
To experience Skyrim in all it's grandeur, you'll want to plug your Switch into a big screen TV.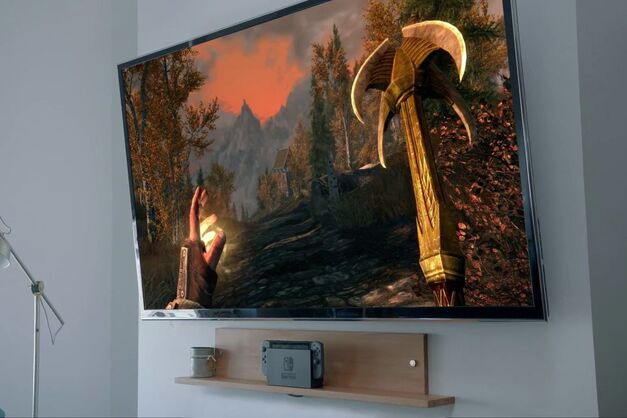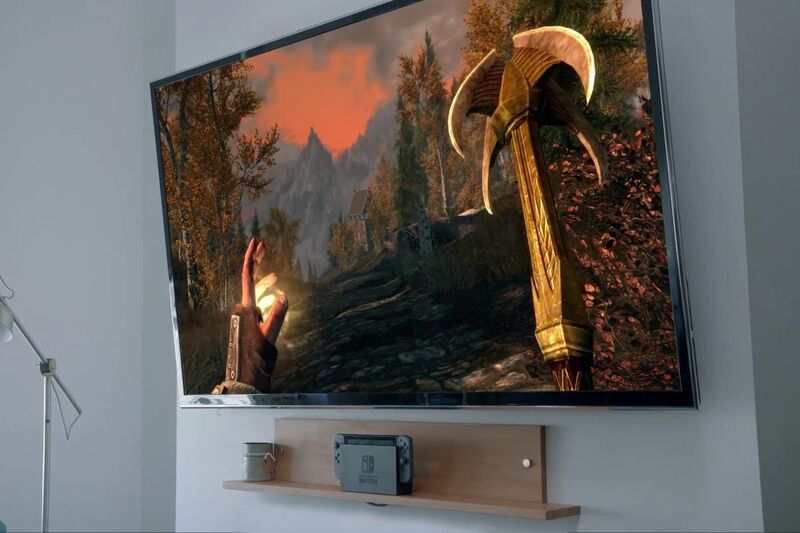 Our Verdict:
The ability to play Skyrim on-the-go is incredible… The graphical quality and smooth gameplay are a marvel and it's the perfect game to have on your Switch during long commutes.
The motion controls add little appeal to the Switch version, but I think it's fair to say that not many folks will be disappointed by that fact.
You should definitely consider buying Skyrim for the Switch if you enjoyed playing it from the comfort of your couch and use your Switch often in portable mode.
The post 'Skyrim' on the Nintendo Switch: Our Impressions appeared first on Fandom powered by Wikia.
'Rocket League' on the Nintendo Switch: Our Impressions
Posted: 22 Nov 2017 02:27 PM PST
Yet another smash has made it's way onto the Nintendo Switch recently. This time it's Psyonix's car-soccer masterpiece, Rocket League. Fun for all skill levels and ages, Rocket League has the canny ability to make anybody a sports fan.
We went ahead and fired it up on our Nintendo Switch and played a myriad of game modes in different settings. Here are some of our thoughts on how Rocket League holds up on Nintendo's newest mobile platform.
Portable Mode
The Bad:
For Rocket League veterans such as myself, it definitely took some time getting used to the button mapping and joysticks of the Switch. While the button layout isn't that different from a PS4 or Xbox controller, it's feel certainly had me playing poorly. Most of that is probably attributed to the joysticks. They're small, less agile, and restrictive compared to other full size controllers. You'll need to adapt to the smaller circumferences, then you'll be back to making amazing aerial shots in no time.
The Switch's screen is also a bit of a hindrance. It's a bit tougher to line up shots and see action, simply because the screen is small.
Portable mode means you probably won't have online capabilities. The main component of Rocket League revolves around online capabilities.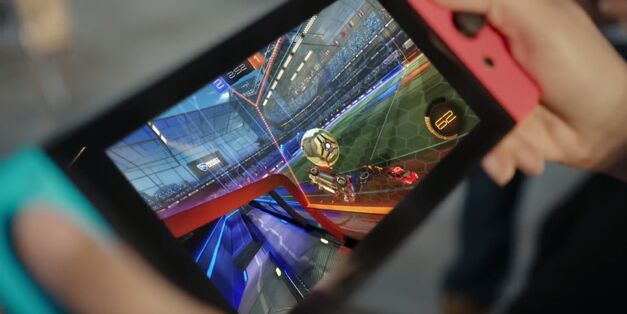 The Good:
Playing on wifi while chillin' on your favorite sofa is probably the best way to enjoy portable mode. Since most games are quick, you can get in a fast match while cooking, sitting on the can, or simply in bed before it's time to count sheep.
JoyCon Grip
The Bad:
Finding an adequate place to set the Switch on it's stand. You'll want it to be about eye level and close to your face. Easier said than done, seriously.
The Good:
Oh man, what a difference the JoyCon Grip makes! Having the JoyCon controllers closer together makes playing feel a lot more natural. Your finger's don't feel as spread and stretched (I have fairly longish fingers) — everything seems more relaxed and intuitive.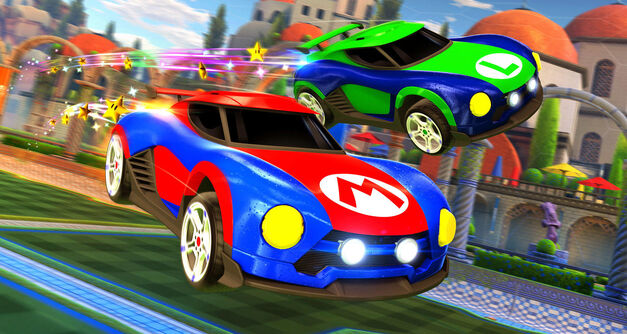 On the Big Screen
The Bad:
Nothing! Hooking up your Switch so you can play Rocket League on a big screen is highly recommended.
The Good:
With a bigger screen and using the Nintendo Switch Pro Controller, my experience with Rocket League was no different from other consoles or PC. This is the way that Rocket League is meant to be played!
Verdict:
Unfortunately, Rocket League just isn't suited for portable mode on the Switch. The JoyCon design isn't suited for the game as it's joysticks are restrictive and the fact you can't play online while away from wifi is a big deal-breaker.
However, if you've enjoyed playing Rocket League on other consoles or PC, then you should definitely consider grabbing this and a Nintendo Pro Controller to enjoy the game as it's meant to be played — on the big-screen!
The post 'Rocket League' on the Nintendo Switch: Our Impressions appeared first on Fandom powered by Wikia.
'Final Fantasy XV: Comrades' Review: Picking Up the Pieces
Posted: 22 Nov 2017 10:33 AM PST
WARNING: This review contains spoilers for Final Fantasy XV and the film Kingsglaive: Final Fantasy XV.
The Final Fantasy franchise isn't a stranger to multiplayer. The main numbered series has two MMOs in its line — Final Fantasy XI and Final Fantasy XIV — but none of the other games dug past a single-player experience. So naturally fans were somewhat surprised to hear that Final Fantasy XV would be getting a multiplayer expansion of its own. And while it may look like a bid to grab extra cash following the game's release — as so many recent games have done — it's apparent that's not the case once you start playing.
The events of Final Fantasy XV: Comrades pick up following the ending of Chapter 13 of Final Fantasy XV. Noctis has fallen into what will be a decade-long slumber, and meanwhile, the wider world falls to ruin. In Comrades, you wake up with no memory and are told you are a member of the Kingsglaive, the elite magic-wielding soldiers that protected the capital city of Insomnia and its kings. But with King Regis dead and Prince Noctis missing, that point is moot. Instead, you'll work to restore power to the cities still standing and keep the monstrous daemons now roaming the earth at bay. Essentially, the apocalypse has happened, and you are helping the people rebuild.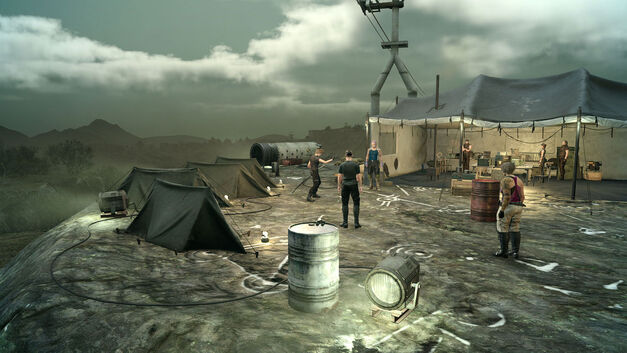 If you are unfamiliar with the term "Kingsglaive" and how King Regis died, you may want to go back and watch the film Kingsglaive: Final Fantasy XV. You'll come across characters and concepts that are only really explained in the film, and armed with that knowledge you'll have a bit of an easier time digesting Final Fantasy XV: Comrades.
Cleaning Up The Mess
Your time in Comrades kicks off with one of the more robust character creators we've seen in a while, almost rivaling that of the most recent Dragon Age game. You can alter everything from the width of your nostrils to the musculature of your shins — allowing you to either create a monster or painstakingly replicate your own looks. It's a great touch that, if you go the latter route, immerses you further into the world of Eos. Plus it's just plain cool seeing yourself in a Final Fantasy game.
The customization options go so far as to allow you to pick your birthplace — one of four cities in the world of Eos — and this choice will determine your attributes. For example, choosing Insomnia as your home grants your character high magic damage and a large bank of MP.
The general layout of Final Fantasy XV: Comrades is simplistic but refreshingly concise. You'll spend most of your time in the hub of Lestallum, where you can shop and select which missions to undertake. You'll have several types of missions to choose from: either defending something, moving from point A to point B, escorting, or killing waves of enemies in a mini horde mode. There are also Urgent quests, which square you off against the biggest, toughest bosses Comrades has to offer.
Each mission will reward you with gil (money), experience points for leveling up, and meteorshards. The latter are converted into electricity to power the city. As you complete missions, you'll use that electricity to power up shops in Lestallum and unlock new areas on the world map featuring new quests. Sometimes you'll need to complete a mission more than once to gain enough shards to power up a location, but luckily all missions are fairly short, preventing tedium from setting in.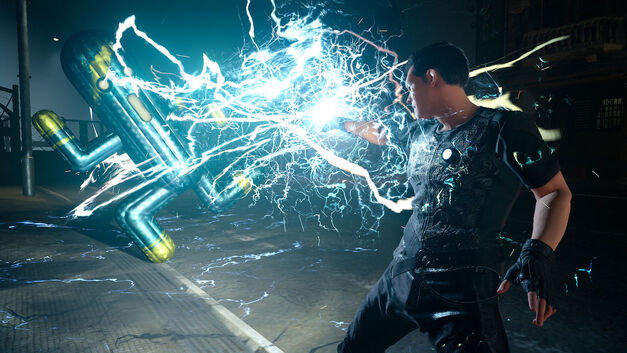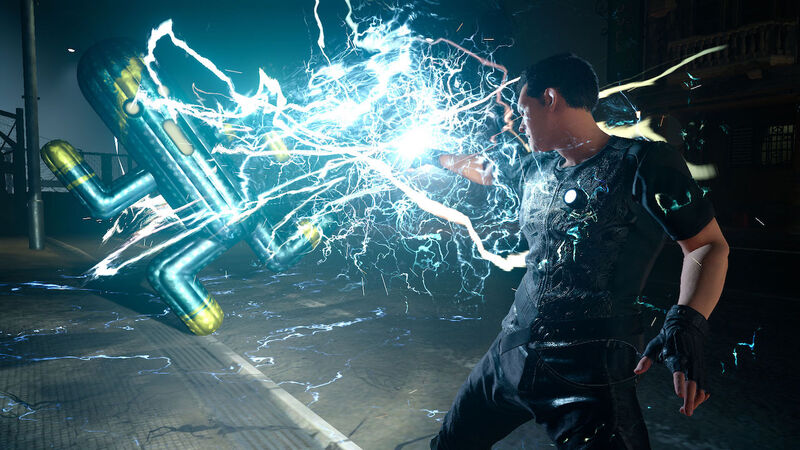 Whatever Happened To…?
This game loop seems overly simplified and tedious, but by completing more missions and unlocking more of the world, you are rewarded with more story content and a chance to see your favorite characters from the main game. Final Fantasy XV: Comrades has its own small narrative that is uncovered through single-player missions, so there's still fun to be had if you're not the kind of person who likes playing online. You can also complete all co-op missions using AI companions if you're really anti-online.
This double loop of unlocking areas and being rewarded with story is a great way to encourage progression. You really feel like you're achieving something, digging away bit by bit at the daemon problem and uncovering more about the Kingsglaive and what's going on with the remaining cast of Final Fantasy XV in the process.
Combat here is a little different than the main game, and a lot simpler. You can use your weapon to attack, cast a magic spell, warp strike, cast a healing spell, parry, and initiate a chain attack with your teammates. That's it. There are no restorative items so you have to rely on your own or your teammates' healing.
Thankfully there are many different weapons to choose from, and each comes with a different fighting style, as you'd expect. You can also equip your weapon with materials you've collected in combat that hold elements — fire, ice, ex. These will add an element to your attacks. Or you can use materials that add passive abilities, like an increased chance to block damage or a damage boost.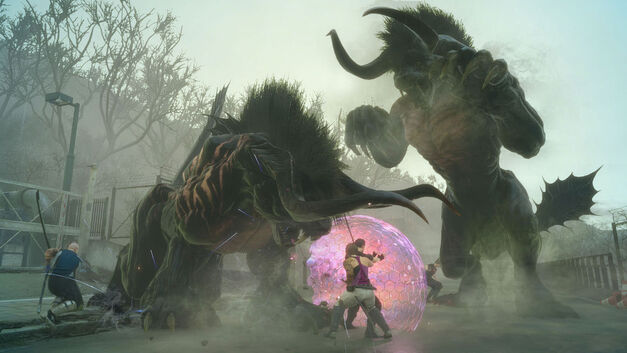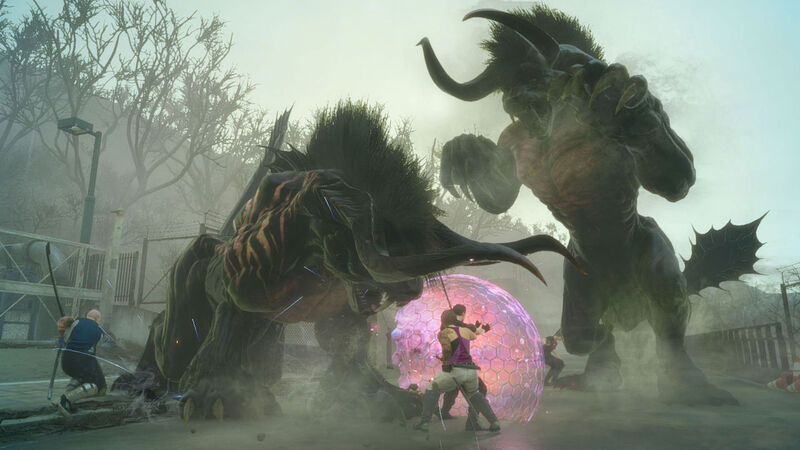 The Weapon's The Thing
Combat may be simple, and it takes quite a bit of time to level up. That part's a bit of a letdown. But how you customize your weapon will make or break your success rate out in the field, and it's this system that I found the most joy in with Comrades. It's satisfying to have a part of your character's function be made your own, tailored to your style and evolving with your time in Eos.
The online interface is also pretty bare-bones. You're always the only player in your Lestallum hub, and you can only interact with other players out on online missions. But thankfully, everything you earn is earned through gameplay; there are no loot boxes, no microtransactions, no way to spend real-world money to jump ahead of the curve. And in the current gaming landscape, this kind of purity is refreshing. I know that every time I log in, I will have to earn the weapons and accessories I want and that everyone else I'm fighting with has put the time in to earn that, too.
This sense of impact also bleeds into your collection of meteorshards. You feel like you're progression, that you're actually doing something worthwhile, by only having gameplay to unlock new areas. You can't just pony up cash for shards and have the whole map available to you — you have to earn it. And that need to earn, couple with oppressively dark atmosphere and tone of Comrades, really drives its core themes home: you're part of the last bastion of humanity. You must all get your hands dirty and work together, or you won't survive.
Is Final Fantasy XV: Comrades Any Good?
In the end, Comrades feels like the missing puzzle piece of Final Fantasy XV. Not only does it plug a narrative hole, it does so with coherency and commitment to its end-of-the-world bit. Yes, the multiplayer itself is over simplistic and you can actually play the expansion without interacting with others — but then you're missing the point of story Comrades is trying to tell.
The weapon customization is outstanding, and the character creator is surprisingly deep. And if you're on the Final Fantasy XV train, the ability to become part of the history of Eos is a wonderful get. Things may get repetitive at time in Final Fantasy XV: Comrades, and while you may not spend 100-plus hours running around killing demons, the 20 or 30 you do spend are well worth your while.
The post 'Final Fantasy XV: Comrades' Review: Picking Up the Pieces appeared first on Fandom powered by Wikia.
What Are Force Trees and Are They Significant in 'The Last Jedi'?
Posted: 22 Nov 2017 09:11 AM PST
There have been a number of rumours swirling around Star Wars: The Last Jedi ever since we knew it was a thing. The film is nearly upon us, and with the entire production still shrouded in secrecy, we take a look at one of the much talked-about elements that could appear in the film and have a significant impact on the franchise – Force trees.
What Are Force Trees?
First made canon in a four-part comic-book series called Star Wars: Shattered Empire, the Force trees we encounter among the pages of those 2015-published comics are two offshoots of The Great Tree. This ancient Force-sensitive tree grew within the grounds of the Jedi Temple on Coruscant. Following the Clone Wars, the tree was removed when Darth Sidious converted the temple into an Imperial Palace.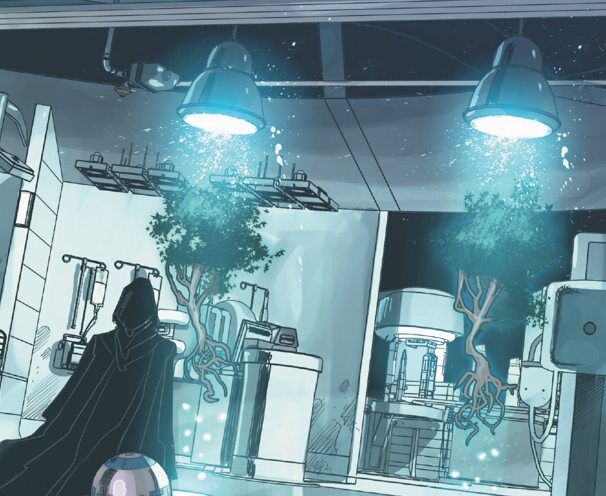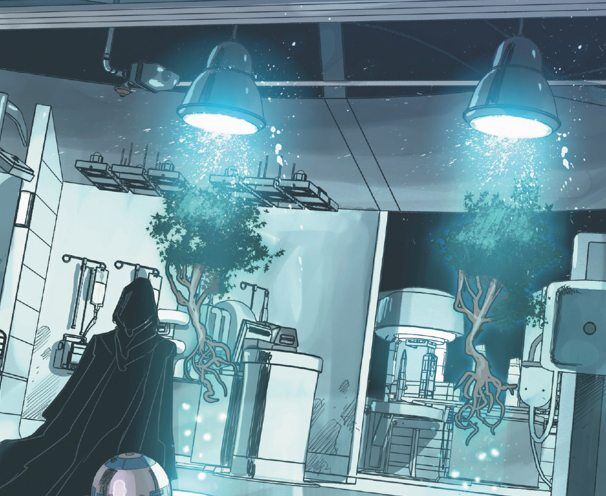 In the comics, which bridge some of the gap between Return of the Jedi and The Force Awakens, it's revealed that the two offshoots are being kept in a secret Imperial base. Luke Skywalker, who appears in the comics, says that they're all that remains of the tree from Coruscant's Jedi Temple. He and another rebel, Shara Bey, make it their mission to recover the trees.
This is where it gets really interesting, because Shara Bey is the mother of a certain Poe Dameron.
Will This Affect the Plot of 'The Last Jedi'?
Firstly, there's more to the story in the comics that could have a direct influence on the plot of The Last Jedi. After accepting one of the offshoots as a gift from Luke, Shara and her husband Kes Dameron plant it in the garden of their home on Yavin 4. Their son, Poe, would later play on the tree as a child.
So the question is, if Poe grew up around the tree, has it affected him? Could it be that Poe is, like Rey, Force-sensitive?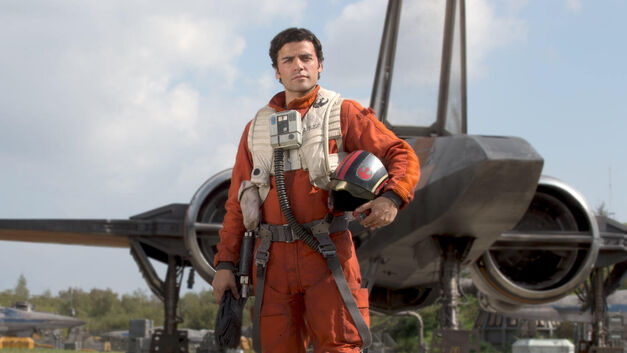 A leaked excerpt from the script last year corresponds with a theory that was floating around involving Force trees. The scene supposedly involves a conversation between Luke, Rey and Yoda and contains a vision in which two children, a boy and a girl, are "playing near a tree on an alien planet". The tree affects both of them very significantly.
We don't know how reliable the information is so won't delve deeper into the details but it could suggest that Rey is an incarnation of the girl in the vision. While the boy could potentially be Poe. It would explain how come Rey is attuned to the Force… and could even indicate that the two are brother and sister. This would neatly mirror the plot from Star Wars past which featured estranged Force-sensitive siblings in the form of Luke and Leia.
Where Else Have We Seen Force Trees?
The Great Tree popped up on screen in animated series The Clone Wars and also appeared in "The Padawan Path", an episode of Star Wars: Forces of Destiny, a series of animated shorts.
We also saw a big tree in the first teaser trailer for The Last Jedi, and while we don't know for sure what this tree is, it seems likely that it's a Force tree. If it is, it could have very exciting ramifications for the franchise.
We'll have to wait until the film is released on December 14 in the UK and December 15 in the US before finding out how — and if — Force trees feed into The Last Jedi for sure!
The post What Are Force Trees and Are They Significant in 'The Last Jedi'? appeared first on Fandom powered by Wikia.
The Suckiest TV Series Finales Ever
Posted: 22 Nov 2017 08:47 AM PST
Sometimes even the very best TV shows can fail to stick the landing. Here are some of the suckiest show finales ever…
Lost
Lost's finale still stings 7 years after it aired. The show's creators took some of the coolest inventions in TV history — the smoke monster! The Dharma Initiative! Flash forwards! — and shoved them all out the window in favor of one of the most cliched endings you could think of: They were dead the whole time. It makes you wish the writers had gotten to that last line in the script, looked at each other, and shouted, "We have to go back! …and rewrite this thing."
How I Met Your Mother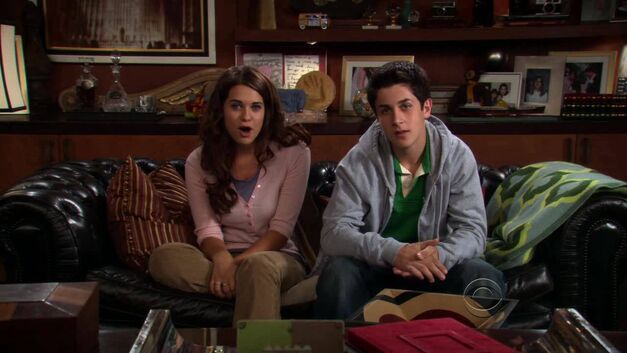 TV sitcoms aren't generally expected to deliver a satisfying finale, but the How I Met Your Mother creative team boxed themselves into a corner when they picked the name of the show. So just how did Ted meet their mother? Turns out it doesn't matter because telling the story was really just an excuse for Ted to realize he was in love with his friend Robin the whole time. But "How I Met Your Aunt Robin" probably wouldn't have made it out of focus grouping.
Battlestar Galactica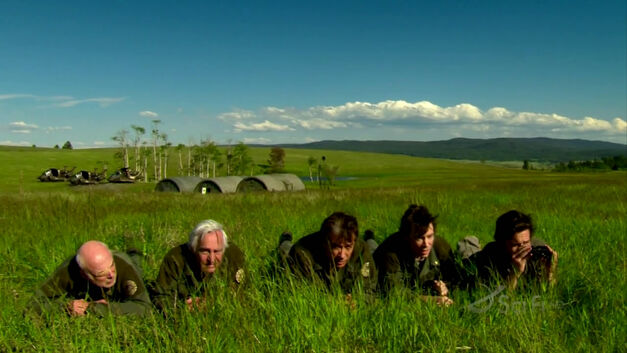 Battlestar Galactica wouldn't be anywhere near this list if the show's creators had just decided to end the show three minutes earlier. The colonists finally find quote-unquote Earth, and Adama says some heartbreakingly sweet things at Roslin's fresh grave. Any viewer with an ounce of empathy at this point is pawing at the tissue box. Then the show flashes forward 150,000 years to present-day earth. Turns out the show took place in the distant past, and human/Cylon hybrid Hera is the "mitochondrial Eve" of modern humans. Way to ruin an emotional gut-punch, Battlestar.
Dexter
Dexter may have run out of steam later in its run, but its ending always felt cut and dry: Dexter was, at his core, a very bad man — and very bad men should get their comeuppance. That's what it looks like is going to happen in the finale, as Dexter steers his boat into an oncoming Florida hurricane. But wait! Dexter somehow survives the storm and…ends up a lumberjack in the Pacific Northwest? The show's producers swear Showtime wouldn't let them kill off Dexter, but that doesn't excuse their bizarre beard-and-flannel alternative.
The post The Suckiest TV Series Finales Ever appeared first on Fandom powered by Wikia.
The Suckiest TV Character Exits Ever
Posted: 22 Nov 2017 08:47 AM PST
When characters you love leave the shows you love it SUCKS! Here are some of the suckiest character exits ever.
Fox Mulder, The X-Files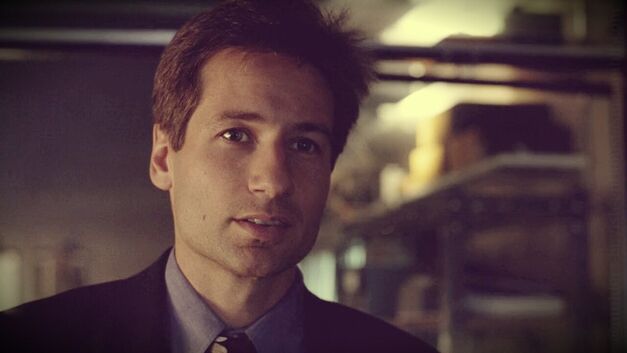 While David Duchovny has reprised his role as FBI Special Agent Fox Mulder in The X-Files revival, there was a time late in the sci-fi series' original run that Mulder just disappeared for a couple of seasons. On the show, the story was that he was abducted by aliens and went into hiding to find "the truth," but in reality, Duchovny wanted more money and a better work schedule.
Allison Argent, Teen Wolf
After three seasons at the heart of the MTV hit Teen Wolf, actress Crystal Reed wanted out. Reed had other projects to pursue, and so her fan-favorite character, Allison, was written out. This one hurt, as Allison died in the arms of Scott, her first love. And the show would have to go on without one of its original stars.
Elena Gilbert, The Vampire Diaries
Nina Dobrev spent six years on The Vampire Diaries playing four different characters — the most prolific being the entrancing Elena Gilbert. So, when Dobrev decided to exit the series it meant a HUGE shift for The CW series. The tears of heartbroken fans would dry only when Elena returned for the series finale.
Rayna James, Nashville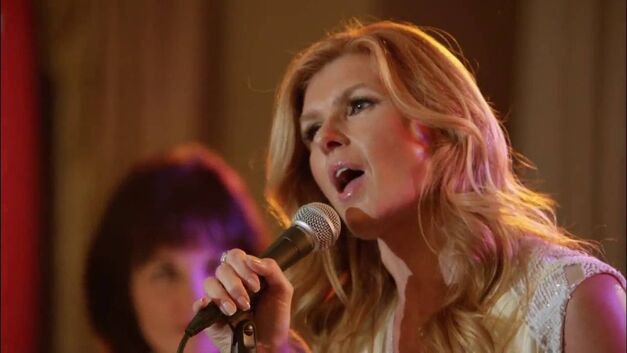 Connie Britton's Rayna James was the shining star of country music drama, Nashville, when it aired on ABC from 2012-2016. But when the canceled series was picked up by CMT for a fifth season, Britton bolted and James' voice was forever silenced. Just after surviving a harrowing stalker encounter, James died from injuries sustained in a car crash. Predictably, the series ratings died right along with her.
The post The Suckiest TV Character Exits Ever appeared first on Fandom powered by Wikia.
You are subscribed to email updates from Fandom powered by Wikia.
To stop receiving these emails, you may unsubscribe now.
Email delivery powered by Google
Google, 1600 Amphitheatre Parkway, Mountain View, CA 94043, United States