---
Melco Resorts to move HQ to Japan if casino bid accepted
Posted: 30 Nov 2017 02:25 PM PST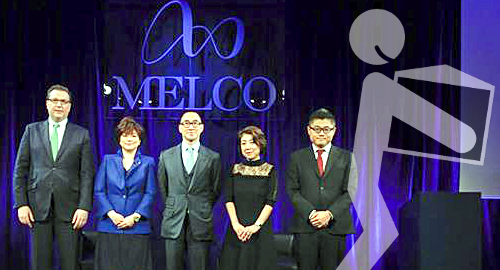 Asian casino operator Melco Resorts & Entertainment (MRE) has seriously upped the ante in demonstrating its desire to win a Japanese integrated resort (IR) license.
On Thursday, MRE CEO Lawrence Ho and some of his top execs traveled to Tokyo in a bid to impress upon local officials the company's fervent desire to land one of the coveted Japanese IR licenses. They achieved this goal in dramatic fashion by pledging to relocate MRE's corporate HQ from Hong Kong to Japan if its IR bid was successful.
MRE recently established a Japanese subsidiary, MRE Japan, whose staff will be headed up by Japan office president Ako Shiraogawa. But Ho (pictured, center) underscored his personal commitment to the project by saying that if MRE was to win a Japanese license, "Japan would be 100% of my time. I will move here … and move the headquarters to here."
MRE Japan's IR project has been given the name The City of the Future, with designers opting for an appropriately "futuristic façade that seamless integrates into the surrounding environment while subtly expressing key motifs in Japanese landscape design."
Another future-themed aspect of MRE's design is "the world's most advanced facial recognition technology for enabling responsible gaming and security." MRE's proprietary biometric intelligence system will be integrated throughout the resort, and MRE has offered Japan's government "back-end access to and data-sharing with these systems free of charge."
The promise of this technology will undoubtedly play well with Japanese officials and the general public, who have been engaging in some soul-searching over what social harms could come with the launch of the Japan's first legal casinos.
While Japan approved legislation this year to amend the country's constitution to permit casinos, the government still has to pass secondary legislation known as the IR Implementation Bill, which likely won't happen until next year. But the government may try to pass a problem gambling bill – deemed a necessary step toward passage of the Implementation Bill – before the Diet shuts down on December 9.
Even if the Implementation Bill is approved early in 2018, MRE's Ho could have a long wait before he learns whether his firm has landed one of the possibly only two or three available IR licenses. Spectrum Gaming Group analysts recently suggested that the application process could take up to two years before the lucky license recipients are announced.
While many of MRE's rivals have salivated at the prospect of a Tokyo IR, Ho has stated his preference for putting down roots in Osaka and the surrounding Kansai region.
The post Melco Resorts to move HQ to Japan if casino bid accepted appeared first on CalvinAyre.com.
Caesars mortgages its future with Harrah's Las Vegas dirt sale
Posted: 30 Nov 2017 01:05 PM PST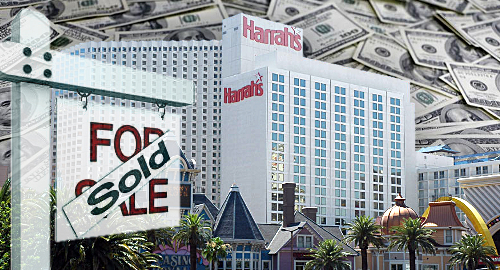 Casino operator Caesars Entertainment Corporation (CEC) has sold the ground underneath its Harrah's Las Vegas casino to help fund its purchase of two Indiana casinos.
On Thursday, CEC announced that it had inked a deal with VICI Properties to sell and leaseback the land underneath Harrah's Las Vegas. CEC will receive $1.14b from the sale, while the initial year of the 15-year lease will cost CEC $87.4m in rent. CEC has an option to extend the lease by another 20 years via four five-year extensions.
CEC also announced that it has agreed to acquire 18.4 acres of Harrah's-adjacent land from VICI to develop a new 300k-square-foot convention center. CEC will have the right to compel VICI to buy the completed convention center and lease it back to CEC. Should CEC choose not to exercise this right, VICI can choose to buy the building and lease it back to CEC. (So basically, expect VICI to be buying the damn building.)
CEC CEO Mark Frissora said the transactions "demonstrate our commitment to pursuing growth opportunities while maintaining balance-sheet discipline." Although, one might say that the real discipline will be coming via CEC's looming 2020 debt götterdämmerung.
VICI is the real estate investment trust (REIT) that was formed via the tortured restructuring of CEC's bankrupt main unit, Caesars Entertainment Operation Co (CEOC), to own the land under which CEOC's casinos stand and provide CEC with some desperately needed ready cash. But it's clear CEC intends to sell off more of its dirt as the situation warrants.
Clearly, CEC execs never tired of the shell game they played over the past four years or so, shifting assets out of this division into another division, then moving them back where they were, then assigning new acronyms to each division to perpetuate the illusion of growth and stability.
At any rate, CEC says it plans to use the proceeds of its Harrah's dirt deal to help fund the $1.7b deal it struck earlier this month to purchase two Centaur Gaming casinos in Indiana. The remaining half-a-billion or so will likely come from selling the earth underneath those venues, or perhaps CEC will eventually figure out a way to sell the sky above them. (The acronym for Sky High Investment Trust seems apropos.)
In a related announcement, VICI revealed that it had reached a deal to sell nearly 46m of its shares worth around $850m to help fund the purchase of the Harrah's real estate. VICI said it could allow existing investors to take this share purchase up to $1b, because hey, Christmas is coming, and CEC has lots more earth to flog.
The post Caesars mortgages its future with Harrah's Las Vegas dirt sale appeared first on CalvinAyre.com.
Nevada casinos set sportsbook record, seek marijuana clarity
Posted: 30 Nov 2017 11:50 AM PST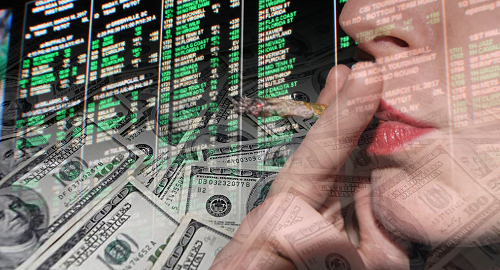 Nevada casinos posted flat gaming revenue in October, thanks in part to the fallout from that month's mass shooting at the Mandalay Bay resort.
Figures released Thursday by the Nevada Gaming Control Board show statewide casino gaming revenue of $988.7m in October, up 0.3% from the same month last year. The sum was also only moderately higher than September 2017's $980m.
Casinos on the Las Vegas Strip played spoiler in October, as gaming revenue declined 6% to $528.7m. Numerous Strip casino operators had commented on temporary dips in visitation and hotel bookings following the October 1 mass shooting that killed 59 individuals, including the gunman.
By contrast, Downtown Las Vegas saw its gaming revenue improve nearly 10% to $63.6m, while North Las Vegas shot up 11.6% to $27m. Statewide revenue numbers for first four months of the state's fiscal year are up nearly 3.8% to just under $4b.
The state's slot machines had a good month, with revenue improving 3.8% to $655.5m., while overall games and tables declined 6% to $333.2m. Most of the table tallies were in negative territory, including blackjack ($89.4m, -11.4%) and craps ($29.4m, -3.9%).
On the flip side, baccarat revenue nudged up 0.6% to $87.7m while roulette gained 9.8% to just under $33.3m. The state's poker tables were relatively flat at $8.7m.
Over at the sportsbooks, the state handled $522m worth of wagers, a new all-time record for the month of October and the second straight month in which handle has eclipsed half a billion dollars. The record came despite one fewer weekend of NFL action, although this was countered by one extra week of NBA activity.
That said, the ongoing trend of NFL favorites covering the spread meant October's sportsbook revenue took a beating, falling more than one-quarter year-on-year to a still impressive $31.5m. Football betting revenue posted the biggest decline, falling 47.6% to $15.7m.
That extra NBA week pushed basketball revenue up nearly 118% to just under $5m, while playoff action boosted baseball revenue by 38.5% to $6.3m. Sports parlay cards also had a solid month, rising more than one-quarter to $4.9m.
NEVADA + MARIJUANA = NEVAJUANA?
On Wednesday, the Nevada Gaming Policy Committee met with industry stakeholders to discuss the thorny issue of what types of relationships casinos might be allowed to enter into with their counterparts in the burgeoning legal marijuana industry.
Nevada voters approved recreational marijuana use one year ago, and legal sales of marijuana products to adults 21 years of age or over officially got underway on June 30. But federal anti-marijuana laws remain on the books, and with many casino operators doing business in other states where marijuana remains illegal, the industry continues to seek guidance on how to walk this increasingly blurry line.
Among the main questions facing the industry is whether the state should allow gaming licensees to host marijuana-themed conventions. Nevada Gaming Commission Chairman Tony Alamo, who had opposed any linkage of gaming and pot, told local media that he'd had a change of heart on this issue, provided there was no sale or possession of pot at a casino-hosted convention.
The Policy Committee is scheduled to meet again in February, and Gov. Brian Sandoval suggested he'd like to have policy recommendations worked out by that date.
However, Wednesday also saw US Attorney General Jeff Sessions suggest that the Department of Justice was preparing to take a tougher stance against states' pursuit of legal marijuana. Sessions told reporters that marijuana use "represents a federal violation, which is in the law and is subject to being enforced."
Sessions told reporters that the DOJ was looking into the marijuana issue "very hard right now, we had a meeting yesterday and talked about it at some length." Sessions claimed the DOJ was "working our way through to a rational policy," but declined to clarify what that policy might mean for states that have already approved pot use.
The post Nevada casinos set sportsbook record, seek marijuana clarity appeared first on CalvinAyre.com.
The Stars Group rids itself of entire stake in Jackpotjoy
Posted: 30 Nov 2017 09:00 AM PST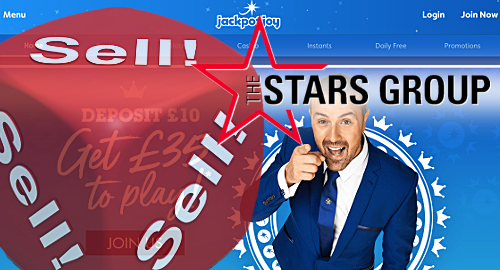 The parent company of online poker giant PokerStars continues to sell off its non-core holdings as it prepares for some hot merger & acquisition action.
On Wednesday, Stars Interactive Holdings Ltd, a subsidiary of the Toronto-listed The Stars Group, announced it would "explore the opportunity" to sell up to half of the nearly 5.6m shares it held in UK-listed online bingo operator Jackpotjoy PLC.
On Thursday, Jackpotjoy announced that Stars had actually sold off its entire stake in the bingo company, reportedly due to "strong investor demand." Stars raised approximately £45m as a result of this sale, which formally ends its interest in Jackpotjoy, whose shares closed out Thursday's trading up 1% to 864p.
The Stars Group's interest in Jackpotjoy dates back over four years to the two companies' previous corporate identities. Stars, then known as Amaya Gaming, sold its B2C WagerLogic business to Goldstar Acquisition Co, which later morphed into the Intertain Group, which eventually became Jackpotjoy after the 2015 acquisition of the UK-based bingo company of the same name.
Speaking of, Jackpotjoy announced this week that it had kicked its significant long-term debt can down the road another mile or so by securing a new £385m loan. Jackpotjoy says the new loan will cut about £9m per year off the crippling interest charges it pays as a result of purchasing those UK bingo assets.
Getting back to The Stars Group, this is the second major selloff the company has concluded in as many weeks. Last week, Stars sold its entire holdings in Toronto-listed gaming technology provider NYX Gaming Group to Scientific Games Corporation for around C$35.5m.
Earlier this month, Stars CEO Rafi Ashkenazi revealed that the company was looking to raise up to $2.5b to fund M&A activity that could involve either one major company or between three and five 'small to medium' companies.
The post The Stars Group rids itself of entire stake in Jackpotjoy appeared first on CalvinAyre.com.
UK to ban third-party betting on non-UK EuroMillions lottery
Posted: 30 Nov 2017 08:18 AM PST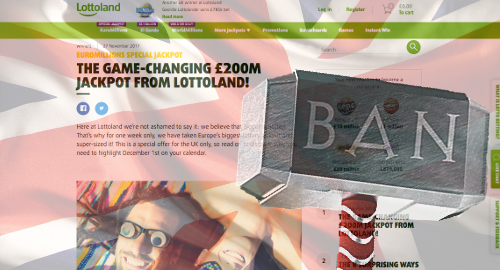 The UK government has made good on its threat to prohibit third-party betting on EuroMillions lottery draws, delivering another blow to online lottery betting operator Lottoland.
In March, the UK Department for Digital, Culture, Media and Sport (DDCMS) launched an open consultation on 'Prohibiting Third Party Betting on Non-UK EuroMillions Draws." The consultation followed public complaints from National Lottery operator Camelot, who moaned about Lottoland undercutting its EuroMillions revenue by not matching its higher ticket prices.
On Thursday, the DDCMS released the results of its consultation, while revealing the DDCMS' intention "to introduce a new license condition to prohibit consumers in Great Britain from placing bets on EuroMillions games which take place outside the UK."
The DDCMS noted that lottery betting was a relatively recent phenomenon, but felt the returns to good causes from traditional lottery operators could decrease should lottery betting become "widespread." The DDCMS admitted this assumption was far from inevitable, given the lack of hard data on this subject, but nonetheless remained "concerned" at the possibility.
The DDCMS says it is "mindful of the effect on impacted businesses" like Lottoland, and thus it will "tailor the license condition to ensure it is in line with our aims to reduce consumer confusion." In June, the UK Gambling Commission fined Lottoland £150k for not making it clear to customers that they were "betting on the outcome of a lottery draw and not actually taking part in a lottery."
Lottoland CEO Nigel Birrell called the DDCMS decision "unjustified" and would set "a dangerous precedent for policy-making on the basis of no evidence." Birrell, who has previously slammed UK lottery operators' outdated business model, said the decision "will do nothing but stifle innovation in the sector."
Birrell also warned that due to the "significant impact to our UK business of this decision, we are reviewing all available options before determining our next steps."
Just this week, Lottoland had announced a new limited time UK-only 'EuroMillions Special Jackpot' that "super-sized" the lottery's top prize to £200m. If a single punter were to claim that prize, it would top the UK's record lottery win by nearly £40m.
Lottoland's disruptive business model is under fire in other jurisdictions, including Australia, which recently announced it would prohibit third-party betting on domestic lotteries. Like the UK, Australia will continue to permit operators like Lottoland to offer bets on international lotteries that would be otherwise inaccessible to local punters.
The post UK to ban third-party betting on non-UK EuroMillions lottery appeared first on CalvinAyre.com.
Silver Heritage still waiting for license to open Tiger Palace casino
Posted: 30 Nov 2017 04:44 AM PST
Australia-listed casino operator and developer Silver Heritage Group Ltd. is a step closer towards its goal of operating a casino in its new Nepal property.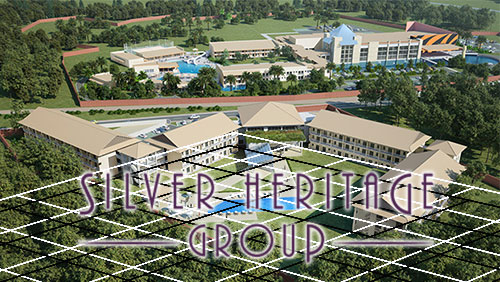 On Wednesday, Nepal's Ministry of Culture, Tourism, and Civil Aviation (MOCTCA) awarded a five-star rating to the hotel at Tiger Palace Resort Bhairahawa, Silver Heritage said in a filing. The five-star award, according to the company, will pave the way for the regulatory approval that Silver Heritage needs to finally open the casino at the Tiger Palace.
"The company now has the documentation required to lodge the application to MOCTCA for its existing licensed casino management company, SHL Management Services (KTM) Private Ltd. (SHMK), to operate the casino at Tiger Palace," Silver Heritage stated.
SHMK is able to operate casinos in different five-star hotels across the country under Nepal's Casino Rules 2070. Currently, the casino management company operates The Millionaire's Club and Casino at the Shangri-La Hotel in Kathmandu and the Phoenix International Club near Hanoi, Vietnam.
"Tiger Palace… will be ready to commence gaming operations at the resort's casino following the processing of the application, at which time the company will make a further announcement," said Silver Heritage.
Silver Heritage initially planned to have the casino at Tiger Palace opened by Nov. 30.
The 100-room property, which opened to the public in September, features two villas, gym, spa, swimming pool, restaurants as well as meeting and banquet facilities. Silver Heritage plans to offer additional 400 guest rooms in the second phase of the project, in addition to the opening of its 2,471 square meter casino floor.
The Tiger Palace is located 15 minutes away from the Bhairahawa Airport and 18 minutes away from the country's border with the Indian state of Uttar Pradesh. Described as the first integrated casino resort in South Asia, the property targets "the burgeoning middle class in India," particularly the more than 400 million people living in Uttar Pradesh, Bihar and West Bengal.
Meanwhile, Silver Heritage also announced that its wholly owned subsidiary, Tiger One Pvt. Ltd., had extended its demand loan facility from a maximum of NPR150 million (US$1.5 million) to a maximum of NPR280 million (US$2.8 million) via a supplementary agreement with a Nepalese banking syndicate.
The demand loan facility extension will give the company "increased flexibility in managing its financial affairs during the opening of Tiger Palace and over the first few months of its operations," according to Silver Heritage.
The post Silver Heritage still waiting for license to open Tiger Palace casino appeared first on CalvinAyre.com.
Becky's Affiliated: How Blockchain and Bitcoin Cash are set to disrupt Venture Capital
Posted: 29 Nov 2017 11:32 PM PST
With Bitcoin prices skyrocketing at the moment, it appears all online attention has been funneled into Bitcoin, Blockchain and anything related to the two.  And for good reason.  This revolutionary technology is set to revolutionize the world as we know it, even when it comes to the Venture Capital industry.
SPiCE Venture Capital, a VC firm issuing digital security tokens to its investors using Blockchain technology, was initially brought to my attention by Vicenc Marti, an online gambling professional who has recently moved over to crypto.  Marti, who currently serves as the firm's Venture Partner, passed on the exciting news that due to demand and foresight, SPiCE will be accepting Bitcoin Cash from investors.
To learn more about how SPiCE VC is using Blockchain, why Bitcoin Cash is a popular currency choice for investors and how Blockchain will revolutionize our greater world as we know it, I spoke with Carlos Domingo, Co-Founder and Managing Partner of SPiCE VC.
"For all the types of assets that are very liquid, things like real estate, art, or investments in start-ups or investments in Venture Capital, tokenizing those assets to provide liquidity is a major advantage for investors because it basically eliminates the number one problem of these investments which is the lack of liquidity", shared Domingo.
"If you're an investor in a venture capital fund, typically you'll have to be putting money through a number of years and you won't get any money back until seven, eight, nine, potentially ten years which makes it not a viable option for a lot of people to invest", he said.
"By tokenizing and offering tokens which have the liquidity of a secondary market, you're basically disrupting the way VC funds have been built", he added.
While SPiCE VC's platform has been built on the Ethereum Blockchain and Ethereum tokens are issued to their investors, the management team has always wanted to provide choice in investment currencies.
"From the very beginning we wanted to offer a variety of options for people to invest because not everyone will have Ethereum, they will have Bitcoin or fiat currency, so in that respect we have coupled the issuance of the token on Ethereum platform from how the investment happens", Domingo explained.
"Therefore we started adding different options from fiat currencies, Ethereum first and Bitcoin.  In the last few weeks with the rising price of Bitcoin Cash, we have investors saying, 'Look, I started with Bitcoin and now I've got Bitcoin Cash and Bitcoin Cash transactions are cheaper and faster' so it can actually be a good investment with Bitcoin Cash instead of Bitcoin, so we decided it was a good addition to provide basically more options for our investors", he revealed.
A big sign for me that Blockchain tech will be a major disruptor is the caliber of professionals who are already involved in Blockchain and leading the push- these professionals are young, hungry, highly educated, intelligent and seasoned.
"If I think about my career, I had three different phases and I'm in the third one.  The first phase was when I finished my PhD and came out of University.  At that time I was in Japan, I studied at the Tokyo Institute of Technology and I joined Toyota which was a traditional Japanese company but internet was booming and I felt that I was missing something.  So I quit my corporate job and moved into a start-up in Japan and we did very well, we did an IPO, raised a lot of money, acquired three other companies, so it was actually a great time in my career", shared Domingo.
"In 2006 I got an offer to join a telecom which was right before the iPhone came out, so I felt I joined the telecom industry at a time when the most exciting thing was happening- the iPhone was coming out, the revolution of the mobile and the growth happened.  After ten years in telecom, I felt the excitement I had back then was not there anymore and I was looking for what was the next big thing in terms of growth", he said.
"Here in Dubai where I'm based, I have been collaborating with an entity called 'The Dubai Blockchain Concept' that advises Dubai on Blockchain strategies and Blockchain technologies, so I got a lot more into Blockchain and then public Blockchains and Ethereum and Bitcoin and decided this is what I want to do for the next ten years", he shared.
Despite all the online chatter and media coverage surrounding Bitcoin and Blockchain, plenty of people are still unaware of just how huge the technology is and to what extent it will disrupt our world.  Professionals like Domingo who are in the thick of it all have a much clearer big picture.
"The way I see it is that the current internet has been the internet of information and content and has basically disrupted anyone who was intermediating with information and content", he said.
"A big example was telecoms where I was the last ten years.  Telecoms used to intermediate in messaging and voice and then companies like Skype came with internet protocols like voice and then disrupted the way voice was being offered to consumers.  The ones that used to be the gatekeepers of that particular content type then got disintermediated", Domingo explained.
"What I feel is that the public Blockchain, what they do is a similar thing but for the internet of value and trust.  So for anyone today that makes money by intermediating on value and trust is going to be disintermediated because Blockchain is the missing internet protocol to be able to provide value and trust on top of the Internet", he said.
"Therefore, you will be able to do those things without having a centralized entity or intermediary if you want, charging you for doing that.  So its going to be highly disruptive for anyone working in any of those industries", he added.
The post Becky's Affiliated: How Blockchain and Bitcoin Cash are set to disrupt Venture Capital appeared first on CalvinAyre.com.
Yggdrasil's Empire Fortune drops another huge jackpot
Posted: 29 Nov 2017 07:03 PM PST
November 2017 – Yggdrasil's progressive jackpot Empire Fortune has paid out another significant jackpot over the weekend, with one lucky player scooping €1.12m.
The 32-year old Norwegian won the prize pool while playing on Betsson's mobile site late on Saturday evening.
All of Yggdrasil's progressive jackpots have been paid out on the mobile channel this year, with the pool's slots proving very popular with players on the smaller screen. 
This latest jackpot follows the €5.2m prize paid out on the same slot in July, which still stands as the current pool record, as well as the €3.5m jackpot on Joker Millions, Empire Fortune's pool partner, last month.
Fredrik Elmqvist, CEO at Yggdrasil Gaming, said: "Our jackpot pools have been very generous of late and it's great to see one of our players winning a life-changing sum of money on Empire Fortune. 
"Our progressive jackpots have now paid out almost €10m in their last three drops, but with their popularity, I've no doubt there'll be paying out big winsagain soon." 
Andy BroughtonBraithwaite, Director of Games at Betsson, said: "Yggdrasil's games are perfectly tailored towards our players who love the combination of life changing Jackpots and innovative gameplay."
Empire Fortune shares its progressive jackpot pool with the popular Yggdrasil title Joker Millions. 
For more information, please contact:
Square in the Air Communications
Sam Wright
+44 (0) 20 3542 4894
sam@squareintheair.com 
Yggdrasil Gaming is a provider of superior online and mobile casino games. It has emerged as one of the industry's most respected and acclaimed suppliers and provides games for some of the world's biggest operators, including: bet365, Betsson Group, bwin.party, Cherry, LeoVegas, Mr Green, Casumo and Unibet.
The company is headquartered in Malta, with a major development office in Krakow, Poland and regional offices in Stockholm and Gibraltar. The firm holds licences in Malta, Romania, Gibraltar and the United Kingdom.
Yggdrasil's slots are renowned for their outstanding graphics and gameplay and many have become global hits. They are integrated via the industry-changing iSENSE 2.0 HTML client framework which allows for simultaneous launches on desktop and mobile, and is supported by BOOST™, a collection of promotional tools focused on engagement and retention via concepts such as Missions, Super Free Spins™ and Cash Race, and BRAG, an industry-first concept which allows for the promotion of games via social channels.
iSENSE 2.0+, launched in April 2017, includes a number of industry-leading features, including retina support for crisper visuals, a new minimalistic mobile UI with a sleek and fresh feel, and a new and easy in-game deposit process.
Yggdrasil was the winner of Innovator of the Year at the 2017 International Gaming Awards, Slot Provider of the Year at the 2016 and 2017 EGR B2B Awards, Gaming Software Supplier of the Year at the 2016 International Gaming Awards and Software Rising Star at the 2015 EGR B2B Awards.
The post Yggdrasil's Empire Fortune drops another huge jackpot appeared first on CalvinAyre.com.
Gambling.com group issues second convertible bond for EUR 8.9m
Posted: 29 Nov 2017 06:54 PM PST
The Group has now completed its 2017 fundraising plan, having raised a total of EUR 16.0m.
The proceeds are intended to be used primarily for acquisitions. Along with the first convertible bond issued in February, the Group has now raised a total of EUR 16.0m during 2017, achieving its original fundraising target for the year.
The bond has a final maturity of July 2020 and bears a fixed rate coupon of 10.00%. It will automatically convert to equity, at a discount, during a change-of-control event or an initial public
offering (IPO) of the company. The bond will be affiliated to Euroclear Sweden and conversion to equity during an IPO will be processed by Euroclear. The bond will mark the first time that Euroclear Sweden has affiliated a convertible bond from a non-Swedish issuer.
Forty-six different investors participated in the issue with the funds mainly coming from investors based in Sweden. The issue was fully subscribed.
"2017 has been a tremendous year for Gambling.com Group. We have executed on all our plans and are pleased to have a fully subscribed offering for our second convertible bond. We look forward to deploying this cash on strong acquisitions with additional growth potential. 2018 is shaping up to be very exciting indeed," said Charles Gillespie, Gambling.com Group Chief Executive.
Carnegie Investment Bank and Redeye acted as joint bookrunners. Fenech & Fenech Advocates, Hutchison PLLC and White & Case Stockholm acted as legal advisors on the transaction regarding Maltese, US and Swedish law, respectively.
For further information, please contact:
Michelle Duffy, Head of PR
+356 2776.1028
michelle.duffy@gambling.com
www.gambling.com/corporate
About Gambling.com Group
Gambling.com Group is a multi-award winning provider of digital marketing services for the global iGaming industry. Founded in 2006, the group has over 35 employees and operates from offices in Dublin, Tampa, Monaco and Malta. The group publishes websites that offer comparisons and reviews of online gambling websites in 14 national markets in 8 languages. Players use these resources to select which online gambling operators they should trust to offer a safe and honest online gambling experience. The group's publishing assets include the leading iGaming industry portal, Gambling.com® as well as the CasinoSource℠ series of portals, among many others.
Gambling.com Group's experience in iGaming player acquisition and vast experience in driving and converting targeted traffic enable it to offer iGaming operators a deep source of new players in regulated markets.
The post Gambling.com group issues second convertible bond for EUR 8.9m appeared first on CalvinAyre.com.
CrownBet drops opposition to Tabcorp-Tatts merger
Posted: 29 Nov 2017 06:51 PM PST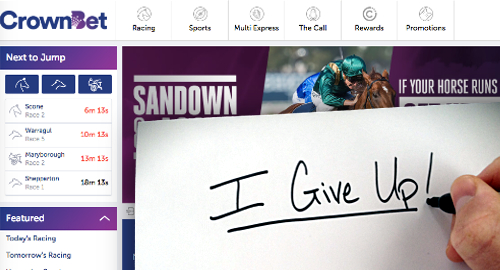 Australian online betting operator CrownBet has dropped its opposition to the proposed merger of Tabcorp Holdings and Tatts Group in exchange for increased digital streaming rights to racing coverage.
On Thursday, Tabcorp announced that CrownBet had agreed not to apply for judicial review of the Australian Competition Tribunal's recent approval of the Tabcorp-Tatts merger. CrownBet has also agreed not to pursue further court proceedings following a Supreme Court hearing in New South Wales regarding the companies' deals with clubs and hotels in the state.
CrownBet, which is (for the moment) majority controlled by casino operator Crown Resorts, had previously expressed opposition to the A$11b merger based on its belief that the enlarged entity would enjoy total control over Australian tote wagering, while also enjoying and retail wagering exclusivity in every state except Western Australia.
In exchange for CrownBet backing off its opposition, Tabcorp has struck a deal to supply a digital stream of SKY1 and SKY2 racing content for the personal use of CrownBet's Australian wagering customers. CrownBet will pay Tabcorp an unspecified annual sum for these rights.
Crown Resorts has confirmed it's having talks with rival betting operators regarding the sale of its CrownBet stake, part of Crown's ongoing strategy of refocusing on its core domestic casino business. UK bookmaker William Hill, whose Australian operations have been struggling of late, has been mentioned as one of the companies with which Crown is reportedly discussing a potential deal.
However, UK and Irish media reported last week that UK-listed gambling operator Paddy Power Betfair – which operates Australian online bookmaker Sportsbet – was also discussing the future of CrownBet.
Crown Resorts' digital operations also include Betfair Australasia and the DGN Games social gaming operations, but the company has yet to indicate whether either of these properties is also on the block.
The post CrownBet drops opposition to Tabcorp-Tatts merger appeared first on CalvinAyre.com.
You are subscribed to email updates from CalvinAyre.com.
To stop receiving these emails, you may unsubscribe now.
Email delivery powered by Google
Google, 1600 Amphitheatre Parkway, Mountain View, CA 94043, United States