---
Posted: 01 Dec 2017 04:01 AM PST
GLENDORA, California—In retrospect, refinancing their home was a bad idea. But the Santillan family never thought that it would lead them to foreclosure, or that they'd spend years bouncing among hotels and living in their car. The parents, Karina and Juan, never thought it would force three of their four children to leave the schools they'd been attending and take classes online, or require them to postpone college and their careers for years. They did not know they would still be recovering financially today, in 2017. "Having lived through everything I see life differently now," Karina Santillan, who is now 47, told me. "I'm more cautious—I probably think through financial decisions three, four, five times."
In the big picture, the U.S. economy has recovered from the Great Recession, which officially began a decade ago, in December of 2007. The current unemployment rate of 4.4 percent is lower than it was before the recession started, and there are more jobs in the economy than there were then (though the population is also bigger). But for some, the recession and its consequences are neverending, felt most strongly by families like the Santillans who lost jobs and homes. Understanding what these families have experienced, and why recovery has been so evasive, is key to assessing the economic risks the nation faces. Despite ever-sunnier economic conditions overall, the Great Recession is still rattling American families. When the next economic crisis hits, the losses could be even more profound. "There are people who still, to this day, are trying to get back on their feet," Mark Zandi, the chief economist of Moody's Analytics, told me. "These households are slowly finding their way back, but they're still on a journey."
Their struggles are present in the economic data, if you look closely enough. The labor-force participation rate, which measures the share of working-age adults who either have jobs or are looking for them, fell sharply during the recession, and remains at a decades-long low, at 62 percent. Lower-income families aren't just not doing better; they are actually doing worse: The average household income of the bottom 20 percent of Americans fell $571 between 2006 and 2016, according to Census data, while for the top 20 percent of Americans it grew by $13,749.
The housing market, too, has not fully recovered from the recession. Although population growth means there are 8 million more households in the country than there were in 2006, there now are 400,000 fewer homeowners. Before the recession, the homeownership rate in the United States was 69 percent, according to the Federal Reserve. Now, it's 63 percent. A drop of six percentage points may seem small, but it represents a tremendous amount of pain and suffering for the millions of families who once had homes and no longer do. These are all families, like the Santillans, who saw the money they had accumulated disappear, who saw their credit scores ruined, who have not caught back up to where they once were.
Perhaps worse, millions of families like the Santillans essentially put their lives on hold for years during the recession, figuring out how to survive rather than how to thrive. The foreclosure crisis and subsequent recession didn't just deplete families' wealth—the instability it caused also meant that families like the Santillans lost out on years of productive economic activity. For example, the family's oldest son, whom they call Juanito to distinguish him from his father of the same name, graduated from high school in 2009, the year the family lost their home. His grades suffered as he watched his family struggle to hold on financially, and though he wanted to attend college, he knew the family couldn't afford it. This year, Juanito, who is now 27, finally enrolled in the film school he had wanted to attend in 2009.
A foreclosure is a one-time event, but for many families it's something that never ends, wrecking years of their lives and the hopes they once had. The story of the Santillans' foreclosure illustrates the way that the recession changed the American economy, and for millions of Americans, forever changed their lives. Some nine million families lost their homes to foreclosure or short sale between 2006 and 2014. But many lost more than that: They lost their momentum, too. Families like the Santillans had been moving up a ladder towards the American Dream, and fell off into a deep pit. They're still at the bottom of the ladder a decade later, trying to get back to where they had been.
Karina and Juan Santillan bought their home, a single-story bungalow in West Covina, 20 miles east of Los Angeles, for $152,000 in 1999. Juan, the solemn patriarch who feels more comfortable conversing in Spanish than English, had worked for two decades at an ink manufacturing plant in Commerce, California; Karina, who has a heart-shaped face and a strong faith in God, sold insurance. For a few years, everything was going well—their finances were stable enough that they put their two older sons, Juanito and Isaac, two lanky and talkative all-American kids, in private school.
A few years after they bought their home, the Santillans say, people started knocking on their door selling financial products. It was easy money, the Santillans were told. Borrow against your house, it's sure to gain value. The Santillans refinanced their home in 2003, taking out an adjustable rate mortgage, which opened them up to the instability of changing interest rates. Records show they took out an additional mortgage in 2004, but Karina says she has no recollection of taking out a second mortgage. They refinanced again in 2004. They used the money to remodel their home, which they figured would give it more value. As housing prices in the region soared, they refinanced one more time, in 2005, borrowing $396,000 from New Century Financial Corp., which would itself file for bankruptcy two years later. At the time, their house worth less than $300,000, according to Zillow.
In retrospect, they didn't look closely enough at the terms of the paperwork they were signing, they say now. They didn't realize how much the amount they owed each month could change suddenly, depending on interest rates. Before they refinanced their home, their monthly payment was $1,200. By the time they lost their home, the payments had risen to $3,000. They contacted a company that said it would be able to save their home, and paid the company $6,800, only to lose their home anyway. (The proprietor of that company, Jose Casares, lost his license to practice business in California in 2012 as a result of a lawsuit against his company, court records show. "It is the Lord who will avenge us from your lies," Karina wrote to him in an email in 2009. Casares did not respond to a request for comment.)
The payments would have been high even if both Karina and Juan had been working full-time. But Karina's work selling insurance dried up as the housing bubble burst in 2007. Then the ink manufacturing company where Juan worked cut everyone's pay 10 percent. They first fell behind on payments beginning in 2007, and received an eviction notice in early 2009. To keep their home, they would have had to pay $447,431. They moved out of their home on June 29, 2009, when their children were 10, 13, 16, and 18.
Their story is not unlike many of those who lost their homes during the recession. The foreclosure crisis was particularly concentrated among black and Latino families, who were targeted by high-cost lenders. One study found that Latino families were 78 percent more likely and African American families were 105 percent more likely than white borrowers to have high-cost mortgages. Many of these families were first-time homeowners who wanted desperately to own a house, and had limited access to more traditional financial products.
These families tended to be more vulnerable than other middle-class families in the economy—as first-time homeowners, they had less savings, less education, and fewer connections than families who had owned homes for decades and accumulated wealth through real estate. Because of these disadvantages, and because of the variable nature of their loans, these families were more likely to fall behind on payments than higher-income borrowers with more stable loans.
A foreclosure set them back them even further. Academic studies point to the many negatives associated with foreclosure: Families in foreclosure have more frequent emergency room visits and worse mental health outcomes. Their children do worse in school and have higher truancy rates. They are more likely than other families to rely on the social-safety net. Losing a home can also mean becoming disconnected from the community where you lived, and the connections that might have helped you find a new job or get a loan, Roberto Quercia, the director of the Center for Community Capital at the University of North Carolina at Chapel Hill, told me. It's for these reasons that many of those families are still struggling today. White families had largely recovered financially from the Great Recession by 2013, according to the Federal Reserve, while even today, the median income for black and Latino households has still not reached 2007 levels.
For the Santillans, the instability associated with foreclosure has lasted for years. After renting an apartment for a few months and then bouncing around at the homes of friends and family, they checked into a motel for a few nights so they wouldn't have to keep asking family for help. They thought it would be a brief stay, but they ended up staying in various hotels like the Red Roof Inn and the GuestHouse Inn for the next two and a half years. All six of them would pile into one room, with two of the boys sleeping on the floor and everyone vying for bathroom time. They could rarely stay at a hotel longer than 28 days—many establishments have time limits—and so would have to pack up their bags every few weeks and find a new place to live. "I think the worst part of it was not having your privacy, your own room, we all had to share one big room," Karina told me. "And not having a place to call home during Christmas."
The Santillans had to stay in hotels because their credit was so bad from the foreclosure that landlords wouldn't rent to them. The conventional wisdom is that a foreclosure will ruin your credit for a few years, but often the damage can last much longer. In many cases, these are families who, prior to the foreclosure, had income that varied from month to month. They sometimes took out loans or borrowed against their homes to smooth over that unpredictability. But going through a foreclosure shuts off those other avenues of credit, at the same time these families are losing all the equity they put into their homes. "It makes it really hard to get back on your feet," Laurie Goodman, co-director of the Housing Finance Policy Center at the Urban Institute, told me. "It's incredible how long it actually takes families to recover." For example, 52 percent of the consumers against whom foreclosures were filed in 2005 still have VantageScore credit scores below 620 in 2015, she said.
Staying in hotels led to even more turmoil. Because the family chose hotels close to Juan's workplace, they were far from the West Covina school district, and Karina was worried that if she told the school district they were homeless, her children would be taken away. So the three youngest children left the schools they'd been attending and enrolled in an online school. They did their school work in hotel rooms or in Starbucks, where they could reliably get free WiFi. The children were prohibited from telling their extended family or friends what was going on, and their friendships slowly eroded as they tired of evading questions about where they were living and why their friends couldn't come over. "We started to get isolated from everybody, and ended up becoming a little island," Juanito told me.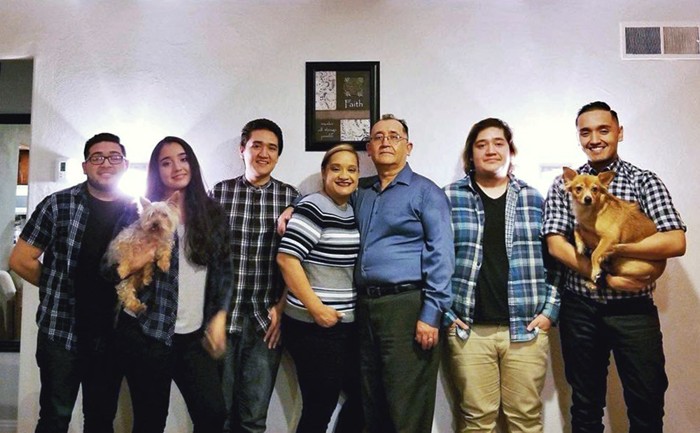 Few of the hotel rooms had kitchens, so the family would split fast-food value meals from McDonald's. To save money, Karina gave up her cell phone, which made it difficult for potential employers to contact her. To make matters worse, they had missed a tax payment around the time they lost their home, and found out in 2011 that they owed back taxes to the IRS. The government garnished Juan's already meager wages for about nine months.
Having only one car, which Juan needed to get to work, meant that the rest of the family would be stranded for the day in whatever hotel they were staying. This meant interacting with shady characters very different from the neighbors they'd lived next to for years. One drunken man pounded on their door in the middle of the night, certain that Juanito had been talking to his daughter. Someone else stole their license plate right off of their car in a hotel parking lot. Two times, police looking for a different Hispanic middle-aged man put Juan in handcuffs until they could confirm he wasn't the man they were seeking. When money got really tight, the family camped in the mountains above Los Angeles.
Perhaps hardest was watching as family and friends went on with their lives, while the Santillans' lives felt essentially paused. Isaac, the second-oldest, for example, had to stop attending school his senior year and take online classes, watching while his friends made senior-year memories, graduated, and went onto college. "If I let it, it could bring me down, me not graduating high school or college and them going to their careers," Isaac, who is now 25, told me. He applied for more than 100 jobs during the time the family was homeless, at places like Walmart and Taco Bell, but got none of them. He had dreams of being a personal trainer or working in fitness, but had to put them aside. In the course of a few years, he went from a normal teenager worrying about grades and sports to an adult isolated from all his friends and concerned with how to help keep his family afloat. He dealt with things that had been unimaginable, somehow contracting Hepatitis C and then recovering, his skin tinted yellow, in a shared queen-sized bed in a Red Roof Inn.
The end of their nightmare came slowly.
Karina finally found a full-time job in October of 2013. For one of her initial job interviews, the family was so low on money that they had slept overnight in their Chevy Suburban, and Karina freshened up in a McDonald's bathroom before the interview. She began selling auto insurance, and then, when healthcare exchanges were launched in late 2013 under the Affordable Care Act, she also began selling Obamacare plans. She encouraged her three oldest children, none of whom was working at the time, to get trained to sell Obamacare, and they studied together in hotel rooms, eventually passing the test to become insurance brokers.
By the fall of 2014, Karina, Juanito, Isaac, and Giovanni, were all working selling Obamacare, and the family's finances had stabilized. They started looking again for apartments, and in October of 2014, they finally found a small single-family rental in Glendora, not far from their old home. They were so excited to finally have a place of their own that the first night they got the keys, they slept on the hardwood floors on blankets, rather than in a hotel room with a bed. They'd sold all their furniture years ago. Moving into a place where they had a kitchen and some privacy was an almost indescribable relief. Karina posted pictures of scrambled eggs she made on Facebook, puzzling friends who didn't know that the family had been homeless for two and a half years, because being able to cook in her own kitchen again filled her with joy.
Karina started a business in 2015, Branch Network Insurance Solutions, and all three boys work there now, selling insurance. The business is doing well, and the Santillans say that the ordeal made their family stronger, and bolstered their faith in God. Because of their faith, they feel like everything happens for a reason.
But they're still not back to where they were before they lost their home. Had they not lost their home, it's possible that Juanito would be finished with film school and in a career, rather than just starting school; that Isaac would be working in the fitness industry, rather than selling insurance; that any of the three boys would be living on their own, rather than still sharing a house with their parents.
The fate of Juan's sister's family, who lived a few blocks from the Santillans in West Covina, put this fact into sharp relief. That family did not lose their home, and their children, who are the same age as Isaac and Juanito, graduated from high school and went onto college. One of their children is now a registered nurse. The other is about to finish college. By contrast, none of the Santillan children yet have a postsecondary degree.
The economy continues to be shaped by the experiences of the millions of Americans who, like the Santillans, made little economic progress for years. People who entered the labor market for the first time during the recession—like Juanito and Isaac and millions of other Millennials— made lower wages and were less able to save money than previous generations. These earnings reduction can last up to 15 years. "The entire Millennial generation has suffered to some degree," Zandi, of Moody's, told me. "They're stunted in their financial and economic development." Young people from lower-income families who had an especially hard time finding good, steady jobs, a recent study found.
It's not just Millennials who lost ground during the recession. Anyone who was unemployed for a long period of time during those years—around 8 million people lost their jobs then—may never get back to where they were before losing work, Till von Wachter, an economics professor at UCLA, told me. There weren't as many good jobs created after the recession, and some people's skills atrophied during their unemployment.
The Santillans are now just happy to be living in a home, rather than in a hotel. They're working on their credit and now meticulously document their finances and stay on a budget. "We don't splurge too much because you don't know what tomorrow will hold," Karina told me. Juan's company only returned his pay to where it had been before the recession this year.
They have thought about trying to buy a home again—they're spending much more on rent than they would like to—but after going through their ordeal, they're very cautious. This, too, is not unusual. Going through a foreclosure often makes people less likely to want to be homeowners again. Ken Rosen, the chair of the Fisher Center for Real Estate and Urban Economics at Berkeley, calls this "post-foreclosure stress syndrome."
According to his data, Millennials like Juanito and Isaac in particular are not buying homes at the rate people their age once did. Among 30-to-34-year-olds, the homeownership rate, at 45.9 percent, is 11.5 percentage points lower than the peak rate for that same age group, which was in 2004. Among 25-to-29-year-olds, the homeownership rate, at 32.7 percent, is 9.1 percent lower than the peak rate in 2006. This could be because people in this age group have post-foreclosure stress syndrome and don't want to buy homes, or just because they weren't able to acquire the wealth that they might have been able to acquire in the absence of going through a foreclosure.
This has negative implications for the economy, too: Had the pace of homebuilding returned to a more historically normal level, there would have been $300 billion more in the U.S. economy last year, boosting the gross domestic product by 1.8 percent, according to Rosen. "The failure of the housing sector to recover is the main reason we have subpar economic growth," Rosen told me. There are, of course, many other reasons the economy is still sluggish: Household net worth dropped by 18 percent during the recession, there are more low-wage, insecure jobs than ever before, and the recession may have accelerated the automation that has replaced many once-stable jobs. But the foreclosure crisis and resulting instability for millions of families also played a big role. The brittle state of these families' finances, and consequentially, of the current economy—means that the country is much less prepared to weather another recession, when it inevitably comes.
The Santillans try not to go through those what-ifs, and say it's not worth it to obsess over what would have happened if they had never refinanced their home, or if Karina's work hadn't dried up, or Juan's wages had remained constant. Maybe they would have been able to build more wealth through homeownership, or send their kids to college, or allow their children to build enough savings to feel comfortable marrying and having their own kids. Thinking about how they are still economically behind where they were a decade ago doesn't do much good, they say.
But they learned what many American families did during the financial crisis—that while America prides itself on being a place where people can climb up the economic ladder, it's also a place where people can fall fast, and far. "We just can't forget, that in any given moment, things can change," Karina told me. This has implications beyond the fates of these individual families. The American economy thrives when people are in the jobs they want, being as productive as they can, and when they feel financially stable enough to make purchases that will raise their standard of living. The aftermath of the foreclosure crisis and recession means that many families have not felt secure like that in a long time.
<i>Radio Atlantic</i>: The Great Recession, One Decade Later
Posted: 30 Nov 2017 09:00 PM PST
In December 2007, the U.S. marked the beginning of its longest recession since World War II. Now the Consumer Financial Protection Bureau, an agency born in the ashes of the nation's economic downturn, is under new leadership that promises big changes. Meanwhile, a tax plan speeding through Congress could have far-reaching effects on the economy, well beyond taxes. On paper, the U.S. economy looks robust. But for whom, and for how long?
This week, Annie Lowrey and Alana Semuels join our hosts to look at what's happened in the decade since the Great Recession, and what's happening now. What lessons have we learned from the crisis? And which are we doomed to repeat?
Links:
Mike Pompeo at State Would Enable Trump's Worst Instincts
Posted: 30 Nov 2017 04:29 PM PST
When the President of the United States retweets crude anti-Muslim videos posted by Jayda Fransen, a neo-fascist convicted for harassing Muslims on the street, it's useful to have a secretary of state with a different point of view. And Rex Tillerson, for all his faults, does. Tillerson has declared that, "there's a great deal that's misunderstood about the Muslim world" and that "we need to put a lot more effort into understanding one another better." He's even ventured that "the president's views" about Islam, perhaps with a nudge from him, "are going to continue to evolve."
But they're less likely to "evolve"—or be mitigated in any way—if Trump enacts the plan The New York Times describes, in which Tillerson is replaced early next year by CIA Director Mike Pompeo. That's because Pompeo embraces anti-Muslim bigots, and defames Muslims, with almost as much gusto as Trump himself.
Among Fransen's closest American analogues are Brigitte Gabriel and Frank Gaffney. Gabriel, who has said a "practicing Muslim, who believes in the teachings of the Koran, cannot be a loyal citizen to the United States of America," runs ACT for America, an organization that scours textbooks in an effort to eliminate references that equate Islam with Judaism and Christianity, and urges its members to protest the sale of halal food. In 2016, Pompeo won ACT's "highest honor," the National Security Eagle Award. Gabriel has called him a "steadfast ally."
Pompeo is also a steadfast ally of Frank Gaffney, President of the Center for Security Policy, who has argued that adherence to Islamic law—far from being protected by the First Amendment—should be considered "an impermissible act of sedition, which has to be prosecuted." Pompeo spoke at the Center for Security Policy's "Defeat Jihad" summit in 2015. And as a member of Congress, he appeared on Gaffney's radio show over 20 times.
Listen to Pompeo and you hear echoes of Fransen, Gaffney, and Gabriel's worldview. Like Gaffney and Gabriel, Pompeo repeatedly insinuated that President Obama preferred Islam—and maybe even ISIS—to Christianity and the United States. In a February 2015 interview, Gaffney asked Pompeo whether Obama has "kind of an affinity for, if not the violent beheading and crucifixions and slaying of Christians and all that, but at least for the cause for which these guys are engaged in such activities." Pompeo's response: "Frank, every place you stare at the president's policies and statements, you see what you just described." That December, a questioner—after accusing Obama of supporting Islamists in Egypt and Iran—told Pompeo, "I can't think of anything where he's been on our side." Pompeo's answer: "The data you point out is correct and I'm not afraid to talk about the data. The data is very clear. Every time there has been a conflict between the Christian West and the Islamic East the data points all point to a single direction"—to Obama's disloyalty to Christianity and the United States.
It's not just Obama. Pompeo has depicted American Muslims as a whole as a fifth column. Two months after the 2013 Boston Marathon Bombing, he went on the House floor to declare that the "silence of Muslim leaders has been deafening." This "silence," Pompeo declared, "has made these Islamic leaders across America potentially complicit in these acts" of terrorism. And it "casts doubt upon the commitment to peace among adherents of the Muslim faith."
In fact, as Huffington Post noted, the Boston bombing had occurred at roughly 2:49 p.m. on April 15: "The Universal Muslim Association of America spoke out against the attacks at 5:17 p.m.; the Muslim Public Affairs Council at 5:53 p.m.; the Council on American-Islamic Relations 7:46 p.m.; the Muslim Peace Coalition 8 p.m. and the Muslim American Society Public Affairs and Engagement 10:52 p.m.;" and "the Islamic Society of North America" at 12:09 a.m. That's the silence that Pompeo considered so "deafening" that it cast doubt on whether "adherents of the Muslim faith" believe in peace.
Underlying Pompeo's remarks was the insinuation that Muslims must prove their loyalty to the Christians who have permitted them to reside in the United States. He made that point more explicitly three years later after the Islamic Society of Wichita, which sits in Pompeo's former district, invited a sheikh named Monzer Talib to speak. Pompeo, with help from the Center for Security Policy, publicly called Talib a supporter of terrorism. (The Islamic Society's spokesman called that "completely untrue.") And in the face of reports that armed protesters would besiege the mosque, it cancelled the talk.
But what's most revealing is the language of Pompeo's condemnation. He denounced the mosque for inviting Talib to speak "on one of the most holy days on the Christian calendar," Good Friday, "when millions of Christians commemorate the crucifixion of Jesus Christ." Pompeo spoke to his Muslim constituents not as a Congressman bound to equally represent people of all faiths but as a partisan of Christianity, whose religious calendar he demanded they respect. The message was the same one Fransen sends when she walks through Muslim neighborhoods with a giant cross: You are guests in our land.
Pompeo's attack on the Islamic Center of Wichita, and his claim that American Muslim leaders are "potentially complicit" in terrorism, become particularly menacing in the context of his support for designating the Muslim Brotherhood a terrorist organization. Gaffney and Gabriel have both repeatedly claimed that the Brotherhood secretly controls America's most prominent Muslim organizations and mosques. Pompeo has alluded to that theory himself, arguing that "there are organizations and networks here in the United States tied to radical Islam in deep and fundamental ways. They're not just in places like Libya and Syria and Iraq, but in places like Coldwater, Kansas, and small towns all throughout America." Designating the Brotherhood a terrorist organization would provide the legal basis for investigations that could cripple American Muslim civil society and religious life.
Rex Tillerson's refusal to apply that designation to the Brotherhood made him a Gaffney target. He served as barrier—albeit a weak and porous one—against the president's wanton, fevered anti-Muslim bigotry. Now, it appears, that barrier may soon be gone.
A Last-Minute Threat to the Republican Tax Bill
Posted: 30 Nov 2017 06:15 PM PST
Updated on November 30 at 9:15 p.m. ET
The Senate tax bill is moving closer to a climactic final passage, but it faced an unexpected threat on Thursday after a new analysis found that it would increase the debt far more than party leaders had claimed.
A group of GOP senators, led by Bob Corker of Tennessee, refused for more than a hour to vote down a Democratic bid to defeat the $1.4 trillion tax cut. After huddling and trading proposals with colleagues on the Senate floor, the lawmakers each voted with their fellow Republicans to allow the measure to advance. However, Corker's support for the chamber's final legislation, which will soon go up for a vote, is still in doubt: The Senate parliamentarian ruled that his proposal for a tax-hike "trigger" would not comply with the chamber's strict rules for passing bills with only a simple-majority vote. Corker and Senator John Cornyn of Texas, the second-ranking Republican, said the party would now consider automatically rolling back some of the plan's tax cuts to secure its eventual approval.
Republicans had hoped to pass the bill late Thursday night, but they delayed further votes until Friday as leaders searched for hundreds of billions of dollars in additional revenue to secure the support of deficit hawks like Corker and Senator Jeff Flake of Arizona. Passage of the Senate bill would set up negotiations with the House on a reconciled package that President Trump could sign into law. That the party was still rewriting the bill at this late stage underscored the chaotic process Republicans have undertaken, which Democrats have denounced as rushed and irresponsible.
Whether scaling back the tax cuts will threaten the Senate bill remains unclear, but it is sure to upset House conservatives who have watched the Senate negotiations with alarm. Earlier on Thursday, several said they opposed the trigger, a measure that could cause taxes to go back up if the economy doesn't grow as fast as congressional Republicans say it will. Conservative activists have also mobilized against the idea, arguing it would undermine the tax cuts and deter business investment.
The drama on the Senate floor occurred barely an hour after the nonpartisan Joint Committee on Taxation released a widely anticipated projection on the economic impact of the legislation. The panel's analysts found that contrary to the party's insistence that its tax cuts would send the economy into higher gear, the measure would only increase the GDP by a minuscule 0.08 percent over a decade. As a result, the cuts would spike deficits by $1 trillion over that same period. The White House and Republican leaders had repeatedly claimed the bill would pay for itself with economic growth.
Republicans can lose no more than two of their 52 members and pass the tax bill with the tie-breaking vote of Vice President Mike Pence. Corker, Flake, and Senator James Lankford of Oklahoma had all raised concerns about its impact on the deficit—worries that are unlikely to be assuaged by the JCT analysis. Senator Ron Johnson of Wisconsin had wavered on the bill Thursday for a different reason, arguing it overly favored corporations over small businesses and so-called "pass-through" entities. He was one of the three Republicans who held up the procedural vote Thursday afternoon.
GOP leaders earlier in the day seemed on the verge of success after Senator John McCain of Arizona, who had torpedoed the Senate's health-care bill over the summer, announced his support for the tax cuts. But the deficit drama on the floor threw the final outcome, once again, into doubt.
About That Secret Button in Matt Lauer's Office
Posted: 30 Nov 2017 03:43 PM PST
Perhaps the single most horrifying detail from the litany of stories alleging sexual harassment and inappropriate behavior by Matt Lauer is his secret button. "His office was in a secluded space, and he had a button under his desk that allowed him to lock his door from the inside without getting up," according to a Variety story published Wednesday, only hours after NBC fired him, citing a detailed complaint it had received about the Today show host. "This afforded him the assurance of privacy. It allowed him to welcome female employees and initiate inappropriate contact while knowing nobody could walk in on him."
A second piece, published later that day by The New York Times, also acknowledged the button. In one instance, an unnamed former staff member said that Lauer summoned her into his office to discuss a story, and then locked the door from his desk before beginning to have sex with her; at some point, she passed out and woke up on the floor, after which Lauer had his assistant take her to a nurse.
The Times reported that the button is a "regular security measure installed for high-profile employees" at NBC. Whether it's a mundane precautionary tool or an accessory worthy of a Bond villain, it's also a concrete manifestation of a reality reflected in so many of these recent allegations: the unabridged power and protection that accompany celebrity. Even beyond that, the button is a potent metaphor for the way that systems—those seemingly disinterested institutional structures—can insidiously work in favor of the people who already wield the most influence.
In a memo sent to staff Wednesday morning, the NBC News chairman Andrew Lack suggested there had been no previous reports to management of misconduct by Lauer. "While it is the first complaint about his behavior in the over 20 years he's been at NBC News, we were also presented with reason to believe this may not have been an isolated incident," he said after firing the host, who was one of the highest-paid personalities on television with a $25 million annual salary. In a later statement, the company added that "prior to Monday night, current NBC News management was never made aware of any complaints about Matt Lauer's conduct," wording that could imply awareness by previous management.
Lauer worked at NBC for 25 years and was the host of The Today Show for 20; for most of that time, the program was the most-watched morning show in America and Lauer was the network's favored son, anchoring the show alongside Katie Couric, Meredith Vieira, Ann Curry (who was fired in part because of tension with Lauer), and Savannah Guthrie. "Management sucks there," an unnamed reporter told Variety. "They protected the shit out of Matt Lauer." Further revelations of just how insulated Lauer was may still come, but for now, the image of the button, while slight, feels significant.
The mechanism seems to have given Lauer even greater control within a setting where any request he made would have already felt like an order because of his immense influence at NBC. It's the same dynamic Harvey Weinstein allegedly sought when inviting actresses up to his hotel room, or that Louis C.K. took advantage of when exposing himself to women. C.K.'s apology in response to the accusations against him acknowledged the leverage he had when he was alone with a woman. "What I learned later in life, too late, is that when you have power over another person, asking them to look at your dick isn't a question," C.K. said. "It's a predicament for them. The power I had over these women is that they admired me. And I wielded that power irresponsibly."
That's a power Lauer appears to have wielded in summoning female employees to his office. The button, too, points to the instinct an institution has to protect its assets at all costs—sometimes, knowingly or not, to the detriment of the very individuals who most need that support. Lauer's stature at NBC may have encouraged management to ignore any overheard complaints, and convinced Lauer's alleged victims that talking to someone, or declining his demands, could mean they'd lose their jobs.
The Times and Variety stories about Lauer also include reports of unprompted sexting, loud games of "fuck, marry, kill" about co-workers, and inappropriate leading questions about female colleagues' infidelity. Unfolding alongside all of this, Variety said, were consensual affairs with co-workers, which would have been affected by power imbalances.
Lauer, in a statement released Thursday, offered a by now familiar semi-apology: "Some of what is being said about me is untrue or mischaracterized, but there is enough truth in these stories to make me feel embarrassed and ashamed. … Repairing the damage will take a lot of time and soul searching and I'm committed to beginning that effort." The recent reports help paint a picture of the extent of that damage. "He knew people wouldn't ever complain," an unnamed former producer said of Lauer's affairs with NBC staffers. But it's also hard to complain when you're stuck in a locked room with a superior. Lauer had the influence and, with little effort, he could essentially hold his colleagues captive. His wasn't the only button in his industry, and it probably isn't the last one that'll be exposed. But Lauer's case is just one of the latest to reveal how easily such mechanisms of control can be abused.
<em>The Atlantic</em> Daily: A Luminous Array
Posted: 30 Nov 2017 03:09 PM PST
What We're Following
Tillerson's Trials: The White House is planning to force Rex Tillerson out of his position as secretary of state and to replace him with the current CIA director, Mike Pompeo, according to senior officials cited in a New York Times report. Tillerson's future at the State Department has long seemed tenuous. Spokespeople for the administration did not confirm that his exit is coming, but the leaked plan further undermines his authority in a role where President Trump has repeatedly undercut his public statements.
Misconduct in Congress: Representative John Conyers, the 88-year-old Democrat from Michigan, is under high pressure to resign after multiple allegations of sexual harassment emerged against him—a situation complicated by his status as an icon of the civil-rights movement. What's next for Conyers? So far, the widely varying stories of politicians accused of sexual misconduct don't suggest a clear pattern for what it takes to force an alleged predator out of office.
Tax-Cut Costs: A group of organizations that represent more than 560,000 doctors has issued a joint statement condemning the Republican tax plan for the disruption it will likely cause to insurance markets. When the potential effects of poverty and stress are taken into account, the public-health impact of the plan may go even deeper. Though supporters say the plan is intended to simplify the tax code, the deductions it eliminates would place a heavy burden on the working and middle classes. Elite colleges, whose endowments would be taxed under the proposal, may be better able to cope, but critics say the change could hurt students. All in all, writes Ronald Brownstein, the tax plan would be a boon to older Americans that younger ones would have to pay for.
---
Snapshot
---
Evening Read
Adrianna Smith reviews a joyful collection of poems:
In his new anthology, Joy: 100 Poems, the writer Christian Wiman takes readers through the ostensible ordinariness of life and reveals the extraordinary. "We ate, and talked, and went to bed, / And slept. It was a miracle," Donald Hall writes in "Summer Kitchen." Through a luminous array of poetry and prose, Wiman captures joy in contemporary contexts. These works span from the 20th century to the present day, and as a result, the real, the specific, and the familiar shine through: "She's slicing ripe white peaches / into the Tony the Tiger bowl," Sarah Lindsay describes in "Small Moth."

Wiman's anthology is a reminder that if the news can bring people closer to the suffering of others, literature can bring people closer to the intensities of those experiences. This collection is a study of one of these intensities, namely joy, which Wiman knows is a close bedfellow with sorrow. As he explains in his deeply informed and beautiful introduction, the word joy alone can make writers and readers apprehensive: How can one speak of that feeling at a moment when it seems that anger, confusion, and pain are everywhere?
Smith reflects on that question here.
---
What Do You Know … About Global Affairs?
During a visit to Burma this week, Pope Francis avoided explicitly discussing the country's violent crackdown on Rohingya Muslims, perhaps in a move to protect the endangered Christian minority there. In Egypt, the bombing that claimed more than 300 lives last week targeted Sufi Muslims, who are often mistakenly viewed as heterodox practitioners of Islam—a myth that's perpetuated by Sufism's admirers as well as by those who attack it. Meanwhile, a new book by the scholar Thomas Hegghammer aims for a deeper understanding of the perpetrators of religious violence by analyzing jihadists' aesthetic and social culture—but it may go too far in embracing the extremists' idealized presentation of themselves.
Can you remember the other key facts from this week's global-affairs coverage? Test your knowledge below:
1. North Korea's launch of an intercontinental ballistic missile (ICBM) on November 28 came after a ____________-day pause in weapons testing.
Scroll down for the answer, or find it here.
2. The sanctions trial of the Turkish Iranian businessman ____________ has stoked tensions between Ankara and Washington.
Scroll down for the answer, or find it here.
3. In northeast India, officials use ____________ to evict settlers who build illegally within wildlife sanctuaries.
Scroll down for the answer, or find it here.
Answers: 74 / reza zarrab / elephants
---
Urban Developments
Our partner site CityLab explores the cities of the future and investigates the biggest ideas and issues facing city dwellers around the world. Gracie McKenzie shares today's top stories:
Last month, before any of the bids for Amazon's HQ2 were submitted, we profiled the hypothetical Extreme Amazon Bidder. Cities exceeded our expectations. Here's what they're offering.

"In New Jersey, you know that it sucks more than anywhere else just because that's what you're told." Why are so many young people leaving the Garden State?

The Bible doesn't have an explicit position on SoulCycle—but it does imagine a world without the downsides of urban renewal, says the reverend of this Minneapolis church dedicated to fighting displacement. (And while we're on the topic of gentrification, you'll want to read the email our reporter got from Spike Lee.)
For more updates from the urban world, subscribe to one of CityLab's newsletters.
---
Reader Response
After Sarah Zhang wrote about the genetically distinct "uptown" and "downtown" rats of New York City, readers on Facebook shared their own rat-related observations, such as:
Eventually, many of those rats were priced out of the city, then to Park Slope, then to Bushwick, then to the Bronx, and finally back to Philadelphia. Science can confirm it.
And:
Uptown rats thrive on organic chicken, caviar, and greens, while downtown rats prefer more exotic foods … and Brooklyn rats have recently refined their palates to quinoa, poke bowls, and gourmet street tacos.
Or more bluntly:
Easy test: Uptown rats won't eat trash unless it's Zagat-rated.
More reader comments here.
---
Verbs
Rockets soar, paywalls rise, bitcoin bubbles, lights delight.
---
Time of Your Life
Happy birthday to Annie (a year younger than Game Boys); to John (twice the age of Apple); to Barbara's husband, Dick (a year younger than Captain America); from Laura to Lukas (who was 14 when the Berlin Wall collapsed); to Beata's son Nick (a year younger than graphical web browsers); to Iris's dear friend Jim (twice the age of MTV); and to our business editor Becca (one-fifth the age of The Atlantic).
Do you or a loved one have a birthday coming up? Sign up for a birthday shout-out here, and click here to explore the Timeline feature for yourself.
---
Meet The Atlantic Daily's team here, and contact us here.

Did you get this newsletter from a friend? Sign yourself up here.
<i>The Atlantic</i> Politics & Policy Daily: Slow-Motion Train Rex
Posted: 30 Nov 2017 02:47 PM PST
Today in 5 Lines
The New York Times reported that the White House plans to force out Secretary of State Rex Tillerson and replace with him with CIA Director Mike Pompeo. In a reversal, House Minority Leader Nancy Pelosi called on Representative John Conyers to resign amid sexual-harassment allegations. Senate Republicans unanimously approved a procedural motion to advance their tax bill, but several votes remain before the legislation's final passage. A fifth woman accused Minnesota Senator Al Franken of groping her. And President Trump donated his third-quarter salary to combat the nation's opioid crisis.
---
Today on The Atlantic
'The Phantom Czar': President Trump has chosen White House counselor and former pollster Kellyanne Conway to be his "opioid czar." But the Trump administration has no real plan to address the crisis, and there is no opioid office. (David Frum)

Islamophobia 2.0: President Trump's tweets on Wednesday show that anti-Muslim bigotry no longer needs terrorism as a rationalization. (Peter Beinart)

An 11th-Hour Raid: Ronald Brownstein argues that the Republican tax plan benefits wealthy Baby Boomers most—and leaves the next generation of Americans with the bill.
Follow stories throughout the day with our Politics & Policy portal.
---
Snapshot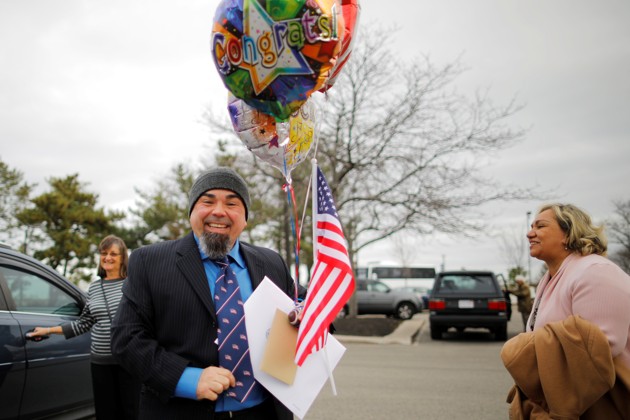 ---
What We're Reading
Ripple Effect: Although it was presented as a straightforward tax cut, the Republican tax plan could end up reshaping American life. (Peter S. Goodman and Patricia Cohen, The New York Times)
What the Bill Doesn't Do: There are good criticisms to be made of the Republican tax bill, argues Brian Riedl, but instead, many critics continue to make these four misleading arguments. (National Review)
What If America Made a Mistake?: Ezra Klein writes that the consequences of impeaching an "impulsive, conspiratorial, undisciplined, cruel" president might be less significant than leaving him in office. (Vox)
He's Not Going Quietly: In October, Arizona Senator Jeff Flake announced he would not seek reelection. For the rest of his term, he says he's happy to be "unchained from the necessities of politics." (Nash Jenkins, Time)
A Wild West Approach: Politico asked all 535 House and Senate offices about their sexual-harassment policies and received widely different responses. (Elana Schor and Genevieve Glatsky)
---
Visualized
Stopping a Bomb: The U.S. has a $40 billion system designed to intercept a nuclear missile from North Korea. Here's how it works. (Bonnie Berkowitz and Aaron Steckelberg, The Washington Post)
---
Question of the Week
In a recent story in The New York Times, reporter Richard Fausset described the relatively ordinary life of Tony Hovater, a white nationalist living in Ohio, referring to him as "the Nazi sympathizer next door." Critics argued that the piece didn't offer context and left white-nationalist ideas unchecked. (In this vein, The Atlantic's James Hamblin wrote a parody of the story.) Fausset soon followed up with a piece describing his reporting process.
What do you think? Do stories like this normalize people with extreme viewpoints?
Share your response here, and we'll feature a few in Friday's Politics & Policy Daily.
-Written by Elaine Godfrey (@elainejgodfrey)
---
Note: In yesterday's newsletter, we included an incorrect link for a Weekly Standard piece by Mark Hemingway. Here's the right one.
The Pierced Piety of Russell Simmons
Posted: 30 Nov 2017 02:05 PM PST
There's an unsettling thing you can do when it comes to men accused of sexual misconduct in recent days. Go through their past work, read their memoirs, and often you will see hints of the behavior that's gotten them in trouble.
"It was funny that I became known as a ladies' man, but I think it was because I was very obsessive about women," Russell Simmons wrote in his 2002 autobiography Life and Def: Sex, Drugs, Money, and God. "I rarely took no for an answer, and I believe my desire for these women, my never giving up, wore a lot of them down." The hip-hop pioneer and entrepreneur said he "became known for sending girls bouquets of balloons, and I'd do it every day for a week or more."
On Thursday, the screenwriter Jenny Lumet wrote in a guest column for The Hollywood Reporter that Simmons pursued her romantically in the late '80s and early '90s, at one point sending her 250 balloons. She repeatedly rebuffed him, but they remained friendly. And then around 1991, after a night at a restaurant, Simmons offered her a ride home. She told the driver her address, but Simmons—chillingly, according to her account— said "no" to the driver. The car instead went to his apartment. Intimidated, she fell silent, and they ended up having sex.
Lumet's story comes after other allegations against Simmons from the former model Keri Claussen Khalighi. She told the Los Angeles Times that when she was 17, in 1991, she went up to Simmons's apartment to see a music video he'd been working on with the director Brett Ratner, who was also present. Simmons allegedly began pulling off her clothes and trying to force her into sex. "I fought it wildly," she remembered. Eventually, he got her to perform oral sex. "I guess I just acquiesced," she said.
Simmons has said that he remembers these two evenings differently than Khalighi and Lumet do, though he says he regrets that these women are in pain. With regards to Khalighi's story, he insisted the encounter was consensual and shared affidavits from people who had seen her and him together hanging out happily around the time of the alleged assault. "As a longtime social activist … I am supporter of the #MeToo campaign," he said in his response, adding, "Abusing women in any way, shape, or form violates the very core of my being."
That last line is quoted in Lumet's Hollywood Reporter essay, a powerful account of what she says Simmons did to her. She also quotes him saying, in his refutation of Khalighi, that he "would never knowingly cause fear or harm to anyone." The implication is that she is sharing her story in part to pierce Simmons's high-minded PR. Khalighi, too, originally said she shared her accusation because "what I've experienced privately is not matching what they are saying publicly and hypocrisy to me is repugnant," referring to Simmons and Ratner's denial of other sexual-assault allegations that led to a police investigation in 2001.
Simmons's response Thursday may not dispel the sense of unearned sanctimony on the mogul's part. Announcing he would leave his companies, he wrote,
This is a time of great transition. The voices of the voiceless, those who have been hurt or shamed, deserve and need to be heard. As the corridors of power inevitably make way for a new generation, I don't want to be a distraction so I am removing myself from the businesses that I founded. The companies will now be run by a new and diverse generation of extraordinary executives who are moving the culture and consciousness forward. I will convert the studio for yogic science into a not-for-profit center of learning and healing. As for me, I will step aside and commit myself to continuing my personal growth, spiritual learning and above all to listening.
If the mentions of "yogic science" and "spiritual learning" are novel in the recent wave of apologies from powerful men, the piety is familiar. Harvey Weinstein's initial response to sexual-assault accusations, after all, included a mention of wanting to fight for gun control. It also chalked up his behavior to being raised in an old, chauvinistic "culture," a notion that is relevant in Simmons's case as well.
Simmons is associated with two things in the public mind: the drive, grit, and party-hard lifestyle that accompanied the rise of hip-hop, and his newer public idealism involving spirituality, veganism, charity, and progressive politics. But Khalighi and Lumet clearly saw something false, worryingly so, in the narrative Simmons had been peddling. His supposed commitment to the #MeToo movement already was revealed to have its limits when he told the actor Terry Crews to give "a pass" to an agent Crews accused of groping him. Now Simmons joins the growing list of men who have taken high-minded stances in public only to be accused of doing monstrous things in private.
Some Simmons supporters might respond to the allegations against him by saying that he is not the man he was in the '90s. But even before these women came forward, Simmons cheerfully stood as an example of how publicly performed "consciousness" can fail to extend to matters of the flesh. For a 2012 Forbes profile that touched on his womanizing ways, he said, "It was the last problem for Lord Buddha before enlightenment. I go to the classes, but I'm still looking at asses." The Los Angeles Times article about Khalighi highlighted a passage in his 2014 book Success Through Stillness that said he'd transcended his former identity as a man "constantly on a mission to make more money, have sex with more women, and snort more coke than the next man." But, Russell had added, he was "still working on the women part."
Who Survives a Sexual-Harassment Allegation?
Posted: 30 Nov 2017 01:39 PM PST
Outside of Washington, the pattern to this wave of sexual-misconduct cases is clear enough: Accusation (or accusations), firing, and then maybe an apology. But within politics, there's no pattern to follow, as a quartet of examples demonstrate.
Al Franken, John Conyers, Roy Moore, and Joe Barton all stand accused of various sexual indiscretions, but otherwise, save their gender and profession, they share little in common. Even the allegations against them range widely, from the criminal to the creepy to, in Barton's case, the merely consensual. So far, so do their trajectories post-accusation.
Begin with Democrat Conyers, who is facing intense pressure to resign. Thursday alone, Speaker Paul Ryan, House Minority Leader Nancy Pelosi, and Representative James Clyburn all called for him to step down. The last two are fellow Democrats, and Clyburn is particularly notable because he was defiantly supportive of Conyers just Wednesday, and is the highest-ranking black Democrat in the House. Conyers, who at 88 is the dean of the House, has himself been quiet, and his lawyer said he entered a hospital last night with stress-related illness.
During a press conference on Thursday, Conyers's attorney Arnold Reed was defiant. "First of all it is not up to Nancy Pelosi," Reed said. "Nancy Pelosi did not elect the congressman and she sure as hell won't be the one to tell the congressman to resign." Reed may have hurt his client's cause with his combative remarks, in which he argued that one of Conyers's accusers was "jumping on the bandwagon" and questioned whether she would have accepted a settlement of some $27,000 if she was treated as badly as she claimed.
Reed also compared Conyers to Franken, the Minnesota Democratic senator who several women have accused of groping or unwanted kisses.
"There are to my count five of these allegations against Al Franken," Reed said. "There are four, three or four against the congressman. At the end of the day I would suspect that Nancy Pelosi is going to have to explain what is the discernible difference between Al Franken and John Conyers."
Reed is doing his best to defend his client, but this is not a difficult question. Franken's alleged behavior is boorish and flatly unacceptable, but—and more on this later—it is possible and necessary to distinguish between different types of sexual harassment and abuse, from illicit groping to multiple accusations of rape, as in Harvey Weinstein's case. The allegations facing Franken are not the same as the claims against Conyers: years of abuse, propositioning and grabbing employees, and forcing them to speak to him while he wore only his underwear. These allegations are more serious in type as well as in the employee-employer power dynamic. Some listeners also heard in Reed's remarks a suggestion that Conyers, as an African American, was being treated differently than Franken, who is white.
So far, most national Democrats have not called for Franken to resign, instead getting behind a call for a Senate Ethics Committee investigation. But some Minnesota Democrats have said he should step down, as have Representatives Kathleen Rice of New York and Tim Ryan of Ohio. But with each new accusation against Franken—including a story from an Army veteran who says he groped her on 2003 USO tour and a former elected official who says he tried to give her a "wet, open-mouthed kiss"—his position appears more precarious.
There are other factors potentially at play: After some dithering, Pelosi, the House Democratic leader, has decided to speak forcefully on Conyers, but her Senate counterpart Chuck Schumer has been more reserved on Franken. Conyers, at 88, is also clearly already in the twilight of his career and his is a safe Democratic district; Franken is younger and until a couple weeks ago was viewed as a rising star, and while a Democratic governor would choose his replacement if he resigned, the seat could be closely contested in the long run.
Two Democrats, two different approaches. What about on the Republican side of the aisle?
On Thursday, Representative Joe Barton of Texas announced he would not seek reelection. Barton is embroiled in a strange story. While separated from his wife, from whom he is now divorced, he engaged in consensual sexual relationships with women and also shared nude pictures. Last week, one such picture was circulated online. Embarrassing, sure—but there's no evidence that Barton did anything legally or ethically wrong, and indeed he may have been the victim of a crime. A recording of him threatening to go to the Capitol Police was also leaked, but again, he was apparently being blackmailed. Even so, Republicans pressured Barton to announce he would not run again, and on Thursday he acceded. Unless he knows something that's not public, it looks like he's being punished for being a victim. But Barton is perhaps expendable for party leaders: His seat is comfortably Republican, and he's had a long career already.
Even as Barton was pressured to bow out for no apparent reason, Roy Moore looks to be back on track to be elected to the Senate from Alabama. Polls since Thanksgiving have shown him retaking a lead from Democrat Doug Jones. The allegations against Moore are more serious than those against any of the other three men. One woman says he brought her to his house when she was 14 and guided her hand to touch his penis over his underwear; another says he offered her a ride home, then locked his car, groped her, and tried to force her head into his crotch. Multiple women have also said he pursued them when they were in their teens, and he is reported to have been banned from a local mall in Gadsden, Alabama, for making girls uncomfortable.
Many top Republicans have said Moore should withdraw from the race and not serve. The Republican National Committee and the GOP's Senate campaign wing both yanked support for him. Senate Majority Leader Mitch McConnell has suggested expelling him if he wins. But Moore remains, for a couple reasons. One is that he is not beholden to the GOP establishment. Another is that President Trump has effectively backed him. (The president may have his own motives: He was infamously recorded bragging about committing sexual assault.)
The strange result is that one Republican is forced out for doing nothing apparently wrong; another seems to be headed for a Senate seat despite allegations of much more serious sins.
Among voters themselves, there is a partisan split on sexual abuse. According to a new NBC News/SurveyMonkey poll, 45 percent of Republicans said they'd support a candidate accused of sexual harassment "if that person had excellent leadership skills and shared their views on issues," while just 18 percent of Democrats said the same. Two-thirds of Democratic men said the recent revelations had made them reflect on their own behavior and attitudes toward women; roughly the same proportion of Republican men said they had not.
Yet among elected officials in the two parties, it's hard to draw conclusions. Franken looks safer than Conyers; Barton is out, while Moore's prospects are rosier. There are many variables here, including the seriousness of the allegations against the men, the amount of leverage their respective parties have on them, and the stage of each one's career. The electoral repercussions of a resignation for each of them seem to exert an important pull. It's hard to draw clear conclusions about whether one party is especially better at holding lawmakers accountable than the other. So far, there's no way to predict the fate of a congressman accused of sexual misbehavior.
A High-Scoring Revolution Has the Rockets Soaring
Posted: 30 Nov 2017 01:34 PM PST
For a basketball team obsessed with data and analytics, the Houston Rockets have a lot of numbers working in their favor thus far this season. Through their first 21 games, they've made 340 three-pointers, more than any team in NBA history over a similar season-opening span. (The previous record was 292, which Houston set last season.) Their shooting percentage on threes is around league average, but they clearly make up for it on volume, with 53 percent of all their shots coming from long range. (No other team cracks 40 percent.) Inside the three-point arc, nearly 75 percent of their shots occur within five feet of the rim, which also explains why no team boasts a better shooting percentage on two-point shots. Houston's approach to the sport is largely predicated on this dual-pronged offensive strategy: Score at the rim and shoot threes. Everything else is all but discarded.
In this way, Houston has also produced the most important statistic of all, a 17–4 record that bests all other Western Conference teams—including the defending-champion Golden State Warriors. It is the fully realized version of their advanced approach to analytics, one embraced by the head coach Mike D'Antoni but ultimately implemented by the general manager Daryl Morey, the only person in today's NBA to have a playing style ("Moreyball") named after him.
The emphasis on statistical analysis in the NBA has been in full bloom over the past decade. Today, teams have entire departments devoted to mining analytics for every advantage they can find. Broadcasters, historically wary of alienating audiences with newfangled stats, now embrace per-possession metrics with fervor. Coaches and players around the league have also familiarized themselves with terms like true-shooting percentage and win shares.
But Houston's influence has been most readily seen on the court. Players are shooting more threes than ever in league history, with the average team attempting 27 per game last season—a 47 percent uptick in just five years. And any coach or executive who discusses installing a more modern offense is often just angling for an approach that aligns with the Moreyball philosophy.
Take the Brooklyn Nets, who held Houston to a respectable 117 points in a loss earlier this week. Since taking over as head coach at the start of last season, Kenny Atkinson talked about establishing a playing style that emphasizes high-value shots. During his tenure, Brooklyn has been among the league leaders in pace, drives, three-point attempts, and free throw rate. When they played on Monday, Houston and Brooklyn set a single-game NBA record by chucking up 89 three-pointers. (The previous record of 88 was set last January by the same two teams.) It's little surprise then that nearly 72 percent of the Nets' shots this season are either near the rim or from three-point range—a ways to go from the Rockets' 87 percent clip but on the right path.
So if such a playing style has turned Houston into a legit title contender, and may even help a team like Brooklyn escape the league's bottom tier, why doesn't every team simply adopt it? A recent statistical analysis by Stephen Shea, the math professor and sports quantitative analyst, showed that almost every team in the league would hypothetically improve on a points-per-game basis if their shot profiles mirrored Houston's.
Morey thinks the answer has to do with proper personnel fitting in with a specific kind of strategy. "You maximize success in the NBA when your players fit your style and your style fits your players," he told me last week. He pointed to how the San Antonio Spurs play a more traditional offense at a slower pace under Gregg Popovich, their long-time head coach who has won five championships at the helm. "He's maybe the greatest coach ever, so I think he knows what he's doing," Morey said. "He's not playing our way because he has personnel that fits his style."
Between D'Antoni, who perfected the art of the up-tempo offense while coaching the "Seven Seconds or Less" Phoenix Suns of a decade ago, and the superstar guard James Harden, the Rockets have the perfect player/coach combination to execute Morey's grand vision. In transitioning to point guard last season, Harden averaged more than 29 points and nearly 11 assists in his first year playing under D'Antoni, finished second in Most Valuable Player voting, and became the first player in NBA history to score 2,000 points himself while assisting on 2,000 more. The Rockets won 55 games but were knocked from the playoffs in the second round to Popovich's Spurs.
Over the offseason, Morey spoke about raising the team's risk profile in order to build a team that could compete with the Warriors, who have won two of the last three championships and show few signs of slowing down. Because he has never played professional hoops, earned an MBA from MIT, and boasts deep ties to the analytics movement, Morey has been criticized as someone who just blindly follows a set of principles, acquiring assets and then "crossing his fingers that they pan out." In reality, Morey's success has proven him one of the most flexible team-builders in the league, someone unafraid to turn the roster over even after winning seasons in the hopes of exploiting new market inefficiencies.
"Defense was more undervalued earlier in my career," Morey said. "Now offense is more underrated, so we've shifted our focus. Sometimes you have to take what players are available and what is undervalued at the time." And sometimes, to give yourself a chance to beat a historically great team like the Warriors, you have to take risks. After last spring's disappointing playoff exit, Morey acquired the nine-time All-Star Chris Paul in a blockbuster, eight-player trade with the Los Angeles Clippers.
Whereas skeptics questioned the logic behind pairing together two ball-dominant point guards like Harden and Paul, the Rockets saw an opportunity. "There's always more risk when you take multiple players who are helping you and consolidate it into one player," Morey said. "But from a player perspective, if Chris was healthy, we didn't feel like there was a lot of risk." Since coming back from a left knee injury suffered in the preseason, Paul has put up 62 assists against just eight turnovers in six games—all double-digit Houston victories.
Morey's roster-building approach hasn't focused solely on finding superstars. In 2009, Michael Lewis profiled the Rockets role player Shane Battier for The New York Times Magazine, dubbing him the archetypal "No-Stats All-Star" who can make a team better without putting up traditionally gaudy numbers. Today, these are exactly the types of players—ones that can shoot threes, play defense, and guard multiple positions—that teams seek out in free agency at a bargain price.
The Rockets acquired two such bargains this past offseason in P.J. Tucker and Luc Mbah a Moute, and impact has been immediate. After finishing last season with a decidedly mediocre defense, the Rockets are now a top 10 team in defensive efficiency. "We have to continue improving and get it into the top five," Morey said. "If we want to be able to beat the Warriors in the playoffs, we have to get there."
This year's Rockets feel like the platonic ideal of the Moreyball principles, but the next frontier in analytics is always near. It's often found every winter in Boston at the MIT Sloan Sports Analytics Conference, which Morey co-founded—the largest annual gathering of the sports industry's biggest stars and promising up-and-comers. (Imagine Comic-Con, but for sports nerds.) One of this year's highlights was a research paper by Panna Felsen and Patrick Lucey that analyzed different NBA shooting styles while focusing on injury prevention and post-injury recovery. Another notable paper by Rachel Marty and Simon Lucey tracked more than 1.1 million three-point shots and identified the optimal angles to attempt shots from beyond the arc.
Teams are still working toward exploiting every competitive advantage they can with the available data. Morey points to the draft as one area that still needs more attention. "Every team is still not very good at forecasting players out of the draft, and how players will do in new systems," Morey said. "We feel like we're better than the average team, but we still have a long way to go. In terms of forecasting players who have the right psychology to keep improving after college, that's an area where we could do better [at the draft] if we could predict it."
Since Morey took over as general manager before the 2007–08 season, the Rockets have the third most wins in the league but have advanced past the second round only once. Despite the lack of postseason success, Morey disputes the idea that his team's playing style doesn't intrinsically translate to the playoffs. "I think the way we play is pretty proven," he said. "You already have multiple titles won by teams playing a similar style as us."
Morey doesn't think he needs a championship to validate his approach, but the specter of such a celebratory coda looms large in his thinking, both now and for the future. "It's obviously the pinnacle of the sport and it's frustrating we haven't gotten it," Morey said. "The success we've had just doesn't mean as much if we don't also have a ring as well. We're getting much closer. We feel like we have a real shot to win a championship, and that's all you can ask for in this league."
Delighting in Holiday Light Shows
Posted: 30 Nov 2017 12:38 PM PST
Scenes of people getting into the holiday spirit—Christmas markets opening, festive lights adorning buildings and trees, light shows and holiday events taking place—all to make the most of the shorter winter days in the north, and to bring a little color, brightness, and wonder into the season.
Budget-Managing Tips, but for Space Telescopes
Posted: 30 Nov 2017 12:52 PM PST
Sometime in the mid-2020s, the United States plans to launch a new member of its fleet of space observatories, one with a field of view 100 times more powerful than the Hubble Space Telescope. The Wide-Field Infrared Survey Telescope, or WFIRST, will spend six years scanning the universe. It will scour the Milky Way in search of hundreds of more exoplanets, and it will soak up the light from distant stars in the hope of understanding, even just a little, the great mystery that is dark energy.
But first, NASA has to figure out how to foot the bill.
The estimated cost of WFIRST has ballooned steadily since astronomers proposed their preliminary designs for the mission in 2011, from less than $2 billion to more than $3 billion. NASA officially began working on WFIRST in February 2016, and staff has spent the months since looking for ways to reduce its price tag. Their efforts went into overdrive in November, thanks to a troubling report from an independent committee that NASA established to help the space agency manage the mission.
The report, provided to WFIRST in October but released publicly for the first time last week, had some sobering words for NASA: The mission, as is, is "not executable" unless they find even more funding. NASA headquarters, in response to the warning, sent a memo to WFIRST folks in October instructing them to find a few hundred millions of dollars in their budget and cut it.
"It's not fun for anybody," said Jeffrey Kruk, the project scientist for WFIRST. "It's very stressful. We're trying to come up with the right answer, the best answer we can."
The new report, as well as other official warnings about WFIRST's rising costs, have provided a rare glimpse into the complicated, nitty-gritty operation behind funding some of NASA's biggest missions, a process that usually doesn't spill over into public view. Talk of saving money isn't unusual in the earliest stages of any mission, but the level of scrutiny the WFIRST project has received so far is.
WFIRST will be the next great space telescope after the James Webb, which is scheduled to launch in spring 2019. Webb, itself the scientific successor to Hubble, will be the most powerful space telescope ever built, charged with spotting the faint light of the earliest stars and galaxies. It's also been really, really expensive to build. In 2010, NASA estimated the Webb would cost about $5 billion. A year later, the space agency said it would take more than $8 billion. NASA has repeatedly asked Congress for money to cover cost overruns over the years, and the mission has eaten away at resources for other science programs. Officials don't want a repeat with WFIRST.
"WFIRST, as the next in line, will be subject to scrutiny that 20 years ago it may not have gotten," said Alan Boss, an astronomer at the Carnegie Institution for Science and one of the many members of the committee that first brought WFIRST to life.
The mission emerged from a decadal survey by the National Research Council, which outlines priorities in astronomy and astrophysics for the United States. WFIRST "presents relatively low technical and cost risk, making its completion feasible within the decade, even in a constrained budgetary environment," the report said in 2010. This year, the cost reached $3.6 billion, and NASA headquarters is now trying to get it down to about $3.2 billion. The independent review board, however, says that figure is "not realistic for the scope, complexity, and expectations" of the mission, and suspects it's going to cost more like $3.9 billion.
The particulars of WFIRST's budget are not publicly available, so it's not known where exactly all the money is going. But the report attributes the growing cost to several decisions made by NASA, which have created a mission "more complex than probably anticipated."
Among them is the use of a 2.4-meter telescope, which the National Reconnaissance Office, an agency within the U.S. Department of Defense, donated to NASA for free. WFIRST will use the telescope to feed its main science instruments. One would think a giant gift like this would help considerably, since the WFIRST team wouldn't have to build their own from scratch. But the telescope is bigger and heavier than the one the team initially envisioned, so it requires more heater power, a bigger spacecraft to hold it, and then a bigger launch vehicle to send it into space. Engineers also have to tweak it to suit their needs for this particular mission. "Having to work with an existing design forces a variety of small engineering choices in ways that can't be optimized the way one would if starting from a blank sheet of paper," Kruk said.
Another decision involves an instrument called a coronagraph, which would directly image and study the chemical compositions of exoplanets. At first, the WFIRST team planned to treat the coronagraph as a technology demonstration. This meant that it would do enough science to show its usefulness for future generations of space observatories, but not enough to classify as a full-fledged science instrument. Somewhere along the way, the scientists decided to push the boundaries a little bit—imagine the potential findings of such advanced technology!—and added to its capabilities. That move set the mission up for more planning and testing and eventually got too expensive.
And so the WFIRST team has followed the report's recommendation to reduce the scope of the coronagraph's capabilities. "When the gun's at your head, you realize maybe we could do this a simpler way," said David Spergel, a Princeton University astrophysicist and cochair of the WFRIST science team. "This pressure, while painful, is actually good."
Removing the coronagraph altogether would chop $400 million from the total mission cost, but NASA headquarters is intent on keeping it. WFIRST's main science instrument, a wide-field imager that will investigate dark energy, can't do detailed analysis of the exoplanets it finds. "The nice thing about the coronagraph is it makes the entire package much more palatable to the public and to congresspeople that are interested in exoplanets," Boss said. "Getting an image of a nearby planet, to many people, is a lot more interesting than seeing some strange number about dark energy."
Kruk said most of the cost-cutting this month has come from constant reshuffling of the design, development, and testing schedules. The more things they can do at the same time, the less money they spend. The project is also nearing agreements with other nations, like Canada and Japan, to participate and contribute hardware—$50 million here, another $50 million there, Spergel said.
The WFIRST mission has a busy few months ahead. Next week the House Committee on Science, Space, and Technology will hold a hearing on NASA's next generation of large telescopes, including Webb and WFIRST, and the recent report on the latter will surely come up. In 2011, Congress placed an $8 billion cap on development costs for Webb. The mission has faced frequent delays, and its launch date has slipped steadily, from the proposed 2014 to 2019. Jeremy Kasdin, a Princeton professor who is leading the coronagraph's development on WFIRST, is wary of the public making comparisons between the financial histories of the telescopes. "It's important that people understand it's not a runaway cost problem like the [Webb telescope] was, he said."
In February, WFIRST scientists will present to headquarters their latest designs and science objectives, and, if approved, will move the project onto the next phase of development. By that time, they need to hit the $3.2 billion target, too. So far, the scientists I spoke with seem confident about cutting enough costs. They just know it's going to hurt.
"The problem is astronomers always want to make the best possible instrument they can and engineers are happy to oblige them because engineers get their jollies making something work really well in space," Boss said. "But unfortunately, they also charge you for it."
Bitcoin Is a Delusion That Could Conquer the World
Posted: 30 Nov 2017 06:08 PM PST
A bar of gold. A disk of iron. A chain of beads. A card of plastic. A slip of cotton-linen paper. These things are worthless. One cannot eat them, or drink them, or use them as a blanket. But they are valuable, too. Their value comes from the simplest thing. People believe they are money, and so they are.
If every currency is a consensual delusion, then bitcoin, a digital cryptocurrency that changes hands over the internet, feels more like a consensual hallucination on psychedelic drugs. The concept of bitcoin was born in a detailed white paper published in late 2008 by a pseudonymous "Satoshi Nakamoto." By 2013, one bitcoin was worth $12. As of this writing, it's worth more than $10,000. Its value has doubled in the last two months alone. For any currency's value to increase by 100 percent in eight weeks is, to use a technical term, bonkers. If the Japanese yen or American dollar did the same, their economies would plunge into an infernal deflationary spiral.
Throughout history, currency has taken one of two forms: physical assets, like gold or beads, and fiat currency, like government-backed paper and coins. Bitcoin and its brethren introduce a third category: digital currencies that run on a combination of game theory, economics, and cryptography—thus, cryptocurrencies. If all money is the sharing of an illusion, bitcoin wants to build a better way to share it.
Like many people, I've long regarded bitcoin's rise with both wonder and confusion.  To help me make sense of it, I started calling cryptocurrency experts and academics to ask, is bitcoin just a dumb bubble, like 17th-century tulip bulbs? An investment hedge, like gold? A currency, like dollars? The answers I got weren't satisfyingly unanimous. I heard "all of the above" and "none of the above" and "nobody knows for sure, yet."
Toward a More Perfect Money
What's wrong with dollars, anyway? If you ask me, very little. I like my credit card. I don't even mind cash.
But to others, the dollar's dangers are glaringly obvious: a single omnipotent entity, the federal government, strictly controlling money supply and the rules that govern it. Some worry that the creation of too many dollars will lead to out-of-control inflation. "Cypherpunks have dreamed of fully decentralized electronic payment systems for decades" that would allay these concerns, writes Timothy Lee, a senior tech-policy reporter at Ars Technica who has long been on the bitcoin beat. Most digital-currency ideas, however, had the same tragic flaw—replicability. Just about everything that exists online (think text, photos, or files) can be copied. Fear of rampant counterfeiting would spell death for a digital currency.
Bitcoin solved this problem with the blockchain, an online ledger that records and validates all peer-to-peer payments to eliminate double-spending. For those inclined to less-than-legal behavior, it helps that the blockchain encrypts transactions to provide anonymity. The payment network is maintained by bitcoin "miners," a decentralized group of individuals with powerful computers that approve transactions and are rewarded with new bitcoins for their work. The total possible supply of bitcoin in the world is capped. Thus, bitcoin solves both of the cryptopunk money problems—the blockchain thwarts centralization, and the planned scarcity of bitcoins checks inflation.
The blockchain is an ingenious and potentially transformative technology. People like Marc Andreessen, the well-known venture capitalist, have predicted that it could become the scaffolding of the entire economy, like the internet. Here's a taste of the transformative vision from an interview Andreessen held with The Washington Post:
Digital stocks. Digital equities. Digital fundraising for companies. Digital bonds. Digital contracts, digital keys, digital title, who owns what—digital title to your house, to your car … You've got digital voting, digital contracts, digital signatures … And then every aspect of financial services: insurance contracts, insurance derivatives, currency exchange, remittance—on and on and on.
Nobody knows for sure whether the blockchain will transform the economy of the future, as Andreessen foresees. What's clearer, however, is that it has not transformed the economy of today. While the number of bitcoin transactions is growing every year, it's nothing close to a mass-market consumer technology, like Google, or Netflix, or even PayPal. Bitcoin remains cumbersome to use (the typical transaction can take up to 10 minutes) and the price is extremely volatile. It is, for now, a frankly terrible currency built on top of a potential transformative technology.
Which leads to perhaps the most obvious question: If bitcoin appears to have flopped as a mass-market currency, why has it so suddenly succeeded as an investment vehicle?
Up, Up, and Away
There are countless theories about why bitcoin's valuation has gone berserk. But for the purpose of time and sanity, let's reduce them to four mega-arguments.
1. Venture capital (and a green light from the feds) got the ball rolling.
For the first five years of bitcoin's existence, venture capital's interest in bitcoin-related products and companies was minimal. After all, the very idea of cryptocurrency was infamous for its association with online black markets like Silk Road, where criminals used digital tokens to anonymously sell drugs and other illegal stuff. (In fact, one could argue that bitcoin's rising valuation is just a bet that its most dubious uses—say, avoiding taxes or laundering money—will keep rising.) It seemed for a while that the U.S. government might try to crush the ostensible competitor of the almighty dollar.
But in November 2013, shortly after the FBI shut down Silk Road, several senators praised bitcoin and other virtual currencies at an official hearing as "legitimate financial services." Senatorial droning on C-SPAN doesn't always move markets. But when it does, it really does. The value of bitcoin tripled within the month to $900, and venture capital got its green light. VC investments in bitcoin rose from nearly nothing in 2012 to $400 million in 2014 and $600 million in 2016. Bitcoin didn't yet have an obvious mainstream purpose. But it had something even more valuable: legitimacy from Washington, with curiosity and cash from Silicon Valley.
2. It's digital gold.
People have long described bitcoin as digital gold. In early November, Bloomberg reported that "buy bitcoin" had overtaken "buy gold" as an online search phrase, suggesting that bitcoin's rising valuation could be partly due to investors seeing it as the precious metal's trendy equivalent. Like gold or silver, bitcoin is scarce (by design) and a popular hedge for inflation hawks, worrywarts, conspiracy theorists, and other antiestablishment investors who believe the global economy is always a month away from implosion or hyperinflation.
There is another important way that bitcoin is like gold: Its reputation is much bigger than its market. In any given week, $34 billion in bitcoin is traded, according to The Wall Street Journal, less than 1 percent of the global foreign-exchange market.
As New York University professor and so-called "dean of valuation" Aswath Damodaran quipped, bitcoin could become the world's reserve cryptocurrency or the biggest bust of the century. "Right now it's not a very good currency, because it's not a good medium of exchange and it's not a good store of value, because it's too volatile," he told CNBC. He offered a more probable outcome for bitcoin: "gold for Millennials."
3. It's the reserve currency of the ICO market.
What's an ICO? An "initial coin offering" is essentially a way for a company to crowdsource funds without selling shares. Instead of accepting public money in exchange for equity, as in an initial public offering, or IPO, an ICO offers digital tokens denominated in a new cryptocurrency.
The conventional wisdom on ICOs is somewhat split. Some see it as an ingenious way for founders to quickly raise money without relying on the gatekeepers of venture capital. Others point out that it's easy way to con poor dolts looking to buy into the crypto frenzy. And what a frenzy it is: In 2017, the ICO market exploded, raising more than $2 billion for new companies.
There are several ways that the ICO craze feeds, and is fed by, the bitcoin boom. First, some analysts believe that the most lucrative ICOs are driven, not only by gullible rubes, but also by bitcoin millionaires who want to diversify their investments without paying tax by cashing out of cryptocurrencies, which would trigger a capital-gains tax. ICOs fulfill that need.
Second, many ICO investors first convert their cash into bitcoin before buying tokens in a new cryptocurrency. As Tim Lee argues, this makes bitcoin the "reserve currency" of the crypto economy. Just as the U.S. dollar benefits from its status as the world's reserve currency, accepted worldwide in lieu of or in exchange for the local currency, the same is often true of bitcoin in cryptocurrency markets. It's possible that these factors work together in a feedback loop, where bitcoin millionaires seeking diversification raise the profile of ICOs, which increase the value of bitcoin.
This much is clear: Bitcoin's valuation has gone nuts in tandem with the (perhaps equally nuts) boomlet in ICOs.
4. Maybe it's just this simple: Bitcoin is an unprecedentedly dumb bubble built on ludicrous speculation.
It seems strange to call a currency a bubble. But lacking more specific terminology, bubble seems like the only word that would apply.
Even if one buys the argument that blockchain is brilliant, cryptocurrency is the new gold, and bitcoin is the reserve currency of the ICO market, it is still beyond strange to see any product's value double in six weeks without any material change in its underlying success or application. Instead, there has been a great and widening divergence between bitcoin's transaction volume (which has grown 32 times since 2012) and its market price (which had grown more than 1,000 times).
Surveys show that the vast majority of bitcoin owners are buying and holding bitcoin to exchange them for dollars. Let's be clear: If the predominant use case for any asset is to buy it, wait for it to appreciate, and then to exchange it for dollars, it is a terrible currency. That is how people treat baseball cards or stamps, not money. For most of its owners, bitcoin is not a currency. It is a collectible—a digital baseball card, without the faces or stats.
* * *
The explosion of bitcoin's value has been pretty silly. But great things can be born of such silliness.
As Dan Gross wrote in his book Pop!, the soapsuds of burst bubbles often fertilize the next generation's breakthrough technologies. Before the national telegraph, train system, and tech giants, there was a telegraph bubble, a train bubble, and (who could forget?) a dot-com and online-retail bubble. The blockchain, like each of those technologies, has the potential to become a critical piece of infrastructure for the digital economy, even if the price of bitcoin is crashing as you read this paragraph.
In my most illuminating conversation about bitcoin, I spoke with Christian Catalini, a professor of technology at MIT Sloan School of Management. He began by reciting the three classic purposes of money: unit of account (you can measure income in dollars), store of value (you can hold dollars in your wallet and they won't "go bad"), and medium of exchange (give somebody dollars and they'll trust the value). Would bitcoin meet all three criteria? Maybe, he said. But maybe it won't—and it won't matter.
"You could imagine that in the future there might be a cryptocurrency that is mostly a store of value, like gold," he said. "It would be decentralized, and robust, but with high transaction fees. I might use it to buy a house, but not a coffee. On the other hand, others might be more useful for smaller payments. With digital tech, maybe we can have many different kinds of currencies, which altogether unbundle store of value from medium of exchange."
What seems most certain is that the future of money will test our conventional definitions—of currencies, of bubbles, and of initial offerings. What's happening this month with bitcoin feels like an unsustainable paroxysm. But it's foolish to try to develop rational models for when such a market will correct itself. Prices, like currencies, are collective illusions. And the history of American bubbles suggests that national hallucinations, like the over-construction of the rail system in the 19th century, can undergird the very real transformations of the next generation, even after they go pop.
Scallops Have Eyes, and Each One Builds a Beautiful Living Mirror
Posted: 30 Nov 2017 02:13 PM PST
In 2019, if everything goes according to plan, the much-delayed James Webb Space Telescope will finally launch into orbit. Once assembled, it will use an array of 18 hexagonal mirrors to collect and focus the light from distant galaxies. This segmented-mirror design was developed in the 1980s, and it has been so successful that it will feature in almost all the large telescopes to be built in the near future.
But as always, nature got there first. For millions of years, scallops have been gazing at the world using dozens of eyes, each of which has a segmented mirror that's uncannily similar to those in our grandest telescopes. And scientists have just gotten a good look at one for the first time.
Yes, those scallops—the pan-seared pucks of white flesh that grace our dinner plates. Those pucks are just the muscles that the animals use to close their beautiful shells. Look at a full, living scallop, and you'll see a very different animal. And that animal will be looking right back at you, using dozens of eyes that line the fleshy mantle on the inner edges of its shell. Some species have up to 200 eyes. Others have electric-blue ones.
Inside the eyes, the weirdness deepens. When light enters a human eye, it passes through a lens, which focuses it onto the retina—a layer of light-sensitive cells. When light enters a scallop eye, it passes through a lenslike structure, which ... doesn't seem to do anything. It then passes through two retinas, layered on top of each other. Finally, it hits a curved mirror at the back of the eye, which reflects it back onto the retinas. It's this mirror, and not the lens, which focuses the incoming light, in much the same way that those in segmented telescopes do.
Michael Land from the University of Sussex discovered much of this in the 1960s, by carefully eyeballing the eyes under a microscope, and tracing the path that light must take within them. He identified the mirror, he showed that it consists of layered crystals, and he suggested that the crystals are made of guanine—one of the building blocks of DNA. "It's very impressive how Land was right about pretty much everything from some pretty simple approaches," says Daniel Speiser from the University of South Carolina, who also studies scallop eyes. "But no one has gotten a good look at an intact mirror before."
The problem is that powerful microscopes tend to dehydrate samples in the process of analyzing them, and that would ruin the placement of the mirror's crystals. Now, Lia Addadi from the Weizmann Institute of Science has found a way around this problem. Her team, including Benjamin Palmer and Gavin Taylor, used a microscope that rapidly freezes samples, so everything within stays in the right place. They've finally reconstructed the structure of the mirror in glorious detail, confirming many of Land's ideas, and fleshing others out.
The mirror consists of flat, square guanine crystals, each a millionth of a meter wide. They tessellate together into a chessboard-like grid. Between 20 and 30 of these grids then stack on top of each other, with a liquid-filled gap between them. And the layers are arranged so that the squares in each one lie directly beneath the squares in the one above. The crystals and the gaps between them are respectively 74 and 86 billionths of a meter thick, and these exacting distances mean that the mirror as a whole is great at reflecting blue-green light—the color that dominates the scallop's underwater habitat.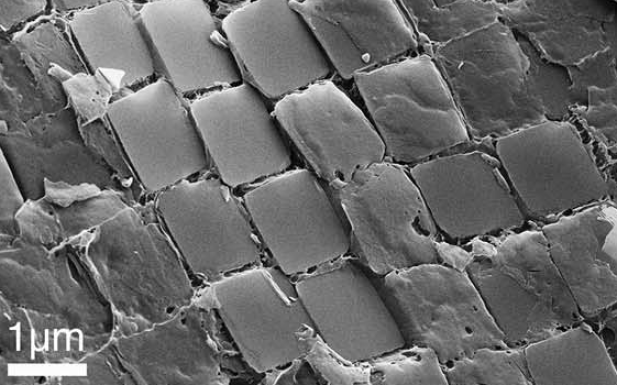 The whole structure is a master class in precision engineering. "When there is an elegant physical solution, the evolutionary process is very good at finding it," says Alison Sweeney, a physicist at the University of Pennsylvania who studies animal vision.
This precision is all the more remarkable because guanine crystals don't naturally form into thin squares. If you grow them in the lab, you get a chunky prism. Clearly, the scallop actively controls the growth of these crystals, shaping them as they form. Guanine crystals grow in layers, and Addadi thinks that the scallop somehow shifts the orientation of each layer by 90 degrees relative to the ones above and below it. As the layers grow outward, they do so in only four directions, creating a square. How it does that is a mystery, as is everything else about the way the mirrors form.
Also, the mirror is not an inanimate structure within the eye. It's a living thing. The square crystals grow inside the cells of the scallop's eye, filling them up. It's the cells that then tessellate together to form the layers. "The cells can't be dead," Addadi says, "or the whole thing would break apart." So not only must the cells control the growth of the crystals inside them, but they also have to communicate with each other to arrange themselves just so. "How do they do that? I really don't know," she adds.
Whatever their trick, it clearly produces results. Scallop vision isn't going to rival ours anytime soon, but it's far sharper than you might expect for an animal that's basically a fancy clam. Speiser demonstrated this a decade ago by putting scallops in little seats and playing movies of drifting food particles. Even when the particles were just 1.5 millimeters wide, the scallops would open their shells, ready to feed. "The idea that these animals are forming really nice images with their eyes feels very solid to me," Speiser says.
Addadi's team also noticed that the scallop's mirror is slightly tilted relative to its retinas. As a result, the mirror focuses light from the center of the animal's visual field onto the upper retina, and light from the periphery onto the lower one. Perhaps that's why the creature has two retinas: They allow it to focus on different parts of its surroundings at the same time.
"It's a really amazing study," says Jeanne Serb from Iowa State University, who has also studied scallop eyes. It helps to solve the mystery of the double retinas—something that scientists have long tried to address, with no success.
But Speiser isn't completely convinced. He says that the eyes get easily deformed when they're dissected, and even a gentle squish could change the orientation of the mirror and retinas. Still, he doesn't have a better explanation, despite testing several possible ideas over the last 12 years. "Nothing checked out, and this is as good a hypothesis as any," he says.
The next big goal for scallop aficionados, he adds, is to work out why scallops have quite so many eyes. They probably allow it to scan a wide area, but does it consider the information from each eye separately, or combine them all into a single image? After centuries of study, scientists finally know how each individual eye sees. But "we still have no idea what the animal as a whole is perceiving," he says.
Posted: 30 Nov 2017 12:43 PM PST
For the first time in U.S. history, the leading association of psychiatrists has condemned a tax bill.
They are not alone among doctors. In a joint statement this month, the American Psychiatric Association, American College of Physicians, American Congress of Obstetricians and Gynecologists, American Academy of Pediatrics—among others, you get the idea—voiced stern opposition to the Republican tax proposal.
Their main concern is insurance. The repeal of the Affordable Care Act's individual mandate—a provision rolled into the Republican tax bill—means millions more people will be uninsured by 2027, according to the Congressional Budget Office (CBO). Individual and small-group marketplaces will be destabilized, and rates of medical bankruptcy will return to pre-Obamacare levels.
This all sounds bleak. Typically people heed the warnings of their doctors. Americans now have warnings from groups that collectively represent more than 560,000 doctors. Still, I think these groups are missing the full breadth and depth of the bleakness.
These doctors focus on the loss of health insurance, in part because they have financial stakes in people having health insurance, and in the medical establishment including as many people as possible. Though they write that having health insurance "is the gateway to prevention and wellness," seeing a physician is a small part of prevention and wellness. There are serious limits to what can be accomplished in a 10-minute conversation every year.
The collapse of the health-insurance market, while important, is far from the only way in which this tax bill relates to health. Most of what makes people healthy or unhealthy is the result of our day-to-day activities in our day-to-day environments, and what sort of stress we incur. By focusing on health insurance, these groups overlook the more insidious threat to health in this bill: the health effects of income inequality.
Barbara Wolfe, a professor of population-health sciences at the University of Wisconsin, explained to me that this is what economists call an income-inequality hypothesis: Your health is influenced not only by your own level of income, but by the level of inequality where you live. Sociologists have described a similar socioeconomic-inequality hypothesis: As socioeconomic disparities grow, overall health metrics decline.
Health effects of income inequality seem to act through social capital, a broad term that includes neighborhood cohesion, close friends, and emotional support from family. These things mitigate some negative health effects of poverty. The sociologist Robert Putnam famously advocated for revival of social capital primarily through civic engagement. Though, of course, the willingness and ability to engage depend on more than an individual's own motivation, but on, in a circular way, existing social capital. It's a thing that can build on itself and grow exponentially. Or it can collapse.
While a lot of research has focused on the health effects of poverty, the effects of income segregation are increasingly relevant, as most wealthy countries are seeing growing divides. In the United States, 1 percent of Americans control some 20 percent of the income (the percentage having doubled since 1980). Between 1970 and 2007, the proportion of families in metropolitan areas living in middle-class neighborhoods declined by a third. Wealth engulfed the middle ground.
According to a CBO report released Sunday, the current Senate bill only stands to exacerbate that concentration. Over the coming decade, Americans making between $40,000 and $50,000 will pay $5.3 billion more in taxes than they currently would. Meanwhile, those who make $1 million or more would pay $5.8 billion less.
In the short term, some middle-class families will receive several hundred extra dollars per year. As Paul Ryan tweeted earlier this month, "Meet Cindy: a single mom, making $30,000 per year, who hopes to one day get beyond living paycheck to paycheck. With a $700 increase in her tax refund each year under our tax bill, Cindy can start saving for her future."
That comes out to $13.46 per week. While it's not necessarily an inconsequential amount if all other things remain the same, the much larger tax cuts for the wealthy mean Cindy will be living with even less relative to the people who define wealth. The chance that she or her child can "climb" to that point diminishes.
Though it has been long known that poverty is a risk factor for many diseases and premature death, there is also evidence that this "relative deprivation" is consequential to health in ways just beginning to be understood. "The broader observation is that income inequality itself leads to poorer health," said Wolfe, noting that this has implications for the wealthy and middle-class as well. "We might expect that those at the bottom would be worse off, but evidence suggests it is also bad for high-income residents."
Ichiro Kawachi, a professor of epidemiology at Harvard University, has been a leading voice in calling attention to the health effects of income inequality. He has posited that social cohesion is eroded by a "pollution effect": Wealth is sucked into private enclaves, gated subdivisions and neighborhoods where the 1 percent buy out of the health-care system and have less reason to interact with or care about the other 99.
At the same time, it is becoming increasingly clear that most diseases are affected, if not caused, by stress. Psychosocial circumstances modulate everything from blood pressure to immune functioning to sleep. The major stressors across American society bear on finances. The effects of social immobility are made worse with greater income segregation; the apparent ladder that seemed impossible to climb just keeps getting longer.
"Income inequality has pathways through which it can impact health, no question about it," said Subu Subramanian, a professor of population health and geography at Harvard. "The concern for a society like the United States is more in relation to relative deprivation—in addition to absolute deprivation. Whether it's through increasing premiums, or shrinking investment in the community, or disenfranchisement or displacement."
The idea is that once some basic needs are met, the visceral effects of being non-wealthy don't deal much in absolute numbers. Wealth matters to health in that it informs perceptions of ourselves, and our sense of growth and mobility. Known as John Henryism, it is well documented that when we strive against stacked odds, we pay with our health.
"It's not really 'Does that person have nicer shoes than I do?' stuff," said Subramanian. "It's the big-ticket sense of place and value: Which neighborhood can I afford to belong to, and so what sort of life can I provide for my family?"
In that sense, he said the "I don't have very much" phenomenon is now kicking in even among the upper-middle class, in the $80,000 to $100,000 income range. This includes people who can afford to live in big cities, like New York or San Francisco, but for whom there are clear lines as to which neighborhood they can afford.
The pace at which gentrification and income segregation are happening mean there are places where people making that much will be priced out and have to move, and even though they are far from poverty, they experience relative deprivation. Most people are fine if they don't have the nicest house on the block, or if they don't live in their ideal neighborhood. But as soon as it becomes impossible to live in that neighborhood at all, and large swaths of major cities are simply out of the question, the social fabric is torn, social capital collapses.
"If you have to live an hour away from what you consider home, and where friends and family are, and you feel out of place or relatively deprived, that will have a real effect," said Subramanian. This is abetted by uncertainty about whether one's kids will be able to do "better" than they did, and whether parents can provide that opportunity if they can't live in the district that they believe would afford that opportunity. It can mean leaving behind friends and family, forgoing a better school system—or trying to make it work by taking on more debt, living above one's means, and so then worrying more about career and less about a healthy, active, social life.
In that milieu, without an individual mandate, it may seem reasonable or even necessary to put that money toward a bigger mortgage instead of saving it or buying insurance. All of this does not paint a picture of thriving.
The doctors who came closest to expressing this were at the Association of American Medical Colleges, who said in two statements that the organization is "deeply disappointed that Senate Republican leadership has decided to put the health and well-being of millions of Americans at risk," and that the legislation "would have a damaging impact on the nation's medical schools and teaching hospitals, and on the patients we care for, the students and residents we teach and train, and the millions of Americans who gain hope from the research we conduct."
Finally, if all of this is not sufficiently bleak, there is also the fact that the bill lowers taxes on alcohol. Alcoholism is the country's third leading cause of preventable death. While the remaining middle class is increasingly likely to feel trapped and disenfranchised, and declining social capital leads to resentment and isolation, and lack of access to affordable health care means more self-medication, there will be cheap alcohol.
The Tax-Bill Provision That Would Cost Harvard Millions
Posted: 30 Nov 2017 11:36 AM PST
Many of America's elite colleges sit on massive pots of money, some worth billions of dollars. These endowments have grown significantly in recent years, the result of philanthropy and savvy investment techniques—and all the while they're completely untaxed.
That's poised to change, though, if GOP lawmakers succeed in enacting their tax-overhaul bill, which is now inching closer to becoming law: The bill stipulates that certain higher-education institutions would, for the first time ever, have to pay a tax on the income from those assets. The proposal comes at a time when lots of schools are struggling financially—including some that on paper might look like they're swimming in cash.
As it stands, the provision would levy a 1.4 percent tax on the investment income that wealthy colleges—the 60 or so institutions whose endowments are worth at least $250,000 per full-time student—make on those assets. Experts estimate that the tax would generate between $250 million and $300 million in revenue annually, which could range from as little as a few hundred-thousand dollars from small liberal-arts schools such as DePauw University to $43 million from Harvard, according to university spokespeople. That might not seem like a lot, but college officials indicate it'd significantly detract from their ability to fund operations and student aid. Both the House version of the bill, which passed the chamber earlier this month, and the Senate's version, which is expected to receive a full vote this week, seek the same tax on endowments. If the legislation passes Congress, it would go into effect almost immediately, requiring colleges and universities to start paying up in 2018.  
"This [legislation] ensures that private endowments are placed on equal footing with private foundations," Republican Representative Kevin Brady, the House bill's key architect and the author of the endowment-tax amendment, said in a statement earlier this month. Private foundations, by contrast, are required to spend a minimum of 5 percent of their assets each year and are subject to a 2 percent excise tax on investment income.
Endowments—which are funded through donations and are primarily invested in an assortment of financial markets—are used to pay for all kinds of expenses including financial aid, research, and facilities. They are in many ways a logical source of new tax revenue. In 2016, the wealthiest colleges spent on average just 4 percent of their endowment income; the rest remained in investment portfolios. This at a time when endowments grew by 13 percent on average.
Endowment-reform advocates describe this dynamic as one of elite higher education's most egregious hypocrisies: Colleges often argue that economic realities hamper their ability to broaden access for needy students and prevent spiraling tuition costs, but the size and nature of their endowments suggests that they have other options. While certain donations come with spending criteria, there's no rule that says colleges can only spend a certain percentage of their assets annually.
In 2016, America's 50 wealthiest universities reported endowment wealth of $331 billion total, worth triple the size of California's state budget; this represents a vast increase from two decades prior, even though the percentages of low-income students served remained relatively constant over the same time period. According to research based on data from 1999 to 2013, fewer than 4 percent of the student populations at the so-called "Ivy-Plus" institutions (the Ivies along with Stanford, the University of Chicago, MIT, and Duke) came from families in the bottom 20 percent of the income distribution, while 14.5 percent came from the top 1 percent. Additionally, tuition at private colleges and universities skyrocketed during that period, growing from an average of a little more than $24,000 in 1997 (as adjusted for inflation) to nearly $42,000 this year, according to U.S. News & World Report data.
The country's budget deficits and colleges' frugal handling of their assets are good cause for a tax on endowment income. Bill proponents have described the legislation as one geared toward holding colleges accountable. "There is a culture of excess, a culture of abuse, and we really need to put a spotlight on it," New York Republican Representative Tom Reed told The Washington Post in early November, noting that he'd support an exemption for schools that dedicate a large percentage of their assets to financial aid. The Ways and Means Committee spokeswoman Lauren Aronson suggested in a statement that the amendment would prevent affluent colleges from hoarding so much of their investment income, requiring that they instead contribute it to tax revenues that can then theoretically benefit current and future students' livelihood.
Still, observers from across the political spectrum—including trade-organization leaders, education scholars, and conservative columnists—are concerned about Congress members' intentions because wrong motivations could end up further hurting students. The proposal isn't grounded in a belief that colleges ought to loosen their grip on their assets, some critics argue, but rather in a mission to increase revenue in support of a giant corporate break. Others have even speculated that the endowment-tax proposal reflects a broader GOP campaign to combat American intellectualism.
Absent the right intentions, the tax could exacerbate the very problems previous endowment-reform efforts have endeavored to eliminate. "What [Congress has] ended up with is not a solution to a public-policy question" about equity and access, said Terry Hartle, who oversees government and public affairs for the American Council on Education. If Congress was indeed intent on advancing a public-policy solution, he suggested, it'd explicitly direct the revenue from this tax to, for example, financial aid. Mark Schneider, the vice president of the American Institutes for Research and an advocate for endowment taxes and regulation, offered a similar take on the bill's failure to specify how the endowment-tax income would be spent. "Getting the principle [of greater endowment accountability] on the books is good," he said. But if Schneider were to have his way, revenue from the endowment tax would be earmarked for community colleges.
One interpretation of the provision's lack of specificity is that the GOP has other goals. "I think it's an effort to take away a bit of power" from prestigious colleges and universities, said Marybeth Gasman, a University of Pennsylvania education professor whose expertise includes fundraising and philanthropy. "There's this anti-intellectualism in the GOP. They feel that a lot of the universities are bastions of liberalism." The bill does indeed propose lots of new taxes that threaten to undermine the financial health of colleges and the students and faculty they serve. Some estimates indicate that the legislation—which would also eliminate the student-loan interest deduction and treat graduate-student tuition waivers as taxable income—would reduce benefits for higher education by more than $60 billion in the coming decade.
It's a contingency about which university leaders are growing increasingly nervous: Never before has the enactment of an endowment-reform proposal seemed so likely. One of us met, for example, with Harvard President Drew Faust for lunch the other week just hours after she'd testified against the tax bill before Congress and asked about her outlook on the legislation. Her consternation was palpable.
The estimated $43 million that Harvard would have to pay in taxes annually might seem like pennies compared to its $37 billion endowment, but Faust says the financial burden would severely detract from its ability to support students and faculty through expenditures ranging from financial aid to medical research. "Harvard's endowment is not locked away in some chest," she said in a statement earlier this month, noting that endowment proceeds fund nearly 40 percent of the university's operations. "It is at work in the world."
The vast majority of endowment wealth is invested in a series of distinct funds, many of them subject to spending criteria stipulated by the given donor; this wealth-management strategy serves as a means of ensuring long-term financial health for future students and faculty. That's why colleges typically spend only about 5 percent or less of their assets annually, according to Tracy Filosa, an enterprise advisor at Cambridge Associates—not because the institutions are stingy but because they've identified that spending rate as a sweet spot that allows them to retain both a good cash flow and long-term security. If the endowment tax is enacted, many institutions will decide to draw what they owe to the feds from the pot of money that would otherwise be spent. It's either that, or continue spending 5 percent and "erode the endowment that's available in the future," said Filosa, who works with universities to align their endowment portfolios with their institutional mission.
For some, most nerve-wracking is that the endowment provision could serve as harbinger for a larger push to tax the endowment incomes of less-wealthy, and even public, institutions, too. "I talk to college and university presidents every day, and I've had more conversations about this than about any other issue," said Hartle of the American Council on Education. "You're on this list [of 70 or so colleges], you're worried about it. But even schools that are not on this list are worried because they see it as a precedent."
Posted: 30 Nov 2017 10:36 AM PST
On Wednesday, Attorney General Jeff Sessions announced the Trump administration's latest actions to combat the surge of deaths from opioid addiction.
They did not add up to big news. An additional $12 million in grants to local law enforcement. An internal restructuring of the Drug Enforcement Agency. An order to the 93 U.S. attorneys to designate one staff member as their office's opioid coordinator.
The script for the otherwise ho-hum event contained praise for President Trump's leadership and a thank-you to the senior-most White House aide in attendance. "I want to thank Kellyanne Conway for being here today. The president has made this a top priority for his administration—including every senior official and cabinet member—as her presence here today can attest."
No news there either. Until Sessions decided to insert an apparently on-the-spot improvisation of his own. Trump, Sessions said off-the-cuff, had detailed Conway "to coordinate and lead the [anti-opioid] effort from the White House."
Those words did make news. "Trump's Counselor Kellyanne Conway is now Leading His Opioids Strategy," headlined Buzzfeed at 5:19 p.m. Other media sources quickly followed: "Conway will oversee opioid epidemic response, Sessions said," wrote Axios. "Kellyanne Conway is now America's Opioid Czar," announced New York.  "Kellyanne Conway chosen as Trump's 'opioids czar," blared the The Washington Examiner.  "Three Things We Know About How Kellyanne Conway Will Handle Being Opioid Czar," offered Quartz.
The Washington Post, more cautiously, omitted Conway from its headline about the event, but did write in the body of the story: "Kellyanne Conway, one of President Trump's top advisers, has been tasked with overseeing White House initiatives to combat opioid abuse, Sessions said. She attended the announcement Wednesday, standing off to the side."
On Thursday, The Daily Caller reported that Conway had told them there is no czar, and that Sessions had been referring to her informal role as the White House's point person on the crisis.
It would not be a crazy thing for the White House to task an official to coordinate work on the opioid crisis. The tragic surge of fatalities raises issues that cross departmental lines: law enforcement, mental health, Medicaid administration, prescription-drug regulation, and international relations. The harrowing problem also requires close cooperation between the federal government and the states.
Complex portfolios like that have been managed by special offices within the Executive Office of the President since the 1930s. The people who head these offices have been nicknamed "czars" since the early 1970s, when President Nixon tasked former Colorado Governor John Love to run the White House office on energy policy. Under Presidents Nixon, Ford, Carter, Reagan, Bush, Clinton, and Bush, there have been also been "drug czars," "inflation czars," and "AIDS czars" among many, many others.
In the past, these czars have been selected for one of two principal reasons: outstanding knowledge of the underlying policy issues or shrewd understanding of the bureaucratic processes of government. President Obama's first cybersecurity coordinator, Howard Schmidt, had worked for 40 years in the field of information security. He had previously served as chief of information security at Microsoft. He chaired the critical infrastructure protection board for President George W. Bush. Nixon's drug czar, Daniel Patrick Moynihan, may have lacked such specialized understanding of narcotics enforcement—but no student of government has ever better understood how bureaucracies function or fail to function.
Kellyanne Conway is neither of those things, obviously enough. A pollster before she joined the Trump campaign, she has emerged there as its most brazen and shameless cable-TV talker.
It's very difficult to imagine what relevant assets Conway could bring to the opioid czar job, even if it existed.
Despite Glenn Beck's ominous warnings back in the Obama days, when he darkly depicted Obama's "czars" as lawless all-powerful gauleiters, what matters is the office, not the head. No czarship, no czar.
There is no opioid office within the White House for Conway to head. There is an Office of National Drug Control Policy. Trump has not appointed a director. His first nominee, former Representative Tom Marino, withdrew on October 27 after The Washington Post and 60 Minutes publicized his long career in Congress of working to cripple DEA enforcement against narcotics distributors. The office remains headless all these weeks later, despite Trump's language of "national emergency."
The Trump administration has no opioid policy, beyond just continuing to arrest people who violate the (lax) existing drug laws. Throughout, Trump has treated the opioid tragedy as a messaging challenge, not a real-world disaster that calls for a real-world response: pretend to care while doing nothing, because the administration lacks the competence and capacity to do something. The idea that it would seek to appoint as head of the Office of National Drug Control the single member of the House of Representatives who did most to worsen the opioid crisis had a beautiful fitness to it.
So maybe after all Kellyanne Conway would be the right person for the "opioid czar" job. Trump's concern for opioids is a cruelly deceptive fiction. And who propagates cruelly deceptive fictions more persistently and brazenly than Conway?
Perfect Grades Don't Always Matter
Posted: 30 Nov 2017 11:42 AM PST
Most American students strive for a 4.0 GPA and the highest test scores, but research shows that this quest for perfection actually discourages creativity and reduces academic risk-taking. In this episode of "School Myths" by The Atlantic, we investigate why grades aren't everything when it comes to education.
Prepare for the New Paywall Era
Posted: 30 Nov 2017 12:58 PM PST
If the recent numbers are any indication, there is a bloodbath in digital media this year. Publishers big and small are coming up short on advertising revenue, even if they are long on traffic.
The theory of digital publishing has long been that because people are spending more time reading and watching stories on the internet than other places, eventually the ad revenue would follow them from other media types. People now spend more than 5.5 hours a day with digital media, including three hours on their phones alone.
The theory wasn't wrong. Ad dollars have followed eyeballs. In 2016, internet-ad revenue grew to almost $75 billion, pretty evenly split between ads that run on computers (desktop) and ads that run on phones (mobile). But advertising to people on computers is roughly at the level it was in 2013. That is to say, all the recent growth has been on mobile devices. And on mobile, Facebook and Google have eaten almost all that new pie. These two companies are making more and more money. Everyone else is trying to survive.
In a print newspaper or a broadcast television station, the content and the distribution of that content are integrated. The big tech platforms split this marriage, doing the distribution for most digital content through Google searches and the Facebook News Feed. And they've taken most of the money: They've "captured the value" of the content at the distribution level. Media companies have no real alternative, nor do they have competitive advertising products to the targeting and scale that Facebook and Google can offer. Facebook and Google need content, but it's all fungible. The recap of a huge investigative blockbuster is just as valuable to Google News as an investigative blockbuster itself. The former might have taken months and costs tens of thousands of dollars, the latter a few hours and the cost of a young journalist's time.
That's led many people, including my colleague Derek Thompson, to the conclusion that supporting rigorous journalism requires some sort of direct financial relationship between publications and readers. Right now, the preferred method is the paywall.
The New York Times has one. The Washington Post has one. The Financial Times has one. The Wall Street Journal has one. The New Yorker has one. Wired just announced they'd be building one. The Atlantic, too, uses a paywall if readers have an ad blocker installed (in addition to the awesome Masthead member program, which you should sign up for).
Many of these efforts have been successful. Publications have figured out how to create the right kinds of porosity for their sites, allowing enough people in to drive scale, but extracting more revenue per reader than advertising could provide.
Paywalls are not a new idea. The Atlantic previously had a different one for a while in the mid-'00s. The Adweek article announcing that this paywall was being pulled down is a fascinating time capsule. Paywalls, back then, were often seen as a way of protecting the existing print businesses.
"Despite worries that putting a print magazine's full content online for free will erode the subscriber base, nothing could be further from the truth," wrote Adweek. "Subscribers largely obtain magazines for advantages that can be garnered only from the print version (portability, ease of use); those looking only for free articles to read can easily look at websites that offer similar content instead."
The idea that the paid revenue from a site itself could contribute to earnings in a meaningful way was not even considered. And that made sense. The scale of most magazine sites was tiny.
"In 2007, TheAtlantic.com tripled its traffic to 1.5 million unique users and 8 million page views," Adweek continued. "During that period, digital ad sales grew to 10 percent of total ad sales, and traffic has grown faster than The Atlantic's digital-marketing investment."
The first time around, many paywalls simply did not work. But times have changed. The New York Times' success in transforming itself into a company that is markedly less dependent on advertising than it has been in recent years has emboldened many other publishers. The Times now makes more than 20 percent of its revenue on digital-only subscriptions, a number which has been growing quickly. In absolute terms, last quarter, the Times made $85.7 million from these digital products.
The question is: Can media organizations that are not huge like the Times or The Washington Post, or business-focused like the Financial Times or The Wall Street Journal, create meaningful businesses from their paywalls?
Here's the optimistic case that they can.
For one, many digital-media properties have much larger audiences than they used to. The Atlantic had 42.3 million visitors in May. It's hard for sites to capture the value of that whole audience with advertising alone, especially because traffic can be spiky. But in marketing terms, that whole audience is just the top of the funnel. And that's a big funnel. Let's say that 1 percent of visitors to The Atlantic's site subscribed for $10 a month. (I'm not privy to conversations about pricing. I'm just making this up.) Do the math: That's $50 million a year, which would be very significant for the magazine's business.
It's not just the difference in scale for different media properties, though. The reigning ideology of the internet has broken apart. In the wild days of the '00s, paywalls were seen as breaking the way the web worked, with sites linking to each other to build on the knowledge we were collectively producing. As it turns out, the culture of links fell apart as digital journalism became more focused on traditional sections publishing individual stories and not blogs that linked to each other frequently. The rise of platform-specific video and the dominance of Facebook finished off the web as it was known in the '00s.
Today's intentionally porous paywalls, too, keep information flowing, even as they help companies capture subscribers.
The infrastructure for buying stuff on the internet also has gotten a lot better. There are the different payment platforms like PayPal and ApplePay. There are initiatives at Apple and Facebook to make it easier to sell subscriptions. There is the mere fact that people buy tons of stuff on their phones now, and have become increasingly comfortable with the idea of paying for content. (Thanks, New York Times!)
When the paywall was first introduced in early 2011, people flocked to Google to search for the term. It just wasn't a familiar idea.
Six years later, this way of charging people for websites is no longer unusual. People may not always love them, but they know the deal.
Smaller magazines may be able to use the same digital-marketing tools to drive subscriptions in the way that other "lifestyle" brands have. One reason that Facebook has grown so quickly is that it has proven to be a very effective machine for putting in marketing dollars and getting out revenue. In the '00s, or even five years ago, it would have been very difficult to target ads at readers except on one's own site. Now, all the targeting tools that have made the digital-advertising business more difficult for publications can help the paid-content business.
A lot of questions remain, however, especially as more publications turn to paywalls. The group of people who pay for any kind of journalism is still relatively small. Based on the current numbers of subscribers to the big publications, we're probably talking a group of people that numbers in the single-digit millions. That's the addressable market.
So, as more and more publications try to woo these particular consumers, how will they split up their dollars? How annoyed will subscribers become remembering another half dozen passwords? If everyone goes all-in on paywalls, who would make your list?
Maybe the whole model of single sites running their own paywalls will not carry the day. Somebody is going to try to make the process of accessing this paid content easier and cheaper, whether it's Apple, Flipboard, Facebook, or a new entrant.
So, expect lots of paid-content experiments, many taking the form of paywalls, but there'll be everything from apps to merch to live events. Digital media has lived and died with advertising, but now it's mostly just dying.
One Hundred Poems That Capture the Meaning of Joy
Posted: 30 Nov 2017 01:35 PM PST
In his new anthology, Joy: 100 Poems, the writer Christian Wiman takes readers through the ostensible ordinariness of life and reveals the extraordinary. "We ate, and talked, and went to bed, / And slept. It was a miracle," Donald Hall writes in "Summer Kitchen." Through a luminous array of poetry and prose, Wiman captures joy in contemporary contexts. These works span from the 20th century to the present day, and as a result, the real, the specific, and the familiar shine through: "She's slicing ripe white peaches / into the Tony the Tiger bowl," Sarah Lindsay describes in "Small Moth."
Wiman's anthology is a reminder that if the news can bring people closer to the suffering of others, literature can bring people closer to the intensities of those experiences. This collection is a study of one of these intensities, namely joy, which Wiman knows is a close bedfellow with sorrow. As he explains in his deeply informed and beautiful introduction, the word joy alone can make writers and readers apprehensive: How can one speak of that feeling at a moment when it seems that anger, confusion, and pain are everywhere?
Wiman's background makes him an apt guide. Born in West Texas in a devout Southern Baptist community, he emerged from a violent heritage. His grandfather walked into the kitchen, shot his wife in front of their kids, then lay down beside her before killing himself. Wiman also witnessed his best friend shoot his father in the face (as described in his excellent piece "The Limit" from his collection of essays Ambition and Survival). And Wiman himself has a strained and protracted relationship with his father, as a result of his father's affair and his parents' difficult divorce.
Wiman distanced himself from religion after moving away for college and remained so until he met his wife, the poet Danielle Chapman (Wiman's essay "Love Bade Me Welcome" in part offers a moving portrait of falling into love and returning to faith). Wiman was itinerant in this period before marriage, spiritually and geographically, although his dedication to poetry was unwavering. He moved to Chicago to teach at Northwestern in 2002, one of 40 moves in 15 years. A year later, Wiman became editor of Poetry magazine, a position he would hold for a decade. Throughout most of that time, Wiman claims, his work was absent of God. Then, in 2005, less than a year into married life, Wiman was diagnosed with a terminal and unpredictable blood cancer; some patients with his rare disease live a few months, others, many decades. Fortunately, Wiman has been in remission for several years, thanks to a thus-far successful bone-marrow transplant.
The hardship and uncertainty of Wiman's life have been intense. Yet they are integral to his work, especially on joy. Even before his diagnosis, Wiman wrote that he believes there is a "direct correlation between the quality of the poem and the poet's capacity for suffering" ("Fugitive Pieces," Ambition and Survival). By which he does not mean that the greatest suffering produces the greatest art; capacity is the operative word. This capacity for suffering is what Wiman recognizes in, for example, Gwendolyn Brooks's "The Rites for Cousin Vit" from Joy: 100 Poems—"Oh oh. Too much. Too much. Even now, surmise, / she rises in the sunshine."
Joy runs like a vein through Wiman's essays and poetry; not always visible, but alive and pulsing when the finger finds it. "My sorrow's flower was so small a joy / It took a winter seeing to see it as such," he writes in "After a Storm" (Once in the West). Wiman's theology and, perhaps not coincidentally, his joy, too, have become more pronounced in his work since his diagnosis.
Death is not an abstraction for Wiman, nor is it "the mother of beauty" as Wallace Stevens once said. Rather, "It is the beauty of the world that makes us more conscious of death, not the consciousness of death that makes the world more beautiful," Wiman writes in "Notes on Poetry and Religion" (Ambition and Survival). One also finds this perspective in Galway Kinnell's "First Song" where a boy discovers that the Illinois twilight "woke / His heart to the darkness and into the sadness of joy."
Wiman's own encounters with the blaze of pain that sharpens one's observations of the world are what make him such a careful and judicious reader for this anthology. Osip Mandelstam, the persecuted Russian poet whose work Wiman translated in the 2012 collection Stolen Air, writes of the thrill of being alive, and one feels Wiman standing right beside him: "Time intensified and time intolerable, sweetness raveling rot. / It is now. It is not" ("And I Was Alive").
As editor, Wiman understands joy expansively, and uses these poems as a means by which his readers can discover and recall its meaning. The pieces here are organized as in a collage, not in categories. He pairs poems that respond to each other, as in the consecutive arrangement of three poems on nascent parenthood—Rita Dove's "Pastoral," Don Paterson's "Walking With Russell," and Sylvia Plath's "You're." The unsystematic coherence of the anthology makes for a fresh reading every sitting.  
Wiman also makes joy feel new by bringing to light poems that have not been overly anthologized. These writers will be familiar to many who read modern and contemporary poetry (the table of contents is a who's-who of winners of the art form's most prestigious awards over the last 100 years), though even the thorough reader will likely not recognize many of the poems' titles. In his introduction, Wiman also notes the unexpected delight in finding pieces to include from poets not known for optimistic oeuvres, such as Philip Larkin or Paul Celan.
If the collection has any fault, it would be its slant toward a theological comprehension of joy, specifically, an over-representation of a Christian one. This is no surprise knowing its editor. Commendably, Wiman has selected a wide range of poets for their style, geographic and national background, language of origin, and form. Many poems do not call on any kind of a higher spiritual being as a source of joy—such as Li-Young Lee's praise of the "round jubilance of peach" ("From Blossoms"). But where the poem, and even more often the prose, frames this emotion within a religious scaffold, it is almost always toward a monotheistic, and Christian, God.
The poems in this collection hail the joy people both do and don't give name to. The anthology has the urgency and relevance of words that are meaningful yet missing in public life and everyday conversations. As a writer, Wiman aims to reach people who have a "strong spiritual hunger in them," as he affirms in a 2009 interview with the book critic Jessa Crispin. Joy is ultimately an invitational, rather than definitive, collection. One gets the sense that it could be the first in a series of anthologies on the word and its presence in poetry. Which is perhaps indicative of joy's intense and ineffable effect to the human mind. As Richard Wilbur puts it in his poem "Hamlen Brook":
Joy's trick is to supply
Dry lips with what can cool and slake,
Leaving them dumbstruck also with an ache
Nothing can satisfy.
Trump Plays Musical Chairs in the Cabinet Room
Posted: 30 Nov 2017 08:56 AM PST
Rexmate! The king is dead—or at least out of a job.
That's according to The New York Times, which says President Trump has decided to remove Secretary of State Rex Tillerson and replace him with CIA Director Mike Pompeo. The timing of the move is newsworthy, but Tillerson's demise has long been expected, given repeated conflicts between Trump and Tillerson, a loss of faith in the secretary within the halls of the State Department, and Tillerson's evident dissatisfaction with the job, including reportedly calling the president a "moron."
The Times reports that Senator Tom Cotton, an Arkansas Republican, is the frontrunner to replace Pompeo.
Assuming the report proves true, it will bring an end to Tillerson's short, tumultuous, and largely ineffective term, which followed a long and successful career at ExxonMobil. Tillerson was not part of Trump's campaign team, and never appeared to have an ideology similar to the president's, but as Jason Zengerle noted in October, Trump was impressed by Tillerson's mien and asked him to take the secretary job at their first meeting in December. But Tillerson's term proved a disaster, beset by problems both internal and external.
On the foreign stage, his instincts quickly came into conflict with the president's. Trump is a brash, impulsive player with little regard for history or fact, while Tillerson is a cautious and process-oriented manager. Trump repeatedly undercut the secretary, on issue after issue. He allowed other members of the administration to contradict Tillerson on dealing with Syria. He dismissed Russian interference in the election, despite Tillerson's affirmations of it. In a diplomatic standoff between Qatar and Gulf states led by Saudi Arabia, Trump publicly undercut Tillerson's Qatar-friendly stand. When it emerged that the State Department was speaking to North Korea through a back channel, Trump condescendingly slapped Tillerson down in a tweet:
I told Rex Tillerson, our wonderful Secretary of State, that he is wasting his time trying to negotiate with Little Rocket Man...

— Donald J. Trump (@realDonaldTrump) October 1, 2017
The constant interference and Trump's tendency to create international crises on a weekly basis wore on Tillerson, who multiple outlets confirmed called Trump a "moron" at a meeting over the summer. When the comment was publicly revealed in October, Tillerson refused to confirm or deny it, but insisted things were going well. In fact, the reverse is true. Tillerson will leave Foggy Bottom without a single diplomatic achievement, which means Trump has none either.
Meanwhile, Tillerson was busy losing the confidence of his troops. He'd been greeted with optimism—diplomats hoped that after two high-flying, ambitious secretaries (Hillary Clinton and John Kerry), Tillerson's managerial talent could bring needed reform. They were quickly disappointed. He was chilly and distant from State Department staff, pushed out several top career diplomats, and failed to defend the department against budget cuts pushed by the White House. He also pursued a drastic reorganization, bringing in outside consultants, and inside expertise bled out. As early as March, my colleague Julia Ioffe was describing a deserted and demoralized State Department. This week, two decorated career diplomats, Nicholas Burns and Ryan Crocker warned in an op-ed that the Trump administration threatens "to dismantle a great foreign service just when we need it most."
Still, Trump was slow to push Tillerson out, preferring to undercut him at every turn. In part, that is Trump's style—he seldom actually fires anyone—and in part it reflects that, as an aide told Zengerle, "Losing a chief of staff in the first year is a big deal, but losing a secretary of state is an even bigger one."
If Trump does choose Pompeo to replace him, it would reflect the president's preference for shuffling aides around. He replaced Chief of Staff Reince Priebus with Homeland Security Secretary John Kelly; shuffled Dina Powell to the National Security Council; made longtime aide Hope Hicks communications director; and appointed Mick Mulvaney, the head of the Office of Management and Budget to head the Consumer Financial Protection Bureau on a interim basis.
There are several reasons for this. In Pompeo's case, it's much easier to get the Senate to confirm someone to a post if they've already been confirmed to another one. It doesn't require finding new people, nor does it require vetting them, which has been a consistent problem for this White House. It reflects Trump's deep-seated dislike of novelty. Moreover, it avoids a recruiting problem: So many qualified candidates for the secretary job have either been disqualified by past criticism of Trump or don't want to work with him. Given the chaos of the administration, the president's treatment of Tillerson and other Cabinet members, and the looming Russia investigation, it's much easier to rearrange the deck chairs than to ask someone else to leap aboard a listing ship.
Pompeo, an Army veteran and former U.S. representative from Kansas, has reportedly impressed Trump during his brief time in Langley. But promoting him to Foggy Bottom will require finding a new CIA director. The Times says Tom Cotton is the top choice. Cotton, also an Army veteran and neoconservative, has been an unlikely but staunch ally to the White House, and as a senator would likely sail through the confirmation process. The White House could also safely rely on his seat being filled by a fellow Republican.
Still, a Cotton nomination might be a curious move for Cotton himself. The Arkansan is young and ambitious, with presumed designs on a White House run someday, and he's been in the Senate for less than three years. Leaving so soon would appear to be a diversion from his path, although one former CIA director—George H.W. Bush—later became president.
Finally removing Tillerson should eliminate some friction from the administration; clearly, neither man is happy working with the other. But it creates a need for two new Senate confirmations at a time when the chamber is already booked up with tax reform and a looming funding crisis. Moreover, while Trump may have more natural chemistry with Pompeo, the biggest problem in American foreign policy today isn't the nation's top diplomat but a president who doesn't think before he speaks and has a penchant for feuding even with America's closest allies. Replacing the secretary of state just means giving that headache to someone new.
Rex Tillerson's Slow-Motion Exit
Posted: 30 Nov 2017 01:03 PM PST
Updated at 3:14 p.m.
The president of the United States and the man he made secretary of state have been at odds almost since the beginning. Donald Trump and Rex Tillerson clashed over the Iran nuclear deal, NATO, the Qatar crisis, and North Korea. Then there were reports that Tillerson called Trump a "moron," prompting the president to challenge him to an IQ test. Taken individually, each disagreement could be dismissed. Taken together, they made Tillerson's position untenable.
The New York Times reported Thursday, citing senior administration officials, that the White House had developed a plan to force out Tillerson by the end of the year and replace him with Mike Pompeo, the CIA director. If the report, which said Trump hadn't yet signed off on the plan, is accurate, Tillerson would join the list of the secretaries of state with the shortest tenures (Elihu B. Washburne, President Ulysses S. Grant's top diplomat, resigned after 11 days; he was then named ambassador to France). Even if it's not accurate, the report further undermines Tillerson's position, and further saps his credibility: What could be worse for America's top diplomat than a leaked plan to replace him at some indefinite point in the future?
When asked about it at the White House, Trump simply said: "He's here. Rex is here."  Sarah Sanders, the White House press secretary, echoed that remark. "Secretary Tillerson continues to lead the State Department and the entire Cabinet is focused on completing this incredibly successful first year of President Trump's administration," she said. The State Department's spokesperson, Heather Nauert, said that Tillerson "serves at the pleasure of the president," and added that John Kelly, the White House chief of staff, called Margaret Peterlin, Tillerson's chief of staff, to assure her that the report of Tillerson's imminent exit was "not true."
Reports about Tillerson's departure, which have circulated for months, emerged most recently last month, when NBC News reported that following Trump's controversial remarks to the Boy Scouts of America, Tillerson had called the president a "moron" during a meeting that did not involve him. Tensions between the two men were reportedly high during this period, and Tillerson had seriously considered quitting, NBC reported, but was persuaded to stay by James Mattis, the defense secretary, and John Kelly. Vice President Mike Pence reportedly talked with Tillerson about not airing his policy disagreements publicly, NBC added. The Times's report on Thursday said Kelly had formulated the plan to replace Tillerson with Pompeo.
Reports of Tillerson's impending exit also circulated in August, when he declined to defend Trump after his controversial remarks about a white-nationalist rally in Charlottesville, Virginia. When asked about the president's values, Tillerson told Chris Wallace, the Fox News host, "The president speaks for himself, Chris."
If Tillerson's time in Foggy Bottom is indeed coming to an end, his tenure will be remembered for both its brevity and its turbulence. The former Exxon CEO's lack of government experience became a major sticking point among critics of his nomination. His close ties to Russia, where Exxon has vast business interests, were cited as a possible conflict of interest as the Trump administration became embroiled by controversy over alleged contacts between his inner circle and Russian officials. Tillerson's reorganization of the State Department also left much of its staff despondent over the future of U.S. diplomacy. He pushed back vigorously against criticisms that he was hollowing out American diplomacy this week in remarks at a forum in Washington, D.C. But on matters of policy, Tillerson has stuck to long-standing U.S. approaches, even if he has sometimes chosen different words to advocate them—and even if at times he has seemed to contradict Trump.
Tillerson said the Obama-era policy of "strategic patience" with North Korea was over—even if Trump's policy is virtually indistinguishable from his predecessor's—despite North Korea's latest test of an intercontinental ballistic missile this week. Tillerson cited concerns with the Iran nuclear deal, but pushed for its repeated recertification by Trump, who was angered by this pressure. Trump called the agreement the "worst" deal in history and ultimately, despite Tillerson's advice, sent the multination deal to Congress. Tillerson also endorsed the idea of collective defense at NATO, which the president dismissed as obsolete, and defended Qatar in its diplomatic dispute with its Arab neighbors (Trump called the nation the biggest supporter of terrorism in the Middle East).
These frequent differences of opinion notwithstanding, Tillerson insisted that his relationship with the president was good. "He calls me late at night on the weekends when something comes into his head and he wants to talk. He may call me at any moment at any time, but it is a very open relationship, and it's one in which I feel quite comfortable telling him my views," Tillerson said at a news conference at the State Department on August 1. "He and I have differences of views on things like [the Iran nuclear deal] and how we should use it. … [If] we're not having those differences, I'm not sure I'm serving him," he added.
That bond was tested after the white-nationalist rally in Charlottesville, Virginia, on August 12. Trump repeatedly compared the white nationalists to the counterprotesters who opposed their presence, going as far as to say there were "some very fine people" among them. His words prompted discomfort among some members of the administration, with Tillerson, Mattis, and Gary Cohn, Trump's chief economic adviser, distancing themselves from the remarks. But it was Tillerson's remarks on Fox News that might have been the beginning of the end for him. On August 27, Axios reported that Trump was getting "fed up" with Tillerson's thinking. A little more than a month later came the NBC reports—and more than a month after that, on Thursday, The Times's story.
After listening to Tillerson speak this week on the importance of the U.S.'s alliance with Europe, Jane Harman, the president of the Wilson Center, said to him: "I was going to ask you what you want your legacy to be, but listening to you, I don't know that that question can be answered yet. You're all over the world, you're focused deeply on the tough questions. You're headed to Europe next week. You have to come back and answer all the other questions we couldn't ask today. Was that a yes?"
"Yes, I'll be back," Tillerson said.
It's unclear in what capacity.
A Liberal-Conservative Alliance on the Supreme Court Against Digital Surveillance
Posted: 30 Nov 2017 12:43 PM PST
On Wednesday, the Supreme Court heard what could become the most important electronic-privacy case of the 21st century. The justices considered whether the government, without a warrant, can effectively trace our movements in public for months on end by demanding 127 days of the geolocational data—known as cell-site location information—that mobile phones beam out 24 hours a day. During the argument, it was encouraging to see two justices with very different perspectives—Justices Sonia Sotomayor and Neal Gorsuch—make passionate arguments for why allowing these kinds of mass searches of our digital effects would be as invasive and unreasonable as the hated general warrants that helped spark the American Revolution. It's possible, therefore, that Carpenter v. United States may continue a welcome recent trend: Liberal and conservative justices on the Court, by broad bipartisan margins, are insisting on translating the Fourth Amendment to the Constitution into the digital age.
Justice Elena Kagan framed the stakes in the case by asking Michael Dreeben, the deputy solicitor general, how this case was different from United States v. Jones, a 2012 case where the government tracked a suspect for a month without a warrant by clamping a Global Positioning System device on the bottom of his car. Five justices, led by Justice Antonin Scalia, said that the police violated the suspect's property rights by committing a physical trespass for the purpose of collecting information—they walked onto his driveway and physically seized his car. But, as Kagan noted, four different justices, led by Justice Samuel Alito said that, even without physical trespass, "society's expectation has been that law enforcement and others would not, and indeed in the main simply cannot, monitor and catalogue every single movement of an individual's car for a very long period." How, Kagan asked, was this case different than Jones?

Dreeben responded that the Jones case involved government surveillance in public, while in this case, the government was seizing business records that individuals had voluntarily turned over to their third-party cellphone carriers, who stored them in the digital cloud. A 1979 case called Smith v. Maryland held that individuals have no expectation of privacy in the telephone numbers they voluntarily surrender to third parties, establishing what is now known as the third-party doctrine.
Kagan was unpersuaded by Dreeben's attempt to distinguish dragnet surveillance by GPS devices from dragnet surveillance by cellphone tracking. "In both cases, you have reliance on a new technology that allows for 24/7 tracking," she said. "Now, you're exactly right, there were different means, but in both cases, you have a new technology that allows for 24/7 tracking and a conclusion by a number of justices in Jones that that was an altogether new and different thing that did intrude on people's expectations of who would be watching them when."
At this point, Justice Sonia Sotomayor jumped in. In Jones, Sotomayor wrote an important and prescient analysis of the challenge that confronts the Court as it attempts to translate the Fourth Amendment into a world where our most intimate data is stored not in locked desk drawers, but in the digital cloud. "I for one doubt that people would accept without complaint the warrantless disclosure to the Government of a list of every Web site they had visited in the last week, or month, or year," she wrote. "I would not assume that all information voluntarily disclosed to some member of the public for a limited purpose is, for that reason alone, disentitled to Fourth Amendment protection."
In the Carpenter argument, Sotomayor elaborated on her claim in the Jones case that Americans do not expect the government to reconstruct their movements in public and private by seizing electronic data without good reason. She asked Dreeben, "What do you do with the survey mentioned by your opposing colleague that says that most Americans, I still think, want to avoid Big Brother? They want to avoid the concept that government will be able to see and locate you anywhere you are at any point in time." Sotomayor added, "Do you really believe that people expect that the government will be able to do that without probable cause and a warrant? The Constitution protects the rights of people to be secure. Isn't it a fundamental concept, don't you think, that that would include the government searching for information about your location every second of the day for months and months at a time?"

Throughout the argument, Sotomayor gave concrete and convincing examples of how pervasively Americans use their cellphones and how invasive warrantless cellphone tracking could become. "Why is it not okay, in the way we said about beepers, to plant a beeper in somebody's bedroom, but it's okay to get the cellphone records of someone who I—I don't, but I know that most young people have the phones in the bed with them," she asked to laughter. "All right? I know people who take phones into public restrooms. They take them with them everywhere. It's an appendage now for some people. If it's not okay to put a beeper into someone's bedroom, why is it okay to use the signals that phone is using from that person's bedroom, made accessible to law enforcement without probable cause?"
In Jones, Sotomayor had suggested that the Court might have to consider its holding in the Smith case that Americans have no expectation of privacy for large quantities of electronic information. "It may be necessary to reconsider the premise that an individual has no reasonable expectation of privacy in information voluntarily disclosed to third parties," Sotomayor wrote. "This approach is ill-suited to the digital age, in which people reveal a great deal of information about themselves to third parties in the course of carrying out mundane tasks."  
The lawyer who argued and won Smith v. Maryland in 1979, Stephen H. Sachs, recently suggested in The Washington Post that Smith has "long outlived its suitability as a precedent" because "when the Supreme Court decided Smith, in the pre-dawn of the digital age, we didn't know about the Internet, smartphones, cloud computing, Facebook, or Twitter."
In the Carpenter arguments, however, Sotomayor seemed sympathetic to argument of Timothy Carpenter's lawyer, Nathan F. Wessler, that the Court could rule for his client without overturning Smith entirely, holding that the government may access 24 hours of geolocational data, for example, but not five-months worth of data. As Sotomayor put it:
From the very beginning, Smith, for example, basically said the disclosure at issue doesn't disclose the content of the conversation … Yet, we drew a line in saying cellphone numbers, telephone numbers are disclosable because everybody knows that the telephone company is keeping track of those numbers. You get it in your phone bill at the end of each month. … That suggests, as you started to say earlier, that it never was an absolute rule, the third-party doctrine. We limited it when … Ferguson when we said police can't get your medical records without your consent, even though you've disclosed your medical records to doctors at a hospital. … So is it really that far off to say, yes, I can believe that my location at one moment or other moments might be searched by police, but I don't expect them to track me down for 24 hours over 127 days?
It's heartening that Sotomayor seem ready to limit the scope of the third-party doctrine in cases where the government is trying to reconstruct the movement of citizens over long periods of time. But her approach might not have satisfied Scalia, who wrote in the Jones GPS case that it was the physical trespass on property rights that made 24/7 GPS tracking impermissible.
That's why the views of Scalia's successor, Gorsuch, are so important to the disposition of the case. And Gorsuch was just as passionate about the possible Fourth Amendment violation as Sotomayor, because he detected a potential violation of the property rights of cellphone users in the data they turned over to third parties.
Gorsuch signaled his views at the end of the first half of the argument in this exchange with Carpenter's lawyer:
Gorsuch: Focusing on the property-based approach, putting aside reasonable expectation for just a moment, what do we know about what state law would say about this information?

So say—say a thief broke into T-Mobile, stole this information and sought to make economic value of it. Would you have a conversion—would your client have a conversion claim, for example, under state law? Have you explored that at all?
When Wessler responded that state courts hadn't explore the possibility, Gorsuch returned to the theme at length in questioning the government's lawyer, Michael Dreeben:
Gorsuch: Mr. Dreeben, I'd like to—I'd like to drill down on that and return to Justice Kagan's question. You know, the facts here wind up looking a lot like Jones.

One thing Jones taught us is—and reminded us, really, is that the property-based approach to privacy also has to be considered, not just the reasonable expectation approach.

So, if we put aside the reasonable expectation approach for just a moment, Katz, Miller, Smith, and ask what is the property right here, let's say there is a property right. Let's say I have a property right in the conversion case I posited with your colleague. So that if someone were to steal my location information from T-Mobile, I'd have a conversion claim, for example, against them for the economic value that was stolen. Wouldn't that, therefore, be a search of my paper or effect under the property-based approach approved and reminded us in Jones?
After Dreeben fought the hypothetical, Gorsuch suggested that federal law had already created a property right in the cellphone data by declaring, in section 222 of the Wireless Communication and Public Safety Act of 1999, that "every telecommunications carrier has a duty to protect the confidentiality of proprietary information of, and relating to … customers." (For an elaboration of the argument that Gorsuch was invoking, read Richard Re and Will Baude's posts on the Positive Law Model of the Fourth Amendment.) Gorsuch went on to suggest that the Fourth Amendment might prohibit Congress from violating the property right it had created by allowing the data to be seized without a warrant.
Gorsuch: So—so the government can acknowledge a property right but then strip it of any Fourth Amendment protection. Is that the government's position?

Dreeben: No, no, but I think that the—­

Gorsuch: And so—so could we also say maybe that they also get this property right subject to having a non-Article III judge decide the case, or quartering of troops in your home? Could we strip your property interests of all constitutional protection?

Dreeben: Well, those are pretty far afield. I—I think what's going on here—

Gorsuch: But does Congress's determination also yield in the face of the Fourth Amendment, Mr. Dreeben?

Dreeben: It does not.

Gorsuch: It does not. The Fourth Amendment is trumped by this statute?

Dreeben: But what interests the statute —

Gorsuch: In the government's—in the government's view. Is that—is that right? The statute trumps the Fourth Amendment?

Dreeben: I think I said the opposite.

Gorsuch: Oh, good. All right. I hoped so.
At this point in the argument, Sotomayor enthusiastically endorsed Gorsuch's argument that Congress couldn't trump the Fourth Amendment:
Sotomayor: Isn't what that Congress did?

Dreeben: No, because Congress provided that it shall be disclosed as required by law. And the same Congress has passed—

Sotomayor: Well, but then we—then you're begging the question, which is Justice Gorsuch's question, which is what's the—what does the law, the Fourth Amendment, require in those circumstances?

Dreeben: So this Court has been …

Sotomayor: You're saying Congress can set the level of what the Constitution requires, but I don't know that that's true.
And then Gorsuch clinched the point by comparing the warrantless search of private information to the general warrants that sparked the American Revolution:
Gorsuch: Mr. Dreeben, it seems like your whole argument boils down to if we get it from a third party we're okay, regardless of property interest, regardless of anything else. But how does that fit with the original understanding of the Constitution and writs of assistance?

You know, John Adams said one of the reasons for the war was the use by the government of third parties to obtain information forced them to help as their snitches and snoops. Why—why isn't this argument exactly what the framers were concerned about?
Chief Justice Roberts invoked the same eloquent analogy in his unanimous opinion for the Court in Riley v. California in 2014, where he quoted John Adams and compared the warrantless search of a cellphone on arrest to the general warrants that sparked the American Revolution. "Modern cellphones are not just another technological convenience," Roberts wrote. "With all they contain and all they may reveal, they hold for many Americans "the privacies of life. … The fact that technology now allows an individual to carry such information in his hand does not make the information any less worthy of the protection for which the Founders fought." In the Carpenter argument, Roberts questioned the government's argument that we voluntarily turn over private data to cellphone companies and therefore abandon expectations of privacy in the data. "That sounds inconsistent with our decision in Riley," Roberts noted, "which emphasized that you really don't have a choice these days if you want to have a cellphone."
As the oral argument revealed, the Supreme Court could decide the Carpenter case narrowly or broadly, and on a range of theories. The conservative justices might hold, with Gorsuch, that Congress has created a property interest in our geolocational data that the Fourth Amendment prevents it from invading it without a warrant. The more liberal justices might hold that we have an expectation of privacy in electronic data that prohibits the government from tracking us over long periods of time, regardless of whether our property rights are invaded. Some justices might even embrace both theories. It is inspiring, in any event, to see justices as diverse as Gorsuch and Sotomayor providing constitutional leadership about the urgent need to translate the Fourth Amendment into an electronic age. By recognizing our privacy and our property interests in being free from unreasonable searches and seizures of our digital effects, the Court can ensure that Americans in the 21st century have the same freedom to be let alone that inspired the 18th-century Framers to fight the American Revolution and to ratify the Bill of Rights.
The Right's Islamophobia Has Nothing to Do With National Security
Posted: 30 Nov 2017 12:44 PM PST
When asked by reporters on Wednesday about President Trump's retweets of anti-Muslim videos, White House Press Secretary Sarah Huckabee Sanders said, "what the President is talking about is the need for national security, the need for military spending."
Her talking points are out of date. The videos are not about "national security" at all. The first supposedly depicts a Muslim migrant beating up a Dutch boy on crutches. (The assailant may have been neither a migrant nor Muslim). The second supposedly shows a Muslim man destroying a statue of the Virgin Mary. It appears to have been filmed in Syria. The third apparently shows an "Islamist mob" pushing "a teenage boy off a roof." It comes from Egypt. None involves terrorism against the United States or even Europe. None could have been prevented by more "military spending."
Sanders is behind the times. Trump's tweets show that, increasingly, America's purveyors of anti-Muslim bigotry no longer need terrorism as a rationalization. Islamophobia is finding new justifications, which don't rely on ISIS or Al Qaeda detonating bombs in London or Chicago. And in that way, it's embedding itself more deeply in America's political terrain.
It's no surprise that Trump may have learned about the videos from Ann Coulter, who has been at the forefront of this Islamophobia 2.0. Her 2016 book, Adios America, which Trump called "a great read," is filled with descriptions of Muslim depravity. It declares that in Lewiston, Maine, "Somali boys roam the streets physically assaulting the locals." It includes a section on "Muslim Rape Culture." And it mocks "Muslim refugees from tribal societies" who are "thunderstruck by indoor plumbing." It's only peripherally about terrorism. For Coulter, the problem with letting Muslims enter the United States is not that they commit terrorism. Terrorism is merely a symptom of their deeper hostility to American values, a hostility that expresses itself in a wide variety of ways: from beating up white kids to raping white women to ripping off the welfare state to generally being unsanitary.
Read Breitbart and you'll find the same, generalized, anti-Muslim sentiment. Breitbart publishes loads of headlines about Muslims, white women, and rape: "Halal Chief: 'Australian Women Need Muslims to Fertilize Them'" (July 30), "Pakistani Gang's Rape of White Girls Was Not Racist, Says Sentencing Judge" (September 6), "UK: Books in Islamic Schools Teach Marital Rape and Domestic Violence" (November 28). It serves up articles about Muslims and crime: "Almost Half of Crimes in Berlin Committed by Migrants" (September 25), Muslims and drugs: "German Police: Asylum Seekers Are Taking over Illegal Drug Trade," (June 26), Muslims not assimilating: "Muslim Immigrants Must Not Assimilate, Says Progressive Ally Linda Sarsour" (July 7), Muslims threatening free speech: "Dodgy Data Islamic Group Demands Google Censor 'Anti-Muslim' Results," (November 6), Muslims hating dogs: "Dogwalker Hospitalised After Attack By Somalian Migrant Who Said 'Dogs are Unclean'" (July 18), Muslims abusing welfare: "Migrants Who 'Fled War' Use Welfare to Holiday in Homelands" (Jan 25) and Muslims discriminating against Christians: "Malaysia Opens Muslim-Only Laundromat to Ensure 'Purity' of Clothing" (October 2).
To be sure, Breitbart lavishly covers any terrorist attack involving a Muslim. But its interest in jihadist terrorism is merely a subset of its interest in Muslim depravity. When there are no terrorist attacks, it uncovers horror stories about Muslim Laundromats.
As with Trump's videos, many of these stories come from Europe. The message is clear: Europe, which once succumbed to Nazis and Communists, is now succumbing to Muslims. America must keep these new barbarians out (and if they're already here, down) because even if they don't join ISIS, they'll violate and defile us in myriad other ways.
Increasingly, the Trumpian right's anti-Muslim bigotry conforms to the templates established by anti-black racism (Muslims are violent, lazy and a threat to white women) and by previous anti-immigrant scares (Muslims are disloyal and incapable of upholding democratic norms). Coulter often conflates the threat from Muslims and Latinos, both of whom contribute to the "browning of America."
For years, liberals have argued that the American right's obsession with terrorism (as opposed to, for instance, gun violence, which kills many more Americans) fuels Islamophobia. But more and more, the causality runs the other way: The American right's Islamophobia fuels its obsession with terrorism. Thus, in terrorism's absence, pro-Trump conservatives simply demonize Muslims for other things.
In the years to come, the "war on terror" could conceivably end. But the message of Trump's retweets is that the assault on American Muslims, sadly, seems likely to go on and on.
Trump's Attention-Diversion Tweet Cycle Goes International
Posted: 30 Nov 2017 08:41 AM PST
The cycle is as old as the Trump presidency: President Trump tweets; the American public reacts; the tweet and the reaction to it dominate the news and political debate; repeat. Nearly a year into the president's term, Americans are presumably starting to get used to it. Yet for the rest of the world, where the American president's tweets are not always a matter of national news, it's different.
A case in point is the United Kingdom. On Wednesday, Britons learned that Trump, or whoever was tweeting on his behalf, had promoted three videos distributed through the account of Jayda Fransen, the deputy leader of the far-right ultranationalist British political movement Britain First. The group, which advocates anti-immigrant and anti-Islam policies, was relatively obscure within British politics, but soon enjoyed international attention after the president's retweets to his nearly 44 million followers.
Trump's promotion of Britain First was met with immediate outcry from British leaders across the political spectrum, including U.K. Prime Minister Theresa May, who through a spokesman condemned Britain First's "hateful narratives which peddle lies and stoke tensions," adding that it was "wrong for the president to have done this." This brought a tweet back to May from Trump, who wrote, "don't focus on me, focus on the destructive Radical Islamic Terrorism that is taking place within the United Kingdom. We are doing just fine!"
And so the familiar cycle kept going, sucking up the political oxygen in at least two countries at once. On Thursday, London Mayor Sadiq Khan—who has sparred with Trump in the past—called on May to cancel Trump's planned state visit to the U.K. (Trump has accepted an invitation to Britain though the visit has not been scheduled.) Khan has in the past said such a visit wasn't a good idea, but went further this time. "Many Brits who love America and Americans will see this as a betrayal of the special relationship between our two countries," Khan said in a statement, adding: "After this latest incident, it is increasingly clear that any official visit at all from President Trump to Britain would not be welcomed."
British lawmakers meanwhile devoted substantial time in the House of Commons to discussing the tweets' impact—notwithstanding the gravity of the issues they were scheduled to address, including transport issues and the humanitarian crisis in Yemen, or those they could be debating, like the stalling Brexit negotiations. The Times' deputy editor Sam Coates described lawmakers' remarks as displaying "a vehemence never heard before about a U.S. president in the U.K. Parliament." While some echoed Khan's call that Trump's state visit invitation be canceled, others were more forceful. "This is the president of the United States sharing, with millions, inflammatory and divisive content, deliberately posted to sow hatred and division," Stephen Doughty, the Labour party lawmaker who called for the debate in the Commons, said. "By sharing it, he is either a racist, incompetent, or unthinking — or all three."
Even May, who also presumably had other priorities while on a three-day tour of the Middle East, was forced to address the tweets again Thursday from Amman. After delivering a speech on the U.K.'s efforts to combat the Islamic State and the longterm stability of Jordan, May answered eight questions—seven of which related to Trump's tweets. "The fact that we work together does not mean that we are afraid to say when we think the United States has got it wrong and to be very clear with them," May said, "and I'm very clear that retweeting from Britain First was the wrong thing to do." When asked if she would fire a member of her Cabinet for similar behavior, May said she has "absolute confidence" that her Cabinet members would not retweet Britain First accounts. "I'm not a prolific tweeter myself," May said, adding: "That means I don't spend all my time looking at other people's tweets, but when I feel there should be a response, I've given it."
This isn't the first time Trump's tweets have strained the "special relationship"—May and other British authorities scolded him in September after he tweeted "unhelpful" speculation about an attack on the London Tube. But the spectacle of Trump seeming to promote a far-right group in an allied country, then criticizing its leader, has provoked an even more furious reaction in the public life of one of America's most important allies. May insisted Thursday that the relationship between the two countries is one "that is there because it is in both our national interests for that relationship to be there," even as the British ambassador to the U.S. voiced concern with the White House over Trump's tweets. All the while, affairs of state were put on hold, agendas derailed, and media coverage diverted, once again, to the Twitter habits of the American president, in seemingly nobody's interest. The cycle has gone international.
You are subscribed to email updates from The Atlantic.
To stop receiving these emails, you may unsubscribe now.
Email delivery powered by Google
Google, 1600 Amphitheatre Parkway, Mountain View, CA 94043, United States