---
'Fire Emblem Heroes' Book II Update is Proof Mobile Will Be King for Nintendo
Posted: 01 Dec 2017 02:25 PM PST
Fire Emblem Heroes is likely not the most well-known game from Nintendo to hit mobile devices. After proclaiming their entry into the mobile gaming market, the company launched Super Mario Run — featuring everyone's favorite adventuring ex-plumber — launched last December to much fanfare. But the hype soon died down and people stopped talking about it. It was, after all, just another endless runner clone with a Mario skin.
However, in February of this year, Nintendo launched its second mobile game. And this one, it would seem, would have the kind of longevity that the company aspired to have. Fire Emblem Heroes — available now as free-to-play with purchases on iOS and Android — uses the Fire Emblem franchise. The IP that had faded into obscurity but was revived in 2013 with Nintendo 3DS title Fire Emblem: Awakening. The release of Fire Emblem Fates in 2016 catapulted the series back into the spotlight, and its explosion in popularity likely encouraged Nintendo to use it for their next mobile project.
A Concept That Just Works
Fire Emblem's core gameplay tenants are a perfect fit for mobile. Moving your units around the battle requires just a swipe or tap, and Fire Emblem Heroes can be played in short bursts or long sprints. Nintendo has released free updates monthly for the entirety of its 11-month lifetime. The only things you can buy with real-world money are Orbs to summon new heroes and upgrade your castle, and items that allow you to keep playing without a cooldown time — all items that can also be earned at a decent rate through gameplay.
Earlier this week, Nintendo pushed a significant update to Fire Emblem Heroes, including the ability to add new boosts to weapons. But the meat of the update is Book II, a narrative expansion that promises to be just as huge as the 13-chapter story already available in Fire Emblem Heroes. Book II so far only has two chapters to fight through, but with an entirely new set of characters to learn about and new Fire Emblem characters to collect, it's clear this expansion will be significant.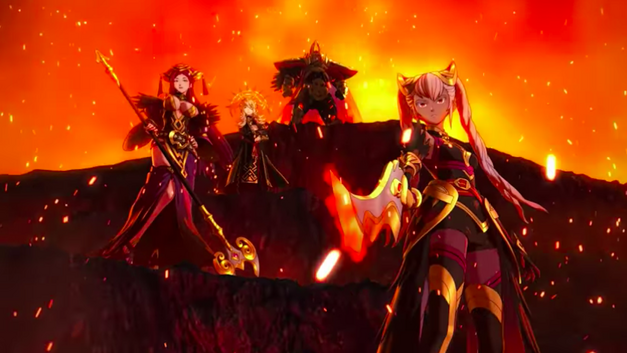 The story of Book II picks up from the cliffhanger at the end of Book I. The player character, Alfonse, Sharena, and Anna find themselves on a new battlefield. They rescue Fjorm, a princess from a kingdom under siege by the team's common enemy, Princess Veronica of the Emblian empire. Fjorm reveals that a new foe has arisen to help Veronica destroy the kingdom of Askr and capture its heroes. But obviously, you and your team are having none of it.
A Long Road Ahead
Learning more about Fjorm's kingdom and past, as well as why other villains are teaming up with Veronica, seem to be the core of this unraveling story. Fjorm is an interesting character; unlike the boisterous Anna, tough Shareena and courageous Alfonse, Fjorm is strong and yet very quiet. It will be interesting to see how these personalities clash or get along.
Fire Emblem Heroes has added new bonus maps every week since its launch, but these maps were always one-off affairs with a chance to score a rare in-game good or character. However, the introduction of Book II is proof that Nintendo is committed to delivering one of the high-quality console experiences the company is known for on a mobile device. Super Mario Run was a light appetizer. Fire Emblem Heroes is the main course. With a side of the recently-released Animal Crossing: Pocket Camp, of course.
The post 'Fire Emblem Heroes' Book II Update is Proof Mobile Will Be King for Nintendo appeared first on Fandom powered by Wikia.
14 Anime We're Most Excited For in 2018
Posted: 01 Dec 2017 02:24 PM PST
The end of the year is fast approaching and it's usually a time of celebration. But, there's more to it than just fireworks, it also means that a batch of new anime shows are coming out.
And although anime studios take their sweet time to reveal what they are working on, several of them have announced which anime they are planning to release in 2018. From the looks of it, 2018 will be the year of awesome and much-anticipated sequels. So, here are 14 anime show that you should be looking forward to.
Batman Ninja
Premiere Date: 2018
Production Company: Warner Bros.
Genre: Action, Adventure, Martial Arts, Sci-Fi
Warner Bros. released one of the most impressive Dark Knight anime adaptations to date:  Batman Ninja. The new movie was first announced during New-York Comic-Con last October, and ever since then, Marvel and anime fans alike have been waiting for the first glimpse of Batman Ninja.
The new Batman story will see the Dark Knight face off against his arch nemesis, the Joker during a tumultuous era in Japan's history. From, high-scale explosions to meditation, fans are in store for an epic battle of historic proportions. And perhaps the new anime movie will open the door for other iconic Western cartoons to be adapted into anime series.
Batman Ninja is set to be released on DVD and Blu-ray in 2018.
Tokyo Ghoul:re
Premiere Date: 2018
Studio: Studio Pierrot
Genre: Action, Drama, Horror, Mystery, Psychological, Supernatural
After many — but I mean many — production setbacks, the third season of the popular horror anime, Tokyo Ghoul, will premiere in 2018. The story will take place two years after the events of √A and will follow Haise Sasaki — a half-ghoul, half-human — as he leads a special team known as the Quinx Squad to exterminate Tokyo's ghoul problem.
Although the extermination team on their heels, the ghouls are set to create a world where both humans and ghouls can live together peacefully.
Despite the fact that fans will finally get to see Sui Ishida's sequel to Tokyo Ghoul, the third season would be replacing its original director. Odahiro Watanabe will be stepping in Shuhei Morita's place who led the first two seasons of the horror anime. But regardless of this switch, fans are still looking forward to the new season.
My Hero Academia Season 3
Premiere Date: April 2018
Studio: Bones
Genre: Action, Comedy, Super Power, School
It's finally official, the third season of My Hero Academia will return in April 2018. Due to its success in Japan and abroad, it's no surprise that the superhero comedy will get another season.
The much-anticipated sequel will see class 1-A going on a school field trip and of course, will follow Izuku Midoriya as he becomes a hero in his own right.
Violet Evergarden
Premiere Date: January 2018 and Spring 2018 (Netflix)
Studio: Kyoto Animation
Genre: Drama, Fantasy
Back in 2016, Kyoto Animation announced on their Twitter account that they are working on adapting the light novel series, Violet Evergarden.
The anime adaptation will take place in an alternate world where robots, known as "Auto Memory Dolls," help people with disabilities. One of these robots is Violet Evergarden who assists an author in writing her novels after she loses her sight. However, soon after the Auto Memory Dolls are repurposed as war weapons. And after four long years, the country is left in ruins and the scars of battle have only left Violet with a haunting memory — a word that she heard on the battlefield and that she doesn't understand.
During her quest for finding the meaning of this word, she touches human lives and human hearts through her new work.
In the first few scenes alone, you will fall in love the series, even if drama anime is not your go-to genre. But, what's most alluring about the series is it's touching storyline, that will leave you in tears.
Taichi Ishidate (Beyond the Boundary and Hyouka) will oversee the series and Kyoto Animation will be in charge of animation. Violet Evergarden will premiere in Japan in January of 2018 and Netflix will stream the series worldwide in the spring season of 2018.
Steins;Gate 0
Premiere date: 2018 – 2019
Studio: White Fox
Genre: Sci-Fi, Thriller
After more than four years, studio White Fox is releasing a new Steins;Gate series called Steins;Gate 0. The new anime will be an adaptation of the visual novel of the same name. And while Zero is going to be part of the main canon, it will take place before the ending of the original story.
Although it's not technically a true sequel, fans of the series — including myself — can't wait to see Okabe on the small screen and see if the mad doc has a chance at rescuing Kurisu.
FLCL 2 and 3
Premiere date: 2018
Studio: Production I.G
Genre: Action, Sci-Fi, Comedy, Parody, Dementia, Mecha
At this year's Anime Expo, studio Production I.G announced that two installments, with six episodes each, of FLCL would premiere in 2018. The new seasons will follow Haruko several years after the events of the previous season. And while fans are excited that the series is returning, the teasers left us with more questions than answers like why did Haruko return to Earth?
On top of that, staff from One-Punch Man, My Hero Academia, and Naruto are said to be working on the anime. Can't wait to see what these animators will bring to this already weird and action-packed show.
Fairy Tail Final Season
The Final Season of FAIRY TAIL TV anime will go on air in 2018!

— 真島ヒロ (@hiro_mashima) July 20, 2017
Premiere date: 2018
Studio: N/A
Genre: Action, Adventure, Comedy, Fantasy, Magic, Shounen
In July, the author of the Fairy Tail manga took to Twitter to announce the sad news the Fairy Tail anime will come to an end in 2018. The series premiered almost a decade ago and has become part of the Japanese pop culture and a favorite for anime binge-watchers.
Fairy Tail follows the Fairy Tail guild comprised of young wizards. Natsu, a member of the guild, makes an unlikely friendship with Lucy Heartfilia as she aspires to become a powerful wizard.
Since its release in 2009, Fairy Tail has aired more than 250 episodes and several movies. Now that the final season is about to premiere, it's time to binge-watch the series from the beginning.
B: The Beginning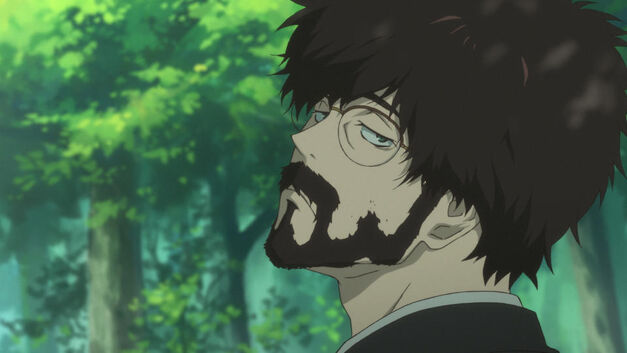 Premiere date: 2018
Studio: Production I.G.
Genre: Action, Drama, Mystery, Sci-Fi
In a world where technological advancements are the way life, crime grows rampant. In this new civilization, we meet Koku, the protagonist, and Keith, the legendary investigator of the royal police force RIS. Watch Koku and Keith race through the city as they try to solve a string of murders orchestrated by a mysterious criminal organization and the infamous Killer B.
I love a good mystery anime when the suspense and drama are done well, and B: the Beginning (formerly known as Perfect Bones) looks like it will keep the viewer enthralled until its conclusion. Anime shows like Monster and Erased do justice to the genre and it looks like Netflix's B: the Beginning will do the same.
Kabaneri of the Iron Fortress Season 2
Premiere date: 2018
Studio: Production I.G.
Genre: Action, Drama, Mystery, Sci-Fi
The steampunk survival action, Kabaneri of the Iron Fortress, returns for a second season in 2018. Originally, the anime was slated to premiere in 2017, but it was pushed back to make way for the second season of Attack on Titan. The season finale had many shocking twists and because it's an original show, there are no indications on how the animator will proceed with the sequel.
Overlord 2
Premiere date: January 2018
Studio: Madhouse
Genre: Action, Adventure, Fantasy, Game, Magic, Supernatural
Although there are many anime series about being trapped in a video game (Grimgar of Fantasy and Ash, SAO, Log Horizon), there is something special about Overlord.
In the season finale, Ainz Ooal Gown finds out that the Slane Theocracy were the ones responsible for the malevolence across the New World. The sequel will continue with this revelation and we will see our main villain face some new challenges.
Ainz Ooal Gown isn't the hero that fans usually see in this genre. Rather, he takes a more villainous role and uses his resources to win the game and some allies. Overlord breathes new life into the MMORPG genre with its dark, funny, and wicked humor. Surely, we want to see more of this.
One-Punch Man 2
Premiere Date: 2018
Studio: J.C. Staff
Genre: Action, Sci-Fi, Comedy, Parody, Super Power, Supernatural, Seinen
With the news that Madhouse isn't animating One-Punch Man season 2 — the studio is notorious for passing on sequels — and that its director (Shingo Natsume) is leaving the series, fans are a bit worried. There's real concern that J.C. Staff doesn't have the same caliber as its successor. However, the studio is no noob. J.C. Staff has animated several shows (Revolutionary Girl Utena and Ghost Hunt) that have become classics and must-sees.
Despite these concerns, fans are still excited that they are working on the second installment. In the new season, we will see the titular hero, Saitama, face a new villain, Garou.
Persona 5 The Animation
Premiere date: 2018
Studio: A-1 Pictures
Genre: Action, Supernatural, Fantasy
In the fall of 2016, A-1 Pictures released Persona 5 The Animation The Day Breakers to promote the game. However, the response to the short anime was so overwhelmingly positive that they decided to make a 12-episode series. And if the anime is as good as the game then it might be a serious contender for best anime of 2018.
Attack on Titan
Premiere date: July 2018
Studio: Wit Studio
Genre: Action, Super Power, Drama, Fantasy
The third season of Attack on Titan is coming a lot sooner than you think. After the series revealed the real identities of the Colossal and Armored Titan, fans still wanted more. Especially, to find out what's in Eren's basement. The end credits of the season two finale announced that the third installment would premiere in 2018. Hopefully, this doesn't push back the release date of Kabaneri.
Code Geass: Lelouch of the Resurrection
Premiere date: 2018
Studio: Original
Genre: Action, Military, Sci-Fi, Super Power, Drama, Mecha
The anime that I and a lot of anime fans are looking forward to the most is the third season of Code Geass: Lelouch of the Resurrection. While details about the new installment are not clear, based on the trailer we can assume that it will take place several years after the events of the Zero Requiem plan. More specifically, how Japan and other countries have recovered from the tyranny of the Holy Britannian Empire.
The post 14 Anime We're Most Excited For in 2018 appeared first on Fandom powered by Wikia.
You Won't Believe These Massive 'Star Wars' Machines and Their IRL Counterparts
Posted: 01 Dec 2017 12:44 PM PST
From the moment the massive Imperial Star Destroyer roared onto the screen at the beginning of A New Hope, monumental machines have been a staple of the Star Wars movies. But ginormous ships and vehicles are more than just hallmarks of a galaxy far, far away. Here on Earth, we've created similarly monstrous machines.
In The Last Jedi, we'll see new classes of giant Star Wars ships and vehicles. Watch as FANDOM takes a look at these fictional battle beasts and their incredible IRL counterparts.
The post You Won't Believe These Massive 'Star Wars' Machines and Their IRL Counterparts appeared first on Fandom powered by Wikia.
'Far Cry 5' Director Talks The Alt-Right & Making Games That 'Mirror' Real Life
Posted: 01 Dec 2017 09:20 AM PST
For much of the general public, video games are still  sadly seen as little more than throwaway entertainment. Thanks to its simplistic and innocent origins, much of the older generation wrote off the medium as little more than glorified toys back in the '80s. Yet, in the three decades since, the art form has begun to offer far more than the basic thrills of Pong and Pac-Man.
With games constantly growing in size and complexity, the medium's storytelling chops have thankfully also matured along with them.
It was surprising then, to see this year's announcement of Far Cry 5 met with a sea of anger from certain corners of the internet.  What triggered this torrent of anger? This modern shooter dared to step away from the realms of exotic locales.
Instead of setting this anticipated sequel in a dangerous and remote part of the world, Ubisoft Montreal opted to put gamers in an unexpectedly familiar but equally hostile setting — America.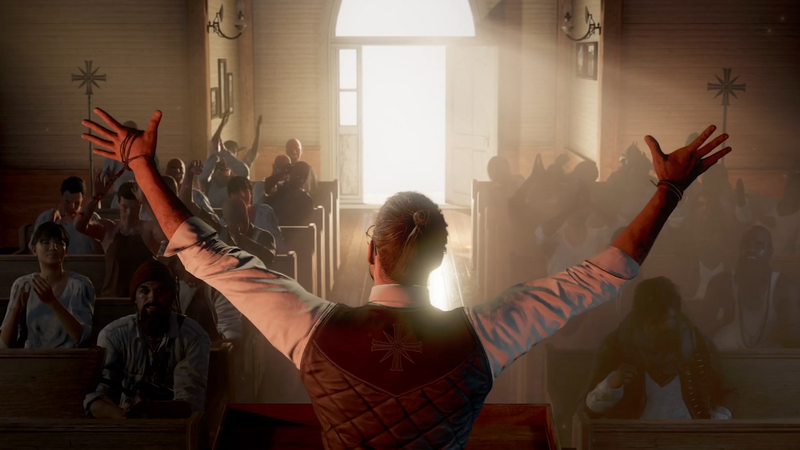 Far Cry 5 puts players in the fictional town of Hope County, Montana, where a crashing economy and rising social tensions have allowed a dangerous Christian cult to thrive and seize control.
Instead of suave looking foreigners ruling 'exotic' lands, this time around, the baddies you had to defeat were white Christians. Predictably, the entitled alt-right felt personally attacked.
Within hours of the game's announcement, death threats against the developers had been  tweeted, petitions to boycott the game had been launched and all the metaphorical toys had been thrown out of the pram.
Yet, with games taking years to develop we were keen to find out how much of this was intentional. Interested to hear more about the real world influences behind this 'controversial' new game, we sat down with the game's director, Dan Hay, and talked Far Cry 5's relationship with the real world.
"It's in some ways a mirror to what's going on. The question I get sometimes is 'How did you know?' and the answer is …we had no idea.  I think the truth is that, you know, globally we have a lot of shared experiences.

We live through the same trials and we live through the same situations where we feel like the global village is kind of threatened by different things, and we don't even realise, we don't really understand what it is."

"And so, as a result, you see that in entertainment, in the media and all these different things some of the same throughputs and the same themes and the same stories come up. Nostalgia and the want for times past, safety, family, purpose. The cult and a leader of a cult just sort of made sense."
While this is a perfectly reasonable answer, Hay was hesitant to address the online backlash at all. Yet, despite Hay being unwilling to alienate a potentially lucrative conservative audience, the game's director didmention that he was keen for his team to capture that sense of unease that has been brewing in the real world for quite some time.
"When the subprime mortgage collapse happened in the United States, what was terrifying about that time .. was that it was the first time I can remember hearing people say 'Where's the government? Where is everybody? Where are the people at the helm? Who's taking control of this, who's running the show?'
And there was open frustration with the leadership. There was open, people saying 'You're not protecting my future'.
And it really reminded me of when I was a kid. I remember kind of looking up at the world and looking up at the fact that the Soviet Union and the US were locked in this titanic struggle, and there was this feeling like we were this close all the time for years.

And we were just thinking, people in the '80s were spending money like there was no tomorrow. I think the reason was some of them believed there wouldn't be."
With our world leaders seemingly on the brink of nuclear war once again, we asked Hay more about how current events and the rise of Neo Nazism had influenced the game's development.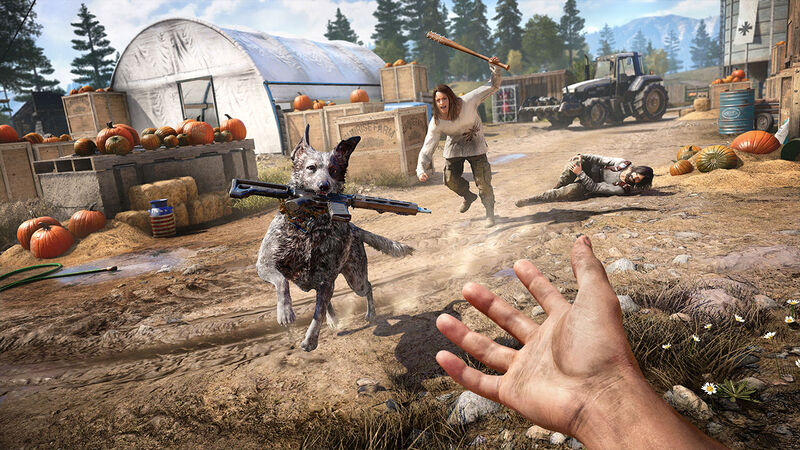 "Over the last five, six, seven years I've been kind of having that feeling again. When it first happened, I didn't recognise what it was, I didn't understand what it was, but then I started to watch what was happening around the world and I started to get a sense that everything was not quite right, and it felt like we were kind of headed towards the edge.

And what worried me was that we may not know it when the time comes. Right?

One of the bad parts about always being at the edge is that you never know [it], you always assume you're going to be able to pull back."
Despite these stark parallels to the real world, however, Hay is keen to stress that from his perspective, Far Cry 5 is a piece of entertainment first, and not a political statement.
"I think when we built our game we really focused on making sure that people understand that it's a form of entertainment, right?

We know that it's entertainment, and what's interesting about the time right now that we're in is that games and film are for the first time really becoming into parity.

I think when we talked about exploring certain themes and the fact that films have been able to do this for a long time and that television has been able to this for a long time, we wanted to be able to make it to say 'Look, let's build our own world. Let's make sure that Hope County is not a place you find on the map.

Let's make sure Eden's Gate is not a place that exists, it's our own, and that the father and what he believes is our own'.
With the game's development starting three years ago , its clear that the idea of a Christian cult and dissulliosined American State were being pursued by the team long before current events unfolded. Yet with the writing being on the wall even then and the game quickly becoming prophetic, it's a shame to see Ubisoft Montreal not proudly standing behind its clear desire to tackle real world issues.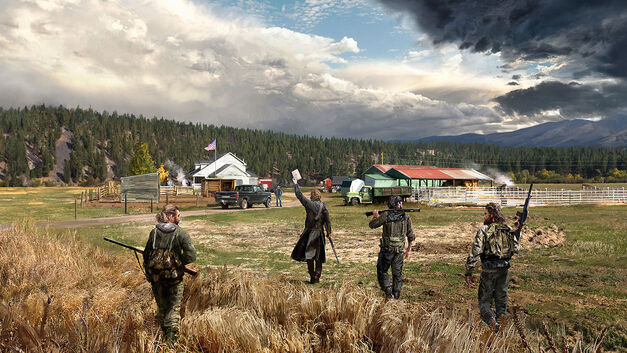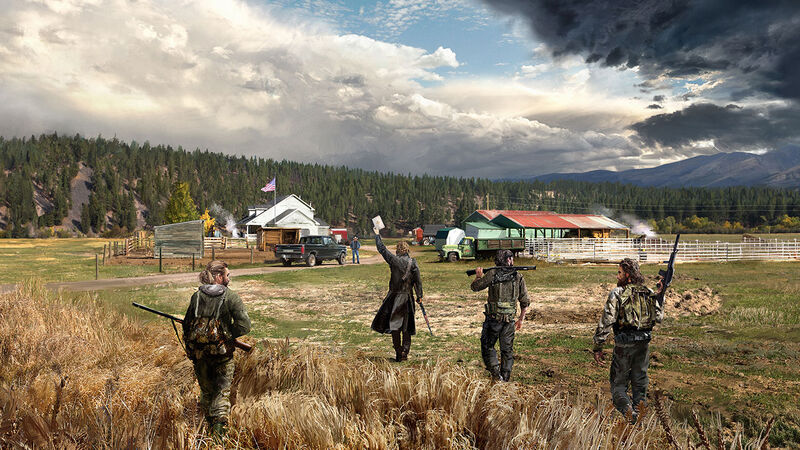 As Hay says himself, movies, books and TV have long presented their audience with difficult topics, and dared to challenge the world its audience finds itself in. Yet, despite his willingness to acknowledge this, it seems as though he's hesitant to fully commit to the game's clear stab at social commentary.
"It's absolutely born from some of the ideas in the real world and it feels real, because we want it to feel like a place that you could go and all of your reflections and all of your actions and all of your intuitions would still work, but it's  still our [ficitional] place. "
Still, what we've seen of Far Cry 5 so far looks highly promising and regardless, it's  great to see a developer tackle such an interesting concept. Yet, as video games begin to grow as a medium, we just hope that that  developers and publishers will have the courage to stand by their art, instead of trying to make something that simply appeals to everyone.
The post 'Far Cry 5' Director Talks The Alt-Right & Making Games That 'Mirror' Real Life appeared first on Fandom powered by Wikia.
Exclusive: Deleted 'Atomic Blonde' Scene Sees Charlize Theron Let Her Guard Down
Posted: 01 Dec 2017 03:19 AM PST
Exclusive to FANDOM, this deleted scene from Charlize Theron action thriller Atomic Blonde sees her character Lorraine Broughton drop her guard while in bed with Sofia Boutella's Delphine.
The pair lie close together, with Delphine nestled on Lorraine's chest as Lorraine puffs on a cigarette. As Lorraine strokes Delphine's hair, Delphine asks: "Have you ever been in love?"
Lorraine doesn't answer. There's a silence, which Delphine fills. "I think that love is the only thing worth living for, or dying for," she says.
Gazing off into the middle distance, Lorraine responds: "I'm not afraid of love."
Delphine raises her head and looks Lorraine in the eye. "Then what are you afraid of?" she asks.
"Losing it," comes the reply, Lorraine's eyes soft, half-closed.
"When you tell the truth you look different. Your eyes change," observes Delphine.
Lorraine continues to stroke Delphine's hair. She pauses and looks at her face intently.
"Thanks for the warning," she says before looking away to take another drag on her cigarette.
Delphine leans in and asks: "What do you mean?"
"I mean I'd better not do that again," says Lorraine still looking away.
"Why?" asks Delphine.
Lorraine looks at her again, and seems reluctant to answer. She sighs, as Delphine nestles her head into her chin. Lorraine looks up, still playing with Delphine's hair.
"Because it's going to get me killed one day," she says in a half whisper.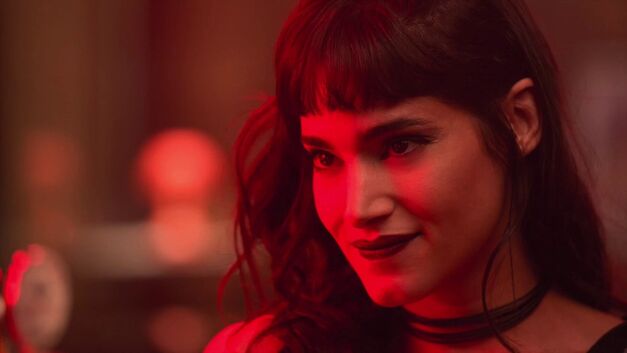 If you haven't yet seen Atomic Blonde, take a look our review to see what we made of it. Want to know what it's about? Here's the official synopsis:
Sensual and savage, Lorraine Broughton is the most elite spy in MI6, an agent who's willing to use all of her lethal skills to stay alive during an impossible mission. With the Berlin Wall about to fall, she travels into the heart of the city to retrieve a priceless dossier and take down a ruthless espionage ring. Once there, she teams up with an embedded station chief to navigate her way through the deadliest game of spies.
Atomic Blonde is available on Digital now, and coming to 4K Ultra HD, Blu-ray and DVD on December 4 in the UK. It's out now in the US.
Sofia Boutella on How Sun, Love and Green Juices Could Solve Her Mummy Issues
The post Exclusive: Deleted 'Atomic Blonde' Scene Sees Charlize Theron Let Her Guard Down appeared first on Fandom powered by Wikia.
You are subscribed to email updates from Fandom powered by Wikia.
To stop receiving these emails, you may unsubscribe now.
Email delivery powered by Google
Google, 1600 Amphitheatre Parkway, Mountain View, CA 94043, United States