---
Rishard Matthews Honors Colin Kaepernick's 'Ultimate Sacrifice' with Custom Cleats
Posted: 01 Dec 2017 06:13 PM PST
The NFL is steadfast becoming a hotbed for dumbassery. It all started with mediocre quarterback and Squidward-lookalike, Colin Kaepernick. Who felt the need to touch his knee to the ground every time the Star-Spangled Banner played. Most people thought him a jackass and changed the channel. But some, like Titans wide receiver Rishard Matthews, think he's a hero worthy of tribute.
A Tennessee Titans player plans to wear special cleats on Sunday to honor Colin Kaepernick, the former San Francisco 49ers quarterback whose decision to kneel during the national anthem has sparked heated debate over social justice protests.

Wide receiver Rishard Matthews shared a photo of the "Know Your Rights" cleats, which also include a drawing of Kaepernick and the name "Colin" on them.

Matthews wrote: "I dont have a foundation so i have chosen to support my brother @kaepernick7 foundation @yourrightscamp for #MyCauseMyCleats He has paid the ultimate sacrifice in order to bring true everyday issues to light."
"Ultimate sacrifice?"
It's funny how Kaepernick kept his knees unbent for the anthem, right up until there was talk of him being cut. Then, almost overnight, he turned into Malcolm X. How convenient. The kneeling may have been the death knell of his career, but his star was already fading. Hardly the "ultimate sacrifice."
Rishard Matthews honoring Kaepernick's "ultimate sacrifice" is amusingly ironic. Especially seeing as Kaepernick became famous for giving the metaphorical finger to the peeps who made the real ultimate sacrifice. All so Colin could have the right to behave with the class and dignity of a urinal cake.
Not sure if Rishard took one-too-many blows to the noggin, or if he's just lacking in the frontal lobe. Either way, his views on personal sacrifice are a tad skewed.
NOT SUBSCRIBED TO THE PODCAST? FIX THAT! IT'S COMPLETELY FREE ON BOTH ITUNES HERE AND SOUNDCLOUD HERE.
Here's Why FBI is Finally Investigating Antifa Members
Posted: 01 Dec 2017 06:08 PM PST
Looks like Antifa is finally getting the attention they so desperately crave. It's not daddy's approval but hey, at least it's something. There's been one too many riots, pummelings, and broken shop windows. Apparently the FBI has had enough of the flaming dumpsters (not to be confused with a Jimmy Kimmel segment). So they've launched an investigation into Antifa's ranks. Finally!
The FBI is investigating people inspired by "kind of an Antifa ideology," bureau Director Christopher Wray said Thursday.

Wray told members of the House Homeland Security Committee that people associated with the so-called anti-fascist or Antifa movement were subject to the FBI probe amid possible violent criminal activity.

"… we are investigating a number of what we would call anarchist-extremist investigations, where we have properly predicated subjects of people who are motivated to commit violent criminal activity on kind of an Antifa ideology," he told the House panel.

Wray said the FBI was investigating about 1,000 domestic terror cases. He added that out of about 1,000 open domestic terror investigations, all are focused on actual physical threats.
Turns out you can only throw so many violent tantrums before the FBI starts to investigate you as a violent criminal.
It's not surprising that Antifa boasts a long, colorful record of crime and stupidity. It's a tad surprising that it's taken the FBI this long to do anything about it though (see Vox Says Not to Fall for Biased Coverage Against Antifa). Better late than never?
For too long, antifascist sissies have been in dire need of a spanking. This might just do the trick.
NOT SUBSCRIBED TO THE PODCAST? FIX THAT! IT'S COMPLETELY FREE ON BOTH ITUNES HERE AND SOUNDCLOUD HERE.
BREAKING: DOJ Makes Major Move to Bring Kate Steinle's Killer to Justice
Posted: 01 Dec 2017 04:44 PM PST
Despite the week drawing to a close, there's been quite a bit of news in the last 48 hours. The illegal alien who shot Kate Steinle was acquitted of murder (see JUST IN: Verdict on Illegal Immigrant Who Killed Kate Steinle. It's Not Good…). That was last night. Then the DHS said it wanted to deport him for the sixth time because why not (see Illegal Immigrant Found 'Not Guilty' in Kate Steinle's Murder to Be Deported). That was this morning. Now this happened:
NEW: Dept. of Justice has filed an arrest warrant for Jose Garcia Zarate, the man acquitted of murder in Kate Steinle's 2015 San Francisco shooting death.

— CBS News (@CBSNews) December 1, 2017
Surprise! It's all a bit confusing because the Department of Homeland Security said one thing and now the Department of Justice is doing this thing. So many departments, yet not enough justice. Until now.
So what does all of this mean? Before any armchair lawyers screech "but double jeopardy!" — apparently the warrant is for a "supervised release violation." According to the fine print…
There is an existing federal detainer that requires this defendant be remanded into the custody of US Marshals Service to be transported to the Western District of Texas pursuant to the arrest warrant.
Boom. In other words? San Francisco screwed this crap sandwich up enough already. The DOJ believes it's time for someone else to take the reins.
Goodspeed to them.
NOT SUBSCRIBED TO THE PODCAST? FIX THAT! IT'S COMPLETELY FREE ON BOTH ITUNES HERE AND SOUNDCLOUD HERE.
Net Neutrality Supporter Sends Death Threats to Republican Congressman
Posted: 01 Dec 2017 03:01 PM PST
Leftists are an emotional lot. Their dedication rivals Michael Moore's dedication to Little Debbie. But sometimes they can get a little carried away with their passion. As Michael Moore does with propoganda. Take this specimen for example. He supports net neutrality so much, he's willing to kill for it.
A Syracuse man is accused of threatening to kill a congressman and his family if he didn't support net neutrality, the U.S. Attorney's Office announced Wednesday.

Patrick D. Angelo, 28, of Syracuse was arrested and charged by criminal complaint with interstate communication of a threat and threatening a federal official, authorities announced. The charges carry a maximum of 10 years in federal prison and a fine of $250,000.

According to the U.S. Attorney's Office, Angelo allegedly called the Washington, D.C., office of Congressman John Katko, R-Camillus, on Oct. 17 and left a threatening voicemail that included a death threat to Katko and his family if the congressman didn't support net neutrality.
Geez. Lefties hype themselves up as the standard-bearers of tolerance and compassion. But, when you get between them and their broadband?
So, Pat had just finished whipping up a soy latte. He opened up his MacBook to look at cat pictures and browse Vox. But alas, his connection was slow. He could have accepted it as one of the harsh realities of life. But, instead? "I'll just threaten to kill my congressman. That'll take care of it."
Violence seems to be leftists' first and only resort. Logic need not enter into the picture. When they want an elector to vote their way? They treaten to set him on fire. Their first argument against a pro-lifer? "How'd you like it if I rape you."
The worst part? I'd bet they're completely ignorant as to what net neutrality really is. Hint: it's not about a "freer, more open internet."
NOT SUBSCRIBED TO THE PODCAST? FIX THAT! IT'S COMPLETELY FREE ON BOTH ITUNES HERE AND SOUNDCLOUD HERE.
[Video] Feminists Shame You for Not Finding Bearded Ladies Attractive
Posted: 01 Dec 2017 02:36 PM PST
Feminists come in all different shapes, sizes, and mental deficiencies. Some have blue hair, some are butch-cutted. Some are thin, but most are cankled. Some are even decidedly hairy. We've already seen feminists proudly display their armpit fleece. But these women in the video below are even braver than that – and therefore get more feminist points – because they're showing off something even more bewildering; hair of the facial kind. Gasp.
They're affected by hirsutism, which is "excessive hair growth in a male pattern." And they want you to, like, just stop judging them for it already. Gosh.
Take it away, bearded ladies!
Despite their variety of looks, you'll notice all modern feminists seem to share at least one thing in common: blaming their woes upon an evil oppressor (society, the patriarchy, etc). Which is basically the whole point of this Marie Claire feature. From the article:
There's an Italian saying: "Donna barbuta, sempre piaciuta," which is sometimes translated to "everyone loves a woman with a beard."
Hmm. Never heard that one before.
It's a lovely sentiment, but it's not true. If it were, hirsute women wouldn't avoid social situations because they're self-conscious about their hair.

"It's sad that women feel like they need to live under a restrictive ban of facial hair," Samson says of how narrowly we define femininity. Many men might not be secure enough to stand proudly next to a partner who displays a stereotypically masculine feature.
Or maybe they just don't find it attractive. Look, my condolences for whatever hormonal Chernobyl is wreaking havoc on these girls' lady parts. Nobody is holding a razor to their face. These ladies should feel free to walk hairy. But society should also feel free to not be attracted to their face fur.
If feminists want to encourage face farming and masturbearding, have at it! Except it doesn't end there. They keep trying to hijack "beautiful" and change its definition so it includes them (and these hairrorists).
Physical attraction doesn't work that way. It isn't a tolerant thing. It cares not about your delicate feelings or face pubery. Or chinitals.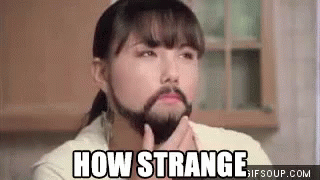 Finding Madam Moustache unsightly and, dare I say it, unfeminine isn't a crime. Yet Marie Claire made this video to shame you, and somehow the entire male gender, for it. All under the guise of "celebrating" the plight of a few gals who have wooly mugs.
It's all rather shallow. Hairy or not, these women are human beings and don't need the false validation of feeling "pretty" to have value as people. Read OPINION: Sorry, Not Everyone is 'Beautiful.' And That's a Good Thing…
So furry feminists, leave beautiful alone and get your own word instead. Might I suggest "beardiful."
Goodness. You'd think these people would get tired of being wrong all the time.
NOT SUBSCRIBED TO THE PODCAST? FIX THAT! IT'S COMPLETELY FREE ON BOTH ITUNES HERE AND SOUNDCLOUD HERE.
#267 DID JESUS EXIST? Jordan Peterson and Lindsey Shepherd Guest
Posted: 01 Dec 2017 10:44 AM PST
All things rehab chickens, Amazon Alexa findings, free speech, intellectual diversity, debating the historicity of Jesus Christ, and more! Joined by guests Dr. Jordan B. Peterson and TA Lindsey Shepherd, who was at the center of a controversial censorship story involving Dr. Peterson.
In case you were busy trying to tabulate the number of sexual assault allegations in the last two months, here are this week's headlines:
Remember folks, no means no, keep your hands to yourself, and all supervillains have a lock button for their office door under their desk. I'm getting mine installed right now.
JOIN THE MUG CLUB AND GET ACCESS TO NEW CONSERVATIVE MEDIA VIA CRTV! ORDER YOUR MUG CLUB MEMBERSHIP NOW!
Taxpayers Paid $100k Settlement to Victims of Democrat Eric Massa
Posted: 01 Dec 2017 10:40 AM PST
We can fix taxes in two simple ways: move the elections near tax day, end tax withholding. Yeah, you need to write the check to these sanctimonious daemons. May I suggest a sort of limerick in the memo section: "Earmark dollars three, so perverts like Eric Massa can walk free." Because you, the taxpaying lout reading this post (we're all taxpaying louts, take a joke), helped payoff victims of Congressman Eric Massa:
The Congressional Office of Compliance secretly paid close to $100,000 in taxpayer funds to settle sexual harassment claims from at least two young male staffers who worked for disgraced former Congressman Eric Massa, multiple sources with direct knowledge of the matter told ABC News.

The claims were settled after Massa, a Democrat from upstate New York, resigned in 2010 amid a pending ethics investigation into allegations he groped and sexually harassed members of his staff.
Massa grabbed at fruit from the forbidden phallic tree. He wanted a little morning sausage with his soft-boiled eggs. That's a lazy reference to his flaccid ball sack, by the way. With all the groping and penis sharing of late, I'm running dry on the tallywhacker home front. Sorry.
The staffers, wanting to keep their dingles and buttocks to themselves thanks (greedy dick capitalists), complained. Massa resigned before his constituents could point and shame him, and an "ethics" committee could slap him on the limp wrist. And you paid out. From the taxpayer funded slush fund we covered here. America.
At least this guy resigned. Groper and wet-kiss stealer Al Franken is hanging tighter than a stalking creep. John Conyers, who has support from the Congressional Black Caucus, isn't resigning. He's just not running for re-election. Meanwhile, creeps in the private sector like Matt Lauer, Harvey Weinstein and Brett Ratner, are losing their jobs.
Seems a double standard is afoot in the perverted halls of DC, no? Watch Kathleen Rice Calls Out Washington D.C.'s Double Standard on Sex Allegations.
NOT SUBSCRIBED TO THE PODCAST? FIX THAT! IT'S COMPLETELY FREE ON BOTH ITUNES HERE AND SOUNDCLOUD HERE.
Report: NFL to Bribe Kneeling Players with $89 Million
Posted: 01 Dec 2017 09:23 AM PST
If you can't beat them, bribe them. Football teams are hemorrhaging fans faster than Amy Schumer's spandex loses elasticity. The loss of fans is translating into lost dollars for a business which used to be a bloated cash cow. Which also reminds us of sweet Amy Schumer. So what's another $89 million? That's apparently how much the bribe payouts are going to cost the league and team owners to put this "controversy" behind them (see also Of Course. NFL Players Demand League-Wide 'Social Justice Month' and DUH! Poll Shows NFL Viewership Declined Because of Anthem Protests).
The NFL and a group of players reached an agreement in principle late Wednesday night to partner on a plan to address social justice issues considered important to African-American communities, sources told ESPN.

The unprecedented agreement calls for the league to contribute $89 million over seven years to projects dealing with criminal justice reform, law enforcement/community relations and education.
"What'll it take to get you guys to stand for 30 seconds so we can all have a business in five years?"
During a conference call Wednesday night, Malcolm Jenkins and Anquan Boldin, who lead roughly 40 players who have negotiated with the league office about demonstrations during the national anthem, guided the group through the highlights of the package, which represents the NFL's largest contribution to a social issue, surpassing that of Salute to Service or Breast Cancer Awareness/Crucial Catch.
Yes. The NFL is now spending more money to pander to social justice warriors than they are to salute our military, or combat breast cancer. Or any actual cancer.
More simply: if you give whiny mice attention, they'll demand you pepper their milk with dolla dolla bills.
Here's a pesky question: what if the kneeling continues? Despite the NFL writing fat checks to causes based mostly on false narratives. Because if you think the protesting ends because you're paying them off, all this does is embolden the left.
They know if you cave, they can get you to cave again. Again I reference the famous book: "If you give a socialist rodent a cookie, he'll demand you pay him $89 million. Because there's more where that came from, you naive sucker. Gimme gimme gimme." It was the original title.
A Scottish Minister is Praying 4-Year-Old Prince George is Gay
Posted: 01 Dec 2017 08:21 AM PST
Playing boisterous rounds of hide the sausage, in the confines of "holy" matrimony is legal in Jolly Olde England. However, the Church of England opposes it. Because though it has a sketchy genesis of an unhappy king with a penchant for beheading people — especially his wives — it's still a church. Despite the left's best efforts, christianity views homosexuality as a sin. Regardless of how many people this specific church's founder offed (a lot).
A Scottish minister has a way to reform the Church of England. Prince George needs to be a prancy, lispy gay.
Yes, the 4-year-old son of William and Kate. The Scottish minister prays he's a nancy boy. I thought the gayest thing this week was Justin "I Feel Pretty" Trudeau crying. Plot twist.
Let the Very Rev Kelvin Holdsworth of St Mary's Cathedral in Glasgow explain.
If people don't want to engage in campaigning in this way, they do in England have another unique option, which is to pray in the privacy of their hearts (or in public if they dare) for the Lord to bless Prince George with a love, when he grows up, of a fine young gentleman. A royal wedding might sort things out remarkably easily though we might have to wait 25 years for that to happen. Who knows whether that might be sooner than things might work out by other means?
Did we mention Prince George is only four? Because Prince George is only four. Not that a child's young age has ever stopped the left's creeping agenda before (see Canadian Schools Pushing LGBT Agenda. Parents Kept in the Dark… and PROGRESS: California Public Schools Forced to Teach 2nd Graders About LGBT…).
I want to believe the Very Reverend is being tongue-in-cheek with his hopes Prince George grows up to have a strong affinity for interior design. Preferring satin curtains over the snuggling embrace of a lady. Alas, the left has moved far beyond satire. We now have a church leader praying a young royal, who really serves as nothing but a throwback to more "problematic" governmental time, grows up to give fashion advice on the Bravo channel. Who cares less about the inner workings of a combustion engine, more the inner workings of Prada.
All for the Church's stance on homosexuality. Whatever happened to individuals choosing their own paths? Is that idea as antiquated as royalty?
"Fauxcahontas" Elizabeth Warren Gets Put on Blast By Actual Cherokee…
Posted: 01 Dec 2017 07:44 AM PST
Some days it just sucks to be the left. The Redskins? Actual Native Americans could care less. Donald Trump saying 'Pocahontas?' Her family says "meh." Elizabeth Warren pretending to be Cherokee? Different story.
While the recreationally outraged white liberals are looking down at their gingerbread spiced soy lattes, an actual Cherokee woman has beef with the Massachusetts senator. She expressed it in Think Progress, of all places.
She was not a hero to me when she failed to foster a haven of support for Native students within Harvard University's alienating Ivy League culture. She is not a hero for spending years awkwardly avoiding Native leaders. She is not a hero because, despite claiming to be the only Native woman in the U.S. Senate, she has done nothing to advance our rights.

She is not from us. She does not represent us. She is not Cherokee.
I shouldn't be the only one who has Cher's "Half Breed" stuck in my head.
Sen. Warren needs to accept responsibility for misappropriating Native identity for her own economic and political gain. To help her, I have drafted an apology, which she has my full permission to appropriate.
To be clear, a lot of what she's saying is social justice nonsense. However, it's sure to cause Elizabeth Warren to choke on her pow wow chow. Enemy of my enemy and such. We're suckers for watching the left cannibalize themselves.
With her blonde hair and blue eyes, Elizabeth Warren's more likely to be a Viking princess than a Cherokee. She can move into a teepee, carry a bow-and-arrow, and smoke peyote until her brain fries. We still won't buy her as an Indian. Just an opportunistic leftist with no shame.
It's no surprise to see Lizzie popping a feather in her hair and exploiting the Cherokee for her own gain. That's textbook leftist strategy. Kowtow to a specific minority group until you lock up their vote, then dump them and move on to the next.
For the left's next trick, a honky with a pencil mustache and a tan will try convincing us he's black.
Oh, wait:
NOT SUBSCRIBED TO THE PODCAST? FIX THAT! IT'S COMPLETELY FREE ON BOTH ITUNES HERE AND SOUNDCLOUD HERE.
You are subscribed to email updates from Louder With Crowder.
To stop receiving these emails, you may unsubscribe now.
Email delivery powered by Google
Google, 1600 Amphitheatre Parkway, Mountain View, CA 94043, United States