---
OUTRAGEOUS! MINISTER ASKING PEOPLE TO PRAY FOR PRINCE GEORGE TO BE GAY
Posted: 03 Dec 2017 11:19 PM PST
An Anglican minister is feeling the heat after a blog post in which he urged congregants to "pray in the privacy of their hearts" for Prince George to be gay went viral.
Very Rev. Kelvin Holdsworth, who belongs to the Scottish Episcopal Church, wrote the original post nearly two years ago. (A version was reposted on Jan. 27.) His words resurfaced on Twitter and in a number of media outlets ― including The New York Times, The Guardian and Time ― last week after the 4-year-old George's uncle, Prince Harry, announced his engagement to American actress Meghan Markle.
The piece, "How to change the Church of England," outlined Holdsworth's take on how acceptance of same-sex marriage would be achieved. Though marriage equality was legalized in England and Wales in 2013, same-sex marriages are not recognized by the Church of England.
Holdsworth suggested that marriage equality advocates pray "for the Lord to bless Prince George with a love, when he grows up, of a fine young gentleman."
"A royal wedding might sort things out remarkably easily," he said, "though we might have to wait 25 years for that to happen."
Prince George is third in line to the British throne, following his grandfather, Charles, Prince of Wales, and his father, Prince William.
The minister's remarks were condemned on social media.
Read more on HuffPost:
FACT: 12 Years Since GDP Grew 3% in 3 Straight Quarters
Posted: 03 Dec 2017 09:38 PM PST
12 Years Since GDP Grew 3% in 3 Straight Quarters
(CNSNews.com By Terence P. Jeffrey ) – With the Bureau of Economic Analysis announcing today that, according to its second estimate, real Gross Domestic Product grew at an annual rate of 3.3 percent in the third quarter–following a second quarter rate of 3.1 percent–the United States took a step toward doing something it has not done in more than 12 years: seeing the economy grow at an annual rate of 3.0 percent or better in three straight quarters.
That milestone would be reached if real GDP were to grow at a rate of 3.0 percent or better in the fourth quarter of this year.
The last time real GDP grew at an annualized rate of 3.0 percent or better for at least three straight quarters was in 2004-2005, according to data published by BEA.
In each of the four quarters from the second quarter of 2004 through the first quarter of 2005, real GDP grew at an annual rate that exceeded 3.0 percent.
Read more: 12 Years Since GDP Grew 3% in 3 Straight Quarters
GAY NATIVITY SCENE WITH TWO JOSEPHS EXCITES LGBT COMMUNITY
Posted: 03 Dec 2017 09:33 PM PST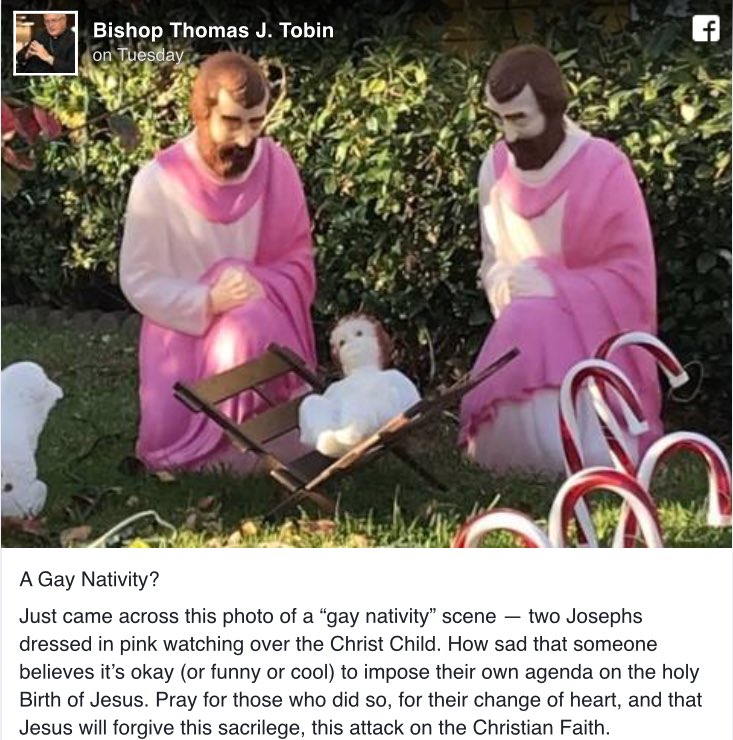 LGBT proponents are all atwitter – literally – over one L.A. couple's Nativity set that features two Josephs, sans Mary, standing around a plastic Baby Jesus.
Because for progressives, nothing is sacred. Not even the birth of Christ.
WACKO! NFL PLAYER OLIVIER VERNON TO FANS: 'DON'T COME TO THE GAME!' – JUST SIGNED $85 MILLION, 5-YEAR CONTRACT
Posted: 03 Dec 2017 09:11 PM PST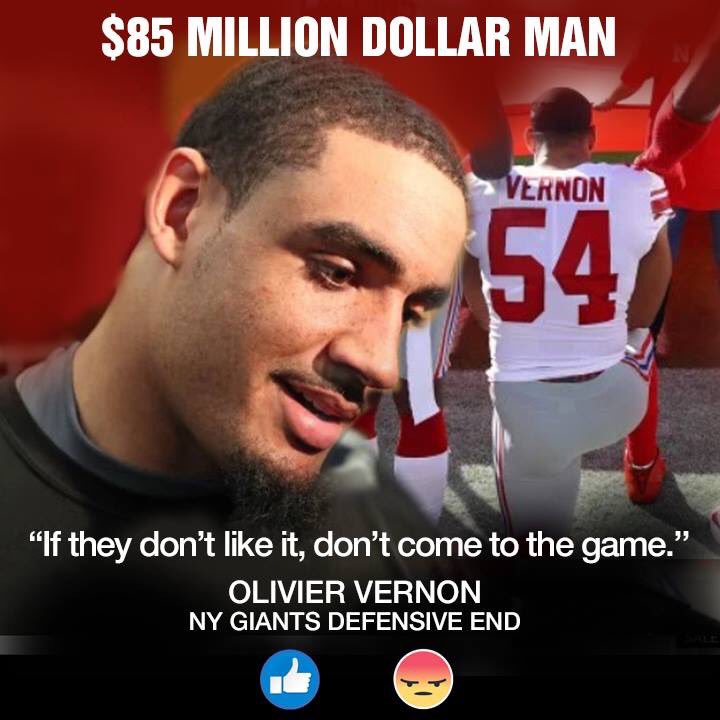 PLEASE GIVE THIS ARROGANT, UNGRATEFUL FAKE VICTIM HIS WISH! BOYCOTT MORE!
Olivier Vernon, New York Giants defensive,  told NFL fans on Thursday if they don't like his kneeling during the national anthem: "don't come to the game". Vernon signed last year an $85 million, five-year contract with Giants owner John Mara, the richest for a defensive end in NFL history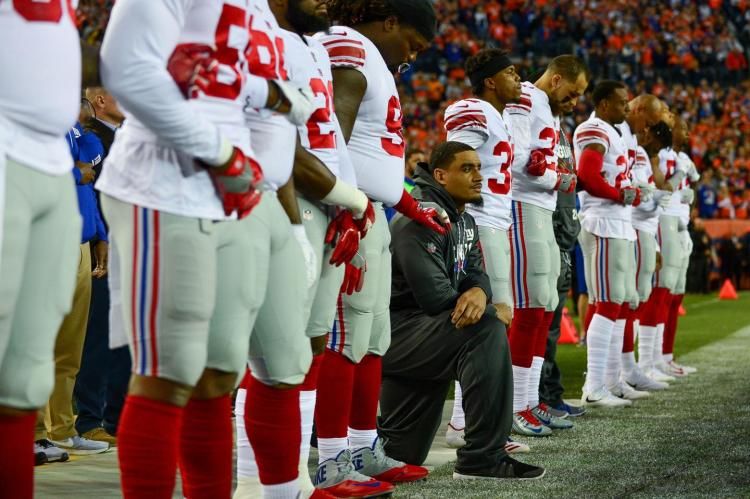 By Valerie Richardson – The Washington Times – Sunday, December 3, 2017
New York Giants defensive end Olivier Vernon ignited an outcry after telling fans if they don't approve of his decision to kneel for the national anthem, "don't come to the game."
The retort came after Vernon, the only member of the Giants still regularly taking a knee, told reporters that he had been heckled by fans in response to his season-long protest.
"You hear 'coward' and 'stand up' and 'disgrace,'" Vernon said. "It's fine. As long as nobody comes on the field and touches me. You stay where you at, you're going to be all right. They have a right. Oh yeah, I hear it all the time. If they don't like it, don't come to the game."
His comments, which ran Thursday in the New York Post, stunned former NFL quarterback and CBS Sports commentator Boomer Esiason, who called them an "out-and-out disgrace."
He pointed out that Vernon signed last year an $85 million, five-year contract with Giants owner John Mara, the richest for a defensive end in NFL history.
"Here is a guy you gave $80 million to basically telling your fans, 'If you don't like it, don't come,'" said Esiason on WFAN radio in New York City. "It is the most egregious act of defiance. It just blows me away."
The NFL has struggled this season with fan outrage and declining ratings over the protest, which began last season as a statement against deaths of black men at the hands of police and surged in late September after President Trump criticized the players.
Since then, the number of players participating has dwindled, with about 20 refusing to stand for the anthem in Week 12.
Esiason asked Friday whether Vernon realizes that he's biting the hand that's feeding him, given that NFL business model depends on fan support.
"Do you realize, Olivier Vernon, that you do not make the money unless the fans do come and buy the tickets and buy your jersey?" asked Esiason. "Do you not realize that when the TV turns on, there is a large swath of advertisers that buy around the league so that you can make the freaking money that you make?"
Esiason, who has long criticized the protests, added, "I personally think that the audacity of some of these players taking what is and should be an entertainment vehicle and using it for their own personal agenda is absolutely as insulting as it gets."
After former game-show host Chuck Woolery tweeted out Vernon's comments on Saturday, he was deluged with responses such as "Message heard loud and clear," "Hey …WE ARE," and "Done!"
The son of a Miami police officer, Vernon has said that his refusal to stand is about "highlighting racial injustice and not about disrespect for the flag or the country," the Post reported.
"I'm fine where I'm at right now. Ain't nothing wrong with feeling bad for what you believe in," Vernon said. "What's right is right and what's wrong is wrong. I stand behind my beliefs."
Click to Read More
Lying to FBI Is Illegal; How About the FBI Lying to Us?
Posted: 03 Dec 2017 07:40 PM PST
( Townhall by Jeff Crouere ) While the liberal media is celebrating the announcement that former Trump National Security Adviser Michael Flynn has pleaded guilty to lying to the FBI, a bigger scandal was practically ignored.
On Thursday, Judicial Watch released 29 pages of FBI emails regarding the inexcusable June 27, 2016 meeting between former President Bill Clinton and then Attorney General Loretta Lynch on the tarmac of the Sky Harbor International Airport in Phoenix, AZ. This meeting was not accidental, as Clinton purposely delayed the takeoff of his aircraft to arrange the supposedly impromptu encounter with the Attorney General.
According to Judicial Watch President Tom Fitton, "These new FBI documents show the FBI was more concerned about a whistle-blower who told the truth about the infamous Clinton-Lynch tarmac meeting than the scandalous meeting itself."
In the midst of a FBI investigation into Hillary Clinton's "extremely careless" handling of top secret email communications, Lynch held a secretive meeting with her husband. This bombshell information would have never been made public if not for the investigative work of Phoenix television anchor Christopher Sign, who received a tip about the meeting from a "trusted source."
With an ongoing Justice Department investigation into the improper handling of email communications, it was highly improper for Lynch to agree to the meeting with Bill Clinton just days before FBI agents would interview his wife. Once confronted about the tarmac meeting, Lynch claimed they only discussed golf and grandchildren, which is a completely ludicrous explanation for the 30-minute meeting.
If the meeting was so innocent, why did the Justice Department withhold key documents for so long? After an initial July 7, 2016 Freedom of Information Act (FOIA) request by Judicial Watch for documents pertaining to the meeting, the Justice Department claimed that nothing could be located. Only after an official FOIA lawsuit did the department provide the various FBI email exchanges.
Read more: https://townhall.com/columnists/jeffcrouere/2017/12/02/lying-to-fbi-is-illegal-how-about-the-fbi-lying-to-us-n2417029
TRUMP TWEETS, HERE'S ERIC HOLDER'S DEFENSIVE RESPONSE: 'Nope. Not letting this go. The FBI's reputation is not in "tatters'
Posted: 03 Dec 2017 07:34 PM PST
Obama's former AG Eric Holder's answer to President Trump's accusation that the FBI is in tatters:
Nope. Not letting this go. The FBI's reputation is not in "tatters". It's composed of the same dedicated men and women who have always worked there and who do a great, apolitical job. You'll find integrity and honesty at FBI headquarters and not at 1600 Penn Ave right now
This is in answer to Trump's latest tweet about the FBI:
After years of Comey, with the phony and dishonest Clinton investigation (and more), running the FBI, its reputation is in Tatters – worst in History! But fear not, we will bring it back to greatness.
HERO COP RYAN HOLETS ADOPTS OPIOID-ADDICTED NEWBORN FROM HOMELESS WOMAN
Posted: 03 Dec 2017 02:45 PM PST
( Fox News ) A police officer is being called a "guardian angel" after responding to reports of a robbery ended up with him agreeing to adopt a homeless pregnant woman's baby.
Albuquerque police officer Ryan Holets was investigating a convenience store robbery when he walked behind the building and found a woman getting ready to inject heroin.
Holets turned on his bodycam and confronted the 35-year-old Crystal Champ and her companion before realizing the woman was pregnant.
"You're going to kill your baby," Holets is heard on the bodycam chastising Champ, who revealed she was "seven or eight months pregnant."
Holets, who appears to be writing a citation for the couple in the beginning of the video, begins talking to Champ about her situation.
"It's not every day I see a sight like that," Holets said in an interview with CNN. "It just made me really sad."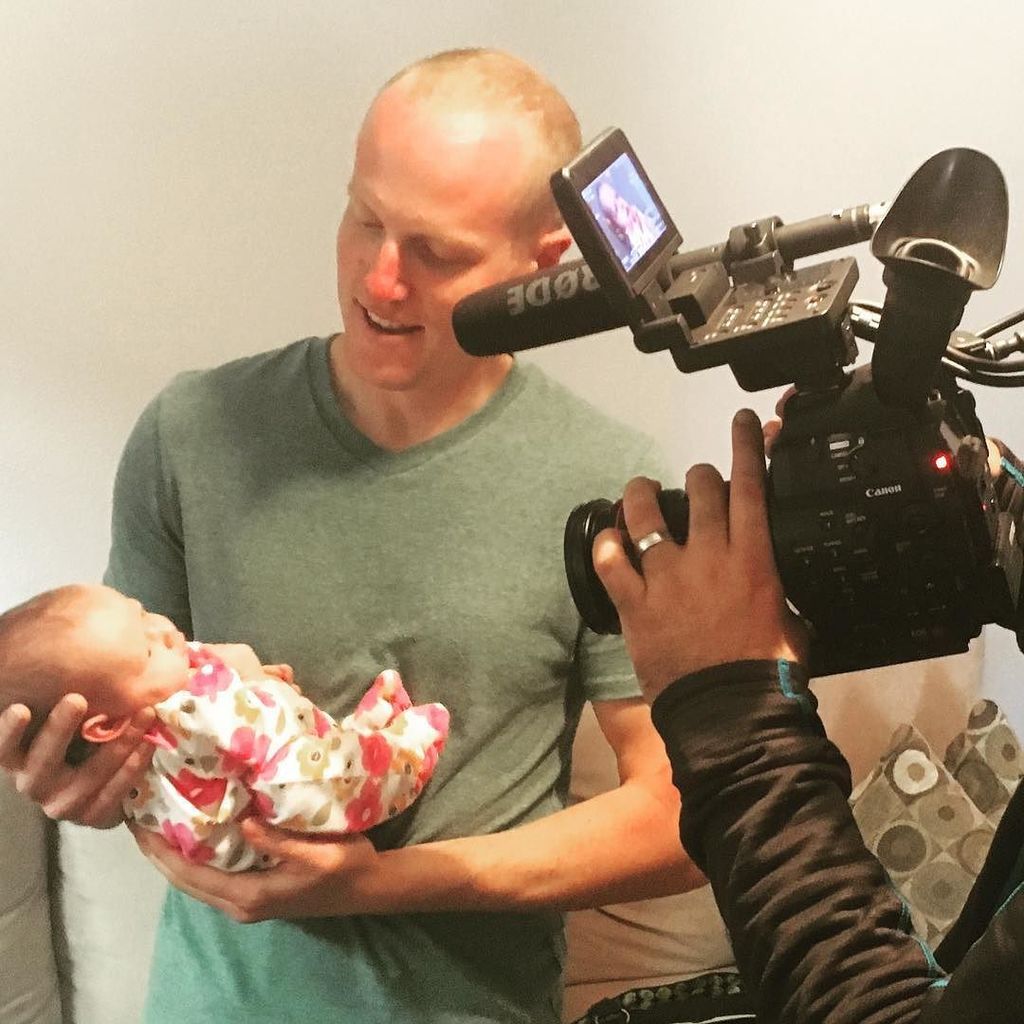 OFFICER TAKES CHILD TO MCDONALD'S AFTER NOT BEING PICKED UP FROM SCHOOL ON BIRTHDAY
It was in that life-changing moment that Holets decided to intervene.
"I just felt God telling me, 'Tell her that you will do it because you can,'" Holets said to CNN.
That "it" was the father of four telling Champ he would like to adopt her baby.
Champ, who lives in a tent among the brush beside a highway in New Mexico, has battled addition to heroin and crystal meth for most of her life.
"I know how bad my situation is," she told CNN. "I know what a horrible person I am."
Champ had also "desperately wanted someone to adopt her baby," Holets said and he wanted to be the one.
Read more: 'Guardian Angel' police officer adopts opioid-addicted newborn from homeless woman
Diane Feinstein: Obstruction Of Justice Case Being Built Against Trump Over James Comey Firing…whatever!
Posted: 03 Dec 2017 02:29 PM PST
( Daily Caller ) California Sen. Dianne Feinstein, the top Democrat on the Senate Judiciary Committee, said Sunday that she believes an obstruction of justice case is being built against President Trump over the firing of James Comey as FBI director.
"I see it most importantly in what happened with the firing of Director Comey, and it is my belief that that is directly because he did not agree to lift the cloud of the Russia investigation. That's obstruction of justice," Feinstein said in an interview on NBC's "Meet the Press."
Feinstein said that both Special Counsel Robert Mueller and the Senate Judiciary Committee are investigating the circumstances around Trump's May 9 firing of Comey.
"The Judiciary Committee has an investigation going as well, and it involves obstruction of justice. I think what we're beginning to see is the putting together of a case of obstruction of justice," said Feinstein.
Read more: Feinstein: Obstruction Of Justice Case Being Built Against Trump
JAMES COMEY MAY BE PART OF ONGOING CRIMINAL INVESTIGATION – SEN. LINDSEY GRAHAM
Posted: 03 Dec 2017 01:57 PM PST
During an appearance on CBS News's "Face the Nation," Senator Lindsey Graham suggests Comey is under criminal investigation.
The Hill reports:
Graham said he did not agree with Trump's description of the bureau, but said Comey will have to answer for decisions he made during his time helming the FBI.

Trump fired Comey in May, in a decision that triggered the appointment of Mueller to take over the federal investigation into Russia's election meddling and its possible collusion with the Trump campaign.

"I think he made some decisions that were really very, very wrong," Graham told host John Dickerson regarding Comey. "There's an ongoing criminal investigation; Comey may be part of it. You tweet and comment regarding ongoing criminal investigations at your own peril. I'd be careful if I were you, Mr. President. I'd watch this."

Some observers expect Comey to face more questions about his time leading the FBI investigation.
PHOTOS! NFL BOYCOTT WEEK 13: MORE EMPTY SEATS – WILL NOW CUT DONATIONS TO VETERANS FOR SOCIAL JUSTICE CAUSES
Posted: 03 Dec 2017 01:49 PM PST
You are subscribed to email updates from 70news.
To stop receiving these emails, you may unsubscribe now.
Email delivery powered by Google
Google, 1600 Amphitheatre Parkway, Mountain View, CA 94043, United States