---
The Controversial Question DOJ Wants to Add to the U.S. Census
Posted: 10 Jan 2018 04:06 AM PST
A recent request by the Department of Justice to add a question on citizenship to the 2020 census could threaten participation, and as a consequence, affect the allocation of federal money and distribution of congressional seats.
In December, the Department of Justice sent a letter to the Census Bureau asking that it reinstate a question on citizenship to the 2020 census. "This data is critical to the Department's enforcement of Section 2 of the Voting Rights Act and its important protections against racial discrimination in voting," the department said in a letter. "To fully enforce those requirements, the Department needs a reliable calculation of the citizen voting-age population in localities where voting rights violations are alleged or suspected." The request immediately met pushback from census experts, civil rights advocates, and a handful of Democratic senators, who say that the argument is unfounded and that the timing of the request is irresponsible.
The census is used for allocating nearly $700 billion a year in federal money, electoral votes, as well as for the apportionment of House districts—that is, deciding how many representatives a state sends to Congress each year. The Census Act requires that all questions asked on the census fulfill a purpose. "If the Census Bureau or the administration can establish that there is a legal requirement, a requirement in law for citizenship data for the smallest levels of geography, then that would be justification for asking every household about the citizenship status of household members but no such law exists right now," said Terri Ann Lowenthal, an independent consultant and leading expert on census issues. The bureau is then required to submit a final list of questions, which are tested beforehand, for the decennial census two years before its roll out. The bureau needs to send the questions for the 2020 census to Congress by April, leaving the bureau little opportunity to test a new question before submitting it to Congress.
Congressional apportionment is based on overall population, not citizens, specifically, therefore an inaccurate count would directly affect how seats in the U.S. House are distributed. That means that if fewer undocumented immigrants or minorities are willing to participate in the census, it could affect the political balance in Congress, since those populations tend to be concentrated in cities, where Democrats draw most of their support. According to a study by Election Data Services Inc., based on population estimates by the Census Bureau, up to 16 states could either lose or gain a congressional seat as a result of the decennial census. Minnesota, for example, is at risk of losing a seat in the House and is relying on an accurate census count to keep it.
Some Republicans and anti-immigration groups see the undocumented population as conferring an unfair advantage on Democrats.
"If 50 percent of the illegal alien population resides in California and we're not differentiating them in the census and we're basing apportionment in the census on those figures, then some states are losing representation while others are overrepresented," said Chris Chmielenski, the director of content and activism at NumbersUSA, which supports reduced immigration. Republican Representative Steve King of Iowa, an ardent opponent of immigration in the House, expressed support for the DOJ's request, arguing that it would benefit his state: "In districts like Maxine Waters, who only needs about 40,000 votes to get reelected in her district and it takes me over 120,000 in mine because hers is loaded with illegals and mine only has a few."
The Justice Department says that asking the entire U.S. population about their citizenship status is necessary for the enforcement of the Voting Rights Act, which prohibits racial discrimination at the polls. The last time the entire U.S. population was asked about citizenship status was in 1950, 15 years before the law's passage. Since then, the question has been included in the American Community Survey, which is sent out every year to a sample of the population; census experts say that's enough to enforce the Voting Rights Act.
"I think the argument ridiculous. The Justice Department has never needed or asked for that question on the short form of the census before and the enforcement of the Voting Rights Act does not need it," said Vanita Gupta, the president and CEO of the Leadership Conference on Civil and Human Rights who ran DOJ's Civil Rights Division under Obama, referring to the form that is sent to every household. Census experts and civil rights advocates argue that there's no justification for asking everyone in the United States about their citizenship status and that doing so could have a crippling effect on participation.
The Census Bureau said in a statement that it's "evaluating the request from the U.S. Department of Justice and will process it in the same way we have historically dealt with such requests." It continued: "The final list of questions must be submitted to Congress by March 31, 2018. Secretary Ross will then make a decision. Our top priority is a complete and accurate 2020 census."
Questions on the census, the first of which took place in 1790, have changed over the years depending on what was most relevant to the time period. In the mid-19th century, for example, the census began asking respondents where they were born to track internal migration. "Why questions go off and on the census often has to do with competing interests," said Margo Anderson, a professor of history and urban studies at the University of Wisconsin-Milwaukee and author of The American Census: A Social History. She added that after the passage of the Immigration and Nationality Act of 1965, which dramatically changed U.S. immigration policy by ending a quota system based on national origin, the census reinstated a question on citizenship but only to a sample of respondents.
Statisticians over the years had been learning new ways to collect data, particularly in sample sizes, allowing the bureau to pose questions to a segment of the population and therefore lessen the burden on people while still gathering useful data. There was no longer a need then to ask everyone about their citizenship, which is considered an identifier and not a characteristic that would be used for statistical analysis; it could instead be asked to only some respondents. The "long-form" census, which included more questions and was only sent out to some respondents every 10 years, included a question on citizenship. Those answers quickly became dated, so the bureau introduced the American Community Survey, which would ask questions included in the "long-form" but do so every year. That continues to be the case today, fueling arguments against the DOJ's request to reinstate it in the general census.
Civil-rights and immigrant advocates worry that changes to the census will stunt the progress made in recent years to increase participation among minorities. Arturo Vargas, a member of the National Advisory Committee on Racial, Ethnic and Other Populations, and the executive director of NALEO Educational Fund, a Latino advocacy group, noted that historically, the biggest challenge for the Census Bureau has been overcoming people's distrust.
"People are scared of how the federal government is enforcing immigration laws," Vargas said. "If a citizenship question is added to the decennial census, then this fear people have is going to result in less people wanting to respond to the census, which will produce a very inaccurate census and will actually increase the Census Bureau's cost and budget to conduct the census." In cases where the Census Bureau doesn't receive a response, it has to send enumerators to the address to interview those who haven't responded—an expensive process.
Respondents' recent reactions have led the bureau to believe this may be an issue in the 2020 census. Last year, field representatives found that respondents "intentionally provided incomplete or incorrect information about household members" and "seemed visibly nervous." In one Spanish interview, the respondent said, "The possibility that the Census could give my information to internal security and immigration could come and arrest me for not having documents terrifies me."
In fact, by law, the Census Bureau cannot provide personal information of any kind to a government agency. But that doesn't keep people from worrying about it, particularly those who may be undocumented or have mixed-status families. In the past, people unable to distinguish between immigration officers and government workers, have been afraid of raids as officials went door-to-door asking for information, said Eric Rodriguez, the vice president of UnidosUS's Office of Research, Advocacy, and Legislation.
The federal government has tried to remedy these concerns. In 2000, U.S. Immigration and Naturalization issued a moratorium on highly visible enforcement so as not to interfere with the census. "It is crucial that undocumented as well as documented aliens understand that they are expected to respond to census-takers and questionnaires, and that there is no nexus between the census and INS enforcement activities," Michael A. Pearson, an executive assistant commissioner at the INS, wrote in a memo at the time.
Concerns shared about how some communities might react to the census therefore are not new, but they are worsened by this administration's crackdown on immigration.
This puts Latino advocacy groups in a bind: They need to encourage people to participate and raise awareness about the census, but they're doing so under an administration that has consistently used harsh rhetoric against immigrants and rolled out policies aimed at casting a wider net on those eligible for deportation.
Rodriguez said that what the government does in the coming years will have an effect on how respondents behave. "Quite honestly, it's just making sure that the government doesn't do things to create less trust in the census itself and doesn't do things to undermine the integrity of the Census Bureau in the process and that does have to do with information sharing agreements between agencies, what Homeland Security might in fact be doing over the next few years around deporations and enforcement and usage of government information," Rodriguez said. "All of those things could in fact substantively call into question what the government is doing and so, there's work that has to be done to in fact make sure that the government is obviously abiding to the law but not doing things that are detrimental to communities for whom we need a great and effective count in 2020."
Rodriguez likened the situation to the Deferred Action for Childhood Arrivals program, which Trump ended last year: Advocates encouraged people to sign up to the program, which shields immigrants brought to the U.S. as minors from deportation, but years later, those recipients are in limbo, as a result of the program's termination. "We have to go on the information that you have at the time, and for many, coming out of the shadows is an important opportunity," he said.
The prospect of asking millions of people what their citizenship status is enough to stir concern among observers and alienate minorities already worried about the information provided on the questionnaire.
A Tiny Texas Town Takes a Chance on Medical Marijuana
Posted: 10 Jan 2018 04:00 AM PST
Last September, a farm near Schulenburg, Texas, a quiet, conservative town of fewer than 3,000 people, became a medical-marijuana dispensary. Knox Medical, based in Florida, owns the farm and is one of the three newly licensed cannabis outfits in Texas to start selling cannabidiol, or CBD, a substance derived from low-THC marijuana. When deliveries start going out to patients this month, Schulenburg, home to distinctively painted churches and the Texas Polka Music Museum, will become one of the first legal outposts for medical marijuana in Texas.
It's not an identity residents of the area are rushing to embrace. Town officials are quick to point out that the site of the greenhouses and the future dispensary is technically outside of city limits. And Kristopher Emola, the cultivation manager for Knox Medical, has already learned not to volunteer that he grows pot when talking to people in Schulenburg. "It's one of those things that has been so stigmatized for so long," Emola says, "that it's natural to question it initially." But if small towns like Schulenburg can get past the stigma, they may just be the perfect entry points for a booming marijuana business in a largely conservative state. "If it helps people and it doesn't hurt anything," asks Fayette County Judge Ed Janecka, "why not do it?"
It is unclear whether marijuana will ever become a significant part of the state's economy. Despite a push across the country to legalize both recreational and medical marijuana (30 states and the District of Columbia have legalized it in some form so far, and 15 others have legalized CBD for medical uses), Texas officials have been reluctant to go anywhere near state-sanctioned cannabis. Mainstream Texan culture doesn't support it yet, and new legislation is very narrow when it comes to legal use. In fact, the only reason this plan is viable now is due to CBD. Derived from low-THC cannabis, a person would have to smoke an entire barrel of CBD to get high. With recreational use or abuse therefore unlikely, Texas lawmakers got onboard and passed the Texas Compassionate Use Act in 2015.
The law authorized the Texas Department of Public Safety (DPS) to create a registry of prescribing doctors. It also required the DPS to issue licenses by September 2017 to at least three dispensaries to sell low-THC cannabis (containing 0.5 percent or less THC) that is at least 10 percent cannabidiol. Sales must be aimed specifically at the 150,000 patients in Texas, mostly children, who suffer from intractable epilepsy. The drug drastically reduces the number of seizures many patients with this condition suffer with almost no side effects, says Andrew Lehrman, a neurologist who has been prescribing the drug to his own epilepsy patients in Florida since it was legalized there four years ago.
It's a fair bet that none of the Texas lawmakers who supported the legislation imagined the first dispensary to open would be located in Schulenburg, but Knox Medical's CEO, Jose Hidalgo, says the location makes sense for a lot of reasons. Schulenburg is roughly an hour and a half from each Houston, Austin, and San Antonio, granting easy access to some of the largest cities in the state. Plus, Fayette County is a farming and ranching community, so there's plenty of space available to grow marijuana without being near schools, parks, or neighborhoods. When the DPS started taking applications in early 2017, Knox representatives quickly reached out to Janecka and other community leaders. "Immediately, when we came in wearing suits and looking professional," Hidalgo says, "they looked surprised and relieved."
Opening the dispensary in Schulenburg could be a boon for the town, says Dietrich Vollrath, a University of Houston economics professor. Medical marijuana is generally a low-risk business, and the town did not have to put up money or offer incentives to get Knox to base its Texas operations there. So, if it works, great; if it doesn't, there's no big loss of investment or effort for Schulenburg. "For a small town that may not have many other opportunities for growth, this may be the right move," Vollrath says. "Once you're the first, the natural fit would be to expand the business from there. There's no reason it has to be Schulenburg versus anywhere else in Texas, but if it becomes the marijuana capital of Texas, why not?"
At most, though, the economic impact will be quite modest, says Jeffrey Miron, a Harvard economics professor focused on marijuana policy. Initially, the dispensary will only employ about a dozen people, and the products will be available for delivery only, via nondescript white vans. Plus, the number of doctors prescribing the drug is limited, and the number of patients who can afford cannabis oil—which will not be covered by insurance since it is still classified as a Schedule I narcotic—may be quite low."If you tax medical marijuana, you can always collect tax revenue, but the true employment numbers, the GDP in the county, will hardly change at all," Miron says. "Selling low-THC marijuana is like low-alcohol drinks: Nobody wants it aside from those who need it, and the market for those who need it isn't huge and the number who can actually afford it is even smaller."
But with the market for marijuana expected to grow three- or fourfold in the next seven years, many believe this is really just the beginning. Despite Governor Greg Abbott and other state politicians' insistence that the Texas Compassionate Use Act is not the first step toward broader legalization, it's likely going to be pretty tempting for legislators to expand the laws once legal CBD revenues start coming into the state. "On the medical side, it's just a matter of time," says Franklin Snyder, a Texas A&M University law professor who taught one of the first marijuana law classes in the country. "The evidence is accumulating about the benefits, and the drug is so much less dangerous than the alternatives. We have a nationwide opioid epidemic right now, and the fact that this could be a way to cut back on prescribing those drugs is going to propel this further."
Any expansion would likely be a slow process. As it is, per federal law, doctors in Texas could be risking their prescribing rights by recommending CBD to their patients, which is likely why, according to the DPS, only seven doctors have signed up for the Compassionate Use Registry of Texas so far. And marijuana's future in Texas won't be helped by its uncertain legal status at the federal level: Last week, the Justice Department rescinded a policy instated under President Obama that steered prosecutors away from bringing any charges in states with permissive marijuana laws.
Still, Knox Medical, when contacted after the rescission, said it was proceeding with its plans under the assumption that the policy shift wouldn't change much in Texas. Snyder doesn't think the company is being overly optimistic: He expects the DOJ's new position to have a negligible bearing on a state where prosecutors have demonstrated little interest in cracking down on CBD. (He says it might be a different story for "states with recreational-use and broad medical-marijuana programs like California's, where you can buy doobies to deal with your headaches.")
As federal policy gets hashed out, the folksy Schulenburg location, the benefits to sick children, and the suit-wearing Knox executives could all have a powerful effect on public opinion. "They made a savvy choice putting the dispensary there," Snyder says. "There's something about Schulenburg that sounds very ordinary and Texas-like, reassuring in a way that, say, downtown Austin does not."
Posted: 10 Jan 2018 03:00 AM PST
"If you think that you can think about a thing inextricably attached to something else without thinking of the thing which it is attached to," legal scholar Thomas Reed Powell is supposed to have said, "then you have a legal mind."
A dispute coming before the Supreme Court Wednesday can be read as an ordinary statutory question, or as a part of the extraordinary turmoil that, in 2018, surrounds citizens' right to vote.
I say "ordinary" because construing statutes is the basic work of both lawyers and judges—far more important, year in and year out, than are constitutional issues. It's how they earn their pay, because the work is both hard and boring. Statutes are written by committees and rewritten by large meetings; are long and complicated; and use specialized language—or ordinary language in surprising ways. Sometimes, in fact, lawmakers make a statute deliberately ambiguous, because they can't agree on what it should say and want to punt the question to judges. Ask a lawyer what a newly passed statute means, and you are likely to get the answer, "We don't know—the courts haven't interpreted it yet."
The core of Wednesday's case, Husted v. A. Philip Randolph Institute, is a dispute over the meaning of the word "result." The core definition of the word, from the Oxford English Dictionary, is "the effect, consequence, or outcome of some action, process, or design, etc."—a meaning used, for example, in 1786 by Edmund Burke in his famous speech on the impeachment of Hastings.
So here is the conundrum. Let's suppose your local board of elections reviews its records and finds that you haven't voted for two years in a row. They decide you may have moved, or died, and so they send you a notice asking you to notify them whether you still belong on the rolls. No answer; so they remove you from the voting rolls without further notice—as you discover only when, regaining your enthusiasm for politics, you show up at the polls four years hence.
This is precisely what happened to Larry Harmon, a Navy veteran who has lived at the same address near Akron, Ohio, for 16 years. He voted in 2008, but was disgusted by his choices in 2009 and 2010. When he showed up at the polls in 2015, he was turned away—on the grounds that election officials had sent him a notice in 2011 which he did not return (and which, he says, he doesn't remember getting) and that he had not voted soon enough thereafter.
So the question is, was his registration canceled as a "result" of failure to vote—or solely as a "result" of failure to answer the notice?
Harmon, and advocacy groups supporting him, say the purge of his registration "results" from the failure to vote, which set off the notice, which resulted in his removal. Speakers of non-lawyer English, I suspect, would tend to agree. The state of Ohio, defending its voter-purge process, say the word in this context has a special lawyer meaning. "Result" in the statute, they say, doesn't mean "result" in the Edmund Burke sense. True, Harmon's failure to vote was one cause of the purge, but they say the statute requires a different kind of result, called by lawyers—but nobody else in the world—proximate cause. This term—the scourge of first-year tort law students, is defined in Black's Law Dictionary as "[a] cause that is legally sufficient to result in liability." That's a wonderfully circular term; to establish liability, a plaintiff must prove the defendant's actions were the "proximate cause" of the harm. And we know whether they were the "proximate cause" when the court finds liability. In the real world, what the phrase usually means is "Yes, the event wouldn't have happened without whatever I did, but for some other reason I'd like you to ignore that."
Here's the reason why the dispute matters. Two federal statutes, the National Voter Registration Act, passed in 1993, and the Help America Vote Act, passed in 2002, both touch on the issue: NVRA says that state registration purges "shall not result in the removal of the name of any person from the official list of voters … by reason of the person's failure to vote."
HAVA says that "no registrant may be removed solely by reason of a failure to vote." It then says that the state may remove a voter if the voter doesn't respond to a notice and "then has not voted" in two or more federal elections in a row.
Ohio's procedure doesn't follow the HAVA model.  Ohio begins with the failure to vote, then sends the notice, and then purges the rolls if the voter doesn't respond or vote. HAVA, the plaintiffs argue, provides that a state can't even send the notice for the sole reason that someone hasn't voted—that implicates "result" and "by reason of." As they construe the statutes, the state needs another reason to send it—such as a change-of-address notification by the Post Office. "A list-maintenance program may result in removal by reason of failure to vote only where failure to vote is used to confirm a state's prior determination" that a voter may have moved away, they argue.
Under Ohio's reading, a state can send out a lot more notices, and purge a lot more voters, than under the plaintiffs'. Of course, no one can know precisely why Ohio uses this unusually aggressive purge procedure. We can note that the state does heavy "list maintenance"—since 2011, according to a Reuters analysis, it has purged 2 million voters for various reasons, including 844,000 by reason of failure to vote and respond to a notice.  The Secretary of State, Jon Husted, is a Republican, a former state senator, and a candidate for statewide office in 2018. It's intriguing that the state's notice postcards formerly demanded a drivers' license, Social Security number, or other proof of address in response to retain registration—in essence, re-registration—and did not make clear that failure to respond would result in being purged. (Since the suit was brought, the state has backed off and only requires a signature on the return postcard.)
The plaintiffs cite the undeniable fact that both the NVRA and HAVA were passed with the announced intention of expanding citizens' access to the ballot. Ohio cites the undeniable fact that the statutes also require states to maintain accurate voter rolls, and to purge voters who have died, been convicted of crime, or moved away. Under citizen-suit provisions of the NVRA, in fact, a state can be sued either for purging too enthusiastically or for not purging enthusiastically enough. (Indeed, that precise consequence befell Ohio in 2012, when the conservative group Judicial Watch sued the Secretary of State for not doing enough to purge voters—producing a pre-trial settlement that requires notices be sent to any voter who hasn't voted for two years in a row; it's also, essentially, why it thinks it should get off the hook by invoking the idea of "proximate cause.") Neither party disagrees that the right to vote, whatever its extent, includes the right to refuse to vote, and that citizens should not be penalized if, out of disgust or for any other reason, they stay home on Election Day.
The party briefs are thick with the all-but-indecipherable "canons of statutory construction" that supposedly guide a court in its reading complicated and ambiguous statutes.
Philosophies of statutory include "textualism," which reads a statute the way fundamentalists read the Bible—attributing to each word a firm unchanging meaning; Justice Antonin Scalia was a pioneer of this school, and Justice Neil Gorsuch has vowed to carry his banner. The opposing school is often called "purposivism," which means that you figure out what the legislature was trying to do and then read the statute to do that. Justice Stephen Breyer is the most enthusiastic purposivist on the current court; but perhaps ironically, the best statement of the approach was given by Chief Justice John Roberts. The highly charged case of King v. Burwell pitted two readings of the Affordable Care Act against each other. One would have thrown Obamacare into chaos, while another made it work. Roberts, writing for the majority, adopted the make-it-work interpretation: "Congress passed the Affordable Care Act to improve health insurance markets, not to destroy them. If at all possible, we must interpret the Act in a way that is consistent with the former, and avoids the latter."
In the Ohio voting case, that's easier said than done. As noted, the laws involved had twin purposes: to help eligible voters vote and to keep ineligible voters from doing so. Resolving that conundrum in the justices' minds will involve not "canons" like "the rule against surplusage" or "a word is to be known by the company it keeps." The opinion may deploy these chestnuts; but the majority, whichever way it decides, will be making a (perhaps unconscious) judgment about which of the two aims—participation by the eligible or exclusion of the ineligible—is more urgent, both generally and now.
The conservative majority has been no friend of the franchise. Will any of them re-think their attitude in light of the times we live in? Just the week before argument, for example, President Trump dissolved a bizarre "election integrity panel" he had formed with more or less explicit instructions to prove that without millions of non-existent "fraudulent" votes, he would have won the popular vote nationwide. Celebrations of its demise are premature, however—he has now formally delegated the task to the Department of Homeland Security, the nation's largest and, in many ways, most secretive, bureaucracy. Meanwhile, in the states, local officials are, like Husted, coming up with new approaches to "list maintenance"—approaches that somehow tend to throw eligible voters off the rolls.
These extraordinary facts are not before the court. But they are inextricably attached to the dispute. The justices, however, may be capable of ignoring the context. For better or worse, we know that they all have fine legal minds.
Aliens Didn't Send That Mysterious Object to Our Solar System After All
Posted: 10 Jan 2018 03:07 AM PST
In December, astronomers checked every inch of an interstellar object that had entered our solar system for evidence of artificial technology. They spent weeks pouring over the data, looking for radio signals that would suggest the object, known as 'Oumuamua, may be something other than a just a strange space rock.
They didn't find anything.
The Breakthrough Listen Initiative, a $100 million effort in the search for intelligent extraterrestrial life, did not detect radio emissions from the object, according to a new paper published on arXiv, a repository for papers approved for future publication in journals, on Tuesday. 'Oumuamua caught everyone by surprise in October as the first known interstellar object to be spotted in our solar system.
"From the start, we knew it would be a long shot, like any other SETI experiment," said Emilio Enriquez, an astronomy Ph.D. student on the Breakthrough Listen team and the lead author of the paper.
The decision to check 'Oumuamua for artificial technology came from Yuri Milner, the Russian billionaire and tech investor who established and is funding Breakthrough Listen. Astronomers released their first results from the observations in mid-December, based on an analysis of just one chunk of the radio data. "Indeed, nothing has popped up, but we're busy churning through the data we've collected so far," Andrew Siemion, the director of the Berkeley SETI Research Center who leads its Breakthrough Listen Initiative, said at the time. The latest paper includes the analysis of the full dataset. Still nothing.
The new paper also reports the team found no evidence of water on 'Oumuamua, like other groups of astronomers studying the object. (Some suspect 'Oumuamua does harbor water in the form of ice hidden deep under the crust.)
Breakthrough Listen's data comes from observations by the Green Bank Telescope, a steerable radio telescope in West Virginia. The telescope was prepared to detect a signal, if it existed, similar to the radio waves coming from a cellphone. For eight hours in December, the GBT observed 'Oumuamua across four bands of radio waves. Breakthrough Listen usually observes targets in one radio band, Enriquez said, but for 'Oumuamua, they widened the search parameters to include as many frequencies as existing technology allowed.
"As in any other SETI experiment, we have no prior knowledge of which frequency any civilization might be sending any kind of signal," he noted. "So the idea is because we don't know, basically we need to search all of the available frequencies."
In addition, GBT rotated between four receivers every 30 minutes so that each one had a shot at observing 'Oumuamua as the object completed one full spin, which takes about seven hours and 20 minutes. This swapping allowed astronomers to study every part of the object.
"Imagine there's only one single antenna pointing in one single direction and you have these rotations," Enriquez said. "It's like a lighthouse. You need to wait until the lighthouse hits your direction."
Enriquez said Breakthrough Listen currently has no plans for follow-up observations, but the team will continue to examine the results of the observations. Now that they've looked for continuous radio signals in the data, they'll look next for pulsating signals.
When I asked whether they're ready to call it—move along, nothing SETI to see here—Enriquez said such certainty isn't quite possible, thanks to the nature of SETI experiments in general. Astronomers are limited not by the extent of their search, but by the capacity of current technology. The GBT and other radio telescopes are not able to study 'Oumuamua in every frequency.
"We were not able to observe at other frequencies, so we don't know if, for instance, that it might have been a signal that is lower than the frequency that we observed or higher than the frequency that we observed," Enriquez said. "And unfortunately, that's kind of the end of the experiment."
Rumblings about 'Oumuamua being a possible target for SETI observations started soon after its discovery in October, which was the first time humanity had spotted an object of its kind in our solar system. The more scientists learned about 'Oumuamua, the weirder it seemed. The object appeared to be an asteroid and not a comet—the kind of object scientists had predicted would be most likely to become ejected from its own solar system, travel through interstellar space, and get deposited into ours. The shape of 'Oumuamua—extremely elongated, like a cigar—was unlike anything they had seen, and would be difficult to create through natural, known processes of the universe.
In early December,  Avi Loeb, the chair of Harvard's astronomy department and an advisers on the Breakthrough Listen Initiative, took those rumblings to Milner. Loeb suggested 'Oumuamua could be an artificial probe dispatched by an alien civilization into the cosmos. Milner was intrigued, and within hours the Breakthrough Listen team was preparing an plan for observations using the GBT.
At the time of Milner's decision, the object was about two astronomical units (AU) from Earth, or about twice the distance between the Earth and the sun from our planet. At the time of this writing, the asteroid was about 2.23 AU from Earth, according to Karen Meech, an astronomer at the University of Hawaii Institute for Astronomy whose team discovered 'Oumuamua.
As 'Oumuamua speeds away from us, observations by even the most powerful telescopes are becoming more difficult. But the study of interstellar objects is just beginning. Scientists predict that as more telescopes like the one that detected 'Oumuamua come online and search the skies, they will find more interstellar objects floating in the solar system—and more targets for the search for extraterrestrial life. Thanks to the data they got from 'Oumuamua, they'll be more prepared for the next one. "If you look more, everywhere, I think chances are that eventually you will find something," Milner told me last month.
North Carolina's Landmark Ruling Against Partisan Gerrymanders
Posted: 09 Jan 2018 07:37 PM PST
DURHAM, N.C.—Federal judges have yet again struck down North Carolina's congressional districts as an unconstitutional gerrymander, dealing Republicans a blow and throwing the state's maps into chaos just months before a pivotal midterm election.
A three-judge panel, including one circuit-court judge and two district-court judges, ruled Tuesday evening that the Old North State's redistricting plan relied too heavily on partisan affiliation in drawing constituencies, violating citizens' rights under the 14th Amendment's Equal Protection Clause, the First Amendment, and Article I of the Constitution. The decision is the first time a federal court has ever struck down a redistricting plan as a partisan gerrymander. The final word, however, will likely come from the Supreme Court, which is considering two partisan gerrymandering cases.
When Republicans took over the North Carolina General Assembly in 2011, for the first time since 1870, they had the opportunity to redraw districts following the 2010 Census, and quickly set to drawing maps that would aid GOP candidates. In doing so, they relied in part on racial data—a practice that the U.S. Supreme Court has ruled permissible when creating majority-minority districts. In North Carolina, as in many southern states, there is a strong correlation between African Americans and Democratic voters, and this effectively helped Republicans crowd Democratic voters into fewer districts.
The plan worked extremely well. In 2012, Republicans won just 49 percent of the statewide vote but snagged nine of 13 House seats. Two years later, with 54 percent of the vote, they won 10 of 13 seats. But a lawsuit against that plan argued that the Republican maps had actually been intended to dilute black votes, and a federal court struck the plan down in 2016. (The Supreme Court affirmed that decision last spring.)
Sent back to the drawing board—or, more precisely in this high-tech era, the drawing software—Republicans did not take a conciliatory stance. Instead, forbidden from using race, the GOP proudly used partisanship as their primary criterion in drawing new maps.
"I acknowledge freely that this would be a political gerrymander, which is not against the law," said Representative David Lewis, the chair of the state house redistricting committee. He also said, "I think electing Republicans is better than electing Democrats. So I drew this map to help foster what I think is better for the country." And he suggested the committee draw maps that would produce 10 Republican and three Democratic U.S. House districts, on the basis that he didn't think it would be possible to come up with an 11-2 map.
The court decision on Tuesday noted:
Legislative Defendants do not dispute that the General Assembly intended for the 2016 Plan to favor supporters of Republican candidates and disfavor supporters of non-Republican candidates. Nor could they … Legislative Defendants also do not argue—and have never argued—that the 2016 Plan's intentional disfavoring of supporters of non-Republican candidates advances any democratic, constitutional, or public interest. Nor could they.
The decision to openly boast about a partisan plan was perhaps unwise, but it was not unfounded. No federal court had ever struck down a redistricting plan as an unconstitutional partisan gerrymander.
Nonetheless, Common Cause and the League of Women Voters both challenged the law, and their two suits were consolidated into one. The plaintiffs argued that the plan violated the Equal Protection Clause, because it discriminated against non-Republican voters; the First Amendment, because it discriminated against voters based on previous political expression; and Article I, because it interfered with the right of the people to elect their representatives.
They brought novel statistical models to demonstrate how slanted the plan was. In particular, the plaintiffs focused on the "efficiency gap," which measures how many votes for a candidate are wasted—either the number of votes in excess of what the candidate needs to win, common when voters backing a candidate are packed into a district, or the number of votes cast for the loser, when that candidate's supporters are dispersed. Additionally, in a simulation of all possible North Carolina congressional maps, a Duke mathematician found that an 11-3 GOP split occurred just 0.7 percent of the time.
The legislature argued against the suit, protesting that the statistical models were dubious and not constitutionally sanctioned, and protesting that they being required to answer a koan-like question:  "How much politics is too much politics in redistricting?"
The judges were having none of it.
"A partisan gerrymander that is intended to and likely has the effect of entrenching a political party in power undermines the ability of voters to effect change when they see legislative action as infringing on their rights," Judge James Wynn, an Obama appointee, wrote for the court. "We agree with Plaintiffs that a wealth of evidence proves the General Assembly's intent to 'subordinate' the interests of non-Republican voters and 'entrench' Republican domination of the state's congressional delegation."
Wynn was joined in full by Judge William Britt, a Carter appointee, and in part by Judge William Osteen Jr., a George W. Bush appointee who accepted the Equal Protection and Article I arguments but rejected the plaintiffs' First Amendment claim.
Wynn slapped aside the General Assembly's arguments against the statistical models, saying that the absence of a constitutional reference to such models did not mean the court could not consider them as evidence:
Legislative Defendants' judicial manageability argument appears to rest on a more cynical objection: that we should dismiss Plaintiffs' actions as nonjusticiable simply because much of the evidence upon which Plaintiffs' rely has its genesis in academic research and is the product of an effort by scholars to apply novel, and sometimes complex, methodological approaches to address a previously intractable problem. To the extent Legislative Defendants are in fact making such an argument, it fails as a matter of both fact and law.
Courts have long been wary of striking down partisan gerrymanders both because of the difficulty of deciding what is permitted partisan gamesmanship and what goes too far, and out of fear of taking the side of one party or the other. The statistical models employed in this case are part of a new push by voting-rights advocates to quantify partisan gerrymandering, and they inspired spirited debate among the justices when the Supreme Court heard arguments about redistricting in October. Michael Bitzer, a political scientist at Catawba College, argued the North Carolina decision was written specifically to appeal to Justice Anthony Kennedy, the likely swing vote on the high court's partisan-gerrymandering cases.
Democrats rushed to applaud the decision. Former Attorney General Eric Holder, who is leading a national Democratic redistricting initiative, said, "Today's ruling was just the latest example of the courts telling state legislators in North Carolina that citizens should be able to pick their representatives, instead of politicians picking their voters." North Carolina Democratic Party Chair Wayne Goodwin said, "It's time the General Assembly put partisanship aside and draw fair, non-partisan maps that give North Carolina voters a voice." But the North Carolina GOP's executive director, Dallas Woodhouse, responded angrily. "It is incredibly disappointing that activist Federal Judge Jim Wynn is waging a personal, partisan war on North Carolina Republican voters," Woodhouse said. "This is a hostile takeover of the #NCGA and legislative bodies across the U.S."
Just how much the ruling helps Democrats—who are already hopeful that 2018 will be a wave election that hands them control of the U.S. House—remains to be seen. The election-law expert Rick Hasen noted that the Supreme Court will likely stay the decision. Even if it did not, the ultimate maps are not yet drawn. The judges granted the General Assembly another chance to draw maps, but gave them only until January 29 to propose a plan to the court—there's urgency to get a map in place ahead of the midterm election. However, the court also announced it would appoint a special master, an outside expert, to draw a plan in the event the legislature's plan doesn't pass muster.
Since Republicans took control of the General Assembly, they have pursued a sweeping program of conservative policies, which has often brought them into conflict with federal courts. The legislature passed a set of voting laws, including reductions in early voting and a requirement to show photo ID to vote, but that law was largely struck down by a federal court in 2016. In June 2017, the Supreme Court affirmed a lower-court ruling striking down state-legislative districts as gerrymandered. After judges rejected a remedy, they appointed a special master who recently proposed new lines. Over the years, the Old North State has been home to several notable federal-court decisions on redistricting, and on Tuesday, Common Cause v. Rucho joined that select company.
France, Where #MeToo Becomes #PasMoi
Posted: 10 Jan 2018 12:31 AM PST
PARIS —Has #MeToo gone #TooFar? Catherine Deneuve thinks so. On Tuesday, the actress and 99 other notable French women from the arts, medicine and business published an open letter in Le Monde calling out what they dubbed a "puritanical" wave of resignations and a group-think—largely in the United States and Britain, since no heads have rolled in France—that they said infantilized women and denied them their sexual power.
"As women, we do not recognize ourselves in this feminism, which goes beyond denouncing abuse of power and has turned into a hatred of men and of sexuality," they wrote. "Rape is a crime, but trying to seduce someone, even awkwardly, is not. Nor is being gallant a macho aggression." They continued: "It is the nature of puritanism to borrow, in the name of the supposed collective good, the arguments of the protection of women and of their emancipation to better chain them to their status as eternal victims; poor little things under the control demonic phallocrats, like in the good old days of witchcraft."
"We defend the right to seduce, which is indispensable to sexual freedom," the women continued. "We're aware enough today to admit that the sex drive is by nature offensive and savage, but we're also clear-eyed enough not to confuse an awkward pickup with sexual aggression." The signatories also said they regretted that men had been "punished summarily, forced out of their jobs, for touching a knee, trying to steal a kiss, talking about 'intimate' things in a professional dinner or for having sent messages with a sexual connotation to a woman who didn't reciprocate his affections."
It's telling that Deneuve has become a figurehead of the emerging backlash against #MeToo. Now 74, she has been the embodiment of empowered French feminine sensuality from her breakout performance singing (and smoking while pregnant) in The Umbrellas of Cherbourg in 1964; through Luis Buñel's Belle de Jour, in which she plays a bored Parisian housewife who turns a few tricks on the side; to more recent roles dispensing no-nonsense wisdom.
The letter was co-written by Catherine Millet, the author of the best-selling novel The Sexual Life of Catherine M.; Sarah Chiche, a writer and psychoanalyst; Catherine Robbe-Grillet, an actor and writer; Peggy Sastre, a writer and journalist; Abnousse Shalmanim a writer and journalist. Its signatories include Elisabeth Lévy, the editor of the conservative magazine Causeur.
Whether it adds a note of discord or depth, the letter is a telling addition to today's chorus. We're living through a disorienting moment in which public shaming has eclipsed due process, as my colleague Michelle Cottle has written. Even committed feminists are skittish about expressing dismay at the guilty-until-proven-innocent approach of naming alleged harassers publicly, for fear of seeming lacking in empathy or solidarity. In The New York Times last week, the writer Daphne Merkin struck a similar note as the French feminists, asking "What happened to women's agency?" It's hard to have a nuanced debate in an atmosphere that can feel, on social media at least, like one of competitive outrage.
There's also a generational divide. Older feminists remember the freewheeling days of the sexual lib of Helen Gurley Brown's Cosmopolitan, which encouraged women to flirt with their bosses as a form of empowerment. Younger feminists, even if they've been sexting since middle school, have a more highly developed sense of workplace boundaries and what constitutes sexual harassment.
In their letter, the French women singled out cases in which #MeToo had clearly overreached, and I agree. They said a suggested law in Sweden that would require any potential partners to agree to their sexual encounter ahead of time, via an app, "verged on the ridiculous." They also expressed dismay about calls to "censure" an Egon Schiele nude on a poster, or to remove a suggestive Balthus painting from the Metropolitan Museum of Art, or for the French national Cinémathèque to cancel a retrospective of films by Roman Polanski, as some French feminists had called for. (It wasn't cancelled.)
For a while, it seemed the fallout from Weinsteingate could mark a shift in France. It was a French journalist who started the hashtag #BalanceTonPorc, or "rat out your pig," calling on women to speak out about abuse, and for months, the #MeToo movement has opened an important national conversation here about sexual harassment. (Although the #MeToo debate has also oddly morphed into a debate about Islam here, after several women accused the Muslim scholar Tariq Ramadan of rape and sexual abuse; he has denied the allegations.) Mostly, French tabloids like Paris Match have been dining out on #MeToo, a chance to talk about sexual harassment in ways they might never have done if the controversy hadn't begun elsewhere. Le Monde has been investigating sexual harassment in various French institutions, most notably uncovering grim patterns in the youth groups of the French Communist party.
The news here has been filled with stories about sexual harassment in schools, offices, businesses, although the tabloids have been more eager to follow the fallout in Hollywood than in the closely-knit French film world. "Hollywood, the black list of sexual predators," reads a tagline on the cover of this week's Paris Match, which has an unrelated cover story on Carla Bruni, the former first lady of France, with the headline, "I still consider myself a young girl." (To have power as a woman in France, apparently you have to act as if you don't have it.) The speaking out continues, but so far no men in France have lost jobs over harassment. Why?
"Maybe there is no French Weinstein," Isabelle Giordano, the executive director of Unifrance, France's national film production and distribution company, said when I posed her the question on Tuesday. The scandal in Hollywood was having a ripple effect in France, she said, but there was a different culture here. "You don't have to say, 'My boss did this and this' on the internet. Maybe you have to go to the courts or the police," she said. "It's normal that this is the way in the U.S. and it's really a real benefit for us," she said of the #MeToo fallout, "But we have our way to do it." That way, as it happens, seems to have little visible effect. At least for now.
Giordano is right that there's a cultural divide. The letter by Deneuve and the other 99 women could be a refreshing reality check in a chaotic debate. But it also comes from a culture of covert or overt sexism. In the Anglo-Saxon world, many women feel there's safety in numbers and solidarity in speaking out. Here in France, there's a fear that naming names will more likely win you accusations of being a "collabo," or turncoat. In the U.S., the Italian actress Asia Argento has been seen as something of a heroine for going on the record about her dreadful experiences with Harvey Weinstein. In Italy, she's been ridiculed, criticized and excoriated—by women as well as men—who have called her an opportunist and worse.
Here in France—which invented the cosmetics industry as we know it—a woman is raised to know herself and to use her sex appeal as she sees fit. But if she feels compelled to do so by the culture at large, is that empowerment or a sign of a deeply sexist culture? Living here as an American, it's a question I ask myself constantly. And haven't yet answered.
<em>The Atlantic</em> Daily: The Situation Suddenly Becomes More Complicated
Posted: 09 Jan 2018 03:09 PM PST
What We're Following
DACA Dealmaking: At a public meeting with lawmakers of both parties, President Trump appeared to endorse several different plans for congressional action on the Obama-era program that protects people who were brought to the U.S. illegally as children. The meeting provided a valuable window into the workings of government, but left the parties no closer to reaching a deal. Time is running out for DACA supporters; while the program will officially end in March if Congress doesn't act to keep it, Democrats are under pressure to force a solution before the government's deadline to pass a spending bill on January 19.
Executive Action: Trump's former adviser Steve Bannon has stepped down as head of Breitbart News in the wake of a dramatic feud with the president, thus completing Bannon's fall from the formidable influence he had built up since the 2016 campaign. A year into Trump's presidency, his staff looks significantly different from the group he started with, and the public has become inured to some of Trump's unusual behavior—but that growing acceptance is dangerous, argues David Frum.
The Korean Peninsula: North Korea announced it will be sending a team to the upcoming Winter Olympics in South Korea after the two countries held their first talks in two years. The gesture could ease the way for further negotiations on Pyongyang's nuclear program, but the historical success of conducting diplomacy through sports has been mixed. Meanwhile in the White House, National Security Adviser H. R. McMaster has been arguing that the U.S. must stop North Korea from developing nuclear weapons at any cost, even if that means war. Here's what's shaped his thinking.
---
Snapshot
---
Evening Read
Jeffrey Selingo on the challenges of getting unemployed workers back on the job:
Worker retraining is a classic chicken-or-egg dilemma. Employers don't want to expand or relocate without the availability of an already skilled workforce. Workers who have been laid off through corporate downsizing or because their jobs were shipped to a foreign country don't want to dedicate the time and effort needed to go through retraining without the pledge of a sure-fire job with the same or a better paycheck.

So when you plug real people into the easy fixes designed by policy wonks, the situation suddenly becomes more complicated: Older workers who haven't seen the inside of a classroom for decades are frightened by going back to school. Men don't want to train for the jobs that are left in town, particularly in health care, because of the stigma of being employed in occupations traditionally filled by women—a phenomena that Lawrence Katz, a Harvard University labor economist, has frequently called an "identity mismatch," rather than a skills mismatch. And in a country founded by people on the move, unemployed workers are unwilling to relocate to find work.
Keep reading here, as Selingo breaks down the blind spots of federal worker-retraining programs.
---
What Do You Know … About Business?
What sort of economic year is America heading into? The country's current stretch of job creation, one of the longest in modern history, finally appears to be slowing down. Though that growth slightly narrowed the ever-present employment gap for black and Hispanic Americans, President Trump can hardly take credit for the improvement, writes Gillian B. White: Economists across the spectrum agree it came about from the past decade's worth of policymaking. If growth continues through the year, Americans might finally see the long-awaited return of inflation—and it could help fix the problems of stagnant prices and wages that continue to plague the economy.
Can you remember the other key facts from this week's business coverage? Test your knowledge below:
1. X-ray machines, invented in the year ____________, helped transform hospitals from "last-resort warehouses for the sick poor" to today's community-wide care centers.
Scroll down for the answer, or find it here.
2. More than 30,000 fitness instructors, the most of any U.S. state, work in ____________.
Scroll down for the answer, or find it here.
3. Detroit's Northland Center is an iconic example of the work of Victor Gruen, an architect famous for his designs of ____________.
Scroll down for the answer, or find it here.
Answers: 1895 / California / shopping malls
---
Urban Developments
Our partner site CityLab explores the cities of the future and investigates the biggest ideas and issues facing city dwellers around the world. Gracie McKenzie shares today's top stories:
The $1.6-billion Moynihan Station will be a bright, spacious improvement on the depressing environs of NYC's Penn Station—but it will leave many problems unsolved.

In Washington, D.C., black riders represent a tiny fraction of bike-share patrons. But are dockless options pumping up diversity?

"We see ourselves enabling city living," the co-founder of a start-up called Getaway says. The company says stressed-out urbanites just need a short retreat to nature at one of their tiny homes in the woods.
For more updates from the urban world, subscribe to one of CityLab's newsletters.
---
Reader Response
After James Fallows wrote about Trump's boast of being a "genius," a reader makes the case that the president is right:
Trump is blunt and unpredictable, but at least in foreign policy he generally is good at identifying long-standing chronic issues where everyone is stuck in a sub-optimal status quo …

There is theoretical backing for this in computer science in the field
of "optimization algorithms." Basically, if you do everything perfectly and rationally, you often get stuck in local minima—a place where any move in any direction from the current status quo makes the situation worse. But in order to get to a better place, you need to make such a drastic sideways move to find a more optimal status quo.

Trump makes these types of moves. He shakes—randomizes—things up.
Read more here, and find other readers' responses here.
---
Verbs
Light trapped, rumors launched, truth spoken, dogs groomed.
---
Time of Your Life
Happy birthday to Merry (a year younger than George Orwell's Nineteen-Eighty Four); to Mary (twice the age of The Simpsons); to Mehnaaz's friend Ben (13 years older than Mean Girls); from LittleOne to BenRB (a year younger than "test-tube babies"); and to Stacy's wife, Cat (born around the time Apollo 14 successfully landed on the moon).
Do you or a loved one have a birthday coming up? Sign up for a birthday shout-out here, and click here to explore the Timeline feature for yourself.
---
Meet The Atlantic Daily's team here, and contact us here.

Did you get this newsletter from a friend? Sign yourself up here.
<i>The Atlantic</i> Politics & Policy Daily: Bannout
Posted: 09 Jan 2018 02:21 PM PST
Today in 5 Lines
During a bipartisan meeting on immigration, President Trump didn't take a clear position on a DACA deal and ultimately said he'd sign any immigration bill Congress sent him. California Senator Dianne Feinstein released the transcript of Fusion GPS co-founder Glenn Simpson's testimony before the Senate Judiciary Committee. Former Maricopa County Sheriff Joe Arpaio, who was pardoned by President Trump last year, announced that he will run for Senate in Arizona. Trump plans to attend the World Economic Forum in Davos, Switzerland, later this month. And former White House chief strategist Steve Bannon stepped down from his role as executive chairman of Breitbart News.
---
Today on The Atlantic
Accepting the Unacceptable: David Frum writes that Americans are at risk of becoming accustomed to the bullying and lying that is standard in the Trump administration.

Heating Up: Over the next several weeks, it's likely that one of two things will happen: Republicans will pass immigration reform, or the federal government will shut down. (Russell Berman)

Why Is He So Worried?: Here's why National-Security Adviser H.R. McMaster is being more outspoken than other Cabinet members about the threat from North Korea. (Uri Friedman)
Follow stories throughout the day with our Politics & Policy portal.
---
Snapshot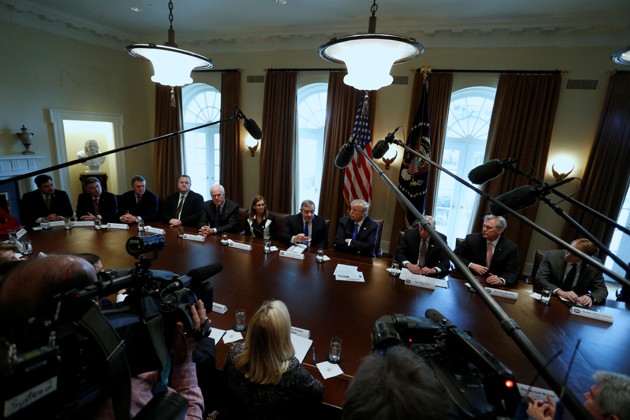 ---
What We're Reading
Oprah Can't Save Us: Dahlia Lithwick argues that Oprah Winfrey's speech at the Golden Globes "wasn't about why she needs to run for office. It was about why the rest of us need to do so, immediately." (Slate)
Expecting the Worst: U.S. soldiers are reportedly being trained in tunnel warfare in preparation for potential war with North Korea. (Tom Bowman, NPR)
Bringing Back Earmarks?: Here's why some lawmakers want to reinstate the controversial practice. (Haley Byrd, The Weekly Standard)
'She Thinks She Is Part of the Feminist Club': Ivanka Trump's tweet in solidarity with the #TimesUp movement shows that the first daughter is still prone to rookie political mistakes. (Annie Karni, Politico)
'The Decline of Anti-Trumpism': David Brooks warns that the Never-Trump movement is beginning to look a lot like the pro-Trump one. (The New York Times)
---
Visualized
Gerrymandering School Zones: Use this interactive tool to find out if the structure of your school district is reducing or perpetuating school segregation. (Alvin Chang, Vox)
---
Question of the Week
At Sunday night's Golden Globe Awards, Seth Meyers jokingly suggested that Oprah Winfrey should run for president. Reactions have ranged from fleeting amusement to serious requests for a 2020 campaign. There's even some indication Winfrey could be taking the idea more seriously herself. On Monday, David A. Graham considered what an Oprah candidacy could mean for the Democratic Party.
If you could pick any celebrity to run on the Democratic ticket in 2020 from any field—entertainment, tech, business, etc.—who would it be? And why?
Share your response here, and we'll feature a few in Friday's Politics & Policy Daily.
-Written by Elaine Godfrey (@elainejgodfrey)
Who Is Steve Bannon Without <i>Breitbart</i>?
Posted: 09 Jan 2018 03:06 PM PST
After falling out with President Trump over comments he made to the journalist Michael Wolff, Steve Bannon is leaving Breitbart News.
The news was originally reported by The New York Times.
Breitbart London editor Raheem Kassam, a close ally of Bannon's, confirmed Bannon's departure in a text message on Tuesday.
Breitbart itself announced the news on its website on Tuesday afternoon, including a statement from Bannon: "I'm proud of what the Breitbart team has accomplished in so short a period of time in building out a world-class news platform." In the announcement, Breitbart's CEO Larry Solov is quoted as saying: "Steve is a valued part of our legacy, and we will always be grateful for his contributions, and what he has helped us to accomplish." Breitbart staffers were not given a heads up before the news was announced, according to two sources.
Bannon, who helped make Breitbart an influential outlet on the right, was also CEO of Trump's 2016 presidential campaign during the general election and helped define the candidate's populist, nationalist message. After leaving the White House, Bannon sought to leverage that success into an effort to push the Republican Party to the right by endorsing primary challenges to candidates he saw as too moderate or tied to the party establishment. Bannon cultivated an image as Trump's true link to his base and enjoyed a reputation as one of the most powerful people in the White House; a Time cover from last year called him "The Great Manipulator" and asked, "Is Steve Bannon the second most powerful man in the world?"
Over time, Bannon's influence waned over rising tensions with the president, and his association with controversial figures like former Breitbart editor Milo Yiannopoulos, fired after video emerged of comments he made seeming to endorse pedophilia, and Roy Moore, the Alabama Republican who lost a Senate race after being accused of preying on teenage girls.
During Bannon's tenure, Breitbart had become increasingly devoted to promoting him, welcoming him back as a "populist hero" after he returned following his ouster from the White House. Bannon left the White House in August 2017, in the aftermath of the white nationalist rally in Charlottesville, and after giving an unfettered interview bashing colleagues to the liberal American Prospect.
In a statement on Tuesday, Sirius XM announced that Bannon would no longer host Breitbart's radio show: "Breitbart News has decided to end its relationship with Stephen K. Bannon, therefore he will no longer host on SiriusXM since our programming agreement is with Breitbart News."
Bannon's position leading Breitbart became untenable after the release of Wolff's book Fire and Fury, an inside-the-White-House tell-all in which Bannon was evidently a key source and which features him making a number of harsh comments about Trump's family. The most controversial of these was Bannon's comment to Wolff that Donald Trump Jr.'s meeting with a Kremlin-connected Russian lawyer at Trump Tower in 2016, in which Trump Jr. sought damaging information on Trump's Democratic rival Hillary Clinton, was "treasonous." Federal investigators are currently trying to determine whether the Trump campaign aided what U.S. intelligence agencies have described as an effort to boost Trump's candidacy in the 2016 election.
Bannon's comments enraged Trump, with whom Bannon had occasionally spoken after Bannon was forced out of the White House in August. In a statement last week, Trump said Bannon had "lost his mind" and accused him of being a leaker.
Though Bannon's circle pushed him to release a statement smoothing over the incident last week, Trump's came out first, making Bannon's position in Trumpworld clear. Then, in a rare public statement, Bannon's wealthy conservative patron Rebekah Mercer said she was cutting ties with him and that her family was no longer supporting his political projects. Mercer had been unhappy with Bannon for some time; according to a source with direct knowledge of her comments, Mercer told people over six weeks ago that she was finished with Bannon.
Breitbart's board, meanwhile, reportedly debated firing Bannon. According to disclosures the company made while trying to obtain congressional press credentials last year, Breitbart is owned by Solov, company founder Andrew Breitbart's widow Susie, and the Mercer family with a minority stake.
On Sunday, Bannon released a statement to Axios expressing "regret" for his comments but insisting that his remarks had been aimed at Paul Manafort and not at Trump Jr.
But the White House did not accept the apology. "I don't believe there's any way back for Mr. Bannon at this point," White House deputy press secretary Hogan Gidley told reporters on Air Force One on Monday.
Bannon "had to either give up being involved in politics or Breitbart, couldn't do both," said a source close to Bannon who asked for anonymity to candidly discuss the situation. "He chose politics. Him being involved in politics was interfering with Breitbart's ability to act as a news organization."
But it's unclear—and unlikely—that Bannon could continue to be a player in politics during this year's midterms, without major donors behind him, and disavowed by the president.
During the presidential transition, Bannon compared himself in an interview with Wolff for The Hollywood Reporter to Thomas Cromwell, a powerful adviser in the court of King Henry VIII. But Bannon's comparison appears to have been more prophetic than he may have realized. After falling out of favor with Henry, Cromwell was stripped of his titles and executed.
Bannon did not immediately respond to requests for comment.
Trump's Remarkable Immigration Meeting
Posted: 09 Jan 2018 04:08 PM PST
There was nothing more President Trump could have done to more clearly illustrate the vexing politics of the immigration debate or the often maddening way he manages Congress than the remarkable public meeting he held with lawmakers at the White House on Tuesday.
The president convened a bipartisan group of more than two dozen members of the House and Senate in the Roosevelt Room to discuss a possible resolution for the Deferred Action for Childhood Arrivals program—the Obama-era protections for 700,000 young immigrants that Trump has said will end in March without congressional action.
Yet over nearly an hour, and with television cameras running, Trump took nearly every conceivable position in the debate: He backed a "clean" bill to extend DACA, protect the so-called "Dreamers," and bolster border security, absent the more controversial immigration measures conservatives want; then, he said he'd "take the heat" for a more comprehensive immigration overhaul along the lines of what Trump had denounced as a candidate in 2016; later, he demanded that Congress fund the southern border wall as part of the initial DACA deal, reinserting the wrench that has held up the immigration talks for weeks.
Finally, Trump said he'd sign whatever immigration bill Congress could send him. "I'm not saying I want this or I want that. I will sign it," he told the group.
By the time the president finally kicked reporters out of the meeting, he had said yes to everyone while clarifying virtually nothing. And what was undeniably a victory for government transparency had turned into another frustrating experience for Republicans, who repeatedly implored Trump to tell them exactly what he would accept in a DACA bill.
"I'm not going to support a bill unless you support it," Senator Lindsey Graham of South Carolina, an erstwhile-Trump-critic-turned-ally, bluntly told the president at one point. "You have created an opportunity, Mr. President, and you need to close the deal."
In the four months since the president first suggested to Democrats that he would support a trade of permanent protections for Dreamers in exchange for enhanced border security, he has wavered on the details. At times, he's backed the hardline demands of his senior adviser, Stephen Miller, and conservative hawks in Congress who want both a border wall and separate measures to tighten interior enforcement and limit legal immigration. Other times, Trump has suggested those debates could be saved for later.
Both sides of the president were on display on Tuesday. He talked at length about the need for a border wall and an end to "chain migration," but he also called for "a bill of love" in rhetoric reminiscent of a vanquished Republican rival, Jeb Bush. While presidents have held meetings with lawmakers in public before—Barack Obama held a daylong health-care summit in 2010—they tend to be rather staid affairs replete with prepared statements and rote talking points. But Tuesday's confab was different, because Trump did not tell the lawmakers he planned to keep the press in the room. As a result, they had few talking points to fall back on, forcing them into a more candid exchange with the famously freewheeling president. It felt, at times, like a real negotiation.
And in a display that came days after Trump felt it necessary to proclaim his fitness for office and call himself "a very stable genius," he held forth in a way that demonstrated he has a basic understanding of the immigration issue but is not conversant on the details and jargon that lawmakers have been negotiating on and off for years. When Democratic Senator Dianne Feinstein of California suggested that Congress first pass "a clean DACA bill now" and then pivot to a more comprehensive proposal, Trump eagerly agreed. "I would like that," he replied. "I think a lot of people would like to see that."
Suddenly worried that Trump had softened his position, House Majority Leader Kevin McCarthy jumped in. "Mr. President, you need to be clear," he told Trump, politely but firmly. He reminded him that the broad agreement had always been DACA plus border security, not on its own, and that Democrats had all voted for enhanced border security in the past. Within a few minutes, Trump had shifted back once again, talking about the need for a DACA bill to also address the diversity visa lottery and "chain migration" so that granting legal status to Dreamers does not reopen the pipeline of illegal immigration through extended family sponsorship.
The conversation proceeded in that vein for another half hour. Trump would muse about his desire for a bipartisan deal that would be a segue into the kind of sweeping immigration that eluded his two predecessors in the White House, and one lawmaker after another would gently try to bring him back to Earth. At one point, a sullen Representative Steny Hoyer of Maryland, the Democratic whip seated next to Trump, just threw up his hands. For Republicans, the spectacle allowed the public to see what they often privately complained about during the health-care debate—an inconsistent president who would change his mind from one conversation to the next and leave everyone feeling he agreed with their position.
Senator David Perdue of Georgia, a close Trump ally, chimed in to say that a DACA bill without additional measures could not pass the Senate. Then Senator Jeff Flake of Arizona, a Trump critic and long an advocate for citizenship for undocumented immigrants, reminded the president that previous efforts at comprehensive reform took months of round-the-clock negotiations. "I don't see how we get there before March 5," Flake said, in reference to Trump's self-imposed DACA deadline.
For good measure, the president digressed into a surprising endorsement for a return to earmarks as a way to grease the legislative wheels and relieve the partisan stalemate in Washington—never mind that the congressionally-appropriated earmarks had become the very symbol of government corruption and the Beltway "swamp" Trump had pledged to drain. Aware of the history, the stunned group of lawmakers laughed. "No?" the president asked. "Well, you should do it."
Afterward, Republicans proclaimed the discussion, in Graham's words, "the most fascinating discussion I've been involved in 20-plus years of politics." But beyond opening a window into negotiations that usually happen behind closed doors, it wasn't clear how productive it was. GOP lawmakers and the White House said that after reporters left, the members agreed to designate a bipartisan group of four to negotiate legislation that would address DACA, border security, the visa lottery, and chain migration.
In other words, the same sticking points that lawmakers brought into the White House remained so after they left. At the Capitol, Republicans and Democrats quickly bickered over what form the bill might take, and whether it would hold up a spending agreement that Congress must pass to avert a government shutdown on January 19. Senate Majority Leader Mitch McConnell declared that the one condition he had for bringing a standalone DACA bill up for vote was that it be a proposal "the president is willing to sign." Despite an hour of talking for all to see, however, what that might be was still a mystery.
The Republican Party Emerges From Decades of Court Supervision
Posted: 09 Jan 2018 02:16 PM PST
Thirty-five years after it was first imposed, a judge has lifted a consent decree barring the Republican National Committee from pursuing "ballot security" measures.
In their 1981 lawsuit to stop the RNC from engaging in certain practices at the polls, the Democratic National Committee attested that in a New Jersey gubernatorial election, the RNC had sent sample ballots to communities of color, and then had the names for each ballot returned as undeliverable removed from voter rolls. Democrats also alleged that the RNC hired off-duty cops to patrol majority-minority precincts, wearing "National Ballot Security Task Force" armbands. These details were enough to secure a consent decree between the two party organizations and the court in 1982, stopping the GOP from engaging in such voter-intimidation practices.
Except, Democrats alleged, they didn't stop. The consent decree was updated in 1987 after Republicans created a voter-challenge list of black voters from whom letters had been returned as undeliverable, with an RNC official saying that the list could "keep the black vote down considerably." The decree was modified again in 1990 after a court ruled the RNC had violated it by not telling state parties about its provisions, which had led to the North Carolina GOP sending 150,000 postcards to potential voters listing voting regulations, in an apparent attempt at intimidation. The GOP violated the court order again in 2004 after yet another voter-challenge list targeted black voters.
With that history of behavior in full view, federal courts moved to allow the decree to expire in December 2017, a decision that was finalized Tuesday by a federal district court. For the first time in three decades, the RNC can pursue ballot-security measures without court preclearance.
The question is whether an unfettered RNC will return to the vote-challenging and poll-watching practices that were repeatedly found to be in violation of the Voting Rights Act. Even during the decades when the Republican National Committee was under court order, schemes like challenging voters with undeliverable mail, known as "voter caging," have flourished. Similarly, states have pursued initiatives, like voter ID, to address the undocumented specter of widespread voter fraud. Yet, as the University of California, Irvine, School of Law professor Rick Hasen argued in November at Slate, it's unlikely that the RNC itself will be directly challenging votes in the near future. The RNC had to prove it hadn't recently violated the consent decree in order to be freed from it, and risks ending up right back under another court order in the future if it should change course.
Additionally, the RNC wouldn't need to get its hands dirty, even if it wanted to continue vote challenging en masse. State-level GOP organizations have been repeatedly accused of pursuing strategies of voter suppression on their own. In 2016, a North Carolina court stepped in to stop Republican challengers in three counties from using voter caging to cancel thousands of voters in disproportionately black precincts. That year also saw multiple lawsuits filed against Georgia Secretary of State Brian Kemp, a Republican, for the cancellations of over 30,000 voter registrations for minor errors—64 percent of the canceled registrations came from black voters. More recently, as my colleague Brentin Mock reported, during Alabama's special election for its open Senate seat in December, black voters alleged intimidation by police at the polls.
But with Donald Trump at the head of the national GOP apparatus, it's too soon to rule anything out. Trump has been a fervent proponent of discredited claims of voter fraud, and of measures purported to counter that fraud. The official mission of his Presidential Advisory Commission on Election Integrity was to "study vulnerabilities in voting systems used for federal elections that could lead to improper voter registrations, improper voting, fraudulent voter registrations, and fraudulent voting"—leaving it ostensibly agnostic about the prevalence of fraud. But even in his statement disbanding the commission last week, Trump declined to adopt that neutral rhetoric, citing "substantial evidence of voter fraud," and claiming that people who refused to cooperate with measures taken against that fraud had something to hide.
Significant public pressure, over a dozen lawsuits, and pushback from even some Republican officials led to the dissolution of that commission, but it doesn't seem the president is done with sounding the alarm on voter fraud. Trump's campaign faced multiple lawsuits over its poll-watching and "ballot security" efforts—including one from Democrats claiming they violated the RNC's consent decree. Trump has yet to renounce his view that millions of fraudulent voters cost him the popular vote in 2016, which leaves open the prospect that his administration would pursue measures putatively designed to ferret out that fraud, but which in practice suppress minority votes.
The most striking implication of the death of the consent decree, though, may be more legalistic. The expiration date for the current consent decree was set in 2009, and the court by that time had become much more sympathetic to the RNC's arguments, despite having found it in violation five years before. Even though the RNC had proven unable to find a single instance of voter-registration fraud, the court ruled that the party had a compelling interest in ensuring such fraud did not occur, thus paving the way for full clearance on practices approaching voter caging. The district court did acknowledge, citing the 2008 Supreme Court decision in Crawford v. Marion Cty. Election Bd, that voter intimidation and suppression were several magnitudes more likely to occur than voter fraud, but also rested its analysis on its assessment of the future behavior of the Republican Party, as opposed to its decades-long track record.
The Supreme Court's 2013 Shelby County v. Holder decision essentially nullified federal preclearance for elections laws, replacing the vigilantly proactive spirit of the 1965 Voting Rights Act with an insistence that the sort of overt racism it guarded against was consigned to the past. The decision to allow the consent decree to expire extends that approach. But if the courts are too optimistic, it will only be clear that the consent decree was still needed after an election goes wrong.
North Korea and the Spotty Record of Sports Diplomacy
Posted: 09 Jan 2018 01:33 PM PST
Will taekwondo achieve what diplomacy hasn't?
North Korea, having ignored South Korean requests to participate for months, will send athletes, cheerleaders, and taekwondo-demonstration teams to next month's Winter Olympics in Pyeongchang, South Korea. The agreement, which was announced Tuesday after the first meeting between the two countries in two years, could help reduce tensions caused by Pyongyang's nuclear-weapons and ballistic-missile programs. But will it?
The development is a breakthrough. It was accompanied by the announcement the two sides would hold military talks to reduce tensions. But we've been here before.
The two Koreas marched together under one flag at both the 2000 and 2004 Summer Games, as well as the 2006 Winter Games. Those occasions were also hailed as historic breakthroughs, but Pyongyang and Seoul reverted afterward to their usual postures of mistrust, tension, and frequent reminders that the 1950-53 Korean War ended not in a peace treaty, but an armistice.
"I am always amazed when I hear people saying that sport creates goodwill between the nations, and that if only the common peoples of the world could meet one another at football or cricket, they would have no inclination to meet on the battlefield," George Orwell wrote in "The Sporting Spirit," the 1945 essay perhaps best known for describing sports as "war minus the shooting." He added: "At the international level sport is frankly mimic warfare. But the significant thing is not the behavior of the players but the attitude of the spectators: and, behind the spectators, of the nations who work themselves into furies over these absurd contests, and seriously believe—at any rate for short periods—that running, jumping and kicking a ball are tests of national virtue."
But any soccer hooligan will tell you that sports could just as well stoke tensions as defuse them—there is even a legend that attributes the brief war in 1969 between El Salvador and Honduras to a soccer match. (Historians attribute the conflict to land monopolization, as well as nationalism and overpopulation.)
Meanwhile, though, countries continue to rely on sports as a diplomatic tool, with limited success. Take India and Pakistan: The two countries have used cricket in the past for this purpose. But their relations are now so poor that India refuses to play Pakistan at the sport—except at international tournaments—citing its support of militant groups.  The U.S. and Iran are another example. The Bush administration sent a team of American wrestlers to Iran in 1998 where they were warmly welcomed. Sporting exchanges continued through the Obama years—but relations between the Trump administration and  Iran's regime in Tehran are tense, and after Iranians were placed on the president's travel ban, the Islamic republic denied visas to U.S. wrestlers.
That doesn't prevent the U.S. State Department from viewing sports "as a way to transcend linguistic and sociocultural differences and bring people together." A host of sports stars from Michelle Kwan to Shaquille O'Neal have served as envoys for the department. (Not to mention Dennis Rodman's freelance diplomacy in North Korea.) Kwan traveled to China and other places as a public ambassador to meet with young people; O'Neal played basketball with Cuban children.
Sports can also effectively serve as a showcase for often ugly nationalism. Hitler used it as an effort to display his pretensions of Aryan superiority in the 1936 Berlin Olympics (though that effort was severely bruised by Jesse Owens, the African American sprinter who won four golds at the games). Palestinian militants used the Olympics in 1972 to kill Israeli athletes in Munich. Iranian athletes are ordered by their leaders to forfeit contests against their Israeli counterparts because they don't see Israel as legitimate. At other times, sporting events are used to highlight grievances: The sporting rivalry between Japan and Korea is still haunted by Japan's wartime actions on the Korean Peninsula, and Korean fans boo or drown out the Japanese anthem. In Spain, supporters of Catalan independence proudly brandish the logo of the football team FC Barcelona.
Michael Rubin, a resident scholar at the American Enterprise Institute, wrote in Foreign Policy in 2014: "Certainly, athletes often reach across diplomatic divides at international games, trading swag, pins, and jerseys. But when the final whistle blows, the lights dim, and competitors break their final handshakes, it is the same politicians who remain in charge."
If anything, sports reflect a certain amount of goodwill between nations rather than being the cause of it. Even the best-known example of sports seeming to bring two nations closer—the ping-pong diplomacy in the early 1970s between China and the United States that was credited for President Nixon's historic visit to China—was the result of months of quiet diplomacy involving Pakistan, then a pivotal American ally. As Chas Freeman, the veteran diplomat, recalled later: "For most people in the [State] Department, ping-pong diplomacy was minor but interesting evidence, from the Chinese side, of an interest in pursuing a relationship with the United States. In fact, it was the culmination of quite a bit of diplomacy, some of it known to the Department, to a few people, and much of it unknown."
The Koreas may march together, India and Pakistan may yet play each other at cricket, Iranians might still cheer for the "great satan," but all it takes is one missile test, one attack by militants, or one more threat directed at an ally, to end that goodwill and turn it into jeers, stadium riots, or worse.
As Orwell wrote in that 1945 essay, "I do not, of course, suggest that sport is one of the main causes of international rivalry; big-scale sport is itself, I think, merely another effect of the causes that have produced nationalism. Still, you do make things worse by sending forth a team of eleven men, labelled as national champions, to do battle against some rival team, and allowing it to be felt on all sides that whichever nation is defeated will 'lose face.'"
The 2018 Procession of the Black Nazarene
Posted: 09 Jan 2018 11:50 AM PST
This week, in Manila, Philippines, hundreds of thousands of Catholic devotees took part in an annual procession lasting 22 hours, where they carry a centuries-old icon of Jesus Christ through the streets as barefoot worshipers climb over each other to kiss, touch, or rub bits of cloth on the statue. The Black Nazarene is an ebony statue of Jesus Christ brought to the Philippines in 1606, and is believed to have miraculous powers.
Posted: 09 Jan 2018 12:29 PM PST
In the spirit of Drynuary, I'd like to propose another health-oriented month of the year. Perhaps called Crunch-uary or Poop-tober, it would be 30 days in which Americans, for once, eat enough dietary fiber.
Currently, Americans only eat about 16 grams of fiber —the parts of plants that can't be digested—per day. That's way less than the 25 to 30 grams that's recommended.
There are so many reasons why, from fast-food marketing to agriculture subsidies, but one contributing factor is the slow death of cooking, and the rise of the restaurant meal. Americans now spend more on food at restaurants than they do at grocery stores, but restaurant food tends to have even less fiber than the food we would otherwise eat at home.
One problem seems to be that restaurant meals aren't typically loaded with two of the best sources of fiber, unprocessed fruits and vegetables. A revealing study from 2007, in which researchers interviewed 41 restaurant executives, showed that restaurants think fruits and vegetables are too expensive to feature prominently on the menu, and "61 percent said profits drive menu selections." They also opposed labeling certain menu items as healthier choices, saying that would be "the kiss of death."
So people like to eat out, and when they do, they prefer mushy, fiber-free comfort foods. But that's a pretty dangerous road to go down.
As my colleague Ed Yong has written, low-fiber diets make gut bacteria more homogenous, possibly for generations. Mice that are fed high-fiber diets have less-severe food allergies, potentially because gut bacteria break down fiber into short-chain fatty acids, which support the immune system. A more recent study in mice found that a low-fiber diet can spark inflammation in the intestines. We still need more studies to understand exactly how fiber and the microbiome interact in humans. But we do know that hunter-gatherer communities in Tanzania and elsewhere, who don't eat Western diets, eat about 100 grams of fiber a day and have much more diverse microbiomes than Westerners.
"We're beginning to realize that people who eat more dietary fiber are actually feeding their gut microbiome," Justin Sonnenburg, a microbiologist at Stanford University, explained to NPR.
There are also already plenty of other studies detailing the many ways fiber boosts health.
Behold, an extremely confusing flow chart, from a 2005 study, showing how fiber leads to greater satiety, less insulin secretion, and more short-chain fatty acids, which all amounts to one thing: Less body weight.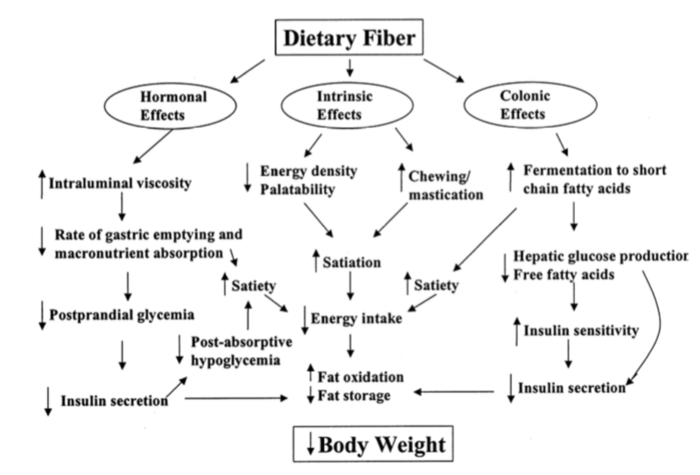 People who are obese consistently report eating less fiber than people who aren't. Even after controlling for other factors, fiber intake is inversely associated with body-mass index. Eating more fiber helps overweight people lose weight and body fat. It's been shown to reduce breast-cancer risk by reducing estrogen levels in the blood and to promote healthy aging.
"We found that those who had the highest intake of fiber or total fiber actually had an almost 80 percent greater likelihood of living a long and healthy life over a 10-year follow-up," Bamini Gopinath, from Australia's Westmead Institute, told PsychCentral. "That is, they were less likely to suffer from hypertension, diabetes, dementia, depression, and functional disability."
So, if you are the kind of person who does Drynuary—in other words, you just want to be a little bit healthier without completely revamping your entire life—just try to eat more fiber.
The best part about this health advice is that it doesn't involve eating something you don't like. Fiber is in almost every fruit, vegetable, and whole grain. You could eat more apples and celery, sure, but there's also fiber in things like corn tortillas, beans, grainy bread, and some types of breakfast cereal. A Chipotle burrito with brown rice and corn salsa will get you 22 grams of fiber, compared to just three grams in a Big Mac. (The burrito also has more than twice as many calories, though, so, you know, exercise caution as you would in all things.)
But you don't have to stop eating anything you do like: People lose about as much weight just by eating a lot of fiber as they do on complicated diets, even if they eat slightly more calories in the process.
So this coming Grain-tember, just order the peas as your side instead of the mac and cheese. Just cut a banana up over your Corn Flakes, which are surprisingly not fibrous in their own right. Just eat more fiber.
Health Care Just Became the U.S.'s Largest Employer
Posted: 09 Jan 2018 11:14 AM PST
This moment was inevitable. It just wasn't supposed to happen so soon.
Due to the inexorable aging of the country—and equally unstoppable growth in medical spending—it was long obvious that health-care jobs would slowly take up more and more of the economy. But in the last quarter, for the first time in history, health care has surpassed manufacturing and retail, the most significant job engines of the 20th century, to become the largest source of jobs in the U.S.
In 2000, there were 7 million more workers in manufacturing than in health care. At the beginning of the Great Recession, there were 2.4 million more workers in retail than health care. In 2017, health care surpassed both.
---
---
There are several drivers of the health-care jobs boom. The first is something so obvious that it might actually be underrated, since it is rarely a proper news story in its own right: Americans, as a group, are getting older.
By 2025, one-quarter of the workforce will be older than 55. That share will have doubled in just 30 years. The graying of the nation will have widespread economic and political implications, like declining productivity and electoral showdowns between a young, diverse workforce and an older, whiter retirement bloc. But the most obvious effect of an aging country is that it needs more care—and that means more workers.
Second, health care is publicly subsidized, in several ways. Most directly, the U.S. spends hundreds of billions of dollars each year on Medicare, Medicaid, and health-care benefits for government employees and veterans. More subtly, the U.S. subsidizes private insurance in several ways, including through a tax break for employers that sponsor health care. This public support makes health-care employment practically invincible, even during the worst downturns. Incredibly, health-care employment increased every month during the Great Recession.
Third, the two most destabilizing forces for labor in the last generation have been globalization and automation. Together, they have hurt manufacturing and retail by offshoring factories, replacing human arms with robotic limbs, and dooming fusty department stores. But health care is substantially resistant to both. While globalization has revolutionized supply chains and created a global market for manufacturing labor, most health care is local. A Connecticut dentist isn't selling her services to Portugal, and a physician's receptionist in Lisbon isn't directing her patient to Stamford. Health-care work has, so far, been generally resistant to automation, too. While artificial intelligence may one day take over radiology, while programmable robots replace brain surgeons, that future isn't quite here yet.
Recently, the growth in health-care employment is stemming more from administrative jobs than physician jobs. The number of non-doctor workers in the health industry has exploded in the last two decades. The majority of these jobs aren't clinical roles, like registered nurses. They are mostly administrative and management jobs, including receptionists and office clerks. It's not always clear that these workers improve health outcomes for patients. "Despite all this additional labor, the most meaningful difference in quality over the past 10 years is the recent reduction in 30-day hospital readmissions from an average of 19 percent to 17.8 percent," wrote Robert Kocher, a senior fellow at the Schaeffer Center for Health Policy and Economics at the University of Southern California.
This isn't the end of health care's run. It's just the beginning. Of the 10 jobs that the Bureau of Labor Statistics projects will see the fastest percent growth in the next decade, five are in health care and elderly assistance. The two fastest-growing occupations—personal-care aides (who perform non-medical duties for older Americans, such as bathing) and home-health aides, (who help the elderly with medical care)—are projected to account for one in every 10 new jobs in that time. The entire health-care sector is projected to account for a third of all new employment.
While this is an important moment to take stock of the rise of the care economy, labor categories like "retail" and "health care" are imperfect approximations. For example, as online shopping grows, fulfillment centers and delivery truck drivers become integral parts of the retail industry. But the government does not categorize many of these jobs as retail. But while some categories are too restrictive, perhaps others are too broad. For example, there are technically more jobs in "leisure and hospitality" than in health care. A supersector that includes restaurants, hotels, and amusement parks, leisure and hospitality has grown faster than the overall labor market every year since the turn of the century, mostly thanks to the growth in restaurant workers. But it doesn't really make sense to think of a Michelin star chef, a hotel manager, and a ticket counter at Disney World working in the same industry.
The work that seemed to define the 20th century in the American imagination included union jobs held by white men who made things. But manufacturing employment peaked in the late 1970s. Forty years later, the fastest-growing occupations—like personal care and home-health aides—are quite the opposite: poorly paid, lacking a strong union, often female, and disproportionately filled by immigrants (who account for one-third of the in-home health care workforce). The fastest growing job with higher-than-average pay in the U.S. is registered nurse. But male nurses are stigmatized. Even married women say they'd prefer their husbands find another profession. But an increase in male nurses is just the sort of development that is demographically inevitable in any health-care nation. Services are the new steel.
<em>The New York Times</em>'s Glenn Thrush Dilemma
Posted: 09 Jan 2018 02:40 PM PST
America's newspapers and magazines have doggedly covered the nation's reckoning with sexual harassment in recent months—yet there's ongoing debate about how well those newsrooms are handling their own scandals.
Dozens of reporters and editors gathered at the Newseum in Washington, D.C., on Tuesday to talk about gender inequity and sexual misconduct in American newsrooms, and the extent to which newsroom culture has lagged behind coverage.
One panel conversation turned repeatedly to the topic of Glenn Thrush, the New York Times reporter who was suspended last year after the publication of a Vox story that contained allegations of inappropriate behavior against him. (Thrush apologized in a November statement for "any situation where I behaved inappropriately," but said he recalled events differently than they were described in the Vox story.)  In December, the Times announced, after a month-long investigation, that Thrush would return to the newsroom, but would be removed from the White House beat. Speaking at the event on Tuesday, Carolyn Ryan, an assistant managing editor at the Times, described a thorough and transparent process leading to that decision—a characterization that was quickly challenged by another reporter in the room.
"I want to challenge you on the notion that you were truly transparent," said Paul Farhi, a media reporter for The Washington Post. "There is an extensive report which you have not made public. Your top management was not available for interviews. And I'd like to know why and why this is a good way to explain to the public what you're doing in the face of a harassment case."
Ryan said that the report Farhi referenced was kept confidential because it contained interviews between a Times lawyer and several employees, and those interviews were conducted with the expectation that they would not be made public. She also suggested that the union representing Thrush pushed to keep details of the investigation private. "So it's not like every last detail is going to come out, but what we have talked to people about in a lot of detail is the process," Ryan said.
"In all kinds of behavior—ethical transgressions, journalistic infractions, journalist performance—we do draw lines," Ryan later added. "And we have a responsibility to do that. The industry more broadly is having a hard time figuring out where some of those lines are."
She said that she understood that some people appreciated the "nuance" of the decision to keep Thrush on staff, while others believed it was a bad idea to let him return to the newsroom. Erring on the side of nuance made sense, she said, in a situation where Times brass knew it would be under a microscope no matter what the outcome.
"The people who worked most closely with Glenn in the bureau—men, women, young, old—were supportive of him and did believe that he could contribute and hadn't seen the kind of behavior that had been described," Ryan said. "I keep kind of dancing up to the line here, but I think this is a conversation that not only are we having more broadly at The New York Times, but that we had as we were trying to figure out the punishment."
The journalist who first reported the allegations against Thrush, Vox's Laura McGann, also addressed the room at the Newseum event. Her comments came during a discussion about dating in the workplace.
"We all sort of nodded that the place we should be thinking about is consent versus non-consent, and that's really hard to litigate," McGann said. "I just want to push ourselves on—is that what we want to be doing? That's something I've been struggling a lot with."
McGann's story about Thrush set off a robust debate among journalists—in part on the matter of whether the women featured in the article had truly consented to their sexual encounters with Thrush.
"I don't see this uprising of 22-year-old women saying, 'I want the right to sleep with my boss,'" she added. "That's not happening. So I feel like overwhelmingly the problem here is more powerful men are putting women in a bad position."
One of the women in the room who nodded in agreement with McGann was Addie Zinone, a former Today show production assistant who says she was the victim in an affair with Matt Lauer that she believed was consensual at the time—she was 24; Lauer was 43—but who later viewed their relationship as an abuse of power by Lauer.
"I was an intern-turned-PA, so that power dynamic was completely imbalanced," Zinone said. "He was always incredibly professional. He always presented himself that way. Until he didn't."
And for decades, women in newsrooms were asked or forced to keep mum about their own experiences with sexual misconduct at work. Many kept quiet. Until they didn't.
The World According to H.R. McMaster
Posted: 09 Jan 2018 01:10 PM PST
Why is H.R. McMaster so alarmed by North Korea? Why does Donald Trump's national-security adviser insist—more vigorously than any administration official except the president himself—that Kim Jong Un must be denied the capability to place a nuclear warhead on a missile that can reach the United States, even if this requires initiating a military conflict with the North that could devolve into a cataclysmic war?
While Secretary of State Rex Tillerson and Secretary of Defense James Mattis are focused on diplomatic efforts to curb North Korea's nuclear program, McMaster "is arguing more vocally, publicly and privately, that military options need to be considered," The Wall Street Journal noted on Tuesday. The Trump administration, it reported, is debating whether to give Kim a "bloody nose" by conducting limited strikes against North Korean targets in retaliation for further nuclear or missile tests.
A legendary tank commander during the Gulf War and one of the on-the-ground architects of U.S. counterinsurgency strategy in the second Iraq War, McMaster burnished a reputation as one of the Army's leading thinkers about the future of war. He wrote a dissertation on the mistakes of military and political leaders during the Vietnam War and frequently warns that today's world resembles the world on the precipice of World War I. And, to one former collaborator, something seems very off about McMaster's talk of potential war with North Korea. "I find it absolutely inexplicable—not in keeping with the man I know, with his writing, with his thinking, with the sense of responsibility he feels for preserving peace and security and innocent life," said John Nagl, a retired lieutenant colonel who worked with McMaster on the U.S. Army's Counterinsurgency Field Manual during the Iraq War.
As McMaster tells it, traditional deterrence (if you strike us, we'll strike you), which helped dissuade the Soviet Union from firing nuclear weapons at the United States during the Cold War, may not work with a government as brutal as Kim Jong Un's. If the world's most despicable regime isn't prevented from acquiring the world's most destructive arms, what's keeping other nations from racing to build their own nuclear arsenals? North Korea, which has exported missiles and nuclear-related materials to countries such as Iran and Syria, could sell nuclear weapons to America's enemies, he warns. And a nuclear North Korea could blackmail U.S. leaders by, for example, threatening to incinerate Los Angeles unless America withdraws support for its ally South Korea, exposing the South to invasion by the North.
In brief, North Korea's development of a long-range nuclear capability "would be the most destabilizing development ... in the post-World War II period," McMaster says. (Bill Rapp, a Harvard lecturer and retired major general who studied and worked alongside McMaster for more than three decades at West Point and in Iraq and Afghanistan, told me that McMaster views his role in the administration as overseeing a "disciplined process" for presidential decision-making, not as being an "independent voice for policy." McMaster's office did not respond to interview requests for this article.)
According to Nagl and many other international-affairs scholars, however, the principles of deterrence can work just as well against a nuclear-armed North Korea as they have against the far more formidable nuclear powers of Russia and China. "The only thing I can imagine is that somehow [the Trump administration has] a different picture of Kim Jong Un's regime, of the pressures it's under, of its desire to go out with a bang," Nagl told me. "But I can see no evidence to support that. ... I see North Korea pursuing a defensive mechanism to preserve [its] regime."
So why does McMaster seem to feel differently? There are clues in two texts he's referenced repeatedly—The Unquiet Frontier, a 2016 book by the scholars Jakub Grygiel and Wess Mitchell, and "The Rhyme of History," a 2013 essay by the historian Margaret MacMillan. Both paint a dire picture of the world—and America's role in it.
* * *
The Unquiet Frontier, which McMaster reviewed favorably and whose authors now serve in Trump's State Department, asserts that U.S. rivals are "probing" for weakness at the edges of American power. "The Rhyme of History" argues that today's technological and geopolitical upheaval resembles that which preceded World War I. What binds them together is a world-historical assessment that the post-World War II international system is in flux, that immutable realities of geography and great-power competition are reasserting themselves after an exceptional era of harmony in the 1990s, and that the United States would be wise to leap into the breach to defend its interests and allies against states bent on challenging the status quo. As McMaster noted in a recent speech in Washington, D.C., "Geopolitics are back ... with a vengeance, after this holiday from history we took in the so-called post-Cold War period."
In this reckoning of what the 21st century has in store, deterrence is less straightforward than it once was, which helps clarify McMaster's concerns about protecting Americans from a nuclear-armed North Korea. U.S. allies and adversaries around the world are watching to see whether the United States passes or fails the test of wills on the Korean peninsula, which helps account for McMaster's worries about sparking a nuclear-arms race and losing America's alliance with South Korea and foothold in East Asia. And the very international system that the United States remade in its image 70 years ago is under severe strain, which helps explain why McMaster has set the stakes for the North Korean nuclear crisis so high.
"It's almost impossible to overstate the threat from a nuclear-armed North Korea," McMaster declared at the Virginia Military Institute just days before Trump won the White House, well before he had reason to believe he would be serving as national-security adviser to a president pledging to meet the North Korean threat with "fire and fury" if necessary.
Grygiel and Mitchell describe a world in which rivals are testing U.S. commitments in historical "hingepoints" from Central Europe to East Asia—from Russia's invasion of Ukraine to China's island-building in the South China Sea. Grygiel and Mitchell don't focus on North Korea. But in a 2011 article for The American Interest, as an example of what these often-subtle trials look like, they cited China's resistance to cracking down on its North Korean ally: "a kind of 'probing by proxy' not unlike Russia's use of its Balkan allies to probe the balance of power in the region in the first decade of the 20th century," prior to World War I.
The United States doesn't need to respond aggressively to every probe, Grygiel and Mitchell argue, but it must "drive up the costs of revisionism" where its interests and values are most threatened. They call for reassuring "frontline" allies with U.S. weapons and an enhanced U.S. military presence. Grygiel and Mitchell refer to this as deterrence "by denial" (making it more difficult for the revisionist to achieve its military objectives in the potential conflict zone), which they distinguish from traditional deterrence "by punishment" (threatening to retaliate against the revisionist if it attacks the United States or U.S. allies). The latter approach, according to Grygiel and Mitchell, has been degraded as America's commitment to its allies has come under question and as revisionist states have come to favor limited, ambiguous acts of aggression that don't rise to the level of an outright attack and trigger punishment. Today's revisionist powers are "salami-slicers" when it comes to U.S. deterrence, they write, and the United States must inflict "visible" and "proportionate" pain on the aggressor when the salami gets sliced.
The consequences of failing to sufficiently counter these probes are spelled out in stark terms. "Not since the 1930s has the world witnessed the emergence of multiple large, predatory states determined to revise the global order to their advantage—if necessary by force," Grygiel and Mitchell write. "At a minimum, the United States in coming years could face the pressure of managing several deteriorating regional security spirals; at a maximum, it could be confronted with a Great Power war against one, and possibly two or even three, nuclear-armed peer competitors."
* * *
MacMillan focuses on a different period, the lead-up to World War I, to illustrate a similar point about the dangers of the present moment. Now, as then, the "guarantor of international stability"—Britain in the early 20th century, the U.S. in the early 21st—seems less willing and able to carry out its duties. Now, as then, hostilities between "lesser powers" threaten to draw their great-power patrons into direct conflict. Now, as then, people have misplaced faith in the notion that "large-scale, all-out war" is a thing of the past. Now, as then, arms buildups are mistaken as developments that will promote peace rather than the reverse. MacMillan wonders whether the deterrence that succeeded when the United States and Soviet Union had a near-monopoly on the world's nuclear weapons can still function in a world in which nine countries possess nuclear arsenals, including North Korea.
"It's more complicated perhaps than it was in 1914 because that was pretty much all about rivalry between powers whereas now we do have that, but we also have these very confusing wars with shifting sides," MacMillan told me, likening modern conflicts in Afghanistan, Iraq, and Syria to the Thirty Years' War. "We've got a combination of pre-1914 and 1618 to 1648."
McMaster has often echoed these themes. In a speech previewing the Trump administration's new National Security Strategy, he compared contemporary "threats to liberty and freedom" from terrorist groups, the "revisionist powers" of China and Russia, and the "rogue regimes" of Iran and North Korea to the threats that the United States and its allies previously faced from "fascism, imperialism, and communist totalitarianism." Britain, he noted, was "the guarantor of European security in a way that is somewhat analogous to the United States' role today in coping with revisionist powers on the Eurasian mainland who are challenging our influence at the far reaches of our power—along what Jakub Grygiel and Wess Mitchell have called 'the unquiet frontier.'"
"I do believe, geopolitically, that this period of time is analogous to 1914," McMaster observed in his 2016 address at the Virginia Military Institute, before urging the audience to read MacMillan and Grygiel and Mitchell. Traditional deterrence doesn't work as well as it used to since China, Iran, North Korea, and Iran "often act below the threshold that would elicit a concerted response from [the United States] and our allies," he added. "These hostile actors do not operate in isolation from one another. They watch and assess American actions and responses across the globe. They calibrate their actions."
McMaster's spirited defense of the U.S.-led international system seems at odds with Trump's challenges to that system. A man who has credited the post-World War II order with averting great-power conflict for seven decades works just paces away in the West Wing from a boss who has reportedly concluded that the postwar order is "not working at all." But each advocates the rugged pursuit of U.S. interests in a rough-and-tumble world—which, judging by their rhetoric on North Korea, apparently means seriously considering the use of force as a last resort.
* * *
What's most striking about McMaster's position on North Korea is that he has repeatedly dangled the possibility of preventive military action against the North despite his acute awareness of how unpredictable and potentially all-consuming such a conflict could be. Even if the United States initially carries out a limited "bloody nose" strike—designed not to eliminate the North Korean nuclear program, but to signal that the United States is serious about rolling back the program—the mission might spiral into an all-out war against the Kim regime that experts estimate could involve weapons of mass destruction and leave thousands, even millions, dead.
McMaster has argued in the past that no matter how much precise, high-tech weaponry and remote naval and air power a country has, there are certain conflicts where low-cost, lightning-fast victories are an illusion and where there is no substitute for land forces. "Hard fighting in complex terrain will be needed to prevail" in a conflict on the Korean peninsula, he wrote in a 2005 article for Joint Force Quarterly.
"In the aftermath of Desert Storm, before Iraq really went to hell, H.R. was one of the people … saying that the world cannot be solved with airstrikes," said Nagl.  "You can achieve short-term temporal effects from a distance," Rapp added. "But you may not achieve the long-term effects that you were hoping to achieve."
McMaster has also characterized war as inherently human and uncertain—"interaction between opposing wills that, when combined with violence, chance, and emotion, make the future course of events impossible to predict," as he put it at the Virginia Military Institute. "War is very contingent, it's very non-linear, it takes weird turns that you weren't expecting because you're up against a thinking adversary," Rapp explained.
The North Korean nuclear program presents the Trump administration with "a fearful dilemma," MacMillan observed: "Can [the U.S. government] take the risk that this crazy little power will get the capacity to deliver nuclear weapons to the United States, which it seems to be close to getting? But on the other hand how does it stop it? A land war?"
"The trouble with North Korea is we're dealing in the dark," she continued. "At least in 1914 [the countries involved] knew something about each other. All the major belligerents had ambassadors in each other's capitals before the war broke out." The hazards lie in "the decisions people make assuming the other side is going to behave in a certain way. The Germans and the Austro-Hungarians kept on saying to themselves, 'Russia will back down. It's backed down before. They're just bluffing.' And this time the Russians weren't bluffing."
Which is why it's puzzling that McMaster nevertheless appears willing to take that risk when it comes to Kim Jong Un. "A man who understands the dynamics that led to the First World War as well as H.R. does should be even more cautious about the idea of preventive war with the North Korean regime," Nagl said. "Because you don't know what's going to happen when you put that kind of energy into the system. … We give North Korea a 'bloody nose.' They respond with a conventional artillery strike on [the South Korean capital of] Seoul. We go nuclear. China mobilizes [to prevent the Kim regime's fall]. … There is every prospect of a 'bloody nose' for North Korea ending in global war between China and the United States."
McMaster's position would make more sense if the Trump administration's bellicose rhetoric is a big bluff—an attempt to pressure China into isolating North Korea and the North into making concessions—which is certainly possible, Nagl noted. But he added that, in his experience, McMaster isn't a bluffer: "What H.R. says you can take to the bank."
You May Already Be Immune to CRISPR
Posted: 09 Jan 2018 10:39 AM PST
2018 is supposed to be the year of CRISPR in humans. The first U.S. and European clinical trials that test the gene-editing tool's ability to treat diseases—such as sickle-cell anemia, beta thalassemia, and a type of inherited blindness—are slated to begin this year.
But the year has begun on a cautionary note. On Friday, Stanford researchers posted a preprint (which has not been peer reviewed) to the website biorXiv highlighting a potential obstacle to using CRISPR in humans: Many of us may already be immune to it. That's because CRISPR actually comes from bacteria that often live on or infect humans, and we have built up immunity to the proteins from these bacteria over our lives.
It's the first time this concern has been aired so publicly, and the preprint kicked off something of a firestorm. "We had no anticipation it would be picked up so broadly on social media. I don't even have a Twitter account. I just heard this from others," says Matthew Porteus, a pediatrician and stem-cell researcher at Stanford who led the study and is working on a clinical trial for sickle-cell anemia.
Not all CRISPR therapies in humans will be doomed. "We don't think this is the end of the story. This is the start of the story," says Porteus. There are likely ways around the problem of immunity to CRISPR proteins, and many of the early clinical trials appear to be designed around this problem.
Porteus and his colleagues focused on two versions of Cas9, the bacterial protein mostly commonly used in CRISPR gene editing. One comes from Staphylococcus aureus, which often harmlessly lives on skin but can sometimes causes staph infections, and another from Streptococcus pyogenes, which causes strep throat but can also become "flesh-eating bacteria" when it spreads to other parts of the body. So yeah, you want your immune system to be on guard against these bacteria.
The human immune system has a couple different ways of recognizing foreign proteins, and the team tested for both. First, they looked to see if people have molecules in their blood called antibodies that can specifically bind to Cas9. Among 34 people they tested, 79 percent had antibodies against the staph Cas9 and 65 percent against the strep Cas9.
Then, they looked to see if a particular type of immune cells called T cells can recognize the Cas9 proteins. This time they studied T cells from 13 healthy adults. Six of them—or 46 percent—reacted to the staph Cas9. None of them did against the strep Cas9.
The Stanford team only tested for preexisting immunity against Cas9, but anytime you inject a large bacterial protein into the human body, it can provoke an immune response. After all, that's how the immune system learns to fight off bacteria it's never seen before. (Preexisting immunity can make the response faster and more robust, though.)
In statements to The Atlantic, three of the leading companies in CRISPR human therapy—Editas Medicine, CRISPR Therapeutics, and Intellia Therapeutics—all downplayed the new findings, citing various ways their therapies could around the immune system. (Porteus is a scientific founder of CRISPR Therapeutics, though this study was performed independently.) A September 2017 presentation from a scientist at Editas Medicine also detailed some of the ways to test for immune reactions to CRISPR, anticipating a potential problem.
Here are some possible strategies to get around the immune system that are being discussed and tested:
Only use CRISPR outside of the body: Instead of delivering CRISPR/Cas9 into the body, you take cells out of the body, use CRISPR to edit their genes in a lab, and return Cas9-free cells. This is the strategy pursued by CRISPR Therapeutics for the inherited blood disorder thalassemia and in various trials using CRISPR to modify immune cells to attack cancer.
Only use CRISPR in places the immune system cannot reach: Some sites of the body are immunoprivileged, meaning the immune system can't really attack invaders there. The eye, which Editas Medicine is targeting for inherited blindness, is one of those sites.
Modify Cas9 or use a different CRISPR protein altogether: It may be possible to redesign Cas9 to hide it from the immune system or to find other bacterial proteins that can do the job of Cas9 without provoking the immune response. Many different bacteria have CRISPR systems. "We already have lots of Cas enzymes and could get many more," George Church, a geneticist at Harvard and a founding scientific advisor of Editas, wrote in an email.
Express Cas9 only transiently:  Once Cas9 has made its edit, it doesn't need to stick around. A spokesperson for Intellia noted that it's still unclear how the immune system responds to continuous versus transient expression of Cas9. The company says its lipid-nanoparticle delivery system can get cells to make Cas9 only transiently, but enough for the editing to happen in rodents and non-human primates.
The one type of therapy where immune response may be most dangerous and unavoidable is when Cas9 is produced for a prolonged period of time in a non-immunoprivileged site. In the liver, for instance, the immune system could end up attacking the Cas9-making liver cells.
The danger of the immune system turning on a patient's body hangs over a lot of research into correcting genes. In the late 1990s and 2000s, research into gene therapy was derailed by the death of 18-year-old Jesse Gelsinger, who died from an immune reaction to the virus used to deliver the corrected gene. This is the worst-case scenario that the CRISPR world hopes to avoid.
What Happened With SpaceX's Top-Secret Government Mission?
Posted: 09 Jan 2018 09:51 AM PST
The long-awaited maiden flight of SpaceX's heavy-lift rocket is almost here. Elon Musk's company has spent the last few weeks prepping the Falcon Heavy at Cape Canaveral in Florida, teasing photos of the rocket standing tall on the launchpad, the culmination of years of planning and anticipation.
So why are people still talking about a SpaceX launch from two days ago?
On Sunday night, SpaceX launched a top-secret U.S. government satellite into low-Earth orbit, known by the code name Zuma, from the same site in Florida. The company live-streamed the event, but cut the feed early to preserve the secret nature of the mission. The first stage of the Falcon 9 rocket successfully returned to Earth. Northrop Grumman, the defense company that manufactured the satellite, stayed silent, which isn't surprising, since the mission is classified. SpaceX shared some photos of the launch on social media, which led people to assume it had been a success.
But then, on Monday night, reports started circulating that something had gone wrong. Peter B. de Selding, an editor at SpaceIntelReport.com, citing sources, tweeted the Zuma satellite "may be dead in orbit after separation" from the upper stage of the Falcon 9 rocket that lofted it deeper into orbit. Stories from Ars Technica, The Wall Street Journal, and Bloomberg have since reported similar information, all citing unnamed sources. The Journal and Bloomberg report Zuma is believed to have fallen back into the atmosphere after failing to separate from the second-stage.
SpaceX said Monday that everything went well on their end. "We do not comment on missions of this nature, but as of right now reviews of the data indicate Falcon 9 performed nominally," a spokesperson said in a statement to The Atlantic and others. Northrop Grumman said only that "we cannot comment on classified missions."
It's important to note that so far, all news reports attribute information about a loss to anonymous sources. Without an official explanation from Northrop Grumman, the fate of the satellite will remain unknown. But the reporting, combined with thin, initial statements from both SpaceX and Northrop Grumman, did little to quell speculation.
Perhaps that's why SpaceX released a longer statement Tuesday morning, attributed to Gwynne Shotwell, the company's president and COO. "For clarity: after review of all data to date, Falcon 9 did everything correctly on Sunday night. If we or others find otherwise based on further review, we will report it immediately," Shotwell said. "Information published that is contrary to this statement is categorically false. Due to the classified nature of the payload, no further comment is possible."
It could very well be that the Falcon 9 behaved perfectly, but the payload still failed to separate from the rocket's upper stage. According to Robin Seemangal at Wired, Northrop Grumman provided the adapter that attached Zuma to the Falcon 9. A problem with that technology would fall on Northrop Grumman, not SpaceX.
A spokesperson Northrop Grumman declined to provide an updated comment on Tuesday.
Very little is known about the Zuma satellite. Northrop Grumman has said the U.S. government hired it to launch the payload, but it's not known which agency is responsible for its operations.
Zuma marked the third launch of nationals-security payloads for SpaceX. The company launched a satellite for the National Reconnaissance Office last May and the Air Force's secretive X-37B space plane in September.  
Shotwell said the Zuma launch will not affect SpaceX's launch schedule in the coming weeks. Even as parts of the community remain distracted by the fate of the Zuma satellite, SpaceX appears to be moving full steam ahead with preparations for the Falcon Heavy. The rocket has been rolled out to the launchpad for a test-fire of its engines on Wednesday, a crucial milestone before launch. If that goes well, SpaceX will set a target date for the maiden launch. Unlike the Zuma launch, the public will be able to follow the trajectory of the Heavy—whether it coasts seamlessly into orbit or goes up in flames.
Americans Can't Afford to Grow Used to This
Posted: 09 Jan 2018 09:53 AM PST
We're nearly a full year into the Trump presidency. Steve Bannon has been removed from the NSC Principals' committee, and then purged from the Trump circle. Stocks are up, taxes are down—at least for most people, at least for now. The ATMs continue to dispense cash; there has been no nuclear war. Factor in that a complete interloper, an unreliable rule-breaker, has just vaulted into spectacular prominence with a mega-selling new book crammed with salacious warnings that the president is succumbing to the first stages of dementia.
All in all, it's the perfect time for a round of thoughtful conservative punditry boldly to challenge conventional wisdom and proclaim that the Trump presidency, like the old joke about Wagner's music, isn't nearly as bad as it sounds.
The reversal of the conventional wisdom would be welcome to many news consumers. It's fatiguing and upsetting to be told every day that something has gone dangerously and importantly wrong with the government of the United States. And after all, people have business to do with the administration: bills they want signed; regulations they want relaxed. Other people work for that administration. Nobody wants to be made to feel like an enabler or collaborator for shrugging off a few irregularities and getting on with his or her work. And isn't that work the real story—much bigger and more important than the president mumbling the words of the national anthem at a football game?
If abnormality continues long enough, it becomes normal. Chronic illness; a barrier that closes a once-open border; the death of a loved one: There is nothing that cannot lose its power to surprise and shock. The phrase "President Trump" once supplied a joke to The Simpsons. By now, we have all got used to hearing and saying it. It is our reality.
We have gotten used as well to the publicly visible consequences of that reality: the lying, the bullying, the boasting. It seems useless to keep complaining, and so by and large the formerly unacceptable has been accepted. Trump's "very stable genius" remark got traction because it was so much more extreme than usual; his usual stream of thoughts, any of which would have generated headlines coming from previous presidents, now largely pass unnoticed. We have gotten used, too, to a routine level of disregard for the appearance of corruption: the payments from lobbyists and foreign hotels to Trump-branded properties; the flow of payments to the presidential family from partners in Turkey, the Philippines, India, and the United Arab Emirates; the nondisclosure of the president's tax returns.
We have gotten used to the president's party in Congress sabotaging and discrediting the investigation into foreign manipulation of the U.S. presidential election. We have gotten used to the dwindling of the State Department, the paralysis of the National Security Council, and presidential attacks on the independence of prosecutors, the FBI, and the Department of Justice. We have gotten used to the party of the president pushing through vastly significant laws without hearings and even without accurate estimates of their costs and consequences. We are becoming used to state parties rewriting local election laws explicitly to impede voting by people who might vote against them.
When we worry about democratic decline in the United States, it's important to be clear what we are worrying about: corrosion, not crisis. In a crisis, of course we'll all be heroes—or so we assure ourselves. But in the muddy complexity of the slow misappropriation of the state for self-interested purposes, occasions for heroism do not present themselves. On the contrary, the rhetoric of "resistance" comes to seem disproportionate, strident, cranky. Most things continue to operate more or less as they used to do. When the administration seeks to do something improper, oftentimes it is prevented—by the bureaucracy, by the courts, by the administration's own bottomless inefficiency and distractedness. And if a few things get through, or more than a few—we can tell ourselves that soon enough things will return to normal. The adults who are failing to discipline Trump in the here and now can surely be trusted to clean up after him in the by-and-by.
Yet the unacceptable does not become more acceptable if it is accepted by increments. If you flow with the current, you'll be surprised where you end up. "The reasonable man adapts himself to the world," George Bernard Shaw observed a century ago. The saying is true, but it was not meant as a compliment.  It will take a strong dose of unreasonableness to save the country from the destination to which it is tending.  
America's Rural Hospitals Are Dangerously Fragile
Posted: 09 Jan 2018 10:32 AM PST
This is the story of a small-town, publicly-owned hospital that, after thriving for decades, is struggling and now in all likelihood about to be appended to a large regional health-care system. The tale of Berger Municipal Hospital is, like that of many sectors of the American economy, one defined by industrial consolidation and the costs that come with it. The story begins in 1929. That year, the city fathers of Circleville, Ohio, in the south-central part of the state, dedicated the town's new hospital, funded partly with money willed by a local patron named Franklin Berger.
The hospital opened at a time when other small towns had been building them, too. Turn-of-the-century medical breakthroughs such as disinfectants, sanitary surgery, and new technology like X-ray machines (invented in 1895) helped transform hospitals from last-resort warehouses for the sick poor (the rich were usually treated at home by private doctors) into places where all members of a community would go to receive care. Mothers began to deliver babies in hospitals instead of at home, and birthing (and, in more recent years, prenatal care) became big business for community hospitals. Not only would Berger help improve the health of Circleville residents, but it was expected to be a sign of modern welfare that would attract business executives and workers. As was typical, Berger was owned and operated by the city, and then, a generation later, jointly by both the city and surrounding Pickaway County.
Last November, however, Circleville's voters chose another direction, one that, in other places, has resulted in an economic hit to the community—mostly in the form of job losses and stagnant wages—as well as a lowered quality of care. At the urging of city and county leaders, and Berger's administrators, residents voted to allow local politicians and the hospital's board to begin a process to turn Berger, one of the last publicly owned and operated hospitals in the state, into a nonprofit private corporation. Following that, Berger would most likely be integrated into a larger regional system, probably the Columbus-based nonprofit Ohio Health, with which Berger has an ongoing relationship. The hospital and the local leaders campaigned hard for that approval, but not because it was the ideal future they envisioned. They feared that Berger wouldn't survive any other way.
Hospitals have been struggling—especially independent public and/or nonprofit hospitals located in smaller cities and rural towns. Last year, for example, the National Rural Health Association, a nonprofit, estimated that 673 rural facilities (with a variety of ownership structures) were at risk of closure, out of over 2,000. And with the new tax legislation, and events like the merger of the drugstore chain CVS and the insurer Aetna, the turmoil looks to get worse. In response, stand-alone nonprofit hospitals have been auctioning off their real estate to investors, selling themselves to for-profit chains or private-equity firms, or, like Berger, folding themselves into regional health systems.
The implications of those moves can be profound, as consolidation can hurt hospitals and the smaller cities and towns they're located in. Not only are community hospitals vital to many places' social fabric and image of themselves, but they are often the largest local employers now that manufacturing jobs have faded. "When I started here in 1999, we were coming off losing multiple thousands of jobs to globalization," Tim Colburn, Berger's CEO, says. Berger is now the biggest employer in Circleville, generating an estimated $50 million a year of economic activity in the area, including wages, the purchase of goods and supplies for the hospital, and follow-on spending, such as when hospital visitors eat in local cafes.
Fairfield Medical Center (an independent nonprofit hospital) in nearby Lancaster, Ohio, is the largest employer there. Bryan Hospital (also an independent nonprofit) is the largest employer in Bryan, Ohio, in the northwest corner of the state. The same is true of hospitals in many communities across the country: Health care in the U.S. accounted for $3.2 trillion in spending (about $9,900 per person) and 17.8 percent of GDP. Whereas a good local hospital was once seen as a way to attract employers, such hospitals have now become the primary employers. "And I don't say that with any pride," says Phil Ennen, the president and CEO of Community Hospitals and Wellness Centers, which includes Bryan.
Small nonprofit or city-owned hospitals seem like public assets, like roads or a sewer system. But they've always been hybrids—part social-welfare organization, part business. "It is that contradiction, that health care is both a public service and a private profit center, that our system has never resolved," Beatrix Hoffman, a historian at Northern Illinois University and the author of Healthcare for Some: Rights and Rationing in the United States Since 1930, explains. "We've never had that moment every other country has had when they decided to have universal care. We haven't, and so we have this contradiction continue."
"Hospitals walk this fine line," adds Nancy Tomes, a historian at Stony Brook University and the author of Remaking the American Patient: How Madison Avenue and Modern Medicine Turned Patients Into Consumers. "The nonprofits have to look like they're a benevolent public trust, and yet, on the other hand, they have to behave like a local car dealership," promoting their brands so they can make money. That balance is becoming  difficult to sustain as for-profit hospitals attract well-to-do (or well-insured) patients who can pay for expensive procedures, Tomes says—"Give me those cardiac bypasses!," she jokes, is the cry of the for-profits. The nonprofits then feel pressure to keep up so they don't lose their market.
Hospitals like Berger need to make a margin—a little profit—so they can plow cash back into facilities, increase wages, and hire new employees. Four percent is considered a healthy margin. Three percent is fine. Ennen, a former chairman of the board of the Ohio Hospital Association, the trade group for government-owned, for-profit, and nonprofit facilities in the state, estimates that only about one-third of Ohio hospitals are comfortably in the black. Another third have margins of less than 2 percent, and the remaining third are losing money. Berger makes about 1 percent. The same goes for Bryan. Last August, the credit-rating agency Moody's downgraded the Lancaster hospital's $92.8 million in outstanding bonds—meaning analysts thought the hospital was at greater risk of not being able to pay its debts. Moody's cited operating losses for the first six months of the 2017 fiscal year and "expectations that performance will remain modest."
One reason why performance may remain "modest" is that such hospitals, like many others in the U.S., live off of government payouts. The United States relies on a two-track system to pay for medical care: private and employer-subsidized health insurance, and federal and state health-insurance programs like Medicaid (the federal health-insurance program for low-income people) and Medicare (which covers Americans over 65). (Military veterans have the additional option of the Veterans Health Administration system.) As of 2015, Medicaid and Medicare accounted for 40 percent of personal health-care purchases, private insurance 35 percent. And since rural residents account for an outsized portion of Medicare expenditures, it's no surprise that roughly two-thirds of the revenue for all three of these Ohio hospitals come from Medicaid and Medicare. "I live in a conservative community, and I tell them, 'If you're opposed to socialized medicine, you are way too late,'" Ennen says, referring to how much public money hospitals already receive. "That horse left the barn a long time ago."
Ohio's governor, John Kasich, unlike some other Republican governors, forced a reluctant legislature to adopt Medicaid expansion as provided for under the Affordable Care Act (ACA). In 2008, 36.1 percent of Ohio residents ages 19 to 64 who lived at or below 138 percent of the federal poverty line had no health insurance. After expansion, that percentage fell to 14.1 percent. No wonder Ennen calls expansion a "godsend": As more people gained health insurance, the hospital swallowed fewer unpaid bills, and more people were able to use the facility in the first place. Small-town and rural hospitals are also supported by Medicare "extenders"—extra payments designed to help them survive. There's a low-patient-volume extender, for instance, a rural-ambulance-service extender, a Medicare-dependent-hospitals extender. The payments that flow from the Children's Health Insurance Program (CHIP) are another important source of revenue.
The new Republican tax legislation threatens all these. The tax cuts eliminate the ACA's individual mandate. Healthy younger people may drop insurance, helping to drive premiums for everybody else skyward. Then, even those who want insurance may be forced out of it if they can no longer afford it. After the ACA was passed in 2010, some employees, like those who did not work enough hours to qualify for ACA-mandated employer-provided insurance, shifted onto newly expanded Medicaid. But both Medicaid and Medicare face big cuts under the new law, with possibly more to come. "I said to the Republican House delegation [from my area], 'You think these people can get off Medicaid, find jobs, and won't need to be on Medicaid anymore?'" Ennen recalls. "I do not disagree there are jobs out there for able-bodied people, but there's no health care tied to those jobs anymore. You're asking people to take jobs and lose health-care coverage." And even if they are covered with a new job, Ennen argues, often the employee's share of the payment can be far too expensive. So they'll do without, and not use his hospital, or use it even if they're unable to pay the bill.
In a last-minute deal, Congress extended the funding for CHIP through March, easing the immediate concern of a cash crisis, but doing nothing to end the uncertainty. (And there are concerns that funds might run out sooner than that.) If CHIP and the extenders were to go away, Ennen says, that could mean a $2.3 million yearly loss to Bryan Hospital. "I have spent the past 96 hours trying to make people in D.C. realize they are about to do something that will really hurt," Ennen told me when we spoke as the final bill was being hashed out in the House and Senate.
Consolidation, naturally, is sweeping the industry partly as a defense against this turmoil and partly as a way for hospitals to gain some negotiating power. According to the economist Martin Gaynor of Carnegie Mellon University, there were 1,412 hospital mergers between 1998 and 2015, and 561 in just the five years from 2010 to 2015.
Health-care consolidation in general worries Ennen as his hospital becomes an ever smaller fish in a pond filled with whales. "The more health care moves towards consolidation and the corporate world—well, Aetna sends letters out telling us what they will do with zero input from us," Ennen says. "CVS will continue that. It's hard for me to figure out how to have a conversation with CVS or Aetna. I feel less empowered today than I did yesterday." Ennen doesn't know how exactly the CVS-Aetna merger will affect his facility, and Troyen Brennan, the chief medical officer for CVS Health, says Ennen shouldn't worry that the merger will change Aetna's position in the insurance marketplace vis-a-vis hospitals. Aetna, Brennan argues, won't have any more market power than it did before. But the merger is symbolic of what Ennen fears will be a health-care oligopoly that leaves his own hospital with less control over its own fate.   
Given this landscape, it's no wonder Circleville's hospital chose to join a larger health group. Colburn, Berger's CEO, believes that's the only way to maintain a local hospital that can serve local needs. While a deal hasn't yet been worked out, Berger will likely be leased to Ohio Health. Ohio Health's payment of the lease will take the form of investments in facilities, new specialists, and training and education for staff. That way, at least Berger could remain somewhat autonomous and local.
Other hospitals, including some in big cities, have chosen different paths when they've faced some of the same pressures. Some have used sale-leasebacks to real-estate investment trusts (REITs). In a sale-leaseback, a hospital sells its facilities, and then leases back those same facilities from the REIT. Such a deal can yield a lot of cash, but, according to Eileen Applebaum, a senior economist at the left-leaning Center for Economic Policy and Research, "The rent payments reduce the operating surplus of the hospitals, many of which already faced challenging economic circumstances."
Some hospitals have been bought in leveraged buyouts by private-equity shops. For example, in 2008, Capella Healthcare, a chain of hospitals owned by the private-equity firm GTCR LLC, leased the city-owned hospital in Muskogee, Oklahoma. It subsequently executed a deal with a second facility, Muskogee Community Hospital, in which its lease payments are put toward eventual ownership of the hospital. The hospitals changed hands again when a REIT, Medical Properties Trust, purchased Cappella for $900 million. In April of last year the hospitals were flipped a third time when RegionalCare Hospital Partners, a chain owned by the private-equity giant Apollo Group absorbed Capella in a $650 million deal.
This merging, semi-merging, and buying out is of a piece with what's been happening to airlines (Delta-Northwest and United-Continental), silicon chips (Broadcom–Qualcomm–NXP), and telecommunications (AT&T–Time Warner). Hospitals, however, are different. Consumers don't usually pay directly for most of the expense—insurance companies or governments do. And while the same kinds of cost-saving plays—"synergies"—used in other consolidating industries can be run with hospitals, such maneuvers can benefit investors far more than the commonweal.
Increasing industrial concentration can work to the detriment of hospital workers, patients, and communities. Workers' wages have stagnated or fallen as more hospitals have been taken over. As Ennen points out, any acquirer of Bryan Hospital would likely outsource jobs like food service and janitorial to contractors as a way to lower expenses and boost margins. Billing would be sent to some corporate headquarters far away. Agency nurses could pick up more hours from full-time nurses.
Also, property could be "monetized." That's exactly what Cerberus Capital Management did when it bought a small chain of community hospitals in the Boston area called Caritas. Cerberus, founded by Stephen Feinberg, an advisor to Donald Trump, created Steward Healthcare System in 2009 to buy Caritas and then squeezed cash out of Caritas's assets through sale-leasebacks and other financial engineering, according to a report by Eileen Applebaum.
Exactly what all these maneuvers did for Steward's balance sheet is still a little murky, and it did not respond to a request to answer questions. (The company is currently in a feud with the state of Massachusetts for not releasing financial information as required.) But it's clear that investors in for-profit hospitals are finding it difficult to make money, especially when the hospitals are strapped with debt from executing financial moves such as issuing high-interest junk bonds and then using that pricey debt to buy facilities. Even big operators like Tenet Healthcare and Community Health Systems have struggled.
Consolidation can drive costs up and quality of care down. Carnegie Mellon's Gaynor says costs can rise 20, 30, sometimes 50 percent after consolidation. "If the reason for your merger is to enhance your leverage with insurers, you're not focused on doing better," Gaynor says. "So guess what? You don't."
A 1999 study by Daniel Kessler and Mark McClellan found that "treatment of [heart-attack] patients in the least-competitive areas became significantly more costly than treatment of [heart-attack patients] in competitive areas." More competition, they found, "had the potential to improve [heart-attack] mortality by 4.4 percent." When Gaynor and his colleagues studied hospitals in Britain's National Health Service after a series of 2006 reforms introduced more competition, they found that the more concentrated the market, the poorer the quality of care.
But the deepest scars of consolidation can be in the communities that have long hosted independent hospitals. If one closes, for example, babies are no longer born in town, and mothers may have to drive longer distances for prenatal care. And when a hospital becomes the largest employer in a town, it takes on the civic burdens that may have once been borne by a large business. Ennen's board, he says, feels a deep commitment to buck the trend and remain independent. He says the board tells him, "Employ as many as you reasonably can. Let's churn the economy for the community we serve." And so he does. He's just not sure how long he can keep doing it.
Posted: 09 Jan 2018 08:54 AM PST
One of the Trump administration's most ambitious plans to buoy the struggling coal and nuclear power industries has been shot down.
The Federal Energy Regulatory Commission unanimously rejected a proposal to subsidize coal-burning and nuclear power plants on Monday. Its defeat hands a victory to the motley coalition—of environmental groups, natural-gas companies, free-market advocates, and Democratic state attorneys general—who had opposed the rule and promised to fight it in court.
The 5-0 rejection was all the bitterer for the administration because four of the five commissioners who lead the agency were appointed by President Trump, and three are Republicans.
As proposed, the rule aimed to improve the resilience and stability of the electrical grid. Citing some electricity problems that struck during the "polar vortex"-induced cold snap of 2014, Secretary of Energy Rick Perry proposed that utility companies should pay coal and nuclear plants to keep weeks of extra fuel on hand.
The Department of Energy, which Perry leads, doesn't have the power to force utilities to follow such a rule itself. But the Federal Energy Regulatory Commission, or FERC, is charged by Congress with regulating interstate electricity sales and some power utilities. Perry asked FERC's five commissioners to adopt his proposed rule within 60 days.
The plan was always controversial. Critics argued that Perry's bailout would harm natural-gas plants, slow the growth of solar and wind energy, and introduce new and costly distortions to U.S. energy markets.
They also doubted the logic of the rule, saying that power plants rarely went down because they didn't have enough fuel on hand. The Rhodium Group, an economics-research firm, found that only 0.00007 percent of U.S. power-outage hours between 2012 and 2016 were caused by a lack of available fuel.
Energy economists and environmental groups also maintained the rule would effectively subsidize carbon-dioxide pollution, which causes global warming. "Doing nothing [about climate change] is already not merited by economics," Michael Greenstone, a professor of economics at the University of Chicago, said in October. "This is like doubling down."
Worst of all, critics said, the plan would spike Americans' electricity bills. The energy-consulting group ICF estimated that the rule would cost ratepayers an extra $800 million to $3.8 billion every year.
In a statement on Monday, FERC thanked Perry for his attention to grid resiliency and said it would continue to research and pay attention to the issue. But individual commissioners were more cutting in their replies.
"The proposed rule had little, if anything, to do with resilience, and was instead aimed at subsidizing certain uncompetitive electric generation technologies," said Richard Glick, a Trump-appointed FERC commissioner, dubbing the plan "a multi-billion dollar bailout targeted at coal and nuclear generating facilities."
He added that he was sympathetic to the plight of coal miners and nuclear workers, but that helping them was outside the agency's legal power. "We have a history in this country of helping those who, through no fault of their own, have been adversely affected by technological and market change. But that is the responsibility of Congress and the state legislatures. It is not a role that the Federal Power Act provides to the commission," he said.
Though Perry could use the same mechanism to propose a new rule, FERC's decision on this one is final.
In a statement, Perry said that he only wanted to start a conversation. "As intended, my proposal initiated a national debate on the resiliency of our electric system," he said. "I appreciate the commission's consideration and effort to further assess the marketplace distortions that are putting the long-term resiliency of our electric grid at risk."
Thus ends one of the biggest policy initiatives of Perry's first year as energy secretary. Perry had been pushing for the rule since the first months of the Trump administration, commissioning a high-speed study on grid resilience in the spring before proposing the new rule in September.
But from the start, even conservatives noted the proposal was out of step with virtues that Perry had long extolled. "Secretary Perry didn't sound very much like Governor Perry that I remember back here in Texas, because Governor Perry, of course, was a big fan of free markets in electricity," Josiah Neeley, the energy-policy director of the conservative R Street Institute, told me in October.
By the end of the year, the plan's opponents speculated that Perry was embracing the rule merely to please the coal industry, which had supported President Trump during the election and lashed itself to him politically afterward.
Robert Murray, the CEO of the coal-mining company Murray Energy—which appeared to benefit more than any other firm from the rule—told reporters in November that he "had nothing to do" with the proposal.
"This was done by the Trump administration," he said. "I didn't have any involvement."
But in December, the reporter Kate Aronoff of In These Times obtained photos of Rick Perry and Robert Murray meeting in a Department of Energy office in March 2017. In the photos, Murray appears to be presenting a thick "coal action plan" to Perry. At the top of this apparent policy wishlist? A bullet point that new FERC policies should favor "base-load generating assets, especially coal plants."
Posted: 09 Jan 2018 10:56 AM PST
Studies show that when women have a preference, they would choose to have a male boss instead of a female boss. Participants in one study described their female bosses as "emotional," "catty," or "bitchy." Where does this aversion to female bosses come from? And why do some women seem to undercut each other at work?
Read Olga Khazan's article for more on the psychology of queen bees.
Iran's Protests and the Myth of Benign Silence
Posted: 09 Jan 2018 08:08 AM PST
When protesters in the Middle East take to the streets against their regimes, the United States finds itself in a dilemma, particularly when those regimes are allies. The United States, as a statement of policy, is committed to supporting democracy abroad and standing with democracy activists and dissidents. But how does it do that if it's also committed to the survival of governments that—also as a matter of policy—deny their citizens basic freedoms?
Certain dilemmas remain, though, even when the regimes in question aren't friends, but rather enemies like Iran, which has witnessed its largest protests in years, spreading across more than 80 cities. The so-called "kiss of death," where overt American support taints the very protestors the United States hopes to help, invariably comes up.
As Phil Gordon, President Obama's White House coordinator for the Middle East, wrote days after the protests began: "We can be fairly certain that high-profile public support from the United States government will do more harm than good." But can we? It's certainly possible that Donald Trump is such a uniquely toxic figure that he, just by virtue of being himself, transforms the kiss of death into something real. But the premise, especially on the left, is held to apply to all American presidents; it was one of the rationales behind the Obama administration's relative quiet in 2009 when Iranian protesters braved regime violence to protest a stolen election.
The "kiss of death" hypothesis is intuitive—after all, the United States is held under nearly universal suspicion in the Middle East, even among its proponents. So why give regimes fodder for conspiracy theories and claims of "foreign hands" instigating protests? But these claims will come regardless of what the U.S. does or doesn't do. Iranian officials, just as they did in 2009, wasted little time blaming the United States, as well as Israel, Saudi Arabia, and even ISIS. (The CIA's Michael D'Andrea—interestingly one of the most senior Muslims in the U.S. government—also received an honorable mention.)
But it is time to question this intuition, especially since Arabs and Iranians will no doubt be protesting in the years and decades to come. Since when do authoritarian regimes need evidence to assert foreign meddling? After all, if there's no evidence, it only makes foreign interference that much more nefarious—its non-existence becoming the very proof of its existence.
As for protesters themselves and how they might perceive American encouragement, Iran is something of a unique case. Despite (or, rather, because of) a virulently anti-American regime, Iranians are generally less anti-American than other populations in the Middle East. One thing Iranians, whatever their politics, will be aware of is American involvement in the 1953 coup against the country's democratically elected prime minister, Mohamed Mossadegh—an instance, in other words, of undermining democracy, rather than supporting it.
Even in countries with notoriously high levels of anti-Americanism, such as Egypt, U.S. support, even if it's primarily rhetorical, can provide a much-needed boost—the knowledge, however intangible, that someone, somewhere, is watching and that your cause will not be forgotten. I was living in Jordan during the first Arab spring, in 2004 and 2005, and I remember how President George W. Bush's "freedom agenda," as half-hearted as it turned out to be, contributed to a sense of cautious optimism among activists across the region. The Egyptian publisher Hisham Kassem might have been exaggerating when he said that "eighty percent of political freedom in this country is the result of U.S. pressure," but even if it was 20 percent, it mattered. And it's little accident that Egypt in 2005 saw what was, until then, one of its largest mass mobilizations in decades.
And it wasn't just liberals or secular activists. The members and leaders of the Muslim Brotherhood I was interviewing at the time would often (sometimes with a hint of irony) offer thanks to President Bush, privately but also publicly. They may have hated Bush on other things like the Iraq War or Israel, as they were keen to note, but there was generally a grudging respect for his willingness to elevate democratic reform in U.S. policy. As the Jordanian Islamist writer Jihad Abu Eis told me: "It's the right of Islamists to take advantage of American pressure on reform."
In the second Arab Spring, particularly in the early, optimistic years of 2011 and 2012, protesters across the region, whether in Egypt, Libya, Bahrain, or Syria, would turn their attention to the United States, pleading for help and protection. Syrian protesters, who were being gunned down daily, found themselves repeatedly disappointed by the Obama administration's studied inaction, but that never stopped them from hoping that the United States might finally do something, anything at all, to stop the killing.
One question that the very existence of the Trump administration—and its rhetorical downgrading of democracy promotion—raises is whether America's moral legitimacy and authority is a renewable resource. Of course, this doesn't mean the United States was ever particularly able or willing to convert its pro-democracy rhetoric into policy. In fact, the record is mostly one of subverting democracy, rather than promoting it. But there was the pretense—and the rest of us, as Americans, could hold our government to those stated ideals. And, as bad as the United States may have been, it was usually better than the alternatives, whether various European countries, or China and Russia.
When it comes to autocratic allies, like Saudi Arabia or Egypt, the Trump administration has been indulgent. The idea, often unstated, that America should highlight democracy with its enemies but stay quiet with its allies is deeply problematic. But that is not Iranians' concern, at least not the ones protesting, or the ones who will protest in the future. They need to know that the members of the international community, including America's European allies, are paying close attention and not merely playing a delicate "both sides-ism" in the interest of an imaginary rapprochement with the Iranian regime. The conversation we need to prepare ourselves for—since this is more likely the beginning than the end—is what can be done to support the forces of reform in Iran, however limited America's power and leverage might be. But, to prepare ourselves for that conversation, we need to do with away with convenient fictions—too often used as an excuse for inaction—that a better America is a quiet one.
Posted: 09 Jan 2018 08:00 AM PST
Blackbirds, it turns out, aren't actually all that black. Their feathers absorb most of the visible light that hits them, but still reflect between 3 and 5 percent of it. For really black plumage, you need to travel to Papua New Guinea and track down the birds of paradise.
Although these birds are best known for their gaudy, kaleidoscopic colors, some species also have profoundly black feathers. The feathers ruthlessly swallow light and, with it, all hints of edge or contour. They make body parts seem less like parts of an actual animal and more like gaping voids in reality. They're blacker than black. None more black.
By analyzing museum specimens, Dakota McCoy, from Harvard University, has discovered exactly how the birds achieving such deep blacks. It's all in their feathers' microscopic structure.
A typical bird feather has a central shaft called a rachis. Thin branches, or barbs, sprout from the rachis, and even thinner branches—barbules—sprout from the barbs. The whole arrangement is flat, with the rachis, barbs, and barbules all lying on the same plane. The super-black feathers of birds of paradise, meanwhile, look very different. Their barbules, instead of lying flat, curve upward. And instead of being smooth cylinders, they are studded in minuscule spikes. "It's hard to describe," says McCoy. "It's like a little bottle brush or a piece of coral."
These unique structures excel at capturing light. When light hits a normal feather, it finds a series of horizontal surfaces, and can easily bounce off. But when light hits a super-black feather, it finds a tangled mess of mostly vertical surfaces. Instead of being reflected away, it bounces repeatedly between the barbules and their spikes. With each bounce, a little more of it gets absorbed. Light loses itself within the feathers.
McCoy and her colleagues, including Teresa Feo from the National Museum of Natural History, showed that this light-trapping nanotechnology can absorb up to 99.95 percent of incoming light. That's between 10 and 100 times better than the feathers of most other black birds, like crows or blackbirds. It's also only just short of the blackest materials that humans have designed. Vantablack, an eerily black substance produced by the British company Surrey Nanosystems, can absorb 99.965 percent of incoming light. It consists of a forest of vertical carbon nanotubes that are "grown" at more than 750 degrees Fahrenheit. The birds of paradise mass-produce similar forests, using only biological materials, at body temperature.
Vantablack is genuinely amazing: It's so good at absorbing light that if you move a laser onto it, the red dot disappears. But McCoy has created a similar demonstration with her super-black feathers. In the image below, you can see two feathers, both of which have been sprinkled with gold dust. The left one is from the lesser melampitta—a bird of average blackness—and it looks as golden as its surroundings. The right one comes from a paradise riflebird—one of the 42 species of bird of paradise. Yes, it is covered in gold dust. And yes, it still looks black. The gold settles within the grooves of microscopic forest, and all of its glitter is lost.
This opens up several other questions, says Rafael Maia from Columbia University, who studies the evolution of bird colors. "Is this something unique to birds of paradise, or have other species evolved similar optical solutions?" he says. "If they have, do they use the same type of feather modifications?"
Many animals and plants use microscopic structures to produce exceptionally vivid colors with metallic sheens; this is called iridescence. Comparably fewer species use microscopic structures for the opposite purpose: to absorb colors entirely. These include a few butterflies and the Gaboon viper.
The viper—whose fangs, at two inches, are the longest of any snake—likely uses its super-black scales for camouflage, breaking up its outline so that the rest of its body better blends into the leaf litter of a rainforest. The birds of paradise, meanwhile, probably use their unfeasibly black blacks for the same thing that seems to motivate everything about them: sex.
"These likely evolved as an optical illusion, to make adjacent colors seem even brighter than they are," says McCoy. "Animal eyes and brains are wired to control for the amount of ambient light. That's why an apple looks red whether it is in the sun or the shade, even though the wavelength hitting our eyes is quite different in those scenarios. A super-black frame inhibits this ability, so nearby colors look like they are very bright—even glowing."
The male birds use this illusion to great effect. The magnificent riflebird—that's its adjective, not mine—splays out his super-black wings and flicks his head between them, showing off his electric blue throat. The superb bird of paradise—again, that is literally its name—spreads a cape of super-black feathers to highlight the electric blue patches on his cheeks and chest. He ends up looking like a spectral, wide-mouthed face. The six-plumed bird of paradise erects a super-black tutu and shimmies about to show off his kaleidoscopic throat bib.
The illusions work best when viewed straight on. From that angle, the little barbules and spikes are pointing straight at you, and they become better at trapping light. When viewed from the side, the super-blacks lose some of their blackness. That's why the dancing males take such care to face the objects of their attention, bouncing around so their audience never gets a side view.
Super-black surfaces have plenty of uses for humans, too. They could camouflage military vehicles, help solar panels collect more light, or stop stray light from entering telescopes, improving the ability to spot faint stars. Vantablack can already do all of the above, but McCoy thinks the structure in super-black feathers might still be useful to engineers. "If these could be really cheaply 3-D printed, that would be amazing," she says.
You are subscribed to email updates from The Atlantic.
To stop receiving these emails, you may unsubscribe now.
Email delivery powered by Google
Google, 1600 Amphitheatre Parkway, Mountain View, CA 94043, United States