---
2018 Most Eligible LGBT Singles nominations
Posted: 03 Jan 2018 07:00 AM PST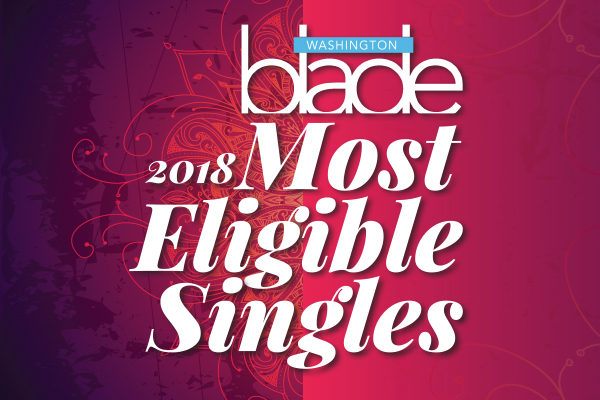 Are you or a friend looking to find a little love in 2018? We are looking for the Top 20 LGBT singles in the Washington, D.C. region. Nominate you or your friends until January 15th using the form below.
The Top 20 will be announced online February 5th. Everyone will get a chance to meet the singles at the Most Eligible LGBT Singles Party on Saturday, February 10th at Town.
View our 2017 singles HERE. For updates visit washingtonblade.com/singles
These two anti-LGBT Republicans may run for Senate in 2018
Posted: 02 Jan 2018 04:13 PM PST
Shakeups in the U.S. Senate led to news Tuesday that two prominent Republicans and former presidential candidates who have anti-LGBT records — Mitt Romney and Michele Bachmann — may run in 2018.
Following passage of tax reform legislation, Sen. Orrin Hatch (R-Utah) announced he'd retire after four decades in the Senate, opening the door for Mitt Romney, who had publicly mulled the idea of running for the seat.
Meanwhile, former Rep. Michele Bachmann said on the Christian Broadcasting Network she's considering a run for the seat in Minnesota being vacated by Sen. Al Franken (D-Minn.) amid allegations of sexual misconduct against him.
Bachmann, however, said she's not certain and would consult God on whether she's being called to pursue the open seat.
"If you're going against the tide in D.C., if you're trying to stand for biblical principles, and you stick your head up, the blades come whirring and they try to chop you off," Bachmann said during the interview. "We're trying to be wise. Should we do this? Shouldn't we do this?"
Both Romney and Bachmann have extensive anti-LGBT records as public officials.
As Massachusetts governor, Romney most famously sought to limit the 2003 Goodridge decision at the Massachusetts Supreme Court making the Bay State the first with marriage equality and became a national spokesperson in favor of the Federal Marriage Amendment, which would have banned same-sex marriage nationwide.
According to MassEquality, Romney abolished the Governor's Commission on GLBT Youth and rescinded an executive order prohibiting sexual orientation discrimination in the state workforce.
True to his reputation as a flip-flopper, Romney has also stated contradictory positions on LGBT issues. As a U.S. Senate candidate in 1994, Romney told Log Cabin Republicans he'd co-sponsor the Employment Non-Discrimination Act and would seek to expand it to include housing and credit, but later in 2006 said he doesn't support ENDA and in 2007 called it a state issue.
A longtime favorite of social conservatives, Bachmann has an anti-LGBT record that has animated her career as far back as 2004 when she also championed the Federal Marriage Amendment and said "Gays live a very sad life" and "it's part of Satan."
In the course of her career in Congress, Bachmann voted against hate crimes protections legislation, repeal of "Don't Ask, Don't Tell," and a version of the Employment Non-Discrimination Act. She was elected to Congress too late to have voted on the Federal Marriage Amendment in either 2004 or 2006.
In 2012, both Romney and Bachmann in pursuit of the Republican presidential nomination staked out anti-LGBT positions and continued their push for a U.S. constitutional amendment that would have banned same-sex marriage nationwide. Bachmann ended up losing the nomination to Romney, but Romney came up short in his bid to unseat President Obama, who went on to serve a second term.
Both candidates signed a pledge with the anti-LGBT National Organization for Marriage committing themselves to back a Federal Marriage Amendment; defend the anti-gay Defense of Marriage Act in court; support legislation allowing D.C. residents to vote on its same-sex marriage law; and appoint a presidential commission to "investigate harassment of traditional marriage supporters."
But after his defeat in the 2012 election, Romney made some surprising statements that struck a different tone in contrast to his anti-LGBT record. Romney recommended Arizona Gov. Jan Brewer veto a "religious freedom" bill seen to enable anti-LGBT discrimination. (Brewer took that advice and vetoed the bill, unlike Mike Pence, who as Indiana governor signed a similar measure and was forced to sign a "fix" amid criticism from the LGBT community and business advocates.)
After the mass shooting in 2016 at the gay nightclub in Orlando, Fla., that killed 49 people and wounded 58 others, Romney took to Twitter to say he and his wife would "say a special prayer for the LGBT community that was the focus of this attack."
But Romney hasn't publicly turned around from his opposition to same-sex marriage. In 2014, Romney said he still opposes same-sex marriage and it could be "generations" before the negative impact of marriage equality is determined.
Fred Karger, a gay consultant to Republican presidential candidates and himself a candidate for president in 2012, said Hatch is retiring to make room for Romney because the Mormon Church pushed out the former "in favor of a more obedient Mormon Church member."
"Mormon Church leaders have been on a full-time mission for over a year to do just that," Karger said.
Noting the history of antagonism between President Trump and Romney, who has called him unfit to serve in the White House, Karger predicted friction between the two if Romney is elected.
"It's a case of the Mormon Church trumping Trump and his desire to keep Mitt Romney 2,000 miles away from Washington," Karger said. "It will be fun to see Romney try and take on President Trump as he has in the past, only to be annihilated by the far more savvy politician."
Bachmann hasn't changed her tune at all. Earlier this year, Bachmann said President Trump was elected to the White House despite the odds against him because the Obama administration issued guidance requiring schools to allow transgender kids to use the restroom consistent with their gender identity, or as she put it "just issued a sheet of paper and said, overnight, every single public school in the country would have to have the girls' bathrooms open to the boys and the boys' bathrooms open to the girls."
The advancement of transgender rights, Bachmann said, was too much for God, whom she "answered the prayers of believers beseeching him, and he's given us a reprieve."
Both Romney and Bachmann would be running in a mid-term when Democrats have considerable momentum amid discontent with Trump. But Romney might be a shoe-in to win in the conservative state of Utah. Bachmann would likely run against Minnesota Lt. Gov. Tina Smith, whom Gov. Mark Dayton tapped to succeed Franken on an interim basis.
Lucas Acosta, director of LGBT media for the Democratic National Committee, said voters won't forget the anti-LGBT records of Romney and Bachmann as they head to the polls in the congressional mid-terms.
"Americans have already rejected the anti-LGBTQ extremism of Republicans like Michele Bachmann and Mitt Romney," Acosta said. "Not only are their hateful views out-of-step with the country, but with a majority of Utahns and Minnesotans alike. Voters deserve candidates who will fight to protect their freedom to serve, work and love whomever they choose regardless of gender."
Posted: 02 Jan 2018 04:12 PM PST
I can't imagine a worse start to 2017 than Donald Trump being inaugurated as the nation's 45th president. My Blade column immediately following his election was a simple statement in a black border "Let Us Pray." We quickly understood prayer wasn't going to do it and instead we had to take to the streets and then VOTE.
First came the Jan. 21 'Women's March' where millions of women, and the men who support them, took to the streets to say in a loud and clear voice "we will resist." Then came the Science March, the Immigration March, the Environmental March and the March for LGBTQ+ Equality. We have shown we will resist what we saw coming down the pike and I don't think many of us expected it to be as bad as it is. Donald Trump, while not getting any major legislation passed (this column being written before a final vote on his disastrous tax reform package), has managed to take us backwards in nearly every area of life. Trump has set a tone in the country allowing the Ku Klux Klan and Nazis to feel he actually welcomes their support.
The first step backwards was the nomination and confirmation of Neil Gorsuch to the Supreme Court. His right-wing vision of America will hurt us for decades. Just as will all the other lower-level federal judges Trump is nominating and the Republican Senate is confirming. Then came the ban on immigrants and the nominations and confirmation of a slew of Cabinet secretaries in areas from Education to Environment to Health and Human Services; all with an ultra-conservative leaning hell-bent on rolling back every progressive gain made during the eight years of the Obama administration. This includes taking money from public education to fund private schools; rolling back as many parts of the Affordable Care Act as possible even without new legislation; and trying to keep transgender people from serving in the military among other disgusting initiatives including recently rolling back net neutrality.
When it comes to foreign affairs, Trump is scaring the world with his positions and statements. He is doing everything possible to get us into a war alienating nearly every one of our long-time allies. He appointed a Secretary of State with no statecraft experience and is decimating the State Department to the point it can't function. Good people are resigning because they don't want to be associated with what he is doing.
Politically, we see Trump ensnared in a massive investigation of whether or not he or anyone else in his campaign colluded with the Russians to win the election. We know Russia interfered and we are seeing by dribs and drabs more and more of his high-level campaign staff being indicted. Now the Special Counsel is apparently looking at whether Trump can be charged with obstruction of justice for trying to end the investigation. He and Republicans in Congress are still clearly obsessed with Hillary Clinton even though he won the election.
As the year comes to an end we are in the middle — some think it's just the beginning — of a tipping point in how society tolerates sexual harassment. We are finally reconsidering what will be acceptable behavior for men toward women and what do we do to punish them for unacceptable past behavior.
Recently, we have seen a glimmer of hope the American people won't accept quietly what Trump and the Republican Congress are doing to us. Democrats took over the governorship in New Jersey, held on to the one in Virginia by a large margin, and made huge gains in Virginia legislative races. Transgender candidates won races across the nation. Women in huge numbers are running for office at every level including lesbians Angie Craig in MN 2nd district and Gina Ortiz Jones in San Antonio, both running for Congress. We took heart when in Alabama enough voters actually voted for decency for Democrat Doug Jones to win.
So a toast to 2018 and to the people who will stand up, speak out and vote to put Democrats back in office.
Peter Rosenstein is a longtime LGBT rights and Democratic Party activist. He writes regularly for the Blade.
Petition urges Jamaica to ban anti-LGBT U.S. pastor

Posted: 02 Jan 2018 03:03 PM PST

A petition that Jay John posted to Change.org notes Steven Anderson has previously said gay men should be stoned to death. The petition also notes Anderson has celebrated the 2016 massacre at the Pulse nightclub in Orlando, Fla., and has spoken against women's rights.

The petition notes Anderson is scheduled to arrive in Jamaica on Jan. 29.

Anderson is a pastor at the Faithful Word Baptist Church in Tempe, Ariz. His church's website says Anderson will be in Jamaica from Jan. 29-Feb. 3 for a "Missions Trip."

"Folks like this set us back in our discussion surrounding LGBT rights as a country," John told the Washington Blade on Tuesday. "Mr. Anderson's messages are inflammatory and blatantly disregards the value for minority (sic)."

"His literal interpretation of the Bible regarding killing of gay people should not be echoed in a society like Jamaica," added John.

Botswana in 2016 deported Anderson after he told a radio station during an interview the government should kill gays and lesbians. He also described the victims of the Pulse nightclub massacre as "disgusting homosexuals who the Bible says were worthy of death."

South Africa banned Anderson from entering the country before traveling to Botswana. The Southern Poverty Law Center on its website describes the Faithful Word Baptist Church as one of "the most hardcore anti-LGBT hate groups" in the U.S.

"By calling for the killing of gay people, Pastor Anderson's messages are homophobic and condone violence against fellow human beings and a group that is already marginalized," reads John's petition that 531 people have signed. "We the people are asking the Jamaican government to show leadership and stand as an example to fellow Caribbean countries to denounce terrorism and violence against marginalized groups."

The Blade has reached out to Anderson and the Jamaican government for comment.

Another Jamaican activist said he has shared John's petition with the U.S. Embassy in Jamaica. The Blade has reached out to the State Department for comment.

Jamaica is among the more than 70 countries around the world in which consensual same-sex sexual relations remain criminalized.

Bishop Howard Gregory, who is the head of the Anglican Church in Jamaica and the Cayman Islands, last July said lawmakers should repeal the colonial-era sodomy law.

"What happens in privacy between consenting adults should be beyond the purview of the government," wrote Gregory in a letter he sent to members of a parliamentary committee who are studying the issue.

Liberty Counsel Chair Mathew Staver is among those from the U.S. who have traveled to Jamaica in recent years in order to attend events organized by groups that oppose efforts to repeal the law.

A Jamaican activist is petitioning his government to ban an anti-LGBT American pastor from entering the country.
Pelosi should retire as Speaker
Posted: 02 Jan 2018 10:52 AM PST
The goal of all Democrats in 2018 should be to see Nancy D'Alesandro Pelosi (D-Calif.) have the opportunity to announce she won't run again in 2020 after getting sworn in as Speaker of the House of Representatives in January 2019.
Pelosi is a force of nature and politician extraordinaire. She grew up in a political family in Baltimore, her dad first serving in Congress and then becoming a three-term mayor.
She was elected to Congress in her own right from San Francisco in 1986. Since that time she has fought the good fight for liberal/progressive causes and in 2007 was elected Speaker making her the highest-ranking woman politician in American history. When Republicans took over the House in the 2010 elections Pelosi was elected Minority Leader. Now Democrats have the chance to make her speaker again.
In a June 2017 New York Times column it was reported "Since entering the House Democratic leadership in 2002, Ms. Pelosi has raised nearly $568 million for her party. Just in the 2016 election cycle, she raised over $141 million." The column went on to say "her allies say she supplies much more than cash, praising her ability to impose member discipline and her skills as a "back-room dealer," in the admiring words of Representative Dina Titus, Democrat of Nevada. Representative Steve Cohen, Democrat of Tennessee, hailed her deftness at "herding cats." It's been a lot of work for her to kind of keep us away from impeachment and on health care and the economy," Mr. Cohen said.
So whatever the negatives of having Nancy Pelosi as a focal point for Republicans to criticize and use in their ads, in the long run Democrats have benefitted from having Pelosi as their leader. It seemed to many she was grooming Chris Van Hollen (D-Md.) to take over but he decided to run for the Senate in 2016 and is now the junior senator from Maryland. Senate Minority leader Chuck Schumer (D-N.Y.) actually waited until he was sworn in to name him chair of the Democratic Senatorial Campaign Committee (DSCC) based on the work he did as chair of the Democratic Congressional Campaign Committee (DCCC) and the trust Pelosi put in him.
Pelosi is working to ensure Democrats take back the House in the 2018 mid-term elections. She is also walking a tightrope on dealing with the issue of sexual harassment in Congress. She named Ben Ray Lujan (D-N.M.) as DCCC chair and they elected five vice chairs at the beginning of 2017 to help recruit candidates and set the message for the 2018 election cycle. Vice chairs include Reps. Joseph P. Kennedy III (D-Mass.), A. Donald McEachin (D-Va.), Betty McCollum (D-Minn.),  and Jared Polis (D-Colo.) who is now running for governor of Colorado, and Ted Lieu (D-Calif.).
Last year ended with big wins for Democrats in New Jersey, Virginia, Alabama and victories in races across the country from county council to state legislatures. So Democrats who are clamoring for Pelosi to step down now should stop those efforts and focus all their energy on winning not only the House and Senate, but governorships, and legislatures across the nation.
Pelosi is smart enough to stay out of races where her name is a negative. Her skill at fundraising and her ability to keep Democrats together in the year leading up to the mid-term elections in November clearly outweigh any negatives attributed to her.
Democrats need to stop the infighting for the next year and instead work together to win. Stop all the speculation about who will be our Presidential candidate in 2020 and focus all our energies on 2018. If we can win the House, maybe even the Senate, and some governorships the field of candidates vying for what will be a valuable nomination will be large and include many of the names we know and some we don't know yet.
So let's focus on making Pelosi speaker in January 2019 at which time surely she will see the wisdom in announcing it will be her last term in Congress. Then maybe some of our other respected elder statespersons will follow suit and recognize it's time for a new generation of Democrats to take center stage. The elder statespersons in the Party should put their egos aside and use their experience and wisdom to help the next generation of Democrats succeed.
Peter Rosenstein is a longtime LGBT rights and Democratic Party activist. He writes regularly for the Blade.