---
'The Bachelor': Becca's Ex Bombards Fantasy Suites To Fight Arie For Her Heart
Posted: 26 Feb 2018 11:12 PM PST
Love was certainly in the air this week on The Bachelor, as Arie Luyendyk Jr. told both Lauren B. and Becca K. that he was in love with them during their fantasy-suite dates in Peru. But the lovefest came to a screeching halt when Becca's ex-boyfriend, Ross, showed up to try to win back his former girlfriend of seven years.
Before Ross crashed the party, Arie had already spent the night with both Kendall and Lauren. He told the latter that he was in love with her in order to calm her fears and get her to stay in the competition, but he never said he was in love with only her. And that's because he wasn't.
The bachelor said it again the next night while he was cuddling with Becca in a tent. Yes, while the other women got full-on fantasy suites, Becca got a fantasy tent consisting of one "room" with a queen-sized bed in the middle.
Sorry Becca we had to take away the funds for your hotel to pay for your ex's flight to Peru, so here is a tent #thebachelor

— Christina (@xinarom) February 27, 2018
The small space was enough to get Arie feeling intimate, and he told Becca he was in love with her as well. But the next morning, Ross showed up in Peru to try to win Becca's heart back with a surprise proposal.
After confronting Arie to confess his plan, Ross went to find Becca and let her know he hasn't stopped thinking about her throughout the past year that they've been apart. But Becca wasn't having it and ran off to assure Arie that it's him that she wants.
Now that he's in love with two different women, Arie had to let Kendall know that she wouldn't be getting a rose to move on to the final two. And so, it is Becca K. and Lauren B. who have survived the season to become the last two women standing.
But Bachelor Nation is not currently concerned with who Arie will ultimately choose. Instead, they have turned their attention to the new man on their screens — Ross. Becca may not have wanted her ex, but viewers seem to be all over him. Fans took to Twitter to beg producers to make Ross the next bachelor, or even the current bachelor if it's not too late.
But, come on, Bachelor Nation. We took the journey with Arie this far and it's time to finally find out who he picks next week. Who do you think Are will choose?
The post 'The Bachelor': Becca's Ex Bombards Fantasy Suites To Fight Arie For Her Heart appeared first on FANDOM.
What is Happening With the Totems on 'Legends of Tomorrow'?
Posted: 26 Feb 2018 09:01 PM PST
When Constantine appeared on Legends of Tomorrow during "Daddy Darhkest," he explained that Mallus wanted to posses the six Totems of Zambezi. Amaya and the Legends only knew about five totems: Air, Spirit, Water, Fire and Earth. Zari has the Air Totem, Amaya has the Spirit Totem, Kuasa has the Water Totem, and the location of the other two are unknown, until this episode, titled "The Curse of the Earth Totem". So let's break down exactly what is happening with the totems on Legends of Tomorrow, specifically the five we know about.
"The Curse of the Earth Totem"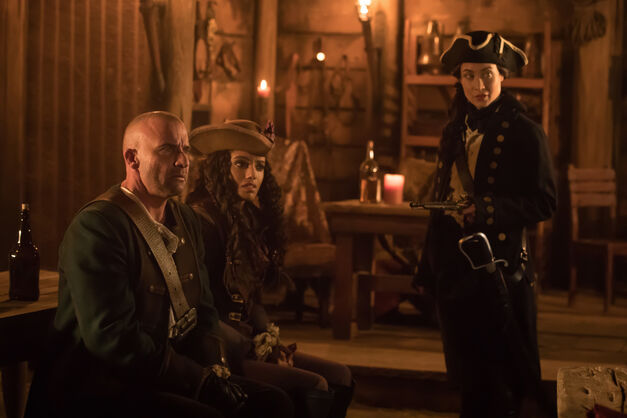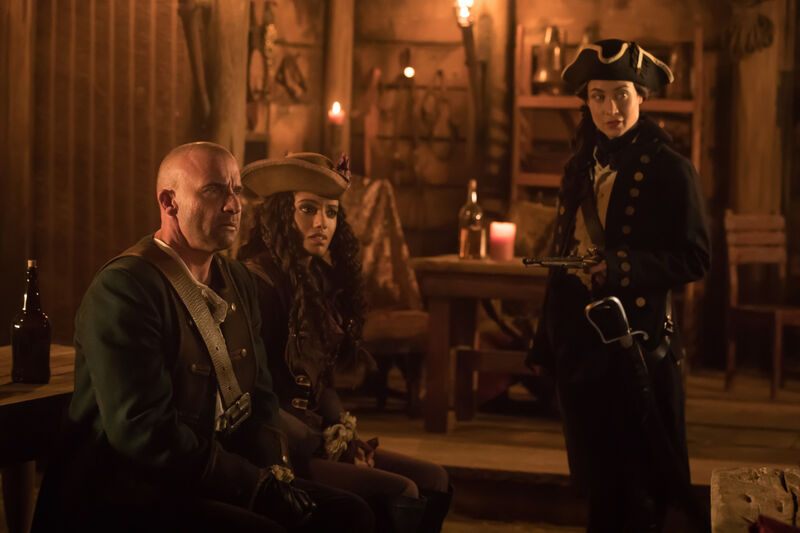 While Sara was on her date with Ava, the Legends discovered that the Earth Totem was in the possession of the dread pirate Black Beard. Rory convinced a band of pirates that Amaya was a dread pirate queen and that they should all abandon Black Beard to follow her. Rory's plan worked, and the crew set sail for Grace Island. Black Beard tried to warn Rory and Amaya that the totem — or emerald, as he called it — was cursed. It killed the woman he loved, which is why he buried it on the island.
The Fate of the Spirit Totem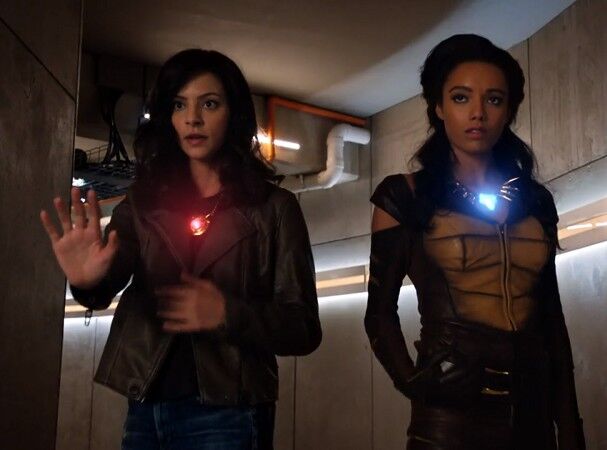 Before commandeering Black Beard's ship (the Queen Anne's Revenge) Amaya and Rory were stopped by Damien Darhk. He admitted to stealing the Fire Totem from Detroit and then he stole Amaya's Spirit Totem. That brought his totem total to three: Fire, Water and Spirit.
When Darhk dug up the Earth Totem from Black Beard's treasure trove, its possessed the body of Black Beard's dead wife. His wife knocked Darhk out and tired to strangle his daughter. Amaya tried to help her be free of the burden, but Darhk woke up and knocked her out. Darhk and his daughter almost killed Amaya, but Ray and Nate stormed in with a great Goonies reference.
So, who had the totems at the end of the episode? Darhk still has Water and Fire and Spirit, even though Ray saved Nora's life to get Spirit back, and the Legends have Air and Earth. If the Legends can find the mysterious sixth totem, they will be on equal footing with Darhk and Mallus.
Legends of Tomorrow airs Mondays on The CW at 8PM.
The post What is Happening With the Totems on 'Legends of Tomorrow'? appeared first on FANDOM.
'Guardians of the Galaxy 3' Could Star Mark Hamill?! – FANDOM News
Posted: 26 Feb 2018 03:16 PM PST
There's too much new for you to find yourself, so sit back and let FANDOM News bring it to you! Every Monday and Friday we'll cap the week with the biggest stories so you can stay on top of everything happening in pop culture.
In today's episode, Twitter owns the show! A fan on Twitter may have just gotten Mark Hamill a gig in the upcoming Guardians of the Galaxy 3. Plus Kevin Smith tweeted out some terrifying news, and fan reactions to the latest death on The Walking Dead are surprisingly more happy than you might expect.
The post 'Guardians of the Galaxy 3' Could Star Mark Hamill?! – FANDOM News appeared first on FANDOM.
'Drag Race': What Do Fans Really Think About Bebe Zahara Benet on 'All Stars 3'?
Posted: 26 Feb 2018 02:44 PM PST
When fans were trying to guess who the mystery 10th queen would be on this year's RuPaul's Drag Race All Stars 3, chances are that Bebe Zahara Benet never even crossed their minds.
That's because Bebe is the OG winner of the entire franchise, bursting through the blurry filter to snatch the crown on Season 1 back in 2009.
But as RuPaul explained to the other contestants on the premiere of All Stars last month, many fans haven't seen what's now been dubbed the "Lost Season," and so she felt Bebe deserved another chance to show the world what she can do. Since then, however, the African queen has failed to create any memorable moments and instead has coasted comfortably in the middle of the pack all season.
Meanwhile, rumors started swirling online that Bebe was actually a mole placed into the competition to spy on the other contestants for Mama Ru. Fans speculated that she wasn't landing in the bottom in any challenges because she's not actually playing the game at all.
But after a win last week and the promise of the Handmaid's Tale twist being revealed in the next episode, it will soon be time to put the rumors to rest. That being said, many fans did not think Bebe deserved her recent win during the Art Pop Ball, arguing that she shouldn't have been in the top and that the Diana Ross lip sync was skewed in her favor.
Whether she's playing to win or playing the other queens, viewers don't seem thrilled with Bebe's performance on the show so far. In between fan theories and responses to her return, there have been a plethora of opinions online regarding Bebe's appearance on All Stars and it's not very positive.
Scroll through some fan tweets below and then head to Twitter to let us know what you think the OG queen is really doing on All Stars 3.
The post 'Drag Race': What Do Fans Really Think About Bebe Zahara Benet on 'All Stars 3'? appeared first on FANDOM.
Everything Coming to Netflix March 2018
Posted: 26 Feb 2018 11:51 AM PST
It's not quite springtime yet, which means you can still use the winter weather as the perfect excuse to stay inside and go on a Netflix binge. To help guide you on your viewing journey, we've compiled a list of everything that's being added to the streaming service in March.
Marvel's Jessica Jones returns to Netflix with a highly anticipated second season, and films like Ghostbusters, 300, and Cruel Intentions can soon be added to your queue as well.
Check out the full list of all the films, shows, and documentaries heading to Netflix this March.
March 1
300
21 Thunder: Season 1
2307: Winter's Dream
Adel Karam: Live from Beirut
Adventureland
Algo Muy Gordo
Alpha and Omega
Battle Drone
Beerfest
Casino
Cruel Intentions
Cruel Intentions 2
Cruel Intentions 3
Deathgrip
Forgetting Sarah Marshall
Ghostbusters
Ghostbusters 2
Gridiron Gang
Guess Who
Hostage
I Am Number Four
I Now Pronounce You Chuck and Larry
Jackass: Number Two
Land Gold Women
Law & Order: Special Victims Unit: The Eighteenth Year
Martian Child
Moon
People Like Us
Revolutionary Road
Stuart Little 3: Call of the Wild
The Brothers Grimm
The Bucket List
The Descent
The Descent: Part 2
The Experiment
The Fifth Estate
The Gift
The Lazarus Project
True to the Game
Untraceable
Up in the Air
Wet Hot American Summer
Women at War 1939-1945
March 3
B: The Beginning: Season 1
Flint Town: Season 1
Girls Incarcerated: Season 1
Les Affamés
Malena Pichot: Estupidez Compleja
Natalia Valdebenito: El Especial
Voltron: Legendary Defender: Season 5
March 4
Expedition China
The Joel McHale Show with Joel McHale
March 5
F The Prom
The World's Most Extraordinary Homes: Season 1
March 6
Benji
Borderliner: Season 1
For the Love of Benji
Gad Elmaleh: American Dream
March 7
Aftershock
March 8
Bad Guys: Vile City: Season 1
Ladies First
Marvel's Jessica Jones: Season 2
March 9
A.I.C.O. Incarnation: Season 1
Collateral: Limited Series
Love: Season 3
My Next Guest Needs No Introduction With David Letterman: Malala Yousafzai
Nailed It: Season 1
The Outsider
Trolls: The Beat Goes On!: Season 2
March 10
Septiembre, un Llanto en Silencio
March 12
Kygo: Live at the Hollywood Bowl
Troy: The Odyssey
March 13
Children of the Whales: Season 1
Ricky Gervais: Humanity
Stretch Armstrong: The Breakout
Terrace House: Opening New Doors: Part 1
March 15
Jackass 3.5: The Unrated Movie
Power Rangers Ninja Steel: Season 1
Tabula Rasa: Season 1
The Hollywood Masters: Season 2
March 16
Benji
Edha: Season 1
On My Block: Season 1
Spirit Riding Free: Season 4
Take Your Pills
The Legacy of a Whitetail Deer Hunter
Wild Wild Country: Season 1
March 19
In Search of Fellini
March 20
100 Years: One Woman's Fight for Justice
The Standups: Season 2
March 21
Conor McGregor: Notorious
March 23
Alexa & Katie: Season 1
Dinotrux Supercharged: Season 2
Game Over, Man!
Layla M.
Requiem: Season 1
Roxanne Roxanne
Santa Clarita Diet: Season 2
SWORDGAI The Animation: Part 1
The Mechanism: Season 1
March 24
Red Trees
March 27
Men on a Mission: 2018
March 28
50 First Dates
Little Women
Never Back Down 2: The Beatdown
The Art of War
March 30
A Series of Unfortunate Events: Season 2
First Match
Happy Anniversary
Miraculous: Tales of Ladybug & Cat Noir Season 2 Part 1
Rapture: Season 1
Reboot: The Guardian Code: Season 1
Sofía Niño de Rivera: Selección natural
The Titan
Trailer Park Boys: Season 12
Trump: An American Dream: Season 1
March 31
Let Me In
The post Everything Coming to Netflix March 2018 appeared first on FANDOM.
The Saddest Deaths on 'The Walking Dead,' Ranked
Posted: 26 Feb 2018 11:30 AM PST
Death — and undeath — is an eventuality in the world of The Walking Dead. Unlike other shows, series regulars are unexpectedly — and violently — killed off. Here are the 14 saddest deaths from the show, ranked.
Episode killed: "Twice As Far" (Season 6, Episode 14)
Poor Denise. She was forced into becoming Alexandria's doctor after Pete Anderson was executed, despite suffering from severe anxiety. Her death was one of the most unexpected in the show's history; she was shot in the head by Dwight literally mid-sentence while talking about her newfound confidence. Not only did Denise die away from her girlfriend Tara Chambler, she wasn't able to deliver the orange soda she scavenged for her. Not to mention she's another victim of the whole #BuryYourGays trope.
Episode killed: "Coda" (Season 5, Episode 8)
Beth's death was one of the most unnecessary in the show. Rick had negotiated for her release from Grady Memorial Hospital, but during the exchange, Beth stabbed her captor Dawn Lerner with a stolen pair of scissors. Instinctively, Dawn pulled our her firearm and shot Beth in the head. Daryl then shot Dawn in the head. The only thing sadder than Beth's death was Maggie's reaction when Daryl emerged with the body of her little sister.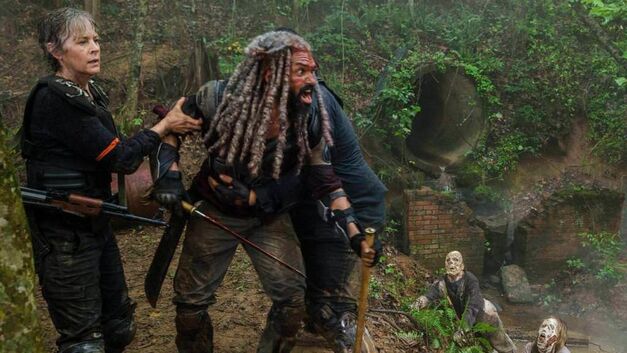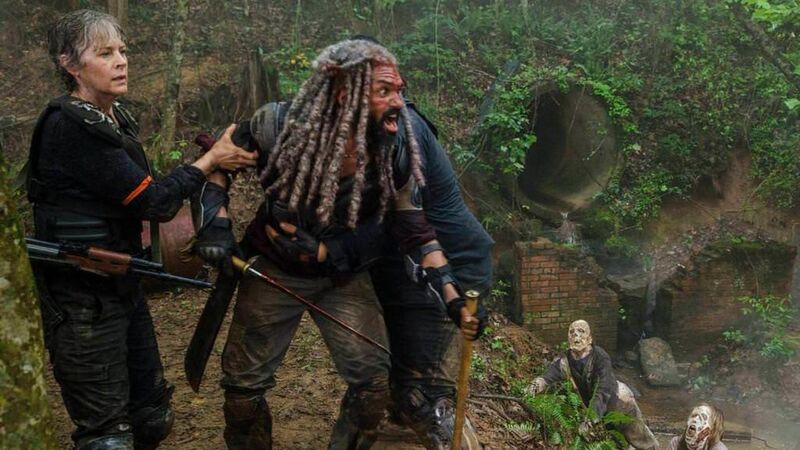 Episode killed: "Some Guy" (Season 8, Episode 4)
Shiva, King Ezekiel's loyal tiger, was once a zoo attraction. During the outbreak, Ezekiel freed her, and she helped him establish his royal persona. Shiva saved Carl by pouncing on Negan right before he was going to bash his head in. She was separated from Ezekiel after the Kingdom warriors were ambushed by the Saviors, and died saving her injured master from a horde of walkers.
Episode killed: "Welcome to the Tombs" (Season 3, Episode 16)
Andrea's death was her ultimate redemption. She allied herself with The Governor in attempts to broker peace between his Woodbury community and the Atlanta survivors. Eventually, she realized she had to kill The Governor, but she and Milton Mamet got captured instead. The Governor stabbed Milton, knowing he would turn and attack Andrea. She put up a good fight but was badly bitten. Rather than accepting her fate, she committed suicide with her companion Michonne by her side.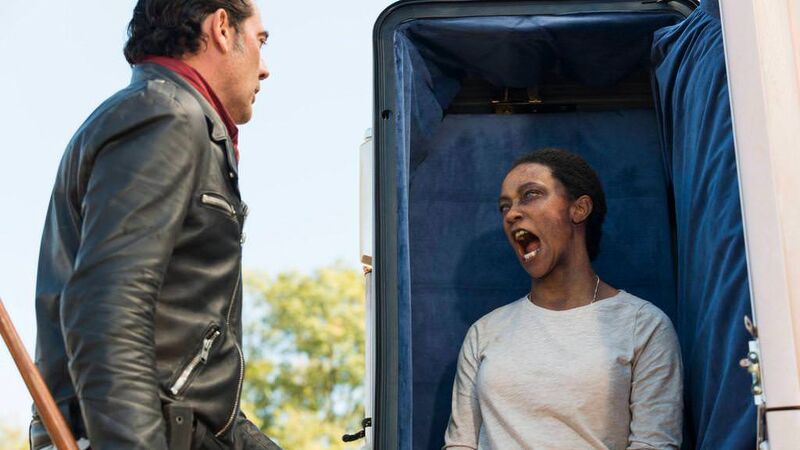 Episode killed: "The First Day of the Rest of Your Life" (Season 7, Episode 16)
Sasha was a warrior. She stormed Negan's Sanctuary singlehanded and got captured in the process. Negan locked Sasha in a coffin in order to deliver her to Rick. Knowing this would be her only chance to get close to him, Sasha swallowed cyanide pills, knowing that she would reanimate and catch the Savior leader off-guard. Her sacrifice helped save Alexandria, at least temporarily.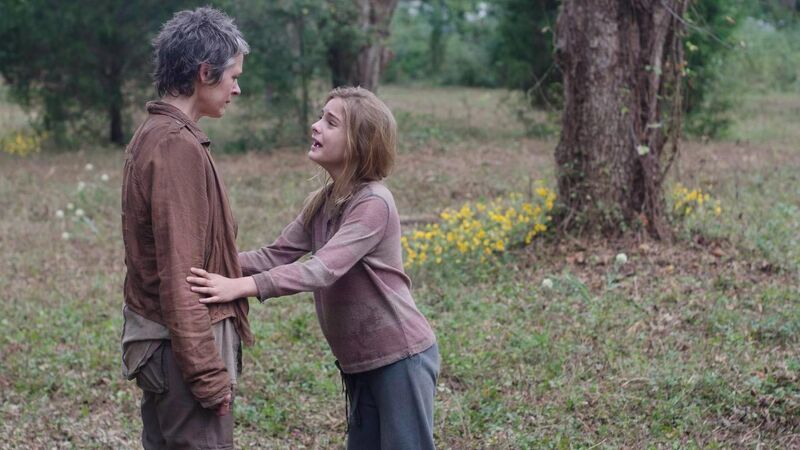 Episode killed: "The Grove" (Season 4, Episode 14)
In one of the more twisted storylines on the show, Lizzie Samuels was a young girl who thought the dead did not pose a threat. To prove her point, she murdered her own sister, Mika, and planned to kill Judith as well. Realizing she was a threat, a tearful Carol ended up shooting Lizzie in the back of the head.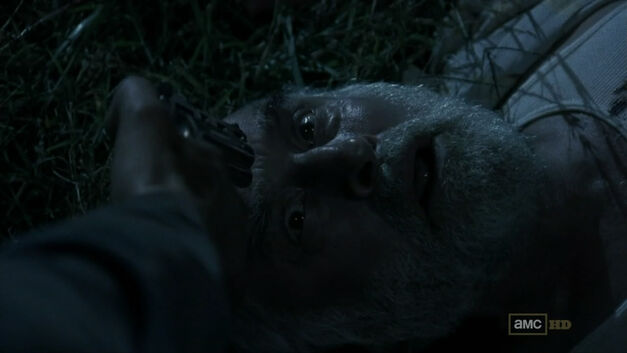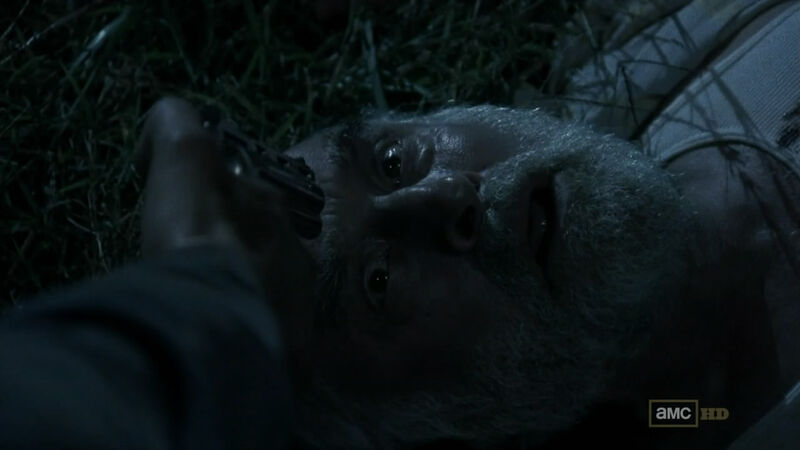 Episode killed: "Judge, Jury, Executioner" (Season 2, Episode 11)
Dale was one of the original Atlanta survivors and served as the moral compass of the group. He regularly debated group decisions, from leaving a dying Jim on the side of the road to whether or not they should kill the walkers in the Greene farmhouse.
Like Beth, Dale's death was completely avoidable. He was disemboweled by a walker that Carl Grimes had taunted in the swamp, and eventually put out of his misery by Daryl.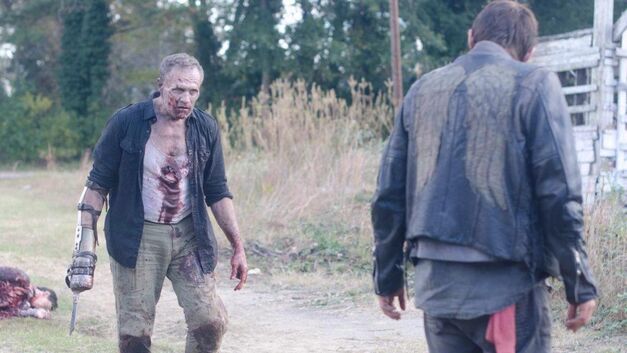 Episode killed: "This Sorrowful Life" (Season 3, Episode 15)
Merle was one of the more complicated characters on the show. He was all about self-preservation, sawing off his own handcuffed hand to escape walkers and later aligning himself with the powerful Governor. Rather than turn Michonne over to the Governor, Merle devised a plan to assassinate him. Unfortunately, the Governor gained the upper hand, shooting Merle in the chest. Daryl was then forced to put his older brother down in one of the saddest scenes in the series.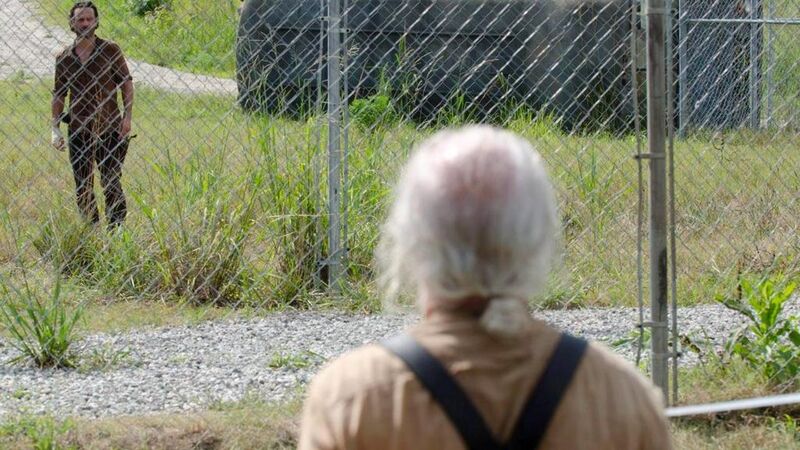 Episode killed: "Too Far Gone" (Season 4, Episode 8)
Merle wasn't The Governor's only victim. Hershel and Michonne were captured by The Governor and kept as hostages. Rick pleads for the Governor to let them go, saying that nobody is "too far gone." However, the Governor calls Rick a "liar," and then partially decapitates Hershel with Michonne's katana, much to the horror of his daughters. The Governor violently hacks Hershel's head off in a fit of rage.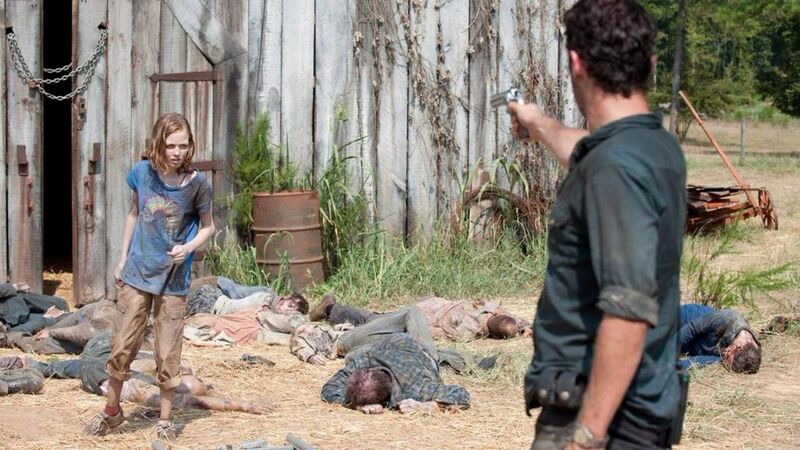 Episode killed: "Pretty Much Dead Already" (Season 2, Episode 7)
Sophia, the only daughter of Carol and Ed Peletier, managed to survive the exodus of Atlanta with her mom. But during a herd attack, she got separated from the group. At some point, Sophia was attacked by a walker and turned. Otis found her and put her in the Greene family farm while the group searched for her, thinking she was still alive. It was only after Shane ripped the chains off the barn doors that they learned Sophia's fate — she was nearby the entire time. Rick ended up shooting her in the head in front of a distraught Carol.
Episode killed: "Honor" (Season 8, Episode 9)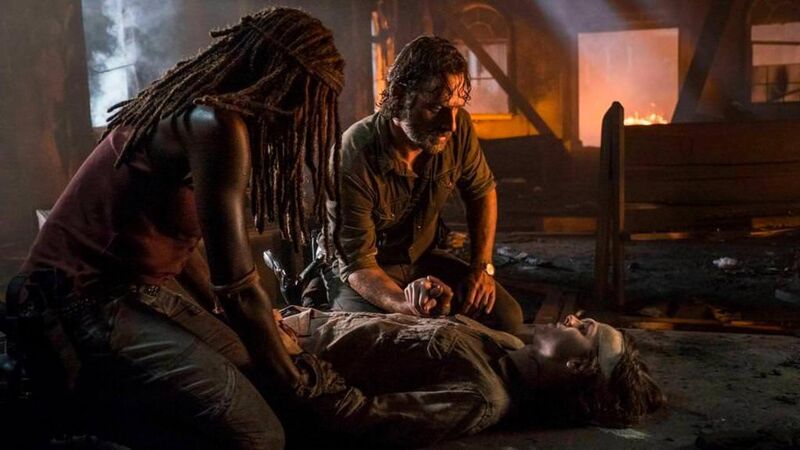 Carl was one of the few children to survive the zombie apocalypse into young adulthood. He bitten by a walker while trying to rescue Siddiq. He kept his injury a secret from his loved ones, writing letters to each. His condition slowly worsened, and he made emotional farewells to his sister Judith (who he gave Rick's hat to), his "best friend" Michonne, and finally his father, Rick. His dying messages were ones of hope and love. Like Andrea, Carl chose to shoot himself in the head so he wouldn't turn after his death. Rick and Michonne waited outside, and flinched when the silencer went off. They buried him in the Alexandria graveyard.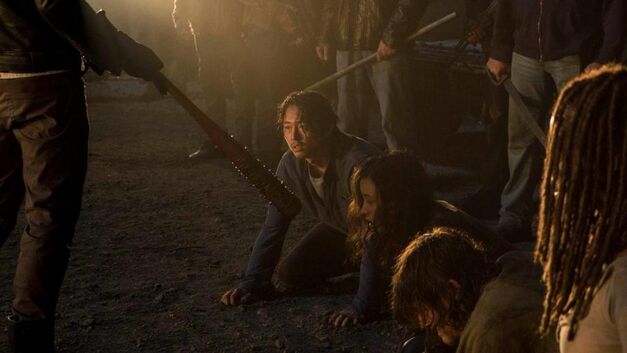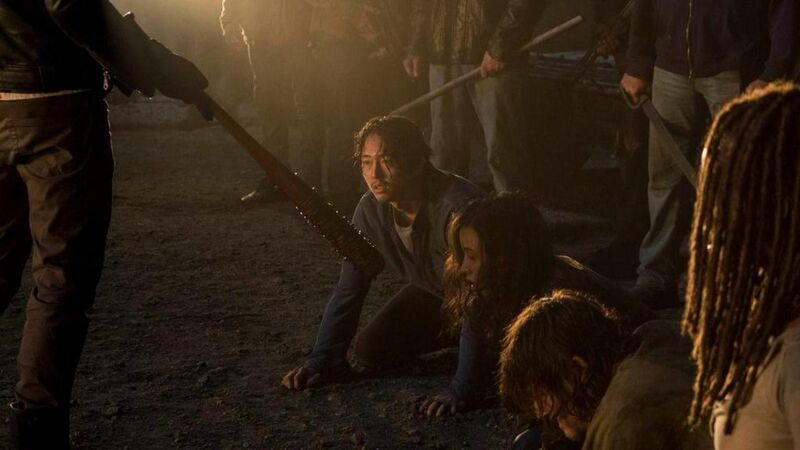 Episode killed: "The Day Will Come When You Won't Be" (Season 7, Episode 1)
Glenn was another of the original Atlanta survivors. He rescued Rick from the tank in the show's second episode, and like Dale, served as the conscience for the group. He fell in love and eventually wed Maggie Greene. When Rick's group was captured by the Saviors, Glenn and the others watched in horror as Negan smashed Abraham's head in with his bat, Lucille. Moments later, Glenn would face the same fate as Negan felt the group wasn't punished enough. He left behind his pregnant wife and many shocked fans.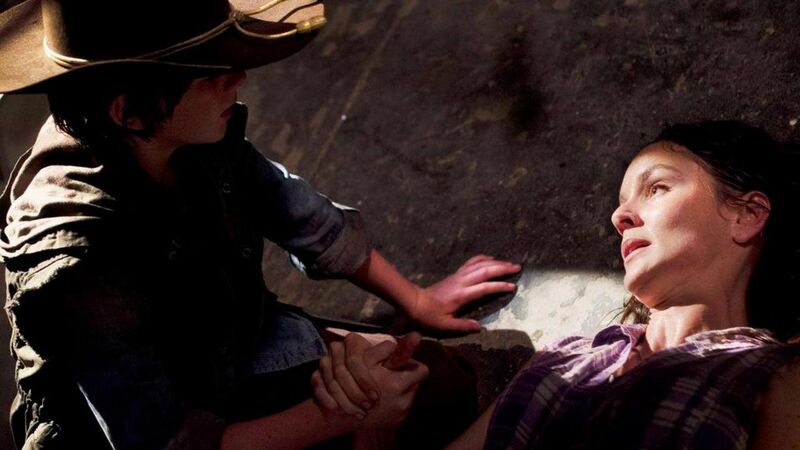 Episode killed: "Killer Within" (Season 3, Episode 4)
Rick's wife Lori survived after both the survivor camp and Greene farm were overrun. She became pregnant during that time, and thought the prison would be a safe place to give birth to and raise a daughter. When walkers attacked the prison, she, Maggie and Carl got separated from the rest. Lori went into labor. Fearing that a stillborn baby would reanimate and rip her apart from the inside, Lori plead with Maggie to conduct an emergency C-section. Maggie hesitantly cut Lori open and delivered a healthy baby Judith. Dying from blood loss, Lori uttered her final words to Carl: "You're so good. My sweet boy. Best thing I ever did … I love you! I love you. My sweet, sweet boy, I love you! Goodnight, love."
Carl then shot his mom in the head to prevent her from reanimating. He then had to tell his despondent dad that she had died.
Do you agree with our picks? Let us know via @getfandom on Twitter and test even more of your Walking Dead knowledge with the quiz below.
The post The Saddest Deaths on 'The Walking Dead,' Ranked appeared first on FANDOM.
The 7 Most Anticipated Games of March 2018
Posted: 26 Feb 2018 09:00 AM PST
Like many years past, March is set to be a big month for video games. As many companies' first fiscal quarter ends, the games they've been pouring their time and resources into begin to roll out. While 2018's March may not be as grand as 2017's – which saw the release of the Nintendo Switch and game of the year powerhouse Breath of the Wild – there are still plenty of hype-worthy titles and expansions coming out this March.
Final Fantasy XV: Royal Edition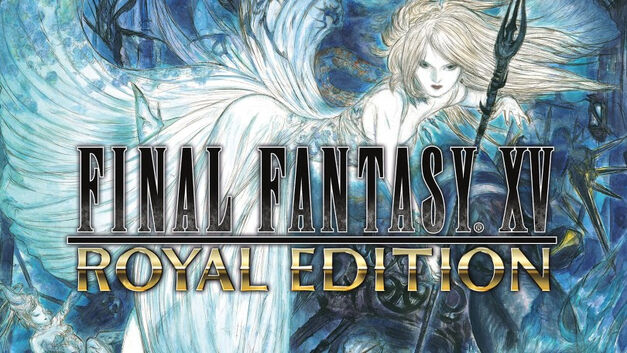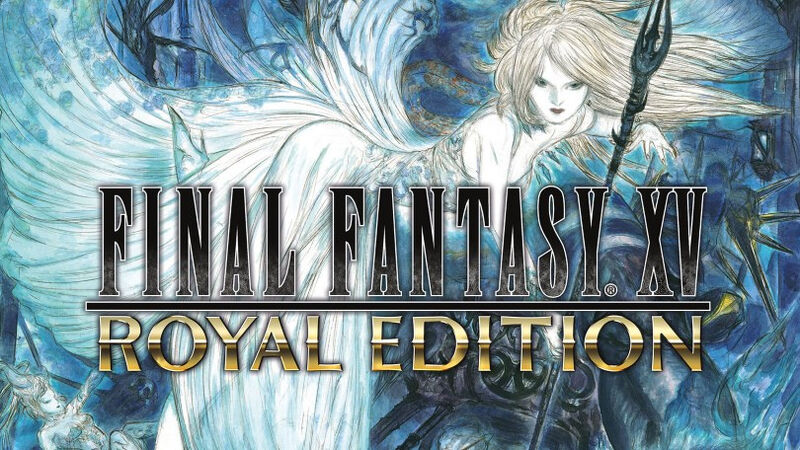 Release Date: March 6
Developer: Square Enix
Platform(s): PC, PS4, Xbox One
Genre: Action role-playing
At some point, Final Fantasy XV will be used as an example of how the way people talk about, critique, and review games will need to change as the medium allows games to be constantly changing pieces of art. However, before that can happen, this game will need to stop receiving content; and FFXV: Royal Edition makes it clear that won't happen anytime soon.
Sporting the latest version of the game, all of the DLC released so far, a first-person mode, a brand-new dungeon, and the ability to drive a boat, this seems like the definitive way to play FF XV until the Ardyn DLC drops later this year. While this new version of the game can come as a single package, owners of the base game can purchase the corresponding DLC to experience this new content on the original version of the game. If you're in the mood for a massive adventure that only continues to grow, this game is definitely a solid pick.
Kirby Star Allies
Release Date: March 16
Developer: Nintendo
Platform(s): Nintendo Switch
Genre: Platform
Have you ever wondered what it'd be like if Kirby befriended the inhabitants of dreamland instead of eating them? Well, look no further than Kirby Star Allies. The game allows players to control the lovable pink blob and other adorable allies in an adventure that's as cute as it is fun.
While Kirby may not have a mech in this romp, he instead has the ability to throw hearts at enemies to gain their assistance in exploration and battle. Kirby still retains his power to eat enemies to use their power, which allows for powerful combination moves when paired with the right ally. All in all, this title seems like it'll be a fun twist on the classic Kirby formula.
Sea of Thieves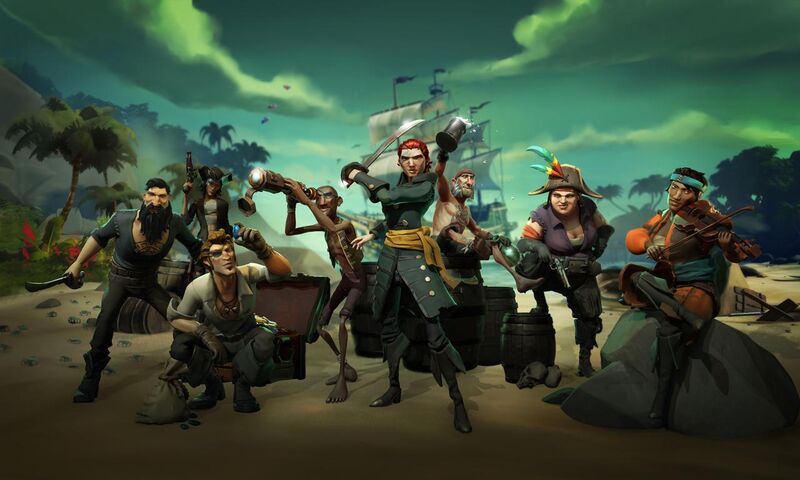 Release Date: March 20
Developer: Rare
Platform(s): PC, Xbox One
Genre: Action-adventure
For those looking to go on an adventure on the high seas with your buddies, Rare has you covered. Sea of Thieves throws players into a world of pirates where you can traverse the seas with your buddies, search for riches on lush islands, and then fight off other players on land and water as you try to turn that treasure into in-game currency.
Coming off of a rather successful open beta, a lot of people are interested in Sea of Thieves, even if the lack of any safe zones and the eventual implementation of microtransactions has some a bit concerned. Regardless though, Sea of Thieves is shaping up to be a one-of-a-kind cooperative adventure for those looking for a fresh multiplayer experience.
A Way Out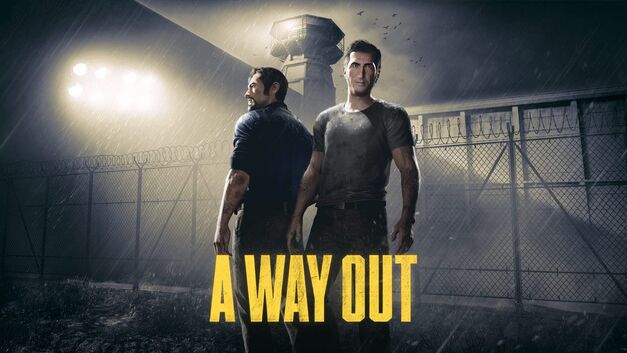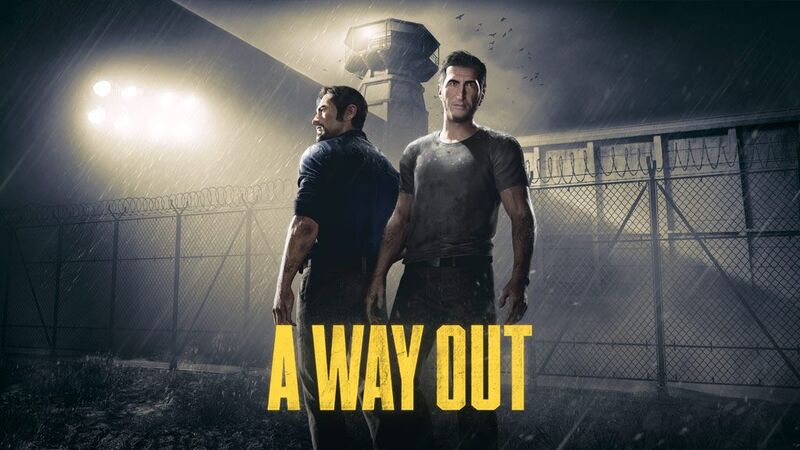 Release Date: March 23
Developer: Hazelight Studios
Platform(s): PC, PS4, Xbox One
Genre: Action-adventure
Remember that 'passionate' gentleman who gave an impromptu speech at the 2017 game awards about the state of the industry, the gaming community, and the elitism of the Oscars? Well, his name's Josef Fares and his game A Way Out is coming out at the end of March. This cooperative game is designed specifically to be played with a friend online or in split-screen mode, as it tells the story of two men who escape from prison and attempt to live as fugitives.
If executed well, this game could be something special and currently gives the vibe of an entire game made of Grand Theft Auto Online multiplayer heists. While the requirement of having to play it with another person may deter a good number of buyers, it may become one of the first steps in establishing a whole new genre of video games.
Detective Pikachu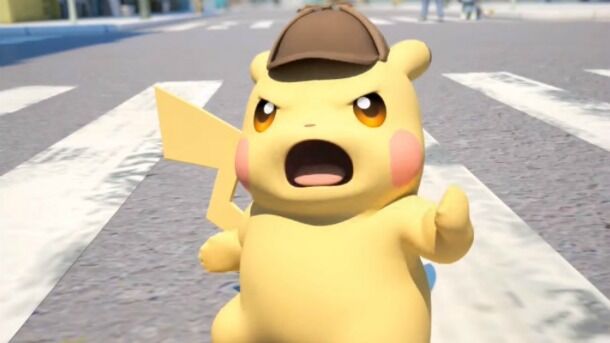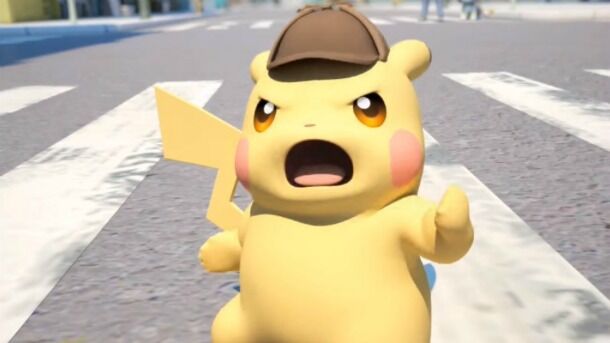 Release Date: March 23 (NA, EU), March 24 (AU)
Developer: Creatures
Platform(s): 3DS
Genre: Adventure
At long last, the game that inspired countless memes, a localization campaign centered around Danny DeVito, and a feature-length film starring Ryan Reynolds is finally seeing a release outside of Japan! After two long years, the promised time is finally nigh. Now we can only hope that it's good.
Detective Pikachu is an adventure game in which a boy named Tim partners with a talking Pikachu to solve various mysteries, including finding Tim's missing father. Despite having released in Japan more than two years ago, there isn't a ton of info online about this Pokémon spinoff. While it may be difficult for the plot, characters, and gameplay to live up to the hype, fingers crossed this bizarre little game comes close.
Ni No Kuni II: Revenant Kingdom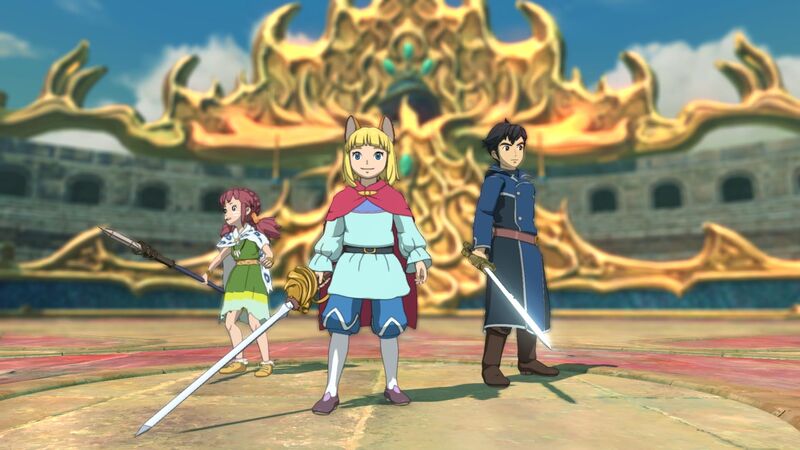 Release Date: March 23
Developer: Level-5
Platform(s): PC, PS4
Genre: Role-playing
Boy, March 23 is going to be busy. This Ghibli-inspired sequel to the critically-acclaimed Ni No Kuni: Wrath of the White Witch is looking like a terrific hit in the making. Set hundreds of years after the first game – so newcomers are welcome – this title promises to take players on a gorgeous and heartwarming adventure through a charming fantasy world.
Ni No Kuni II promises a combat system that's a touch improved over the original, while still focusing on the third-person action and coordination with other characters and familiars. If the first game resonated with you at all or if the Ghibli movies that inspired this game hold any special place in your heart, check out this game and it's almost guaranteed to be worth the time and money.
Far Cry 5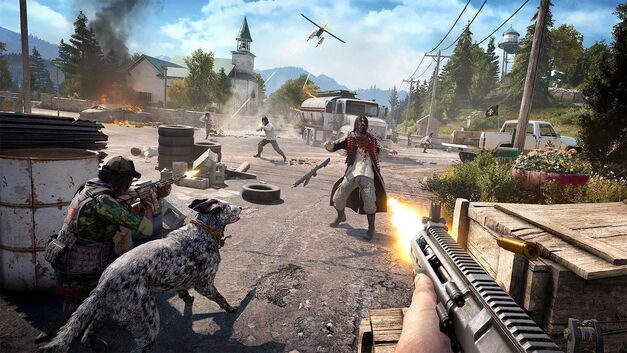 Release Date: March 27
Developer: Ubisoft
Platform(s): PC, PS4, Xbox One
Genre: Action-adventure, first-person shooter
Far Cry 5 is pretty much guaranteed to be an engaging game that nails its FPS action. The Far Cry formula is now a science thanks to four other main series installments and a handful of spinoff titles. Outside of that, though, it might get a little iffy.
Far Cry games, and even Ubisoft games in general, are notorious for their bugginess and less than welcoming user interface. Far Cry 5 also promises to tackle some hot button and extremely relevant political and social issues, which the series has a mixed history of handling. If done well, Far Cry 5 could set the bar for culturally relevant and social conscious video games; but if done poorly, it'll be another competent first-person shooter that will at least be a fun and visually impressive way to spend your time.
Why 'Sea of Thieves' Might be the Antidote to Toxic Online Gaming
The post The 7 Most Anticipated Games of March 2018 appeared first on FANDOM.
Why 'Jessica Jones' is the Best of the Marvel Netflix Shows
Posted: 26 Feb 2018 08:50 AM PST
Jessica Jones returns to TV screens for a second season on March 8, and we here at FANDOM can't wait. As it's a great series in its own right. And also the best of the Marvel Netflix shows thus far. Bettering Daredevil, Luke Cage, Iron Fist, The Defenders, and The Punisher. For the following reasons.
The Character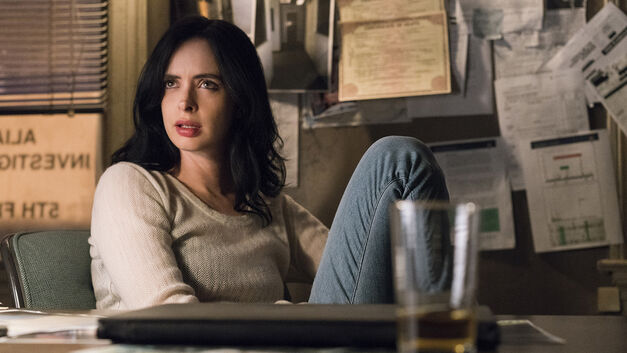 Jessica Jones is a complex, multi-faceted superhero, the likes of which we haven't ever seen on TV. She's the most reluctant of heroines, and who can blame her? Jessica came by her powers following the death of her parents in a car crash and a stint in hospital where terrible things were done to her body. So no wonder she isn't exactly overjoyed to have them.
The other Marvel characters in this TV universe have their backstories — almost always involving dead family members — but Jessica's has a horrific twist that makes it that much more engaging. Involving the darkest of storylines. Which we'll get to in a bit.
She's also the funniest of The Defenders. Deadpan, sarcastic, and deeply cynical, but also hilarious as she deftly puts down anyone who annoys her or gets in her way. These Netflix shows can be a little po-faced and serious, yet while Jessica Jones may be the most serious of the lot, its title character manages to cut through the grim subject matter with a string of hilarious one-liners. Delivered in note-perfect fashion by the delightfully sardonic Krysten Ritter.
She's also a woman surrounded by men. Big, muscly, macho men, frequently skilled in martial arts, who mostly let their fists do the talking. Yet, in spite of her many flaws, Jessica is stronger than any of them. Not physically — though in that respect she definitely gives the boys a run for their money. But rather, mentally — with Jessica a victim who in Season 1 confronted the demons of her past, and destroyed them. Making her all the stronger in the process. And a hero it's impossible not to root for.
The Storyline
Daredevil is dealing with blindness and a crime epidemic. Luke Cage has a past that's catching up with him and his own gangsters to deal with. Punisher is avenging the death of his wife and children. And Iron Fist is trying to get his family business back. But in Season 1 of Jessica Jones, our hero is dealing with the kind of trauma rarely seen in the genre. Making for a very adult superhero series.
Because the show's villain — Kilgrave — can force his will on others. He simply has to say the words, and Kilgrave's chosen victim will follow his instructions. Giving the character very nearly unlimited powers as he uses and manipulates those around him.
Season 1 unfolds after Jessica has escaped his clutches following months under his spell. The show hints at what happened during that time — with rape alluded to — and Jessica is very clearly suffering from serious PTSD. So when Kilgrave returns, it's both disturbing and terrifying.
Their ensuing battle of wits makes this the most compelling of the TV storylines, as it genuinely feels like a battle between good and evil. And right up to the season's final moments, it isn't clear who will come out on top.
The Villain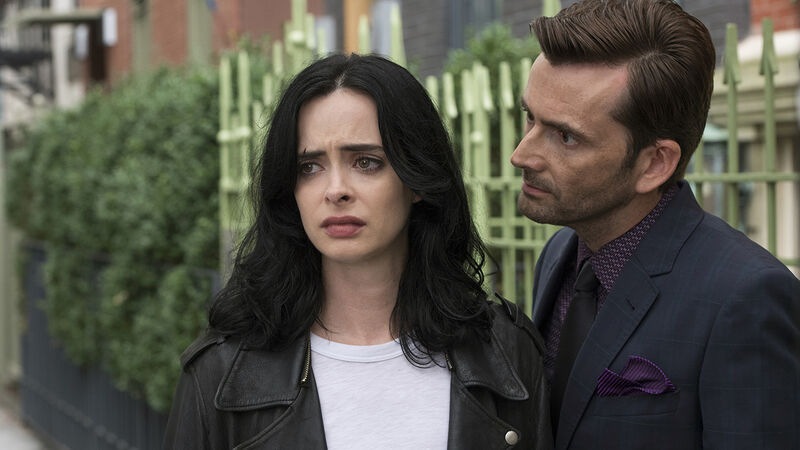 Superhero stories often live or die by the quality of their villains. There's a reason why Thor: The Dark World made very little impression on audiences. And that's largely down to Malekith being rubbish. Luke Cage and Iron Fist also failed to nail their baddies, and for that reason, those first seasons were largely forgettable.
Daredevil has a GREAT villain in the shape of Wilson Fisk, aka Kingpin. He's a monster of a man who is a great match for Matt Murdoch. The show also manages to make him sympathetic; no mean feat when you are depicting a cold-blooded killer.
But Kilgrave takes villainy to the next level. As played by David Tennant, he's charming and suave; the smiling face of malevolence. Yet his sinister obsession with Jessica is truly the stuff of nightmares. And with the #metoo movement gathering steam in the real world, Kilgrave's behaviour is all too believable; his inability to understand that he's doing something wrong reflecting so many of the stories that we are currently seeing in the news.
Watching a believable superhero do battle with a believable supervillain, therefore, gives Jessica Jones the edge over the other shows in the Marvel Netflix universe. With Jessica's story exciting and entertaining, sure. But also important and thought-provoking, the material staying with the viewer long after the credits for the last episode have rolled.
The post Why 'Jessica Jones' is the Best of the Marvel Netflix Shows appeared first on FANDOM.
'Walking Dead' Fans: Why Your Next TV Obsession Will Be 'Save Me'
Posted: 26 Feb 2018 08:33 AM PST
A new series called Save Me is about to hit screens, and if you're a fan of The Walking Dead, you should be very excited indeed. And there isn't a walker in sight.
It's largely to do with Morgan actor, Lennie James. If you're already feeling the British star's loss from The Walking Dead, you're not alone. While James will be popping up in spin-off series Fear the Walking Dead when it returns for its fourth season in April, his presence in the main show will be sorely missed.
As Morgan, James has been one of the most interesting, and complicated, aspects of the show. Whether his character is fighting walkers, taking down bad guys or trying to be the best person he can be by exercising his pacifist ideals, when Morgan is on screen, everything is better. And that's why James' involvement in Save Me, which is about to premiere on British TV, is so enticing.
What's the Story?
James is the creative force behind the brand new six-parter, a gritty crime thriller set in South London with a plot that revolves around a missing girl. He's not only the star of the show, but he's also responsible for writing the majority of the series, in which the daughter of his character, Nelly, disappears. The twist to this oft-told tale is that Nelly is estranged from daughter Jody. He last saw her when she was a toddler; she's now 13 years old. And the finger of suspicion is pointed at him.
As his life is turned upside down, he takes it upon himself to investigate Jody's disappearance. In the process, he unearths a bunch of secrets about himself and those around him.
How Is It Like 'The Walking Dead'?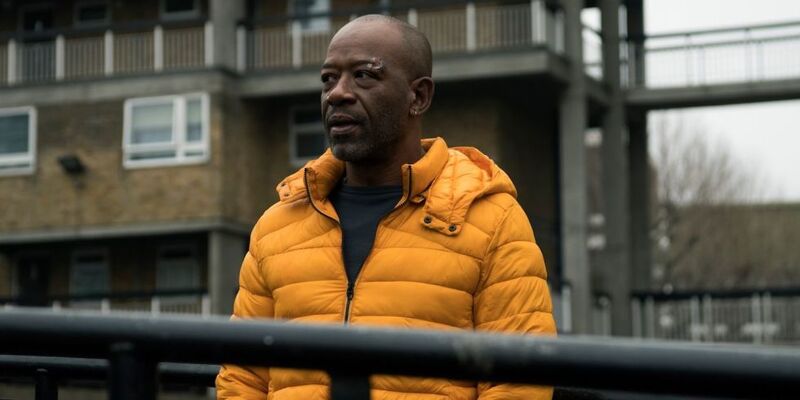 Like The Walking Dead, there's plenty of intrigue and suspense on offer in Save Me. But instead of throwing an actual zombie apocalypse into the mix, the show introduces its own blend of chaos.
Like Morgan before him, Nelly goes it alone. Both become vigilantes of sorts, with Morgan making it his personal mission to 'clear' walkers at one point in his story, and survive on his own; and Nelly heading off on his individual quest to find out what's happened to his daughter. And just as Morgan goes forth armed with a bo-staff, Nelly also steps forward with his own signature item – a yellow padded coat.
What Else Is There To Recommend It?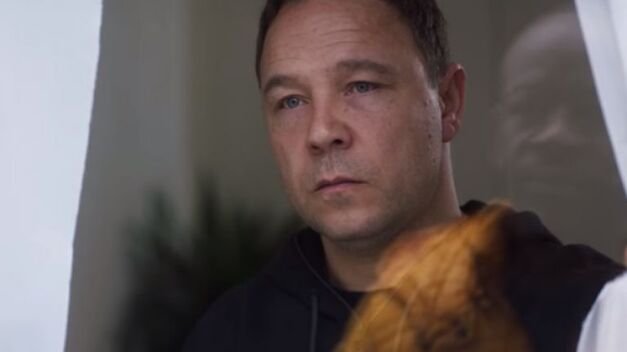 There are bad guys and anti-heroes in Save Me, much like the zombie show. Nelly fills the anti-hero role — a philandering past reveals he's made mistakes – while Stephen Graham's character is taken in for questioning, becoming an early suspect and villain because of his sordid background. Complicated, since he's a friend of Nelly's. It's fair to say that Morgan has also butted heads with his friends on occasion.
A strong supporting cast of British talent including Suranne Jones, Jason Flemyng, Adrian Edmondson and Derek star Kerry Godliman, as well as the endlessly versatile Stephen Graham, give further reasons to watch.
Save Me hits screens on February 28 in the UK. No release date has been announced as yet for the US.
The post 'Walking Dead' Fans: Why Your Next TV Obsession Will Be 'Save Me' appeared first on FANDOM.
Kirby's Friends We Know and Hope to See in 'Kirby Star Allies'
Posted: 26 Feb 2018 03:00 AM PST
I know what you're thinking. In Kirby Star Allies, by way of Kirby's classic ability to inhale and assimilate enemies, isn't every character your ally? Isn't this even moreso the case with Kirby's new ability to charm enemies by throwing hearts at them?
There's a difference between Kirby allies and Kirby friends. Kirby friends are the equivalent of helpers — enemies you can turn into friends to use their abilities throughout the level. They're tools. Kirby allies are moreso actual characters, intended for fans to fall in love with and pine for their cameos in new versions. Kinda like this!
Given the nature of Kirby games, the list of allies is quite similar to the list of villains. It's normal for characters on either side of the line to swap allegiances for a short time. So you'll forgive us if we include Meta Knight just because he's awesome and cute. Nobody's a full-time villain here.
The names are similarly … similar. With monikers from Lololo to Lalala to Dedede, you'd be forgiven for thinking the naming of Kirby characters fell to an executive's three month-old child. Tsk, tsk. Nepotism.
We know there are some animal friend cameos planned from the likes of Nago, Pitch, and ChuChu. But which of these strings of repeated syllables do we hope to see in Kirby Star Allies? For that we'll have to reach back across the franchise for our favourites.
Meta Knight
Friend or foe? You never really know. Meta Knight, leader of the meta knights (because that's so meta), looks very much like an armoured version of Kirby. His motivations have always been mysterious, and despite breaking his mask, we've never seen his face.
Even when Meta Knight is fighting against Kirby though, you have to respect him. He's nothing if not honourable, and will offer Kirby a sword to make the fight fair.
We hope to see more of this character both because he's a fan favourite, and because we want to know more about him. His mystery is part of his charm, but throughout the series each appearance has revealed something new.
In Meta Knightmare Ultra we learned he's on a quest to become the greatest warrior in the galaxy. In Revenge of the Meta Knight we learned he hates laziness. And in the anime, we learn that Meta Knight does take into account the greater good, which is ultimately his reason for helping Kirby.
Chef Kawasaki
Racking up what must be the most appearances in the Kirby series (yes, other than Kirby, you pedantic scoundrel) is Chef Kawasaki, another villain-turned-friend.
Kawasaki is the perfect compliment to Kirby. On one hand, we have a hero who can't stop eating. On the other, we have an ally who can't stop cooking. Boom.
Kawasaki is also the source of one of Kirby's most powerful abilities: Cook.
Don't let the understated name fool you. This effectively clears the entire screen of enemies other than bosses. Due to its power, this is one of the few Copy Abilities that only gives you one use.
Kirby Star Allies has a lot of powerups just floating around mid-level, so we're not sure the game has much use for a character that would dole out tasty treats for Kirby's benefit. The level design itself is already quite liberally sprinkled with things for Kirby to eat.
Even if we don't see Chef Kawasaki, it'd be great to see some continuation of the robotisation of characters, a la Mecha Kawasaki.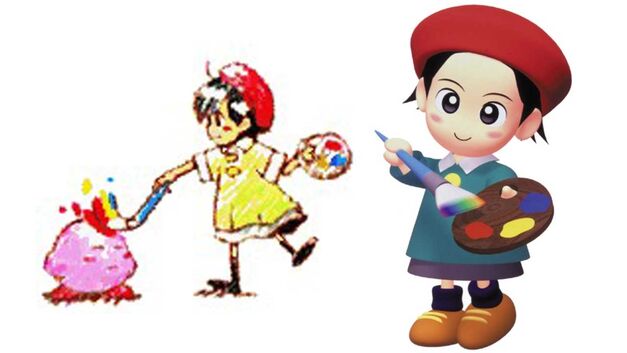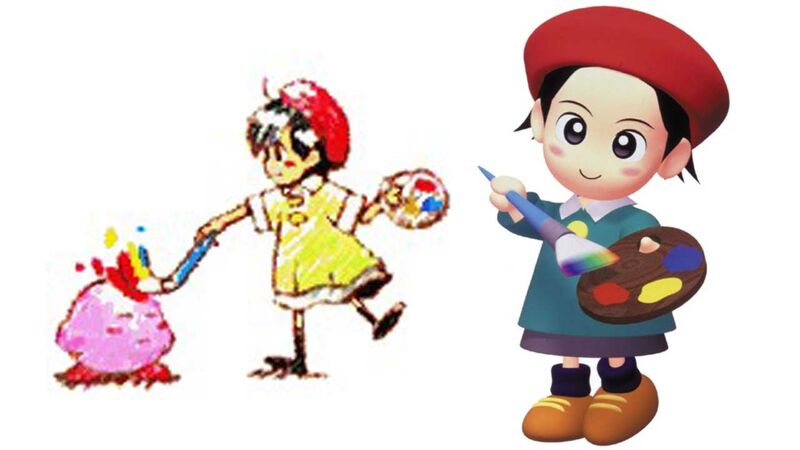 Adeleine
The child painter who could bring her creations to life, we don't just hope to see a Kirby Star Allies Adeleine, we hope to see more Adeleine in general.
She can be sweet and paint into reality items or creatures to help Kirby. But the last time we saw her she was possessed by Dark Matter, turning on Kirby. Adeleine as an enemy is extremely dangerous, bringing a conga line of past bosses into existence with a flick of her brush.
This is an idea that could use a lot more exploring, both thematically and in terms of gameplay. If Drawn to Life can animate whatever pixel art abominations we put together, imagine the same idea with the backing of Nintendo.
Whether or not we're controlling her, and whether or not she's on our side, it's a super cool ability that deserves more screen time.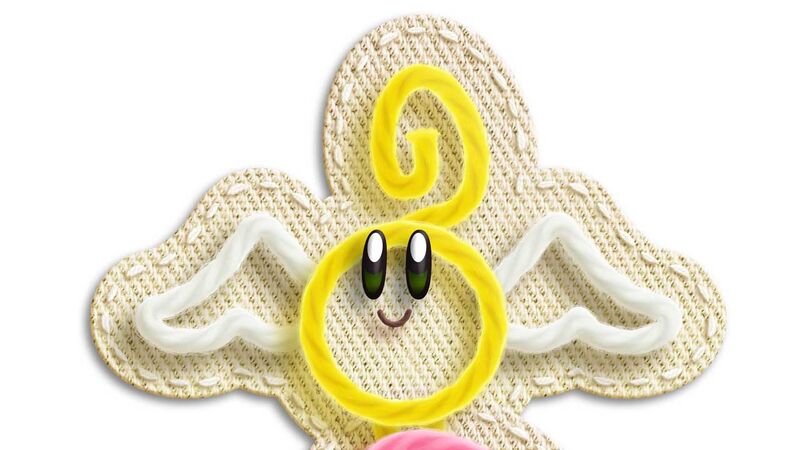 Angie
There's a lot of potential for newer characters from Kirby's Epic Yarn to make a jump into more traditional 3D cartoon graphics, and we think a great candidate would be Angie. Even moreso than Prince Fluff.
This smiley angel would carry you to your teammate whenever you wished, and would save you from fatal falls — at the cost of a few beads. It's a similar role to Lakitu in Mario Kart.
We haven't seen any of Angie so far in the promotional material, and we probably would have if she played a major "saving Kirby's bacon" kind of role. But this is a series that loves cameos. Anything's possible.
We could see all or none of the above allies. But we are slowly building a list of all the friends (and their abilities) for you to assimilate in Kirby Star Allies. Check it out here.
The post Kirby's Friends We Know and Hope to See in 'Kirby Star Allies' appeared first on FANDOM.
You are subscribed to email updates from FANDOM.
To stop receiving these emails, you may unsubscribe now.
Email delivery powered by Google
Google, 1600 Amphitheatre Parkway, Mountain View, CA 94043, United States