---
#MeToo Leader Accused of Getting Handsy With a Male Staffer…
Posted: 10 Feb 2018 05:02 PM PST
Ever since Weinstein, allegations of sexual misconduct have been spreading like the clap at a hippie commune. At first, the stories had legitimacy. Then, things quickly devolved. Now, casting a look of yearning in the general direction of a woman is the same as making whoopee with her against her will. Thanks in no small part to the #MeToo bandwagon.
The left should have known it wouldn't be long before this McCarthy-like movement came back to gnaw their hind-parts into ground beef. This #MeToo leader just got herself #MeToo-ed by a male staffer.
A California Democrat who was featured in Time magazine's Person of the Year issue for her role in the anti-sexual harassment "#MeToo" movement has been accused of drunkenly groping a male legislative staffer at a softball game in 2014.

Assemblywoman Cristina Garcia allegedly stroked the then-25-year-old staffer's back, tried to squeeze his buttocks and attempted to grab his crotch as he walked away from her.

The staffer, Daniel Fierro, worked for Assemblyman Ian Calderon at the time. He did not immediately report the incident but in January told Calderon, also a Democrat, who reported it to Assembly leaders.

Garcia was "clearly inebriated" during the 30- to 35-second episode, Fierro said.

"Her hand was there and it slipped down to my butt and she tried to squeeze," Fierro added.
Yeah.
Hollywood rapery gave birth to the whole #MeToo movement and, at first, there was good reason for it. Then, opportunistic feminists had to throw their pu**y hats into the ring. Suddenly, every head-shaven leftist pudgemonster in America has a tale of that one time a guy complimented their socks on the subway. The horror.
#MeToo has trivialized sexual harassment. Now, a guy getting his rear-end felt up by a drunken #MeToo leader is on the same level as him getting plowed in a prison shower. After the bar of Irish Spring slipped from his grasp.
The movement's higher-ups are a victim of their own creation. Sucks to be them.
While we're on the subject:
Bill Maher Blasts Fragile Millennials Over Their #MeToo Extremism…
Posted: 10 Feb 2018 12:45 PM PST
Bill Maher did a follow up from his #MeToo rant last week. This time with Bari Weiss from the New York Times. You may remember her from such "problematic" OpEd's like "What Aziz Ansari did was not rape." While both Maher and Weiss aren't members of #MugClub, they brought up a lot of points we can see eye to eye on. Rape and smacking dat ass, while both inappropriate, are not the same thing. They went all Dave Rubin on us pointing out the difference between liberals vs hard leftists.
But it's Maher's rants against fragile leftist millennials I can never say no to.
I don't think it's the majority of millennials. I think it's the upper-middle-class kids who grew up screaming at their parents and that was okay. And they are just so fucking fragile––excuse me––I think of them as emotional hemophiliacs and the rest of us have to be so careful around them…
The latest generation of bitter leftists doesn't seem to get it. Our country has as many serious problems as Michael Moore has extra pounds. Everyone is putting forth solutions to solve them. Everyone except for leftists of course. Their idea of a solution is boo-hooing like a toddler until their enemies cave and give them their way.
These fragile leftist millennials don't just attack people for having the "wrong" opinion. They attack them for having the "right" opinion, but not expressing it using the "right" words. "There are no varying severities of sexual harassment, you rape apologist! Saying hello is the same as penetrating her without permission!" It's a super quick way to get everyone, even people who agree with you, to not waste their time arguing with you.
And eventually, not even bothering to listen to you in the first place.
Mike Pence Only Stands for America at the Olympics. Leftists Rage…
Posted: 10 Feb 2018 07:03 AM PST
These days, we can't seem to have a sporting event without a political controversy (see WWE Legend The Undertaker: STAND for the National Anthem and Jemele Hill: Trump Caring About National Anthem is 'Racial Pornography'). This one is funny though, because it involved Vice President Mike Pence. Apparently he copped a squat when Team Korea entered during the opening ceremonies of the Olympics.
The left thinks they can score outrage points off of it.
Pence, Abe give a pass to standing during entrance of joint Korean Olympic team. pic.twitter.com/ulY4PZs5cI

— ian bremmer (@ianbremmer) February 10, 2018
For a guy who gets so mad about someone taking a knee, he sure is comfortable taking a butt.

"Mike Pence takes a cue from Kaepernick and refuses to stand for Team Korea" #Olympics #OpeningCeremony https://t.co/GcHwMnBPjD

— Karen DaltonBeninato (@kbeninato) February 10, 2018
At Olympics opening ceremony, Pence refuses to stand for any country except the U.S. https://t.co/2JqabaOSfz pic.twitter.com/1GG0G6Nowk

— ThinkProgress (@thinkprogress) February 10, 2018
Is the argument here that Kaepernick and the kneelers aren't American? https://t.co/sKBUekz7Sb

— Conn Carroll (@conncarroll) February 10, 2018
Right. Because the Vice President not giving props to North Korea is totes the same as American athletes not standing for the American national anthem.
Remember the NFL players who kneeled for America but stood for England? What Pence did was the exact opposite. Literally. It's hard to ignore the intent of the protests as well. Pence was airing his disapproval of a murderous commie regime that's actively seeking to nuke the bejeezus out of the land of the free. Kaepernick was kneeling because he wanted media coverage foolishly believes the po-po is a front for racist murder squads, trying to genocide all the brown people. Big difference.
Personally, I think Pence should have stood for the other countries. Maybe not for the Korea of the North, but definitely the other countries. This selective outrage shows just how out of touch the left is. Kneeling is a God-given right when it suits a leftist cause. But, when a conservative takes a seat, suddenly every nation deserves respect. Dunking on Pence because he only stands for America does nothing but send yet more in-kind contributions to Trump 2020.
If you seriously think there are any similarities between Mike Pence and Colin Kaepernick here, I'd shut off the Twitter and get some fresh air. You obviously aren't getting enough oxygen to the brain.
Sheriff's Office Celebrates Valentine's Day by Raffling Glocks…
Posted: 10 Feb 2018 04:02 AM PST
The day of cheesy cards, revolting couple's Facebook posts, and bad chocolate is just behind the heart-shaped door. Couples are looking for the perfect Valentine gift. Which, up until now, didn't exist. Well fret not, for one sheriff's office is making the perfect gift myth possible (see WIN: Texas Mom Trolls Home Intruder with Security Camera Footage and a Shotgun!).
This law enforcement office gets the idea of a truly American Valentine's Day:
The Clarendon County Sheriff's Office wants you to be able to bear arms for the one you love.

The flyer says "PROTECT YOUR VALENTINE!!!" And if you love your partner as much as you love the Second Amendment, this one is for you.

If you are one of the 400 people who purchase a ticket, you'll be entered into a raffle to win a Glock 42 .380 and a Glock Model 43 .9mm. The raffle also includes free SLED-approved concealed weapons training to learn how to safely shoot with your love.

There will be two different drawings where the first two tickets pulled will each win a gun – so four guns will be given away in all.
Nothing says "I love you" like the smell of gunpowder. Or the skills to pump home intruders full of lead. A surefire way to capture a conservative lady's heart is by shooting out a robber's.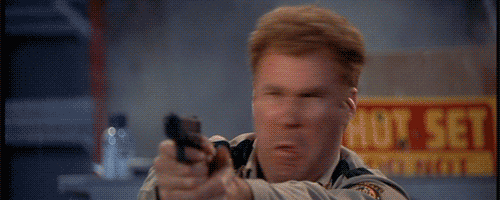 America's right to Glocks is celebrated perfectly through this raffle. Which, by the way, benefits Families of Fallen Law Enforcement Officers. While the left strives to disarm citizens, gun owners recognize the sex appeal of self-protection. Love often requires concealed Glocks to keep lovers' hearts beating. As long as the Constitution is in place, no leftist can deprive an American of their right to frisky frolics of self-fortitude.
Young lovers are like first time shooters. Naive, but passionate about the relationship:
NOT SUBSCRIBED TO THE PODCAST? FIX THAT! IT'S COMPLETELY FREE ON BOTH ITUNES HERE AND SOUNDCLOUD HERE.
You are subscribed to email updates from Louder With Crowder.
To stop receiving these emails, you may unsubscribe now.
Email delivery powered by Google
Google, 1600 Amphitheatre Parkway, Mountain View, CA 94043, United States