---
PartyPoker previews EU player liquidity pooling plans
Posted: 13 Feb 2018 12:57 PM PST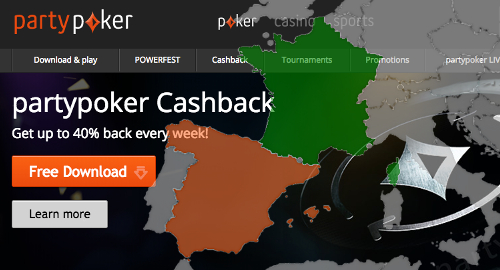 GVC Holdings flagship poker brand PartyPoker is making plans to launch its European Union cross-border liquidity pool, although players in those four regulated markets will have to wait another few months (at least).
Last week, the official PartyPoker Representative informed the TwoPlusTwo poker forum that the brand would launch its cross-border liquidity pool "in the coming months." The apparent plan is to start by linking PartyPoker's French- and Spanish-licensed sites, but will "likely" extend to Italy and Portugal in due course.
Last July, gaming regulators in France, Italy, Portugal and Spain agreed on a framework to allow their online poker licensees to pool their players. To date, only The Stars Group's PokerStars brand has launched cross-border pooling between its French and Spanish sites, but French operator Winamax is working feverishly to launch similar cross-border operations.
The PartyPoker rep had no further specifics on timelines, but did say the shared liquidity pool "will be country-specific and will not be open to .com players." PokerStars is allowing players from other markets to join the pool via its Spanish site provided they don't hail from a market that has enacted its own online gambling legislation.
GVC has other brands that are active in Italy but PartyPoker.it shut down in July 2016, meaning GVC would have to relaunch the brand or steer players to its other brands. Italian regulators have also offered no guidance on when they might approve the necessary regulations to permit liquidity sharing, although local politicians have reassured their counterparts in the other three markets that they intend to respect last July's agreement.
PartyPoker is also not licensed in Portugal, which has to date only issued one online poker license (to PokerStars). In fact, no GVC brand currently holds any type of Portuguese license.
All of which means PartyPoker may indeed combine their French and Spanish player pools in a couple months after receiving regulatory approval. But players in the other two markets aren't advised to hold their breath.
GVC has done a remarkable job of reinvigorating PartyPoker since GVC acquired the operations of Bwin.party digital entertainment a few years ago. PartyPoker's turnaround was singled out in GVC's H1 2017 earnings report and GVC appears intent on ensuring that PartyPoker can compete with PokerStars in EU regulated markets and beyond.
The post PartyPoker previews EU player liquidity pooling plans appeared first on CalvinAyre.com.
Malta Gaming Authority launch new anti-money laundering unit
Posted: 13 Feb 2018 09:45 AM PST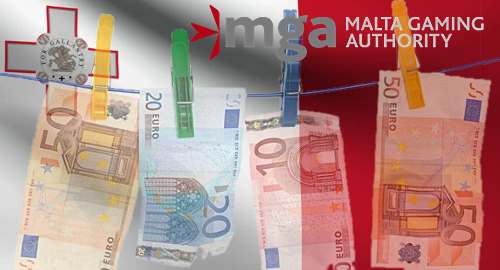 Malta's online gambling regulator has unveiled a new anti-money laundering program, part of the regulator's ongoing efforts to bolster its battered public image.
On Tuesday, the Malta Gaming Authority (MGA) announced the formation of a new Anti-Money Laundering Supervisory Unit. The move follows Malta's adoption of the European Union's Fourth Anti-Money Laundering Directive last December.
The new AML Supervisory Unit is now fully operational and will be conducting on-site and off-site inspections of MGA licensees, some of which will be conducted jointly with Malta's Financial Intelligence Analysis Unit (FIAU). The MGA says its AML supervisory plan for 2018 includes a "significant number of on-site visits" to both land-based and online licensees.
While the new AML unit has obviously been in the works for some time, it's formal debut comes just one day after the MGA launched a probe of its Italian-based online gambling licensees. The probe is a response to this month's arrest of Italy's so-called 'betting king' and his MGA-licensed operation's alleged links to Mafia clans.
Malta's gaming industry contributes 12% of the island nation's gross domestic product, and thus the MGA is sensitive to reports of its Italian licensees' alleged links to organized crime. In January, the MGA pushed back against claims by Italy's Anti-Mafia Commission that the MGA wasn't doing all it could to help root out Mafia-linked illegal gambling operations.
Last week, MGA executive chairman Joseph Cuschieri said he wanted better collaboration with Italian authorities and promised that the MGA had "further intensified checks against Italian companies." Maltese officials claimed these probes were only the first stage in a concerted crackdown on any unapproved activity by Italian licensees.
On Monday, Italian gaming news agency Agimeg reported that the MGA had issued letters to seven Italian licensees seeking formal responses to 20 specific questions, including their AML protocols.
The post Malta Gaming Authority launch new anti-money laundering unit appeared first on CalvinAyre.com.
Turkey arrests 100 people in online gambling crackdown
Posted: 13 Feb 2018 08:38 AM PST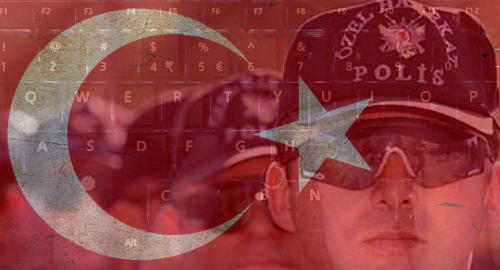 Turkey is making good on its pledge to stamp out illegal gambling operators, particularly those who ply their trade over the internet.
On Tuesday, Turkey's Hurriyet Daily News quoted a report from the state-run Anadolu Agency that over 1k police officers had staged a series of simultaneous raids across nine provinces in an operation targeting illegal online sports betting operators.
The raids, which were launched by Turkey's cyber-crime unit, targeted 140 different house addresses in Istanbul, Ankara and other major cities. The report failed to specify the names of the gambling sites targeted in the police action.
Roughly 100 individuals were detained during the early morning raids and taken to police stations for questioning. Hurriyet reported that the suspects were all "initially taken to hospital for a health checkup," which seems like an odd detail to include, unless the police were particularly, er, enthusiastic in rousting these alleged cyber-criminals from their comfy beds.
Tuesday's raids mark the latest police action since Turkey announced a two-year crackdown on unauthorized gambling last July. Turkey's only legal gambling options remain the state-owned Milli Piyango lottery and SportToto sports betting product.
Since the new campaign was announced, Turkey has announced new restrictions on the use of automated teller machines, after discovering that online gambling operators were using taxi drivers to make frequent pit-stops at ATMs along their routes to move money between gambling sites and Turkish bettors.
More recently, Turkey imposed new restrictions on mobile money transfers, limiting users to two transfers per day, while requiring all transfers to be accompanied by more detailed user identification.
The stricter regulatory climate ultimately persuaded UK-listed online gambling operator GVC Holdings to divest itself of its Turkish-facing subsidiary, which was deemed the biggest regulatory obstacle to GVC's proposed takeover of UK rival Ladbrokes Coral Group.
The post Turkey arrests 100 people in online gambling crackdown appeared first on CalvinAyre.com.
Juniper Research: Online bets to hit $700B in 2018
Posted: 13 Feb 2018 06:41 AM PST
An increased uptake in digital products and more favorable online gambling regulation will help spur an uptick in digital wagers in 2018, the latest Juniper Research data show.
Juniper's Mobile & Online Gambling: Casinos, Lotteries, Betting & VR 2018-2022 claims that total online wagers will jump by as much as 11.4 percent to $700 billion this year compared to just over $620 billion in 2017.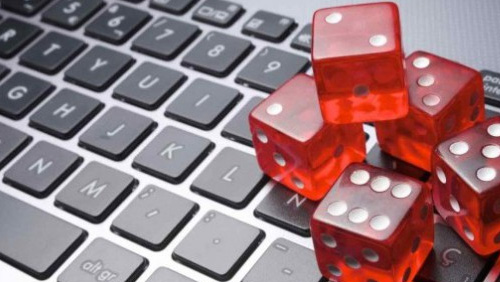 Gambling analysts found that the casino vertical will remain at the forefront of driving online wagers this year.
By 2022, Juniper forecasts that global online gambling wagers will reach a total of $1 trillion while the number of online gambling users will double to 684 million.
"We believe new channels, such as chatbots, have the potential to drive customer engagement, through delivery of personalized offers, alongside 24/7 player support," analyst Lauren Foye said, according to the news outlet.
In making its conclusions, Juniper accounted for the raft of global legislative changes such as the recent poker ban in Australia and significant disruption from social offerings.
Juniper paints a rosy picture for online gambling as they believe that new opportunities will emerge across the globe. It cited the North American market as ripe for future growth after seeing a number of U.S. states taking initiatives to legalize online gambling.
In October 2017, Pennsylvania authorized online casino and poker sites, daily fantasy sports, online lottery sales, mobile gambling at airports after legislators approved a sweeping expansion of gambling.
Pennsylvania joins Delaware, Nevada and New Jersey as the only U.S. states that currently permit some form of non-lottery online gambling.
Meanwhile, Juniper hailed LetsBet as one of the innovative start-ups that will shake up the current status quo in the online gambling market. It also expressed confidence that "providers in the online gambling industry, particularly in the casino space, will increasingly offer engaging products to drive user adoption and player spend."
The post Juniper Research: Online bets to hit $700B in 2018 appeared first on CalvinAyre.com.
Prague Gaming Summit 2018 announces Tal Zamstein (Fortuna Group) and Jakub Kolomicenko (Endorphina)
Posted: 13 Feb 2018 06:03 AM PST
Prague – 13 February 2018 – The leading boutique style gaming conference in Prague is gathering new and old faces of the industry in order to highlight the trending topics for the attending delegates.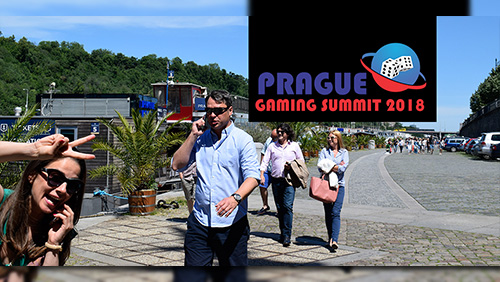 Following the latest statements of the Czech Prime Minister Andrej Babis, who stressed on the fact that 30 million crowns are needed this year to prevent gambling addiction, the event registrations have grown significantly.
Babis has also stated that Labour and Social Affairs Minister Jaroslava Nemcova has been tasked to find out whether the sum can be drawn from the EU money that has been designated for the Czech Republic but still remains partly unused.
Seven centres of gambling prevention operate in the Czech Republic. Babis said such centres should be in each of the country's 14 regions.
There are several sources which point towards the fact that a debate might be launched on raising the tax on alcohol, tobacco and gambling.
These statements leave the gambling industry related debate open in terms of profitability and clear vision to setting an optimal market for operators and players.
The latest announced speakers will join the "Focus on Czech Republic (panel discussion)" which is going to be held between 10:30 – 11:30 AM (Prague Local Time) at the second edition of Prague Gaming Summit. (more details about the agenda can be found here…)
Tal Zamstein (Group Head of Gaming at Fortuna Group)
Tal is an extraordinary manager with excellent leading skills. He is an experienced professional and well known for his innovative work within the gaming industry. Tal believes and drives his team to better achievements. He encourages his team by supporting them in all their endeavors. An outstanding manager, who creates a calm and professional work environment.
Jakub Kolomicenko (Endorphina)
Jakub started his practice as a corporate lawyer and member of Czech Bar Association but then he changed his focus and as an in-house counsel specializes on IP law and all aspects of gaming law namely licensing, regulations and compliance.
He can be reached at legal@endorphina.com or skype legal.endorphina
More speaker profiles will be announced soon, but you may want to check the already confirmed line-up of speakers and register in time. The event is limited to 125 seats.
Visit the official website of the event for more details: https://praguegamingsummit.com/
About the organizer, European Gaming Media and Events (formerly EEGMedia/EEGEvents)
European Gaming Media and Events is a leading media and event organizer company in the European Union.
The live events/conference division is in charge of organizing boutique style executive gaming events that focus on bringing inside information from the top gaming experts in the European Union and beyond. Their first event was held in Budapest on the 19th of September 2016. Since then the team have implemented more destinations into their event portfolio.
In short, they cover most areas of Europe with international events that serve the local and global industry, optimize networking opportunities and bring the hottest topics into scope.
The event destinations include Vienna, Prague, Budapest, Riga and Ljubljana with special focus around emerging markets.
For more details about the calendar, agendas and locations, visit the Live Events/Conferences section on europeangaming.eu
The post Prague Gaming Summit 2018 announces Tal Zamstein (Fortuna Group) and Jakub Kolomicenko (Endorphina) appeared first on CalvinAyre.com.
Metal Casino launches a new casino live stream on YouTube and Twitch, hosted by real rock stars
Posted: 13 Feb 2018 05:55 AM PST
Guitar hero Ryan Roxie to co-host twice-weekly gaming and rock broadcast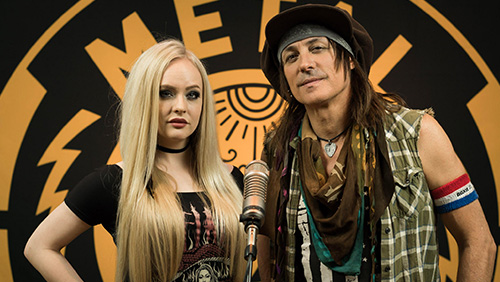 13 February 2018 – Malta (Press Release): Metal Casino, the gaming site for rock fans that is part-owned by Ozzy Osbourne, is to launch a twice-weekly gaming and music show that will be streamed live on leading platforms Twitch and YouTube.
The Metal Casino Live show will fuse live casino experiences with hard rock and metal music to be broadcast for the first time on Friday, February 16 at 20:00 (CET).
The programme, to be presented by rock legend Ryan Roxie and TV hostess Marielle Tengstrom, will feature great music, chat, audience interaction, live games and opportunities to win big prizes. It will be broadcast each week on Wednesday and Friday at 20:00 (CET) and can be viewed on Twitch, YouTube and on MetalCasino.com
Metal Casino Live will become an unmissable experience each week for all metalheads and gaming nuts.
Ryan Roxie, who has collaborated with Alice Cooper and Slash, can't wait for this week's first episode.
Ryan says: "It's gonna be awesome – we're so excited to get started. We're gonna have so much fun talking music and slots in the studio and with the viewers wherever they are and giving away great prizes.
"You don't want to miss this. As we say at Metal Casino, 'Stay tuned, stay true and stay metal."
The launch of the show comes after an awesome few months for Metal Casino, which went live in August and has been attracting music and gaming fans from all over the world ever since.
The site offers big games and bigger attitude as well as the chance to win mega cash prizes and acquire exclusive tickets, backstage passes and merchandise from some of metal's biggest stars.
As well as partnering with Prince of Darkness and Black Sabbath legend Ozzy Osbourne, Metal Casino is also backed by Megadeth's bassist David Ellefson.
Metal Casino's CMO, Clas Dahlen, says: "Metal Casino does things differently than our competitors and our hard rockin' live show will reflect that. We are true, we're real, we're relevant and dedicated, there's no bullsh*t. The show is about people from the metal scene enjoying themselves and enjoying casino games while interacting with the audience out there.
"This is an entirely new format that we actually started working on in March last year, even before the site launched. Metal Casino Live is paving in the world of online streaming; it cannot be pigeonholed as another deadhead casino streamer, nor is it a music talk show. It is a concept on its own. A concept that goes all in for the fans."
For more information please contact:
Lyceum Media
E: PRTeam@LyceumMedia.com
Clas Dahlén, Chief Marketing Officer
Metal Casino
E: clas.dahlen@metalcasino.com
M: +46 702 363 430
About Metal Casino (http://www.metalcasino.com):
Metal Casino is the world's first casino that embraces Metal music fans and casino lovers. Players will be able to win Metal merchandise, concert tickets, meet bands backstage and more. Launched in 2017, its founders have spent over 30 years working in the most successful music, gaming and tech companies in the world, including Mr Green, Universal Music, EMI, Spotify, Microsoft, and Apple iTunes.
Metal Casino, created by Metal music fans for Metal music fans, is licensed by the Malta Gaming Authority and the UK Gambling Commission.
The post Metal Casino launches a new casino live stream on YouTube and Twitch, hosted by real rock stars appeared first on CalvinAyre.com.
MGM (finally) rolls out red carpet for $3.3B Cotai resort
Posted: 13 Feb 2018 05:51 AM PST
Macau-based MGM China Holdings Ltd. has opened the doors of the $3.4 billion MGM Cotai just in time for the busy week-long Lunar New Year holiday.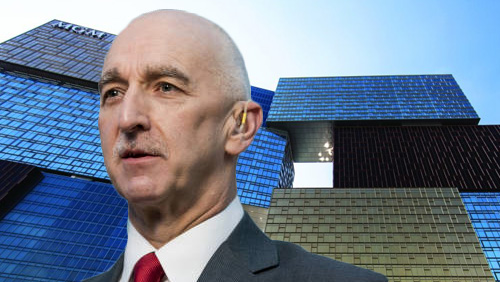 The opening of the multibillion-dollar casino resort on the family-friendly Cotai strip is MGM China's biggest gamble to date, especially now that its local gambling concession will expire in about two years. MGM agreed that its newest investment in Macau was a leap of faith.
"We live in a world with many business distractions. Any business needs to have the resilience and capacity," MGM China CEO Grant Bowie told Bloomberg TV. Bowie is confident that the Macau market can "overcome any of these challenges that present themselves."
MGM's newest property features 1,390 rooms and suites, including 1,248 resort rooms or the standard room type, 99 suites, 16 sky lofts and 27 mansion villas. MGM Cotai's first guests are expected to check into the hotel on Wednesday.
MGM Cotai will debut with 100 new-to-market casino tables, plus an additional 77 tables transferred from its older resort.
Investment analysts, however, have mixed feelings about the opening of MGM Cotai. Morgan Stanley analyst Praveen Choudary believed that MGM Cotai would boost Macau's gambling revenue, while Union Gaming analyst Grant Govertsen gave a bearish outlook for MGM Cotai in the near term.
Govertsen estimated that MGM Cotai will post low double-digit gaming revenue growth in the first two months of operations.
"I'm not hearing anything to suggest that Chinese New Year will be anything but strong," Grant Govertsen said, according to the news outlet.
Macau grants Studio City three-year development extension
Meanwhile, the Macau government has approved the request of Studio City for a three-year extension for the development of public land near the casino resort.
In a regulatory filing, Melco Resorts & Entertainment Ltd. announced that the development period for the land of Studio City has been extended to July 24, 2021.
"Construction of the additional development at Studio City remains subject to, among other things, Macau government approvals and licenses. It is expected that the additional development will include a hotel and related amenities," Melco said.
The post MGM (finally) rolls out red carpet for $3.3B Cotai resort appeared first on CalvinAyre.com.
Lawmakers want US interior secretary grilled over casino agreements inaction
Posted: 13 Feb 2018 04:52 AM PST
Four Connecticut lawmakers are demanding a federal probe of the U.S. Department of Interior's (DOI) decision to sit on the request of tribal casino operators to expand their operations in the state.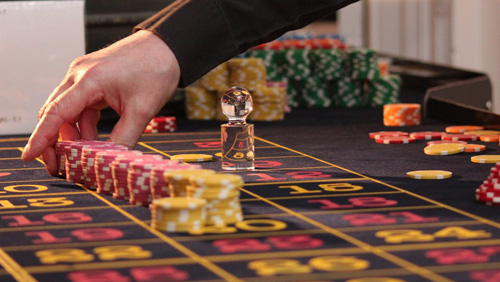 Politico reported that U.S. Sens. Richard Blumenthal and Chris Murphy and U.S. Reps. John Larson and Joe Courtney prodded the federal Office of the Inspector General to investigate the DOI for what they described as "highly unusual decision to take no action" on the state's request to amend two tribal gaming compacts.
Tribal operators Foxwoods Resort Casino and Mohegan Sun needed the DOI's nod to be able to proceed with the construction of a casino off tribal land in East Windsor.
In a letter to the Inspector General, the four lawmakers accused the DOI of refusing to talk to the members of the Connecticut delegation, who were tasked with explaining the proposed changes in the tribe's gaming compacts, which are opposed by commercial casino operator MGM Resorts International and its allies.
They cited a February 1 Politico article, which reported MGM's intense lobbying and the meetings DOI Secretary Ryan Zinke had with Nevada Sen. Dean Heller and Rep. Mark Amodei, while the tribes' amended compact request gathered dust on Zinke's desk.
The legislators are convinced that Zinke's extensive contact with MGM suggests a strong conflict of interest since "MGM has no connection to the legal trust responsibility Interior has to the Mohegan and Mashantucket Pequot Tribes."
"These actions suggest that something other than the legal obligations to Indian Tribes was motivation the decision of the Department of the Interior," the lawmakers said, according to the news outlet.
Last year, the state approved legislation amending the compacts and approving the new casino, which is to be built near the state's northern border with Massachusetts.
The new casino is intended as a hedge to keep Connecticut gamblers from flocking across the border to MGM Springfield, the flashy $960 million MGM Resorts property that will open in Massachusetts this year. MGM has fought tooth and nail against approval of the new tribal casino.
In December, Connecticut's two gaming tribes joined the state in suing the federal government over delays in approving the new casino project.
The post Lawmakers want US interior secretary grilled over casino agreements inaction appeared first on CalvinAyre.com.
The first gaming innovation launchpad in Asia hosted by the 10th Annual iGaming Asia Congress (iGA)
Posted: 13 Feb 2018 04:34 AM PST
To celebrate the 10th anniversary of the iGaming Asia Congress (iGA), the longest running dedicated C-level iGaming event in Asia, iGA will be hosting the first ever Gaming Innovation Start-up Launchpad. The Launchpad is a platform for start-ups to present their products/services to leading igaming and technology investors, igaming experts, and over 150 C-level executives.
"iGaming Asia Congress has been the premier C-level igaming event in Asia for the past decade. We would like to bring in more up-and-coming igaming innovators to the event in an attempt to drive innovation and bring new opportunities to the gaming industry in the region," said Giulia Timarco, Conference Producer at Beacon Events.
Three finalists will be will be offered 8 minutes to showcase their products/services in front of a panel of judges, who are all experts and investors from the gaming industry. Judges include Melissa Blau, Partner of iGaming Capital, Andre Rodrigues, the CEO of GoldBlue AB, Donna NguyenPhuoc, Partner of SPARQ Capital, Markus Nasholm, CFO of Catena Media, and Tobias Svensen, the CEO of CasinoGrounds. The winner will be offered a table top exhibitor booth at one of Beacon Events' gaming conferences, either at the iGaming Asia Congress, Gaming, Racing & Wagering Australia (GRWA), Asia Gaming Summit (AGS), or the inaugural Investment Opportunities in Asian Gaming (IOiAG).
Technology innovation is the backbone of the iGaming industry, a USD15 billion online business. A dynamic team of IT experts and innovative minds is crucial to the igaming business, one of the most fast-changing, challenging and fun industries to watch. The hottest topics not only include big data, AI, blockchain technology, ICO (initial coin offering), and cyber security, but also new games and online marketing tools to engage and retain players. The finalists will be announced on the week of 19 February 2018. For details, please refer to the official website: https://igamingasiacongress.com/programme/launchpad
About Gaming Events by Beacon
Beacon Events is the organizer of some of the longest running gaming conferences in the Asia-Pacific region. The company gathers regulators, leading consultants, service providers, operators and affiliates from the online and land-based gaming sectors. Beacon Events understands that Asia is an energetic market filled with changes and opportunities, that's why we have new events and workshops to assist gaming executives to stay ahead of the curve.
Beacon Events currently have four conferences that answer the needs of different gaming sectors. This includes:
iGaming Asia Congress (iGA), the longest running dedicated iGaming event in Asia;
Gaming, Racing & Wagering Australia (GRWA), the longest standing gaming conference in the Australian and New Zealand region;
Asia Gaming Summit (AGS), a conference covering the latest regulatory updates, licensing topics, developments, marketing & diversification trends and innovations in gaming/igaming, online casino, sports betting, eSports and lottery in Asia;
and Investment Opportunities in Asian Gaming (IOiAG), an inaugural conference held at the Solaire Resort & Casino, Manila, in June 2018 covering the latest land-based regulatory updates and providing a comprehensive overview of the various investment and expansion opportunities.
About Beacon Events
For over 20 years, we have been a beacon of inspiration, innovation and thought-leadership, helping businesses chart their course to success with our insightful and industry-focused events.  As an independent events company, Beacon's expertise lies in producing first class international events that meet the challenges facing executives and businesses today. From Mining, Natural Resources & Commodities, Finance & Investment, Technology, eCommerce to Gaming events, our goal is to provide the perfect platform where senior executives, professionals and industry leaders come together to gain critical market intelligence, network and do business around the globe.
Beacon Events – We inspire with bright ideas and transform business with brilliant events.
Three finalists will be offered 8 minutes to showcase their products/services in front of a panel of judges, who are all experts and investors from the gaming industry.
The post The first gaming innovation launchpad in Asia hosted by the 10th Annual iGaming Asia Congress (iGA) appeared first on CalvinAyre.com.
Hainan would be no threat to Macau
Posted: 13 Feb 2018 04:24 AM PST
Beijing is reportedly mulling opening another gambling jurisdiction in Hainan. Will they, won't they, and if they do what will happen? First of all, the question is mostly irrelevant for the near term because by the time it happens, we'll be in a different world. Even if tomorrow Beijing decided to start auctioning off Hainan licenses to casino firms, it would take at least 5 years for anything to really get off the ground. The financial world is moving so fast now that 5 years is an eternity.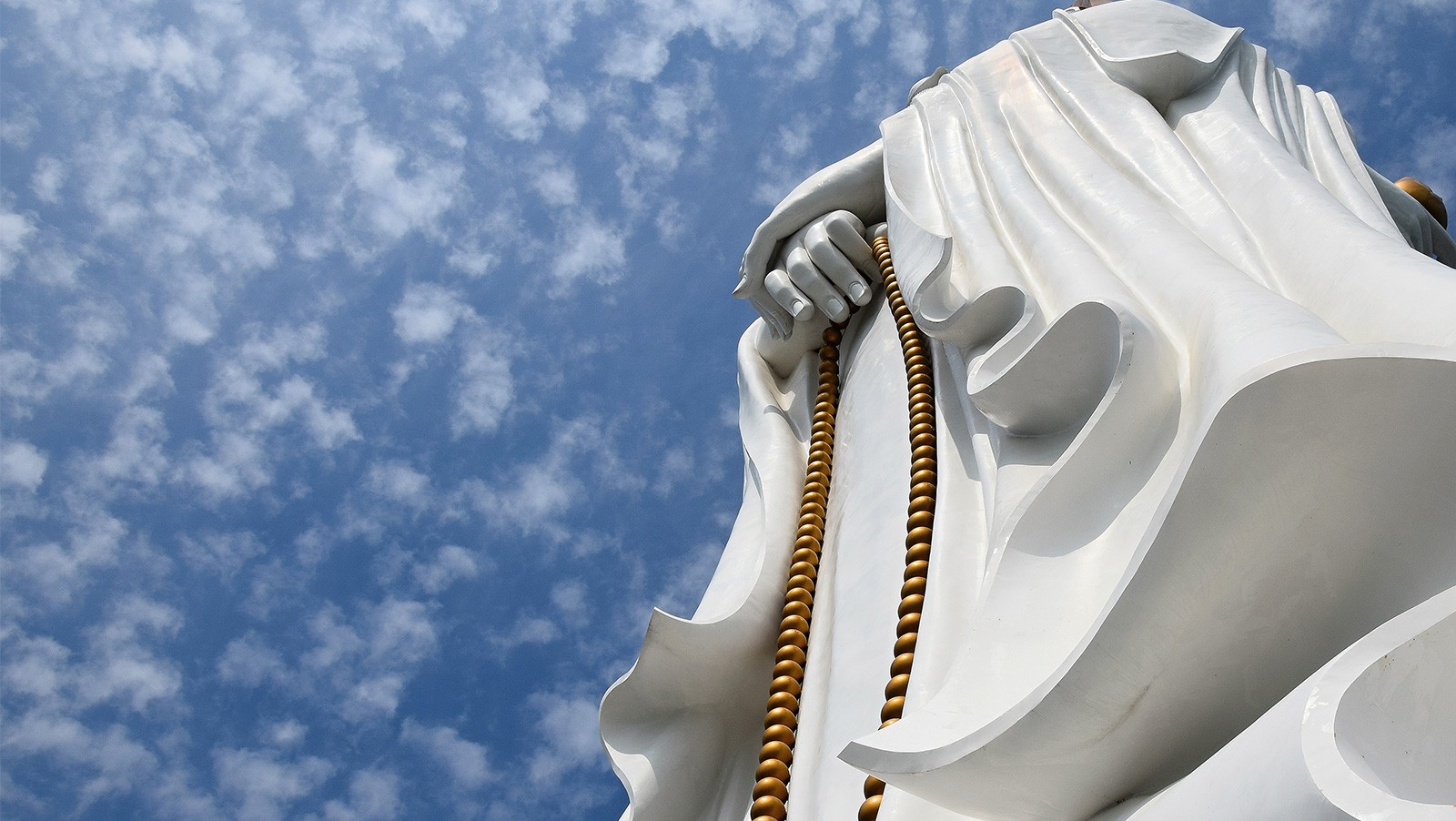 Consider, 5 years ago was before the 2014 Macau crash, an event that has shaped the financial landscape of the province ever since. Before another 5 years passes you could have another one, and then we can discuss how an active Hainan gambling province might impact Macau at whatever level it's at in 5 years.
Longer term though, the first thing to say is that competition is a good thing for all involved, so while losing a monopoly on a territory may sound scary for the beneficiaries of that monopoly, ultimately monopolies poison companies and make them lazy, inefficient, and eventually bankrupt. For the most recent example, look at the Puerto Rico Electric Power Authority (PREPA). It's hard to think of a more inept company with a monopoly over an entire service in a given territory. After failing to get the lights on in Puerto Rico nearly 5 months after Hurricane Maria, the firm is finally being privatized. The modern story of bankrupt monopolies goes all the way back to the British East India Company, which caused some serious famines in Bengal, India before it went bankrupt in the 19th century.
Competition for Macau already exists though in any case. It's just that this competition is from other countries, so like it or not Macau does have to compete. The question for Beijing is whether Macau will compete against a jurisdiction where Beijing also has taxing authority, or will it compete against a foreign one? Some argue that Beijing will not allow gambling in Hainan because gambling goes against the ideology of communism. This is a silly argument. There is no communist ideology. There is just the drive for wealth, which can either be satisfied through liberty and free markets, which tends to benefit everyone, or through top-down central planning, which tends to benefit cronies and the politically connected at the expense of everyone else. In almost all countries there is a mix of both, in different degrees. No politician runs an economy according to ideology. They run it according to what will get them the most money and votes.
If Beijing thinks it can increase its tax revenues by opening up gambling in another Chinese province rather than lose that revenue to Vietnam or Cambodia or Australia, then it will do so, eventually. Beijing does not care about Macau's revenue. It cares about its own.
Last month, the numbers of tourists to Macau from Japan, France, Taiwan, Hong Kong, the US, UK, and Canada all fell. That's tax revenue lost to Beijing. Maybe these tourists been to Macau before and want to try something new. Opening up another gambling province would help boost those numbers.
What about the vested interests in Macau that would fight against opening up Hainan? Who says they would? Why can't these vested interests themselves bid for licenses in Hainan, maybe set up a few bribes to get them or shut others out, as always happens? I don't see why the same connected companies that already operate in Macau wouldn't want to expand to Hainan. It's not like Macau is a single company with its own independent interests, working together. The gaming industry there consists of many different firms obviously, each of which could benefit from more business in Hainan.
The mainstream narrative being cooked up is that rumors of opening up another gambling province in Hainan is what caused Macau stocks to fall. Macau stocks began to fall anyway along with every other stock market in the world for no apparent reason. This is a case of the media connecting an event with price action for the sake of weaving a narrative that sells a story. I doubt that any rumors of a new Chinese gambling province at least 5 years down the road have anything whatsoever to do with recent Macau price action. All it may have done was give an excuse for those looking to exit, to do so anyway.
There is a much more predictable way to gauge Macau stocks. Take a look at these two charts. The first is the Macanese Pataca supply from January 1, 2010, until the present. The second is the BJK gaming ETF, which is mostly Macau stocks, over the same time period.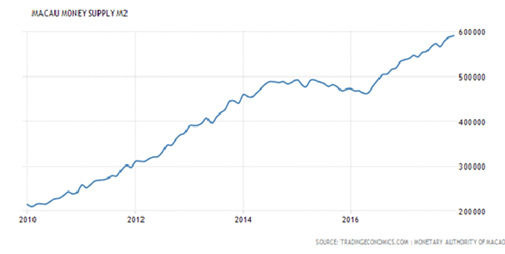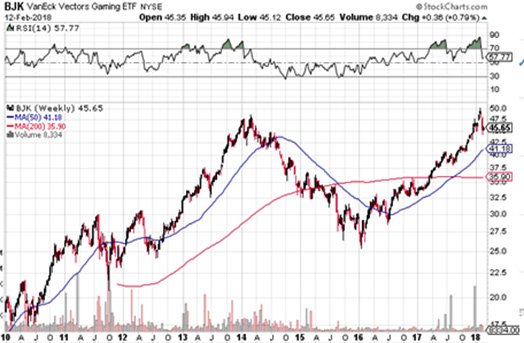 Those who followed the Macau money supply would have been out of Macau stocks by May or June 2014 when it became clear that M2 was stagnating for a long period of time. While you wouldn't have caught the exact top, you would have steered clear of much of the crash, or at least increased cash and lightened positions. The same leveling off of Macau M2 happened from late 2007 until late 2009. See below. Follow M2 and you would have started lightening Macau positions by early 2008, again missing much of the decline, though not all.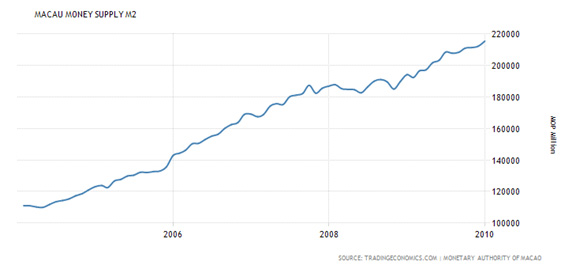 While I wouldn't say that Macau is the best place to put money in right now, it looks safer than the US, which probably has months of decline ahead in equities.
The post Hainan would be no threat to Macau appeared first on CalvinAyre.com.
You are subscribed to email updates from CalvinAyre.com.
To stop receiving these emails, you may unsubscribe now.
Email delivery powered by Google
Google, 1600 Amphitheatre Parkway, Mountain View, CA 94043, United States