---
Regulate Weapons Like We Do in the Military, Says an Army Officer
Posted: 04 Mar 2018 07:37 PM PST
For the list of previous entries in this series, please see the index at the end of the post. But: if you're revving up to send me a note explaining what kind of ammunition the AR-15 uses, and how it is similar to (and different from) the military's M-16 (and so on), please first at least look at this 8,000 word Atlantic article I did on that exact topic more than 35 years ago.
For today's installment, letters from readers who are familiar with weapons and with the military application of firepower, and the lessons it has for civilian use.
First, from an Army officer:
I'm a Regular Army officer and have served in frontline positions in Iraq (this only to mean that I've got a very small slice of experience with the practical application of what military grade weapons were designed to do).

I'm a southerner who grew up shooting .22s in the field behind the house from the time I could hold the rifle.

I own several "classic" firearms like the M-1 Garand and a Martini-Henry, though not an AR-platform, which I shoot enough at work, to be honest (something half-submerged in my mind makes me think that in my house I don't need a weapon designed exclusively for combat, either for sport or home defense—my German Shepherd is a much better platform for both).

All that to say that for the first time ever, I find myself more strongly on the side of gun control than of unrestricted gun circulation. (Addendum: I am not one who "vet-splains" and expects that my service makes my point of view infallible, but I hope this might tease out some further lines in the discussion.)

My niche perspective is this: in the Army, firearms are much more heavily regulated than in civil society. How can so many enthusiastic gun owners say that they hold the military as a model, and yet not accept the strict regulations that go with the military's use of firearms?
The Biggest Moments of the 2018 Oscars
Posted: 04 Mar 2018 09:48 PM PST
The 90th Academy Awards were a strange, somewhat muted affair low on surprises—perhaps exactly what Hollywood wanted after the chaos of last year's ceremony. The Shape of Water, Guillermo del Toro's at once gentle and darkly violent fable of love between a mute woman and an amphibious creature, won four Oscars including Best Picture and Best Director, but the wealth was pretty evenly spread among the big contenders. In many ways, Shape felt like a less polarizing "consensus" choice for the Academy, which is itself a sign of how much the film industry has changed in recent years.
The Shape of Water also won for its score and its production design. Three Billboards Outside Ebbing, Missouri, Martin McDonagh's grim tale of grief and revenge, won acting awards for Frances McDormand (Best Actress) and Sam Rockwell (Best Supporting Actor). Darkest Hour took Best Actor for Gary Oldman, while Jordan Peele won Best Original Screenplay for Get Out, James Ivory won Best Adapted Screenplay for Call Me by Your Name, and Dunkirk collected three technical awards (Film Editing, Sound Mixing, and Sound Editing). The biggest tragedy of the night was Greta Gerwig's Lady Bird missing out on an Oscar—its best shot, Laurie Metcalf, lost Best Supporting Actress to Allison Janney from I, Tonya.
Jimmy Kimmel's second hosting job in a row felt a little more anonymous than last year's. He repeated his stunt of connecting famous audience members with regular moviegoers (this time bringing stars from the Dolby Theater to a nearby cinema to surprise folks). But his monologue jokes were largely pretty safe. He tackled the ongoing issue of misogyny and sexual assault in Hollywood by broadly encouraging change and praising the #MeToo and #TimesUp movements, and didn't spend much time raking the industry over the coals.
The ceremony's most memorable moment was probably McDormand accepting her trophy and bidding the other female nominees of the night to stand up for applause. It was a spontaneous, powerful idea but also a stark visual—the number of people standing up felt very small within the vast Dolby Theater crowd. Peele's victory, the only one of the night for Get Out, was a mild surprise that also drew a standing ovation. Similarly welcome were victories for cinematic stalwarts like Ivory and the cinematographer Roger Deakins (Blade Runner 2049) who had never won Oscars before despite multiple nominations. All in all, it wasn't the most exciting night, but it was also largely free of major screw-ups or awkward speeches; not a ceremony to be remembered like last year's, perhaps, but one with a few lovely moments to hold onto.
—David Sims
Nine Notorious Dictators, Nine Shout-Outs From Donald Trump
Posted: 04 Mar 2018 12:33 PM PST
The Chinese Communist Party's attempt to allow President Xi Jinping to rule indefinitely set off harsh criticism in China, as well as international opprobrium. But the power grab appears to have at least one fan: Donald Trump.
"He's now president for life. President for life. No, he's great," Trump said of Xi at a lunch and fundraiser at his Mar-a-Lago estate, according to CNN, which obtained a recording of the remarks. "And look, he was able to do that. I think it's great. Maybe we'll have to give that a shot some day."
Context, of course, is everything. Trump may well have been joking (CNN hasn't yet released the audio of the remarks), but his comments about Xi's hold on power in China, a Communist dictatorship, add to Trump's long history of offering support or even outright praise for dictators and strongmen the world over.  
---
Russian President Vladimir Putin
What Trump said about him: "If he says great things about me, I'm going to say great things about him. I've already said, he is really very much of a leader. I mean, you can say, 'Oh, isn't that a terrible thing'—the man has very strong control over a country. Now, it's a very different system, and I don't happen to like the system. But certainly, in that system, he's been a leader, far more than our president has been a leader."
When: September 2016
Context: The remarks weren't the first time Trump expressed his admiration for the Russian leader. He'd done it well before he announced was running for president, and before interference in the U.S. election system was a glint in Putin's eye—as well as many times afterward. But praising Putin's strong leadership in a country where the Russian leader's political opponents are harassed, jailed, or simply disappear is a bit like praising the punctuality of the railways in a fascist regime. The U.S. State Department, in its most recent human-rights report, described restrictions in Russia on political participation; the suppression of civil society; and allegations of torture. Human Rights Watch said that the government had "tightened control over the already-shrinking space for free expression, association, and assembly and intensified persecution of independent critics." The Russian presidential elections later this month, which are expected to result in another term for Putin, all but ensures that this trend will continue for the foreseeable future.  
---
Philippines President Rodrigo Duterte
What Trump said about him: "I just wanted to congratulate you because I am hearing of the unbelievable job on the drug problem."
When: April 2017
Context: The Philippines president has boasted about killing suspected drug dealers when he was a local mayor. Extrajudicial killings of drugs suspects have risen since Duterte became president in June 2016. Trump reportedly favors the death penalty for drug dealers—presumably ones who have been convicted.  The U.S. State Department noted last year that "police and unknown vigilantes have killed more than 6,000 suspected drug dealers and users as the government pursued a policy aimed at eliminating illegal drug activity in the country by the end of the year." Human Rights Watch said "Duterte has plunged the Philippines into its worst human rights crisis since the dictatorship of Ferdinand Marcos in the 1970s and 1980s." It added that Duterte's most prominent critic was detained on "politically motivated drug charges."
---
Turkish President Recep Tayyip Erdogan
What Trump said about him: "Frankly, he's getting very high marks. He's also been working with the United States. We have a great friendship and the countries—I think we're right now as close as we've ever been … a lot of that has to do with a personal relationship."
When: September 2017
Context: The president's remarks came shortly after Erdogan cracked down on Turkish civil society, the media, and his opponents. Erdogan accused members of democratic institutions of being part of a failed coup attempt against him the previous year. Trump even congratulated Erdogan after last year's referendum that gave him—and subsequent presidents—more power.  The U.S. State Department has cited "inconsistent access to due process" in Erdogan's Turkey, along with other abuses against civil society. Human Rights Watch called the new presidential system "a setback for human rights and the rule of law." Trump's "personal relationship" with Erdogan appears to have its limits, however. Turkish forces are pounding a Kurdish-controlled Syrian town despite pleas from the U.S. to obey a 30-day UN-mandated ceasefire.
---
Egyptian President Abdel Fattah el-Sisi
What Trump said about him: "We agree on so many things. I just want to let everybody know in case there was any doubt that we are very much behind President el-Sisi. He's done a fantastic job in a very difficult situation. We are very much behind Egypt and the people of Egypt. The United States has, believe me, backing, and we have strong backing."
When: April 2017
Context: Sisi, who seized power in a coup, has cracked down in Egypt, where a brief flirtation with democracy during the Arab Spring resulted in a Muslim Brotherhood-dominated government (which Sisi ousted). The U.S. State Department says the most serious human-rights problems there involve "excessive use of force by security forces, deficiencies in due process, and the suppression of civil liberties." Human Rights Watch says Sisi's government "maintained its zero-tolerance policy towards dissent… and [continued] near-absolute impunity for abuses by security forces under the pretext of fighting 'terrorism.'"
Trump's fondness for authoritarians may have more to do with how power is wielded than those who exercise it. It just so happens that Western governments have, for the past seven decades, mostly adhered to a system of the rule of law, which empowers institutions rather than individuals. Trump's apparent preference is for a system in which one individual, presumably him, wields that power.
Indeed, his fondness for strongmen and dictators isn't limited to Xi Jinping or any other individual in power now. He has praised Iraq's Saddam Hussein (while also criticizing him as "a bad guy") for killing terrorists. "He did that so good," Trump said in July 2016. "They didn't read them the rights. They didn't talk. They were terrorists. Over."
Trump also said in 2016 that Libya would be better off "if [Moammar] Gaddafi were in charge right now." He once tweeted a quote from Benito Mussolini, the Italian fascist leader, and later defended the tweet, saying: "Mussolini was Mussolini ... It's a very good quote. It's a very interesting quote... what difference does it make whether it's Mussolini or somebody else?"
Trump even said China's brutal crackdown on protesters in Tiananmen Square in 1989 "shows you the power of strength," contrasting the Communist Party's action with the United States, which he said "is right now perceived as weak." Trump made those comments in 1990. When asked about the remarks during the presidential debate in 2016, Trump defended himself and appeared to take the Chinese Communist Party's view of the events at Tiananmen. He dismissed the deadly military response as a "riot."
El Salvador's Gangs Are Targeting Young Girls
Posted: 04 Mar 2018 10:01 AM PST
SAN SALVADOR—At dusk on a dusty soccer field in San Salvador last April, three girls sat together on a bench. Dani, 12, and Sofia, 16, regularly played soccer with the boys; Diana, Sofia's 14-year-old cousin, came to watch. What else do you do for fun?, I asked them. They scuffed their shoes in the dirt, uncertain how to respond. So I told them what I did at their age: Played in my suburban neighborhood, or drove around town. Sofia's eyes grew wide. "At night? Without your parents?" Dani asked. "So cool!" Diana exclaimed. When I told them that American teenagers often took buses or subways to get around town, Dani declared: "You have all the freedom in the world." To them, such freedom was unfathomable. Their parents only allowed them to leave the house for soccer or school. "Here it's dangerous because of the gangs," Dani explained. "You can't go out now." Even at school, they felt insecure, Diana added. "Anybody can come in."
In El Salvador, a small country of some 6.5 million, the defense ministry has estimated that more than 500,000 Salvadorans are involved with gangs. (This number includes gang members' relatives and children who have been coerced into crimes.) Turf wars between MS-13, the country's largest gang, and its chief rivals, two factions of Barrio 18, have exacerbated what is the world's highest homicide rate for people under the age of 19. In 2016, 540 Salvadoran minors were murdered—an average of 1.5 every day.
While a majority of El Salvador's homicide victims are young men from poor urban areas, the gangs' practice of explicitly targeting girls for sexual violence or coerced relationships is well known. Since 2000, the homicide rate for young women in El Salvador has also increased sharply, according to the latest data from the World Health Organization. To refuse the gangs' demands can mean death for girls and their families.
These conditions leave them with few options but to flee their country. In fiscal year 2016, the U.S. Border Patrol apprehended a record 17,512 unaccompanied Salvadoran minors. One-third of the children traveling alone to the U.S. border that year were girls, up 10 percent from just four years prior. In fiscal year 2017, which marked a 50-year low for illegal immigration, roughly a third of unaccompanied minors, again, were girls. Yet in listening to President Donald Trump, one might assume that all of these Central-American youth are blood-thirsty male gang members. "MS-13 gang members are being removed by our Great ICE and Border Patrol Agents by the thousands, but these killers come back in from El Salvador, and through Mexico, like water," Trump tweeted on February 23. "El Salvador just takes our money."
Last spring in San Salvador, I spoke to more than 20 young women, aged 12 to 30, whose everyday realities suggest a story largely absent from Trump's narrative. Rather than posing a threat to America, Salvadoran girls are under threat—and U.S. policy seems certain to exacerbate it.
To help justify its immigration crackdown, the Trump administration has pointed to a spate of murders in the United States tied to MS-13, arguing that immigration has dramatically expanded the gang's American membership. Trump officials tend to omit that the street gang was formed in the 1980s in Los Angeles by refugees from El Salvador's civil war—a war fueled in part by Washington—and that the gang was effectively exported to El Salvador through deportations from the United States.
Yet the federal government's current estimate of around 10,000 MS-13 members across 40 U.S. states hasn't changed in more than a decade, and only a fraction of unaccompanied minors apprehended since 2011 have confirmed gang ties. The Trump administration has endorsed San Salvador's militarized approach to fighting the gangs, which designates anyone collaborating with gang members as terrorists, too. Human rights officials have excoriated Salvadoran authorities' use of excessive force and extrajudicial killings, including against teenagers. The White House, meanwhile, has recommended slashing aid to El Salvador, prioritizing combatting the gangs instead.
Such policies do little to help El Salvador's young women. The gangs' targeting of girls dovetails with a wider rise in femicide, or killing motivated by gender, in El Salvador. The rate of violent death for women is the third-highest in the world. In 2016, 524 women in El Salvador—one in every 5,000—were killed, with most of them under the age of 30. From the beginning of 2017 through October, there were nearly 2,000 sexual assaults, with about 80 percent of victims 17 or younger, according to the Salvadoran Women's Organization for Peace. Through November, there were were 429 femicides, according to the Institute of Legal Medicine. In the first two months of 2018, 72 women were murdered, a more than 50 percent increase from the same period last year, Salvadoran police reported on March 2.
But few of the perpetrators ever face justice. Between 2013 and November 2016, the Salvadoran government opened 662 femicide cases, but only 5 percent reached a conviction. With pervasive gender inequality and widespread impunity, part of the reason for the epidemic of violence against women may simply be that assailants believe that they can get away with it.
Yolanda Blanco, a government lawyer who co-founded the soccer club at the dusty San Salvador field where Dani and Sofia play, explained that gang members take revenge on rivals through the murder and rape of their sisters and daughters. "Girls are the objects of vengeance for the gangs," she told me. "They are in the eye of the hurricane."
A few days after visiting the soccer field, I met Ingrid, a 23-year-old woman from a northern suburb of San Salvador, at a hotel. Ingrid, along with her 3-year-old daughter and her family, had gone into hiding, and needed a safe location to meet. When in the eighth grade, she got a boyfriend and soon dropped out of school. Two years later, he became a member of a faction of Barrio 18, after the gang threatened to go after his sister if he refused to join. "Before joining the gang, he was very loving, taking care of me," she said. "Almost overnight, he changed."
Ingrid's boyfriend soon began to lock her inside their house. He would get drunk, beat her, rape her, and forbid her from using contraceptives, she told me. After one beating, she was hospitalized, and learned she was pregnant. The doctors told her she might lose her child because of her injuries. Yet when Ingrid later gave birth to her daughter, her boyfriend promised to stop the abuse, and pushed her to get married. Shortly after, the beatings started anew, and she ultimately left her then-husband. Still, he eventually found them.
When I spoke to Ingrid, she told me she had considered applying for a visa to travel to the United States. She had even mulled the possibility of traveling north with her baby, either to claim asylum at the border, or enter America illegally. "My plan is to give her all the love and care I can," Ingrid said, "and get as far away as I can."
Magdalena Arce, the president of a network of women's shelters in the foothills of San Salvador, argued that the violence against women comes down to machismo. As academics have argued, the sexism that devalues Salvadoran girls is so ingrained—in El Salvador's politics, culture, even its religion—that many young women "don't even know they have rights," Arce said. That includes the right to safely leave abusive partners and report sexual and domestic violence, or even the right to higher education or economic opportunity.
Celina de Sola, who runs a community-development NGO called Glasswing International, emphasized that girls are not inherently vulnerable. Instead, she said, the violence in El Salvador is exacerbating existing external factors—like high rates of school dropouts and teen pregnancies—to further imperil young Salvadoran women. While one-third of Salvadorans live in poverty, the unemployment rate for 16-to-24-year-olds is double the national average; 300,000 in that age group neither work nor study. Many girls face these long odds with young children: A quarter of young women between the ages 15 and 19 have already become pregnant, the highest rate in Latin America.
Amid all this, the Trump administration has cut annual refugee acceptances for people from the Caribbean and Latin America from 5,000 to 1,500. It also ended two programs for Central-American minors, which enabled those with family in the United States to apply in their home countries for refugee status or humanitarian parole. The abrupt termination of these programs stranded thousands of children in imminent danger. Most of the 13,000 applicants came from El Salvador.
With their chance of obtaining refugee status diminished, more Central-American women and girls may risk the journey north—and the sexual violence that often comes with it—to claim asylum at the border. U.S. law affords them protection if they can prove they have been persecuted on account of race, religion, nationality, political beliefs, or membership in a particular social group. Though victims of rape, sexual assault, and domestic violence may qualify for special visas, these criteria, derived from the 1951 Refugee Convention, have effectively become outdated for young Salvadoran women caught in the current wave of gang violence. In its first year, the Trump administration, which vowed to crack down on asylum "abuse," lowered approval rates for asylum. According to several lawsuits, the administration has also illegally turned away asylum seekers at the border.
Per the 1980 Refugee Act, U.S. authorities can legally return immigrants to a country where they are in danger only if they have been convicted of a serious crime or officials "reasonably" determine they threaten national security. Yet under Trump, hundreds of thousands of the 2.1 million Salvadorans already in the United States, the overwhelming majority of whom are not criminals and pose no threat, now stand to lose protections that allowed them to stay in the country without fear of deportation. The Salvadoran government has argued that it cannot absorb these imminent returnees, on top of the 40,000 forcibly deported the past two years alone.
Once these people arrive in El Salvador, gangs target many of them for attacks and extortion, believing that returnees have more money and fewer connections to the community. Young people, often alienated from a country they barely know, can be vulnerable to the gangs' aggressive efforts to recruit minors. For young women who fled El Salvador for the United States and now face deportation back to their home country, the situation is even more dire, Salvador Carrillo, president of the National Network of Returned Entrepreneurs of El Salvador, told me. "When they come back, they can experience retaliation [ranging from] from rape to assassination," he said.
In April, Ingrid told me she knew Trump didn't like Latinos, but argued that those coming to the United States were not all "bad hombres," as the president  suggested. "We deserve a chance, because we [leave] out of necessity," she said of Salvadorans. "We have to get out of this country." Today, she is still in El Salvador, raising her daughter while on the run.
Trump's moves to block desperate Salvadorans from escaping their country while also removing them from the United States are likely to feed the gangs more young recruits and victims—turning them into an even greater danger to  Salvadoran women and girls. In other words, Trump may well wind up undermining his own stated goals of curbing immigration and bringing down gangs like MS-13.
Today, El Salvador is holding municipal and legislative elections. These elections will serve as something of a response to Trump's policies, and as a referendum on the government's mano duro, or iron fist, approach to combating the gangs, which depends on U.S. support.
The first time I went to the dusty soccer field, I met Sofia's grandmother, Maria Lucia Paz de Artiga. The 78-year-old woman's gold teeth glinted when she laughed, and the words I love grandmother were written in English on a white cast on her arm. During El Salvador's 12-year civil war, which took 75,000 lives, she and her children fled the countryside for San Salvador. She's grateful her children are grown-ups now, because it's difficult to raise kids today, especially girls, she said. "Gangs are starving for them."
El Salvador today is worse than during the war, Lucia told me. "During the war, at least we could roam freely," she said. "Nowadays, you have to get permission. If you enter gang territory and nobody knows you—te vas pa el norte," she said, laughing at her own double meaning. Typically, when Salvadorans say el norte, or " the north," they're referring to the United States. Instead, to explain her meaning, Lucia pointed to the blue sky overhead. She preferred to use the slang for homicide, my fixer said. Te vas pa el norte—they'll send you up.
---
Reporting for this article was funded by an Adelante fellowship from the International Women's Media Foundation.
The Young Man Who Became a Civil-Rights Icon
Posted: 04 Mar 2018 11:48 AM PST
Editor's Note: Read The Atlantic's special coverage of Martin Luther King Jr.'s legacy.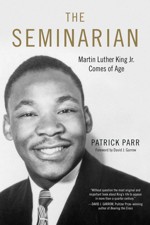 Before Martin Luther King Jr. became a great man, he was a young man, and he often acted like one. In The Seminarian: Martin Luther King Jr. Comes of Age, to be published this spring, Patrick Parr focuses on the future icon's three years at Crozer Theological Seminary, in Chester, Pennsylvania, from 1948 to 1951. Surrounded by white professors and staff and a predominantly white student body, he became the student-body president. But long before King entered the seminary as a 19-year-old college graduate, this son of a leading black preacher in Atlanta had already felt the humiliations of racial segregation.
The excerpts here reveal competing facets of the young King: the first, as the angry victim in the incident that inspired his passion for social change; the second, as a fun-loving, chain-smoking, pool-playing student. Throughout the book, Parr refers to his subject as "ML," the nickname his family and most of his friends used at the time.
---
As a 15-year-old in high school, in 1944, King traveled by public bus with a schoolmate, Hiram Kendall, and their teacher Sarah Grace Bradley from Atlanta to Dublin, Georgia, about 140 miles away, to participate in an oratorical contest. His speech, a modulated yet spirited call for equal rights, did not win, but what happened on the trip home shaped the rest of his life.
After an hour of driving, the bus stopped in the city of Macon, and a crowd of white passengers started to board. Before this rush, the black passengers were free to sit anywhere, and ML and Hiram had seated themselves toward the front. But as soon as seats became scarce, the white bus driver stared at ML and Hiram and "ordered us to get up and give the whites our seats," King later recalled. At first, ML and Hiram did nothing, ignoring the escalating tension. "We didn't move quickly enough to suit him, so he began cursing us." With white passengers standing in the aisle, the bus driver demanded ML and Hiram move out of their seats, calling them "niggers" and "black sons of bitches" …
Miss Bradley swooped in to resolve the matter. According to ML, "Mrs. Bradley urged me up, saying we had to obey the law." Anger boiled within as he was pressed to capitulate to the racist system he had just railed against in his speech. "I refused to go to the back of the bus," but "the teacher pleaded with me. She said it would be advisable." Eventually, with passengers looking on and the bus ride at a standstill, ML reluctantly gave in. ML, Hiram, and Miss Bradley walked to the back of the bus and grabbed a handle. "I had to stand all the way to Atlanta," King remembered decades later, his anger still there. As the bus went up the rural highway, ML had nothing to look at but seated white people and the darkness outside. "It was late at night and I was tired, but that wasn't the point. It was the humiliation." For ninety miles, ML barely kept his contained anger at bay. "That night will never leave my memory," he said. "It was the angriest I have ever been in my life." Yes, he'd been angry at Miss Bradley for pushing him to leave his seat, but, far more, he resented the "chains" of America that had shackled him to the back of the bus. "Suddenly I realized you don't count, you're nobody."
---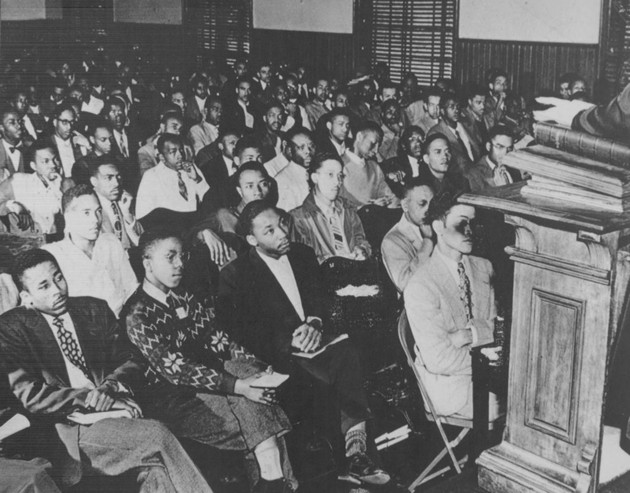 Embarrassed by the emotionalism—"the shouting and the stomping"—of black religion, the young King considered careers in law and medicine. He enrolled at Morehouse College, in Atlanta, where he wound up majoring in sociology. But his continuing desire to bring social change ultimately led him to enter Crozer, a Protestant seminary near Philadelphia.
In September 1944, fifteen-year-old Morehouse freshman Martin Luther King Jr. needed a haircut. He'd heard about a fellow student who cut hair in the basement of the college's Graves Hall. The barber, named Walter McCall, was a twenty-one-year-old army veteran. ML heard that he was cutting hair for a dime, so he went to him and gave it a try.
After one cut, McCall asked for the dime. ML explained that he didn't have a coin on him but that he'd pay him later. This idea of an IOU system did not sit well with McCall. You and I both know you have a dime, he insisted. "Man. I haven't got it now," ML replied. "So there's nothing you can do about it, unless you want to go to the grass." The phrase "go to the grass" was new to McCall, but he knew what it meant: King believed he could take him in a fight. McCall tackled his customer and they wrestled on the floor—a vet fighting a teenager. The pushing and shoving eventually made its way outside onto the lawn, their bout intense enough to attract other students. For those who saw the fight, many expected the older soldier to easily beat up on the smaller, less experienced ML. But for one of the few times in ML's young life, he fought back, and he earned the vet's respect.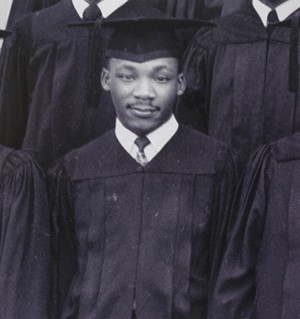 The two young men quickly became friends. "I always called him 'Mike' and he called me 'Mac,' " said McCall years later. They bonded despite being opposites in almost every way. ML was cautious and reserved, living comfortably … as the son of a successful preacher. McCall was bolder and louder, and always struggling to make ends meet … In a way, each friend had what the other wanted: Mac envied ML's financial situation and parental support, while ML longed for Mac's hard-earned life experience and his knack for livening up any social encounter.
McCall served as a constant reminder to his friend that there was more to experience than classes and church. During their years at Morehouse, they held secret dance parties at ML's home while Daddy and Mama King were out. "One night I remember so well—boy, we had a good time going," said McCall. "The old man [Daddy King] … stood at the door to listen to the music and he peeped through the keyhole and we didn't know it. All of a sudden he burst into the house and there we were just swinging away into the night" …
---
Though their economic differences caused some tension, ML and Mac were inseparable [at Crozer, where Mac arrived a semester after ML], and Mac's presence in [the seminary's central building of] Old Main transformed ML's social life. In the first term, ML had been reluctant to put himself into social situations on campus, but soon he and Mac were holding court in the recreation room below the chapel. "We played pool until sometimes three o'clock in the morning," Mac said. They would turn the ceiling into a cloud of cigarette smoke as they played, getting to know the other students who joined in the game. The pair would also play cards until late at night, Mac's choice of background music—like Johnny Mercer's "Ac-cent-tchu-ate the Positive"—helping to alleviate ML's stress …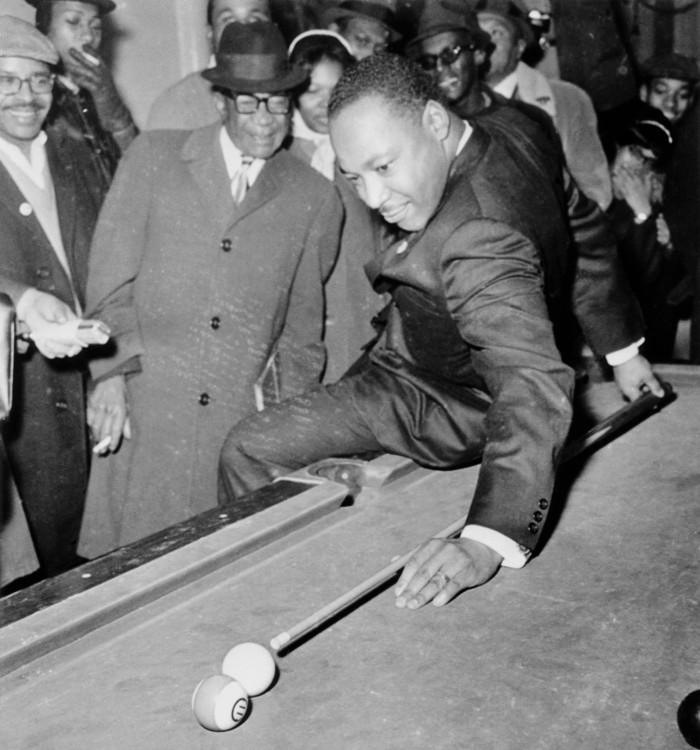 The Mike and Mac show most definitely had a center of gravity: women. Ever since their days as self-proclaimed "wreckers" at Morehouse College, ML and Mac used their juxtaposed personalities to the benefit of nabbing dates. Quiet yet sophisticated? Talk to ML. Bombastic yet slightly offbeat? Mac could be your kind of man. And with Mac by his side, never judging, ML found it easier to be bold. So when the two briefly worked together washing dishes in the Old Main kitchen, his friend's presence encouraged him to pursue a possibility he'd previously been too timid to explore …
ML's own feelings for Betty [Moitz] were something he tried to keep secret. Though he'd even written to his mother about his other recent dating prospects, he would not have been at all eager to inform Mama King that he was interested in a young white woman. Mac knew, of course, but he saw no harm in helping his best friend separate himself even further from racial norms they both believed were outdated. And though a few other students took note of ML and Betty's friendly dialogue—it was, after all, a small world inside Old Main—no one seemed too bothered. [Their fellow seminarian] Marcus Wood in particular understood some of what spurred ML's attraction: "I supposed he thought that, here I am out of the South now, and not back home … out in the open, nothing illegal, a free place, sure I can go over and talk to this white girl" …
ML felt at ease with Betty. "He would talk, and talk and talk," Betty says. More than anything, she enjoyed his rumbling enthusiasm and his sincerity. At first they discussed his time in the South and how different it was from the idealized culture within the seminary. He didn't yet know how but, according to Betty, "one thing ML knew at age nineteen was that he could change the world."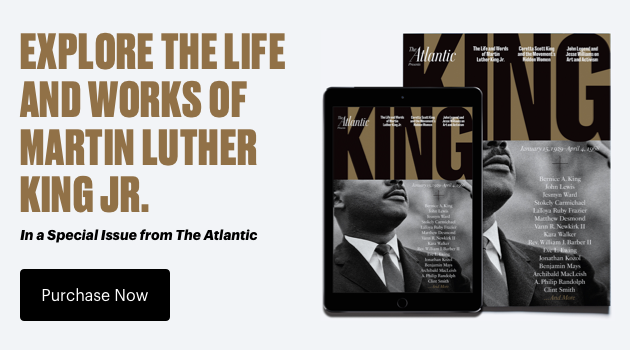 ---
This article is adapted from Patrick Parr's book The Seminarian: Martin Luther King Jr. Comes of Age. It appears in the special MLK issue print edition with the headline "Before King Was King."
<i>Queer Eye</i> Opens the Miraculous Gay Wallet
Posted: 04 Mar 2018 04:00 AM PST
Who was shocked when a study last year found that gay men on average earn about 10 percent more than straight ones? TV and movies insist that the typical gay guy is a fashionably equipped, mimosa-swilling city dweller. But the truth is that the study was a milestone: The comparable research before it had shown a gay wealth gap, with homosexual men lagging behind heterosexuals in wages, more likely to be on food stamps, and less likely to find a job. If gay men are, in general, richer now, it's a new thing—and for many, "gay affluence" is still a myth.
When it debuted in 2003, Queer Eye for the Straight Guy capitalized on the image of the outwardly prosperous gay man—and insisted high-quality handbags should match high-quality inner lives, offering up an inspirational, aspirational symbol for Americans gay and straight. The Netflix reboot, just titled Queer Eye, continues the mission with impressive finesse. For this edition, the "Fab Five" gurus descend on Atlanta, from where they launch interventions into the lifestyles of the dumpy and normal. They teach firefighters and basement-dwellers how to make eye contact and julienne carrots. They also buy them new wardrobes, smart haircuts, and—for the surest wows—drastic home renovations.
It is great, great TV. Much credit goes to the group of highly watchable experts, whose breakout stars include Karamo, a satin-swathed bro whisperer; Jonathan, a whirligig of sass and kilts and moisturizing wisdom; and Antoni, the self-consciously pretty boy and supposed food whiz (he's aroused suspicion for doing little more than slice avocados, but of greater note is the cyborg calculation clear in his every lip bite and eyebrow arch). Their targets are nicely varied and likable, too. They range from a Lupus-affected, ex-wife-obsessed, jorts-bound, Mountain Dew–addicted car collector (all along, he should have been drinking charred rosemary and thyme lemonade!) to a quiet, semi-closeted gay guy who mostly just needs a shave and a housecleaner.
The show, on its face, asks questions about masculinity, stereotypes, and the estrangement of blue and red America (the show opens with a journey from New York City to Dallas, Georgia, population 12,629). The early parts of each episode buzz with the energy of culture clash, and there's always an awkward-funny scene of the queers rummaging through a knick-knack-strewn home, leering at crusty underwear. By the end, it's an orgy of friendship and crying, testifying to the transformative power of incorporating a pop of color into one's daily look. The wave of essays and tearful social media responses in response confirms the show's success in calibrating humor, meaning, and heart. (Do read this lovely piece from a viewer inspired to stop washing his face with bar soap.)
But Queer Eye doesn't want the audience to think quite so much about what's arguably its greatest entertainment: the easy-breezy spending of money—and money's great proxies, time and labor. Hollywood screenwriting textbooks advise creating characters who have an external motivation (get the treasure, save the world) and an internal motivation (find love, move on from trauma) so that movies can provide the magic of resolving two quests at once. Queer Eye performs the same sleight of hand. Can you learn to love yourself anew without new stuff? The show, unsurprisingly but also significantly, avoids the question.
For example, maybe the app designer who's the subject of Episode 2 really does need to be made more comfortable with hugging, as the show insists. But maybe his bigger need is for his long-neglected back deck to be furnished in modernist wicker. It's hard to say. The viewer's amazement comes in overlapping waves as personal breakthroughs swirl in alongside before-and-after shots of apartments and clothes. The comedian Tig Notaro nailed it: "next season on queer eye: what my husband really needs, more than anything, is a renovated kitchen with a farmhouse sink—i mean CONFIDENCE he needs confidence."
To be sure, linking swag with happiness is the American way. Google "makeover shows and class" for a glimpse at how academia has rigorously subjected Ty Pennington to Marxist deconstruction over the years. One of the most significant music videos of 2018, Drake's "God's Plan," mainlines audiences the warm fuzziness of seeing successful people handing out loot to less successful people.
Still, it's worth paying attention to Queer Eye's treatment of money given the way the show—and society at large—implies queerness as a class status. The Fab Five are careful to say, per designer Bobby Berk, "We're just five guys who happen to be experts in our field, and who happen to be gay." Yet from the show's title, to the cast's joyful use of in-group lingo, to the way their advice taps the experience of conquering the closet—be yourself, forget gender norms, and work—their magic sure comes off as tied to sexuality. And that magic is, in part, their access to Netflix's money.
In the real world, untangling fierceness and finances can only be healthy. Antonin Scalia once cited the gays' supposed prosperity when arguing against discrimination protection. Just last week, anti-adoption legislation in the state where Queer Eye films served as a reminder of how plenty of people would like to ensure same-sex couples have no choice but to be dual-income, no kids. Even within the community, an emphasis on appearances and experiences—though maybe rooted in the liberation of being out—can create special pressures to overspend. "Are your gay friends making you poor?" read the headline on a 2015 advice column from David Rae, an LGBT-specializing wealth adviser who'd seen many a guy lured into debt by chasing their fellow pool partiers' $500 sunglasses.
To Queer Eye's credit, you can discern some subtle attempts to keep money from playing too outrageous a role as fairy dust. The often-stated goal is not to wantonly sequin the straights but rather to accentuate their "true" selves with finer fabrics and fits—plus just a smidge more effort and know-how. When the team makes over an affable Trump-voting cop named Cory, for example, the grand sartorial innovation is in getting him to visit a big-and-tall retailer rather than make do with the meager clothes stocked at his grocery store. When the fashion expert Tan brings Cory into a boho tailor to pick out a suit, it's with a wink. "Do you feel expensive?" Tan asks during the fitting process. "You will."
In one standout episode, the Fab Five transform the cluttered home of the Camp family, where the father, Bobby, works two jobs to support his wife and six kids. Much of the hour is spent at Target. "Stores like this, they're designed for the Bobby Camps of the world," announces Antoni in one of his many unwittingly hilarious condescensions to his subjects. He's right, though: The Target haul, including a crock pot and well-fitting khakis, is practical for this family. Still, the logic of Netflix's generosity being scaled for each person's status carries a weird deterministic tinge. Who's to say the Bobby Camps of the world wouldn't prefer the LaCoste spree that another subjects got?
During the one episode making over a gay man, A.J., the variables—self-actualization vs. simple spending—become easier to tease out. It's plainly the best episode too, encapsulating the extremes of fun and seriousness this show operates at: Minutes after A.J.'s seen modeling his leather harness to the panting Fab Five, he's coming out as gay to his step-mom by reading a letter he wrote to his dead father. And though he begins the episode with an unkempt beard and horrifyingly disorganized bedroom, his life in general already seems, to use the show's terminology, fairly snatched. He lives in a trendy condo of exposed brick and interactive mirrors, and he has a handsome boyfriend and close group of pals.
According to Queer Eye's Berk, once the team redesigned A.J.'s condo to look magazine-ready, A.J. "put it on the market the next day" and moved in with his boyfriend, to whom he's now engaged. There's no questioning the importance of A.J.'s fab-five-assisted coming out—it's basically impossible to sit through it without crying. And the show may indeed have given him the psychic boost he needed to move to his next phase of life. But it more clearly, also, gave him the cash to do so.
What If America Didn't Have Public Schools?
Posted: 04 Mar 2018 04:00 AM PST
On a crisp fall morning, parents lined the school's circular driveway in Audis, BMWs and Land Rovers, among other luxury SUVs, to drop their high-schoolers off at Detroit Country Day School. Dressed in uniforms—boys in button-down shirts, blazers with the school crest, khaki or navy dress pants, and ties; girls in largely the same garb, though without the ties and the option of wearing a skirt—the students entered a lobby adorned with green tiles from the nearby Pewabic Pottery, a legendary Detroit ceramic studio.
The school's facilities rival those of the most exclusive country clubs. Plush green carpet covers the floor of the pristine, naturally lit cafeteria, which serves students many organic, locally grown options provided by the food-service division of a nearby gourmet market. There's a studio for art mediums including photography and metalworking, and a separate one for painting and drawing; a fibers and textiles class with sewing machines and dress molds allows teens to give fashion design a try, while those interested in the performing arts have access to a studio theater and a professionally designed performing-arts center. Thanks to an indoor field house large enough to host a football game, students can play team sports during the winter months.
These vibrant extracurricular settings are counterbalanced by an atmosphere of calm in the classrooms, where the average number of students is 15. The classrooms are teeming with serious learners: 100 percent of seniors are accepted to a four-year college annually, and over the past three years, its graduates have been admitted to more than 132 schools in 32 states and five countries. In 2018, Detroit Country Day boasted 20 national-merit semifinalists.
Parents, unsurprisingly, pay dearly for these academics and amenities: High-school tuition is a little over $30,000, with about 20 percent of students receiving financial aid.  
Detroit Country Day School's lower and junior schools are in a neighborhood known as Bloomfield Hills, which has a 24-percent private-school enrollment rate—more than twice the national average. Yet it's not as if private schooling is Bloomfield Hills families' only option for a quality education. With a tax base bolstered by one of Detroit's wealthiest suburbs, Bloomfield Hills High is the kind of public-school districts elsewhere would only dream of having: In addition to the rigorous International Baccalaureate Programme, its menu of academic and extracurricular options includes five languages, five choirs, three bands, a campus radio station, horseback-riding, and figure skating. Approximately 80 percent of students there go on to attend college.
So why do Bloomfield Hills parents like Lina Desai, a pharmacist, and her physician husband Shailesh choose the pricey Detroit Country Day instead of the free public high school? The couple has sent their two children, a 17-year-old daughter and 14-year-old son, to private school since they were in sixth grade—and Desai says the money is well worth it. "More individualized attention was our first priority," she said. Smaller class sizes and higher academic standards were also a big draw. The school is so small—691 students in the upper school—that Desai is acquainted with everyone in her daughter's grade. She also pointed to the value of the school's extracurriculars, like the myriad types and levels of team sports that even Desai's daughter, who's never thought of herself as an athlete, was able to try her hand at: field hockey, volleyball, and rock climbing.
The United States has witnessed heightened interest in the role of private schools in the broader K-12 education landscape since Donald Trump tapped Betsy DeVos as the country's education secretary in 2016. DeVos is a vocal proponent of voucher programs, which allocate taxpayer money to families—namely those who couldn't otherwise afford it—that want to enroll their children in private schools. Parents choose to send their kids to private schools for all kinds of reasons—religious affiliation, single-sex classrooms, specialized curricula, strong academics, and location, among others. For some parents, a small, specialized campus is the dream setting for their child; others are afraid of parochial schools teaching their kids as much about the Bible as it does math. Many other parents still, of course, are simply happy with—and often prefer—the default public option in their neighborhood.
A thought experiment might contribute some clarity and perspective to the intensifying debate over whether parents have too much or too little choice when it comes to their kids' education. In this thought experiment, parents wouldn't have a choice at all—in one scenario, every child would have to attend private school, and in the other, every child would have to attend public school. Which scenario would be more likely to improve or worsen kids' educational outcomes—and, by extension, the health of American society? Few believe that an entirely public- or private-school world is ideal, let alone feasible. But imagining a world in which K-12 education is either all private or all public could help clarify the current discussion on education policy.
So, let's picture these two scenarios—first an all-private-school world and then an all-public-school one. For this thought experiment, let's assume the government would provide education vouchers for tuition up to a certain amount. Let's also assume that public charter schools (which are privately run) and homeschooling don't exist. Which would you choose, the first scenario or the second one? Which would be better for the nation?
---
Many of the country's oldest high schools are private, among them West Nottingham Academy in Colora, Maryland, founded in 1744, and Phillips Academy in Andover, Massachusetts, founded in 1778. It wasn't until the 1830s that the perception of education as a public good took hold, largely thanks to the education reformer and Whig politician Horace Mann. Mann championed the concept of bringing children of all different backgrounds together as a way of building community, and spearheaded the movement for the "common school." By the late 19th century, states were actively attempting to assimilate all students into a single education system.
While the single system thrived, Mann's good intentions didn't always result in the kind of diversity he envisioned. As Jack Schneider, an assistant professor of education at the College of the Holy Cross, explained, public schools often assumed that everyone was—or should be—Protestant, and included religious discussions in class. This led to an anti-immigration bias, as many immigrants were Catholics, who in turn created their own private parochial schools.
States interpreted the massive growth of such institutions as a spurning of public schools and an affront to national values; politicians found the trend so concerning they even tried to ban private schools outright. But in Pierce v. Society of Sisters in 1925, the U.S. Supreme Court struck down an Oregon statute requiring all children to attend public school. The Court ruled that families had the right to decide where to send their children to school and thus had the right to choose private education.
Such tensions have only intensified in the years since. As Andy Smarick, an education fellow at the conservative American Enterprise Institute, pointed out, the amount of authority parents should have when it comes to choosing a school for their child remains, nearly a century later, one of the most contentious subjects of debate in education.
While the Pierce decision solidified the right of private schools to exist, it did little to alter the status quo in which public-school attendance was the norm. The private-school enrollment rate has remained relatively stagnant at around 10 percent for decades. What has shifted are the kinds of institutions providing such education. Catholic schools, which once dominated the private landscape, now comprise only 20 percent of private K-12 institutions, according to U.S. Department of Education Data; nearly half of those institutions are affiliated with other religions. Nonsectarian schools, meanwhile, make up roughly a third of the private K-12 institutions.
Regardless, what all private schools do seem to have in common is a desirable campus culture. In a survey by the Friedman Foundation for Educational Choice, parents ranked a "better learning environment" as one of the top motivations for choosing private schools.
* * *
Twenty students sat riveted in Omar Hakim's "Theory of Knowledge" literature class at Detroit Country Day as they studied motifs in Jonathan Safran Foer's Extremely Loud & Incredibly Close. Hakim engaged the students in conversation, often peppering them with questions even if they hadn't raised their hand. "David, what do you notice when you look at that picture?" he asked as he showed the students works of art to help them explore the concept of motifs. "Jessica, what do you notice? What do you think I'm trying to demonstrate?"
Hakim previously taught in a public high school where he had six class sections with some 30 students in each, making it difficult to focus on any individual teen. At Detroit Country Day, not only does he teach four sections with a maximum of 20 students in each, he was also able to create his own course, "Contemporary Multicultural Voices." At an independent school, he said, "you have the opportunity to use your creativity to create something new without the barriers in place in public school."
Elite private schools like Detroit Country Day are undoubtedly equipped with resources that enable them to deliver the kinds of premier learning experiences that simply aren't available in most public schools. Combined with those resources is, at all kinds of private schools, the freedom from a massive bureaucracy that might otherwise hinder experimentation and positive changes. Of course, not all private schools fall in the same category as Detroit Country Day. And that's an important caveat to consider when imagining an all-private world, where reliable information on school quality would likely be all but nonexistent.
Private schools by definition operate independently—they are not a common good. As a result, they're generally not subject to rules holding them accountable for a certain level of student performance. No rules mean no agreed-upon measures, which mean no standardized assessments whose results parents and policymakers can consult. In other words, in an all-private-school world, there wouldn't be an apples-to-apples way of judging the quality of individual institutions, which could have wildly different curricula and expectations.
Even if there were universal assessments, private schools likely wouldn't be obliged to provide parents with such data, including that on teacher-to-student ratios, college-acceptance rates, average GPAs, and attendance numbers; the only available information would be that which the school itself opts to provide. In this world, therefore, parents would largely be forced to make decisions based on word-of-mouth and inconsistent or selective information on student outcomes.
In reality, critical information about a particular public school is generally accessible to anyone. This accountability reduces "the possibility that parents could be duped," said the College of the Holy Cross's Schneider. It's a safeguard that wouldn't exist in an all-private world—especially given the slick marketing campaigns some private schools employ. In that hypothetical universe, the information void could hurt student outcomes. Research by the education-policy scholars Christopher A. Lubienski and Sarah Theule Lubienski showed that allowing schools to operate with total autonomy and no standards could undermine kids' academic performance. Why strive if no one is looking? By contrast, the researchers found that public education's raft of requirements—including publicly reported test scores and universal learning benchmarks, as well as policies like teacher-certification rules—have a positive impact on school improvement.
But many education scholars argue that private schools are subject to more accountability than public ones because parents vote with their wallets. Indeed, Neal McCluskey, who directs the Cato Institute's Center for Educational Freedom, said private schools are incentivized to do a good job: If they don't, parents will simply stop paying for their children to attend that school. This market-based approach to ensuring school quality, he argued, is far more effective than the systems on which policymakers rely in reality, which include the federal Every Student Succeeds Act and a hodgepodge of state policies. Because people disagree on what the goals of education should be, McCluskey says, one central model—and thus one central accountability strategy—won't work for every child.
Of course, a parent has to be able to afford those good private schools to get good student outcomes—and, absent reliable data, parents don't always know what they're getting for their money. As Schneider argued, schools are not a consumable good like breakfast cereal. "You can't take one bite and know whether you like it," he said. The upshot, according to Schneider, is that in an all-private-school world, the wealthy would almost always fare better than the poor: They could pay for private schools so high in caliber that the schools would be eager to publicize their academic data. For everyone else, a lack of transparent, easily comparable metrics could mean gravely divergent results for students depending on their family income.
This logic helps explain why, in areas where private schools are common, inequality is even more pronounced. Linda Darling-Hammond, a Stanford University professor emeritus and the president of the Learning Policy Institute, pointed to Chile as evidence of the adverse effects that a highly privatized system might have on educational equity. In Chile, more than 50 percent of students attend private, subsidized schools, an outcome of the free-market education system established in the 1980s by the dictator Augusto Pinochet. Today, the government provides school vouchers to allay the costs of tuition, but those subsidies aren't enough to cover the costs of the best and most elite private schools. As a result, the wealthy retain access to higher-quality schools, and the poor are stuck in the lower-quality ones whose tuition the vouchers can cover.
It's examples such as this that researchers cite when arguing that universal private schools would amplify the stratification that already dogs U.S. education. As Peter Levine, the associate dean for research at the Jonathan M. Tisch College of Civic Life at Tufts University, argued, private schools spend lots of money recruiting the students who they perceive to be well-behaved and academically advanced. Levine's prediction for an all-private-school world? "You'll have this very intensely competitive market in which every child would be assessed," he said, "and if your child has behavioral issues, they won't get as good a deal in the market." Those less-desirable children would be forced to attend less-desirable schools where the average family income, parental education, and student reading levels, among other measures, would be much lower than they'd be at the more-sought-after schools. The best teachers wouldn't be drawn to these types of schools, and because how kids learn depends a lot on whom they learn with, this would in turn hinder the ability of these less-desirable institutions to achieve strong academic outcomes.
Ethan Hutt, an assistant professor in the College of Education at the University of Maryland, College Park, offered a similar take. He argued that private schools, even more than public ones, have an incentive to take students who are the least costly to educate—the kids who don't require interpreters, for example, or don't rely on other customized support services. (In the real world, a robust sector of privately operated schools exist to cater to special-needs children—but these are often extremely expensive and may not guarantee students the same rights as public schools.) Even Barbara Gee, the co-director of the nonprofit Private Schools with Public Purpose, acknowledged that students who have, say, dyslexia are better served at public schools, which are legally required to provide special-education services.
An all-private-school world, then, would foster a system that thrives on selectivity. As Levine emphasized, private schools can't just scale up like companies can because small size is often a selling point in K-12 education; the best schools are those that don't accept large numbers of students.
A related concern is that segregation in this scenario would be more pronounced. Christopher Loss, an associate professor of education and history at Vanderbilt University, pointed to Nashville, where private-school enrollment is significantly higher than the national rate—largely, he said, the result of desegregation efforts that prompted white families to seek educational settings where their kids wouldn't be forced to learn alongside black children. While some of Nashville's private schools make an effort to achieve a racially diverse student body, they are not obliged to do so—and that's evident in the makeup of their classrooms, as with that in their counterparts across the country.
Data from the National Center for Education Statistics show that public schools across the country are much more diverse than private schools: In 2013, for example, 70 percent of private-school students were white, compared with just 50 percent of their public-school counterparts. The segregation that an all-private system would likely perpetuate—largely because of the free-market forces detailed earlier—would have profound ramifications. A growing body of research shows that segregation can have an extremely negative impact on children's academic and social outcomes.
Private schools, of course, are not all homogenous or identical. With the ability to select who attends, many private schools create intentionally diverse student bodies. Tim Bearden, Detroit Country Day's chief academic officer and upper-school director, stressed that the school is committed to socioeconomic and ethnic diversity. Although the school doesn't track data on ethnicity or race, Bearden noted that 50 different languages are spoken by families at the school. Indeed, Desai, the Country Day parent, said its diversity is one of the elements she most prizes: "There are kids from all walks of life who come here." The takeaway? If society values diversity, then the schools will value it, too.
Eliminating public education altogether and replacing it with tens of thousands of private schools dotting the American landscape would likely create all kinds of problems. As in Chile, an all-private system could just stratify society into something resembling the status quo, whereby the best and most elite schools would cost far more than the tuition vouchers provided. Access would still come down to the ability to pay given that, in the real world, tuition costs are a big reason private schools only draw about 10 percent. Parents dedicate a percentage of their income to taxes that they know are being invested in public education; it's often hard for families to justify paying additional money for private schools. For millions more, of course, the price tag renders that debate moot. And again, many opt to bypass these stark choices altogether by living in areas with strong public schools.
* * *
Just 40 minutes away from Detroit Country Day School lies Ann Arbor, home to the University of Michigan and several neighborhoods that boast high-performing public schools. One unseasonably warm morning last October, as the leaves were changing color, I watched as parents pulled up in shiny SUVs at Pioneer High School to drop off their children, most of whom appeared white. Some teens conversed as they looked at their smartphones, sporting new-looking backpacks, shorts, and Birkenstocks; many carried band instruments and lunches.
At this school, roughly 53 percent of students are white, while most of the remainder are black or Asian. After graduation, 66 percent of Pioneer High's students will attend four-year colleges, compared with approximately 45 percent on average nationally. The school's above-average college-attainment rates could be attributable to its location in an academics-oriented college town that enjoys a population of parents with social and cultural capital.
If this scenario were scaled up—if there wasn't such a thing as private education to steer more-affluent families away from public schools—the United States might be able to boast stronger academic results than it can in the real world. Students in countries where private schools don't exist often fare better than their counterparts around the world. For example, research shows that in both Cuba and Finland, where all schools are run by the federal government, students outperformed by a large margin their peers in countries with similar cultural and geographic profiles.
On a regional assessment conducted by the United Nations between 2004 and 2008, students in the all-public Cuba outperformed the largely private Chile in  sixth-grade reading and sixth-grade math. In fact, Cuba is the only Latin American country with scores significantly higher than the regional average in both math and reading. Even the best students in Chile, Darling-Hammond of the Learning Policy Institute says, "couldn't come close to touching" Cuba's results.
Then there's Finland, which Darling-Hammond has called the "poster child of school improvement." Considered by many measures the best education system in the world, Finland consistently scored at or near the very top of the Programme for International Student Assessment—which measures 15-year-olds in reading, math, and science literacy every three years—since it began in 2000 (although Finland's scores have been on the decline since 2012). The United States hovers closer to the PISA average than to the top echelon.
Whether or not the structure of these countries' school systems fully explains academic success, experts tend to agree an all-public-school world would make the United States a higher-functioning, and more harmonious, place by exposing students to peers from different backgrounds. Lisa Lefstein Berusch, who lives on the outskirts of downtown Cleveland, decided to send her two white daughters to public school all 13 years. "I believe in public school as the future of our country," Berusch said, noting that her children received "a wonderful education" including plenty of Advanced Placement classes.
The demographics of Cleveland's public schools—in the Beruschs' neighborhood school district, 66 percent of students were economically disadvantaged as of 2016—aren't reflective of the city's population, as few of its upper-income white families send their kids there. Berusch estimated that in her own neighborhood of Cleveland Heights, home to many affluent white people, fewer than half of the families on her block sent their children to public school. "It was really good," she said, "for my children not to go to school only with others who were like them."  
Christina Suh lives in a Boston-area neighborhood known as Brookline, where the median home value is over $840,000. Suh said her public high school provides as many—if not more—opportunities for her two children compared to the smaller-area private schools. Her kids can, for example, participate in an annual Shakespeare play, a student-directed drama festival, acapella groups, and a wide array of courses. Like Berusch, Suh wants her children to be in an environment that mimics the real world. While acknowledging the advantages of private education, where counselors are often assigned far fewer students to manage and mentor, she suggested that an all-public-school world might create an impetus for constantly experimenting with and improving the experience of public education.
Tufts's Levine echoed this point. If all schools were public, he said, everyone—including wealthier families—would be responsible for every school, so more people would step up to address any problems in those institutions than they do in the real world. School boards and after-school enrichment programs, for example, would have more volunteers; campus-improvement efforts and textbook upgrades would get more funding. "Trying to force everybody to be part of the same education system," Levine said, "is a way to make everyone feel responsible for its success."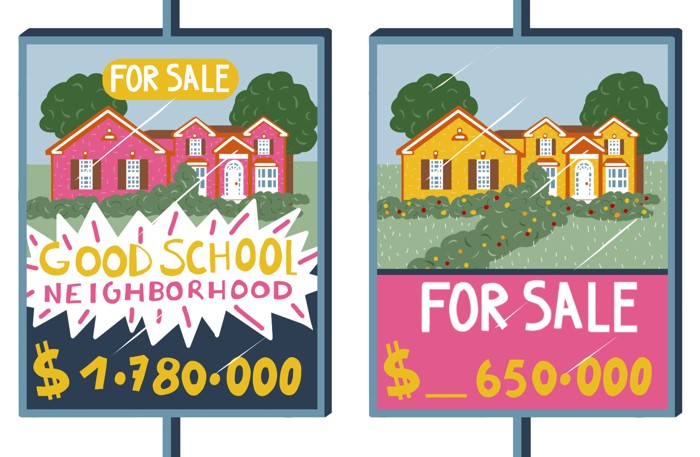 But this concept could be more of an ideal than it would be a realistic result. Pioneer High suffers from a wide racial-achievement gap. According to recent research by Sean F. Reardon, a professor of education policy at Stanford University, these gaps are often especially large in college towns like Ann Arbor, where many public-school parents are middle-class university employees who are well-versed in what it takes to boost a child's chance at success.
And even in the most rigorous public schools, money can easily distinguish educational outcomes: Well-resourced kids who have access to private tutoring or college-prep services, who can study instead of work part-time, who get to take private dance or language lessons to enhance their worldview unsurprisingly tend to fare better than do kids who are less fortunate.
In turn, it's unlikely that a universal public-school system would eliminate the segregation that plagues education today, particularly if property taxes continued to fund the bulk of education. Segregation exists even in ostensibly integrated schools, where whites are disproportionately enrolled in AP and honors classes. Assuming the schools in an all-public world were funded as they are now—with a mix of federal, state, and local sources—the quality of education children receive would largely be based on where they live.
Wealthier families tend to buy homes in more expensive areas where the steep taxes result in greater school funding—and are often correlated with higher-quality schools. A study by the Brookings Institution of the country's 100 largest metro areas found that housing costs tend to correspond with schools' test scores: On average, home prices near high-performing schools were $205,000 more expensive than they were in areas with low-performing ones. This suggests that in an all-public-school world, those with means would likely buy real estate in well-resourced districts—removing their resources from more needy school communities and diluting from those poorer areas the pool of high achievers who experts say can benefit lower-performing students.
Wealthy people might even try to secede from poorly resourced areas and create their own districts. That's what 71 U.S. communities in the real world have sought to do since 2000, ostensibly in part so their children could be educated with children from similar racial and socioeconomic backgrounds.
The victims of this phenomenon are often systems like Lincoln Consolidated Schools in Ypsilanti, Michigan, a lower-income area 20 minutes from Ann Arbor. Only 28 percent of the students at Lincoln Senior High School, roughly a third of whom are African American and approximately 59 percent of whom are white, will attend a four-year college after graduation, according to state data.
And that's not necessarily because Lincoln is an inherently low-quality school. Rather, it's likely because it has a reputation for underperformance, which in turn becomes a self-fulfilling prophecy. This is a common phenomenon. As Schneider, the College of the Holy Cross professor, wrote in a piece for The Atlantic last year about stigmas against urban schools, this happens when "privileged families presume city schools to be failing and, in taking flight from them, bring about a real decline."
Jennifer Towler Aris witnessed this kind of self-fulfilling prophecy when reflecting on her family's schooling experience. When a breakup forced her and her children to leave Ypsilanti, she decided to move to Saline, a city near Ann Arbor with a reputation for good schools: 72 percent of students at Saline High, where the vast majority of kids are white, attend a four-year college after graduation.
Attending a school that colleges looked more favorably on was a plus, Aris said, but she didn't feel that Saline offered anything that their Lincoln educations didn't. In fact, her daughter told her she was learning things in her Saline classes that she had already learned the year before at Lincoln. "What they got by moving to Saline was a perception of a better education, but I am not sure that it was any better," Aris said. In Ypsilanti, that perception became the reality, with school segregation putting its already-disadvantaged youth at a further disadvantage.
An all-public world could also put unconventional learners at a dramatic disadvantage. Parents say specialty schools are crucial for responding to the needs of students not well served by traditional public schools—from those with learning disabilities to those who are extremely talented. Peter Margules decided to send his son, now 8, to Steppingstone School in Farmington Hills, Michigan, a school for academically exceptional students, after the child was discovered to have an IQ score that was two standard deviations above gifted. The public-school teachers "were throwing their hands up in the air," Margules said. "They didn't have the resources to tailor anything for him."
In a similar vein, Andrea Allan, who lives in New York City, pulled her 13-year-old son out of public school after third grade. She had him tested and found out he had mild dyslexia and some language-based neurological differences that affect his learning style. "The public school was pulling him out of class [to provide special instruction], which was disrupting his in-class learning," she said. So, she enrolled him in the Stephen Gaynor School, geared toward bright students with language-based learning differences. The school has a very low student-to-teacher ratio and a customized learning plan for each child. After spending fourth and fifth grade there, Allan's son is now back in a public school and thriving. "He received the tools he needed to succeed," she said.
* * *
Today, school choice has become a polarizing term, pitting those who favor market-based approaches to education against those who say such approaches undermine public schools and the children they serve. But imagining a world with only private schools or with only public ones reveals just how easy it is to overlook a simple truth: These are not mutually exclusive aims. Just as liberty in America means citizens have the freedom to choose for themselves, that power comes with a responsibility to the public good. Opting into the private-school system does not mean forsaking the public system—at least, it shouldn't. And embracing the public schools does not mean there aren't powerful reasons for families to go private.
A school is more than just a school. Ultimately, it is a foundation for the future and a reflection of societal values. "Diverse approaches to education encourage people to think differently when they reach adulthood, leading to developments in business, industry, and the arts," said Donna Orem, the president of the National Association of Independent Schools. "Would America be as creative if all the schools in the country were the same?"
You are subscribed to email updates from The Atlantic.
To stop receiving these emails, you may unsubscribe now.
Email delivery powered by Google
Google, 1600 Amphitheatre Parkway, Mountain View, CA 94043, United States