---
The First 'Mary Poppins Returns' Trailer Is Here And We're Squealing
Posted: 05 Mar 2018 08:08 AM PST
Emily Blunt and Lin-Manuel Miranda star in the Mary Poppins sequel we all need
Last night's Oscars had some memorable moments, but for this lifelong musical theater nerd, none were as exciting as the release of the first teaser trailer for the new Mary Poppins movie during one of the show's commercial breaks.
Hours after my first 17 viewings, and the goosebumps on my entire body remain — it's that good. Emily Blunt stars in the role made famous by the legendary Julie Andrews, and in only a brief clip, it's obvious that she's going to do it justice.
Get ready for your heart to start beating like a big, brass band.
This Christmas, a new story begins. Here's your first look at Mary Poppins Returns. #MaryPoppinsReturns pic.twitter.com/JBKcZfv78b

— Mary Poppins (@MaryPoppins) March 5, 2018
The new film is called Mary Poppins Returns and not only is the brilliant Blunt playing the title role, creative genius/extraordinary human Lin-Manuel Miranda co-stars as the new "Bert," but his name is Jack. He tells Variety his character, a lamplighter, was an apprentice to Bert the chimney sweep, and therefore, knows all about Poppins and her magic. "I know if Mary Poppins shows up, it's gonna get awesome. I perform that function in the movie, of saying: 'Y'all don't know about Mary Poppins. When Mary's around, cool shit happens,'" he said.
Mary Poppins y'all https://t.co/NWymll9P1x

— Lin-Manuel Miranda (@Lin_Manuel) March 5, 2018
The film, set to hit theaters on Christmas Day, is a sequel to the original, not a reboot. It takes place during the Great Depression in London, about 25 years after the original. The trailer opens with a storm blowing through the streets and Jack trying to pull down a kite before realizing Poppins is on the other end of it. The Banks children (played by Emily Mortimer and Ben Whishaw) are all grown up and at the end of the trailer, we see Poppins inside a home with both Jane and Michael. "It's wonderful to see you," Michael says. Naturally, Poppins replies, "Yes, it is. Isn't it?"
IT IS.
The exciting casting doesn't end with Blunt and Miranda. The film also stars Meryl Streep, Angela Lansbury, and Colin Firth. And for devotees of the first movie, some extremely happy news — Dick Van Dyke will return to play Mr. Dawes Jr., a role his much younger self portrayed in the original thanks to some serious makeup and a fake, white beard.
Twitter is almost as excited about the upcoming film as I am.
me: i can't believe they're making a new mary poppins movie this is a terrible idea

/sees a 3 second teaser of the new mary poppins movie pic.twitter.com/xUZrWHWezA

— Lana Berry (@Lana) March 5, 2018
Lin-Manuel Miranda as Bert in "Mary Poppins" is brilliant casting.

— Ericka Goodman (@Ericka_Editor) March 5, 2018
Emily Blunt as Mary Poppins. No, don't make me feel this way.

— Joseph Flynn (@ChinaJoeFlynn) March 5, 2018
Mary Poppins with Lin-Manuel can already take all my money. Which won't take long. #Oscars pic.twitter.com/9oWWp5Lfzr

— Karen DaltonBeninato (@kbeninato) March 5, 2018
that Mary Poppins teaser just renewed my life purpose

— Jamie K. White (@jamiekCNN) March 5, 2018
THE OSCARS WERE WORTH WATCHING FOR THIS MARY POPPINS TEASER ALONE

— ellie (@eleanorbate) March 5, 2018
THE MARY POPPINS TRAILER JUST GAVE ME GOOSEBUMPS AND THEY'RE NOT GOING AWAY, PLEASE SEND HELP. #Oscars

— Kim Holcomb (@kimholcomb) March 5, 2018
So glad to hear I'm not alone with my terminal goosebumps. Is it Christmas yet?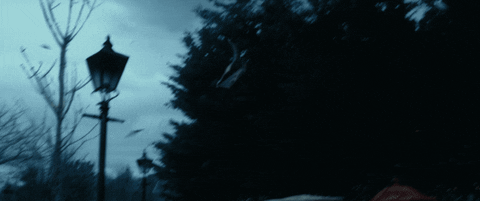 Here's The Frances McDormand Oscar Moment No One Can Stop Talking About
Posted: 05 Mar 2018 07:51 AM PST
McDormand asked fellow female nominees to stand before talking about "inclusion riders"
If you weren't a fan of Frances McDormand before last night's Oscars, listening to her acceptance speech from last night's show will have you tracking down every movie she's been in so you can binge watch them immediately.
McDormand won the Best Actress Oscar for her performance in Three Billboards Outside Ebbing, Missouri, playing bereaved mother, Mildred Hayes, who's willing to do whatever it takes to keep attention on her daughter's murder. Her role in the film was nothing short of spectacular, second only perhaps to her acceptance speech during last night's award show.
She opened by saying, "If I fall over, pick me up because I've got some things to say," before doling out some heartfelt thank yous. Then, she urged all of the female nominees in the room to stand up.
"And now I want to get some perspective," she said. "If I may be so honored to have all the female nominees in every category stand with me in this room tonight." After chiding Meryl Streep to stand because, "if you do it, everybody else will," she said. As all the nominated women stood, the message she would later deliver about inclusion and diversity in films would be hard to ignore.
The most striking thing, here in the room, about watching the female nominees stand? There were so few of them.

— jodikantor (@jodikantor) March 5, 2018
All the women nominees standing and it's like…15 people #oscars

— Katie Barnes (@katie_barnes3) March 5, 2018
"Look around, ladies and gentlemen, because we all have stories to tell and projects we need financed," she continued, addressing the room. "Don't talk to us about it at the parties tonight. Invite us into your office in a couple days, or you can come to ours, whichever suits you best, and we'll tell you all about them."
McDormand was met with applause and cheers. "I have two words to leave with you tonight," she said. "Ladies and gentlemen: inclusion rider." The actress was referring to a clause that an actor can insist be inserted in their contract that requires increased racial and gender diversity in their cast and crew.
An "inclusion rider" is a clause in an actor's contract that requires the cast and crew be diverse in order to retain the actor. #FrancesMcDormand Well said!! And Congrats!#Oscars

— Mary Gauthier (@marygauthier_) March 5, 2018
She expanded on the concept backstage after accepting her award. "I just found out about it this last week," she said. "There has always been available to everybody who does negotiating on film, an inclusion rider, which means you can ask for and/or demand at least 50% diversity, not only in casting, but also the crew," explaining that after 35 years in the business, she only recently learned of it. "We're not going back. That whole idea of women trending, no. No trending. African-Americans trending – no trending. It changes now. And I think the inclusion rider has something to do with that, the power and rules."
McDormand is a force to be reckoned with and the world is here for it:
Another love tweet to Frances McDormand. You're my everything

— P!nk (@Pink) March 5, 2018
Frances McDormand is my fucking hero. The world's hero. @TheAcademy

— debbie millman (@debbiemillman) March 5, 2018
Thank you, Frances McDormand.

Inclusion. Rider. #Oscars90 #Oscars #TimesUp

— ashley judd (@AshleyJudd) March 5, 2018
I want to be Frances McDormand when I grow up

— Whitney Cummings (@WhitneyCummings) March 5, 2018
With the #Timesup and #Metoo movements front and center, we will likely be seeing #Inclusionrider standing right along with them. There's no downside to creating space for equality and diversity in every single industry. Hollywood is just one very visible reminder how far we still have to go and how necessary it is to force these discussions.
No One Wanted To Talk To Ryan Seacrest On The Oscars Red Carpet
Posted: 05 Mar 2018 06:06 AM PST
Celebrities reportedly avoided Ryan Seacrest at the Oscars
Ryan Seacrest found himself quite lonely on the Oscars red carpet last night amid allegations that he sexually harassed and assaulted his former stylist. Celebrities avoided the E! broadcaster who typically cohosts Live From the Red Carpet, which airs ahead of the Academy Awards.
E! sensed there could be some backlash at their decision to have an alleged sexual harasser interview many members of Hollywood's #MeToo and #TimesUp movement, according to The Hollywood Reporter. The network allegedly planned a 30-second delay so producers could edit out any uncomfortable comments made about Seacrest's alleged misconduct scandal. The network didn't come out and admit it but instead issued a statement that said they essentially always do it.
"As always, we tape multiple sources of content simultaneously to deliver the best possible show, and there are often brief delays between interviews," an E! spokesperson explained.
Turns out they didn't need to worry since so few celebrities took the time to speak with Seacrest at all — The Independent reports that he only had red carpet time with a total of 21 people.
It is telling that on Hollywood's biggest night, the #Oscars, in the year of #MeToo and #TimesUp, that it will be Ryan Seacrest, a man accused of wrongdoing, who is being protected on the red carpet with a reported 30-second time delay in case attendees challenge him.

— Tim Teeman (@TimTeeman) March 4, 2018
How the delusional executives at E! are right now over Ryan Seacrest. #TimesUp #MeToo pic.twitter.com/ASMRlEuRFh

— Chantal Oh (@TheChantalCafe) March 4, 2018
No one is talking to Ryan Seacrest on the red carpet.

— Dina LaPolt (@dinalapolt) March 5, 2018
Ryan Seacrest is about the fourth spot on the carpet. His team was not pleased when I took a photo of him. #Oscars pic.twitter.com/6s9HC8GGT1

— Amy Kaufman (@AmyKinLA) March 4, 2018
As the night progressed, it became apparent that the snub was definitely real. Seacrest was given the cold shoulder by all five best actress nominees with none of them stopping to chat with the usually ubiquitous red carpet presence. Most celebrities avoided him altogether. One big star – Taraji P. Henson – did take a few minutes to chat with the E! host and said, "You know what, the universe has a way of taking care of the good people, you know what I mean?" The internet agreed that it didn't go well for Seacrest.
So is NO ONE talking to @RyanSeacrest ? @e_entertainment has spent the last 20 min talking fashion with Giuliana. #yawn #ERedCarpet

— nsalad (@nsalad) March 5, 2018
Seacrest looking for takers. #oscars pic.twitter.com/cUm9nvlrMx

— Rebecca Keegan (@ThatRebecca) March 5, 2018
Last week, Seacrest's former stylist Suzie Hardy detailed alleged abuse that occurred over seven years in an exclusive interview with Variety. The single mother, who had a preschool-aged daughter at the time, said she "endured the abuse for years out of concern over being able to provide for her daughter, and that the situation only ended in 2013, when, after reporting Seacrest's actions to human-resources executives, her employment ended." The article exposing the alleged abuse is incredibly detailed and involves multiple sources. It covers claims that "Seacrest subjected Hardy to years of unwanted sexual aggression — grinding his erect penis against her while clad only in his underwear, groping her vagina, and at one point slapping her buttock so hard that it left a large welt still visible hours later."
Twitter not only noticed the lack of interviews, many wondered why the hell E! let him go on in the first place.
Ryan Seacrest's first hour:
2 interviews.
One with Sofia Carson (a Disney starlet).
One with Diane Warren (A friend of Ryan's).
Both were pretty quick.
Other than that? A lot of delaying, a lot of cuts to Rancic, a lot of App/DotCom shilling, and a lot of commercials.#ERedCarpet

— Kevin D. Grüssing #IWillVote (@KevDGrussing) March 4, 2018
E! are one hour into their two hour Live from the Red Carpet show.

They've hardly cut to Ryan Seacrest, who's on the red carpet.

He's managed to get three interviews so far – two Best Original Song nominees, and Disney Channel actress Sofia Carson. #MeToo #Oscars

— Nooruddean (@BeardedGenius) March 4, 2018
For the life of me, I can't understand why Ryan Seacrest has been given a pass. Were it anyone else they wouldn't have been allowed on the red carpet. #Oscars90 #ERedCarpet

— Nicole (@NicoleJenn1217) March 4, 2018
E! is putting tonight's red carpet on tape delay so that if anyone says anything mean—or, you know, true—about Ryan Seacrest the viewers won't see it. https://t.co/W7Hdj4fsAE

— Angus Johnston (@studentactivism) March 4, 2018
Ryan Seacrest had the nerve to show up at the red carpet pic.twitter.com/KTIH3BI53I

— sunny ugh (@mulletits) March 4, 2018
Despite the exhaustive report, E! decided to keep Seacrest on the red carpet, a move that was criticized by many including #MeToo movement founder Tarana Burke. Female actresses have come forward in recent months to share their experiences of workplace sexual harassment and abuse and to put them in an awkward situation of having to decide if they should talk to Seacrest was unnecessary. "They really shouldn't send him [to the Oscars]. We shouldn't have to make those choices of, 'Do we or don't we?'" Burke shared. "This is not about his guilt or innocence. It's about there being an accusation that's alive, and until they sort it out, it's really on E! News and shouldn't be on us." She added: "It will let us know where they stand in terms of how respectful E! News is of this issue – and of women."
It's a shame the plan wasn't "Replace Ryan Seacrest" https://t.co/diHXj64hZE

— David Kleppinger (@DrKlep) March 4, 2018
Holy shit Taraji just put a curse on Ryan Seacrest pic.twitter.com/GSknn3NozF

— Sara Jean Hughes (@sarajeanhughes) March 5, 2018
Taraji to ABC after leaving Ryan Seacrest "I'm great now that I'm in your company." YES #Oscars pic.twitter.com/bkGkSqfBTD

— Melissa Malamut (@melissamalamut) March 5, 2018
YMMV but if they insist on employing Ryan Seacrest to do red carpet interviews, I want to see the "awkward moments" https://t.co/JWtkRHoo1C

— John McQuaid (@johnmcquaid) March 4, 2018
Seacrest has repeatedly denied the claims.
Lipstick Readers Are A Thing, And We Want In On The Fun
Posted: 04 Mar 2018 08:56 PM PST
I just went to Target and replenished my lipstick supply, I was running low and needed a fresh red, a cute spring pink, and my favorite — a clear gloss to make my kips look extra kissable. I've always been a fan of a sexy lip, especially since I can't pull off a smokey eye to save my life, but also because sometimes a swipe of lipstick is all we need to feel like we can take over the world.
And if you've ever wondered if world dominance might be in your future, behold: the fascinating world of lipstick readers. And something tells me, before long we're all going to want in on the magic. After all, who doesn't want to sit around with a bunch of their besties wearing some fabulous lipstick while sipping on wine and have their fortune read? Sounds like the perfect afternoon or evening to me.
A lipstick reader is exactly what it sounds like: A person who looks at your glorious lip prints on a piece of paper after you give it a kiss wearing your favorite shade of red, coral, pink, or nude, and can take a peek into your present, past, or future.
Yes, please, I'll take a lipstick reading over tarot cards any day. And how much fun would it be to attend a party or shower with this kind of excitement? Your lips will already be dressed for the event. All you have to do is kiss a piece of paper, sit back, and listen to someone talk about you in between bites of cake and sips of wine.
You didn't know you needed this kind of deliciousness in your life now, did you?
But if you are interested in having a lip reading on your own, Anna Snodgrass, a certified lipreader, tells Marie Claire how you can do it on your own, even without her help.
I couldn't help but try it out as soon as I read the article. My lip print is a rectangle shape which supposedly means I am "a 'salt of the earth' person who is the go-to person for advice, money, or muscle. You're what Lipologists call the 'godmother' or 'godfather' of your community."
Okay, I'll take it. I really do get asked for advice a lot — whether I know what I'm talking about is another story, but people do ask me, so I'm thinking this lipstick reading shit is pretty damn legit.
My mom wanted to test it out, and she too had a rectangle shape. Is your lip print genetic? Maybe, but I'd have to say, lots of people seek advice from my mother (and she actually does know what she's talking about). Strangers are drawn to her, and I've watched her talk people through a lot of stuff. Does she sometimes give unsolicited advice? Definitely, so I have to say her lip print rings true to her personality.
My best friend of almost 25 years wanted to join in the fun too. She sent me her lip print, which is a triangle shape, and told me right away she thought it looked like a vagina (which naturally made me LOL, and is just one of the reasons we are besties). According to the article, a triangle lip print means,"You help others to succeed. You recognize other's skills and abilities, helping them to recognize these skills and abilities in themselves."
Now, I'm a sentimental bitch, and I can admit that, so I'm not embarrassed to say that reading this gave me chills. Because that girl has gotten me through some of the toughest situations of my life. She's pushed me, she's believed in me, and I've never had a friend who has wanted me to do well in every aspect of my life like she has. She is my rock, my cheerleader, and I would not be the same person if I didn't know her. I never thought a lipstick reading could bring me to tears, but here we are.
So three for three in accuracy. I'd say that lipstick readers might be onto something. Now if they could just tell me if I'm going to win the lottery next week, we'd be all set.
What are you waiting for? See if there is a lipstick reader in your area, or follow the guide and gather a bunch of girlfriends and put this theory to the test. It's so much more fun than reading tea leaves, or your palm. Not to mention it's a great excuse to splurge on your favorite lip color.
Aw, Sh*t! Poop-Themed Toys Are Actually Trendy Now
Posted: 04 Mar 2018 06:00 PM PST
No mom-to-be says, "Ah yes! The chance to be elbow-deep in excrement for the next decade!"
But that's pretty much how it happens: from the blowout diapers to the endless ass-wiping assists to the turds that older kids like to leave chillin' in the bowl, parents everywhere are bombarded with shit – sometimes literally – right from the jump.
The good (-ish?) news is that you get used to it. One day you're suppressing a gag as you change one of those tiny newborn diapers, and the next you're expertly chiseling spackled-on crap off the front of the closet door and reminiscing about how easy those little chocolate-pudding baby poops really were. You have officially become a poop-hardened veteran, the salty old sea captain of all things shit-related, the grizzled prospector of poo.
This comes in handy, because we've seen the next wave of toy craze, and it's brown. Last year's holiday sales brought a surprise hit – a dark horse, if you will: poop-themed toys. So for this year's holiday season, manufacturers are straining to squeeze out as many number twos as they can, and they'll be plopping onto store shelves faster than you can say "Ewwww."
Toys involving turds were the darlings of the New York Toy Fair, the world's biggest toy show and the barometer of what will be popular (eh, poop-ular?) next. And hands-down (er, pants-down?), treasures from the toilet reigned supreme. Toy manufacturing giants Mattel and Hasbro both dipped into the porcelain throne for inspiration when making their newest games.
In Mattel's Flush N Frenzy, players attempt to plunge a plastic poo from a toilet. And then there's, Hasbro's Don't Step In It, wherein players form their own piles of poop (from modeling compound, although I can see this going very wrong) and put them on a mat, then avoid stepping on them. This is the kind of stuff parents do every day, only we do it with real poop because we're hardcore. Or maybe just unfortunate.
From fully fling-able foam poop balls to collectible characters called Poopeez, which come with toilet paper roll containers and colorful backstories from their homeland of — get this — Kerplopolis (I mean, where else?!), it's clear that we can expect a pretty shitty trend to hit the shelves.
There have always been poop toys, like the fake dog doo gathering dust on every shelf of gag gifts, but it's like turds got a PR makeover and are now trendy. Poop is the new "it girl" of the toy world. Poop is the new black … uh, the new brown. #2 is now #1.
Which means parents can look forward to being surrounded not only by literal feces, but by a poo-nami of playthings that pay homage to sewage.
As if we didn't already buy our kids a shit-ton of crap.
My Kids Eat Dinner At 3 P.M., And Here's Why
Posted: 04 Mar 2018 06:00 PM PST
Like many parents, feeding my kids can really suck at times. My oldest was and still is an extremely picky eater. My kindergartner is chronically obsessed with sweets, and will rarely still sit at the table for more than three minutes at a time. Mealtimes can be a real shit show sometimes, but I also know that is definitely within the realm of normal.
Still, the hours between when they get home from school and go to bed are often totally chaotic, especially when it comes to feeding them. Neither of them eats much lunch at school (and from what I can tell from speaking to other parents, that's pretty normal too), and when they get home from school they are starving.
I don't mean just a little hungry. I mean HANGRY. I mean "feed me now or I will lie on the floor crying for 25 minutes and give you a migraine" hungry. I get it; I remember coming home from school starving out of my mind as well. The struggle is real.
So, for years, I've been feeding them after school snacks. You know: mini-pizza bagels, pita chips and hummus, granola bars—whatever's fast, relatively healthy, and easy.
But the snacking never stopped. They'd basically eat snacks continuously from 3-4pm. And then, as you can imagine, dinner was basically a joke. Or, there wasn't any discernible dinner. One eating session just kind of blended into the other. It was super-annoying, and confusing too.
So, one recent afternoon I had this lightbulb moment: What if I just start feeding them dinner at 3 or 4pm, when they're clearly the hungriest? Like a healthy meal (or as healthy as my picky as hell kids will eat) and save the snacks for later?
Well, this little plan has been implemented for a few months, and let me tell you: It's the Best. Idea. Ever.
It's hard sometimes to get a meal together for them then so early, and I will admit that sometimes if they are truly famished, appetizers are eaten. But it's doable, and what I cook is nothing fancy. Pasta, nuggets, grilled cheese, and a fruit or veggie.
They happily eat it, too. And it's better quality food and more filling than the snacks I used to serve them at that time, which only spoiled their appetite for dinner. They usually eat this early dinner before they do their homework, which means that they are well fed and happy when it's homework time, and also for the rest of the evening.
But, you might ask, if they eat so early, don't they get hungry sometime before bed? They have snacks later if they are hungry—healthy snacks whenever possible. But this has decreased some of the mindless snacking they used to do before dinner and after dinner, which is a good thing in my book.
And what about me? Do I eat dinner then too? Well, actually, I often do. Like most parents, I'm up at the butt-crack of dawn. I tend to have an early breakfast, an early lunch, and an early dinner. Maybe not quite as early as my kiddos, but I usually sit down and eat a bowl of something good and healthy at 4:30 or 5. Then I'll eat a small snack after they go to bed.
So yeah, my kids eat dinner at 3 or 4pm. It probably sounds strange to some, but actually, when I brought it up to a few friends, they told me that they pretty much do that too. Or that they wanted to try, and that my little story gave them permission to.
Think about it: our kids go to sleep by 8 or so, right? So why should they wait till 6 or 7 to eat? Early dinners seem more in line with their body rhythms. My kids seem to like to eat this way even when they don't have school. It staves off some of the 4 p.m. witching hour nonsense too, a welcome bonus.
Feeding my kids an early AF dinner has been awesome, and I can't believe it took me years to realize this. And for anyone who thinks I'm off my rocker, and that kids should really eat at a more normal, civilized time in line with when families are supposed to eat, I ask you this: Who cares what time it is? Do kids' bodies actually give a shit about what an acceptable time to eat really is? (Spoiler alert: they don't.)
Here's my motto: Feed your kids well, when they are hungry. Do what works for you and your family. The rest is bullshit. Bon appetite!
This Was The Best Decision We Made After Our Son's Autism Diagnosis
Posted: 04 Mar 2018 06:00 PM PST
Our son's autism diagnosis came when he was two years old. He's nine now. People often ask questions like did you know something wasn't right? Do things get easier with time? Looking back, he showed some mild signs very early in his development. He would quickly move his feet back and forth continuously. A pediatrician called this stereotyped movements, and a Google search taught me that this could be associated with autism.
But back then he was always smiling at us and I hadn't suspected a thing. Anyway, he was a baby. Surely a small baby couldn't be displaying symptoms of autism? Later in his development he regressed suddenly, and was soon displaying a lot of symptoms of autism. He stopped babbling and stopped making eye contact. He was soon non-verbal and spent most of his time shaking his head, or staring at his hands. He didn't react to his name or point at things. My brother is autistic, and before long we felt like we knew what we were dealing with.
Recognizing the signs helped us to accept the diagnosis very early on. Getting the diagnosis at a young age allowed early intervention. We had a statement of special educational needs written and he started attending a special school. Without a doubt this was the best thing we ever did for him.
It was a difficult choice at the time, as he was so young. It was three months before his third birthday when he started school full time. He looked so small in his school uniform. But the staff there are very experienced in autism, and they were soon using autism-specific techniques likes PECS (Picture Exchange Communication System). Our son has made so much progress since then. He has some speech and he is an excellent reader. I put this this down to the help he received at school.
Thanks to early intervention he's made great progress and achieved things we feared he might never achieve. But autism will always be with him. It will never leave, and he will always be at the severe end of the spectrum.
That's not to say life is all doom and gloom. It's just he will always face challenges and we will always be with him to face them. Life with autism is hard. Really hard. He is who he is, and we love him the way he is. But I'd be lying if I said it's easy.
Communication can be frustrating. He can be extremely anxious, angry or overwhelmed, and I do wish I could take that away. We just try our best to help him manage. But he's also blissfully happy in between, sometimes laughing to himself at nothing at all. He doesn't care how the world views him. He does whatever he wants.
I have days when I cry because I hate seeing him struggle. But it's okay to feel like that. Sometimes I feel like I'm failing him. But that's not helpful to him or me. Above all, he's also taught me that I have the strength to get back up when I fall. We didn't imagine a life with autism. Our end of the spectrum is a very difficult path, but it also brings the most unbelievable happiness.
This Is The Hardest Thing About Having Three Kids
Posted: 04 Mar 2018 06:00 PM PST
As I unloaded the dishwasher, I heard my two-year-old say, "Make a zoo. Sit down. Mommy, make a zoo with me." Eager to finally have an opportunity to put away the dishes, I told him, "As soon as mommy is done." Before I could finish, my eldest was yelling from the bathroom requesting my assistance to wipe his butt proceeded by my youngest demanding to nurse. Additional improvised moments followed until I completely forget about the dishes and making a zoo altogether. 
Sometime later while tending to a laundry basket that's been plaguing me for days to fold, I once again hear my toddler asking me to make a zoo. My response was the same as before, "As soon as mommy is done", and just as before, I was interrupted by my other children requesting my immediate attention.
Closing in at the end of the night, dinner finished and with bedtime routines commencing, my son asks one last time for me to play zoo with him. He and his bin overflowing with animals have been waiting all day, ready for his mom to finally join him. Only in that moment do I remember his previous requests and realize how desperate he is for my attention. It was truly an "aha" moment opening my eyes to how much I've been sucking as a mom lately.
This life of chaos is my reality at the moment, especially as of late with the recent addition of my third child. Since her arrival, survival mode has taken over my life as I operate on autopilot, just moving through the motions. While combating constant sleep deprivation, I've been unintentionally tending to whatever problem unavoidably lies in front of me at that moment — not able to think or consider anything else. More often than not, I feel like I'm barely keeping my head above water, sometimes even overwhelmed with it all. 
It's an ugly juggling act of bouncing from one child to the next. Sometimes there's a free moment or two to tend to a household chore. Most times, I'm clamoring to find time to pee or track down a lost cup of coffee that's most likely still in the microwave from the numerous attempts of reheating it back to life.
With this newborn phase coming to an end, my consciousness is starting to return along with an overwhelming amount of mom guilt. As I slowly regain my ability to think clearly, it's become obvious my middle child is earning that title and then some.
My second born has always had a mild-mannered disposition. He goes with the flow, is easy-going and naturally independent. His ability to easily occupy himself in play has been appreciated but now wonder if I've taken this trait for granted. Add in two demanding siblings and it's obvious he's becoming lost in the noise. 
The phrase squeaky wheel gets the grease or oil, depending on which version you're familiar with, has the same meaning — the loudest or biggest problem receives more attention. In my situation, my eldest and youngest are the squeakiest.  
Maybe there holds some truth to the middle child syndrome. Feelings notorious with this syndrome are ones eerily similar to that of my son. Those associated with being left out and invisible. This is in contrast to the first born who's often praised for those notable first accomplishments. Then there is the younger children and babies who are notorious for being spoiled and coddled. Where does that leave the middle child? For my son, it leaves him sitting at a table with a bin full of animals asking their mom to play with them all day long feeling ignored. 
Regardless if the middle child syndrome can be considered valid, I do know my children's personalities, strengths, weaknesses and limitations. I know I must work harder to equally divide myself amongst my three. 
New to the game of parenting three children, this is now something I need to be extra conscious of. Each child is in desperate need for me, but for different reasons. I've never had to make such an intense effort to carve out time, but now I do. I refuse to let him feel lost and definitely don't want any feelings of resentment to grow. 
His voice isn't loud and even if it was, he doesn't know the words or emotions to voice his feelings. He's not direct with his demands for time with his mommy, but as this fog associated with newborn phase lifts and I regain life, when my son tells me to make a zoo with him, you better believe, I'm putting everything on hold so I can spend the one-on-one time he craves and deserves.
You are subscribed to email updates from Scary Mommy.
To stop receiving these emails, you may unsubscribe now.
Email delivery powered by Google
Google, 1600 Amphitheatre Parkway, Mountain View, CA 94043, United States