---
The Deceptively Accessible Music of Cecil Taylor
Posted: 10 Apr 2018 04:00 AM PDT
Sometimes, when listening to an avant-garde giant of yore, it's difficult to understand what made her so striking. A vanguard by definition lays the way for imitators, so eventually the things that once made her radical now seem conventional.
This is not a challenge with Cecil Taylor's music.
The pianist and composer, who died Thursday at 89, retains his ability to shock, despite decades of work and critical acclaim and a lengthy discography and performance history. Taylor's work is stranger and less immediately legible than Ornette Coleman, the other major founding father of free jazz; Coleman, who died in 2015, started his career in R&B bands, collaborated with rock musicians, and became a hip taste even for non-jazz obsessives. Taylor came from a more classical schooling, and his music never lost its strangeness.
As a result, Taylor's strongest constituency was long among music critics. "If there's any justice," WBGO's Nate Chinen wrote last week, The New York Times would run its obituary on page A1. It ran on B8 instead. Like many great artists, Taylor was not especially interested in spoon-feeding audiences, though he loved playing for them. As the jazz critic Whitney Balliett once noted, "Coleman's music is accessible, but he is loath to share it; Taylor's music is difficult, and he is delighted to share it." Taylor read his esoteric poetry during performances, and moved around the bandstand. Some critics were not impressed. "Anyone working with a jackhammer could have achieved the same results," wrote Leonard Feather.
Taylor divided musicians, too. Critic Gary Giddins recalled seeing Tommy Flanagan, a more traditionally swinging pianist, at a gig and asking whether he planned to cover a Taylor tune. "No, but you can bet I'll be thinking of them," Flanagan replied. But Miles Davis walked out of a Taylor gig, and in Ken Burns's Jazz series, which tended to be dismissive of more outré jazz, Branford Marsalis rejected Taylor's idea that since musicians prepared for shows, listeners should too: "That's total self-indulgent bullshit, as far as I'm concerned."
Taylor's cameo in that series might lead most listeners to consider Taylor too weird to even approach—whether because of his request that listeners get ready for shows, or because of Marsalis's crisp dismissal. That would be unfortunate, because Taylor's work, in addition to being often enthralling and riveting, is deceptively accessible.
Consider the reaction of another listener: Jimmy Carter. In 1978, the president, not renowned as an especially sophisticated jazz listener, hosted a jazz festival at the White House. Most of the bill was reasonably mainstream, if widely varying in style—Sonny Rollins, Stan Getz, Clark Terry, Chick Corea—but it also included Taylor, who must have been hard-pressed to fit his expansive music into the requisite five-minute slot. The music was far from plain, but the man from Plains was agog.
"After the last note faded, Jimmy Carter sprang up from the grass and rushed over to Cecil; Secret Service men scrambled to keep pace," promoter George Wein, who arranged the show, later recalled. "The president took the pianist's two hands in his own, looking at them with wonderment and awe. 'I've never seen anyone play the piano that way,' he marveled."
Carter asked whether the classical pianist Vladimir Horowitz had heard Taylor. Taylor said he doubted it. "You know he was here. He should hear you. How did you learn to do that?" Carter asked. "Hell, I've been doing it for 35 years," Taylor said. Attorney General Griffin Bell also cornered the pianist, wanting to know where he could buy some of Taylor's records.
Nearly as long as he'd been doing it, Taylor had been eliciting these divided reactions. At a 1958 performance, Balliett observed listeners alternately mesmerized and agitated: "[Members of the audience] fidgeted, whispered, and wandered nervously in and out of the tent, as if the ground beneath had suddenly become unbearably hot." While the intricacies of Taylor's music reward deep study, and have attracted obsessive fans from both jazz and contemporary classical music, he also rewards casual listeners.
Taylor was born and raised in Queens, and began piano lessons at a young age. He went on to study at the New England Conservatory, where he drank heavily of European avant-garde composers. His earliest recordings were comparatively conventional jazz, but he quickly struck out in stranger and fresher directions. Over the course of his career, Taylor worked in many formats, including a long association with the saxophonist Jimmy Lyons, solo performances, collaborations with dancers, and larger ensembles. He also taught at universities and eventually won both MacArthur and Guggenheim fellowships.
Trying to convey the experience of listening to any given Taylor composition or performance, much less the breadth of his catalog, is difficult. The initial impression is generally of chaos. This is not music that swings. It is music that fidgets, whispers, and wanders like Balliett's audience members. It's ludic and joyful and stretches out over long pieces whose moods shift frequently, sometimes abruptly and other times almost imperceptibly over time.
Taylor's work was deeply rooted in jazz, but a novice Taylor listener might be best served not thinking about it through the lens of more familiar jazz recordings, but approaching it on its own terms as simply music: which of course is, by definition, organized noise. Another way to think about it is as a conversation between musicians—sometimes tender and sometimes a bit belligerent, but ebbing and flowing as a group conversation tends to do. In this spirit, Giddins likened Taylor to James Joyce:
A lot of bad teachers steered students away from Joyce by telling them that they couldn't read Joyce until they had read everything from Homer to Vico and all of the previous Joyce works to get to Ulysses. You could spend a lifetime just doing all the preparation and then you are supposed to carry around a thousand pages of footnotes. What pleasure is there in that? But, just take Ulysses on vacation with nothing else and you will find out how truly pleasurable Joyce can be, as long as you don't expect to get every single line.
Like Joyce, Taylor was a singular genius; like Joyce, he didn't appear fully formed but sprang from a set of influences. In Taylor's case, two distinctive jazz influences were Duke Ellington and Thelonious Monk. Taylor played tunes by both on his first, most conventional LP, Jazz Advance in 1956. From Ellington, he took an approach that embraced the full capabilities of the piano; from Monk, most notably, he learned the power of timing, percussiveness, and dissonance. In mid-career performances like Silent Tongues, a glimmer of Fats Waller–style stride piano will occasionally shine through, then fade, grinning, back into the foment of the music.
A tune like "Charge 'Em Blues" from Jazz Advance is helpful for understanding Taylor's larval form as a Monk-influenced improviser and composer, before reaching his full potential as a musician:
Within a few years, Taylor was making music worlds away from that. "It wasn't the technique and feeling of jazz that Mr. Taylor was rejecting, only its form: the 32-bar song, the theme-solos-theme progression," Ben Ratliff writes. Instead, a song might have an 88-bar form.
Taylor's 1966 Unit Structures has the personnel of a standard jazz combo: piano, bass, drums, and saxophones. It sounds nothing like a standard jazz combo. Instruments stop and start, interweaving snatches of melody. There is often no consistent beat, with drums providing percussion but not rhythm, allowing the drummer to escape the timekeeper role and serve as a full, improvising member of the ensemble. In some ways, the music feels more connected to Dixieland jazz—with a polyphonic flurry of players combining their sounds to create a greater whole—than the more familiar structure of later swing and bebop, in which a soloist plays as a rhythm section accompanies him.
"Steps" begins with a squall of horns offering a near-melody of a Coleman-esque variety, but the resemblance to standard structures soon splinters. A stumbling, jittery rhythmic motif bounces among the drums, the piano, and the saxophone. The band surges forward or halts without clear warning.
"The emphasis in each piece is on building a whole, totally integrated structure," Taylor told A.B. Spellman the same year. "In doing this, we try to carry on—in ensemble as well as solo sections—the mood of a jazz soloist. I mean that principle of kinetic improvisation that keeps a jazz solo building."
Not everyone bought this. In October 1962, Milton Bass griped in The Atlantic that Taylor was one of a "group of jazz seekers [who] have been making their sound either by running up and down the scales at breakneck speed while changing chords, according to the phases of the moon, or by grabbing individual notes and beating them to death."
This was both unfair and untrue. The CD edition of Unit Structures helpfully offers an alternate take of the tune "Enter, Evening," which gives listeners a chance to see how the piece was not random but replicable. But that's easily felt from the original LP, too. Consider how the band moves through specific, easily noticed sections of a tune like "Unit Structure/As of a Now/Section": The instruments entering in turn (drums, piano, sax); then a siren-like bass solo; a melodic fragment; a skittering frenzy. That's the first two minutes, at least.
Another way to grasp the prodigious intentionality, as well as the great joy, at play in Taylor's music is to watch a solo piano performance. One senses Taylor's physicality—by the halfway mark, he has sweated through his shirt—but also of the care he takes; the decisions he makes in producing the music, so far from random clanging on the keyboard; and the range of sounds and tones he can draw from a piano. The music may sounds crazed, but it is never accidental. This 1984 concert kicks also offers a taste of Taylor's poetry recitation, which kicks off the performance:
Genuinely understanding the structures that undergird Taylor's music is the work of years, and then only for the most sophisticated listeners. I can't pretend to grasp it, or to command his whole oeuvre. The good news is that there's no need. With all due respect to Taylor's suggestions that listeners prepare before consuming his music, the best course is simply to listen. Taylor leaves behind a formidable body of work, but it needn't be forbidding.
A House You Can Buy, But Never Own
Posted: 10 Apr 2018 03:00 AM PDT
ATLANTA—It was not until a few years after he moved in that Zachary Anderson realized he was not, in fact, the owner of the house he thought he'd purchased. Anderson had already spent tens of thousands of dollars repairing a hole in the roof, replacing a cracked sidewalk, and fixing the ceilings of the small two-bedroom home where he lives in southwest Atlanta, when he learned the truth. He was trying to get a reduction in his property taxes when his brother, who was helping him with his taxes, looked up the property in public records and found that the owner of the home was actually listed at Harbour Portfolio VII LP.
"It's like a trick," Anderson, 57, told me, sitting in front of a wood-burning fireplace he'd installed in the living room of the house to lower his heating bills. "They get free work out of a lot of people." Anderson had entered into a contract for deed, a type of transaction that was rampant in the 1950s and 1960s before African Americans had access to avenues of conventional lending. In a contract for deed, the buyer purchases an agreement for the deed, rather than buying the deed itself. The tenant has to fulfill the conditions of the agreement in order to get the deed, conditions that usually include making a series of timely payments over decades, paying for home repairs and general maintenance of the home, and paying taxes and insurance on the property. If he misses one payment, thus violating the agreement, he can be evicted, losing all the equity he put into the home.
Though half-a-century ago, contract for deed arrangements were often made between an individual real estate speculator and a tenant, today they are more commonly made between a tenant and a big private investment company, like Harbour Portfolio Advisors, which is based in Texas and has entered into thousands of contract for deed arrangements across the country.
My colleague Ta-Nehisi Coates detailed contract for deed arrangements—also called rent-to-own deals—in his 2014 cover story, "The Case for Reparations," which looked at the prevalence such arrangements in 1950s Chicago. What is surprising today is that, according to some housing advocates, these arrangements are in some ways even more predatory than the ones of half a century ago, even after decades of laws and regulations enacted to prevent racial discrimination in the housing market. "It was bad in the mid-20th century, but it is even worse now," said Beryl Satter, a history professor at Rutgers University-Newark who wrote Family Properties, a book on the history of predatory lending in Chicago, about contract-for-deed arrangements. "The housing is in way worse shape, the markups are grotesque, and these people have been through multiple forms of credit exploitation, which is partially why they're in this market."
Through its lawyer, Harbour contested the idea that these contracts are exploitative. "It is simply not true that any of these agreements were predatory in nature," David K. Stein, a lawyer for Harbour, told me. Instead, he said, contract for deed arrangements, which have been legal for centuries, give families the opportunity to own a home who might not otherwise have that chance.  
Contract for deed arrangements in today's housing market came under scrutiny more recently when the New York Times reported in 2016 on how low-income buyers in Ohio were entering into these agreements, and then losing the homes. Soon afterwards, the Consumer Financial Protection Bureau said it had assigned two enforcement lawyers to look into whether contract-for-deed transactions violate federal truth in lending laws. But now, advocates in Atlanta are raising another issue with contract for deed arrangements—alleging that they are racially discriminatory and that they violate the Fair Housing Act, along with various other state and federal laws. In a lawsuit filed in U.S. District Court last year, a group of plaintiffs represented by the Atlanta Legal Aid Society allege that Harbour Portfolio, the group that owns the home where Zachary Anderson lives, specifically targeted African American neighborhoods with its contract for deed products. This violates the Fair Housing Act, the lawsuit argues, because it markets a predatory loan product specifically to African Americans. "Basically, what they were counting on is that people who were not already familiar with the home-buying process would be taken in by the American dream of owning a home," Kristen Tullos, a lawyer for Atlanta Legal Aid, told me. Harbour moved to dismiss the case, but last month, a judge ruled that most of the Plaintiffs' claims (including their core Fair Housing Act claim) in the case could go forward.
The Fair Housing Act, enacted exactly 50 years ago on April 11, 1968, makes it illegal to deny housing or loans to people in residential real estate transactions on the basis of race. Subsequent cases have also found that targeting bad loan products at certain racial groups—a practice known as "reverse redlining"—also discriminates the Fair Housing Act. If contract for deed agreements are found, by a judge, to be aimed at African American neighborhoods, it will be evidence that the country has returned to the untenable position where it was half a century ago.
In the 1950s and 1960s, African Americans were prohibited from borrowing through traditional means, so they entered into contract for deed arrangements, which left them with little equity to pass on to their children. This had long-lasting effects—African Americans still have, on average, much lower credit scores than whites, in part because they didn't have the means of building wealth through homeownership that whites had. In the 1980s, 1990s, and 2000s, banks started lending more to African American buyers, but these buyers were frequently targeted by subprime loans with high interest payments and terms that were difficult to fulfill. (African American borrowers were 76 percent more likely than white borrowers to have lost their homes to foreclosure during the recession, according to the Center for Responsible Lending.) Now that many African Americans in cities like Atlanta were foreclosed on during the subprime crisis, many of them have bad credit as a result—which means they can't buy homes the traditional way, and so are being offered contract for deed payments once again.
This tees up another cycle of debt and lost equity in the housing market, and in the larger economy that could continue to drag down the very people that the law of half a century ago had tried to protect.
* * *
Zachary Anderson has worked all his life, but he has never owned a home. For decades, he was a mechanic for the city of East Point, a predominantly African American suburb of Atlanta, making good money, but never enough to save up for a big down payment. This is not unusual: black households overall have less savings than white ones, in part because of historical practices that prevented them from building equity. While the typical white household could replace almost 10 months of income if they liquidated all their financial accounts, the typical black household could replace only 23 days, according to a 2015 report from the Pew Charitable Trusts.
It was in 2010, while he was still working, living in a small apartment in the College Park area of Atlanta, that Anderson started seeing the signs around East Point. "SALE," they read, in big red letters, and then listed the amounts buyers would have to put down—often as low as $700—and the amount they'd have to pay per month—often as low as $375—for the homes along the block. Anderson, sick of his cramped apartment and of hearing his neighbors' every move, called the number listed on the sign and asked if they had any other houses in Atlanta. They referred him to a website that listed some of the homes, so Anderson went out and bought a computer so that he could start looking.
He eventually found a house he could afford in the Capitol View neighborhood of Atlanta, and the company gave him the code to a lock on the door that would enable him to get into the house and look around. The home, a small bungalow, was a fixer-upper. There was a hole in the roof, no stove or refrigerator, and tree branches invading the property. But Anderson knew how to work with his hands. He could put his own time and money into fixing up the home, he thought, which made it a good deal. The money he had to pay monthly, at $495, was less than he was paying in rent at the time. After a $1,000 deposit, he was told, the home, worth $46,750, would be his. (Harbour's attorney declined to comment on the experiences of Anderson or any other specific individual.)
The contract, sent to him in the mail, also required that he paid all taxes on the property and kept the property insured. If he failed to make any of the agreed-upon payments, the contract said, he would forfeit all the money he had paid to the seller. He signed and initialed the contract in front of a notary, and sent it back to the company. A little while later, he received a letter in the mail congratulating him on becoming a homeowner. He could move in once he changed the locks, it said. He never met a single person from Harbour throughout the whole process.
Of course, it could be argued that Anderson should have known better to enter into this type of contract, that he should have read the fine print. That he should have persevered until he could buy a home the traditional way. Harbour's lawyer told me the individuals were provided "full disclosure" of the nature of the arrangement before they even first visited the homes. "It would be impossible for any reasonable person to not understand the nature of the transaction," Stein said. But Anderson had never bought a home before. He didn't know that this wasn't the traditional way homes were sold. "I thought I went and bought a house," he told me. He thought he had just stumbled across a deal.
He also didn't know how difficult it would be to keep up the terms of the contract, because he didn't realize just how much work the house would need. There is no requirement that a home inspector look at the house before a contract for deed agreement is signed. When Harbour told him he needed to get insurance, he says, the insurance company started sending him problems with the house that he didn't even know existed—one document he showed me, for example, informed him that his "rake board," which is a piece of wood near his eaves, was showing deterioration.
Harbour Portfolio Properties in DeKalb County, Georgia
There is nothing inherently wrong with contract-for-deed arrangements, says Satter, whose father, Mark Satter, helped organize Chicago residents against the practice in the 1950s. Sellers can finance properties instead of a bank in a fair way, she said. A San Francisco start-up called Divvy, for instance, is testing a rent-to-own model in Ohio and Georgia that gives would-be buyers some equity in the home, even if they default on payments. But there are two reasons these contract for deed agreements seem particularly unfair, Satter said. First, the homes that many of these companies buy are in terrible condition—many had been vacant for years before being purchased, unlike the homes sold for contract for deed in the 1950s, which frequently had been left behind by white homeowners fleeing to the suburbs. Fixer uppers make it even more difficult for would-be buyers to fulfill all the terms of their contracts, because the houses need so much work.  
And second, Satter said, many of these companies are aggressively targeting neighborhoods where residents struggle with credit because of past predatory lending practices such as the subprime mortgage crisis. "We're watching private equity firms coming in and cleaning up, finishing the job of destroying these communities," she said.
In some ways, the concentration of contract for deed properties in African American neighborhoods is a logical outgrowth of what happened during the housing boom and bust. The lending market ran amuck, allowing banks to offer subprime loans and other financial products to people who otherwise might not have access to home loans. Often, these products charged exorbitantly high interest rates and targeted African Americans. One study found that between 2004 and 2007, African Americans were 105 percent more likely than white buyers to have high cost mortgages for home purchases, even when controlling for credit score and other risk factors. When many of these people lost their homes, the banks took them over. Those that did not sell at auction—often those in predominantly African American neighborhoods where people with capital did not want to go—ended up in the portfolio of Fannie Mae, which had insured the mortgage loan. (These are so-called REO, or "real estate owned" homes, because the lender possessed them after failing to sell them at a foreclosure auction.)  Fannie Mae then offered these homes up at low prices to investors who wanted to buy them, such as Harbour.
But Legal Aid alleges that Harbour's presence in Atlanta's African American neighborhoods is more than happenstance. By choosing to only buy homes from Fannie Mae, the lawsuit says, Harbour ended up with homes in areas that experienced the largest amount of foreclosures, which are the same communities targeted by subprime mortgage lenders—communities of color. Even the Fannie Mae homes Harbour purchased were in distinctly African American neighborhoods, the lawsuit alleges. The average racial composition of the census tracts in Fulton and DeKalb counties where Harbour purchased was more than 86 percent African American. Other buyers in the same counties that purchased Fannie Mae REO properties bought in census tracts that were 71 percent African American, the lawsuit says. Harbour also targeted its products at African Americans, the lawsuit argues. It did not market its contract for deed arrangements in newspapers, on the radio, or on television in Atlanta, the suit says. Instead, Harbour put up signs in African American neighborhoods and gave referral bonuses, a practice which, the lawsuit alleges, meant that it was mostly African Americans who heard about Harbour's offer.
In its motion to dismiss the case, Harbour contests the idea that it targeted African Americans with predatory loans. Harbour's practices of putting up "for sale" signs and encouraging people to refer friends to the company "are more accurately characterized as no marketing plan at all," Harbour's motion argues. What's more, the process of buying up Fannie Mae homes and selling them on contract for deed arrangements does not immediately mean that Harbour was targeting a minority population, Harbour argues—in other words, Harbour is not the reason that so many of these homes were located in census tracts with a large number of minorities. "It's not accurate that any one group was targeted," Stein told me. Harbour bought homes from the government, he said, and didn't have a choice where they were located. Additionally, he said, Harbour sold them "in a fair matter, and did so without any discriminatory or predatory practices or targeting."
Still, Heather K. Way, a professor at the University of Texas School of Law, told me that she thought Legal Aid had a "strong" case. Though the Fair Housing Act was initially aimed at prohibiting behaviors like redlining that that prevent minorities from ending up in certain neighborhoods, a series of lawsuits in recent decades have led to another type of discrimination being prohibited under the law. "Reverse redlining," for example, consists of marketing certain products to a protected class, like African Americans. In 2000, for example, a judge found that a mortgage company had violated the Fair Housing Act by marketing unfair loans to African Americans in Washington, D.C."Under the Fair Housing Act, you can't intentionally target communities of color with these predatory lending products," Way told me.
The contract for deed arrangements are predatory products, Legal Aid says. Harbour charges interest rates of around 10 percent, more than double the interest rates being charged for traditional mortgages, and it sells the homes for four to five times what it paid for them, the lawsuit says, even though the company does not invest money into fixing up the homes. The contracts are designed to fail, Tullos, the Legal Aid lawyer, said, because they require tenants to do so many repairs so rapidly.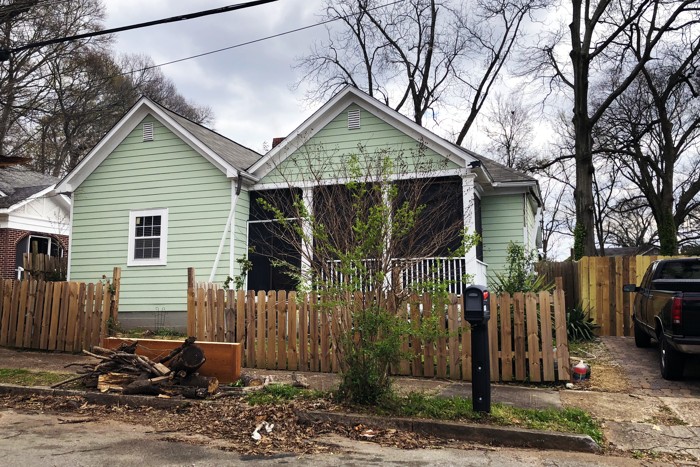 Anderson's contract, for example, required that he make his property "habitable" within four months. This turned out to be an expensive proposition. He repaired the roof, cut the limbs hanging over the house, repaired the sidewalk, and shored up the roof in the back where it was falling in, he told me. He installed a hot water tank and bought a stove and refrigerator, he said. Since then, he's also lowered the ceilings to retain some of the heat—his initial electricity bills were around $500 a month—put in a new fence, painted the house, replaced the windows, installed a new fireplace, put a screen on the porch, and added solar panels. He estimates that he's spent $35,000 on the house. "It was just a really incredibly predatory contract in the way it was structured," Tullos told me. "They transferred incredible burdens onto someone who was not actually a homeowner."
When Anderson looked recently, he said, his Harbour account showed that he still owed the company $43,000, just one hundred dollars or so less than he'd owed in 2011, because such a high share of his payments go to interest.
Anderson was injured at work in 2012, and retired earlier than he'd expected, he told me. He now received disability payments of about $650 a month, he said. About $500 of those payments goes to Harbour, and the rest goes to the electricity company and the water company. He's on food stamps and often has to borrow money from relatives in order to keep making payments on the house. When he was in the hospital after being injured and he missed a payment, Harbour told him it was going to evict him, he told me. But he caught up on the payments, and he's determined not to let Harbour have the house back. He's put too much work and money into it to lose it.
He is still current on his payments, but many of the plaintiffs in the Legal Aid case have fallen behind and are facing eviction. This is common in contract for deed agreements—nearly half of borrowers tracked over a 21-year period had defaulted and their contracts were cancelled, according to a study prepared for the Texas Department of Housing and Community Affairs. Fewer than 20 percent of would-be buyers had actually received the deed to the property.
* * *
The Fair Housing Act was a long time coming. The Civil Rights Act, passed four years before, had outlawed discrimination in the workplace and in public facilities, and sought to end school segregation. But it had excluded language about housing, and discrimination in housing was still a pervasive problem even after that bill's passage. Newly introduced fair housing legislation was stymied by filibuster in 1966 and died in committee in 1967. It was not until the assassination of Martin Luther King, Jr. that President Lyndon Johnson had enough political capital to push a fair housing bill through Congress.
In some ways, the Fair Housing Act allowed the country to make great strides in integration, implementing policies that sought to help families of color access high-opportunity neighborhoods and that helped create more affordable housing. But the long legacy of discrimination in housing mean that there's still a lot of inequality to overcome. The homeownership rate for African American households is now hovering around 42 percent, according to census data, compared to a white homeownership rate of 72 percent. "Ultimately, it's not like we've taken real steps to stop predatory lending based on race," Beryl Satter told me.
Americans are told homeownership is a pillar of the American Dream, yet it's a dream that remains largely out of reach for certain groups of people. That's why so many people like Zachary Anderson end up in these terrible deals. He told me that he doesn't regret signing the contract with Harbor, even though he recognizes how unfair it is. He even says he'd sign the paperwork again, knowing that he would have to put thousands of dollars into the home and could still be evicted if he misses a single payment.
Despite the shock of learning that he isn't actually the owner, he loves his little green house, and is still working on it, installing new flooring, painting the fence, fixing the shed. This initially surprised me—the contract for deed seemed like such a bad deal, why would anyone be willing to enter into such an arrangement knowingly? But Anderson likes having his own place to repair and fix, to style as he wants. He still dreams of the day he'll own it outright—a friend won the lottery and paid off his contract for deed agreement, and Anderson hopes that will someday happen to him too. It's the only way he could ever own a house. For Anderson, and many other people like him, even 50 years after the passage of the Fair Housing Act, a bad deal on a home is probably the only deal he's going to get.
On Google and Facebook: 'The Finest Intelligence Operation on Earth'
Posted: 10 Apr 2018 03:22 AM PDT
On Tuesday, Mark Zuckerberg of Facebook finally appears before Congress. Franklin Foer, who has extensively chronicled the relationship between social-media companies and democracy, had a report yesterday on the phase-change in national power that his appearance might indicate. (And you can take an advance look at Zuckerberg's prepared testimony, highly underwhelming in my view.)
Last week I ran a long dispatch by my friend Michael Jones, one of the inventors of Google Earth and former "Chief Technology Advocate" at Google, arguing the difference (as he had seen it) between the Google and the Facebook approach to customer data. In short: Both companies based their business on achieving a more and more precise understanding of who their users were. But, Jones said, there was a big difference in how they protected the information, Google being more intent on making sure the "Personally Identifiable Information," PII, never left its own control.
His argument attracted a lot of discussion on Twitter, from some past and present employees of Facebook and some other figures. I've also heard many dissenting (and supporting) views.
The purpose of this post is to quote a few of the dissents, and a reply from Michael Jones.
First, from someone within the Facebook world:
[A relative who works for Facebook] told me: "The article is mostly false in regards to what advertisers get. It makes it seem like the advertiser knows your every move—as well as your kids. Obviously FB and Google have tons of PII, but it really only gets shared with advertisers in aggregate, not one by one. Unless the user volunteers it [i.e. fills out a form to provide their information to the advertiser]".

I agree with this. There are two cases to consider here: Facebook Advertisers and Facebook Applications.

Facebook Advertisers: When an advertiser uses FB (or Google) to post ads, very granular micro-targeting can be done in order to deliver the ads/content to a very specific audience. The advertiser doesn't know who the ads are getting delivered to; all of that information is held by FB (or Google). In this area, Google and FB are identical.

Facebook Applications: Facebook provides a mechanism to allow Facebook users to use their FB identify (i.e. username/pwd) to access other applications. This way, the user just has to remember their one identity. When the user first sets this up for a specific application, they are told that when doing this, their FB information is going to be provided to the application (and it lists the type of information that is going to be accessible by the app). Several years ago, the application could receive not just the user's information, but the information for the user's FB Friends as well. This type of access (friends) was discontinued.
The Family Trying to Escape Blame for the Opioid Crisis
Posted: 10 Apr 2018 02:00 AM PDT
Much as the role of the addictive multibillion-dollar painkiller OxyContin in the opioid crisis has stirred controversy and rancor nationwide, so it has divided members of the wealthy and philanthropic Sackler family, some of whom own the company that makes the drug.
In recent months, as protesters have begun pressuring the Metropolitan Museum of Art in New York and other cultural institutions to spurn donations from the Sacklers, one branch of the family has moved aggressively to distance itself from OxyContin and its manufacturer, Purdue Pharma. The widow and one daughter of Arthur Sackler, who owned a related Purdue company with his two brothers, maintain that none of his heirs have profited from sales of the drug. The daughter, Elizabeth Sackler, told The New York Times in January that Purdue Pharma's involvement in the opioid epidemic was "morally abhorrent to me."
Arthur died eight years before OxyContin hit the marketplace. His widow, Jillian Sackler, and Elizabeth, who is Jillian's stepdaughter, are represented by separate public-relations firms and have successfully won clarifications and corrections from media outlets for suggesting that sales of the potent opioid enriched Arthur Sackler or his family.
But an obscure court document sheds a different light on family history—and on the campaign by Arthur's relatives to preserve their image and legacy. It shows that the Purdue family of companies made a nearly $20 million payment to the estate of Arthur Sackler in 1997—two year after OxyContin was approved, and just as the pill was becoming a big seller. As a result, though they do not profit from present-day sales, Arthur's heirs appear to have benefited at least indirectly from OxyContin.
The 1997 payment to the estate of Arthur Sackler is disclosed in the combined, audited financial statements of Purdue and its associated companies and subsidiaries. Those documents were filed among hundreds of pages of exhibits in the U.S. District Court in Abingdon, Virginia, as part of a 2007 settlement in which a company associated with Purdue and three company executives pleaded guilty to charges that OxyContin was illegally marketed. The company paid $600 million in penalties while admitting it falsely promoted OxyContin as less addictive and less likely to be abused than other pain medications.
Arthur's heirs include his widow and grandchildren. His children, including Elizabeth, do not inherit because they are not beneficiaries of a trust that was set up as part of a settlement of his estate, according to court records. Jillian receives an income from the trust. Elizabeth's two children are heirs and would receive bequests upon Jillian's death. A spokesman for Elizabeth Sackler declined to comment on the Purdue payment.
Janet Wootten, a spokeswoman for Jillian Sackler, acknowledges that, as a result of a "protracted estate negotiation," payments to Arthur Sackler's estate "were made over many years through the mid-1990s." She adds, however, that there is no evidence that the note was paid with OxyContin profits.
"There is no differentiation in these documents of assets, profits, debts, or the like, among the various companies, let alone with regard to a specific pharmaceutical product," she says. "In fact, nowhere do these documents identify the source of funds used to pay the note (or notes)."
The three Sackler brothers are deceased. Arthur died in 1987, Mortimer in 2010, and Raymond in 2017. The families of Mortimer and Raymond own 100 percent of privately held Purdue Pharma and form the majority of its board.
Purdue declined to answer questions about the note and the 1997 payment. The company pointed to an existing statement that says "recent news coverage has wrongly characterized the relationship" between Arthur and Purdue and that "neither he nor any of his descendants have ever had any involvement or financial stake in" the success of OxyContin.
OxyContin is one of the biggest-selling opioids in the United States, with revenues peaking at $3.1 billion in 2010. Purdue promoted OxyContin by showering doctors with junkets and speaking engagements, according to an investigation by the U.S. General Accounting Office. Since 1999, four years after OxyContin was approved, fatal overdoses related to prescription opioids have skyrocketed fivefold to 17,087 deaths in 2016. Earlier data isn't available, nor is it known how many of the deaths are linked to OxyContin.
The history of Purdue traces back to 1952 when the three brothers—all medical doctors—purchased Purdue Frederick in Manhattan. Arthur was both mentor and visionary. He was inducted into the Medical Advertising Hall of Fame, which credited him with shaping "pharmaceutical promotion as we know it today." He pioneered marketing directly to doctors and advertising pharmaceutical products in medical journals. One of his most successful marketing efforts was the promotion of Valium in the 1960s—an effort he directed from a company unaffiliated with Purdue Frederick.
Soon after Arthur died in 1987, his estate sold his one-third interest in Purdue Frederick to his brothers for $22.35 million, according to the 2003 book Pain Killer by the New York Times journalist Barry Meier. The amount of the note carried on Purdue's books is the same as the purchase price, indicating that the payment was not made up front. Before paying off the note, Purdue paid interest on it at a rate as high as 14 percent per year, according to the financial documents.
A portion of the note—$2.7 million—was paid to Arthur Sackler's estate in 1994. It incurred a prepayment penalty of $300,000, likely because it was paid before the note came due in 1998. That left a balance of $19.65 million, according to Purdue records.
When Arthur's estate settled in 1994 following a lengthy battle between his children and his widow, Jillian, the agreement detailed that a note from Purdue Frederick "of at least $19 million" would be included in the new trust.
In 1994, the year that the trust was established, profits of Purdue and its affiliated companies were just under $1 million, according to company documents. The next year, OxyContin was approved, and Purdue's profits soared—to $11.5 million in 1996 and $32.8 million in 1997, the year that the note was paid off.
Purdue had other successful products before OxyContin, although none on its blockbuster scale. They included another opioid painkiller, MS Contin, as well as antiseptics and laxatives.
Wooten says the payment's timing was not connected to OxyContin's growing popularity. "Timing of payments had nothing to do with when funds were available," she says, adding that it would be "absurd" to suggest that the company or Arthur's brothers "had insufficient funds to make the estate payments following Arthur's death in 1987."
Long before OxyContin was introduced, the Sackler brothers already were notable philanthropists. Arthur was one of the world's biggest art collectors and a generous benefactor to cultural and educational institutions across the world. There is the Arthur M. Sackler Gallery at the Smithsonian Institution, the Arthur M. Sackler Museum at Harvard, and the Jillian and Arthur M. Sackler Wing of Galleries at the Royal Academy of Arts in London.
His brothers were similarly generous. They joined with their older brother to fund the Sackler Wing at the Met, which features the Temple of Dendur exhibit. The Mortimer and Theresa Sackler Foundation was the principal donor of the Serpentine Sackler Gallery in London; the Sackler name is affiliated with prestigious colleges from Yale to the University of Oxford, as well as world-famous cultural organizations, including the Victoria and Albert Museum in London. There is even a Sackler Rose—so christened after Mortimer Sackler's wife purchased the naming rights in her husband's honor.
Now the goodwill gained from this philanthropy may be waning as the Sackler family has found itself in an uncomfortable spotlight over the past six months. Two national magazines recently examined the intersection of the family's wealth from OxyContin and its philanthropy, as have other media outlets across the world. The family has also been targeted in a campaign by the photographer Nan Goldin to "hold the Sacklers accountable" for OxyContin's role in the opioid crisis. Goldin, who says she became addicted to OxyContin after it was prescribed for surgical pain, led a protest last month at the Metropolitan Museum of Art, in which demonstrators tossed pill bottles labeled as OxyContin into the reflecting pool of its Sackler Wing.
While it doesn't appear that any recipients of Sackler charitable contributions have returned gifts or pledged to reject future ones, pressure and scrutiny on many of those institutions is intensifying. In London, the National Portrait Gallery said it is reviewing a current pledge from the Sackler Trust.
Against that backdrop, Jillian Sackler, who was Arthur's third wife, turned to Rubenstein Communications, which has been distributing a "fact sheet" to media reporting on the controversy.
The first item listed was that "Arthur M. Sackler, his widow, and heirs have never financially benefited from the sale of OxyContin." It went on to say, "Prominent news media, including The New York Times, The Washington Post, TIME, The Economist, CNN, the Associated Press, Agence France-Presse, The Guardian, HuffPost, Art News, etc., have published corrections and clarifications noting the distinction between Arthur M. Sackler and his heirs—who have had no financial interest in the sale of OxyContin—and other branches of the Sackler family."
BerlinRosen, a public-relations firm in New York, represents Elizabeth Sackler, who has been openly critical of Purdue Pharma. She has said that none of her father's descendants "benefited in any way" from the sale of OxyContin while adding: "I stand with all angry voices against abuse of power that harms or compromises any and all lives."
Her charitable work, however, has received financial support from the side of the family that ran Purdue after her father's death and earned profits from the sale of OxyContin. In 2011, Purdue Pharma donated $500,000 to a foundation named after Elizabeth's uncle Mortimer, and the foundation gave the same amount to the Brooklyn Museum for the Sackler family curator at the Elizabeth A. Sackler Center for Feminist Art. Elizabeth Sackler is a trustee of the museum and the benefactor of the eponymous center, which is the permanent host of "The Dinner Party," an installation by the artist Judy Chicago that features three large tables in the shape of a triangle. There are 39 place settings at the table for famous women, ranging from the mythical Fertile Goddess to the writer Virginia Woolf.
In 2012, Beverly Sackler, the wife of the youngest Sackler brother, Raymond, contributed $5,000 to Elizabeth Sackler's charitable foundation, which has provided substantial financial support to the feminist center at the museum. A museum spokeswoman and Elizabeth Sackler's spokesman declined to comment about the donations.
---
This post appears courtesy of ProPublica.
Trump's Assault on the Rule of Law
Posted: 09 Apr 2018 07:22 PM PDT
Hours after the FBI raided the office, home, and hotel room of his sometime-personal attorney Michael Cohen, President Trump delivered an angry response at the White House on Monday.
The group of people he targeted is wide and deep: Special Counsel Robert Mueller, Attorney General Jeff Sessions, Deputy Attorney General Rod Rosenstein, former FBI Director James Comey, and his own appointee as U.S. Attorney for the Southern District of New York. Taken together, however, it becomes apparent that Trump is not really angry at individuals so much as he is at the rule of law itself.
"It's a disgraceful situation," he said. "It's a total witch hunt."
The reason for the raid on Cohen's spaces is not yet clear. Cohen's attorney said the Southern District of New York, the federal government's prosecutorial office for Manhattan, had conducted the raid using a search warrant, and that it was "in part, a referral by the Office of Special Counsel, Robert Mueller." The lawyer, Stephen Ryan, called it "completely inappropriate and unnecessary" and said his client had already been cooperating with authorities. Such raids sometimes indicate prosecutors are concerned that an individual might try to conceal or destroy evidence.
The raid is extraordinary, not least because Cohen has served as a lawyer for Trump. The requirements for seeking and obtaining a warrant for such a raid to override attorney-client privilege are strenuous and lengthy. The Washington Post reported that Cohen is being investigated for possible bank fraud and campaign-finance violations. He's been in the news recently as the man who paid porn actress Stormy Daniels $130,000 shortly before the election in exchange for her silence about an affair she says she had with Trump years ago.
Also of note is the fact that the special counsel did not oversee the raid. According to Bloomberg, "Mueller brought information involving Cohen to Rosenstein, who decided that the inquiry should be handled by federal prosecutors in New York, according to a person familiar with the situation."
In recent days, Trump has seemed to distance himself from Cohen. Last week, he denied knowledge of Daniels's non-disclosure deal, saying, "You'll have to ask Michael Cohen. Michael is my attorney." So it's notable that Trump took Monday's raid as such a personal affront, launching into a lengthy rant before a Cabinet meeting.
At each step of the way, the actions that have angered Trump have been steps taken by senior officials specifically following the law. In a shocking turn of phrase, even by his standards, Trump said, "So I just heard they broke into the office of one of my personal attorneys." Of course, "they" didn't "break in"—they obtained a search warrant: sought by the U.S. Attorney, with the sign-off of the deputy attorney general, and approved by a magistrate judge. "They" means the FBI, part of Trump's own executive branch, acting according to the law.
More broadly, Trump has attacked the special counsel. The point of having a special counsel is to insulate an investigation from political pressure—indeed, Rosenstein appointed Mueller when he felt that the tenor of Trump's earlier comments and actions made it impossible for the Justice Department to adequately investigate Russian interference in the 2016 election through normal channels. In his comments about Mueller, Trump has not broken any laws (as far as we know), but he has most certainly violated the spirit of the special-counsel regulation, attempting to pressure Mueller at all turns. He said in an interview that if Mueller investigated his personal business, it would cross a "red line." He reportedly tried to fire Mueller, only to be talked down by aides. He has blasted the probe left and right, and on Monday all but threatened to fire Mueller again.
"We'll see what happens," the president said. "Many people have said, 'You should fire him.'"
Rosenstein appointed Mueller because he is the acting attorney general for Russian matters, after Sessions recused himself from related probes. That this infuriates Trump is another example of Trump's crusade against rule of law. Sessions recused himself on the advice of career Justice Department staff and in accordance with department guidelines. Trump has no regard for the rules and procedures.
"The attorney general made a terrible mistake when he did this and when recused himself or he certainly should have let us know if he was going to recuse himself and we would have put a different attorney general in," Trump said Monday, reprising previous comments about Sessions. "So he made what I consider to be a very terrible mistake for the country. But you'll figure that out."
It's not hard to see what Trump means here. His beef with Sessions is not that the attorney general broke any rules; it's that his recusal prevents him from being in a position to interfere politically to protect Trump, and his aides like Cohen. Indeed, Trump has repeatedly voiced, both publicly and privately, his belief that the job of the attorney general is to protect the president, rather than to serve as the government's top lawyer. This view is a radical departure from the standard approach. Trump would prefer that Sessions break the rules, and do it for Trump's benefit.
"This is the most biased group of people," Trump said Monday, apparently referring to Mueller's team. "These people have the biggest conflicts of interest I have ever seen. Democrats—all. Either Democrats or a couple of Republicans who worked for President Obama."
This is, unsurprisingly, misleading. Mueller is a lifelong Republican (though Obama appointed him to continue a tenure as FBI director that began under George W. Bush). Several members of the special counsel's team are Democrats or donated to Obama or Clinton. Yet most of those in Trump's doghouse right now are Republicans: not just Mueller, but Sessions, Rosenstein, Comey (who he also attacked Monday), and Geoffrey Berman, the U.S. attorney, who is a former lawyer at Rudy Giuliani's firm and whom Trump appointed to his post after reneging on a promise and firing Preet Bharara. Believing that all of these men, especially Sessions, are part of a Democratic cabal against Trump requires more than an active imagination. It requires delusion.
Trump's claims of persecution also ring increasingly hollow. If this is a witch hunt, Mueller has uncovered a whole coven. Trump's former national-security adviser, Michael Flynn, and deputy campaign manager, Rick Gates, have both pleaded guilty to charges and are cooperating with Mueller. So has a campaign aide, George Papadopoulos. There is a damning indictment against Paul Manafort, Trump's former campaign chairman. There are multiple open lines of inquiry into Trump aides. It is true that no authority has yet indicted anyone for any specific crime of collusion, but to state, as Trump did Monday, that "they found no collusion whatsoever with Russia" is to declare the outcome of the ballgame at the end of the third inning.
Trump continues to be angry that Hillary Clinton was not prosecuted, though it's unclear what crimes she might have committed, and has publicly complained that Sessions is not pursuing her. "The other side, they don't even bother looking," Trump said. "And the other side is where there are crimes, and those crimes are obvious. Lies, under oath, all over the place." Not only has Clinton already been subject to investigations (which ended without charges), but what Trump fails to grasp is that it is not the president's role to decide who has committed a crime and who should be prosecuted.
This idea, that there is a regimented process for charging people and that it ought not to be determined by political vendettas or the whims of the head of government, is central to the American project, even if the nation has at times fallen short of it. Trump has long struggled to understand and accept the idea of the rule of law. On the campaign trail, he promised to lock Hillary Clinton up and questioned the right of a federal judge to oversee a case involving Trump University. Monday's comments, including his stunning equation of a legal warrant with a burglary, are the clearest demonstration that Trump is engaged not just in a political attack, but in a campaign against the rule of law, and the U.S. approach to justice, itself.
"It's an attack on our country, in a true sense," Trump said Monday. "It's an attack on what we all stand for."
He's right about that—he's just wrong about who's doing the attacking.
<em>The Atlantic</em> Daily: How to Describe the World
Posted: 09 Apr 2018 04:23 PM PDT
What We're Following
All Eyes on Syria: Dozens of civilians in the rebel-controlled town of Douma, Syria, were killed in a suspected chemical-weapons attack by President Bashar al-Assad's regime. The attack crosses "red lines" against chemical warfare set by both President Obama and President Trump, and suggests that the Assad regime isn't worried about an American response. Trump said on Monday that he'll be making "some major decisions" on Syria within the next two days. Here are his four options.
The Trump Administration: An email sent by one of the Environmental Protection Agency aides who received a controversial pay raise contradicts EPA Administrator Scott Pruitt's claim that he didn't know about it, according to agency staffers. Thus far, Trump has expressed full support for and trust in Pruitt, whose expenditures as the EPA head are under mounting scrutiny. Yet the president trusts few institutions—a viewpoint that might be rooted in the 1970s.
Race in the City: Though America's largest cities are racially diverse, their top leadership isn't: All but three of the mayors of the country's 15 most populous cities are white men, and there are no women. And 50 years after the government-commissioned Kerner Report denounced "white racism" as the cause of urban unrest, cities' poorest neighborhoods remain deeply segregated along racial lines.
---
Snapshot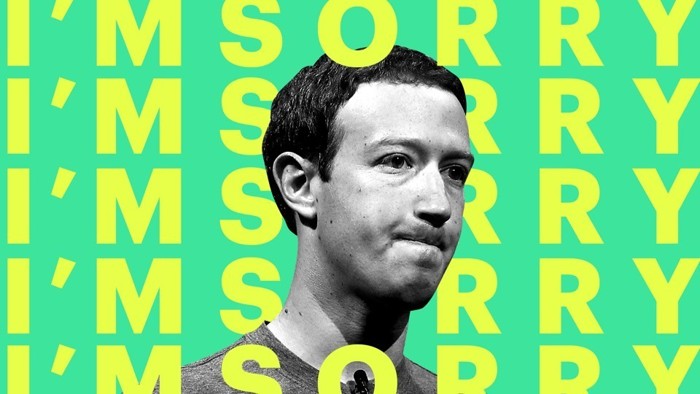 ---
Evening Read
Franklin Foer predicts the end of reality:
Vladimir Nabokov once wrote that reality is one of the few words that means nothing without quotation marks. He was sardonically making a basic point about relative perceptions: When you and I look at the same object, how do you really know that we see the same thing? Still, institutions (media, government, academia) have helped people coalesce around a consensus—rooted in a faith in reason and empiricism—about how to describe the world, albeit a fragile consensus that has been unraveling in recent years. Social media have helped bring on a new era, enabling individuated encounters with the news that confirm biases and sieve out contravening facts. The current president has further hastened the arrival of a world beyond truth, providing the imprimatur of the highest office to falsehood and conspiracy.

But soon this may seem an age of innocence. We'll shortly live in a world where our eyes routinely deceive us. Put differently, we're not so far from the collapse of reality.
Keep reading, as Franklin describes how the digital manipulation of video could change our understanding of the world.
---
What Do You Know … About Education?
Teachers and students across the country are demanding change. At Howard University, students occupied an administration building for nine days to push for new policies on issues ranging from sexual assault to mental-health care. Their tenacity may foreshadow a new era of powerful student activism on college campuses. Meanwhile, Oklahoma teachers are now in their second week of a strike, and they want much more than a pay raise—they're asking for a higher quality of education for all their students.
Can you remember the other key facts from this week's education coverage? Test your knowledge below:
1. Some school districts in Oklahoma have had to shorten their school week to ____________ days, because they don't have the resources to keep their campuses running Monday through Friday.
Scroll down for the answer, or find it here.
2. As of 2012, _________ percent of campus-law-enforcement agencies have armed officers.
Scroll down for the answer, or find it here.
3. During protests in 1968, 1989, and 2018, students at Howard University occupied the school's ____________ Administration Building.
Scroll down for the answer, or find it here.
---
Look Back
In our October 1964 issue, Edward Weeks, then The Atlantic's editor in chief, delivered the second of the magazine's three presidential endorsements—in this case, for Lyndon B. Johnson, and against Barry Goldwater:
A President is trusted to make decisions, the most momentous decisions in our lives. In making up his mind he must reckon with those who disagree with him. We think it unfortunate that Barry Goldwater takes criticism as a personal affront; we think it poisonous when his anger betrays him into denouncing what he calls the "radical" press by bracketing the New York Times, the Washington Post, and Izvestia. There speaks not the reason of the Southwest but the voice of Joseph McCarthy. We do not impugn Senator Goldwater's honesty. We sincerely distrust his factionalism and his capacity for judgment.
Read more, share this story, and find more articles from our archives.
---
Reader Response
Conor Friedersdorf, a staff writer, criticizes The Atlantic's recent decision to fire Kevin Williamson, a controversial conservative writer:
I worry that the firing was a failure of "the spirit of generosity," a value that The Atlantic has long touted as a core value. I know that it raised thorny, unresolved questions about what exactly is verboten at the magazine. I fear that it will make it harder for the publication to contribute to the sort of public sphere where the right and the left mutually benefit from fraught engagement. And I expect that many of my colleagues will bear the burden of being dragged in ways that opportunists on the right and the left will now take to be effective.
Read more from Conor, and write to us at letters@theatlantic.com.
---
Verbs
Nerves jangled, reality faked, red spot reduced, glass overlooked.
---
Time of Your Life
Happy birthday to J's son Andrew (a year younger than Wikipedia); to Linda's brother Art (twice the age of MTV); to Margaret (a year younger than the Golden Gate Bridge); to Dylan's wife, Sarah (the same age as Earth Day); to Carol's daughter Jessie (a year younger than hip-hop records); and to Robin's son-in-law-to-be, Justin (twice the age of Harry Potter).
From yesterday, happy birthday to Oscar's dad (a year younger than documentary films); to Caroline's dad (born around the time Thor Heyerdahl set sail from Peru to French Polynesia on the Kon-Tiki); from Mandy to Simon (a year younger than Sesame Street); and to Kelly's daughter Ella (who was 5 years old when Barack Obama was elected president).
Do you or a loved one have a birthday coming up? Sign up for a birthday shout-out, and explore the Timeline feature for yourself.
---
Meet The Atlantic Daily's team, and contact us.

Did you get this newsletter from a friend? Sign yourself up.
Posted: 09 Apr 2018 02:58 PM PDT
When Mark Zuckerberg rehearsed the manic routine of a presidential candidate last year, he was of sound mind. Electoral success may have ultimately been beyond his talent set. But the culture accorded him the sort of profound respect that two-term senators and technocratic governors never receive. Zuckerberg sat on the cover of glossy magazines and reaped plaudits: for teaching himself Chinese (Wired: "Mark Zuckerberg Speaks Mandarin, Blows Everyone's Mind"); for making bold, not-quite-charitable pledges (Bloomberg: "Mark Zuckerberg Philanthropy Sets New Giving Standard"). Vanity Fair announced him the "new establishment king," and it blared: "He changed the world once. He says he'll do it again."
Everyone who doesn't have their retirement savings stashed in Facebook stock will watch his Capitol Hill comeuppance while sipping a glass of chilled schadenfreude. Yet, this is a far bigger moment than that. For its entire history, Silicon Valley has deflected skepticism, building itself a filter bubble that largely protected it from tough questions about its grand plans for remaking humanity and capitalism, about its bulldozing of privacy and media. Tomorrow will be the day Zuckerberg raises his hand before Congress, and it will be the day Silicon Valley no longer floats above the world.
When America's founders designed our system, they created a model where power was meant to be constrained by power: Congress checks the president; the courts check the Congress. This ethos of balancing has extended beyond constitutional schemes, with the later advent of robust, objectively minded newspapers and labor unions, each theoretically serving as a countervailing center of power. Silicon Valley was born into a culture that had no interest in constraint. In the past, Zuckerberg has boasted that he had created a platform as powerful as a nation-state—but it is a nation-state as imagined by Milton Friedman or Sam Brownback. There were essentially no regulators that aimed to curb its abuses. And certainly, there were no politicians attempting to win attention for themselves by interrogating him or the executives of other technology companies, with the sort of vigor sometimes applied to banks and airlines.
The culture of Silicon Valley has exacerbated the sense of impunity. Facebook, with its hacker shtick, came to resemble a cult. (Google, to its credit, has created an atmosphere that places greater value on dissent, despite James Damore's protestations to the contrary. Witness the staff protest against the company's Pentagon work. And at least Google had the self-awareness to drop its "don't be evil" motto.) I've watched many hours of Zuckerberg's vaunted town-hall meetings, full of seemingly canned questions from staff and the tightly wound founder responding to them with feigned surprise. There's a reason we're not suddenly reading news reports about the thwarted warnings that Facebook employees attempted to take to management. The engineers, it seems, blindly followed their leader. One of the salutary benefits of this backlash is that it stands to dent the culture of the company. It creates a new expectation that its employees should be more questioning, less thoughtless about human beings. The congressional flaying will show that there's, at the very least, a social price to be paid for creating such a careless product.
What makes these hearings so consequential is that politicians can now finally see the self-interested reasons for thrashing big tech. Recent polling shows a loss of faith in Facebook, but the public conversation suggests a much larger shift in consciousness. The coverage of the Cambridge Analytica story has provided a belated and harsh education for the public, illustrating the extent to which it has unwittingly submitted to the manipulation and surveillance of Silicon Valley companies. It's always stunning to hear otherwise media-savvy friends profess shock at how much information they had handed over to Facebook, and how little sensitivity the company showed to its precious cargo. Equally stunning is the fact that many of those who understood Facebook's transactional relationship with its users' private information couldn't seem to muster enough energy to actually care. The surrender of privacy, which had only theoretically bothered consumers, finally seems to have elicited genuine anger. It's a backlash that has been stoked by media, making noises about extracting itself from its own dependence on Facebook.
This makes for a stunning reversal. In the face of Silicon Valley's power, there's a widely shared sense that the public has has no agency. Even if people weren't thrilled with the terms-of-service agreements offered by the companies, they accepted them as the natural course of life on the internet. Media, regulators, and engineers all knew perfectly well that Facebook had created a pernicious system, yet they assumed there was no way to blunt it. This reflected a broader attitude toward both technology and the market.
In this environment, radical proposals suddenly become plausible. Regulation, which conventional wisdom held would never materialize in the United States, is suddenly theoretically accepted by Mark Zuckerberg as the cost of his failures. (His porous half-promise to abide by the principles of forthcoming European privacy rules, however, belie the sincerity of his contrition.) The spirit of the movement has even caught the fancy of Republicans, as well as centrists. Plummeting stock prices reflect a growing sentiment that constraints are inevitable. To lambaste Zuckerberg at these hearings is a necessary precondition for the development of robust policy, an important moment in the reordering of political economy—power brought to bear against power.
<i>The Atlantic</i> Politics & Policy Daily: Raiding Places
Posted: 09 Apr 2018 02:27 PM PDT
Today in 5 Lines
---
Today on The Atlantic
---
Snapshot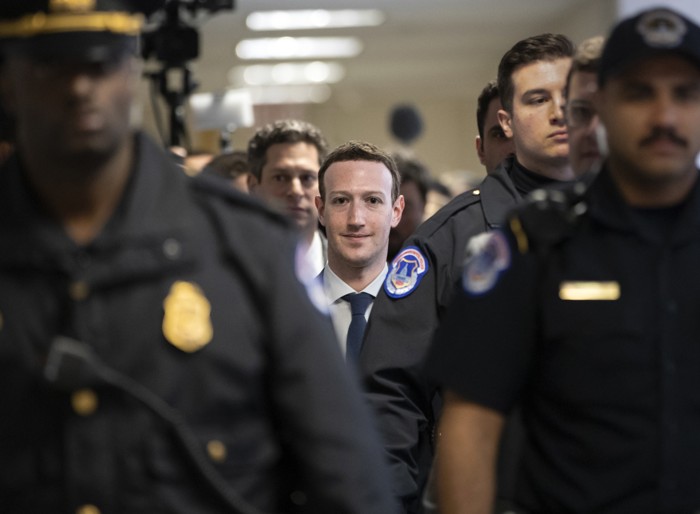 ---
What We're Reading
Expect an Expensive Race: Florida Governor Rick Scott announced that he's launching a bid to unseat Democratic Senator Bill Nelson. Here's what a Scott-Nelson race could look like. (Dylan Scott, Vox)
How Russia Could Steal the Midterms: Here's what a worst-case scenario could look like, based on the fears of voting and cybersecurity experts. (Clare Malone, FiveThirtyEight)
Bait-and-Switch: President Trump and Republican leaders are hoping to use an obscure law to cut some domestic spending out of the omnibus bill. The move, writes David Dayen, "would centralize practically all governing power in the hands of one rather unstable man." (The Nation)
On the Other Hand: Kimberley A. Strassel sees this as "a chance for Republicans to honor their promises of spending restraint" and redeem themselves with Trump's conservative base. (Wall Street Journal)
---
Visualized
Everybody's Running: According to the soaring number of Democratic House candidates, the party's best recruiting tool this year has been President Trump. (Jonathan Martin and Denise Lu, The New York Times)
-Written by Elaine Godfrey (@elainejgodfrey)
Why Is Jupiter's Great Red Spot Shrinking?
Posted: 09 Apr 2018 01:31 PM PDT
The most recognizable storm in the solar system used to be so big that it could fit three whole Earths. Now, it has room for only one.
Jupiter's Great Red Spot is shrinking, and has been for decades.
The earliest observations of a massive, red spot on the face of Jupiter date back as far as the 1600s. Astronomers don't know whether this spot was the Great Red Spot we know today, but it's likely. Routine telescope observations of the oval-shaped storm, where winds can reach 400 miles an hour, began in the late 1870s. For the Great Red Spot, these were the "years of its glory," according to John H. Rogers, who plotted the history of the storm's dimensions in The Giant Planet Jupiter. Not long after, perhaps around 1920, astronomers noticed the storm was getting smaller. In 2012, amateur astronomers using backyard telescopes to observe Jupiter saw that the rate of shrinking had actually accelerated.
The storm's glory days are behind it, and scientists are trying to figure out why. They don't have an answer yet.
The Great Red Spot formed like most storms do on Jupiter, as elongated bands of wind that swirled into shape over time. "We think what happens is they hit a stable size, and that's when it should stop and just kind of stay that size, unless something breaks it apart," says Amy Simon, a senior scientist at NASA's Goddard Space Flight Center who studies Jupiter.
But the Great Red Spot is a weird one. According to computer simulations based on our understanding of Jupiter's weather, it's rare for storms to last as long as the Great Red Spot has. And yet, here it is—shrinking, certainly, but persisting, quite stubbornly, for centuries. "We're still figuring out what it all means," Simon says.
Simon and her colleagues recently tracked the history of the Great Red Spot by combing through a number of sources, including the earliest telescope observations and data from the Voyager spacecraft and Hubble Space Telescope. Their analysis provided another confirmation that the storm has been steadily decreasing in size, since about 1878. They also found that the storm is growing taller as its base shrinks, like a chunk of clay being shaped into a vase on a potter's wheel.
Despite years of observations by telescopes and spacecraft, much about Jupiter remains a mystery, including the mechanisms that drive the Great Red Spot. The storm maintains its latitude because it spins between two jet streams moving in opposite directions. Jupiter's jet streams are bands of powerful winds that can descend as deep as 3,000 kilometers, or about 1,800 miles, beneath the planet's cloud tops. The Great Red Spot feeds on a steady parade of small storms that emerge to its northwest, march all the way around the planet for a few months, and then return.
"The Great Red Spot is a lot like a big, beautiful mountain lake, with a small inlet and a small outlet," says Timothy Dowling, a scientist at the University of Louisville who studies planetary atmospheres. "Any slight change to the inlet or outlet of such a lake eventually changes the lake's appearance dramatically, and it is just the same with the Great Red Spot and its diet of small storms."
Computer models show that changes to Jupiter's jet streams, either in their speed or location, would result in changes to the inlets and outlets, and consequently to how the Great Red Spot absorbs and releases small storms. This, in turn, would lead to changes in its size and shape. Scientists don't know for sure, but these jet streams likely play a role in the storm's gradual shrinking. The jet streams, of course, are among the properties of Jupiter they're still trying to really understand.
Simon's analysis of the Great Red Spot over the years also revealed that the storm's shades of orange and red are becoming deeper, particularly since 2014. The cause is—yep, you guessed it—another mystery. In fact, scientists don't know why the Great Red Spot is red in the first place. Scientists say the oranges and reds come from the chemical composition of Jupiter's atmosphere. One theory suggests the colors come from the presence of sulfur and phosphorus, while another says they're a product of chemicals being broken down by sunlight.
Either way, the saturation of the storm's colors may have to do with altitude. Scientists have seen that the deepest reds occur at higher altitudes. In the 1930s, three white, oval-shaped storms emerged elsewhere on Jupiter and eventually merged into a single storm. "Soon after, this storm turned from white to red," Dowling says. "Apparently, once a high-pressure storm gets high enough, its middle is exposed to enough ultraviolet light from the sun for photochemistry to produce the red." If this is indeed the case, the Great Red Spot will become the Great Redder Spot as it grows taller.
Scientists are hesitant to predict what will happen to the Great Red Spot in the coming years. The storm may continue to contract. It could also rebound and swell. Simon says the next decade will be particularly interesting because we may see the storm transform from an oval into a circle, a shape that would be more difficult to maintain.
If and when the Great Red Spot shrinks into oblivion, its winds absorbed into Jupiter's swirling landscape, humanity—if it hasn't shrunk into its oblivion itself—will have plenty of photographs to remember it by. Amateur image processors have spent nearly a year transforming raw data from NASA's Juno spacecraft into stunning, high-resolution photos of the planet's stormy landscape. Last July, the spacecraft flew directly above the Great Red Spot, producing wildly detailed images of the storm. Juno came within 5,600 miles of the cloud tops, marking humanity's closest approach to the storm. It's likely the closest humans will ever get, but at least we got there before it was too late.
The 'g' in Google's Old Logo Is Really Weird
Posted: 09 Apr 2018 01:44 PM PDT
In a recent study delightfully titled "The Devil's in the 'g'-Tails," researchers at Johns Hopkins University found that most people are unaware of the common form of the lowercase "g" that appears in books. It looks like this: g. If you glossed right over that, notice that the letter has two closed loops, distinct from the way "g" is usually written by hand.
"Nobody seemed to know what I was talking about," Michael McCloskey, a cognitive scientists at Hopkins, recalls of the time he mentioned this difference to his students. So they set out to study if anyone else was aware, and it was clear: In one experiment of 38 people, only one person could accurately draw this form of the lowercase "g," known as the double-story or loop-tail "g."
How did we get to this state of affairs? Why do we exist in this maddening world where we are taught to write one way and our books are printed in another?
The double-story "g"—what is now the common printed form—is the original form of the lowercase "g" (the OG ... ?), says Paul Shaw, a type designer who teaches at the New School. It originated in the eighth century among monks copying religious texts in Latin. The script they used became known as Carolingian script.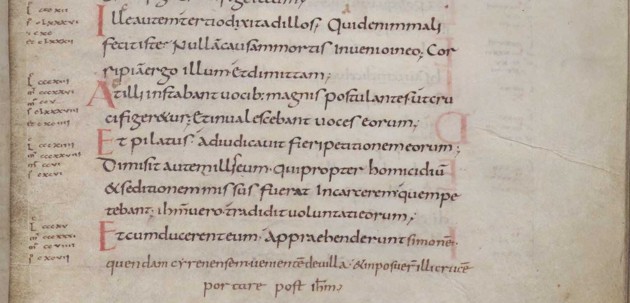 Over time, monks copying by hand introduced variations in their letters. And so, the single-story "g" emerged, most famously in black-letter or Gothic calligraphy. When Johannes Gutenberg started printing books in the mid-15th century, he naturally copied the monks' Gothic script. The lowercase "g"s of the Gutenberg Bible resemble a single-story "g," as do the lowercase "g"s of modern Gothic typefaces that imitate this style.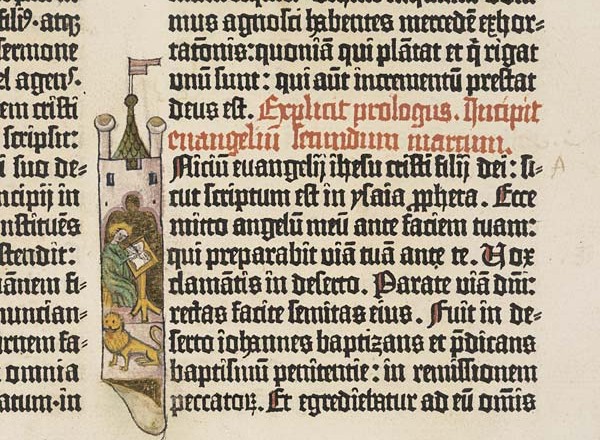 Then, plot twist: the return of the double-story "g." "In the Renaissance," says Shaw, "there was an interest in Roman and Greek culture by scholars that led to a revival of the Carolingian script." Like Gutenberg, later Renaissance type cutters also imitated local scripts, and the Carolingian double-story "g" eventually became popular in print all over Europe. But single-story "g" prevails in handwriting, probably due to how much easier and quicker it is to write.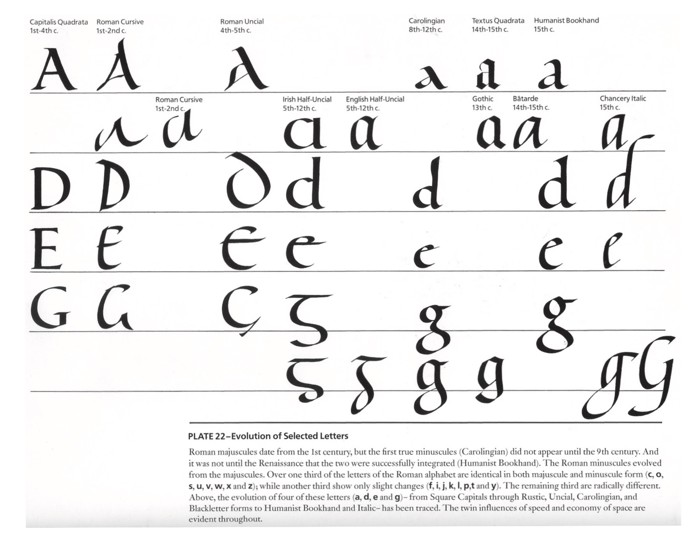 (The lowercase "a" also has distinct written and printed forms, though the Hopkins researchers found that people were much better at recognizing the printed double-story "a" than "g," for some reason.)
Today, type designers can play with all the different forms of "g," single-story or double-story. "I do hope type designers aren't going to take too much notice of this study, and produce type with single-story "g"s from now on!" says Sara Chapman, a typographer who likes the letter "g" so much she wrote her dissertation on its history and named her studio "Letter 'g.'" The double-story "g," she adds, is "often the letter that contributes most to the personality of the typeface." The fact people are so bad at recognizing the proper shape of the double-story "g" actually gives type designers the freedom to experiment with its shape.
Take the old Google logo, whose double-story "g" flashed countless times before our eyes between 1999 and 2015. So distinct is this "g" that Google chose the lowercase rather than uppercase letter for its longtime favicon—the little icon that appears in your browser tab. But, look closely. This is a weird double-story "g." The neck connecting the upper and lower loops is too far to the right.
"Their version of that "g" is, in my experience, close to being wrong," says McCloskey. "We have looked at the "g" in a hundred different fonts. That Google one is a real outlier."

I called up Ruth Kedar, the designer who created the Google logo in 1999. "The font was chosen in many ways because of that very unusual 'g,'" she confessed. (The font is Catull.) "This was the '90s," she said. "The internet was new, and the people did not really know how to use those things, computers." Kedar wanted the logo to appear friendly but still convey an old-fashioned authority. This unusual yet familiar double-story "g" helped.
In 2015, with computers firmly entrenched in our lives, Google updated its logo to feature a more modern-looking sans-serif font and a single-story "g." But when McCloskey's team recently asked people to pick the correct double-story "g," the Google logo came up again. "We have had a few people try to offer that as an excuse for picking the wrong 'g,'" he says.
Assad Defies Another American President
Posted: 09 Apr 2018 12:27 PM PDT
Nearly one year ago exactly, American cruise missiles rained down on a Syrian airbase from which a deadly chemical attack had been launched against defenseless civilians. Now, one year later, mass murder and military reprisal appear again as exclamation points in a seven-year horror story of civilian suffering, state failure, and diplomatic malpractice. Once again, an American president has drawn a line and watched a brutal mass murderer cross it. Now he ponders what to do, knowing that what happens in Syria never stays there—that the conflict and its repercussions simply will not be contained.
If initial reports prove accurate, Bashar al-Assad, the president of Syria, has again used highly toxic chemicals to terrify and kill civilians. The Trump administration had hoped that its missile strike on Shayrat Airbase in April 2017 in response to the chemical attack launched from that base would deter such outrages. But deterrence was undone by Syrian cynicism and American thoughtlessness. Today, Trump said that his administration will make "some major decisions" on Syria over the next 24 to 48 hours.
The 2017 Assad regime assault on Khan Sheikhun, which prompted the American response, had featured the nerve agent sarin, one of the most toxic of weaponized chemicals. The same compound was used to kill civilians in August 2013, when Assad demonstrated to the world his contempt for President Barack Obama and Obama's declared chemical warfare "red line."
In 2013, Assad escaped punitive strikes by the United States by agreeing to a Russian-brokered deal that was supposed to remove his chemical munitions and block his ability to reconstitute a chemical-warfare capability. It did not do so, and nearly four years later Assad—perhaps led to believe by Trump's remarks on the campaign trail that U.S. forces would not remain in Syria for long—returned to the use of sarin. No doubt he was shocked by the quick and lethal response.
Shock, however, did not translate into paralysis. With the support of Russia and Iran, Assad calculated that he could persist with his political survival strategy—mass homicide—and even employ chemical weapons for terror effects provided he stopped short of using sarin, which is banned under the 1993 Chemical Weapons Convention. Assad's addiction to chemicals was far from cured: His use of chlorine gas canisters (often packed in barrel bombs) never ceased. But he calculated that sarin was the specific red line not to be crossed.  
This calculation was not a hunch. Assad was able, with the help of Vladimir Putin, the president of Russia, to deduce soon after the cruise-missile strike of April 2017 that it was a one-time gesture—that, provided he stopped short of using sarin, any other acts of mass murder or state terror would draw no U.S. response beyond the customary hand-wringing in the United Nations Security Council.
What the Trump administration failed to do in April 2017 was deliver the following message to the Kremlin: You need to get your client out of the business of mass homicide. If he persists, we will exact prices at times and in places of our choosing. This is not just about chemicals. It is about what your client is doing to our friends, our allies, and to us by providing recruiting fodder for Islamist extremists around the globe. Perhaps that's the message intended by Trump's warning of imminent action.
Absent such a message, Assad saw the red line on sarin as a green light to do  everything else. On the chemical front, he continued his promiscuous use of weaponized chlorine, as he had done during the Obama years. And when he heard Trump speak publicly about his desire to get out of Syria quickly, he may have concluded that he could again indulge his addiction to the stronger stuff.
As he did a year ago, however, Assad may have miscalculated. Trump's call to pull troops out of Syria notwithstanding, administration officials—long before the latest incident—were troubled and perplexed by the breakdown of deterrence they thought they had purchased with the April 2017 retaliatory strike. H.R. McMaster, the recently replaced national-security adviser, spoke publicly about that failure during the February 2018 Munich Security Conference.
Now the president and John Bolton, his new national-security adviser, face the possibility that Assad, a crime family chieftain, has again placed American credibility on the line. Based on the latest reports, the Pentagon has likely prepared a menu of regime targets from which to select. Can any good come from a decision to strike?
If the objective is to unseat Assad, an operation far transcending a punitive strike would be required. But this is not the objective. Instead, the aim of hitting the regime and hitting it hard would be twofold: to uphold the credibility of the United States while preventing the kind of global destabilization inadvertently set in motion by the red line erasure of 2013, and to tell Assad that the free ride for mass murder has ended. As matters now stand, his slaughter of civilians is, beyond the cost of aviation fuel and munitions, completely risk-free. And his message to the United States and its allies is clear: You cannot touch me. Indeed, give me reconstruction money or I'll send more refugees in your direction.
Russia, if it is willing to risk direct confrontation with the United States, can try to close the airspace over eastern Syria, where U.S.-led operations against the Islamic State continue. And it may take more than a single strike to derail a campaign of mass homicide that has produced a humanitarian abomination and undermined the security of the west.
The Trump administration inherited a Syria policy whose unintended consequences exacerbated a humanitarian disaster, undermined U.S. credibility, and placed allies and friends at risk. Now it is forced again to confront that which its predecessor sought unsuccessfully to avoid: What happens in Syria will not stay in Syria. As long as Assad is free to murder whomever he wants with whatever he chooses, Syria will hemorrhage human beings for as far as the eye can see, and Islamist extremists around the globe will use Assad's crimes to find recruits for terror operations inside Syria and beyond. And as long as the United States proclaims red lines and promises consequences but does nothing, it places its reputation on the line everywhere. Remaining passive is not risk-free. The world watches as an American administration sets a value on its word.
An Internal Email Contradicts Scott Pruitt's Account of Controversial Raises
Posted: 09 Apr 2018 02:24 PM PDT
This story was updated on April 9, 2018, at 4:26 p.m.
An email that suggests Environmental Protection Agency Administrator Scott Pruitt personally signed off on a controversial pay raise for a favored aide last month is roiling the agency.
In the last few days, top staffers became aware of an email exchange between one of two aides who received such a raise and the agency's human resources division. In mid-March, Sarah Greenwalt, senior counsel to the administrator, wrote to HR in an attempt to confirm that her pay raise of $56,765 was being processed. Greenwalt "definitively stated that Pruitt approves and was supportive of her getting a raise," according to an administration official who has seen the email chain.
A second administration official confirmed the exchange. The email "essentially says, 'The administrator said that I should get this raise,'" the official told me. Both spoke on condition of anonymity in order to discuss the private correspondence.
"Administrator Pruitt had zero knowledge of the amount of the raises, nor the process by which they transpired," Pruitt's chief of staff, Ryan Jackson, said in a statement. "These kind of personnel actions are handled by myself, EPA's HR officials and PPO. These kind of personnel actions are handled by EPA's HR officials, PPO and me.  Any communications claiming otherwise are simply inaccurate."
The email began floating around the agency's top ranks after the EPA's Inspector General expanded its inquiry into Pruitt's hiring practices to include the raises, according to the two administration officials. In early March, as first reported by The Atlantic, Pruitt requested hefty salary bumps for Greenwalt and his director of scheduling, Millan Hupp. When the White House refused to sign off on the raises—$56,765 and $28,130, respectively–Pruitt used an obscure hiring authority under the Safe Drinking Water Act to grant them anyway. The provision, which allows the EPA's administrator to appoint up to 30 staffers without White House or congressional approval, was intended to help the agency bring on experts and staff up especially-stressed offices. Greenwalt and Hupp's raises went into effect on April 1, according to HR documents obtained by The Atlantic.
Now, the agency's IG is probing whether Pruitt abused that hiring authority. On Wednesday, Pruitt was pressed by Fox News's Ed Henry to respond to The Atlantic's report, but denied any knowledge of the episode. "You didn't know they got these pay raises?" Henry asked. "I didn't know they got the pay raises until yesterday," Pruitt responded.
"My jaw dropped when he said that," said the first administration official. The perception that Pruitt had gone on TV and lied, the official said, was what really scared people inside the agency.
After the interview, top aides, including Jackson, began corralling files that appeared to contradict Pruitt's statements. The two administration officials described it as a way of "getting ahead" of the IG's investigation. Greenwalt's email, however, has proved the most troubling, according to both administration officials. "It's an 'oh, shit' moment that they're trying to figure out before the IG finds the email," said one. "Because it'll be damn near impossible to have Sarah explain her way out of it."
On Monday, two Democratic members of the Senate's Committee on Environment and Public Works, Tom Carper and Sheldon Whitehouse, sent a letter to Pruitt citing The Atlantic's previous reporting and the Fox News interview, and asking him to turn over all relevant documents and communications that might illuminate "the degree to which you were aware of, supported, directed or were otherwise involved in the decision to award Sarah Greenwalt and Millan Hupp raises" by April 20.
The scrambling comes as EPA officials are trying to tamp down the seemingly endless set of controversies plaguing the agency. On Monday, The New York Times reported that the government's top ethics official had sent a letter to the agency urging ethics staffers to take "appropriate actions to address any violations." The letter specifically addressed Pruitt's rental of a condo connected to an energy lobbyist for just $50 a night. It also touched on Pruitt's frequent trips home to Oklahoma on the taxpayer's dime. Those flights "do raise concerns about whether the administrator is using his public office for personal gain in violation of ethics rules," wrote David Apol, acting director of the Office of Government Ethics.
All of which has made for a tense workplace in the last week, according to multiple EPA officials. Despite President Trump's tweet on Saturday affirming his support for Pruitt, officials said that Pruitt's future—and thus, their own—appears tenuous. Several officials are seeking transfer to other agencies; as one official put it, "It's been very emotionally draining. The stress is unsustainable."
Added to that is what one official called the "gloating" of top political appointees, who feel that Pruitt, given Trump's vocal support, is now "bulletproof." On Friday, according to an official who witnessed the exchange, a small group of staffers, including Jackson, Greenwalt, and Hupp, joked that Pruitt, like Trump, "could stand in the middle of Fifth Avenue and shoot someone" and "get away with it."
But the discovery of Greenwalt's email exchange may upset that calculus. "One moment, people are feeling really confident," said the official who witnessed the exchange. "And the next, they're desperate to keep this email hush-hush."
Pruitt meets with President Trump today at 2:45pm in the Oval Office to discuss renewable fuels such as ethanol, according to a schedule shared with The Atlantic.
Dionne Searcey of <i>The New York Times</i> Wins Atlantic Media's 2018 Michael Kelly Award
Posted: 09 Apr 2018 11:30 AM PDT
Washington, D.C. (April 9, 2018)— Dionne Searcey is the winner of Atlantic Media's 15th annual Michael Kelly Award for her reporting for The New York Times on the brutal Boko Haram terrorist group in Nigeria, abuses by the Nigerian military, and the human toll of the conflict. Searcey was awarded a prize of $25,000 last night at a ceremony in Washington.
Working where few Western journalists or diplomats dare to travel, Searcey has risked her life and defied local authorities to penetrate one of the world's most secretive and confounding terrorist groups-- and to tell the stories of the people whose lives it has shattered along the way. In 2017, fearless reporting on the abuses of young women and girls at the hands of Nigerian security forces after escaping Boko Haram sparked an investigation by Nigerian lawmakers; while her wrenching interviews with teenagers forced to become suicide bombers for the group prompted Nigeria's president to announce new initiatives to combat these crimes.
"Dionne Searcey's coverage of the carnage caused by the terrorist group Boko Haram epitomizes the journalistic qualities honored by the Michael Kelly Award. Her courageous reporting and compelling writing stood out in a highly competitive field. From her post as West Africa bureau chief of The New York Times, Searcey consistently writes stories that would remain uncovered if not for her persistence, bravery, and compassion," the judges said.
Given annually, the $25,000 Michael Kelly Award honors journalists whose work exemplifies the fearless pursuit and expression of truth, qualities that defined Michael Kelly's own career. Kelly, who served as editor of two Atlantic Media publications, The Atlantic and National Journal, was the first journalist killed while covering the beginning of the Iraq War in 2003.
Journalists with three other news organizations were recognized at the awards ceremony as finalists: Kristen Gelineau, Todd Pitman, and Esther Htusan of the Associated Press for their coverage of the brutal persecution of Rohingya Muslims in Myanmar; Carol Marbin Miller and Audra D.S. Burch of the Miami Herald for exposing shocking abuses in Florida's juvenile justice system; and John Woodrow Cox of The Washington Post for a series of articles on children traumatized by gun violence in their schools, neighborhoods, and cities.
Five judges selected the finalists: Kathleen Carroll, board chair of the Committee to Protect Journalists and former executive editor of the Associated Press; Charles Green, former editor of National Journal; Peter Jensen, editorial writer at The Baltimore Sun; Kate Julian, senior editor at The Atlantic; and Cullen Murphy, former editor-at-large of Vanity Fair.
Based in Washington, D.C., and New York City, Atlantic Media's portfolio includes The Atlantic, CityLab, Quartz, National Journal Group, Government Executive, and Defense One. Atlantic Media publications and journalists are ineligible for the Michael Kelly Award.
Additional information about the Michael Kelly Award can be found at www.kellyaward.com.
###
Travel Monday: A Photo Trip to Meteora, Greece
Posted: 09 Apr 2018 11:34 AM PDT
Today's entry is the first of a semi-regular Travel Monday series, with virtual photo trips to interesting, unusual, difficult-to-reach, or simply beautiful parts of our planet. Today, we're visiting the amazing clifftop monasteries of Meteora in central Greece. Monks and hermits have been finding refuge in this unique rock formation for more than a thousand years. Six Eastern Orthodox monasteries—some dating back to the 14th century—remain in place, still home to a small number of monks and nuns. Meteora is listed as a UNESCO World Heritage Site, and welcomes thousands of tourists every year. Gathered below, a collection of images of Meteora, the ancient structures atop its massive rock pillars, and the village and countryside below.
What Is America Going to Do About Syria Now?
Posted: 09 Apr 2018 01:32 PM PDT
Donald Trump says there will be a "big price to pay" for Syrian President Bashar al-Assad's suspected use of chemical weapons in the rebel-controlled town of Douma outside Damascus. But what exactly could that mean? Beyond responding to this particular attack, what can the United States really do about Assad's depravity and flouting of international norms at this point in the seven-year conflict? The paths forward can be sorted into at least four broad categories.
(1) Massive Military Engagement
No one in the Trump administration—not President Trump, not Defense Secretary James Mattis, neither freshly installed National-Security Adviser John Bolton nor Secretary of State-designate Mike Pompeo—has expressed interest in removing the Assad regime by force and rebuilding the Syrian nation, the way the U.S. overthrew Saddam Hussein in Iraq. But some have advocated pushing back hard against Assad and particularly his Iranian allies in Syria. In 2015, Bolton went so far as to propose that the United States carve out an independent Sunni Muslim state in northeastern Syria and western Iraq. If "defeating the Islamic State means restoring to power Mr. Assad in Syria and Iran's puppets in Iraq," pleasing Russia and Iran at the expense of the United States, Israel, and America's Arab partners, "that outcome is neither feasible nor desirable," he wrote.
"The U.S. has to decide whether it can accept Assad's (and therefore Iran's) absolute control of most of Syria," said Faysal Itani, an expert on the Syrian conflict at the Atlantic Council. If this is unacceptable, then the Trump administration needs to mobilize much greater U.S. military power and enlist local proxy forces and regional partners in a new campaign to "either force [Assad] to share power or defeat him." Former U.S. Secretary of State Rex Tillerson once articulated goals of ousting Assad through a political settlement and beating back Iranian influence in Syria. (The speech, like Tillerson, has since disappeared from the State Department's website.) But "those things cannot happen without a military component to U.S. policy" that goes beyond fighting the last vestiges of ISIS in the country, Itani told me. The military offensive could begin modestly with, for example, a "buildup of assets" in southern Syria, where anti-Assad forces still control some territory.  
But whatever big price Trump hopes to levy on Assad, Trump faces one of his own if he makes good on his threat. "The cost of meaningfully changing the [military and political] balance in Syria has become prohibitively high over the last few years," Itani said, as Russian and Iranian forces have intervened on behalf of Assad, ISIS has risen and fallen and soaked up all of America's attention, and Assad and his allies have retaken most of Syria's core territory and relegated thinning ranks of rebel fighters to a couple corners of the country. "What was once a realistic goal in the first years of the war"—even, perhaps, when Obama contemplated and ultimately rejected military retaliation against Assad's use of chemical weapons in 2013—"has become fraught with risk." This is particularly true for Trump, who just last week was boasting about how the United States would soon withdraw its small military presence from Syria once ISIS is defeated and quit sinking trillions of dollars into the region.
"Even a committed president would struggle to sell [an anti-Assad military operation] publicly, but ... it would run against the instincts of an impatient and uninterested president who doesn't want to fight another Middle East war whatever his anti-Iranian staff may say," Itani said. "I find it unlikely the president would abandon his core beliefs and go to war with the Iranians and possibly even the Russians, because that is what removing Assad would entail." (Consider that while the U.S. military under Trump has engaged in occasional turf battles with Russian mercenaries and Iranian-affiliated militias in Syria, it was a big deal for Trump, in condemning the latest chemical attack, to merely call out Vladimir Putin by name.)
(2) Limited Military Engagement
Similar to the way the Trump administration launched Tomahawk missiles against a Syrian airbase one year ago to punish Assad for a chemical attack, the United States could "use pinpointed military force to pressure Assad" and deter him from employing chemical weapons, said Andrew Tabler, a Syria scholar at the Washington Institute for Near East Policy.
Such strikes could be accompanied by initiatives such as American reconstruction aid to parts of Syria not controlled by Assad, diplomacy with Russia and U.S. allies in Europe and the Middle East, and potentially renewed covert support to Syrian rebels (Trump and then-CIA Director Pompeo cut off this assistance in 2017). All of which could raise the costs of propping up the Syrian regime and thus drive a wedge between Russia and Iran "over bringing Assad to the negotiating table," increasing the likelihood of reaching a "political settlement in which Assad eventually departs" and is replaced by a centralized government that can prevent terrorist groups from regenerating and Iran from holding sway over Syria.
The challenge, according to Emma Ashford of the Cato Institute, is that if the U.S. applies "too little force" against Assad, as she believes Trump did last year in inflicting minimal damage on a Syrian airfield, "it sends the message that we are not willing to actually enforce norms against chemical-weapons use." (If the Syrian government did indeed carry out the chemical attack in Douma this weekend, it would not be its first since Trump decided to enforce America's red line against the use of chemical weapons.) Apply too much force, and you reduce chemical-weapons usage at the risk of "empowering extreme rebel groups, increasing the intensity and duration of the war, and adding to civilian casualties in the long run."
"At a minimum, I suspect we'll see another round of symbolic [U.S.] airstrikes against targets inside Syria," Ashford told me. "It's also entirely possible that the president will see the repeated use of chemical weapons after last year's airstrikes as a personal affront and decide to take more substantive military action against Assad. However, given the president's apparent disdain for 'nation-building,' any military action is likely to be short-term and to leave other states and Syria's people to pick up the pieces."
"Assad will push, pull, prod, and plot ceaselessly … only pausing when confronted with superior force," said Tobias Schneider, a research fellow at the Global Public Policy Institute in Berlin. For Assad, "this war is existential and only an existential threat would make [him] change course."
Rather than aiming to deter Assad from using chemical weapons , a more realistic goal for limited U.S. strikes is to sanction those who commit atrocities and degrade the Syrian military's ability to harm its own people, Schneider reasoned. "There is no shortage of targets: facilities associated with chemical-weapons programs, airbases used for their delivery, and [the] headquarters of the notorious air force intelligence service, which [is believed to have] coordinated the most recent attacks. ... A broader assault could include munitions factories [and] maintenance and supply bases that keep the teetering loyalist forces afloat." If Russians or Iranians get caught in the crossfire, however, the intervention could quickly escalate.
(3) Diplomatic and Humanitarian Engagement
Given the unattractive military options, Ashford recommended that the United States aggressively pursue "humanitarian and diplomatic steps" such as supporting the Syrian refugees dispersed among Syria's neighbors and leading efforts to strike a peace deal in Syria, "an endeavor that has largely been abandoned under the Trump administration."  
The crisis over the attack in Douma should prompt the Trump administration to ask whether the United States is "drawing red lines around chemical weapons to save face, to save norms, or are we trying to save civilians?" Schneider said. "It is clear the U.S. and her allies will not dislodge Bashar al-Assad from office, but they will have to live with the consequences of his survival. Any new policy designed in Washington should focus on the fates of those Syrians left out of the above equation: those bombed, starved, displaced from their homes and unlikely to return. Syrians stuck in the messy, marginal communities, marbled with Islamists of all stripes, that Bashar al-Assad is dedicated to beating and gassing into submission—or pushing across the border—to cement his reign."
(4) Military Withdrawal
James Dobbins, the special representative for Afghanistan and Pakistan during the Obama administration, told me that in the near term a "punitive" U.S. strike "may be necessary to sustain U.S. credibility" regarding the chemical-weapons taboo. But afterwards, he proposed, the United States should offer to remove its troops from Syria and "normalize relations" with the Assad government once the U.S-allied Kurds are granted autonomy within their enclave of Syria and all foreign militias, particularly those associated with Iran, are withdrawn from the country. He predicted, however, that the Trump administration would not take this approach, instead pairing strikes against Assad with "continued ineffectual calls for Assad to go." That's "the path of least resistance" in terms of U.S. domestic politics, he explained.
"Assad has won the civil war," Dobbins recently wrote. "The Syrian state has been closely aligned with Russia and Iran for decades. … The best that can be hoped for at this late stage is that post-war Syria is no worse than pre-war Syria."
"I am very wary of recommending a course of action that I do not think the United States will pursue responsibly and see through," said Itani, who for years called for U.S. and allied military action against Assad and Iranian-backed militias to end the Syrian war. "I would prefer we do nothing [militarily against Assad], to yet more humiliation for" the United States.
Melissa Dalton of the Center for Strategic and International Studies, meanwhile, suggested a hybrid of several of these options: a mix of American measures such as punitive strikes against Syrian aircraft used in Douma, sanctions for nations that have supported Assad's deployment of weapons of mass destruction, a push for a negotiated end to the Syrian war that holds Assad accountable for his WMD use and large-scale conventional violence, and a commitment to sustained counterterrorism and stabilization missions in Syria. Through these moves, she argued, the United States could not just address terrorism and WMD proliferation, but also counteract Iran and Russia.
What Dalton expects, however, is for the Trump administration to take narrower actions, which she worries will address neither "the underlying drivers of civil war" nor the "conditions that allow ISIS and like-minded groups to fester."
The Difficult Choice Facing Young Bushmen
Posted: 09 Apr 2018 12:00 PM PDT
Is there inherent value in preserving tradition? What if tradition, for you, meant rejecting modern life in favor of your ancestral lifestyle of hunting and gathering in sub-Saharan Africa? This is the very real choice facing Ketelelo and Kitsiso, two young Bushmen in Botswana, in Daniel Koehler's moving documentary, A House Without Snakes.
Simultaneously a specific depiction of life on the front lines of modernization and a universal story of the dream of self-betterment, Koehler—funded by a Fulbright-National Geographic fellowship—patiently observes the young men over the course of a year. The film cuts back and forth between their stories, offering an intimate perspective, devoid of paternalism, on the challenges they face reconciling the past, present, and future. Ketelelo, an orphan and himself a new father, is relentlessly pursuing a career in engineering by way of an extremely competitive scholarship to Michigan State University. Kitsiso, meanwhile, is curious about—and appropriately skeptical of—the siren song of modernity. "Sometimes I wonder: Should I go to town and go and find [out] the way other people live?" Kitsiso says in the film. "It is up to the youth to decide the future."
Prior to making this film, Koehler had spent many years in sub-Saharan Africa. Nonetheless, he was cognizant of being a foreigner in a community that he described as "understandably wary of researchers."
"The biggest challenge was earning trust," Koehler told The Atlantic. "The San [indigenous hunter-gatherers in Southern Africa] have been over-researched and often romanticized as noble savages. The last thing I wanted was to be yet another helicopter journalist and contribute to such stereotypes, so I spent a lot of time building relationships and understanding the story on the ground. That approach led to trust, which is reflected in the access and intimacy of the final film."
According to Koehler, Ketelelo is now wrapping up his third year at MSU and is "performing well." Kitsiso is studying tracking so that he can work as a tour guide, using his culture as a source of income.
The Impossible Duality of <em>The Marvelous Mrs. Maisel</em>
Posted: 09 Apr 2018 10:00 AM PDT
The billboard loomed above me on La Brea Avenue: the marvelous mrs. maisel, it said in a twinkly, 1950s-style font, as a fetching young woman in a pillbox hat smiled down at me. My heart sank—not another museum-quality period piece from the gods of television. Then one day a friend mentioned the show over lunch. She'd heard it was good. That night I punched it up on my iPhone while I was lying in bed, but hit pause almost as soon as it started so I could put on my glasses and beam it onto a bigger screen. And then I tumbled into it, episode after episode, and I have to confess: It is literally a feel-good show. You see the damn thing and you feel … good. Evidently I wasn't alone in needing just that. It won big at the Golden Globes and the Critics' Choice Awards this past winter. By September—when more and more people will have seen the show, which streams on Amazon—it's sure to be rewarded with Emmys.
Is there by now a more settled science in all of the television academy than the fact that married women of the 1950s were bored out of their minds, a lost generation stuck with the babies and pets while their dundering, no-good husbands were rewarded with the elysian pleasures of selling life insurance and rotating tires? So when The Marvelous Mrs. Maisel begins on Miriam "Midge" Maisel's wedding day—candlelight and orchids, an ivory dress and floor-length veil—we know we are looking at a doomed creature. "This day is perfect; it's like a dream," she says, and she might as well be Jackie Kennedy accepting bouquets at Love Field. Here we go again, we think to ourselves, and wait for the crash: her plaintive discovery that she's been left with the laundry and the children, the realization that the college girl full of potential is gone, and that no one else seems to miss her.
The inevitable title card fills the screen: four years later. But—what's this? She's even happier than she was at the wedding, all but laughing to herself as she floats through a Technicolor Manhattan park in her mauve hat and matching swing coat, orders lamb from a friendly butcher, delivers cookies to her doorman and elevator operator, collects her lovely children. The colors are saturated, and the music is lush, beautiful, and square: Barbra Streisand, Peggy Lee, Anthony Newley. The whole production seems piped in from a Hollywood soundstage of the 1950s, when a very different formula reigned, and the lives of haute-bourgeois young matrons were seen as worthy subjects for private fantasy and mass entertainment.
Midge's husband, Joel, is an executive at some vaguely defined company, but he nurtures a small, impractical dream: joining the stand-up comics reshaping the art from vaudeville yuks to culture-shifting explorations of self on the sticky stages of Greenwich Village. He's convinced of his talent—-incorrectly so, it is immediately apparent—and Midge assists with a notebook full of comedy musings and homemade brisket to barter for a good stage time at a subterranean club called the Gaslight Cafe. "What would I do without you?" he asks, his face filling with wonder.
At this point the creative team behind the show—Amy Sherman-Palladino, who dreamed it up, and her husband, Daniel Palladino, who is an executive producer—would seem to have painted themselves into a corner. They've created a character, mid-century housewife, whose fate, as per the Feminist Archetypes Congress of 1966, is sealed: Only unhappiness will follow her all the days of her life. Midge must fall in the mud and then rise on her own, without that stupid husband of hers. She's the funny one, not the preening, unoriginal Joel; the Gaslight audience is meant for her, not him. Does that mean they'll force us to leave this beautiful world of mid-century fantasy, of inflexible gender roles and orderly domestic rhythms that brought us to the party? They will not—or at least, not really.
Because Midge will spend the series having the two things that women can't have in combination: a secure and unexamined place within what we now call the patriarchy, and a self-constructed, convention-breaking career. The genius of the show is that it allows her to enjoy both the best of the glamorized 1950s and the best of today without any of the difficult, inevitable trade-offs and transitions that women have spent the past 60 years navigating.
Getting rid of Joel is a bit of business so essential to the plot, it is performed in the most perfunctory way possible. One night after an argument, he announces that he's leaving. Why? Not because of one soap-opera reason, but because of all the soap-opera reasons: He's bored, he hates his job, he hasn't become the man he wants to be, and he's having an affair. With that, he closes up his suitcase and departs.
Midge heads upstairs to her parents' apartment in her powder-blue peignoir and kitten-heeled slippers, and before you know it, she is happily reensconced in the bright-pink bedroom of her adolescence. By day, she lives with her parents, her elegant mother and dependable father, both of whom love and fret over her. (The latter is played so brilliantly by Tony Shalhoub that if he had any more scenes the show would have to be called The Marvelous Professor Weissman.) Her meals are cooked for her, and her two children are looked after by her mother and her mother's maid. By night, the pampered Midge turns into a malcontent, seething against the confines of her fairy-tale life. Onstage at the Gaslight, she is vulgar and crass, joking about bowel movements and sex acts and flashing her breasts at the crowd.
Around this impossible duality is built one of the most appealing shows on television, half Pillow Talk and half Inside Llewyn Davis. Rachel Brosnahan as Midge is fully absorbing, as quick as Katharine Hepburn (Midge, we learn, followed Hepburn to Bryn Mawr) and as nonsqueamish as Joan Rivers. Marin Hinkle as Midge's mother is refined, nervous, cautious, and feminine. Midge makes a new friend at the club, a booker named Susie—butch, sardonic, ambitious—played by Alex Borstein, who gets many of the show's best lines and deserves them. Poured over all of this is an endless river of movie magic, including lavish crowd scenes that almost burst into song and dance, and vast sets that re-create old New York institutions with heartbreaking detail, from B. Altman's to the Gaslight.
Whereas Mad Men was a seven-season exercise in the creation of period perfection—not so much as a pencil jar was out of place—Mrs. Maisel is looser, more joyous, less cautious. The dialogue is sprinkled with anachronisms, but they don't detract from the whole, because there is the clear sense that this is a created thing, a beautiful illusion composed of elements put together not to instruct but to please. That there were a lot of unhappy housewives in mid-century America is a horse that has been beaten to death, hauled to the glue factory, and turned into paste. It can be a premise from which a work of fiction can evolve, but it's hardly news from the front. Instead, we have a modern and liberated woman living a perfect 1950s existence, without ever having to pay a price for her double life.
As a daughter, Midge is cosseted by her "mama" and "papa," but without any parental rules or strictly enforced curfews that might interfere with her nocturnal career. As a wife, she doesn't have to abide the drippy Joel except when she allows him into her single bed for a conjugal visit. As a mother, she gets to have two neatly attired children without any evident necessity that she ever actually take care of them. And while the household sleeps, she dresses down, down, down for the Village, in beige coat and black cigarette pants, and rages onstage about babies and husbands, a long harangue about a life she doesn't really have to contend with. Midge Maisel—a figure of fantasy, a dream girl, a Kewpie doll—may be the first woman who really does have it all.
When a College Employee Shoots a Student
Posted: 09 Apr 2018 11:07 AM PDT
"Twenty-one, mental. He's a mental," a university police officer said into his radio as his car approached Charles Thomas, a fourth-year student at the University of Chicago, on Tuesday night after reports of possible burglary and damage to buildings. Three campus police officers had responded to the call. Thomas, who according to police was holding a metal object, began walking toward the officer, as body-cam footage released by the university shows. "Drop that weapon," the officer, who had stepped out of his squad car, said, pointing his gun at Thomas, according to the video. A little over a minute passed, and Thomas began charging at the officer before the officer allegedly fired his gun, hitting Thomas in the shoulder. (Thomas faces charges of aggravated assault of a police officer with a weapon and criminal damage of property.)
Circumstances aside, the fact of a shooting by a campus police officer—believed to be the first at the university in more than 30 years—comes as national attention is trained on questions of school safety; one proposal that has dominated the conversation is to arm teachers and provide more resources for elementary- and secondary-school officers. College campuses faced a similar question in the 1960s and 1970s, amid widespread student unrest—in part the result of desegregation and the Vietnam War—and the police response to it. And college students today continue to protest the result: armed campus police forces.
Though many students have opposed having armed police on campuses, administrators have been reluctant to reassess arming the officers. Now, with the political climate changing in the wake of the tragedy in Parkland, Florida, this debate may shift. Last week, students at Howard University managed to wrest promises of reform from the administration, including taking a look at the necessity of armed campus police officers. Other campuses may soon find themselves in similar positions.
The establishment of armed campus police grew out of a concern, some 60 years ago, that local and state police officers were not sufficient to deal with discord on campuses. The number of campus police departments exploded from there. The latest federal data on the campus police departments at public and private higher-education institutions is from the 2011–2012 school year, but it still hints at the current situation. Seventy-five percent of campus law-enforcement agencies have armed officers, according to a Bureau of Justice Statistics survey. Nine in 10 public campuses had "sworn" officers, meaning those who can carry a gun, have arrest power, and wear a badge; four in 10 private campuses did.
Colleges are generally safe places, but that can change in an instant, Randy Burba, who was until very recently the president of the International Association of Campus Law Enforcement Administrators, the leading trade group for campus public-safety officers, told me. Campuses are both constituent parts of larger towns and cities and communities in their own right, with issues and quirks that those who police them should know well. If an active shooter were located on the third floor of an English building, a trained campus police force could respond quickly, know exactly how to get there, and also have some knowledge of layout of the building—knowledge the city police force might not have.
Campus police officers, he continued, face a similar set of issues that off-campus police forces experience. "It's kind of like being prepared for an earthquake," Burba says. "They tell you, 'Nail your bookshelves to the wall.'" The earthquake may never come, but if it does, the precaution was worthwhile.
By the same coin, it only takes one error—say, a cellphone that is mistaken for a gun—on a campus police officer's part for a tragedy to occur. Some have argued that the forces are a virtually unchecked power—often with jurisdictions that extend beyond the campus, as is the case at the University of Chicago—and should be abolished.
Further, as my colleague Vann Newkirk wrote last week, "In a country currently in the grip of what appears to be an overdue reckoning with its epidemic of gun violence, it's worth noting that police shootings are also an epidemic of gun violence." Arming more campus-security forces—broadening the group of people with guns policing college students—risks exacerbating an ongoing national crisis.
Still, Burba—far from suggesting that all campuses arm their police officers—notes that campuses must make decisions about arming security forces for themselves after assessing the dangers their institutions face.
Portland State University found itself grappling with such a decision in 2013. The top two reported crimes on campus at the time, according to federal data, were liquor-law violations and burglary, and the institution did not have an armed police force, only unarmed campus security officers. The institution's president formed a task force to make recommendations to address safety concerns and "improve the response to criminal activity on campus."
The university was facing a set of circumstances quite different from several decades ago. The campus now covers much more land than it did in the late '70s. The number of buildings on campus has doubled since then, and so has the campus's population. After several conversations with students, faculty, and staff across campus, the task force came to the conclusion that the college could do more to protect students, and that an armed campus police force would help do that—despite students being split on the idea.
"The most ideal campus safety staffing model is one that allows PSU access to dedicated professionals who are part of the PSU ethos and community, who have sworn police status," the task force wrote in the final report. The armed police force was approved within a year, and was charged with monitoring the campus as well as its surroudings. (No data seems to be available on how often campus police officers discharge their weapon, so parsing the effectiveness—or need—of firearms in preventing crime on campus is difficult.)
Ever since the decision, student activists have been organizing to disarm the police force on campus. In 2016, students staged a walkout in protest. Similarly, after the killing of a student, Scout Schultz, by campus police at Georgia Tech last fall, the student union released a statement about the "dangers of armed forces on college campuses."
College administrations are in a difficult position. To maintain armed security forces means to take on the risk that something will go terribly awry, that a student or someone else will be wrongly shot. But to not maintain armed security could mean that students and professors lack adequate protection. The current preference tends to be to arm campus police officers, but administrators may soon find that preference more untenable as the political dynamics around guns shift. One clue as to the contours of the debate ahead: Many colleges and universities have implied their support for emboldened high-school student activists—particularly those who have been vocal in support of gun control. Will those students find their administrations remain warm to their views once they arrive on campus?
Tony Robbins, #MeToo, and the Limits of Self-Help
Posted: 09 Apr 2018 10:04 AM PDT
"Problems are what sculpt our soul. Problems are what make us become more. If we can realize that life is always happening for us, not to us: game over. All the pain and suffering disappears."
It was 2014, and Tony Robbins was speaking—really, he was preaching—to a rapturous crowd during one of his many spectacular live events: a "Date With Destiny" seminar in Boca Raton, Florida. Robbins was soothing. Robbins was seducing. Robbins, above all, was selling: Part pitchman, part guru, the products he markets include, first and foremost, himself and his own story of determinedly thwarted adversity. He has suffered, Robbins reminds his legions of fans; he has triumphed; he is his own best evidence. He is the secular miracle they are seeking for their own lives. Look upon my works, ye mighty, and repair.
Robbins's events, accordingly—the performed and interactive versions of his expansive collection of motivational books—often read as what might happen were Guthy-Renker to expand its efforts from the production of infomercials to the production of religious revivals: Crowds sway and music blares and the air of stadiums and hotel ballrooms alike seems to throb with the fervent hope that life really can be made better through intention and perseverance and faith—not in a transcendent god, but in a very intimate one. The one that is You. The implied promise of Robbins's retail philosophy is that life's insistent imperfections can be made steadily more perfect through deep determination and searing self-examination and five easy payments of $129.99.
During a March 15 show in San Jose, California—an installment, this time, of his "Unleash the Power Within" seminar series—Robbins weighed in on #MeToo, in part by way of a heated debate he engaged in with Nanine McCool, a seminar attendee who identifies herself as a survivor of childhood sexual abuse. McCool wanted to talk about #MeToo. And so, it turned out, did Robbins. "Anger is not empowerment," he told the crowd, at one point. At another: "I'm not mocking the #MeToo movement," he insisted. "I'm mocking victimhood. If you use the #MeToo movement to try to get significance and certainty by attacking and destroying someone else … all you've done is basically use a drug called significance to make yourself feel good."
A video clip of the interaction—a compilation produced by Now This News, distilling the 11-minute-long exchange between McCool and Robbins down to some of its most baffling bits—quickly went viral. And it inspired, as it did so, something Tony Robbins, bard of a particularly American brand of aggressive optimism, is generally unaccustomed to receiving: outrage. Righteous—and thoroughly reasonable—outrage. Tarana Burke, the founder of the #MeToo movement, lambasted Robbins not only for his glib and seemingly willful attempt to misunderstand #MeToo's purpose and participants, but also for the fact that, during their exchange, Robbins at one point physically pushed McCool: an exercise in literalized metaphor, ostensibly, meant to demonstrate that her "pushing back" against him wouldn't make her any safer unless she also pushed back against herself. The hulking man with the hulking grin, physically pushing the small woman who dared to question him: It was, for an artisan of the spectacle as it would be for anyone else, an extremely bad look.
And, so: On Sunday, after the Now This video went viral—and indeed, as it was still being passed around in vexation and anger—Robbins took to Facebook to offer an apology: "I apologize for suggesting anything other than my profound admiration for the #MeToo movement," he said.
Let me clearly say, I agree with the goals of the #MeToo movement and its founding message of "empowerment through empathy," which makes it a beautiful force for good.

For 40 years I've encouraged people to grow into the men and women they dream to be. I watch in awe as more and more women all over the world find their voice and stand up and speak out. All of our growth begins with learning. My own started with a childhood marked by abuse. I am humbled that others have looked to the path I have taken in the decades since as lessons in their own journey. But sometimes, the teacher has to become the student and it is clear that I still have much to learn.
Robbins's effort was, as apologies go, a fairly good one. And it is, of course, implicitly valuable for someone in Robbins's position—powerful, white, male, a self-styled salesman of the goods of commercialized empowerment—to say, out loud and in public, that there is more he can learn. That there is wisdom beyond his own extremely limited experience of the world and its workings.
But apologies of this sort are also their own kind of public spectacles, informed by their own brand of pageantry. And this one rings especially hollow, despite the sincerity of its story and the abjection of its tone, in large part because of how deeply it runs counter to the core of Robbins's philosophy.
Self-help, after all—not all of it, but much of it, and certainly the brand that Robbins sells—is premised on the necessity of the individual working within, and around, the constraints of the status quo. In its paradigm, you are meant to improve yourself (or perhaps, in the current, Silicon Valley–inflected jargon, self-optimize) within a context that is insistent, immutable, inevitable. Your parents, your body, your world: These are things you have been given with very little say in the matter, and you are not supposed to question them so much as you are supposed, with the help of the wisdom imparted by, among others, Tony Robbins, to bend them to your will. Life is always happening for us, not to us: The notion is not simply an observation. It is a call to arms.
In this vision, the logic of systems and structures—the idea that the self is constrained and conscribed by cultural and economic and political infrastructures that operate, generally, with scant concern for the individuals caught within them—has very little place. To acknowledge those external forces outright is to complicate the convenient picture, to question the ability of individual people to become their best selves, to live their best lives, to embrace their own truths. Life happens for you, not to you. Except, of course, when it doesn't.
Which is to say that Robbins's commercialized philosophy is in some ways in fundamental tension with #MeToo and its aims. #MeToo is certainly, of course, about the sanctity of the individual story, about the dignity of the self, about—to use Tarana Burke's phrase, which Robbins echoed in his apology—"empowerment through empathy"; it is also, even more specifically, about the systematization of empathy. The movement is not simply meant to engender catharsis for those who participate in it—and it is very stridently not meant to make people feel "significant." It is meant instead to enable people to use their stories as tools and as weapons for changing the world. There is, as one entry in the self-help genre has had it, Leaning In. And then there is rethinking and rebuilding the structures that determine the angle at which one will be required to do the bending.
Robbins's initial, indignant dismissal of Nanine McCool, and of the movement she is part of—"Popular life coach Tony Robbins tried to mansplain #MeToo," Glamour put it—resonated in part because its logic echoed so many other people's dismissals of so many other survivors. The guru insisted on perceiving victimhood itself through a libertarian lens, reasoning that it must on some level—because, in this worldview, everything must, on some level—be a product of self-interest. It's an attitude that is reminiscent of the one held by many of those who have criticized #MeToo on the grounds that it is too angry, too performative, too self-aggrandizing. Too many small people trying to make themselves bigger. Too many "victims" who are aspiring, in the very vanity of their victimhood, to significance.
Robbins, in his statements about #MeToo, also brought up his recent interaction with a "very famous man, very powerful man," who declined to hire a potential employee because she was "very attractive," and thus "too big of a risk." This injustice was, apparently—as Robbins framed it—an unintended consequence of the unchecked angers of #MeToo: the status quo, disrupted. Life made harder, more awkward, more difficult. The Darwinian struggle of, and for, the self made more fraught. Victimhood as a self-fulfilling prophecy.
What Robbins was ignoring—and what so many others have ignored along with him—is the simple fact that victimhood is, itself, part of the contract people must make with life in a social world. To claim victimhood is not to bask in weakness or to aggrandize oneself; it is simply to acknowledge reality. The world is unjust. We are all, in some way, constrained by that fact. We are all caught up. We are all connected. We are all complicit. Self-improvement, in that context, is of course an admirable goal; it will be meaningful, however, only to the extent that it acknowledges all the other selves who are hoping and striving and trying their best. It never seemed to occur to Robbins, as he spoke to that stadium full of people seeking wisdom, that those who have come forward to share their #MeToo stories might have done so not because of selfishness, but because of its opposite: the simple desire to help other people, to spare them pain. To take that slightest and yet most powerful of things—generosity—and build it, act by act and story by story, into the system.   
The Strange Geography of the Latest Syria Strike
Posted: 09 Apr 2018 08:15 AM PDT
The Syrian civil war has fast become the Syrian war: Russia and the Assad regime accused Israel Monday of striking a military airport where Iran is known to operate, reportedly killing 14 people. The assault came a day after the U.S. and France, in a statement, vowed a "strong, joint response" to Assad's alleged use of chemical weapons Saturday in Eastern Ghouta.
Details of the strike on T4, as the Tiyas airbase near Homs is known, are still not fully available. Three members of Iran's Revolutionary Guard Corps were reportedly among those killed. Israel, which has previously acknowledged attacking targets inside Syria, hasn't commented. The Assad regime initially said the U.S. carried out the strike, but later walked back that claim; Syrian state news then attributed it to Israel. The U.S. military denied involvement.
As Washington debates whether and how to respond to Saturday's reported chemical attack, the strike on the base was curious not only for its participants but for its location. The U.S. struck near the same base following a chemical attack last year on the town of Khan Sheikhoun, saying the chemical strike had originated there. It's still unclear what role T4 had in Saturday's alleged chemical attack in Douma—the base is far from where the attack took place and may not have been involved at all, which raises questions about who ordered the strike, and why. But from the sketchy information available it looks almost like an unrelated move in an Israel/Iran proxy war.
SANA, the Syrian news agency, reported that the missiles were fired by Israeli jets in Lebanese airspace. Of eight missiles that were fired, five were shot down, the Russian defense ministry said, and three struck the airbase. Israel says Iran uses the T4 base to transfer weapons to Hezbollah, the Lebanese Shiite militia group with which it fought a 15-year-long conflict in southern Lebanon.  
Israeli officials have previously said that one of their goals in Syria is to keep Iran in check and ensure it keeps its distance from the border with Israel. It fears—with some justification—that Iran will use the proximity to the border and access to Shiite fighters to attack Israel. To this end, Israel, which regards Iran's theocratic regime an existential threat, has struck targets inside Syria dozens of times since the civil war began in 2011. The largest of those attacks, in February, also involved the T4 base.
At the time, an Iranian drone launched from the base entered Israeli territory. In response, Israel struck Iranian targets inside Syria. An Israeli F-16 took Syrian anti-aircraft fire. Two Israeli pilots ejected from the jet and parachuted safely back to their territory. Israel had wanted to stage a larger response, but was reportedly talked back by Russian President Vladimir Putin.
Assad's choice of allies in the Syrian civil war has all but guaranteed the internationalization of the conflict—and this is true of Iran in particular. The Islamic Republic is involved in all of the major regional conflicts: In Iraq, it is trying to preserve its own interests and that of some of its Shiite allies; in Yemen, it is involved in a deadly proxy war with Saudi Arabia; in Lebanon, it backs Hezbollah; and in Syria, it supports Assad. But as Assad consolidates his victory over the rebels, and ISIS is all but defeated, Iran's role may determine the next phase of the Syrian civil war.
Iran is perhaps cognizant of this. Its proxies and fighters were absent from the fighting in Eastern Ghouta and, as Hamidreza Azizi, an assistant professor of regional studies at Shahid Beheshti University in Iran, wrote last week in Al-Monitor, Tehran is aware that its activities in the region are now the focus of U.S. and allied attention. If the tensions with Israel escalate further, Iran has no obvious allies—Russia, its de facto partner in Syria, also has close relations with Israel. Additionally, malign Iranian activity also alienates the Europeans who are trying to save the U.S. nuclear deal with the Islamic Republic (the U.S. is expected next month to withdraw from the agreement).
Meanwhile, Assad is now in full control of Eastern Ghouta, the area outside Damascus that his forces have bombed since February. The alleged chemical-weapons attack Saturday in Douma came before an announcement that the mostly Islamist rebels who occupied the town were leaving the area, handing Assad another major victory. The Syrian leader could not have achieved that victory without the military support of Russia, Iran, and Hezbollah.
The Syrian civil war began in March 2011, and at times it looked as if Assad would go the way of Egypt's Hosni Mubarak and other Arab leaders ousted by the pro-democracy movements that swept the region. But now Assad looks set to stay in power for the foreseeable future. Even as one conflict in Syria ends, there are already others erupting in its place—and the T4 base could be just the beginning.
The Never-Ending Task of Shielding Black Kids From Negative Stereotypes
Posted: 09 Apr 2018 09:23 AM PDT
A few years ago, when the former pro football player Martellus Bennett was looking for books to read to his young daughter, he was disappointed by his options. He had trouble finding titles with protagonists who looked like her and who had parents who looked like him.
So, unable to find the sort of book he wanted, he wrote his own—his whimsical Hey A.J. series follows the adventures of a little girl with voluminous curly hair, like his daughter's.
Bennett is not alone as a black parent who has felt the need to take a hands-on role in selecting what books, movies, shows, and toys his child is exposed to on a regular basis. As a sociologist who studies families, I have interviewed 60 middle- and upper-middle-class African American mothers, many of whom have not just encountered a shortage of media that represents them, but are worried about the messages their kids receive from the majority of books and shows out there. They recognize that a central project of parenthood—raising happy kids with strong self-esteem—takes more (and more deliberate) effort when one's kids are black.
The mothers I talked to generally weren't confident that when they turned on the television, went to a movie theater, or visited a bookstore, their children would see empowering versions of themselves. One mother I interviewed told me, "I don't want [my son's] understandings of black folks to be from the media. You know, I want him to know black people as we are." She and other moms I talked to—as is standard in scholarly research, I agreed not to publish any of these mothers' names—worried about most media's reliance on damaging stereotypes, and said they curated their kids' media intake with an eye toward including racially empowering imagery. (For many parents with less time and money, some of these efforts would likely be even more challenging to undertake.)
A working married mother of two described to me how she thinks through her daughter's exposure to certain TV shows. "I really tried to encourage and push Dora [the Explorer] as much as possible," she said. "It was like, okay, she is traveling around. She is cool. She speaks Spanish. She is a kid of color." The mom was not as keen on Disney, whose shows and movies, according to her, "are so white." She also mentioned the existence of a variety of racist tropes in certain Disney movies decades ago.
Speaking of that history, some mothers I talked to sensed an encouraging shift in their own lifetime. "I think it has improved a lot in the last 20 years since I was a kid," one said. "Growing up, I don't remember seeing a book with black faces in it." Lately, many black parents have embraced and applauded mainstream movies such as A Wrinkle in Time, Black Panther, and Hidden Figures for their positive depictions of blackness. "It's the first time in a very long time that we're seeing a film with centered black people, where we have a lot of agency," Jamie Broadnax, who founded and writes at the website Black Girl Nerds, told The New York Times Magazine in a piece about Black Panther.
Indeed, curation does not always mean censoring and subtracting—many parents go out of their way to add perspectives to their kids' media diets. Some mothers in my research remembered coordinating outings to theaters with other African American mothers and children to see 2009's The Princess and the Frog, the first and only Disney animated movie to feature an African American princess.
What is the end result of all this effort? Better self-images for children of color, parents hope. And sometimes, the beneficial effects can ripple outward. One working mother of three told me about when, while visiting a predominantly white private school, her daughter sat in with some current female students—all of them white—who were playing with baby dolls. Her daughter, upon entering the room and noticing that the girls weren't playing with the lone black doll, scooped it up, exclaiming, "Oh my goodness! Look at this beautiful black baby and her beautiful black skin!" The doll quickly became the center of attention, and the mother told me that in the coming weeks the school ordered additional black dolls to reduce disputes among the students who clamored over the original one. She told me it was her proudest moment as a mother.
Mark Zuckerberg Says He's Not Resigning
Posted: 09 Apr 2018 10:15 AM PDT
Mark Zuckerberg's story doesn't quite line up.
For months, the Facebook chief executive has described the 2016 election as a turning point both for him and for the company over which he holds enormous power.
The cavalcade of scandals that followed that November—disputes over user data, fake news, and Russia's manipulation of the platform—has led to a "very basic shift in how we view our responsibility," he said in an interview with The Atlantic on Friday. Now, Zuckerberg is transforming the company, opening it up to public scrutiny in unprecedented ways. "A big theme" going forward, he said, will be getting "independent expertise and assessment of the work that we're doing."
Yet Zuckerberg—who is not only Facebook's CEO, but also the chairman of its board and its majority voting shareholder—struggled to describe when his personal thinking about the company and its philosophy shifted. He could not articulate what changed his mind or drove him to adopt the new approach.
"Well, I certainly feel very bad, and I'm sorry that we did not do a better job of finding the Russian interference during the 2016 election," Zuckerberg told me. "I mean, that was a huge miss."
Almost unique among American companies, Facebook is the outgrowth of one man's sensibility. As that firm now changes its approach to the public, that man hasn't articulated why. In the days after I spoke to the famously private Zuckerberg, I have wondered whether it matters. Though he runs a company that constantly exhorts people to share how they feel, Zuckerberg himself seems uncomfortable with reflection. He has not ever, in my memory, appeared vulnerable in public. He has ignored the CEO playbook for a company that faces a crisis of public trust: He does not grovel, he does not evince embarrassment at the size of the lapse. He does not tell users: I feel your pain.
Should we care? Does Zuckerberg's reticence only affect the public appearance of the firm—is it just content-free pablum that we've been raised to expect as American consumers?—or does it reveal something of Zuckerberg's actual capacity for leadership? Americans don't necessarily need Zuckerberg to act like a normal CEO, personifying his company and hanging his head in shame. But they do need him to be commensurate to the institution he leads.
Or perhaps actions speak louder than words—in which case, there are plenty of actions to talk about. Today, Zuckerberg unveils the newest attempt at reform. Facebook will give a committee of senior academics independent access to its data, allowing researchers to study the social network's effect on democracy and elections. The work will be paid for by foundations spanning the ideological spectrum, and—most importantly—Facebook says it will not be able to veto studies before their publication.
The research program follows the news of a transparency program for political ads, announced last week. When Facebook users in the United States encounter an ad for a candidate or issue, they'll soon be able to see the identity of the advertiser, its cost, how it was targeted, and what other ads the advertiser ran.
Taken together, the two measures constitute one of the company's more significant attempts at self-regulation in its 14-year history. The timing is not by happenstance. On Tuesday, Zuckerberg will testify before the Senate Judiciary and Commerce committees; on Wednesday, he will face the House Energy and Commerce Committee.
He has never appeared before Congress before. The New York Times reports that he has received a "crash course" in warmth and charisma, training with a team of all-star lawyers and a former aide to President George W. Bush. He will need it: While neither he nor the politicians are particularly popular, many of the members of Congress he will face are former federal prosecutors who have spent hundreds of hours of their lives taking depositions. They love to grandstand; Zuckerberg loathes to speak in public at all.
It must be a surreal moment for the 33-year-old. Decisions he made two years ago are suddenly up for debate in the public sphere. Americans are grappling with his enormous personal power, and he appears to be taking some blame for the country's current political state. After he told me he felt "very bad" about Russian interference on his platform, I asked: Was there an especially dark moment when he came to realize the role that Facebook played in the 2016 election?
Zuckerberg paused for eight long seconds. "I need to think about that," he said eventually.
Was there any one moment that stood out?
"I'm not sure if there's one in particular," he said.
Instead, he told me, a broader evolution had taken place in the company "across a number of these issues, whether it's foreign interference or fake news or the Cambridge Analytica data-privacy issue recently."
"I think there's just been a very basic shift in how we view our responsibility," he said. "We used to view our role as building tools for people and saying, 'Hey, we're going to put this power in your hands.' And we think people are basically good, and we think that that can have a net positive effect."
"Now I just think we understand—both because of the ability for us to develop these things and because of the scale at which we operate—that it's also our responsibility to make sure that all these tools are used well, not just to put them in people's hands," Zuckerberg said.
"You know, you can't just give people a voice," he told me. "You need to also make sure that that voice is not used for foreign interference in elections or disseminating fake news."
---
The most important aspect of the new Facebook reforms—at least according to Zuckerberg—is that they are not just reactive. If Facebook is a castle, it must build its walls, maintain them, and make sure its more than 25,000 employees work to protect them—all while constantly imagining new ways of coming under attack. But Facebook's adversaries, be they Russian hackers or a team of enterprising bigots, need only find one gap in the ramparts to wage a successful assault.
What went wrong in 2016, Zuckerberg said, was in part a failure of imagination. His team caught Russia trying to interfere with campaigns—for instance by phishing staff—but it didn't understand the scale of the country's overall effort. "We were looking for different issues," he said. "But we were slow in identifying this new kind of attack, and we need to get ahead of that in the future."
Anticipating different kinds of attacks is one reason why Facebook is now trying to show more information to Facebook users. Take the company's new political-ad transparency program.
"Generally, you can come to Facebook, you can post what you want, you can run an ad," said Zuckerberg. "You post something and then if it violates the community standards, someone flags it to us and then we review it. Increasingly we're building AI tools to do more of that proactively, but still a lot of it is reactive."
"Given the importance of these elections, especially 2018—with major elections in the United States, India, Brazil, Mexico, Pakistan, Hungary coming up soon—we just thought that that wasn't enough," he said.
So Facebook has taken two steps. First, it will require the individual owners of the largest Facebook pages to verify their names by providing the company with a copy of their government IDs. It will also make them respond to a letter in the mail.
"We will physically mail a code to where you say you are, and you have to be able to access that code that we mail to you in order to be able to run an ad," said Zuckerberg. "I think that will be quite effective at preventing someone in Russia, for example, from lying and saying that they're in the United States and able to advertise in the election here."
Second, it will show Facebook users in the United States more information about each political ad. "Basically, you can see some information about who's running it, and how much they paid for it, and who [they're] trying to target, and how many people have seen it," he said. Facebook users will also see the amount spent in dollars to run it.
Zuckerberg asserted this met an "even higher standard of transparency than what has traditionally existed on TV or print media for ads."
"There's never been a way historically to go to some group and say, 'Hey, you know, you're trying to, you know, campaign for this candidate. Are you saying messages that are different to different people? Are they contradictory in different places?'" he said. (While this may make Facebook's transparency effort more extensive than that of TV, traditional media is compelled by law to disclose certain information about political ads. Outlets can be sanctioned if they do not comply.)
But this transparency effort relies on Facebook users to take initiative themselves. So the company is also opening a new academic research program, as it searches for outside scrutiny from experts.
Under that program, the company will give a committee of steering academics unprecedented access to Facebook—sitting side by side with their data scientists, a spokesman told me—and identify major research questions about the social network. The committee, organized by the Social Science Research Council, will then announce a call for papers and issue grants to fund the research.
Both the committee of academics and their research grants will be funded by a group of independent foundations, including the Hewlett Foundation, the Omidyar Network, and the Charles Koch Foundation. Unlike current studies about Facebook, which are conducted in conjunction with the company's product team, Facebook will not be able to review these academic papers before they are published.
Zuckerberg sounded relieved about that effort, in part because it will create a source of information about the company that does not itself come from the company. "In terms of just understanding the amount of problematic content on the platform, I think we need to be more transparent [so] that we can ground some of those debates in fact," he said.
"I think a lot of the discourse that I see around fake news, for example, is grounded in anecdotes, right? Someone saw something and then they write about it. Which is fair because that's all the information that's out there today ... but I think we want to try to move beyond that," he said.
---
Academic researchers have begged for the ability to see Facebook data for years. After a massive study from MIT found that fake news traveled faster than accurate news on Twitter, the Dartmouth political scientist Brendan Nyhan told me: "We can study Twitter all day, but only about 12 percent of Americans are on it. It's important for journalists and academics, but it's not how most people get their news."
Facebook is the 6 o'clock news of the internet: Americans encounter news there not because they're political junkies who seek it out, but because it's presented to them amid statuses, photos, and everything else. More than two-thirds of Americans get their news from social media, and the vast majority of that group uses Facebook.
So transparency might not be enough. Facebook keeps encountering problems that are seemingly impossible to predict: It's just hard to protect a castle that's home to 2.1 billion people. And for every Facebook user in the United States, there are dozens in countries like the Philippines, Turkey, and Chile, where "the internet" is synonymous with "Facebook."
Maybe these problems are inherent to any product or social network of Facebook's size. Is there a point at which Facebook is too big to be successfully managed at all?
"Well, I think what we need to do is be more transparent about what we're seeing and find ways to get independent and outside experts to be able to come in, and contribute ideas on how to address these issues, like things that might be problems," Zuckerberg said. "And then hold us accountable for making sure we do it."
"That's exactly why we're trying to create this independent election commission for research, because we think that getting this right for the elections starting in 2018, and after that, is just such an important thing," he told me.
But he is largely not ready to consider using democratic methods to govern Facebook itself—like having users vote on major changes to the platform, for example. "I've spoken a bit about how I'd like to create more community-based processes setting our content policies," he told me. "I think we're still working through exactly how that would work, but that's certainly one example."
Community is a term that Zuckerberg uses almost unfailingly when discussing the $450 billion company. But some of Facebook's other leaders—and some of its critics—have adopted other terms. Sheryl Sandberg, the company's chief operating officer, did not push back on Thursday when an NPR reporter called Facebook a "publisher." In New York last year, the journalist Max Read compared Facebook to the EU, the Catholic Church, and a "faceless Elder God."
I asked Zuckerberg outright: What is Facebook?
"I mean, I think it's a lot of things," he said, then he paused. "But you know, overall I think about it as a community." While that broad description may be an accurate characterization of the platform, it's also one that helps Facebook avoid seeming to work in businesses that are subject to government regulation.
"I know that a lot of the biggest issues that we face are fundamentally trade-offs between different people's interests in the community: What speech is allowed? How do you manage the balance between people wanting to share but people also wanting to see what other people are doing? All of these really complex interactions are what makes, I think, the community work well," he said.
Last week, on a press call with dozens of reporters, he told my colleague Alexis Madrigal that managing conflicts between Facebook-as-a-community and Facebook-as-a-company was "quite easy."
Whether that assessment is glib, naïve, or something else entirely, it hardly matters, because no one else can do Zuckerberg's job. He has near total control of the levers of that community. Even though Facebook went public in 2012, he retained a majority of its voting shares. This means that he can decide at will to sacrifice its short-term profits: In a statement in November, Zuckerberg warned that "we're investing so much in security that it will impact our profitability."
But his sole control over Facebook means he also rules unequivocally. If there is one trusted confidant he turns to for advice, he didn't say. Instead, he said, he looks for guidance everywhere. "I read a lot. I talk to a lot of people. We have a great team here. I think the real challenge is: How do we get so many of the smart people who are out there engaged in some way?"
"What we're building is unprecedented, and we're going to need new models to be able to get input and for the public to be able to trust that what we're doing is good," he said.
And there is a gap here that clearly nags him, between what he knows and what the public can know. Experts "who people count on to assess how companies are doing can't actually have access to the data to do it," he said. "You can't just have outside academics come in and look at people's data, right? I mean there are real issues to that—that prevent, I think, both us being able to get [their] opinion and benefit from [them], and from us being able to have a good discourse as a society."
First, though, Zuckerberg must win back the support of that society. The company is currently embroiled in the worst crisis of trust in its 14-year history. Facebook stock has fallen 14 percent since the Cambridge Analytica scandal was announced. Last week, the financial columnist Felix Salmon called for Zuckerberg's resignation in Wired.
Zuckerberg's fellow technology executives have been unusually unsparing in their criticism. In March, Elon Musk had Tesla and SpaceX delete their Facebook pages. And when Tim Cook, Apple's CEO, was asked what he would do if he were in Zuckerberg's situation, he said: "I wouldn't be in this situation."
I asked Zuckerberg: Have you considered resigning at all?
"No, I mean—I am—I do work on philanthropy too, separately. But, these issues are very important," he said. "We've also worked on a lot of hard problems over the last 14 years building Facebook. I mean, it started in a dorm room and now it's this unprecedented community in scale and I'm very confident that we're gonna be able to work through these issues."
The Report on Race That Shook America
Posted: 09 Apr 2018 05:00 AM PDT
In July 1967, when President Lyndon B. Johnson formed a commission to analyze the riots then engulfing several major American cities, the radical wing of the civil-rights movement eyed his appointees with grave skepticism. Not only did the 11-person commission abound with the most conventional of politicians—including its chairman, Illinois Governor Otto Kerner—but a mere two of them were black. Racial militants might have tolerated that paltry number of seats had they been occupied by firebrands such as Stokely Carmichael, who popularized the term black power, or H. Rap Brown, who routinely railed against "the honkies." These brazen embodiments of the new generation of civil-rights activism would have reliably conveyed the concerns and frustrations of black youth—a presumably vital task for the commission, given that most rioters ranged from 15 to 24 years old.
Instead of black insurgents, however, Johnson tapped the longtime NAACP doyen Roy Wilkins and Senator Edward Brooke of Massachusetts, two men broadly regarded as more acquainted with executive suites than with edgy streets. Detractors viewed Wilkins as so fearful of bucking the Johnson administration that they branded him "Roy Weak-knees." Although Brooke had recently become the first black person popularly elected to the Senate, national media observed that his time as state attorney general and his personal attributes hardly endeared him to black radicals, who stopped just shy of labeling him an Uncle Tom. "Because of his pale skin, his Episcopalian faith, his reserved New England manner," Time magazine noted, Brooke "is looked upon as what might be described as a 'NASP'—the Negro equivalent of the White Anglo-Saxon Protestant." Both Wilkins and Brooke, moreover, had sharply repudiated the nascent black-power movement, going so far as to equate it with white supremacy. Whereas Brooke called Carmichael and the arch-segregationist Lester Maddox "extremists of black power and white power," Wilkins termed Carmichael's ethos "a reverse Mississippi, a reverse Hitler, a reverse Ku Klux Klan."
With these pillars of the establishment speaking on behalf of African Americans, black-power advocates were convinced that the National Advisory Commission on Civil Disorders—as the body was officially named—would sanitize America's ugly racial realities. A few months before the commission's findings appeared in a document typically called the Kerner Report, the journalist Elizabeth Drew confirmed in these pages that "the word has gone out among the militant Negroes that the commission is a fink operation … and is not to be cooperated with." She added: "No one here is betting … that the commission's product will differ radically from one that [LBJ] wants."
Surprisingly, when the Kerner Report surfaced, in February 1968, black-power supporters felt cheered, and President Johnson was chagrined. H. Rap Brown, who was in a Louisiana jail cell for inciting a crowd, released an exultant statement: "The members of the commission should be put in jail under $100,000 bail each because they're saying essentially what I've been saying." For his part, an infuriated LBJ canceled the White House ceremony where he had been scheduled to accept a bound copy of the report, avoided public commentary on the eagerly anticipated document, and refused to sign customary letters recognizing the commissioners for their service. But Johnson's effort to ignore the report failed utterly. The Kerner Report became an instant publishing phenomenon; Bantam sold almost 1 million paperbacks in the first two weeks. Public appetite ran so strong that Marlon Brando read aloud excerpts of the volume on a late-night television talk show.
Fifty years have now elapsed since the Kerner Report appeared, but even in our current age of woke-ness, the document stands out for its unvarnished, unflinching identification of "white racism" as the fundamental cause of urban unrest. Works written by committees (especially government committees) have a well-deserved reputation for inducing somnolence, but the Kerner Report somehow managed to frame its indictment of racial oppression in several stirring formulations that have endured. "What white Americans have never fully understood—but what the Negro can never forget—is that white society is deeply implicated in the ghetto," the commission stated. "White institutions created it, white institutions maintain it, and white society condones it." The report warned, in perhaps its most celebrated passage: "Our Nation is moving toward two societies, one black, one white—separate and unequal."
Some aspects of the report may resonate even more loudly today than they did in the late 1960s. For example, the commission's repeated emphasis on the role of police brutality in alienating black citizens and sowing the seeds of urban discontent now assumes added significance, given the many images of unarmed black men whose deaths at the hands of the state have been seared into the national psyche. Indeed, some of the report's assessments could—eerily and depressingly—have been written yesterday to describe America's recent racial disturbances, in locales ranging from Ferguson, Missouri, to Baltimore, Maryland: "Almost invariably the incident that ignites disorder arises from police action." Apart from its sharply phrased critique of the riots' origins, the report promoted an ambitious policy agenda, including major measures in the domains of education, employment, housing, and welfare.
How did a government document that black radicals anticipated would be a whitewash end up instead denouncing "white racism"? This improbable turn of events animates Steven M. Gillon's deft, incisive, and altogether absorbing history of the Kerner Commission, which he convincingly depicts as "the last gasp of 1960s liberalism—the last full-throated declaration that the federal government should play a leading role in solving deeply embedded problems such as racism and poverty."
The puzzle of the commission's severe assessment of the conditions plaguing urban America only intensifies when one considers that Johnson held leverage over its chairman. It was widely understood that the Illinois governor hoped LBJ would nominate him to a federal judgeship. But Gillon, a history professor at the University of Oklahoma, makes clear that Kerner served merely as a figurehead. The commission's executive director, David Ginsburg—a fixture of liberal legal circles since the New Deal—shaped the report's general approach, tenor, and language more than any official commissioner did, helping forge a fragile consensus among its members. Yet identifying the report's central force also fails to explain its bracing conclusions. After all, LBJ chose Ginsburg for the important, if under-the-radar, senior staff position precisely because he was a Johnson loyalist, one who, as Elizabeth Drew put it, enjoyed a reputation as "the insider's insider."
LBJ was far from inexperienced in the ways of blue-ribbon panels. During his five years in the Oval Office, he appointed a staggering 20 commissions. This prolific rate prompted at least one source to confer on Johnson the dubious nickname "the Great Commissioner." (One suspects that Abraham Lincoln would not have been tempted to swap appellations.)
With LBJ's hand-selected personnel at the helm of a well-oiled apparatus, the question remains: Why did the Kerner Report assume its pungent tone and advance bold proposals rather than simply blessing the Great Society programs in anodyne language? Three primary reasons emerge from Gillon's meticulous re-creation of the proceedings.
First, the commissioners' visits to riot-torn cities around the country proved galvanizing. Some members had a vague understanding of life in ghettos, but the conditions they witnessed firsthand were far more dire than anything they had imagined. Unemployment was pervasive, schools had insufficient funds and virtually no white students, and neighborhoods lacked access to adequate sanitation. More sobering still was the profound sense of disillusionment and anger that the commissioners encountered.
In Detroit, Michigan, and in Newark, New Jersey, where the two deadliest disturbances of 1967 occurred, many rioters declared that they would not fight for the United States, even in a major war. During one particularly unnerving field visit, in Cincinnati, Ohio, a young Presbyterian minister who held a degree from Columbia University calmly informed the commission that the recent spate of violence represented "just the beginning."
Look, man, we're hip to you white people. We know … it's no good trying to appeal to your morals; you've shown you don't have any morals. The only thing you believe in is your property—that's what this country is all about, baby—so we are going to burn it down.
Second, such provocative encounters convinced the commission that only tough language would reach its dual intended audiences. For white Americans, the commissioners concluded that firm rhetoric was necessary to jolt them out of their collective slumber about the nation's inner cities. Shortly before the report appeared, one member—Senator Fred Harris of Oklahoma—explained: "I believe that white people in America are decent people [and that] if they can be shown the terrible conditions in which other Americans live and how this threatens our society, they will join together to try to solve these problems."
For black Americans, by contrast, tough rhetoric was required to prevent the black-power movement from gaining more adherents. The report expressly condemned black-power advocates for retreating from the integrationist vision and dismissed the self-styled revolutionaries as mere Booker T. Washingtons with attitudes. But for those criticisms to seem credible, the report also needed to contain language excoriating the nation's racist past and present.
Finally, the Kerner Report was shaped by a desire to avoid the hostile receptions that had greeted two recent governmental tracts. Following the Watts riots in 1965, a California report explained the violence by invoking what came to be known as "the riffraff theory," the notion that a group of perpetual misfits (many of whom had migrated from the South) had plotted the unrest. Scholars immediately assailed this view, and the commission's own profile of the typical rioter in 1967 belied the stereotype: Generally, rioters were educated, lifelong residents of their city who—crucially—had at least seen or suffered police brutality. Also in 1965, Daniel Patrick Moynihan's report chronicling the increase in single motherhood in black families, with its emphasis on cultural and psychological factors, drew fierce criticism for "blaming the victim." These cautionary tales primed the Kerner Commission to focus on structural obstacles confronting black communities, rather than on the supposed personal failings of the rioters.
Half a century later, the nation's racial demographics have upended the black–white paradigm that prevailed in 1968; no serious analysis of race could now disregard that increased diversity. Even more distant from the current national climate, however, is the commission's repeated insistence that the fate of inner-city African Americans stands inextricably connected to that of their fellow citizens. To take just one example, the report stated:
This Nation is confronted with the issue of justice for all its people—white as well as black, rural as well as urban … In speaking of the Negro, we do not speak of "them." We speak of us—for the freedoms and opportunities of all Americans are diminished and imperiled when they are denied to some Americans.
Though such sentiments in 1968 may have been more aspirational than actual, the collective perspective now sounds lamentably alien.
Yet the continuities between the Kerner Commission era and contemporary realities seem even more pronounced than the ruptures. In the political realm, a direct line connects Richard Nixon's successful campaign for the White House in 1968 to our most recent presidential election. Nixon disparaged the Kerner Commission's findings as too permissive, playing up his promise to restore "law and order" in America. "I am the law-and-order candidate," Donald Trump pledged to a crowd in Virginia Beach in July 2016, and since assuming office he has practiced a singularly divisive brand of politics, seldom missing a chance to pit "them" against "us." Furthermore, while many African Americans have made momentous strides in the past five decades, cities still contain destitute neighborhoods filled with racial minorities, which—as in the late 1960s—serve as breeding grounds for despair and alienation. The Fair Housing Act of 1968—the only major tangible legislative achievement traceable to the Kerner Report—has failed to address those grim pockets of isolation.
When LBJ spoke briefly to the commissioners at the start of their undertaking, he tasked them with answering three basic questions about the recent unrest: "What happened? Why did it happen? What can be done to prevent it from happening again and again?" On the Kerner Report's 50th anniversary, the stubborn persistence of racial ghettos gives rise to another, deeply disconcerting query: Why hasn't it happened more frequently?
You are subscribed to email updates from The Atlantic.
To stop receiving these emails, you may unsubscribe now.
Email delivery powered by Google
Google, 1600 Amphitheatre Parkway, Mountain View, CA 94043, United States