---
How not to fix a novelty betting market (UK football edition)
Posted: 24 Apr 2018 02:08 PM PDT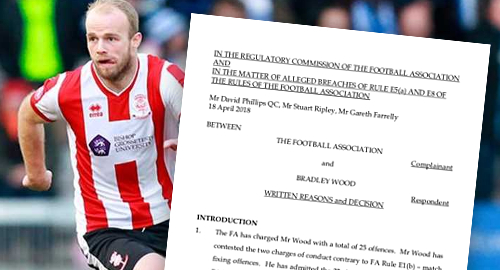 A UK football player has been banned from the sport for six years following evidence linking him to efforts to manipulate a novelty betting market with UK bookmakers.
On Monday, the UK Gambling Commission (UKGC) revealed that information reported by one of its betting licensees had led the Football Association (FA) to issue a six-year ban against former Lincoln City FC defender Bradley Wood. The ban stemmed from 25 breaches of the FA's Integrity and Betting Rules involving Lincoln City's matches against Burnley and Ipswich Town FC during the 2017 FA Cup.
According to the formal investigation report, in both matches, Wood (pictured) was issued yellow cards for deliberate fouls very late in the proceedings (in the 90th minute of the Ipswitch match). The FA determined that Wood intentionally sought to be cautioned in order to influence betting markets on whether or not he'd receive a yellow card.
The UKGC forwarded the information it received from its licensee to the FA. The bettors apparently failed to grasp the concept of discretion, as of the seven individuals who placed wagers on Wood being cautioned in the two matches, none of them had previously wagered on any caution betting markets. In fact, four of the bettors were using their accounts for the very first time.
Moreover, all of the bettors were placing larger bets on Wood being carded than anything they'd bet previously, and five of these seven wagers were the maximum stake allowed by the operator for that type of market. Bookmaker William Hill claimed to have never previously taken a four-figure wager on the 'to be carded' market.
It turns out that two of the bettors were Wood's close friends, while some of the other bettors were friends of these friends. An analysis of text messages between Wood and some of these bettors showed an unusual flurry of activity ahead of each match, although the content of these messages wasn't disclosed (deliberately withheld from investigators, in the FA's view).
The FA further notes that Wood's financial situation was in "a parlous state" at the time of the incidents, which they claim is further motive for involvement in a betting scam.
Wood's defense cited the foul in the 90th minute of the Ipswitch match, suggesting that if he was truly trying to game the system he wouldn't have left it so late. His defense also took exception to the description of his financial situation as 'parlous,' saying that while he "may not be particularly affluent" he was holding his own.
All told, the FA believed the preponderance of circumstantial evidence put the burden of proof onto Wood, who declined to show up to testify at his hearing. The FA believes Wood was a no-show because "there is no live evidence from him to contradict the FA's case."
In the end, Wood was found guilty, and in addition to his playing ban he was fined £3,725 and ordered to pay costs of £1,550.
Novelty betting markets in which a player has a direct ability to influence the outcome are having a particularly bad month. UK-licensed Sun Bets was just fined by the UKGC for the operator's role in 2017's infamous PieGate incident, and the offering of a market "which carried a risk of inciting an individual to breach a sports governing body's rules."
The post How not to fix a novelty betting market (UK football edition) appeared first on CalvinAyre.com.
NetEnt's Q1 thrives despite former CEO's severance package
Posted: 24 Apr 2018 12:46 PM PDT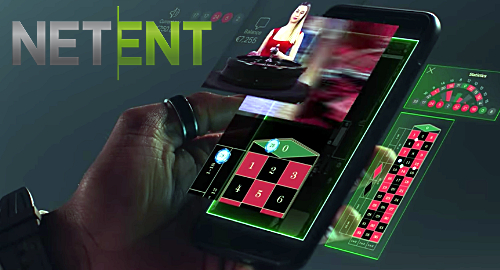 Online casino technology supplier NetEnt turned in another strong performance in the first quarter of 2018 despite having to pay a hefty severance package to its former CEO.
On Tuesday, the Stockholm-listed NetEnt issued an interim report detailing revenue of SEK430m (US$50.5m) in the three months ending March 31, 9.4% higher than the same period last year. Operating profit rose 5.5% to SEK134m and after-tax profits shot up nearly 27% to SEK146m.
NetEnt said the operating profit figure would have been SEK6m higher were it not for the need to pay severance to Per Eriksson, the former CEO that NetEnt abruptly kicked to the curb in late March. Eriksson was shown the door after NetEnt's board decided that the company's performance to date hadn't lived up to expectations and new leadership was needed to ensure the company's long-term growth.
Eriksson's acting replacement, Therese Hillman, said the company is keeping a closer eye on expenses after withdrawing its services last year from operators who lacked licenses in the regulated markets of Australia, Poland and the Czech Republic. The net effect of these withdrawals was around two percentage points on royalty revenue growth.
The company also blamed continuing "weakness in Norway" for negatively impacting Q1 revenue, and this week's news of Norway's plans for stricter curbs on payment processing by unauthorized international sites won't improve that weakness.
NetEnt's share of revenue from locally regulated markets improved three points to 34% in Q1, thanks in part to a strong showing by NetEnt's partners in Italy. NetEnt says it intends to apply for a license in Pennsylvania's newly regulated intrastate online gambling market and the company plans to launch in the Canadian province of British Columbia with BCLC's PlayNow.com sometime in Q3.
NetEnt inked six new customer agreements and launched eight new customers' casinos in Q1, while releasing five new slot games and adding staff to its fledgling Live Casino offering.
The post NetEnt's Q1 thrives despite former CEO's severance package appeared first on CalvinAyre.com.
SportPesa renews Kenya football deals amid promise of tax break
Posted: 24 Apr 2018 11:30 AM PDT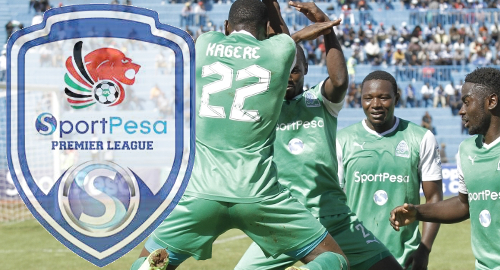 Kenyan sports betting operator SportPesa has reopened its sponsorship wallet following the government's proposal to amend its controversial gambling tax hikes.
On Monday, SportPesa announced a flurry of local sponsorship deals, including resuming its longtime relationship with the Kenyan Premier League (KPL), two top KPL clubs (Gor Mahia FC and AFC Leopards), and the Football Kenya Federation (FKF). The total value of the sponsorships reportedly equals Sh682m (US$6.8m) over three years.
Speaking on Monday, SportPesa CEO Ronald Karauri celebrated his company's new sponsorship deals, saying "our brand is associated with sports; it is time to come back to where we belong." FKF president Nick Mwendwa wished SportPesa's contribution was larger than it was, but acknowledged that "it will still go a long way to help us in many areas."
The KPL title sponsorship alone cost SportPesa Sh85m per year, roughly Sh5m per year less than SportPesa had been paying prior to scrapping all its local sports sponsorships in January after the government hiked the company's betting revenue tax rate from its former 7.5% to 35%.
The tax hike was part of the government's plan to harmonize all gambling taxes (betting, gaming, lotteries and prize competitions) at a uniform rate of 35%. However, since this imposed significant cost burdens on Kenyan operators, SportPesa announced it would look to cut costs elsewhere, including its high-profile sports sponsorships.
While SportPesa and some other Kenyan operators mounted legal challenges of the new tax law, they have also pursued a dialogue with the government regarding a more sensible tax program. Those efforts appeared to bear fruit late last week when National Assembly Majority Leader Aden Duale introduced a new bill that would reduce the uniform tax rate to 15%.
However, the operators' gain may prove to be punters' pain, as the government plans to offset the reduced collections from gaming operators by resurrecting a plan to impose a 20% tax on all gambling winnings. Operators would be required to deduct this 20% at source before paying out any winnings.
The proposed tax cut for operators is anything but assured, and Karauri noted that SportPesa hadn't renewed all the sponsorships it scrapped in January, choosing instead to "support the ones we think we can sustain as long as the tax remains as it is."
The post SportPesa renews Kenya football deals amid promise of tax break appeared first on CalvinAyre.com.
Norway to further restrict payments to int'l gambling sites
Posted: 24 Apr 2018 10:43 AM PDT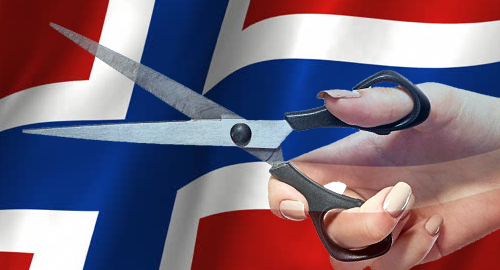 Norway's government is proposing new methods of curbing competition of the state-owned Norsk Tipping gambling monopoly, including stricter monitoring of online gambling payment processing.
Last week, the Lotteri-og Stiftelsestilsynet (Norwegian Gaming Authority) began a consultation on its proposals to further restrict internationally licensed online gambling operators' access to Norwegian gamblers. The consultation will be open until August 15.
Among the NGA's proposals are making it crystal clear that the law already requires local financial institutions to block transactions involving unauthorized online gambling operators (aka all of them except Norsk Tipping and Norsk Rikstoto). Despite this requirement, the NGA claims that Norwegians collectively make up to 40k daily transactions with international gambling sites.
The NGA has previously ordered banks to stop processing online gambling payments using certain accounts, but some affected processors simply changed account numbers. The NGA now wants to be able to order banks to stop dealing with certain companies by name, rather than account number.
To monitor the effectiveness of this activity, the NGA wants the right to compel the banks to provide transaction information regarding certain companies on demand, while offering the standard assurances regarding individual customers' data privacy. The NGA hopes to have these new powers by January 1, 2019.
OPPOSITION COALITION PUSHES GAMBLING CURBS
On Tuesday, local media outlet VG reported that a coalition of Norway's opposition parties had managed to secure a favorable committee vote on six of eight proposed measures to strengthen the country's gambling rules. These new measures are scheduled to be formally adopted by parliament on May 7.
The measures include granting the NGA new powers to investigate companies that facilitate advertising and marketing of unauthorized gambling products and to impose financial penalties on companies found to be in violation of the rules.
Also approved was DNS blocking of international sites serving Norwegian punters without local authorization, which was approved in lieu of of a more punitive IP-blocking proposal. The DNS blocking will warn Norwegian punters that the site they are attempting to access is not operating under local authority, but won't prevent access to the site if a customer chooses to proceed.
A more effective block was placed on Minister of Culture Trine Skei Grande's efforts to loosen Norsk Tipping's monopoly by launching a pilot program to license international gambling operators.
However, Norsk Tipping will be required to curtail some of its marketing activities to ensure the monopoly isn't preying on the nation's problem gamblers. The monopoly just announced a record profit of NOK5.25b (US$665m) in 2017, 8.2% higher than 2016's total, while its active customer base increased by 80k to 1.96m.
Norway's opposition parties also want to see the nation's oil-based pension fund divest its significant holdings in gaming companies, including Norsk Tipping. The fund reportedly holds NOK26b ($3.3b) worth of gaming company shares in its portfolio, including such familiar online operators as 888 Holdings, William Hill, Paddy Power Betfair, The Stars Group, Playtech and Betsson, as well as land-based casino operators Las Vegas Sands, SJM Holdings and Melco Resorts & Entertainment.
The post Norway to further restrict payments to int'l gambling sites appeared first on CalvinAyre.com.
Denmark pols press for cuts to online gambling bonus offers
Posted: 24 Apr 2018 08:54 AM PDT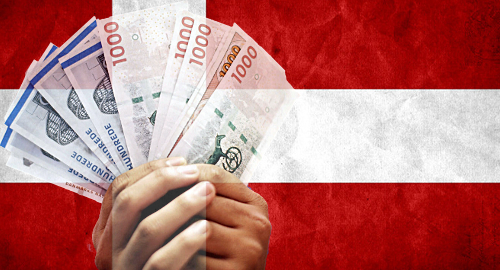 Denmark's licensed online gambling operators could be required to significantly restrict the size of their bonus offers if local parliamentarians have their way.
Last week, Danish Social Democrat MP Jesper Petersen told local television outlet DR that online gambling sign-up bonus offers were getting out of control, particularly via television promos. Petersen claimed some operators were offering bonuses as high as DKK10k (US$1,640), while Petersen wants to see bonuses capped at DKK1k.
Jesper's Social Democrats have found support for cuts in bonus offers among the Danish People's Party (DPP), although the DPP has yet to specify how steep a cut it wishes to see imposed.
The Red-Green Alliance also supports the Social Democrats' call for a DKK1k bonus cap, while also pushing for greater transparency of operators' requirements for punters to turn over the bonus funds multiple times before being able to withdraw any winnings generated via the use of those bonus funds.
The Socialist People's Party is taking a more extreme tack, calling the bonus reduction plan "unambitious" and pushing for a complete ban on all online bonus offers.
The SD's Petersen warned that a total bonus ban might encourage Danish-licensed international sites to resume their Danish licenses and return to their unauthorized Danish-facing operations, "and then we will get more game ads with bigger bonuses, without anything we can do about it."
The impetus behind the push to restrict bonus offers is the theory that problem gamblers are particularly susceptible to these types of promotions. According to the National Research and Analysis Center for Welfare (VIVE), there are roughly 125k Danish adults who have gambling problems, while 10k adults are considered gambling addicts, a 60% rise from 2005.
The 2017 annual report from Denmark's Spillemyndigheden regulatory body showed locally licensed online gambling operators accounting for over half of total market revenue last year. The number of Danes who signed up for the regulator's problem gambling self-exclusion program shot up 46% last year, although the regulator cautioned that much of this rise was related to wider marketing of the program's existence.
The post Denmark pols press for cuts to online gambling bonus offers appeared first on CalvinAyre.com.
Crown casino hit with fresh pokies tampering claim
Posted: 24 Apr 2018 07:07 AM PDT
Australian MP Andrew Wilkie has found what he described as "potentially very hard and indisputable evidence" to pin casino operator Crown Resorts Ltd. to pokies tampering.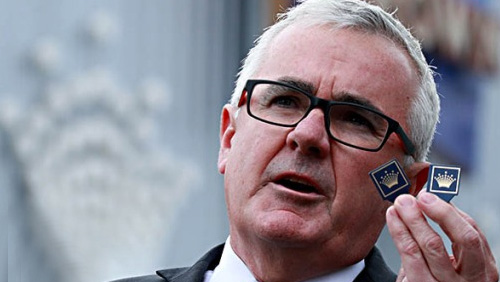 Wilkie announced on Tuesday that he is in possession of Crown-branded 'picks' that were allegedly used by a former high-roller to jam poker machine buttons in order for gamblers to have uninterrupted games, according to The Guardian report.
Copies of the supposed Crown picks, as well as punter loyalty cards, have been submitted to the Victorian Commission for Gambling and Liquor Regulation (VCGLR) to help the state regulator with its ongoing investigation, according to Wilkie.
Wilkie also informed Victoria Police Chief Commissioner Graham Aston about the tampering claims through a letter.
"It certainly raised a couple of eyebrows this morning at the VCGLR when I showed them the picks, when I showed them the multiple loyalty cards. This is potentially very hard and indisputable evidence," Wilkie said, according to the news outlet.
According to Wilkie, the pieces of evidence were given to him by a female high-roller who wished to remain anonymous.
The woman revealed that she loses up to AUD30,000 (US$22,824) every time she goes to Crown Casino. Instead of stopping her, the woman alleged that she was given multiple loyalty cards so that she could play several pokies at once.
For Wilkie, the testimony of the unnamed former gambler corroborated the stories of three Crown staffers who previously came forward to accuse the casino operator of allowing the tampering of video poker machines.
The whistleblowers claimed that casino managers ordered Crown Melbourne staff to tamper with the machines, including disabling lower bet provisions and modifying buttons to allow prohibited autoplay—acts that could increase gambling losses.
They made other allegations against Crown, such as tolerating the misuse of identity documents that helped certain high-value customers avoid the scrutiny of financial watchdogs Austrac and allowing certain customers to smoke marijuana on the premises.
"Obviously if they're true, Crown Casino will have some very serious matters to answer, some very serious charges to answer because it is a crime in Victoria to illegally modify poker machines," Wilkie said, according to the ABC Online News report. "It is a crime in Victoria to provide a patron with some sort of device to allow the machine to continuously play."
The post Crown casino hit with fresh pokies tampering claim appeared first on CalvinAyre.com.
Dubai as casino hub? Tourism chief doesn't think so
Posted: 24 Apr 2018 06:02 AM PDT
Don't bet on Dubai legalizing casino gambling anytime soon.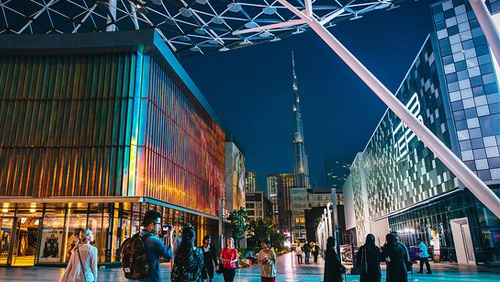 The Gulf News reported that Dubai will remain casino-free even if the state has allowed the entry of international integrated resort brands into the most populous city in the United Arab Emirates.
Dubai Department of Tourism and Commerce Marketing (Dubai Tourism) Chief Executive Issam Kazim made the statement several days after Caesars Entertainment Corp. announced that it's bringing its Caesars Palace brand to the Middle Eastern city later this year.
Aside from Caesars, Las Vegas-based MGM Resorts International had earlier agreed to manage a 26-acre "premier destination resort" for Wasl Hospitality.
Even though Dubai is considered a progressive city, Kazim said the state government still wants to preserve its Islamic culture. Vices, such as gambling and alcohol, are considered 'haram,' acts that are considered forbidden by Allah. But there are Muslim countries like Egypt, Tunisia, and Malaysia that permit casino gambling.
"No [there is not a desire for casinos] … We need to bear in mind that there are cultural things that are a priority to us," Kazim said, according to the news outlet.
Like most Middle Eastern countries, the United Arab Emirates is seeking to diversify its economy by being less dependent on the oil industry, strengthening trade, and achieving an optimal balance among various sectors, such as tourism.
Dubai also plans to attract at least 20 million tourists by 2020, according to the tourism official.
In the case of Caesars, Kazim pointed out that the casino operator will bring the Caesars Palace theme not to encourage people to gamble, but to create "that sort of a destination and experience" in Dubai.
MGM, on the other hand, is bringing MGM-branded residences and a Bellagio-branded hotel containing a total of 1,000 rooms and 10 villas in Dubai. The MGM project, which reportedly occupies "the longest stretch of waterfront ever developed in Dubai," is set to be completed in 2021.
The post Dubai as casino hub? Tourism chief doesn't think so appeared first on CalvinAyre.com.
Inspector general places US tribal casino inaction under scrutiny
Posted: 24 Apr 2018 05:56 AM PDT
The U.S. Inspector General is keeping a watchful eye on Department of the Interior (DOI) amid allegations that Las Vegas-based MGM Resorts swayed the agency to sit on the proposed $300 million East Windsor casino project of Connecticut's Mashantucket Pequot and Mohegan tribes.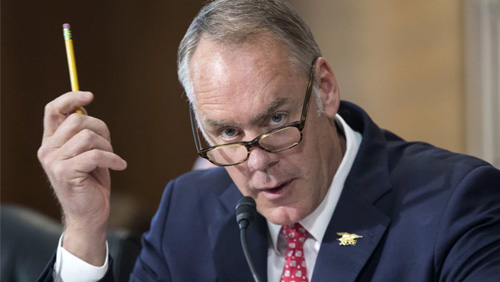 According to a Hartford Courant report, the watchdog had been sniffing for clues since mid-February to determine whether the DOI colluded with MGM Resorts to delay Connecticut's satellite casino project.
DOI Inspector General spokesperson Nancy DiPaolo told local reporters that the investigation stemmed from the request of four Connecticut lawmakers, who all wanted to know the truth behind the DOI's inaction on the two tribes' joint casino venture.
DiPaolo admitted that it could take "months" before the investigation concludes.
Sen. Richard Blumenthal, one of the four members of Connecticut's delegation, described the investigation as a "significant breakthrough in the Department of Interior's stonewalling and possible conflict of interest."
"They failed to act in the best interest of the tribes and that is their obligation. They are blatantly breaking that obligation which is a matter of trust and law," Blumenthal said, according to the news outlet.
Last year, Connecticut has passed legislation amending the state's tribal gaming compacts, paving the way for the construction of a new casino off tribal land, near the state's border with Massachusetts. For the law to be implemented, the tribes needed the approval of the Bureau of Indian Affairs, which is under the DOI.
MGM had long time opposed the East Windsor casino plan, especially since it would greatly affect the operations of MGM Springfield, which is set to open just across the border in Massachusetts.
In February, Politico published an article that examined the meetings between Interior Secretary Ryan Zinke and MGM lobbyists, as well as with Nevada Sen. Dean Heller and Rep. Mark Amodel, when the tribes' amended compact request arrived on the government official's table.
The same news outlet reported over the weekend that the Trump administration rejected recommendations from federal experts on Indian gaming policy, resulting in the delays of the implementation of the East Windsor casino plan.
The post Inspector general places US tribal casino inaction under scrutiny appeared first on CalvinAyre.com.
MansionBet strikes Darren Farley partnership
Posted: 24 Apr 2018 05:33 AM PDT
MansionBet are delighted to announce their latest sponsorship of football's funny-man, Darren Farley. The partnership will see over 100 new pieces of viral content produced by Farley over the course of the 12 months which will be uploaded onto his social channels including Facebook, Twitter and Instagram, as well as YouTube and Linkedin.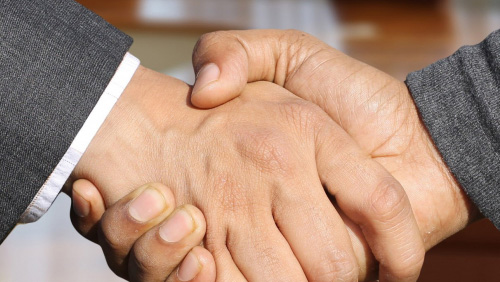 MansionBet will also host a Darren Farley page on their own website which will showcase Farley's work each month. The sponsorship will help Farley produce relevant and sharable content designed to entertain fans whilst driving engagement and conversions to MansionBet's website with an expected reach of over 35 million views.
During the World Cup the two will work together an additional, exclusive content to further leverage Darren's appeal and reach during this exciting and business-critical period.
Farley began doing impressions in 2010 and has since become a household name with the reputation as the UK's No.1 Football impressionist.  He is renowned for his hilarious impressions of some of the biggest names in football including Steven Gerrard, Harry Redknapp, Roy Hodgson, Brendan Rogers, Jamie Carragher, Rafa Benetiz and many more.
Awarded 'Online Casino Operator of the Year' at the International Gaming Awards 2018, the Mansion Group has firmly established itself as a leading provider of online gambling and entertainment.
Under the new MansionBet brand, the Mansion Group has diversified their product portfolio into the sports arena, leveraging the strength and brand awareness of the Mansion name across the industry.
Mansion Group CEO, Karel Manasco commented, "We are thrilled to be partnering with Darren – we are all great fans of his work, and are very excited about the opportunities ahead."
Darren Farley added, "Mansion Bet is the perfect sponsor, we both entertain within the world of sport and I'm looking forward to being able to produce lots of new material throughout the course of the year with their support."
For further information and to view the exclusive announcement video, click here.
Darren Farley's Mansion Bet sponsorship will run until April 2019. Videos and content will be available via Farley's social channels below;
The post MansionBet strikes Darren Farley partnership appeared first on CalvinAyre.com.
Regional gaming stocks in focus
Posted: 24 Apr 2018 04:30 AM PDT
The only thing harder than buying when you're scared is selling when you're happy. US regional gaming stocks are at or near all-time highs or at least decade highs, and there is no compelling reason to assume they will keep going higher, future mergers notwithstanding. There has been no compelling fundamental reason why they have skyrocketed so quickly and as high as they have either. I understand 20%, 40%, or even 50% higher in a year or two, but doubling is a bit much. It looks to be a case of trend followers piling on top of trend followers.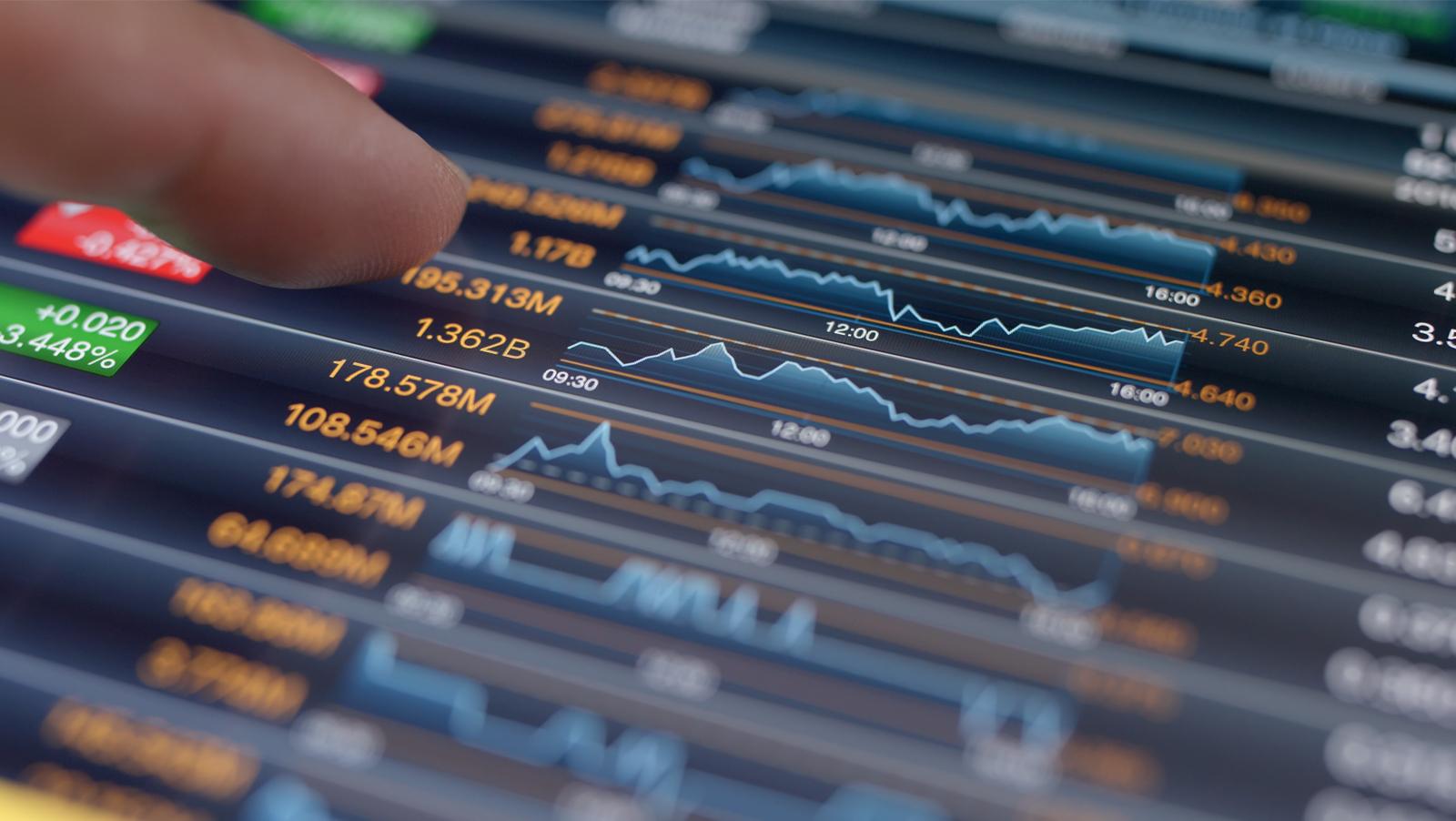 Penn National Gaming (PENN), Pinnacle Entertainment (PNK), and Boyd Gaming (BYD) have all skyrocketed over the last 12-18 months. This could theoretically make sense if all three were in store for a decade or more of uninterrupted growth and smooth sailing for the US economy from here, but that's not going to happen. All three of them have been extremely volatile on the way up, which means they are more likely to be extremely volatile on the way down, and the way down is coming this year it looks like.
Penn in particular has already fallen 25% since topping, and stock market trouble has barely started. Penn's fall hasn't been much though compared to the spectacular rise since November 2016 when the stock was trading at around $12. We're still 130% above those levels, which tells you how crazy these stocks have been.
Taking a look at the three individually, Penn's EBITDA is down 24% since bottoming in 2016, and with inflation climbing and debt service already eclipsing operating profit, without organic top line growth its bottom line is going to stagnate at best. While Penn's debt situation has improved since spinning off its real estate, it doesn't justify a doubling, even with a Pinnacle merger pending.
As for Pinnacle, it has quadrupled since February 2016 and it is unlikely to go substantially higher because the merger price has already been set. It has resisted the fall in the S&P up to now and price is coiling very tightly between $30 and $32 ever since volatility returned to stocks in February. Since a price is already agreed upon between the Pinnacle and Penn, there won't be much movement here until after the merger is completed.
Fundamentally on its own, if not for the Trump tax cuts, Pinnacle's bottom line would be about 20% below where it was in 2015. Perhaps Penn is paying too high a price then. While there is growth in Pinnacle, it doesn't justify a quadrupling in its stock price.
As for Boyd, it is probably the most fundamentally sound of the three. It has decent growth that sort of justifies its 150% climb since February and it is the only one of the three that has yet to break all time highs sent pre-2008. It is also the only one of the three with a dividend. Debt is not a significant problem until 2021 at the earliest, but on the downside it is the most volatile of the three. Especially after the Penn Pinnacle merger, it will be more isolated and possibly even more volatile than before.
Before anyone considers buying any of these sky-high valuations, consider what happened to these stocks in 2008. Penn lost 66% from top to bottom, Pinnacle 80%, and Boyd over 90%. Another downturn in the US and something similar can happen again. We can get a good idea if there is any serious threat of this by tracking the movement in Penn shares when the Penn/Pinnacle merger goes through in the second half of this year. It should go through by then considering that the Illinois Gaming Board just gave the green light for it last week.
A buy-the-rumor sell-the-fact type of situation is quite possible here, where traders line up to sell Penn once the merger with Pinnacle is finalized thinking that there will be many buyers because of the completed merger. The move is expected to benefit both companies by yielding $100M in cost savings within two years. Even though the merger looks like a good idea for all parties, I don't think it will be enough to propel the combined company to new highs consistently, at least not in the near future.
By the second half of this year, considering tightening monetary conditions, US stocks should be falling across the board and all three regional gaming stocks should be well off their highs along with the S&P 500 and the Dow. Unless the indexes clearly break to new highs really soon, it looks like the top for the year is in.
What the regional gaming stocks will be good for is on the way back up. While not in picture perfect health, they should all survive the next recession, though battered, and then climb back up to around current levels. Assuming they can continue to keep their debts manageable, they should all be good gainers once the worst is over.
The post Regional gaming stocks in focus appeared first on CalvinAyre.com.
You are subscribed to email updates from CalvinAyre.com.
To stop receiving these emails, you may unsubscribe now.
Email delivery powered by Google
Google, 1600 Amphitheatre Parkway, Mountain View, CA 94043, United States