---
COMING! LONDON'S 'SUMMER OF CARNAGE', VIOLENCE LIKE IN SOUTH AFRICA OR U.S. GHETTO -LEADING SURGEON PREDICTS
Posted: 21 Apr 2018 10:08 PM PDT
"If it was hot weather right now, it would be carnage. When it gets a few degrees warmer, it's going to be taxing. It's going to be difficult," Dr Martin Griffiths  told The Times.
London's crime wave will develop into "carnage" come summer, a leading trauma surgeon has predicted, warning ultra-violence in the capital is "the new normal".
Dr Martin Griffiths, a consultant surgeon at Barts Health NHS Trust, said soaring knife and gun crime has resulted in London "looking more like South Africa, or inner-city U.S." with regards to the rate of attacks.
"If it was hot weather right now, it would be carnage. When it gets a few degrees warmer, it's going to be taxing. It's going to be difficult," he told The Times.
The doctor, who earlier this month revealed some of his military colleagues have likened the situation seen in London trauma wards to hospitals in Middle East warzones, said that treating young teenagers with life-threatening injuries had become "the bread and butter" of his work at the Royal London Hospital.
Read more: Leading Surgeon Says Violence in Khan's London 'Like South Africa', Predicts 'Summer of Carnage'
BARBARA BUSH FUNERAL: JEB BUSH'S EULOGY AS MELANIA, THE OBAMAS AND THE CLINTONS JOIN THOUSANDS OF MOURNERS === PHOTOS
Posted: 21 Apr 2018 09:39 AM PDT
( Daily Mail ) One of only two women in the history of the United States to have both her husband and son elected president was laid to rest on Saturday in Texas.
The funeral of Barbara Bush was small and private affair which began at 11am at St. Martin's Episcopal Church in Houston.
Among those in attendance were her husband of 73 years and the 41st president of the United States George H. W. Bush, her oldest son and the 43rd president of the United States George W. Bush and current first lady Melania Trump.
Mrs. Bush's husband paid tribute to his wife by wearing a pair of socks with books on them, honoring her work with literacy over the years.
Melania Trump attended the service alone, and was seated with Barack and Michelle Obama and Bill and Hillary Clinton.
She and Barack could be seen chatting with one another and laughing just before the start of the service.
Read more: Melania Trump joins the Bush clan, the Obamas, the Clintons and more than a thousand mourners to remember Barbara Bush at emotional funeral for 'America's grandmother' after her death at 92
George H.W. Bush broke down in tears on Saturday as his son read aloud one of the dozens of love letters he wrote to his late wife Barbara as part of his moving eulogy at her funeral.
Jeb, the former Governor of Florida, was the only one of the former First Lady's children who spoke in front of the congregation of 1500.
They had gathered at St Martin's Episcopal Church in Houston, Texas. Among the mourners were former presidents Barack Obama and Bill Clinton who attended the service with their wives.
First Lady Melania Trump joined them in the front pew but the president watched from Mar-a-Lago out of 'respect', he said, for the Bush family.
Jeb's eulogy was accompanied by tributes from Susan Baker, the wife of former Secretary of State James A. Baker III, and a touching speech by George H.W. Bush biographer Jon Meacham who remarked that the former president was the 'only boy' Barbara had ever kissed.
George H.W. paid tribute to his wife by wearing a pair of socks with books on them, honoring her work with literacy over the years.
He said in the front row alongside his children and could be seen smiling early in the ceremony and shook hands as he was wheeled out by George W. after the service had concluded.
Read more:
JEB BUSH'S EULOGY OF HIS 'PRECIOUS' MOTHER BARBARA
'As I stand here today to share a few words about my mom, I feel her looming presence behind me.
'And I know exactly what she's thinking right now."Jeb, keep it short. Don't' drag this out. People have already heard enough remarks already and most of all, don't get weepy. Remember, I've spent decades laughing and living a life with these people!"
'And that is true.
'Barbara Bush filled our lives with laughter and joy and in the case of her family, she was our teacher and role model on how to live a life of purpose and meaning.
'On behalf of our family we want to thank the thousands and thousands of expressions of condolence and love for our precious mother.
'We want to thank mom's caregivers for their compassionate care in the last month's of her life. I want to thank Neil and Maria for their next door family love of our parents and thank John and Suzanne for their eloquent words.
'Meachum, it might have been a little long but it was beautiful. We want to thank Russ and Laura for their friendship and pastoral care of our parents and we want to thank all that are here to celebrate the life of Barbara Bush.
'It is appropriate to express gratitude because we learned to do that at a very early age.
'You see our mom was our first and most important teacher. "Sit up, look people in the eye, say please and thank you, do your homework, quit whining and stop complaining, eat your broccoli".
'Yes, Dad she said that .
'The little things we learned became habits and they led to bigger things like, be kind. Always tell the truth, Never disparage anyone. Serve others.
'Treat everyone as you would want to be treated and love your God with your heart and soul.
'What a blessing to have a teacher like that 24/7. Now to be clear, her students weren't perfect. That's an understatement.
'Mom got us through our difficult times with consistent, take-it-to-the-bank, unconditional but tough love.
'She called her style, a benevolent dictatorship. But honestly, it wasn't always benevolent.
'When our children got a little older, they would spend more time visiting their Gampy and Ganny.
'All it would take would be one week and when they came home, all of a sudden they were pitching in around the house. They didn't fight as much and they were actually nice to be with.
'I attribute this to the unbridled fear of the ganny lecture and the habit forming effects of better behavior taking hold even in her 90s, mom could strike fear into her grandchildren, nephews, nieces and her children, if someone didn't behave.
'There were no safe spaces or microaggressions allowed with Barbara Pierce Bush.
'But in the end, every grandchild knew their Ganny loved them. We learned a lot more from our mom and our Ganny. We learned not to take ourselves too seriously
'We learned that humor is a joy that should be shared some of my greatest memories are participating in our family dinners when mom would get into it, most of the time with George W, as you might imagine, and having us all laughing to tears.
'We learned to strive to be genuine and authentic by the best role model in the world.
'Her authentic, plastic pearls. Her not coloring her hair – by the way, she was beautiful till the day she died.
'Her hugging of an HIV aids patient at a time when her own mother wouldn't do it.
'Her standing by her man with a little rhyming poetry in the 1984 election. And a thousand other ways. Barbara Pierce Bush was real and that's people admired her and loved her so.
'Finally, our family has had front row seat for the most amazing love story.
'Through a multitude of moves, from New Haven to Odessa to Ventura, to Bakersfield, to Compton, to Midland, to Houston, to DC, to New York, to DC, to Beijing, to DC, to Houston, to DC, back to Houston and Kennebunkport, their love was a constant in our lives.
'My dad is a phenomenal letter writer and he would write mom on their wedding anniversaries which totalled an amazing 73 years.
'Here's one of them written on January 6, 1994.
"Will you marry me? Oops, I forgot we did that 49 years ago. I was very happy on that day in 1945 but I am even happier today .
"You have given me joy that few men know. You have made our boys into men by balling them out and then, right away, by loving them.
"You've helped Doro be the sweetest, greatest daughter in the whole wide world.
"I have climbed perhaps the highest mountain in the world but even that cannot hold a candle to being Barbara's husband.
"Mom used to tell me, "Now, George, don't walk ahead." Little did she know I was only trying to keep up, keep up with Barbara Pierce from Rye, New York.
"I love you."
'The last time mom went in to the hospital, I think Dad got sick on purpose so that he could be with her.
'That's my theory at least cause literally a day later he showed up with an illness, he came into a room when she was sleeping and held her hand, his hair was standing straight up, he was wearing a mask to improve his breathing, he was wearing a hospital gown, in other words, he looked like hell.
'Mom opened her eyes and said, "My God George, you are devastatingly handsome!"
'Every nurse, doctor, staffer had to run to the hallway because they all started crying.
'I hope you can see why we think our mom and our dad are teachers and models for our entire family and for many others.
'Finally, the last time I was with her, I asked her about dying. Was she ready to go? Was she sad? Without missing a beat, she said, "Jeb, I believe in Jesus and he is my savior.
"I don't want to leave your dad but I know I will be in a beautiful place."
'Mom, we look forward to being with you and Robyn and all of God's children.
'We love you.'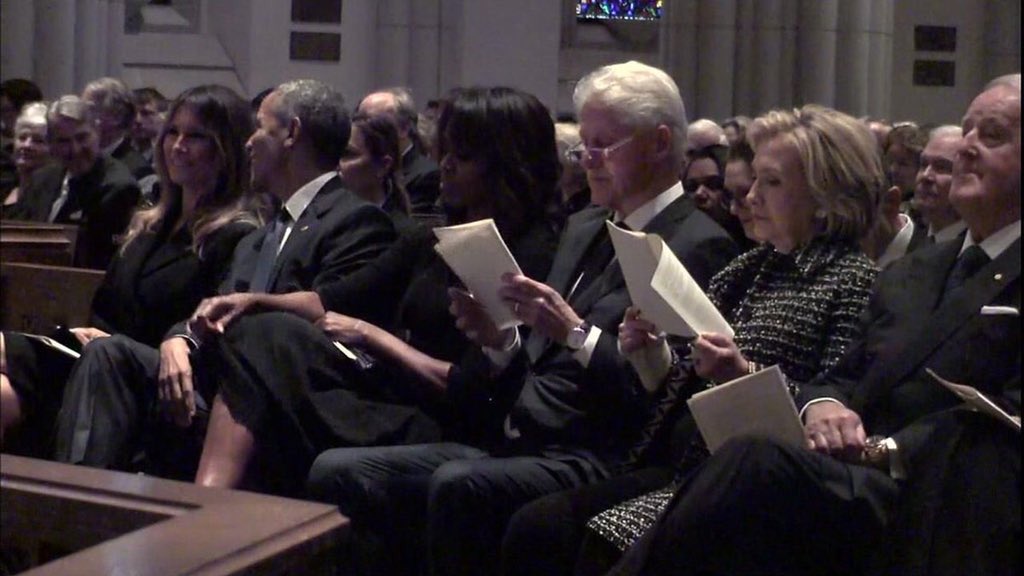 SECRET SERVICE AGENTS REFUSE TO LEAVE BARBARA BUSH'S COFFIN: 'She was one of the most gracious people we've ever protected.'
Posted: 21 Apr 2018 09:29 AM PDT
( Daily Mail ) The Secret Service agents who protected Barbara Bush for two decades after she left the White House have been standing guard over her coffin, refusing to the leave the side of the woman they say treated them like family.
The agents swapped out at St. Martin's Episcopal Church in Houston, Texas, taking turns on Friday as mourners came in their droves to pay their respects to the former First Lady.
They stood in the background as fans greeted former president George H.W. Bush in his wheelchair, giving a final act of protection to the 92-year-old.
One former agent said they were proud to stand by her side one final time.
'Agents on her detail, they're the ones posted around her house all of the time. They're the ones who bring her shopping. They're the ones who bring her to events. They are family to her.
'She was one of the most gracious people we've ever protected.'
'She went out of her way to make us feel like part of the Bush family. It was just a wonderful relationship we had,' former agent Thom Bolsch told ABC 13.
John Lopez, a local reporter who was at the church, said they were 'refusing' to leave.
'Barbara Bush's Secret Service detail, several of whom have been been with her for decades, refuse to leave her side until she is buried. Very powerful,' he tweeted.
Barbara's code name was 'Tranquility' which Secret Service agents said could not have been more fitting.
Read more: Loyal until the end: Secret Service agents who served Barbara Bush for decades and who she treated like 'family' refuse to leave her coffin overnight before her funeral
You are subscribed to email updates from 70news.
To stop receiving these emails, you may unsubscribe now.
Email delivery powered by Google
Google, 1600 Amphitheatre Parkway, Mountain View, CA 94043, United States