---
The Scandal Tearing Apart America's Largest Protestant Denomination
Posted: 03 May 2018 03:00 AM PDT
Over the past 20 years, the Southern Baptist Convention has weathered an onslaught of controversies, from renaming the denomination to repudiating the Confederate flag. But in the end, all it took to potentially rend the organization in two was a single quote about domestic violence from a solitary leader that most Americans have never even heard of.
Paige Patterson is the 75-year-old president of Fort Worth's Southwestern Baptist Theological Seminary, which claims to be one of the largest schools of its kind in the world. He is lionized among Baptists for his role in the "conservative resurgence," which is what some call the movement to oust theological liberals beginning in the 1970s. But this week, his past legacy and present credibility were called into question when a 2000 audio recording surfaced in which Patterson said he has counseled physically abused women to avoid divorce and to focus instead on praying for their violent husbands, and to "be submissive in every way that you can."
Domestic-violence advocates quickly and unsurprisingly condemned the remarks, but, and as The Washington Post reported, it sent "leaders scrambling to respond."
Some notable SBC leaders echoed concerns about Patterson's comments and whether he should step down. Thom Rainer, president of LifeWay Christian Resources, a book-publishing house and retail chain that is owned by the SBC, released a statement denouncing domestic abuse and calling out Patterson by name. Ed Stetzer, a former Southern Baptist employee who is currently a professor at Wheaton University, penned an article for Christianity Today arguing that Patterson must resign post-haste. Others, including theologian Albert Mohler and mega-church pastor Matt Chandler, also made statements condemning spousal abuse.
But the tight-knit Southern Baptist boys' club is not so easily unraveled, and many leaders have sheltered their colleague. Some have simply remained mum. The denomination's Executive Committee has not acknowledged the controversy despite the media coverage it has received. Current SBC President Steve Gaines has also stayed silent, though today he curiously tweeted, "You must not speak everything that crosses your mind" and encouraged people to "read your Bible more than you check [social media]." Others have actually offered their support. For example, Atlanta-based pastor and former SBC President Johnny Hunt took to Twitter to praise Patterson as "a man of God and a man of your word."
It's not difficult to denounce domestic violence, and it shouldn't be controversial. And yet, America's largest Protestant denomination now seems to be ethically schizophrenic when it comes to the topic.
In the days since the scandal was first sparked, the situation for Patterson has worsened substantially:
First came another quote from the same audio clip, in which Patterson is heard telling a story about a female congregant of his who confessed to being abused by her husband. Rather than report the incident to the authorities or help the woman escape, he sent her back to her spouse and asked her to pray "not out loud, but quietly." The woman returned the next Sunday with two black eyes, a sight which Patterson said made him "very happy" because it made her husband feel guilty enough to attend church for the first time.
Next came the release of Patterson's defiant public statement in which he only conceded that his remarks were "probably unwise" before painting himself as a martyr who has been subjected to a campaign of "mischaracterization" fueled by "lies."
Then, a video recording from 2014 emerged in which Patterson resembles the ghost of Roy Moore, objectifying and sexualizing a 16-year-old girl in a sermon illustration.
If that were not enough, a news story published by the Atlanta Journal-Constitution in 1997 surfaced in which Patterson was asked about women and quipped, "I think everybody should own at least one."
Patterson offered an interview to the denomination's publicity arm, Baptist Press, in hopes of doing some damage control. But he made things worse by confirming that he believes "non-injurious physical abuse which happens in so many marriages" might spur a woman to "pray [her husband] through this." (Baptist Press later manipulated the quote to read "minor non-injurious abuse" claiming that it better aligned with Patterson's intention.)
Finally, The Washington Post published an article noting that Patterson has been named as a defendant in a lawsuit, which claims he knew about child-molestation accusations against a close friend of his, fellow Southern Baptist Paul Pressler, but chose to cover it up rather than report it.
A wave of such damning allegations and confirmed quotes would be enough to drag down almost any giant. In a #MeToo moment, it's astounding that Patterson is still standing. But Southern Baptists are a loyal bunch. One wonders if Baptists' loyalty to one of yesterday's leaders is blinding them to the optics of his present involvement and the damage to their public witness should he remain in power.
It doesn't take a fortune teller to recognize that this will not end well.
At the denomination's annual gathering next month, Patterson is scheduled to give the coveted keynote sermon. A growing number of Southern Baptists are protesting his involvement, calling for him to be replaced. But because the messengers approved the schedule last year, there are only two ways he can be removed from the program. Either Patterson can voluntarily resign, which seems unlikely given his recalcitrance throughout the debacle, or the messengers in Dallas next month can offer a motion for his replacement.
"If Patterson preaches at the SBC, he will, because of his past work, get a standing ovation," Stetzer wrote at Christianity Today. "Every news story will point to that moment, tie it together with the accusations against Paul Pressler, and say that Southern Baptists don't take abuse seriously."
Stetzer is right. If Patterson preaches in Dallas, then the Southern Baptist Convention, which has lost a million members over the last decade, will appear to be tolerant of spousal abuse in a cultural moment in which Americans overwhelmingly oppose such things. Such a perception, whether true or not, will doubtlessly come at a high price.
On any given Sunday, there are more women than men who attend church. These women, in communities across America, may think twice before pulling into a Southern Baptist church's parking lot. And what of the many social justice-minded Millennials? They may see the denomination's lack of conviction of their belief that organized religion is irredeemably corrupt, giving them one more reason to saturate churches with their absence.  
One can only imagine how the million of Southern Baptist women feel when their own denomination cannot seem to muster enough moral courage to offer a full-throated repudiation of domestic abuse. The denomination holds that God intends for wives to submit to their husbands and has not passed a resolution on domestic violence since 1979.
It's somewhat easier to tolerate disagreement on matters like race when the majority of SBC churches are overwhelmingly white. But when every congregation is at least 50 percent female, domestic abuse hits closer to home. The Southern Baptist Convention simply cannot afford to stand by a leader who has exhibited a decades-long pattern of dangerous comments that appear to trivialize women's suffering.
With their denominational meeting fast approaching, Southern Baptists now find themselves in a situation that is precarious, perilous, and frankly ironic. The man who three decades ago unified his denomination now seems poised and willing to divide it.
With the Southern Baptist Convention fast approaching, their leader, who has trivialized domestic abuse, seems poised and willing to divide it.
American Higher Education Hits a Dangerous Milestone
Posted: 03 May 2018 03:00 AM PDT
Drawing almost no attention, the nation crossed an ominous milestone last year that threatens more economic polarization and social division: For the first time, public colleges and universities in most states received most of their revenue from tuition rather than government appropriations.
This historic shift away from tax dollars funding the bulk of public higher education comes precisely as the nation's youth population is crossing a succession of milestones to become more racially diverse than ever. As statisticians would say, it's an open question whether these twin trends represent an example of causation or just correlation. But whether resources are shrinking because diversity is growing, or the two trends are proceeding independently, their convergence is still a dangerous development—not only for higher education, but also for the nation's economic future.
More diversity among students means higher education is drawing more deeply on those who have faced economic and academic inequities that reduce their odds of success. And yet the taxpayer resources that public institutions are receiving to guide them to completion are diminishing. That's a recipe for widening economic inequality and declining national competitiveness, as kids of color comprise a growing share of the future workforce and tax base.
Over the past several decades, demographic and financial changes have already profoundly reshaped the higher-education landscape. As recently as 2000, white kids comprised over three-fifths of all K-12 public-school students in the United States. But the National Center for Educational Statistics calculates that kids of color became the majority for the first time in 2014, and it projects their share will reach 55 percent within a decade. By June 2025, kids of color will, for the first time, comprise the majority of high-school graduates, the center recently projected. And soon after 2030, minorities—who represented just 30 percent of post-secondary students as recently as 2000 and constitute almost 40 percent now—are expected to become the majority on college campuses, too.
Yet as this transformation has unfolded, states have notably retrenched their support for public higher education. The latest annual survey of state spending by the State Higher Education Executive Officers found that, since 1992, spending per student—measured in inflation-adjusted dollars—has declined at public colleges and universities by about 8 percent (even after a recovery in spending after states' low point in 2012). In turn, per-student tuition revenue has increased by 96 percent.
The result has been an enormous shift in cost from the public collectively to parents and students individually. In 1992, tuition accounted for slightly less than three-tenths of the total educational revenue for public colleges and universities. But by 2017, tuition supplied nearly half of the total revenue. In 28 states last year, tuition provided more revenue than public appropriations, SHEEO found. That was the first time a majority of states funded post-secondary education mostly through tuition.
Over this long transition, neither red nor blue states have covered themselves in glory. But the biggest cutbacks in support have often occurred in states that combine large levels of racial diversity with governments that have been usually (or entirely) controlled by Republicans who rely preponderantly on white voters.
According to the SHEEO report, since the recession in 2008, per-student appropriations for public higher education have declined by around one-sixth in Texas, Georgia, and North Carolina; by over one-fifth in Florida and Mississippi; by over one-fourth in South Carolina; by about one-third in Nevada and Alabama; and by over two-fifths in Arizona and Louisiana.
Some Democrat-leaning states have also implemented big cuts in per-pupil support over that period, including Connecticut, Delaware, and Colorado. But the biggest blue states present some notable exceptions to this pattern. New York, Illinois, and California have all increased per-student spending since 2008; and Oregon, Hawaii, and Maryland have held spending almost steady.
The states that now rely most on tuition to fund public higher education are a mélange of red, blue, and purple places, and in most cases their spending seems to reflect their respective traditions over how to apportion costs between parents and taxpayers. But there have been revealing changes in recent years: Previously unpublished data provided to The Atlantic by SHEEO show that it is primarily Republican-controlled states that have shifted responsibility most rapidly from tax resources to tuition since the 2008 recession. Louisiana, Arizona, Alabama, Oklahoma, West Virginia, Georgia, and South Carolina top that list.
Small-government ideology undoubtedly explains part of this shift. But more academic leaders are openly questioning whether other motivations are contributing to it, too. Michael Sorrell, the dynamic and innovative president of Paul Quinn College, a historically black college in Dallas, is one of them. "There's an argument to be made that part of the reason we see a reduction in support is because the legislators are looking at the students and not seeing themselves," he told me at an Atlantic education-policy summit this week. "Listen, it could be an unlikely happenstance that people are reducing the support of public education when the students are increasingly diverse and increasingly low-income. Maybe."
If Sorrell is right, the irony—and tragedy—is that this cost shift threatens the economic security of not only younger minority families, but also older whites, who will depend on an increasingly nonwhite workforce to pay the taxes that fund their Social Security and Medicare in the years ahead. Nowhere is the interdependence of "the brown and the gray" more apparent than in the need to equip more kids of color with the education to reach the middle class. And yet nowhere is the nation more conspicuously failing to recognize its shared destiny than in the states' faltering commitment to public higher education.
<em>The Atlantic</em> Daily: The Ensuing Chaos
Posted: 02 May 2018 03:09 PM PDT
What We're Following
Legal Developments: Ty Cobb, the head of the legal team representing the White House in Special Counsel Robert Mueller's Russia investigation, is retiring. He'll be replaced by the lawyer Emmet Flood, whose résumé includes significant work on disputes related to executive power in the George W. Bush administration. That—along with President Trump's mounting threats to intervene in the Justice Department—could be a sign that the president intends to take a more confrontational approach to Mueller's probe.
Doctor's Deception? Harold Bornstein, the doctor who released a glowing, controversial health assessment of Trump in 2016, now claims that the then-candidate dictated the letter. James Hamblin writes that allowing such dictation would be "unethical, unprofessional, and dangerous" in any medical professional, but, as Conor Friedersdorf writes, the deception Bornstein alleges is all the more concerning because it had national consequences.
Public Health: A new study finds that highly toxic synthetic opioids such as fentanyl are being mixed more frequently with other, less potent drugs like cocaine and Xanax, causing the number of overdose deaths to grow. And the House is preparing to vote on a draft of the Farm Bill that makes sweeping changes to hunger programs—and could hurt rural areas that already suffer from food-insecurity problems.
---
Snapshot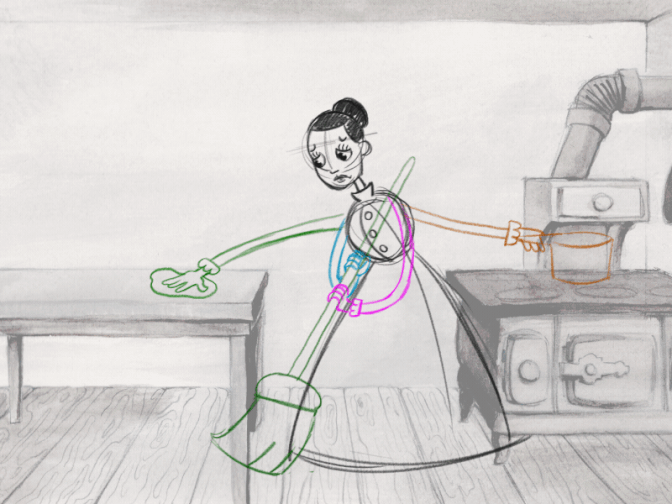 ---
Evening Read
Ian Bogost describes the first encounter between his 81-year-old father, who has been legally blind since age 18, and an Amazon Echo:
"Call it the right name!" my mom shouts as Dad tries to get the device's attention. In response, he adopts an awkward familiarity, nicknaming the Echo "Lexi." Hearing this, I groan. There goes Dad again, trying to be clever, getting it wrong, and relishing the ensuing chaos.

Then I stop myself. Isn't it possible that he expects Alexa to recognize a prompt that's close enough? A person certainly would. Perhaps Dad isn't being obstreperous. Maybe he doesn't know how to interact with a machine pretending to be human—especially after he missed the evolution of personal computing because of his disability. Watching him try to use the Echo made me realize just how much technology forms the basis of contemporary life—and how thoroughly Dad had been sidelined from it.
Keep reading, as Ian describes what voice-activated devices can mean for the blind.
---
What Do You Know … About Science, Technology, and Health?
Ahead of Facebook's annual F8 conference, which was held on Tuesday and Wednesday in San Jose, California, the company's earnings from the first quarter of the year affirmed that its bottom line hasn't suffered from recent data-privacy scandals. Rather, Facebook is ready to launch a set of new services and technologies that blur the distinction between the physical and digital worlds. During a small conversation with news editors on Tuesday afternoon, Facebook CEO Mark Zuckerberg said news organizations offer people merely one opinion, while Facebook offers them many opinions to choose from. To Adrienne LaFrance, the editor of TheAtlantic.com, that view suggests that he doesn't understand what journalism really is—or that he may not care.
Can you remember the other key facts from this week's science, technology, and health coverage? Test your knowledge below:
1. In 2017, Amazon spent $____________ billion on shipping costs.
Scroll down for the answer, or find it here.
2. The Vatican Secret Archives hold ____________ linear miles' worth of shelving, with historical materials dating back more than 12 centuries.
Scroll down for the answer, or find it here.
3. A NASA probe set to launch this summer will come closer than any other spacecraft has to the surface of ____________.
Scroll down for the answer, or find it here.
---
Look Back
In our August 1979 issue, Thomas Powers described the "dirty tricks" of the Central Intelligence Agency:
The business of intelligence has its ugly side ... Clients are sometimes led out onto limbs and abandoned there. Allies of convenience are sometimes addicted to nail pliers and electric needles. Friendly intelligence services, trained by the CIA in computerized file-keeping, sometimes use those computers to pull the names of people they intend to kill. [CIA Director Richard] Helms spent thirty years in this business and accepted it. "We're not in the Boy Scouts," he often said. "If we'd wanted to be in the Boy Scouts, we'd have joined the Boy Scouts." But the evidence, fragmentary as it is, suggests that the CIA customarily drew the line at what is commonly meant by the word "murder." However, in the late 1950s, the CIA began to get orders to kill people.
Read more, share this story, and find more articles from our archives.
---
Reader Response
Every Wednesday, Lori Gottlieb answers reader questions in the Dear Therapist column. Today's dilemma comes from a reader in Austin, Texas, whose girlfriend was accepted to graduate programs in different cities:
As my program will take longer, I think that if we want to transition to a long-distance relationship while she finishes her degree, we would probably want to move in together as I finish mine. She has said that she doesn't want to do that. Instead, she is pushing to remain in the same city the whole time, with me putting off my program until she finishes, and then going "wherever I want" afterwards …

I can't help but see the mismatch here. She is pushing me to defer on my career goals when I don't know if I'll get into the same programs if I reapply in two years. How do you know whether you are asking too much of your partner, or they are asking too much of you, to be together?
Read Lori's advice, and write to her at dear.therapist@theatlantic.com.
---
Verbs
Degree rescinded, continent reshaped, heroes resurrected, acronym redefined.
---
Time of Your Life
Happy birthday to James's partner, Audrey (a year younger than The Cat in the Hat) and to our product manager Andrew (one-fifth the age of The Atlantic). And a happy belated birthday to Mike (twice the age of Wikipedia) from our social editor Stephanie.
---
Meet The Atlantic Daily's team, and contact us.

Did you get this newsletter from a friend? Sign yourself up.
<i>The Atlantic</i> Politics & Policy Daily: Après Cobb, Le Déluge
Posted: 02 May 2018 02:42 PM PDT
-Written by Elaine Godfrey (@elainejgodfrey)
---
Today in 5 Lines
---
Today on The Atlantic
---
Snapshot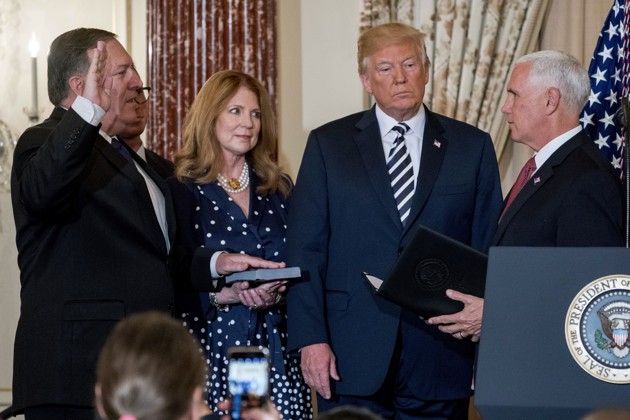 ---
What We're Reading
'The Redistribution of Sex': At a certain point, people will come to agree that a right to sex exists, argues Ross Douthat; in fact, the idea is already reinforced by existing cultural messaging. (The New York Times)
The Best for Last?: There are a few reasons why the special counsel hasn't yet interviewed Ivanka Trump, the family member closest to the president. (Annie Karni, Politico)
Things Are Heating Up in the Russia Investigation: And Special Counsel Robert Mueller probably already knows how it all ends. Here's why. (Garrett M. Graff, Wired)
Here to Stay: House Minority Leader Nancy Pelosi said she fully intends to lead the Democrats if they win back the majority in November. "It's important that it not be five white guys at the table, no offense," Pelosi said. (Liz Goodwin, Boston Globe)
---
Visualized
Animating the Archives: For the first time ever, Atlantic stories by notable writers like W.E.B. Du Bois and Robert Frost are coming to life. (Annika Neklason)
A Mirror Image of 2010: A new analysis of political-donor networks show that this year's Democratic candidates are the most liberal in decades. (Kevin Schaul and Kevin Uhrmacher, The Washington Post)
The 'H' In IMHO Does Not Mean Humble or Honest
Posted: 02 May 2018 02:56 PM PDT
It's impossible not to like imho.
If you've spent any time online, you've seen the word at least a dozen times. It usually sets off an opinion from the text around it: Those jeans don't look very good, imho.
But it's a pliable little devil. Depending on its context, imho can function as a gentle nudge or a punch in the gut. It can ease you into the persuasive mode: This is all smart but imho you need to talk to him again. It can spring-load sarcasm: imho this column is Absolutely Correct. It can set off a punch line: Nuclear war sounds pretty bad imho. Much like lol or omg, it can convey a huge range of possible meanings. It can even be a little phatic.
Yet on Wednesday imho suffered an apparent crisis. Employees at BuzzFeed reportedly could not agree on what the letters in imho represented. Some staffers claimed they meant "in my humble opinion." Others said that imho stood for "in my honest opinion." They turned it into content and posted a poll (which is silly, because democracy alone cannot determine correct usage). The debate soon metastasized across the English-speaking internet.
At press time, their poll showed "honest" in the lead with about 11,000 more votes. Here at The Atlantic, my esteemed colleague Alexis Madrigal has already weighed in on the debate: According to dozens of guidebooks dating back to the early days of the internet, imho stands for "in my humble opinion." What's more, there are many books that list humble alone, and many that list humble and honest. But there are none that list only honest.
Etymologically speaking, Alexis is correct. The h in imho clearly did originate from humble.
But he's wrong about what imho means today. (Sorry, Alexis—I'm just being honest.) Think about it: Honest and humble have two wildly different meanings. They're not even talking about the same quality. Honest conveys something about the truth value of the statement that follows. Humble communicates its tone and emotional charge. If imho could legitimately mean either humble or honest—and half of us have been using it one way, and the other half the other—then we live in semantic anarchy. We were all typing, clickety-clacking with our fingers, but we weren't communicating anything. If imho can mean humble or honest, then the internet is full of noise and empty of soul: little more than a broadband Tower of Babel.
But of course this isn't the case. We all know what imho means. It is a set of letters that can introduce friendly advice, a stern caesura, or a joke. In other words, imho is a word. It joins the many other initialisms that have been ratified into ordinary words: snafu, radar, laser, zip code. Specifically, imho is a discourse marker—a word or phrase like however, well, or anyway that acts as glue in a piece of writing. Imho specifies that a certain phrase is a statement of belief.
And it's a pretty good word imho. It's a lot cuter than the other discourse markers. But then again, what do I know? I'm not a linguist or anything fwiw.
Hiring Emmet Flood Signals a Big Shift for Trump's Defense
Posted: 02 May 2018 02:18 PM PDT
On Wednesday, the White House announced that Ty Cobb, the lead White House lawyer in Special Counsel Robert Mueller's probe, is retiring. He will be replaced by Emmet Flood, a veteran Washington lawyer. Headlines highlighted the fact that Flood, who currently works at Williams & Connolly LLP, represented President Bill Clinton during his impeachment trial.
But one of Flood's other experiences may be more crucial to reshaping the Trump White House's legal strategy: Flood worked for two years in George W. Bush's White House Counsel's office, where, according to his current bio, he "had lead responsibility" in "executive-privilege-related disputes." On Wednesday, MSNBC's Nicolle Wallace reported that Flood's addition to the team signals a decision to "exert executive privilege more aggressively."
Executive privilege, when invoked, allows presidents to retain certain executive-branch communications, shielding them from Congress or the federal judiciary. The theory is that presidents require candid and unvarnished advice in order to govern effectively. But asserting executive privilege to fend off requests from Mueller would mark a dramatic shift for the White House's legal strategy.
Cobb, by contrast, counseled maximal cooperation with Mueller. In a statement released Wednesday, Cobb insisted his departure shouldn't be viewed as a signal the White House is "going to war." He continued: "The key point is all the documents requested by the special counsel were produced by late October. All the interviews with White House personnel were conducted by late January. The bulk of the work was done." The Times reported Wednesday that White House Counsel Don McGahn thought Cobb shouldn't have so readily provided documents to the special counsel—and instead should have explored using executive privilege.
That lines up with the approach of Bush White House lawyers in 2007—Flood among them—who aggressively asserted executive privilege. Norm Eisen, the Obama White House's ethics czar, tweeted that Flood's showdown with Mueller "will be a fight for the ages."
The 2007 case was a congressional probe into the Bush administration's midterm firings of nine U.S. attorneys. The firings, which took place in December of 2006 and into 2007, were suspected of being—and later found to be—politically motivated, and struck many as a blow against the independence of the Department of Justice without recent precedent. Democrats on the Senate Judiciary Committee soon opened an investigation into the dismissals.
Bush's legal team fought back by attempting to block subpoenas related to the investigation. Time reported that Bush had "stiff-armed" the congressional committees, "dispatching" his lawyer to assert executive privilege and to refuse to comply with the demands, which included handing over documents and hearing testimony from two top officials. Democratic Senator Patrick Leahy, the Judiciary Committee chairman at the time, called the tactic "Nixonian stonewalling."
Ultimately, a judge struck down Bush's claim of executive privilege, and ordered the two officials to testify. Nevertheless, the executive-privilege claim delayed the investigation; the judge didn't rule out the executive-privilege claim until August 2008, more than a year after Bush's lawyers first invoked the privilege.
In October of that year the White House turned over some email communications to a special prosecutor, but withheld other internal documents. Flood, by then deputy White House counsel, carefully stipulated that the documents were "covered by the deliberative process and/or presidential communications component of executive privilege in the event of a demand for them by Congress."
It is possible that Mueller could subpoena Trump to testify, although whether he has the power to do so is an unsettled legal question. Laurence Tribe, a law professor at Harvard University, tweeted that "Trump will argue no president has been compelled to appear before a grand jury in person" but that "Jefferson and Nixon were compelled to produce documents and tapes, and Clinton negotiated a 'voluntary' appearance. I don't see a difference—but others do." If Trump's legal team were to try to claim executive privilege, the 2007 precedent suggests that the claim might not ultimately succeed in court. But it could certainly buy the president, and his new attorney, some time.
'Take Me From Here. I Will Die Here.'
Posted: 02 May 2018 02:10 PM PDT
In 2013, Laura Wadha, who is half-Syrian and half-Scottish, enrolled in film school in the UK. Her grandfather offered some resonant parting words: use filmmaking to help people. "I immediately thought of my family in Syria," Wadha told The Atlantic.
Thus began the four-year process of making Flight, a heartrending short film that follows Wadha's aunt, Eman, and two young cousins, Mera and Maria. "I'm waiting for them to kill us," Eman says at the beginning of the film. "If I want to go now, I have to go to Athens by sea. There's a lot of people killed, but this is the only way. So I have to do it."
Told largely through Skype, VHS tapes, and iPhone footage, the documentary chronicles the family's dangerous escape by boat from the war-torn country. They arrive safely, albeit dejected, in Greece.
When we meet the girls again, they can speak Swedish. "I am so happy that I am in Sweden, and I don't care if anyone says, 'You are from Syria,'" says Mera. "Even if they say Syrians are dirty…. I know what I am and I don't care. I just know I finally made it."
But the relief of sanctuary fades as the girls struggle to find their place in the new country. At night, they dream of war. At school, they are outsiders. "I don't like it when people ask me about Syria," says Maria. "When I talk about it, I feel like I want to cry. Sometimes I say, 'Imagine this happened to you. Would you like it if people asked you about it?'"
Some months later, Maria will say, "I don't want to be Arabic anymore."
In mourning the death of a nation—of a heritage, of a home—through the eyes of young children, Wadha's film is a humanizing antidote to the often anonymous coverage of the Syrian civil war. "I realized that it was almost impossible to relate to the Syrian people based on what we were seeing in the news," Wadha said. "The Syria I know is completely unrecognizable in the media—the beautiful streets and ancient monuments, the history and culture. With Flight, I hope the audience will catch a glimpse of the Syria that I knew."
Cosby's Honorary Degree Is the First Yale Has Rescinded in 300-Plus Years
Posted: 02 May 2018 01:50 PM PDT
Yale has doled out more than 2,500 honorary degrees since it was founded in 1701. On Tuesday, Bill Cosby, who had an honorary doctorate of humane letters from the university—the kind awarded to people who have made "contributions to society"—conferred upon him in 2003, became the first person in the institution's history to have his rescinded.
The decision was "based on a court record providing clear and convincing evidence of conduct that violates fundamental standards of decency shared by all members of the Yale community, conduct that was unknown to the board at the time the degree was awarded," Tom Conroy, a university spokesman, said in a statement. He further noted that the university "is committed to both the elimination of sexual misconduct and the adherence to due process," adding that the university was reaffirming its commitment to those goals by pulling the honor.
But the decision to rescind the doctorate—and turn back on centuries of precedent—does something else as well: It underscores the gravity of the crimes of which Cosby has been found guilty, and the pressure upon universities to signal they are taking the issue of sexual abuse on campus seriously.
Revoking an honorary doctorate is rare in higher education, so Yale's more-than-300-year streak of never having done so stood out—alongside those of the nation's oldest colleges, Harvard and the College of William and Mary. So it was news last week when Yale announced, after Cosby's guilty verdict came in, that it would consider withdrawing honorary degrees it had given out. Over the years, by Inside Higher Ed's count, Cosby has been the recipient of at least 60 honorary degrees, and dozens of colleges had already revoked the honor before Yale did—including Cosby's alma mater, Temple University, which did so last week. Students had been calling for Yale to yank the honor since 2014, when allegations against Cosby began to resurface.
It wasn't the first time Yale's students had expressed sharp displeasure with someone the university had chosen to honor. In 2001, students protested as George W. Bush, a Yale alum, received an honorary doctorate. And earlier this month, alumni renewed calls for the university to rescind the honorary degree of Stephan Schmidheiny, who was convicted six years ago for his responsibility in the deaths of more than 2,000 people from asbestos-related diseases.
Across the Ivy League—and higher education more generally, which has grown ever more generous with giving honorary degrees to celebrities—the degrees are not often pulled, outside of particularly serious circumstances. For example, the University of Massachusetts revoked one such degree given to Zimbabwean President Robert Mugabe in 2008, calling his leadership "an assault on human rights." And in 1918, the University of Pennsylvania revoked an honorary doctorate it had conferred upon German Kaiser Friedrich Wilhelm II after World War I. Wilhelm and Germany's then-ambassador to the United States, Johann Heinrich von Bernstorff, were the last names stricken from the rolls of honorary degree recipients at Penn prior to Cosby and Steve Wynn, the embattled hotelier, who also lost his degree last week.
As my colleagues Adrienne Green and Alia Wong noted in 2015, "many of the universities who've granted Cosby their highest honor are also struggling to convince the public of their commitment to eradicating campus sexual assault. Retaining any affiliation with an alleged rapist could be seen as disingenuous." In the era of #MeToo and a heightened concern about colleges' commitment to curbing sexual violence—particularly following the Larry Nassar scandal, and the fear of how the landscape for federal policy guiding sexual assault on campus will look after a rollback of Obama-era rules by Education Secretary Betsy DeVos—schools are being forced to make such symbolic decisions with ever more urgency.
100 Years Ago: France in the Final Year of World War I
Posted: 02 May 2018 02:26 PM PDT
The American photographer Lewis Hine is perhaps most famous for his compelling images of child labor across the United States in the early 20th century. In 1918, Hine was hired by the American Red Cross to document their work in Europe, as they provided aid to wounded soldiers and refugees affected by World War I. The photographs were also intended to drum up support for the Red Cross, and appeal to an American audience back home who had grown weary of the war, even as it crawled toward a close. Hine traveled across France, photographing refugee families, orphaned children, wounded and shell-shocked soldiers, the nurses and volunteers who cared for them all, the ruined buildings they fled, and the temporary homes they filled. Take a moment to step back in time 100 years, for a visit to France in the final year of World War I, seen through the lens of Mr. Lewis Hine, with original (sometimes dated) captions included when available.
Afghanistan Takes a Bloody Path to Pursue Peace
Posted: 02 May 2018 01:20 PM PDT
The years keep passing with the United States in Afghanistan—nearly 17 in all now—and the death toll keeps climbing. This week it was twin suicide bombings in Kabul that killed 25 people, including nine journalists, plus an attack on a military convoy in the country's south that wounded several Romanian service members and killed an unknown number of children nearby. American soldiers, too, despite having drawn down their presence, continue to die there—two of them have been killed in the country this year, most recently a 22-year-old Army specialist who died east of Kabul this week. All of this comes as the government makes overtures to seek peace with the Taliban. The natural question after a week of violence like this is: Is the pursuit of peace growing hopeless?
The battle has been complicated by the fact that it's not simply one between the government and the Taliban. A branch of the Islamic State claimed responsibility for Monday's attack. Soon after the group had appeared in Afghanistan, U.S. defense officials had dismissed its numbers, repeatedly claiming that U.S. strikes had decimated the group. A year later, ISIS is not only alive in Afghanistan, it has repeatedly shown its ability to strike at the heart of the Afghan state.
The Taliban, meanwhile, hasn't been idle. The group announced its annual spring offensive on April 25, two months after President Ashraf Ghani made an unconditional offer of talks with the militant group. The fact that the Taliban did not reject the offer outright was seen as a sign of promise, but in recent days and weeks, the militants have attacked several sites across Afghanistan, targeting civilians.
Speaking Monday at the U.S. Defense Department, James Mattis, the defense secretary, said both the Taliban and ISIS have a goal to "destabilize the elected government." And he played down expectations, however modest, that Ghani's offer of talks could help the country move toward peace.
"We said last August NATO is going to hold the line, we knew there would be tough fighting going forward," he said, adding: "The murder of journalists and other innocent people is a great testimony to what it is we stand for and more importantly what we stand against. We anticipated and are doing our best and have been successful at blocking many of these attacks on innocent people, but unfortunately once in a while they get through."
If that sounds too modest for the Afghans dying as a result, it's also true that the increase in Taliban-related violence does not necessarily mean that any incipient peace process is dead. Laurel Miller, who until last year was the acting special representative for Afghanistan and Pakistan at the U.S. State Department, told me that "it's not unusual for there to be peaks of violence" even as a side considers entering negotiations. The violence, she said, is one way to try to gain more negotiating leverage.
"I wouldn't draw a conclusion that a spike in violence means that prospects of peace have necessarily diminished," Miller, who is now a senior political scientist at the RAND Corporation, said. But, she added, such violence does shrink the political space the parties have to reach out to the other side. "It is possible that the high-profile attacks could limit President Ghani's space for being seen to be reaching out to the Taliban," she said.
At the same time, the three main parties to the conflict—the Afghan government, the Taliban, and the U.S., whose 2001 invasion ousted the Taliban regime—are locked in a military stalemate. The Afghan government might not be strong enough to hold the country on its own, its defense force might be shrinking, and it may still be far short of its military recruitment goals, but the U.S. military presence—in the form of 15,000 personnel—helps. On the other hand, while the Taliban might be at the receiving end of U.S.-supported firepower, according to the Special Inspector General for Afghanistan Reconstruction (SIGAR), the independent U.S. government watchdog, it controls 14.5 percent of Afghanistan's districts. (SIGAR says the Afghan government controls about 56 percent; the rest are contested.) The number of districts controlled by the Taliban is the highest recorded by SIGAR since it began receiving such data. Conversely, however, the Afghan government was found to control or influence about 65 percent of the population between October and January. It was previously 64 percent. (The Afghan government controls all the large cities and towns.)
Writing in The National Interest last week, Miller and Stephen Watts pointed out that "military stalemate is an essential precondition for negotiated conflict resolution, and the war has been stalemated for nearly a decade already." Miller acknowledged to me that that it is hard to start a "major diplomatic initiative and see it through to a successful conclusion." But, she said, it is "necessary to go down that path."
The Trump administration's own view of what the U.S. is doing in Afghanistan is hard to decipher. Donald Trump, as a presidential candidate, said repeatedly he believed the U.S. should withdraw from the country. But one of his first foreign-policy speeches was his unveiling of a new South Asia strategy that called for more troops, increased pressure on Pakistan to curb the Taliban, and helping the Afghan forces fight the Taliban "in order to drive them to the negotiating table." And then The Washington Post reported this week that Trump told Senator Rand Paul, the Republican from Kentucky, that U.S. troops would leave Afghanistan soon. No specific date was discussed.
When asked about Trump's reported remarks, Mattis said U.S. plans in Afghanistan had not changed. "We're there to do a job. We're not there to stay forever. But the job comes first," he said. "Matter of fact, we have a number of nations looking to add forces as we speak."
Additionally, the president has two new members of his national-security team: John Bolton, who took over from H.R. McMaster as national-security adviser, and Mike Pompeo, who replaced Rex Tillerson as secretary of state. Neither man has said anything publicly about his view on what U.S. policy in Afghanistan should be. "The team is newly in place so it's logical that there will be fresh consideration about the administration's policy approach to Afghanistan generally and toward mounting a peace process," Miller told me.
Meanwhile, though, there are the frequent and violent reminders of "what we stand against," in Mattis's words. Americans continue to pay with their lives for that. But as ever, it's Afghans who will keep bearing most of the costs, with or without the United States.
There Is Only One Thing IMHO Can Mean
Posted: 02 May 2018 02:48 PM PDT
Those lovable scoundrels at BuzzFeed, as they are wont to do, have kicked up a new controversy about the breakdown of our shared reality in this time of dislocation and doubt. They have asked people to settle, via internet poll, what the correct meaning of IMHO is.
If you, like me, grew up on the bulletin-board systems (BBSs) and forums that predated the web, you might be scratching your head. IMHO has only one meaning: in my humble opinion. It has always been this way. Though "in my humble opinion" is a phrase people occasionally uttered through history, its current prevalence seems to have originated online. This acronym is a part of the ironic ur-voice of internet communication, honed on Usenet forums about VHS tapes (no, seriously, that's what the Oxford English Dictionary cites as the first usage) and other nerdy arcana.
Now, along come these clever content creators asking the question: Does IMHO mean "in my humble opinion" OR "in my honest opinion"? And to my horror, roughly one-third of The Atlantic staff thinks the answer is honest, not humble. Sit down, guys, be humble!
And luckily, we have an excellent resource to prove what the meaning of the acronym really is. During the 1990s, a whole bookshelf worth of books (and some magazines) were published as guides to this exotic place called the internet and they almost always included a glossary of slang so you wouldn't type like a newbie ("one new to the Net").
The earliest glossary I found was from a 1986 PC Magazine. This one is particularly interesting because it contains now commonplace acronyms alongside lost ones that are just horrifying:
BTW: by the way
CUL: see you later
FWIW: for what it's worth
GMTA: great minds think alike
HHOK: ha ha only kidding
IMHO: in my humble opinion
This is good evidence that 2018 could be worse. HHOK could be in regular circulation. But praise be, it's not. And the point is that by 1986, "in my humble opinion" was already part of the glossaried slang of the "Net."
But it doesn't stop there of course.
1990's The Macintosh Way and Inside Compuserve both contain examples of correct IMHO usage, as does 1991's The First Book of the Mac, 1996's More Modems for Dummies, 1996's The Internet Complete Reference by Harley Hahn, and 1999's Teach Yourself the Internet for Students.
Now, "honest" apologists can take some succor. In many slightly later internet guides, both possible meanings are presented. Take 1993's Jargon by Robin Williams (not that one). Here, in the spelled-out dictionary, IMHO is defined thusly:
This little acronym, IMHO, stands for in my humble opinion. It's often used as a typing shortcut in online communication. When it is capitalized, you are shouting. You might also see the term imnsho, which stands for in my not-so-humble opinion.
Now, capitalizing IMHO no longer indicates shouting (although who capitalizes anything anymore amirite?), but humble is the clear first meaning. However, in the listing of acronyms, Jargon does allow for the secondary meaning "in my honest opinion."
Many books, it turns out, list first humble, then honest, including 1994's The Net After Dark and Internet Essentials, 1995's World Wide Web Secrets, 1996's How to Get Your Dream Job Using the Internet, 1997's BeginnerNet, and 1998's Understanding and Using the Internet.
But it should be noted that many books list humble alone, while no book lists honest alone. If I had to guess how these dueling definitions came to be, I'd say that IMHO, which developed as a way to reduce miscommunication through the indication of a lighthearted, ironic tone, became itself a form of miscommunication, as those unfamiliar with the original meaning backed into one, inserting honesty where humility once stood.
IMHO, there is no debate. But it's the internet, so of course there is a debate.
Trump Goes to War With Mueller
Posted: 02 May 2018 03:51 PM PDT
Updated on May 2 at 3:05 p.m.
When the president of the United States says repeatedly that he's going to do something, it's probably because he intends to do it.
Donald Trump lies repeatedly, but on big issues he tends to follow through, or try to follow through, on what he promises. Trump has now several times indicated his intention to meddle in the Justice Department and with the special counsel probe investigating him in order to protect himself. That, combined with a leak earlier this week and a shake-up on his legal team, point to the president escalating his skirmish with Robert Mueller and the Justice Department into a full-blown war.
Wednesday morning, Trump tweeted, "There was no Collusion (it is a Hoax) and there is no Obstruction of Justice (that is a setup & trap)." Three hours later, he added:
A Rigged System - They don't want to turn over Documents to Congress. What are they afraid of? Why so much redacting? Why such unequal "justice?" At some point I will have no choice but to use the powers granted to the Presidency and get involved!

— Donald J. Trump (@realDonaldTrump) May 2, 2018
This is at least the third time in a week that Trump has said he intends to intervene in the Justice Department. Last week, he told the hosts of Fox and Friends, "I have taken the position, and I don't have to take this position and maybe I'll change, that I will not be involved with the Justice Department." A few minutes later, he added, "Our Justice Department, which I try and stay away from, but at some point I won't, our Justice Department should be looking at that kind of stuff, not the nonsense of collusion with Russia."
(Trump's comments about redactions are confusing. He has attacked former FBI Director James Comey for releasing memos he claims are classified, and briefly blocked a Democratic memo from the House Intelligence Committee over its inclusion of classified information, yet he grandstands against redactions insisted upon by his own Justice Department.)
The president hasn't made explicit what he intends to do when he steps in, but the most obvious guesses are that he would fire either Deputy Attorney General Rod Rosenstein or else Mueller himself. On Tuesday, Rosenstein said, "There are people who have been making threats, privately and publicly, against me for quite some time. I think they should understand by now the Department of Justice is not going to be extorted. We're going to do what's required by the rule of law."
As for Mueller, Trump not only called his apparent obstruction-of-justice investigation a trap, but also tweeted a quote from Joe DiGenova, a lawyer who nearly joined Trump's legal team and who views the special counsel as a deep-state conspiracy.
Trump has run hot and cold about the Mueller investigation, often calling it a "witch hunt," in several typographical variations, but also expressing a strong desire to sit for an interview with Mueller. (Mueller does not comment publicly.) Yet events over the last week, in addition to these threatening quotes, suggest the White House is moving from a strategy of cooperating with the probe in an effort to put it in the past as quickly as possible, to take a far more aggressive stance toward the special counsel.
Begin with a bombshell New York Times report Monday, which revealed a set of questions, compiled by Trump's lawyers, that Mueller wanted to ask Trump. The list appears to have come from an ally or aide to the president: "That document was provided to the Times by a person outside Mr. Trump's legal team," the paper explained. Several other outlets also acquired it. But subsequent reporting from The Washington Post says the document actually represented "a list of 49 questions that the team believed the president would be asked," prepared by Trump attorney Jay Sekulow.
Why would the Trump team leak the list of questions it merely "believed" the president would be asked—which, as my colleague Adam Serwer reports, gestures at major dangers for the president—to the press? Only the sources themselves can speak definitively to their motivation, but the disclosure invigorated Trump's defenders on cable news and elsewhere. That produced a feedback loop: The leak of questions from the White House inspired angry reactions from the likes of Jesse Watters and Joe DiGenova; Trump then amplified DiGenova's attacks on Mueller; and the press rushed to cover the controversy. With Trump's media protectors taking to the barricades, he gained more cover to refuse to cooperate with Mueller.
Following the list of questions, the Post reported that during negotiations with Trump's team, Mueller had threatened to use a subpoena to compel the president to testify. Such a step would be highly unusual, and certain to infuriate Trump, but precedent from 1974's U.S. v. Nixon (yes, that Nixon) says the president must comply. Wednesday morning, former Trump lawyer John Dowd confirmed to ABC News that Mueller had raised the idea of a subpoena. Once again, it's curious that Trump's former lawyer would disclose this—but it creates an opportunity for Trump's current team to push back in the court of public opinion, trying to either force Mueller to agree to a limited interview, or else to wage a political war by trying to refuse.
In fact, Rudy Giuliani, a new addition to the Trump legal team, told the Post's Robert Costa Wednesday afternoon, "Some people have talked about a possible 12-hour interview. If it happens, that's not going to happen, I'll tell you that. It'd be, max, two to three hours around a narrow set of questions." He added, "They are going to need to narrow, to a great extent, the questions."
Meanwhile, the administration announced Wednesday afternoon that White House Special Counsel Ty Cobb, the attorney who has been most insistent about cooperating with Mueller all along, will be leaving the White House.
Curiously, Cobb spoke with ABC News Wednesday morning, in the wake of Trump's latest threats, and again insisted that cooperation was possible. "It's certainly not off the table and people are working hard to make decisions and work towards an interview," he said. He reportedly made no indication that he was on his way out, even though that announcement came within hours, and the White House said it had been planned. "For several weeks Ty Cobb has been discussing his retirement and last week he let Chief of Staff Kelly know he would retire at the end of this month," Press Secretary Sarah Sanders said in a statement.
Cobb's exit, following Dowd's in March, seems to mark the demise of the faction of Trump defenders who wanted to work with Mueller. Naturally, he denied that in an interview with CBS News's Major Garrett. "People will think this means we're going to war but I would not read that into this," he said, adding that "the bulk of the work was done." But Cobb has been predicting an imminent end to the inquiry since last year, too.
Cobb will be replaced by Emmett Flood, White House Press Secretary Sarah Sanders said in a statement, who will join the president's team "to represent the President and the administration against the Russia witch hunt." Flood is a top Washington lawyer who previously represented President George W. Bush amid congressional investigations, and was also a member of President Bill Clinton's team during his impeachment. (In March, when the Times reported on discussions with Flood about joining the legal team, Trump furiously denied it.)
Flood's hiring looks like an indication of growing seriousness by the president, much like the April hiring of Marty and Jane Raskin, a husband-and-wife team of lawyers with experience defending public officials. Yet Trump has a long way to go on getting serious: As Bloomberg reported, Cobb had a security clearance, but none of Trump's personal lawyers were cleared to view sensitive documents, hobbling their ability to defend him. That includes Sekulow, who is a First Amendment lawyer by trade. It also remains to be seen whether Trump will take Flood's advice seriously. He has tended to discount the advice of lawyers in his public and private handling of the Mueller probe, and often continues to confer with lawyers who represented him previously. In part for this reason, a large number of noted white-shoe lawyers have removed themselves from consideration to represent Trump.
The Flood hiring suggests a more confrontational approach. Giuliani told Costa,  "Jay had the most to do with it. Jay felt that he needed someone that was more aggressive."
It stands to reason that Trump would seek an aggressive attorney, since all of his other moves in the last week indicate a decision to fight a war against Mueller, rather than seek a negotiated path. No one other than Trump, and possibly (though not necessarily) his lawyers know what he is seeking to conceal from Mueller, but there's something from which he feels he must protect himself, and he is willing to take large legal risks, and to undermine rule of law, to do so.
What is at the end of this path? Is it a battle in the courts over whether Mueller can subpoena him? Is it firing Mueller? Is it firing Rosenstein, with an eye to limiting Mueller's scope? It's too early to answer these questions, and besides, Trump has already sought to fire Mueller twice and backed down, so even his own decisions are often not final. Regardless, the president has made explicit that he intends to meddle in the probe, and so it should come as no surprise when he eventually does so.
'We Will Not Negotiate Under Threat'
Posted: 02 May 2018 10:56 AM PDT
At the last minute, the United States this week deferred a decision about whether to subject Europe to steel and aluminum tariffs. Trump at first announced sweeping and expensive measures designed to discourage imports of those products to the United States from around the world, but soon began distributing exemptions to some allies. The European Union thus got a reprieve, but when it came time for Trump to decide whether to make it permanent, he instead extended it for 30 days—within which time, perhaps, he expects negotiators to be able to convince the Europeans to submit to Washington's demands.
But the Europeans don't seem interested. European leaders like France's Emmanuel Macron and Germany's Angela Merkel lobbied hard during their respective trips to Washington last week in order to secure permanent EU exemptions to the tariffs, warning that the U.S. risks starting a "trade war with your ally" without one. In response to the 30-day extension Tuesday, Brussels struck an indignant note, declaring in a European Commission statement that "as a longstanding partner and friend of the U.S., we will not negotiate under threat."
Ultimately, what the U.S. wants is for all countries seeking exemptions from its tariffs to submit quotas or other restrictions on how much aluminum and steel they are allowed to export to the States. It's a trade-off that Peter Navarro, the White House trade adviser, said is "necessary to defend the aluminum and steel industries from imports in defense of our national security." U.S. Commerce Secretary Wilbur Ross offered a similar rationale, stating Tuesday that the U.S. has "no intention of protracted extensions," even for its allies.
This approach has earned the U.S. some concessions elsewhere. In late March, South Korea announced that it reached an agreement in principle with the U.S., under which it would be exempt from tariffs in exchange for a 30-percent reduction on Korean steel shipments to the states. South Korea also agreed to double the number of U.S. cars it imports and allowed the U.S. to extend its 25-percent tariff on Korean pickup trucks until 2041. The White House said it has reached similar deals with Argentina, Australia, and Brazil.
But the EU is a different matter, and not just because the bloc has so far refused to negotiate without securing permanent exemptions first. For one, negotiating with a bloc of 28 countries (as opposed to one) is inherently more difficult, as the collective body is less likely to submit to a deal that favors one party over the rest. Moreover, the EU is a larger economy than the U.S. and is the U.S.'s largest trading partner (having exchanged upwards of $700 billion worth of trade last year). Trump bemoaned the bloc's $150.9 billion trade surplus with the U.S., and has expressed equal frustration over his inability to negotiate bilaterally with individual EU countries—something the president was apparently unaware of before Germany's Merkel explained it to him last December. "The trade with France is complicated because we have the European Union," Trump told reporters last month. "I would rather deal just with France. The union is very tough for us."
André Sapir, a senior fellow at the European economic think tank Bruegel, told me such a deal is also less likely to happen because it's not in the bloc's interest to establish that kind of precedent. "You would open the door for further such requests from the U.S. down the road," Sapir, a former economic adviser to the president of the European Commission, said, adding: "First it's steel, then it's God knows what in six months. On what grounds do we know there won't be further requests?"
And the bloc has leverage of its own. It already has a plan for how to respond to the tariffs if they fail to secure a permanent exemption: It will retaliate. Specifically, the EU has threatened to tax $3.5 billion worth of hundreds of American exports—in ways that could specifically hurt the livelihoods of American voters in key areas of the country—ranging from bourbon whiskey to Harley Davidson motorcycles. The EU imposed similar retaliatory measures the last time the U.S. threatened to impose steel tariffs in 2002. Then-President George W. Bush ultimately backed down.
Still, Trump has shown no indication that he will follow his predecessor's path, nor has the EU suggested it'll deviate from the one it followed in 2002. Though some industries, such as Germany's automobile industry, would be hit more than others, it's hard to predict exactly how higher tariffs will impact the EU and U.S. economies. Fredrik Erixon, the Director of the European Centre for International Political Economy, a Brussels-based think tank, told me "the general conclusion is that it's the party that introduces them that loses the most." He added that the greatest threat isn't the steel and aluminum tariffs themselves, but the tit-for-tat trade war that they could provoke. "It's virtually impossible to try and figure out who would lose the most because both parties would lose tremendously from a development like that." As of now, they're headed for precisely that kind of collision.
The Hard-to-Trace Ingredient Behind Skyrocketing Cocaine Deaths
Posted: 02 May 2018 10:42 AM PDT
In the United States, more people are dying because of synthetic drugs like fentanyl than because of heroin or prescribed painkillers. While, to many, the opioid crisis has been synonymous with heroin and prescription pills, a report published Tuesday in JAMA Psychiatry builds the case that the class of synthetic drug is increasingly making its way into other drugs like cocaine and leading to overdoses. From 2010 to 2016, more and more overdose deaths have been found to be caused, at least in part, by drugs like fentanyl.
In a way, this isn't exactly news. The same data the study used was reported on late last year with the shocking headlines that synthetic opioids like fentanyl have overtaken heroin as the source of opioid deaths. But, according to Wilson Compton, one of the new report's authors, his study zeroes in on a particularly insidious aspect of the drug: the increased risk it poses to people who seek out drugs like cocaine and Xanax and end up with fentanyl-laced products that could kill them in as fast as a few minutes. For example, in 2016, nearly a third of the people in the United States who were declared dead from overdosing on benzodiazepines—drugs like Xanax and valium—had also ingested fentanyl or something like it.
"Of the 42,000 overdose deaths reported in our country in 2016, about 19,000"—almost half—"were related to fentanyl," Compton said in a video statement. By examining records from coroners' offices around the country—agencies whose job it is to pronounce and document deaths—the study shows that 15,469 overdose deaths were due to heroin and 17,087 were due to prescription opioids like oxycontin. But the most, by far, were due to synthetic opioids like fentanyl.
The severity and speed of the problem raises the question: How did fentanyl come to take so many lives?
As a synthetic opioid, fentanyl and its variants fall into the same chemical class as heroin and prescription opioids like oxycontin. Originally intended to manage severe pain before and after surgery, fentanyl is much stronger than heroin. As Compton tells me, "a teaspoon of fentanyl is about equivalent to a cup of a heroin." More precisely, 3 milligrams of fentanyl is as potent as 30 milligrams of heroin.
Deaths due to fentanyl have not been as well documented as deaths due to heroin. And, given that fentanyl is often mixed with other drugs like cocaine and benzodiazepines, it's been even harder to keep record. Compton says the first significant outbreak of fentanyl use that researchers were aware of happened in 2006. Both Compton and Sarah Wakeman, the head of the Substance Use Disorders Initiative at Massachusetts General Hospital, locate the true uptick of overdoses that involve fentanyl-like drugs around 2011.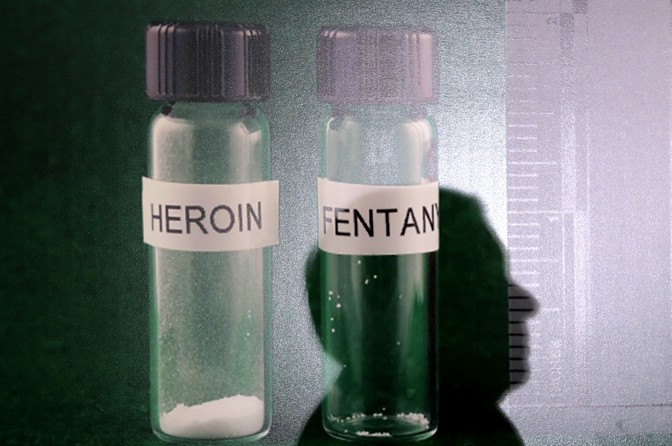 Traci Green, an epidemiologist at Brown University in Rhode Island—one of the first states in the U.S. where fentanyl hit hard—recalls what seemed like a disturbing, isolated incident in 2013: Fourteen people in the state died within several months of each other after overdosing on a batch of heroin laced with synthetic opioids. "It was like the romaine-lettuce outbreak, except there were deaths," Green says. Then, things got worse. "Rhode Island was, if you will, a canary in the coal mine," she continues. "We had a sense something bad was happening, and it wasn't going away."
"Even between 2014 and 2016, there's just been a dramatic change," Wakeman says, noting that overdoses, both lethal and nonlethal, increasingly seem to be due to fentanyl.
Both Wakeman and Green say there was nothing that surprised them about these findings, since they've been aware of the problem as it's emerged over the past decade. "I do think it hammers home the fact that what's killing people right now is not prescription opioids," Wakeman says. "It really is an issue of the illicit-drug supply being tainted."
This week, Buzzfeed told the story of a woman who almost died from unknowingly taking cocaine laced with fentanyl. She started using cocaine in the first place in an effort to wean herself off of heroin. As Mother Jones has reported, the number of overdoses in which people are unknowingly using tainted cocaine has risen over recent years—and seems to be disproportionately affecting black people who were not intending to use opioids.
Wakeman suggests a few ways to help people who are inadvertently taking drugs tainted with fentanyl: freely providing kits for people to test their drugs for fentanyl; opening safe-consumption centers; making medication-assisted treatment, or MAT, a proven treatment for those with an opioid addiction, available as soon as possible. These are the same solutions, she says, that could help all drug users.
Compton emphasizes the importance of making naloxone (a.k.a. Narcan)—a drug that is capable of preventing death by opioid overdose—as widely available as possible.
Whatever steps might ease the problem, the cause is still unclear. As the Buzzfeed investigation points out, there's no clear reason why fentanyl has made its way into the illicit supply of cocaine. That the CDC data doesn't distinguish between overdoses in which people intentionally or accidentally mixed cocaine and fentanyl makes it harder to figure out.
"We have been in the dark with overdose surveillance, both fatal and nonfatal, and that's one of the reasons we're in this pickle," Green says.
As Compton and his coauthors point out, the figure they came up with is likely an underestimate: In 15 to 25 percent of death certificates examined, the kind of drug involved in the overdose was not specified. So fentanyl and fentanyl-like drugs (as well as other opioids) may have been involved in even more deaths. But, to really tease this out, "the public needs better data, more transparent data, and more consistent data," Green says.
"And with fentanyl—good grief—we need it more than ever."
Posted: 02 May 2018 09:25 AM PDT
Harold N. Bornstein, a New York gastroenterologist, released a 2015 statement to his fellow citizens about the health of a presidential candidate. "I have been the personal physician of Mr. Donald J. Trump since 1980," he wrote. He reported that across those decades, his patient had "no significant medical problems," that an exam showed "only positive results," and that "his physical strength and stamina are extraordinary." If elected, he concluded, "Mr. Trump, I can state unequivocally, will be the healthiest individual ever elected to the presidency."
The statement triggered suspicion at the time. That isn't how doctors speak. And how could any doctor accurately identify the healthiest person ever elected president? The letter sounded like the sort of thing that a hack propagandist would write. And Trump would go on to make Hillary Clinton's health a campaign issue.
My colleague James Hamblin, who possesses a medical degree and doesn't suffer fools, would publish a prescient August 2016 article, "The Bizarre Words of Donald Trump's Doctor," noting, "To readers with a keen eye, the hand of Trump might seem evident, particularly the descriptors." He added, "So, is Trump in good health? There is no legal requirement mandating transparency in that regard. With the bizarre letter before us, he has not been transparent. That may be the best that can be said. I'm less concerned with his health than his character." (As scathing was National Review's Charles C.W. Cooke, who turned to satire.)
Traditionally, magazines have given informed staffers the leeway to share considered judgments of that sort with readers in service of helping them to understand the world. In contrast, newspapers, TV networks, and NPR have shied away from rendering such judgments in deference to longstanding aspirations to "objectivity."
Both approaches have their place.
In the case of the physician's letter, the norms of some major news organizations caused journalists confronted with obvious bullshit to publish under headlines like these:
ABC News: "Trump Would Be 'Healthiest Individual Ever Elected' President, His Doctor Says"
NBC News: "Trump's Physician Says His Health Is 'Astonishingly Excellent'"
CBS News: "Doctor says Trump would be 'healthiest individual ever elected' to presidency"
USA Today: "Doctor says Trump would be 'healthiest individual ever elected to the presidency'"
NPR: "Doctor: Trump Would Be 'Healthiest Individual Ever Elected' President"
Some outlets signaled in the body of their stories that readers should be skeptical. "The full letter is written in true Trumpian fashion, full of hyperbole and boasting of greatness," NPR noted. "The whole letter is very odd, and very unlike ones typically released by presidential candidates—though Trump of course hasn't followed a typical campaign model by any means." Others, like ABC, published credulous items.
Come August 2016, Bornstein was still claiming authorship of the letter. "I thought about it all day and at the end, I get rushed, and I get anxious when I get rushed," he said in an NBC News interview. "So I try to get four or five lines down as fast as possible so that they would be happy. I think I picked up his kind of language …"
This week, he changed his story, declaring that Trump came up with the language. "He dictated that whole letter … and I would tell him what he couldn't put in there. I didn't write that letter," he told CNN. "I just made it up as I went along." That account makes Bornstein a particularly odious kind of liar: the kind whose mendacity undermined democracy by flagrantly misleading the electorate.
But as my colleague Jim Hamblin noted in his followup article, published this week, what matters most is not Trump's health nor Bornstein's behavior:
What matters most are the actions of Trump, now the most powerful person in the world. If he indeed dictated this letter—and this is well supported even by a glancing linguistic analysis—then it is his ethics that should be called to question … Billions more people are implicated if this letter is evidence of Trump's willingness to lie to circumvent and subvert a critical vetting process, to baldly misrepresent himself by using people like Bornstein for his own gain. The relevance of Trump's actual health status—whether or not he takes a medication for hair loss, and if his body-mass index does indeed qualify him as "obese"—all of this sort of data pales compared to what such an act of forgery would say about his morality; his sense of honesty, transparency, decency, and accountability; his actual fitness to serve as president of the United States.
During his rise, Trump put the press and the public in an impossible position by lying in a manner that was both flagrantly obvious to anyone paying close attention and often impossible for news organizations to prove as a settled matter of fact. Most people, even in politics, are too decent to lie as he did. They possess normal consciences and senses of shame. Trump was willing to exploit the fact that humans extend some general presumptions of trust to function in this world. Like a con man, he benefitted by betraying that trust more shamelessly than others.
In politics, the skeptical approach that Hamblin took to Trump's mendacious claims of yore are preferable, I'd argue, to the credulous headlines and articles that some others wrote. Still, on other occasions, different journalists have made regrettable errors by going beyond what they could prove empirically and offering analysis.
While there is no perfect journalistic approach to deploy in all cases—and something to be said for a diversity of approaches—Trump had flagrantly told so many decades of untruths to the public by December of 2015 that he should long before have ceded the benefit of the doubt that allowed any unverified, advantageous claim about him to make headlines, even atop stories that went on to hint at their dubiousness.
That his lie is now exposed, like so many before it, is the latest opportunity for Republican elites to level with their base: The president and many of his allies are liars—and while they are hardly the first political elites to ever tell lies in national politics, it is partly their unusually flagrant and shameless mendacity that cause the press to treat them with more skepticism and hostility than bygone GOP presidents.
Sometimes, that skepticism and hostility lead journalistic organizations astray. Their analysis is biased or wrong in a way that unfairly cuts against the Trump administration. The fallibility of all humans, including journalists, is as extant now as ever. But Trump also lies frequently in ways that will cause the public to be misinformed if the press covers him with anything less than open skepticism, even as he turns the public against the press to get away with lies in the face of pushback.
Trump is the root of the problem. And his minor enablers, like Bornstein, and his major enablers, like Vice President Mike Pence, harm America with their complicity in the lies that the president tells the citizens he is meant to serve.
'Infinity War' and the Point of Comic-Book Deaths
Posted: 02 May 2018 08:15 AM PDT
This article contains major spoilers about the end of Avengers: Infinity War.
The old adage in superhero comics used to be that any character could come back to life, no matter how tragic or meaningful their death was, with three exceptions: Captain America's sidekick Bucky Barnes, Batman's former ward Jason Todd, and Spider-Man's Uncle Ben. Those three deaths were seen as so crucial to those heroes' backstories that they couldn't be undone, no matter how good an idea a new writer might have. Then, in 2005, both Jason Todd and Bucky Barnes were resurrected. And fans reacted with near-universal approval.
In short, even a casual consumer of superhero comics knows that death never really sticks in the genre. That would be antithetical to the nature of a storytelling form that stretches over decades; indeed, many of the Marvel comics published today are rooted in plotlines written more than 50 years ago. Spider-Man or Captain America or Thor might die in an issue, but they'd all be back soon enough, be it through mystical means, time travel, cloning, or cosmic interference. Jean Grey, famed member of the X-Men, acquired the codename "Phoenix" partly because of her propensity for constant deaths and rebirths.
This is all to say that I'm sympathetic to any audience member who might have scoffed at the dramatic end of Avengers: Infinity War, the latest and largest of Marvel's ongoing cinematic universe, in which the supervillain Thanos (Josh Brolin) fights for control of the all-powerful Infinity Stones. After a lot of fighting, he succeeds, and he snaps his fingers, instantly halving the number of living beings in the universe. As a result, many of the film's heroes—including big names like Spider-Man, Black Panther, Doctor Strange, and Star-Lord—vanish from existence by simply disintegrating into ash. The scene is played as horrifying, with Spider-Man's death (in the arms of Iron Man, pleading that he doesn't want to go) feeling particularly brutal.
On both of my viewings, the moment hit hard for me. The second time around, even though I knew it was coming, I dreaded it. At the same time, I'm perfectly aware that there's a fourth Avengers film coming (set to be released May 3, 2019) that will certainly retract this tragic ending. Black Panther is not dead forever, certainly not after his last movie made so much money; a new Spider-Man film has already been confirmed for 2019. So does that make the Infinity War ending "fraudulent," as Flavorwire's Jason Bailey described it?
Obviously, everyone can walk away from the film with their own takeaway; some will go into Infinity War knowing more about the Marvel Cinematic Universe's future plans than others will, and thus be less worried about these characters' fates. But the "comic-book death" has never really involved permanence. Claiming that someone like Spider-Man is gone for good is an empty threat—he's too popular, too beloved a brand to be truly eradicated. Bill Willingham's comic-book series Fables (a modern take on fairy tales and folklore) established that as long as a character was still well-known—say, Goldilocks—they'd be practically impossible to kill. The same goes for Marvel's heroes.
The tragedy of the comic-book death instead sprouts from seeing the effect it has on other characters, which Infinity War leans into as much as possible. As Bucky vanishes, the movie cuts to Captain America's pained reaction; Okoye watches in horror as Black Panther goes; Rocket sobs at the loss of his pal Groot, and so on. Both times I've seen the film, the audience has gasped in horror at every death—because they love the characters. That's a sign of real emotional investment in Marvel's 10-year moviemaking project (the only better sign, of course, is the billions of dollars these films have made for their corporate overlords).
The next question concerns the fourth Avengers movie, which will likely reverse most of these deaths (but will just as likely add a few new losses to the pile to balance things out). Will viewers be more cautious or numb about fatal plot twists every time they're deployed in future films? Quite possibly. But for now, even these temporary losses register as gut-punches. It might feel cruel, but being upset about them is a helpful reminder that you still care.
In Infinity War, Thanos is 10-foot tall radical nihilist, hell-bent on clearing out the universe's rampant overpopulation. He exists as an embodiment of the notion that the Marvel movies have gone too far, gotten too cluttered, and are entirely lacking in stakes (since we know there are always more films on the way). With a click of his fingers, Thanos solves all those problems—the universe is depopulated and half the heroes wiped away. If that were indeed a permanent state of affairs, fans would be in uproar—a thrilling sign to Marvel Studios that their grand experiment has worked.
Will it continue to work? Infinity War is currently setting box-office records, but you can't dodge franchise fatigue forever. A wave of resurrections, however expected, might start finally tipping viewers into exhaustion. As Bailey noted in his piece, Infinity War could've been a chance for Marvel to move away from the old tropes of comic-book storytelling and set out a fresher formula. But the success of these movies is rooted in those very conventions, and they come with the implicit promise that no hero is ever really gone for good—no matter what Thanos might think.
Dear Therapist: How Do I Know If I'm Compromising Too Much for My Partner?
Posted: 02 May 2018 08:19 AM PDT
Editor's Note: Every Wednesday, Lori Gottlieb answers questions from readers about their problems, big and small. Have a question? Email her at dear.therapist@theatlantic.com.

Dear Therapist,
I have been dating my current girlfriend for about a year and a half. We are really happy together, and never fought until it was time to decide where to go to graduate school a couple weeks ago. There aren't schools that we were both accepted to (despite our best planning) and are interested in attending.
I was only accepted to three programs. She was accepted to all her programs, and naturally wants to go to the best programs she got into (I am in favor of this) over ones near my options. The programs can mean a long time apart (one to two years for hers, four to five years for mine).
As my program will take longer, I think that if we want to transition to a long-distance relationship while she finishes her degree, we would probably want to move in together as I finish mine. She has said that she doesn't want to do that. Instead, she is pushing to remain in the same city the whole time, with me putting off my program until she finishes, and then going "wherever I want" afterwards. Her reasoning for going to these better programs is they offer better degrees for salary and job security.
I can't help but see the mismatch here. She is pushing me to defer on my career goals when I don't know if I'll get into the same programs if I reapply in two years. How do you know whether you are asking too much of your partner, or they are asking too much of you, to be together? What do you think of my situation?
Anonymous
Austin, Texas
---
Dear Anonymous,
There are many ways that you two can make this decision—and no single option is the "right" or "most fair" one because what works for one couple doesn't necessarily work for another. You've only been dating for a year and a half, and if you end up spending your lives together, you'll have many dilemmas to navigate. Right now—when the stakes are high, but not as high as they'd be if you had children or mortgages to consider—is the perfect time to get some practice.
It seems like your current dilemma isn't just about how to negotiate your professional options, but also about how committed you are to each other.
This question of commitment could be the part that you two need to talk more about, because underlying the logistics is the possibility that this relatively new relationship might not work out. It doesn't sound like you're engaged to be married, and I don't know what kind of commitment you two have for the longer term, or how fully you've discussed this. You say you've never fought before—but have you two had disagreements? A year and a half is a long time to be in a serious relationship and never to have disagreed on anything. Now would be a good time to bring into the open your feelings about things like: Does one or both of you want marriage? Kids? Where do you want "home" to be once you finish your graduate programs? Near her family? Yours? Can each of you get job offers that you're both happy with in the same city? If not, what's the plan then?
When couples bring disagreements to therapy, often I find it useful for them to talk with each other about the "why" of what they'd like to see happen, and not just the "what." For instance, why does your girlfriend want you to live with her at the cost of turning down your acceptances? By staying in the "what," people tend to assign motives to their partners that are distorted or simply wrong—and these assumptions back both people further into their corners. Instead of feeling like trusted partners trying to work out a mutually beneficial solution, they treat each other with suspicion, believing that the other person doesn't have their interests in mind at all (which generally isn't true).
Maybe, for instance, your girlfriend has expressed concern over the expense and hassle of traveling to visit each other, but once you delve deeper, you might discover that something else is at play—say, she's worried that you'll lose interest in each other, or that you'll meet other people if you're apart. This could be more of a trust issue for her than a logistical one. You might have unvoiced worries, too: Are you afraid of deferring graduate school because you don't completely trust that when it's your turn, she'll actually move to any city you want, even if she has a better job opportunity elsewhere?
If you don't get curious about the feelings underneath your positions, you'll stay stuck in the same place you are now—trying to hammer out a solution by cycling through the same set of options (take turns, do things in stages, do both of your programs separately) but never getting past the underlying dilemmas.
Of course, there are no guarantees—you could both promise commitment and still break up; you could reach a happy compromise and still have a change in plans—but you can stack the deck in your favor so that no matter what happens, you'll feel good about having made a choice after being rigorously honest with yourself and your partner. I say "choice" because whatever you decide has to be entered into freely and without resentment, knowing that it's an imperfect but workable compromise—at least for now.
Rest assured that in a year's time, you'll both have a much better idea of whether you want to adjust the plan—and of how invested you are in a future together. In other words, you'll have far greater clarity on whether you've been asked or are asking too much of each other. Meanwhile, this test-drive of the hard choices that couples have to make will prepare you well for the ones that lie ahead.
---
Dear Therapist is for informational purposes only, does not constitute medical advice, and is not a substitute for professional medical advice, diagnosis, or treatment. Always seek the advice of your physician, mental health professional, or other qualified health provider with any questions you may have regarding a medical condition.
The White House Still Loves Joe Arpaio
Posted: 02 May 2018 07:29 AM PDT
Vice President Mike Pence was in Tempe, Arizona, on Tuesday night to tout the tax bill. But he praised a guest, too, saying that a "favorite" was in attendance: former Arizona Sheriff Joe Arpaio. Pence went on to call Arpaio a "great friend of this president" and a "tireless champion of strong borders and the rule of law." Pence was, he told the crowd, "honored" to have the sheriff there.
In August of 2017, President Donald Trump pardoned Arpaio—his first as president—after the former sheriff was convicted of criminal contempt for defying a judge's orders to stop making immigration arrests. The move drew sharp criticism from those on the left, who saw Arpaio's harsh immigration policies as violating the Constitution. But as my colleague McKay Coppins has reported, Arpaio himself has been experiencing something of a comeback since the pardon. In January, he announced he's running for U.S. Senate. Indeed, Pence's laudatory introduction was met with enthusiastic cheers on Tuesday night.
The Atlantic's Jeremy Raff visited Arizona earlier this year to learn about the "Deportation Nation" Arpaio helped build there—and to hear from the sheriff himself.
Does Starbucks Understand the Science of Racial Bias?
Posted: 02 May 2018 06:51 AM PDT
Many have seen the viral video by now: Last month, two black men arrived early to a business meeting at a Starbucks in Philadelphia, and were led out in handcuffs after one man asked to use the bathroom without making a purchase, then calmly joined his friend at a table. In the moment, their expressions were impassive, but they later described feeling disbelief and fear.
After days of protests and an apology from Starbucks CEO Kevin Johnson for what he referred to as a "reprehensible outcome," Starbucks announced that it would shut down its stores for a day in May to train all of its nearly 175,000 employees in recognizing implicit bias. Reactions ranged from surprise and applause to concerns the move was about image management. Mostly, there were questions: What exactly was Starbucks planning to do?
Last week, the company issued a new statement, clarifying that May 29 would be the first stage of a "multiphase" bias training, and the first step of a longer-term antibias effort. This light-speed scramble—from a day of training to a full-on antibias overhaul—suggests a rapid evolution in Starbucks's understanding of what taking on bias means. If Starbucks follows through, it will be one of the first major corporations to develop a comprehensive plan for tackling bias head-on—and potentially forge a new path for its peers to follow. Now, the approach the company takes to the May 29 event will be a litmus test for that larger commitment.
The idea of implicit bias is that our human minds are, through repeated cultural exposure, conditioned to associate specific traits, characteristics, and behaviors with certain groups of people. When we encounter an individual from one of these groups, those associations arise spontaneously, and they can influence our behavior toward that person, even without our awareness or intent. The Starbucks manager who called the police on the two men appears to have been reacting to them based more on entrenched stereotypes about black men in this culture than on the reality of their interaction.
As the idea of implicit bias has permeated our culture, an entire industry has sprung up, like mushrooms after rain, to conduct trainings meant to raise awareness of the problem and counteract it. But few of the implicit-bias trainings that are now de rigueur have been rigorously evaluated. Many don't measure their own impact. In fact, many don't establish concrete goals at all. The approach is akin to whipping up an elixir to treat a disease, and then dispensing it to patients without ever assessing its effects—or even deciding what its effects should be.
This is risky, because studies have found that some approaches can be counterproductive. Michelle Duguid of Cornell University and Melissa Thomas-Hunt of Vanderbilt have found, for instance, that when people hear that stereotyping is normal, they may do more of it. If the message is simply "implicit bias is everywhere," the Princeton psychologist Betsy Levy Paluck told me, "this normalizes prejudice. A better message would be: Yes, we all have minds that, if we're not careful, can reflect cultural stereotypes, and that we need to fight against habits of mind."
Indeed, the few antibias trainings that have been proven to change people's behavior make this case. One training, developed by Patricia Devine and colleagues at the Prejudice and Intergroup Relations Lab at the University of Wisconsin at Madison, looks at bias as a habit that can be broken. Their approach—which I've written about before—consists of a couple of hours of modules based on what the researchers see as three essential elements of an antibias intervention: awareness of the problem, motivation to do something about it, and strategies for what to do. The strategies include observing stereotypes arise and mentally replacing them, actively looking for situational explanations for a person's behavior, and trying to imagine what the world would look and feel like from another person's point of view.
Early results of this approach are promising. In one version, the researchers gave hundreds of students a training focused on racial bias. Compared to students who hadn't received the training, students who received the training were more likely to notice incidents of bias as they went through their daily lives. Even two years later, students who received the training were more likely to speak out against racial bias in a public forum than those who hadn't. Another version, which focused on gender bias, was presented to STEM faculty at the University of Wisconsin. In departments that had received the training, the proportion of women faculty hired over the next two years increased from 32 to 47 percent. Departments that hadn't received the training showed no change at all.
Some of the strategies this approach presents—resisting the easy labeling of others, envisioning why a person might be acting the way they do—were present in another training that's been proven effective. In order to try to reduce school suspensions, Jason Okonofua, a psychologist at the UC Berkeley, and his colleagues trained a cohort of middle-school teachers to bring an "empathic mind-set" to student discipline. This included focusing on understanding students' perspectives, understanding reasons students might be misbehaving, and avoiding labeling students as "troublemakers." Over the following year, students whose teachers had undergone this training were half as likely to be suspended as students whose teachers hadn't. For African American and Latino students—two groups who experience high rates of school suspension—suspensions dropped from 12.3 to 6.3 percent.
There are signs Starbucks is, perhaps, rapidly gaining an appreciation for the complexity of this task. The company has, in three weeks, moved from its original announcement of a day of implicit-bias training, in collaboration with advisors including Bryan Stevenson of the Equal Justice Initiative, Sherrilyn Ifill of the NAACP, and Heather McGhee of Demos, to a description of comprehensive reform, and, according to McGhee, a commitment to identifying metrics and ongoing monitoring and evaluation. When I spoke with McGhee, she told me that the advisors have also connected Starbucks with social scientists who focus on this domain. "We all knew there is specialized knowledge; there are people who have dedicated their lives to this who need to be consulted," she said. The company's most recent public announcement states it will be working specifically with experts in antibias training.
One of the biggest challenges may be one of timing: The company's feeling of urgency is apparent, but the due diligence required to create something actually meaningful takes time. Starbucks has run into trouble with an ambitious race-related initiative before; its 2015 "Race Together" campaign was immediately and heavily criticized. But McGhee's description of the May 29 event as a "launch" suggests that this time Starbucks is taking a more deliberate approach. Beyond the training, says Patrick Forscher, a University of Arkansas psychologist who was part of the Madison training, "if Starbucks makes an ongoing investment in improving the climate in stores, in ongoing monitoring, that sends a good message to customers and employees, and sets norms that they take this seriously."
Social scientists like Devine who have developed effective trainings have made clear that because the problems of prejudice and discrimination are so massive, trainings like these can only be one small piece. On the individual level, too, a training is only a first step in reckoning with bias: Transforming one's relationship with deeply rooted stereotypes requires a vigilant attention that develops over time, the way a building a muscle's strength requires regular practice and repetition.
If Starbucks does take this work seriously, the company has an unusual opportunity—an opportunity, as McGhee put it, to answer the question, "What does it truly mean to be an anti-racist institution?"
How Facebook Became the Tech Company People Love to Hate
Posted: 02 May 2018 06:00 AM PDT
His congressional testimony behind him, his company's shares rebounding, a confident Mark Zuckerberg took the stage in San Jose on Tuesday at F8, Facebook's annual conference. The Facebook CEO was as comfortable as I've ever seen him, as if all the trials of the last couple months leveled him up.
Zuckerberg spent the first 15 minutes of the two-day event in the mode he's been in for a year: talking up the company's responsibilities, promising reform, and rolling out new features intended to answer criticisms. The headline change is a new privacy control that allows Facebook users to delete the information that Facebook has gleaned about their browsing habits. Zuckerberg likened it to clearing a browser's cookies. When it rolls out soon, it will go by the name Clear History.
And that seemed to be what this event was designed to do. The ugly stuff that engulfed the company since the run-up to the 2016 election hasn't gone away, but the message seemed to be that they had measured the scope of the problem, assigned the appropriate resources, and now would keep people (and democracies) safe. Behind the scenes, Facebook has been in the most intense period of press outreach that I've ever seen: They're ready to talk, ready to spar, ready to meet the challenge of what Zuckerberg referred to at F8 as a "broader view of their responsibility" to the world.
Before he ran through the litany of things Facebook has done to bolster informational and electoral integrity, Zuckerberg gave a sense of his thinking about what Facebook means. What would the world lose, he asked, if Facebook went away?
His answer was that in 2004, you could find almost anything on the internet, except what matters most to people: other people. "So I started building a service to put people first, and put people at the center of our relationship with technology," Zuckerberg said.
This is strong new rhetoric from him, and it gets right to the heart of discomfort that many people in Silicon Valley and elsewhere feel about Facebook's mission.
Facebook has closed the gap between who you are in the real world and what the machines have figured out about you. They've been building, as Zuckerberg told investors in October 2013, "the clearest models of everything there is to know in the world." The company has forced the digital and physical worlds closer together.
That's why their ads are effective, as indicated by their massive revenue growth, while the number of actual ad impressions they've served has grown modestly. Prices for ads on Facebook are going up because those ads are working better.
It's also why the company had a real-name policy, and why they wanted their map of human relationships to be the map of human relationships. It's why they've become deeply enmeshed in social and political processes from the neighborhood to the global scale.
Even in their more far-flung experiments in virtual reality, Facebook wants to defy distance, which is another way of saying they want to collapse the distinction between virtual and physical. So many of their new products—from augmented reality to group video chatting to virtual-reality concerts—are about doing stuff with your real-life friends in a digital setting or bringing digital objects into a physical-world setting. Cross back and forth across that line enough times and it'll probably start to get porous or even disappear altogether.
In the past, Facebook talked about wanting to be the "identity" layer of the internet. Facebook wanted to be the way "you" brought "yourself" to various kinds of digital activities, from playing frivolous games to logging into crucial websites. The identity rhetoric fell out of fashion, but the desire has remained and expanded. Now, Facebook wants to be the identity layer of everything as the company accelerates the merging of our digital and physical selves.
It would be easy to say that Facebook wants to do this because they'll make an unfathomable amount of money by being the actual, technical way you are a person in the future. But people who have been and are close to Zuckerberg tell me he really, genuinely doesn't care about money. They say he's never cared and still doesn't. Money is just the fuel that runs the machines that let Facebook build the world that they alone believe they have glimpsed.
"I believe we need to design technology to bring people closer together," Zuckerberg said on stage. "If we don't work on this, the world isn't moving in this direction by itself."
Animating the Best of <i>The Atlantic</i>'s Archives
Posted: 02 May 2018 10:56 AM PDT
Art came to The Atlantic only belatedly. The magazine's first issue, published in November 1857, comprised 128 pages of text without any visual accompaniment except for a small portrait of John Winthrop, a 17th-century governor of the Massachusetts Bay Colony, on the front. Aside from the occasional small sketch or header in this vein, no illustrations really graced the magazine's pages or its covers until the 1940s. Photography began making inroads later that decade, and the first Atlantic videos debuted more than half a century after that.
All of this is to say that, during the magazine's earlier years, some of its most illustrious writers saw their stories published without any art to complement them. While that's no longer the case today, in recent months The Atlantic's animators have started bringing their artistic talents and vision to some of the most enduring pieces in the magazine's archives. Pairing words from the past with modern technologies, platforms, and insights, they've created visual interpretations with historical gravity and contemporary resonance—and not a small amount of flair.
---
"Strivings of the Negro People" by W. E. B. Du Bois (August 1897)
Animated by Tynesha Foreman
In the midst of the long regressive period between the end of Reconstruction and the dawn of the modern civil-rights movement, W. E. B. Du Bois considered the estrangement and prejudice African Americans faced in an 1897 article for The Atlantic. "Why did God make me an outcast and a stranger in mine own house?" he asks. "The 'shades of the prison-house' closed round about us all: walls strait and stubborn to the whitest, but relentlessly narrow, tall, and unscalable to sons of night." Describing the internal conflict experienced by black Americans surrounded by racism and segregation, Du Bois introduced for the first time the term double-consciousness, or "this sense of always looking at one's self through the eyes of others, of measuring one's soul by the tape of a world that looks on in amused contempt and pity."
In her stop-motion animation, Tynesha Foreman draws on the artistic styles of both Kara Walker and Lotte Reiniger to illustrate this sense of African American identity and division through black-and-white silhouetted shadow puppets. Her animated figures navigate a surreal granular space, moving through racist interactions, moments of self-reflection and self-contradiction, and even through time. In one powerful sequence, a quick series of cuts reveals black men in different eras: one laboring in a field; one standing against a city skyline; one raising his hands in reaction to the offscreen approach of a police car. "Years have passed away, 10, 20, 30," the narrator reads from Du Bois's article as time jumps forward in the video, "and yet … the freedman has not yet found in freedom his promised land."
---
"The Road Not Taken" by Robert Frost (August 1915)
Animated by Jackie Lay
Before he joined the American literary pantheon as one of the 20th century's most widely read and beloved poets, Robert Frost submitted his work to The Atlantic—and was rejected. As our former poetry editor Peter Davison recalled in 1996, Frost sent some of his poetry to Ellery Sedgwick, then the editor in chief of the magazine, in 1912. Sedgwick responded with a personal but dismissive reply: "We are sorry that we have no place in The Atlantic Monthly for your vigorous verse." It was only after Frost published his first two collections of verse in England that Sedgwick reconsidered his rejection, and offered to purchase several of Frost's poems. In August 1915, three of these appeared in the magazine.
One of the poems Sedgwick printed in that issue was "The Road Not Taken," which would become one of Frost's best known, and most misunderstood, works. In it, Frost's speaker recalls a moment when he came to a fork in the road and had to make a choice between two paths. The famous last lines are often read as a celebration of individualism and nonconformity:
Two roads diverged in a wood, and I,
I took the one less traveled by,
And that has made all the difference.
But in her animation, Jackie Lay depicts the true meaning of Frost's verse. In the setting of a colorful and heavily textured forest, full of filtered light, she shows an indecisive traveler considering two roads which are, as the poem describes, "worn … really about the same / And both that morning equally lay / In leaves no step had trodden black." Rising pipe smoke gives way to daydreams and visions: of the traveler dividing himself in two to take both roads and fading ghostlike into the future; of him telling the story "ages and ages hence." In this way, Lay shows the poem's final stanza not as a celebration of an unconventional choice, but rather as a narrative the traveler is already constructing about his own life, justifying a choice with a rationale that doesn't truly exist in the moment he makes it.
---
"Put Your Husband in the Kitchen" by Helen Keller (August 1932)
Animated by Caitlin Cadieux
In the early years of the Great Depression, Helen Keller offered Atlantic readers a satirical piece of business advice: "Put Your Husband in the Kitchen." "The average woman is not very familiar with the complexities of economics," Keller writes, "but it seems to me that she has ordered her household economy upon a more solid basis than that upon which men have arranged the affairs of their larger world." Men, she argues, turned the advent of labor-saving machinery into an economic crisis breeding "overproduction, unemployment, and widespread suffering," while women used it to increase efficiency and save labor. Keller suggests that men could learn something about economics from spending time working inside the home—and she goes on to write out a hypothetical scenario in which a husband does just that.
To capture the visual style of the 1930s, Caitlin Cadieux watched old PSAs, early Walt Disney animations, and Betty Boop cartoons. She used traditional cel animation with the help of a digital paint program, creating watercolor backgrounds and overlaying dozens of figure drawings for each second of animation. The result is nostalgic, fun, and captures both the aesthetic of Keller's era and the sardonic feminism of the original article.
To read more about Caitlin's animating process, subscribe to The Masthead.
---
"Atomic War or Peace" by Albert Einstein (November 1947)
Animated by Atthar Mirza
In 1939, Albert Einstein signed a letter warning President Franklin D. Roosevelt that Germany was attempting to build atomic bombs and urging him to devote resources to doing the same. Almost a decade later, after the United States had successfully developed the technology and, soon afterward, deployed it in its war against Japan, The Atlantic printed Einstein's thoughts on how to maintain peace in the young atomic age. Though calling the Truman administration's decision to use the bomb "morally justified" in the article, he also expressed misgivings with the United States' handling of the weapon after the war. "To keep a stockpile of atomic bombs without promising not to initiate its use is exploiting the possession of bombs for political ends," he cautions. "It may be that the United States hopes in this way to frighten the Soviet Union into accepting supranational control of atomic energy. But the creation of fear only heightens antagonism and increases the danger of war."
Atthar Mirza's interpretation of the piece draws on the avant-garde artistic movement of futurism that originated in Italy earlier in the 20th century to capture the look of Einstein's era. His animation scrolls continually downward like a falling bomb, navigating the politicization of the new weapons, the rapid buildup of the American nuclear arsenal, and the surging threat of the Soviet Union to reach a final image with dark significance in the present day: a nuclear warhead sitting poised and ready for launch over a shaded map of North Korea. But no bomb explodes and no mushroom cloud appears; Einstein's words of advice, now decades old, remain hopeful for a future devoid of atomic detonations.
You are subscribed to email updates from The Atlantic.
To stop receiving these emails, you may unsubscribe now.
Email delivery powered by Google
Google, 1600 Amphitheatre Parkway, Mountain View, CA 94043, United States