---
Troye Sivan releases sexual new single 'Bloom'
Posted: 03 May 2018 09:29 AM PDT
Troye Sivan has released another single, "Bloom," from his still-untitled second album.
Sivan, 22, explained to Dazed that the song is "about flowers."
"It's 100 percent about flowers! That's all it is. Call it whatever you wanna call it. I wanna play that song at every Pride. There's almost a radicalism in just truth, you know? The most radical thing that I can do is share how happy I am," Sivan says.
While Sivan does sing about flowers, the sexually charged lyrics indicate Sivan is singing about a different type of "bloom."
"Cause it's true, baby/ I've been saving this for you, baby/ I need you to tell me right before it goes down/ Promise me you'll hold my hand if I get scared now/ Might tell you to take a second, baby, slow it down/ You should know I, you should know I/ Yeah I bloom, I bloom just for you/ I bloom just for you," Sivan sings on the track.
Sivan headlines Capital Pride Festival, along with Alessia Cara, on Saturday, June 10.
Watch below.
The post Troye Sivan releases sexual new single 'Bloom' appeared first on Washington Blade: Gay News, Politics, LGBT Rights.
Posted: 03 May 2018 06:54 AM PDT
The world can still be a rough place at times for children of LGBT couples. Seeing they're not alone is one of the main goals of the Rainbow Families Conference, slated for Saturday.
"I think it's invaluable for kids growing up to see themselves reflected in the people surrounding them and to not feel "othered" by their immediate community," says Rainbow Families board member Signey Olson. "Positive representation and celebration of this aspect of our lives gives the children in our community role models as well as peer groups that may have grown up with certain shared experiences, which affirms their own truths."
About 200 adults and 75 kids are registered for the conference, to be held all day Saturday at Georgetown Day High School (4200 Davenport St., N.W.). There are about 280 families in Rainbow Families. The conference offers networking, interaction with experts, workshops on various aspects of LGBT parenting and family planning, keynote speeches from elected officials Danica Roem and Rich Madaleno and all-day activities for children.
"LGBTQ-plus families often have many unique circumstances that aren't reflected in much of the rest of society," Olson, a 28-year-old Eau Claire, Wis., native, says. "For many, it's relieving to be able to connect and build community with other families who have shared experiences.
It's a big weekend for LGBT family events. They're unrelated, but Sunday is Gay Day at the Zoo and International Family Equality Day. Full details on Rainbow Families at rainbowfamiliesdc.org.
Olson works in queer fertility so when she heard about Rainbow Families, joining a year and a half ago was "an obvious choice," she says. She's halfway through her two-year board term.
Olson, a nurse practitioner and nurse-midwife, came to the D.C. area seven years ago after a brief stint here in college. She grew up in Wisconsin on a 300-acre Christmas tree farm.
She and partner Katie DePalma ("only fur babies right now") live in Takoma Park, Md. Olson enjoys hiking with their dog, Linus, studying medicinal herbs and "trying to keep our potted plants from dying" in her free time.
How long have you been out and who was the hardest person to tell?
Coming out was a long and gradual process for me, certainly not a sudden big reveal. My identity labels shifted considerably throughout the years, so I think ultimately the hardest person to tell was myself.
Who's your LGBT hero? 
One of my favorite queeros would be the fabulous comic Cameron Esposito (who coined the term queero).
What's Washington's best nightspot, past or present? 
Walking along the Wharf at night.
Describe your dream wedding.
When I was growing up, my best friend and I planned to have a dual wedding with our respective (at the time male) partners, barefoot somewhere in the Irish countryside. Little did we know when we were planning, that years later we would both come out less than two months apart. Our planning skills were clearly top-notch, we were just wildly wrong about the gender of our partners.
What non-LGBT issue are you most passionate about?
Access to the complete spectrum of reproductive health care.
What historical outcome would you change?
The entire history of colonialization.
What's been the most memorable pop culture moment of your lifetime?
Bon Iver winning a Grammy.
On what do you insist?
Increased awareness around consent in the health care setting.
What was your last Facebook post or Tweet?
An image of 10 concrete ways to actively reject white privilege as a white person.
If your life were a book, what would the title be?
"Little Did I Know…"
If science discovered a way to change sexual orientation, what would you do?
Find a way to fund a research study to refute their conclusion.
What do you believe in beyond the physical world? 
Kitten memes as a form of self-care.
What's your advice for LGBT movement leaders?
We need to center the most marginalized voices if we're going to progress forward and it's important to acknowledge and be open to when your privilege is preventing progress. And how most effectively to "call in" our community members to work as a team.
What would you walk across hot coals for?
Being able to pet cute dogs, any time, any amount of hot coals.
What LGBT stereotype annoys you most?
I work as a health care provider in fertility so I would say the idea that masculine-of-center folks never want to conceive or carry a pregnancy-so not true.
What's your favorite LGBT movie?
I know it's cliché, but "Rent" was one of the most influential LGBTQ movies I saw at a young age.
What's the most overrated social custom? 
Patriarchy
What trophy or prize do you most covet?
My partner is also a midwife so I would have to say my trophy (mid)wife.
What do you wish you'd known at 18?
It's totally OK and healthy to not be able to please everyone. Additionally, conveying that while the fight for marriage equality seems like the most important (and romantic) issue right now, it won't be until later on that you realize the deeper importance of intersectionality and how the fight against racism is going to be the most important and pervasive issue to address.
Why Washington?
While sometimes I think Washington goes a bit heavy on the over-glorification of a busy lifestyle, I know I'm attracted to the city in large part for the never-ending stream of events and ways to be engaged with my community.
The post QUEERY: Signey Olson appeared first on Washington Blade: Gay News, Politics, LGBT Rights.
Capital Pride 'celebrates weapons manufacturers, corrupt banks': group
Posted: 03 May 2018 06:14 AM PDT
Capital Pride Alliance, the group that organizes D.C.'s annual LGBT Pride parade and festival, announced last week that it has worked over the past year to respond to concerns raised by some that its events and policies don't represent all segments of the LGBT community.
Although it didn't say so directly, a three-page statement released by Capital Pride Alliance on April 25 appears to be a response to the controversy surrounding the action last year by the protest group No Justice No Pride to block the path of the Pride parade.
D.C. police chose to reroute the parade rather than arrest the protesters, who blocked its path by linking arms to create a human barrier from one side of the street to the other.
The group said its civil disobedience protest was aimed at what it claims were Capital Pride's refusal to agree to its demands for banning police participation in the parade, banning corporate sponsors involved in the defense industry, and restructuring the Capital Pride board of directors to include greater representation of transgender people of color and Native Americans.
In its own statement released on April 26, No Justice No Pride said it carefully reviewed the Capital Pride statement and concluded that "no substantive changes have been made to address the concerns of those who feel they have been left behind and pushed out" of the Pride festivities.
"All signs indicate that Capital Pride 2018 will once again celebrate weapons manufacturers, corrupt banks, and police departments, aligning itself with those who profit off of the oppression of the most marginalized members of our communities," the statement says.
Drew Ambrogi, a spokesperson for No Justice No Pride, couldn't immediately be reached to determine whether the group is planning to stage another protest against Capital Pride this year, including a possible civil disobedience action such as blocking the parade route.
Capital Pride supporters, including longtime D.C. gay activist Deacon Maccubbin who organized D.C.'s first LGBT Pride celebration in 1975, have said No Justice No Pride's views don't reflect the views of the overwhelming majority of the LGBT community that has participated in Capital Pride in recent and past years.
Capital Pride officials were more cautious in their response to No Justice No Pride's criticisms. But in their April 25 statement they said they reached out to the community to obtain input on how best to move forward with the Pride events, including the parade and festival scheduled for June 9 and 10.
"Over the past year, the Capital Pride Alliance Board and volunteers have carefully considered all the experiences and feedback received from diverse organizations and individuals, and our goal remains ensuring a safe, positive and memorable Pride experience for all members of our community," the Capital Pride statement says.
"The LGBTQ+ community is exceptionally diverse and includes many people with opposing views on a wide range of issues," said Capital Pride Alliance Board President Ashley Smith in the statement. "That includes law enforcement, veterans and active members of the military, local businesses, corporations, and the defense industry," he said.
"It also includes those who take issue with the actions of political, educational, corporate, and other institutions," Smith said in the statement. "Capital Pride Alliance must find a way to create an environment that fosters dialogue, allows for a diversity of thought, and provides a space for a positive experience at Pride that is safe and affirming," he said.
The statement says that among the actions the group has taken over the past year was an "open call" for people interested in joining its board, which resulted in several new board members and volunteer leaders, including new transgender members, women, and people of color.
"Our Board leadership team has changed and diversified from years past to include a person of color as the President of the Board and a woman to the leadership team," the statement says. It was referring to Smith, who's African American, as the new board president.
Concerning corporate sponsors, the Capital Pride statement says the board has adopted guidelines requiring that corporate sponsors be committed to LGBT supportive personnel policies and support for LGBT equality as reflected in the Human Rights Campaign's ratings of the nation's corporations on LGBT issues.
It says any organization designated as a hate group by the Southern Poverty Law Center will not be permitted to become a sponsor or to participate in Pride activities.
But the statement makes no mention of restricting corporate sponsors associated with the defense industry, such as defense industry firms Northrop Grumman or Lockheed Martin, which were Capital Pride sponsors last year and for which No Justice No Pride raised strong objections.
Capital Pride Executive Director Ryan Bos told the Washington Blade that arrangements for nearly all corporate sponsorships and corporate participation in the Pride parade and festival are made by LGBT employee groups within those corporations.
"Pride is a combination of all the different organizations that show up and participate," Bos said, including LGBT employee groups of businesses and corporations. "And a lot of these organizations have different views and we have a unique responsibility to respect those differences in a way that we can provide a place for folks to participate and feel comfortable," he said.
Bos said that corporate sponsors, which Capital Pride identifies as "advocates," are listed on its website. As of late Tuesday, the three corporate sponsors from last year opposed by No Justice No Pride – Wells Fargo Bank, Northrop Grumman, and Lockheed Martin – were not listed on the website. However, at least two other defense related firms were listed on the site as sponsors – BAE Systems, a British company that produces combat vehicles such as tanks, and Leidos, a Reston, Va., based engineering company that does work for the U.S. military.
Bos said he expects more corporate sponsors to be added to the website's list each week between now and June 9 and 10, when the Pride parade and festival are set to take place.
Among the numerous non-defense related corporations listed on the Capital Pride website as corporate sponsors this year are Marriott International, United Airlines, Nissan, Giant Food, Capital One Bank, Citibank and Amazon.com.
The Capital Pride statement released last week is also silent on another issue to which No Justice No Pride objected – the presence of law enforcement agencies' recruitment booths at the Capital Pride Festival. In past years, including last year, the FBI and CIA were among the government agencies that set up recruitment booths at the festival. The booths were staffed by LGBT employees of the two agencies. In prior years, the D.C. Metropolitan Police Department also set up a recruitment booth at the festival.
It could not be immediately determined whether those and other law enforcement agencies planned to set up recruitment booths at the festival.
The post Capital Pride 'celebrates weapons manufacturers, corrupt banks': group appeared first on Washington Blade: Gay News, Politics, LGBT Rights.
PHOTOS: Stonewall Kickball Sunday
Posted: 03 May 2018 04:19 AM PDT
Stonewall Kickball held its weekly matches at Stead Park on Sunday.

(Washington Blade photos by Tom Hausman)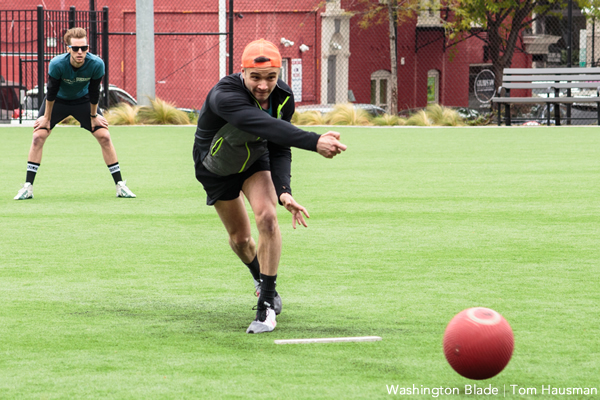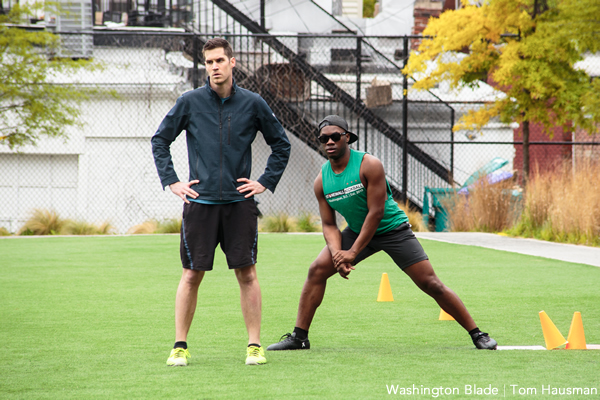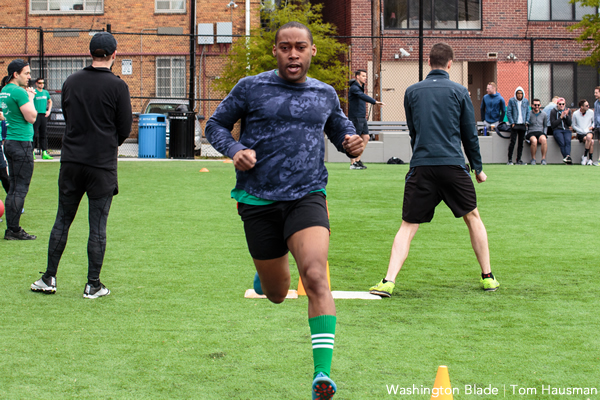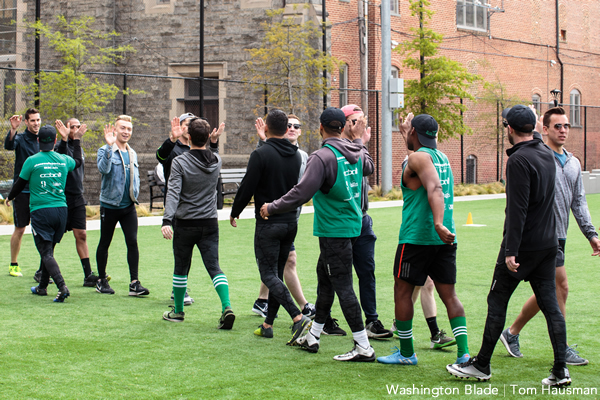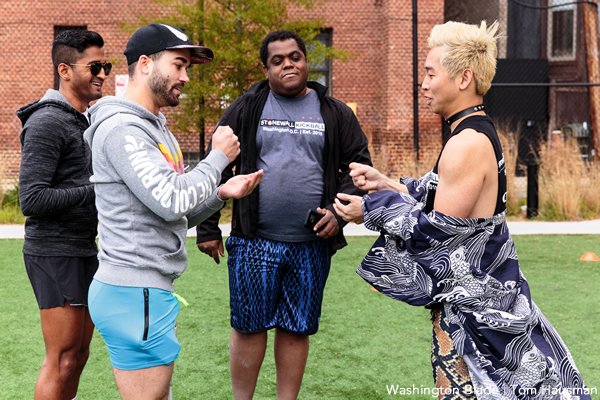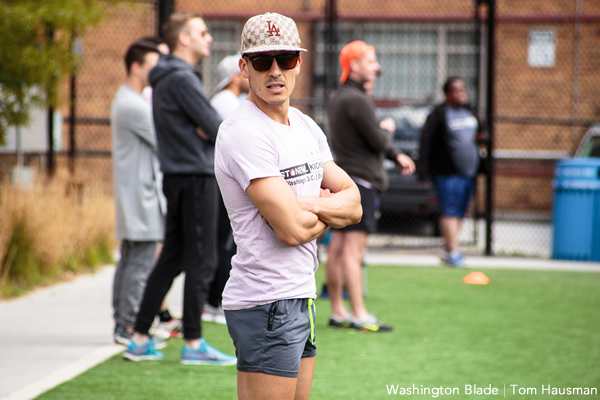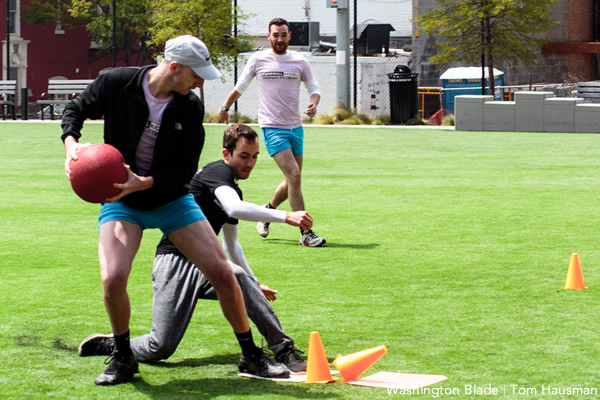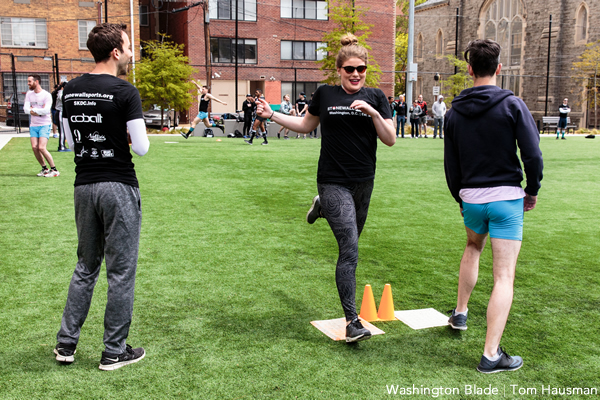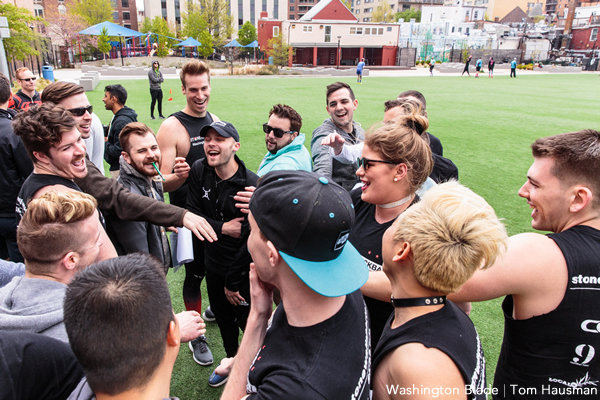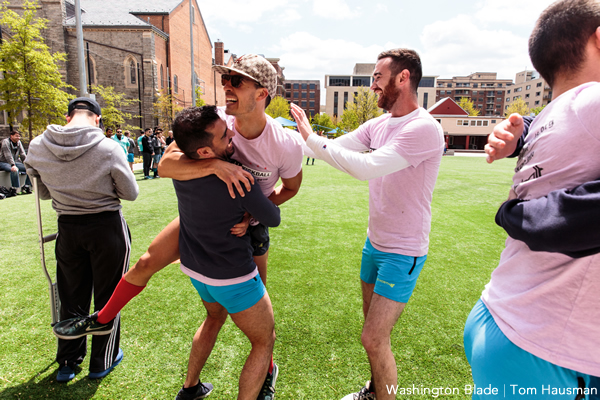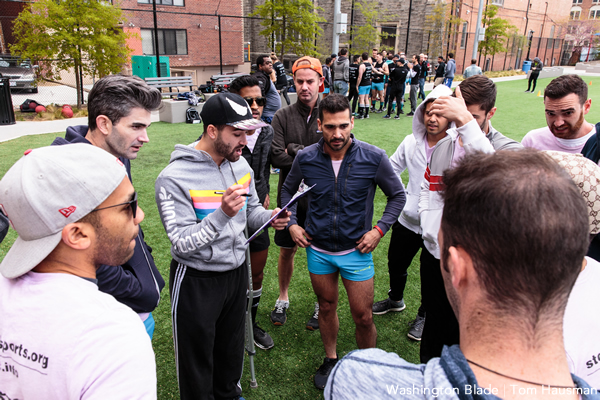 The post PHOTOS: Stonewall Kickball Sunday appeared first on Washington Blade: Gay News, Politics, LGBT Rights.
Posted: 03 May 2018 04:03 AM PDT
House Minority Leader Nancy Pelosi is the embodiment of the feminist adage "the personal is political." She celebrated part of her 78th birthday at an LGBT equality weekend in Palm Springs, which she declared a "fabulous" fundraiser for the Democratic effort to "take away" the House from the Republicans in the November midterm elections.
Pelosi is so confident of victory, she told the Los Angeles Blade that she would appoint out Rep. Mark Takano as the next chair of the House Veterans Affairs Committee. Naming names for leadership positions has rankled some Democrats who do not want Pelosi to assume she will be re-elected House Speaker. But with her track record as a strategic political thinker and vote-counter, a prolific fundraiser and one of the most recognizable leaders of the opposition to President Donald Trump and the conservative Republicans who bow his way, Pelosi is frank and assured.
"'We will win. I will run for speaker. I feel confident about it. And my members do, too," the Boston Globe reported May 2 on Pelosi's meeting with the Globe's editorial staff. "It's important that it not be five white guys at the table, no offense," referring to the president meeting with the top two leaders from the House and Senate. "I have no intention of walking away from that table."
Pelosi's track record includes passage of the profound change in healthcare. "The White House played a major role in getting the votes for ObamaCare, but it couldn't have passed without Pelosi," The Hill reported in February 2016. "Former White House deputy chief of staff Nancy-Ann DeParle called her 'a force of nature' in convincing Democratic members to vote yes."
After the Affordable Care Act narrowly passed on March 21, 2010, Pelosi noted that women would no longer be charged more because of their gender—women were no longer a pre-existing condition. But the year before, she also predicted "fire and brimstone" and "shock and awe" from across the aisle. "They're coming after us," Pelosi told House Democrats in 2009.
Many of the darts thrown at Pelosi over the years have been acid-tipped with LGBT-hatred. "One of the things the Republicans like to do around the country is to represent me as a LGBTQ first and foremost supporter. I represent San Francisco, which they caricaturize as being a gay haven and capitol. And that's something we're very proud of," Pelosi told the Los Angeles Blade in a 30-minute interview on April 27. "But the fact is the country is going to leave them behind because people have a different level of respect because of the work the LGBTQ community has done in many areas to end discrimination and in the fight against HIV/AIDS."
Pelosi says HIV/AIDS and passage of the Equality Act are top priorities. "The Equality Act is something that really should be appreciated in a very special way because it really is transformative," Pelosi says. "It just changes everything. It says whether it's credit or housing or job discrimination or you name it—you can no longer discriminate. Well, you shouldn't discriminate to begin with. But it makes it a part of the Civil Rights Act to protect [LGBT] people."
Pelosi notes that when Equality Act sponsor out Rep. David Cicilline introduced the Equality Act, civil rights icons stood beside him. "It's a priority for us. A day doesn't go by that we're not speaking out against discrimination in the workplace and any other place," she says. "And we would hope that we could do something with the Republicans on that between now and January—but we know in January, we'll be able to go forth with an agenda that is not only proactive in what it does but also removes all doubt that we won't have any of these other bills that enshrine discrimination in our laws."
But first there's an election to win. "We are going to be focusing on the economy in our debate," she says. "That is what elections are about across the board. And the success that we have had in recruiting candidates and we have the A-Team on the field, the very terrible numbers of President Trump means that they have over 40 retirements. The mobilization has never been bigger. People see the urgency. They want to take responsibility and that gives us opportunity."    
While many of the energized youth are fans of Rep. Maxine Waters' call for Trump's impeachment, Pelosi thinks that is not a winning strategy. "Maxine and I go back well before we went to Congress. So count me as a Maxine fan. But I do say focusing on impeachment is a gift to the Republicans," she says. "What we have to do is focus on the economic insecurity of American families and people. It's about their apprehensions and their aspirations. And that's what we need to be talking about.
"If there's any movement to impeachment, it will have to come with data about what happened, vis a vis the law, and it will have to be bipartisan and we're a long way from that," Pelosi says.  "So I do not think that talking about impeachment as our message for the election is a winning formula. Should people talk about it if they believe in it—that's up to them. But in terms of our unifying message, it's about the economy— our better deal. We think the American people have gotten a raw deal from the Republicans. We have a better deal—better jobs, better pay, better future. And we're very proud of that economic message. It's a message of unity in our party. It's a winning message and that's how we're going forward."
While impeachment may not be a winning electoral strategy, the concern about the erosion of democracy is. Pelosi says she was pleased to see some senators challenge new Sec. of State Pompeo during his confirmation hearing, pointing out that some of his negative LGBT public policy views "are not the views of the United States."
But, Pelosi notes with more than a hint of dismay, Pompeo is "an employee of the president of the United States. It's about the president. This president has been a great showman. He's done a good job in winning the election. He's the president. But what he is doing is harmful to our country and even if you voted for him, you would have to see that this is not constructive. And it's not unifying. Our founders gave us guidance. They said E Pluribus Unum—from many, one.  They couldn't imagine how many that would be but we had to be one. And these Republicans in power—they can't say from many one, except some people we would exclude and discriminate against." Though Pompeo's record "is of concern," she hopes "with new responsibility, he will act responsibly. We'll see."
Pelosi also shares the concern of Rep. Adam Schiff, her appointee to the House Intelligence Committee, about the "dismantling of our democratic institutions that President Trump is so set upon, whether it is dismantling and discrediting the press, which I think is the greatest guardian of our freedom—freedom of press, dismantling of our Justice Department and law enforcement, in terms of the FBI, ignoring the system of checks and balances that exists in our Constitution, which is the strength of our country."
Pelosi is also concerned about Trump getting rid of regulations. "They're protections," she says. "If he has an objection to something, let's discuss that, make it better or not, if we think it's the best it can be." But it's critical to recognize that "he is destroying the protections for clean air, clean water, food safety, consumer protections," and the other protections, including the rollback of protections for LGBT people.
"The president is anti-governance. He doesn't really believe in the role of government in improving people's situations," Pelosi says. "So it's a comprehensive approach to dismantling democratic institutions. One of the reasons people should be very concerned is because the president is doing nothing to protect our electoral system, our democracy. The Russians have disrupted our election and he won't look into it at all. And that's a very, very bad course of action. Why not? We're concerned about how he's not dealt with sanctions on Russia," among other issues.  "But how does he explain not protecting our electoral system? That is the basis of our vote, our vote is the basis of our democracy, and the president is not upholding his constitutional responsibility to protect and defend our Constitution and our democracy that goes with it."   
While young people at the #ResistMarch in West Hollywood last year were stirred up by Leader Pelosi's rhetoric, it was clear they knew she was important—but not really who she was and why she was so passionate about LGBT equality.
Some of it is centered in Pelosi's Catholicism, which is not the set of beliefs the Catholic Church espoused during Prop 8 and other political-religious battles. "As a Catholic, I was raised to respect every person. We're all God's children. In my family, there was never any question about that," she says. "It didn't teach me discrimination. It taught me respect. And so it prepared me very well, my Catholicism, for being a representative in San Francisco."
Pelosi is guided by a moral imperative that young people may not understand today—the deep, personal impact of AIDS.
"Some people criticized me for talking about AIDS on my first day in Congress and I realized that it was not just about getting funding for AIDS research and prevention and care but it was about ending discrimination against people with HIV and AIDS," adding that California has been a "tremendous resource" throughout the years for intellectual, political and economic response to the disease.
Pelosi responds viscerally when asked about losing friends. "Oh, my gosh. Oh, my gosh. A little flower girl in my wedding. My dear, dear friends in the community in San Francisco. We were going to two funerals a day. I was visiting people in the hospital all the time and quite frankly, when I say losing people," Pelosi says, "I lost friends because I just walked away from them because they were not treating people with HIV and AIDS with respect. They would say to me, 'I don't know why you hire that caterer – don't you know that everybody there has HIV?' And I'd say, 'Don't bother to come to my house any more if that's your attitude.' It just changed my whole view of them."
Within the span of her life and political career, Pelosi has personally experienced the heartbreak of HIV/AIDS and the political battles to fund and find a cure.
"I'll never stop missing some of my dearest dear friends from then," she says. "Of course we went from funerals to people saying help me make out my will because this is going to end soon, to those very same people looking for a job and then wanting to get married. So everything has improved but I would never have thought 30 years ago when I started all this in Congress that we still wouldn't have a cure for AIDS. We've improved the quality of life, we've sustained life. Everything is better but it's not over, not finished."
It appears that the quality of simultaneously never forgetting while always looking forward is what motives House Minority Leader Nancy Pelosi.
The post Pelosi, speaking out appeared first on Washington Blade: Gay News, Politics, LGBT Rights.
Posted: 02 May 2018 04:30 PM PDT
The spring rains were not strong enough to wash away the smell of corruption. Here are several short takes on the news.
1. Congress doesn't have a prayer. Speaker Paul Ryan demanded and got the resignation of Reverend Patrick J. Conroy, the 60th Chaplain of the House of Representatives. Conroy suspects it was because he offered a prayer questioning the tax-cut bill out of concern for the poor. This raises the question of why there should be a chaplain in the first place. The job of chaplain, as Ryan apparently sees it, is not to challenge legislators but to provide a thin veneer of piety to cover their rapacity, cruelty, and arrogance. Let them call Dial-a-Prayer and stop wasting our taxes.
2. Punching for patriarchy. Old comments keep coming back to haunt L. Paige Patterson, president of the Southwestern Baptist Theological Seminary and former president of the Southern Baptist Convention. In 2000, at a conference of the Council on Biblical Manhood and Womanhood, he boasted of having counseled a woman who was beaten by her husband to stay, submit to him, and pray for him. This stems from complementarity, which teaches that men and women were created for each other. It is a euphemism for male supremacy. Its true origin is not the Bible but Plato's Symposium, which, unlike the SBC, recognized that some people's "other half" is of the same gender. Pro tip: you can pray just as well from a place of safety.
3. Guilty, guilty, guilty. Bill Cosby's money and past impersonation of "America's Dad" finally failed to protect him. He was convicted on three counts related to drugging and raping Andrea Constand. In an unsealed deposition from 2005, he had admitted that he obtained drugs to sedate women he wanted to have sex with. Whether he is sentenced to 30 years or gets off on appeal, the entertainer and philanthropist will forever be remembered as a monster who used moral scolding of the poor to conceal his predations. One advance that may come from his case is the repeal of statutes of limitations for such crimes.
4. Grifter in the oil patch. Scott "Cone of Silence" Pruitt is so corrupt and destructive of the EPA that I believe he needs his bloated security detail. Like Paul Ryan saying the social safety net hurts the poor, Pruitt had the gall to say that killing pollution regs will help the environment. So go ahead, stay home on Election Day and choke.
5. Moon-Kim summit. The leaders of North and South Korea shook hands across their heavily armed border on April 26. This comes none too soon considering that America's president surrounds himself with men slavering for war. Keep in mind that Congress paid for its tax cut with a massive increase in military spending, which is like balancing your béarnaise sauce with a crème brûlée for dessert. The result will not just be a spike in national debt, but countless more in foreign dead missing from our casualty lists and war memorials. Do not stray far from the bathroom.
6. Survivor: Knowhere. If you doubted that the next Marvel movie could be as good as Black Panther, congratulations. Avengers: Infinity War appears to be in a contest to see how many actors can be wasted in one movie. My favorite moment came when the ten-year-old next to me yelled "You idiot!" at Benedict Cumberbatch. Central to the plot are six "infinity stones" that together convey the power to kill half the universe, which the villain wants to do because of food shortages or some such brutal excuse. The stones are what Alfred Hitchcock called a MacGuffin, an object that drives the story. MacGuffins were parodied endlessly over the decades when TV's Doctor Who worried about the Sash of Rassilon and other artifacts getting into the wrong hands. Infinity War got into the wrong (screenwriters') hands, though it is breaking box-office records. It is capably made. Film lovers deserve more.
A grownup friend whispered, "We had a good run," referring not to movie franchises but to America, which after 242 years is a theater full of hungry fans laughing at facile dialog.
Richard J. Rosendall is a writer and activist. He can be reached at rrosendall@me.com.
Copyright © 2018 by Richard J. Rosendall. All rights reserved.
The post Praying away the perfidy appeared first on Washington Blade: Gay News, Politics, LGBT Rights.
N.H. Senate approves transgender rights bill
Posted: 02 May 2018 03:20 PM PDT
State Sen. Bette Lasky (D-Nashua) described House Bill 1319 as "a common sense New Hampshire bill." State Sen. Dan Innis (R-New Castle), who is openly gay, is among the other senators who also spoke in support of the measure before the vote.
"Anti-transgender discrimination is wrong," said Innis.
Sexual orientation has been included in New Hampshire's statewide nondiscrimination law since 1998.
The state Senate in 2009 rejected a bill that would have added gender identity to the statute. New Hampshire remains the only New England state without transgender-specific protections in its statewide nondiscrimination law.
"New Hampshire has recognized that transgender people should have the same rights as everyone else," Gerri Cannon, a trans rights advocate who is a member of the Somersworth School Board, told the Washington Blade after Wednesday's vote. "Our Transgender residents and visitors can now feel safe in New Hampshire. Our voices have finally been heard."
Linds Jakows, campaign manager of Freedom New Hampshire, which advocated for HB 1319, in a statement said "New Hampshire lawmakers showed tremendous leadership in support of the transgender community and their loved ones."
"This law will go a long way to affirm the dignity of transgender Granite Staters and allow them to truly live free," added Jakows.
Janson Wu, executive director of GLBTQ Legal Advocates and Defenders, which is based in Boston, agreed.
"Today, the New Hampshire Senate voted to affirm the dignity and humanity of transgender Granite Staters, and to ensure they have an equal opportunity to live and work free from discrimination," said Wu.
The New Hampshire House of Representatives in March approved HB 1319, which gay state Rep. Ed Butler (D-Hart's Location) introduced.
More than 50 Republicans voted for HB 1319. A spokesperson for Republican Gov. Chris Sununu on Wednesday said he plans to sign the bill.
A spokesman for @GovChrisSununu confirms he intends to sign the bill #nhpolitics https://t.co/d90lIcLrlK

— Adam Sexton (@AdamSextonWMUR) May 2, 2018
"In a national landscape where transgender people are too often attacked for who they are, New Hampshire is a shining example for other states across the country," said Jakows. "We look forward to the day Governor Sununu seals New Hampshire's motto of Live Free or Die with his signature."

The post N.H. Senate approves transgender rights bill appeared first on Washington Blade: Gay News, Politics, LGBT Rights.

The New Hampshire Senate on Wednesday by a 14-10 vote margin approved a bill that would add gender identity to the state's nondiscrimination law.
'Ex-gay' therapy bans, anti-LGBT adoption bills advance in states
Posted: 02 May 2018 02:30 PM PDT
A host of LGBT-related bills are making their way to the desks of governors around the country and could have a major impact on LGBT Americans if signed into law.
Anti-LGBT bills that would enable taxpayer-funded adoption agencies to deny placement to LGBT homes over religious objections are heading toward passage in two states, but bans on widely discredited "ex-gay" conversion therapy are moving forward elsewhere and one state is considering a transgender non-discrimination bill.
Two states that are on the cusp of enacting anti-LGBT adoption bills are Oklahoma and Kansas:
In Oklahoma, both chambers of the legislature passed versions of anti-LGBT adoption bills that are set for consideration in conference committee before final approval and transmission to Gov. Mary Fallin.
In Kansas, the Senate attached the bill to House Bill 2481, a non-LGBT related bill approved by the House. The House refused to concur with the amended bill, so the bill was sent to conference. The measure could be dropped or included in the final package in conference committee, but there's also a renewed effort to convince the House to accept the amended bill.
Cathryn Oakley, state legislative director for the Human Rights Campaign, said passage of the bills would place at risk not just LGBT people seeking to adopt a child, but other potential parents to whom adoption agencies may have objections, such as single mothers, interracial couples or couples where one parent has been divorced.
"These bills would really artificially limit the pool of prospective parents who are able to adopt," Oakley said. "Given that there are all these children who need adopting, and there are all of these LGBTQ adults who are interested in adoption, it seems really counter-intuitive to allow for a government agency to refuse to interact with different kinds of parents for no reason other than to allow them to discriminate."
Oakley added the bills are also constitutionally suspect because states have obligations under the Establishment Clause and the Equal Protection Clause to treat families equally under the law and "not to be privileging some religious beliefs for other religious beliefs."
"They don't get to delegate those responsibilities away when they contract with an agency, so these agencies are doing the state's work on taxpayer dollars, they also then inherit those obligations to treat people equally under the law," Oakley said.
Joining LGBT groups in opposition to the bills are child welfare organizations including the American Academy of Pediatrics, the Child Welfare League of America and the North American Council on Adoptable Children.
One letter signed by these groups says the Oklahoma bill would result in harm by "excluding any single class of potentially qualified parents (such as LGBTQ people)" from the pool of potential parents.
Supporters of the bills are organizations supporting Catholic adoption agencies — such as Catholic Charities, the Catholic Conference of Oklahoma and the Kansas Catholic Conference — who say these agencies will have to shut their doors if forced to place children into LGBT homes.
Another anti-LGBT adoption bill also advanced to the floor of the Senate this week in Colorado. However, the Republican-majority chamber rejected the legislation, Senate Bill 241, by a 16-19 vote thanks to a united Democratic caucus and two Republicans who broke with their party on the legislation.
Daniel Ramos, executive director of One Colorado, said in a statement the defeat of the anti-LGBT adoption bill was a win for his state.
"This was another installment in a series of horrific bills we have seen this session that would take Colorado backwards in the areas of LGBTQ equality, and its defeat today is a victory for the people of Colorado," Ramos said.
As these anti-LGBT adoption bills are considered, other measures seeking to ban widely discredited therapy aimed at changing an individual's sexual orientation or gender identity are also advancing:
In Hawaii, the state legislature this week sent to Gov. David Ige a measure, Senate Bill 270, that would prohibit subjecting LGBT youth to the practice. In Maryland, the legislature sent a similar measure, Senate Bill 1028, to Gov. Larry Hogan, who's indicated he'd sign the measure.
In New Hampshire, the Senate last month voted to approve House Bill 587, which would seek to ban "ex-gay" therapy for youth. The House already passed a version of the legislation, which is now pending before conference committee.
In California, Assembly Bill 2943 is now pending before the Senate after the Assembly approved the measure. California has already banned conversion therapy for youth. The bill would take things a step further and generally classify the practice as fraud.
The practice of therapy aimed at changing an individual's sexual orientation or transgender status is considered ineffectual at best and harmful at worst. Major medical and psychological institutions, including the American Psychological Association, the World Health Organization, the American Medical Association and the American Academy of Pediatrics, widely reject conversion therapy.
Oakley said those proposals are "really important" because they're affirmation that nothing is wrong with being an LGBT person.
"What they're really saying out loud is that we understand LGBTQ people are who they are, they're not broken, they can't be cured, there's nothing to be fixed, you are who you are and [we acknowledge] that no major medical health group believes conversion therapy is legitimate or healthy," Oakley said.
According to a recent report at the Williams Institute at the University of California, Los Angeles, an estimated 698,00 adults in the United States have undergone conversion therapy. That includes 350,000 adults who underwent the practice as teenagers. The report estimated 20,000 LGBT youth will undergo the practice before the age of 18 in the 41 states that at the time of the report didn't ban the practice.
Another pro-LGBT bill was set for consideration in the New Hampshire Senate on Wednesday that would add a prohibition on anti-trans discrimination to the state's non-discrimination law. The New Hampshire House already passed the bill, House Bill, 1319 in March with a bipartisan 195-129 vote. (The Senate vote was set to take place after Blade deadline for this article.)
New Hampshire is one of three states — along with New York and Wisconsin — where the law bans anti-gay discrimination, but not anti-trans discrimination, although New York Gov. Andrew Cuomo signed an executive order expanding state law to cover transgender people.
A New Hampshire Senate committee reported out the legislation with a "do not recommend vote. A similar version of the legislation was voted down in the Senate last week after opponents stoked fears about bathroom access for transgender people.
On the eve of the floor vote, Oakley nonetheless said she's "very hopeful" the chamber will approve the bill. New Hampshire Gov. Chris Sununu is expected to sign the measure.
"New Hampshire is the Live Free or Die State, and what could more live free or die than non-discrimination bills, making sure that people are able to be who they are?" Oakley said.
If the anti-LGBT adoption bills in Kansas and Oklahoma are rejected, it would mean no anti-LGBT bills in any state would have become law in 2018.
Oakley said movement in state legislatures of the pro-LGBT bans on conversion therapy and the prohibition on anti-trans discrimination while fewer anti-LGBT bills make progress is a positive sign.
"State legislatures are at historic levels of Republican control, so it's important to say that this is happening all at the same time that we're looking at increased Republican leadership in the states," Oakley said.
The post 'Ex-gay' therapy bans, anti-LGBT adoption bills advance in states appeared first on Washington Blade: Gay News, Politics, LGBT Rights.
Hate once again rears its ugly head in D.C.
Posted: 02 May 2018 01:36 PM PDT
Too often in the District of Columbia today we are seeing hate rear its ugly head. I am not sure if what is happening here and around the nation can all be laid at the feet of Donald Trump. There clearly is more to it.
In D.C. it was reported "hate crimes motivated by hatred of a religion increased last year, with a rise in the number of crimes targeting Jews and Muslims. Of the incidents spurred by hatred of a particular religion, anti-Semitism was again the leading cause, motivating about 55 percent of those episodes, followed by anti-Muslim sentiment, which spurred about 25 percent. The number of hate crimes targeting lesbian, gay, bisexual and transgender people also went up last year."
I have lived in the District for 40 years having moved here from New York City. It was evident to me then the District was more segregated than I had been used to in New York. I was born in Harlem and my grandparents owned a hardware/housewares store there. I taught school in Harlem and grew up in a home where diversity was valued. My parents who immigrated to the United States to escape the Nazis wanted me to understand different races, cultures and religions. We moved to Washington Heights when I was five but my parents had me travel to a non-denominational nursery school at the Riverside Church.
When I came to the District it seemed to be very segregated and communities came together less than they did in New York. It was all about east and west of the Anacostia River. I was smart enough to understand racism existed then and still does today and is unhealthy for everyone. We continue to have structural racism in the District and we must work every day to change that. We must fight it and speak out against it. We can never let racist comments go unchallenged and must stand up to hate.
As a Jew and a gay man I still benefit from what we understand to be 'white privilege.' Nevertheless, I would expect everyone to also speak out and fight anti-Semitism and homophobia whenever they occur. Today that seems not to be happening as often as it should in D.C.
The District now has a population of 700,000 and we have not abolished hate.
We must find a way to live together and respect each other if we are to become the great city we all want us to be. We need to provide a great education for all our children and job opportunities for all our residents. We need to fight for real equality and that includes economic equality.
So this recent incident of anti-Semitism takes us away from moving toward the better city we want for all. When Council member Trayon White first made his comments about 'the Rothschilds controlling the weather' I was offended but passed it off as a lack of education and was willing to see him educated about how what he said impacted Jewish people. I heard him make an apology and was willing to accept it. I was even willing to give him the benefit of the doubt when he gave $500 to Farrakhan's Saviors Day, though not a pass that he gave it from his constituent service fund, that he may not have realized how anti-Semitic Farrakhan is.
But then I read comments from Jonetta Rose Barras, a well-known reporter and writer, make an excuse for White's anti-Semitism and conflate the Jewish people with the policies of the State of Israel (something that's happening all too often these days). Then Josh Lopez trying to lead what he called a 'unity rally,' not sure why he thought he is the person to do this and what impact he thought he could have, and allow Abdul Khadir Muhammad, a mid-Atlantic representative for Farrakhan to have his megaphone to spew his hateful anti-Semitism and not take back the megaphone and immediately speak out against it publicly. Why were the other speakers silent on this? Why did it take a reprimand from the mayor to get Lopez to apologize? Why has Trayon White yet to speak out and separate himself from the comments of Muhammad?
All of this is both frightening and a blot on the reputation of the District. Clearly we need to educate our children in every part of the city on why hate is wrong. We need to teach that racism, sexism, homophobia and anti-Semitism are wrong and destructive. The question is how we move forward from here. How do we move beyond the attacks on a Jewish member of the Council?
One way is for the Council of the District of Columbia to pass a sense of the Council resolution against anti-Semitism. They could include in that sense of the Council that we will also not accept racism, sexism and homophobia in our city. The mayor should ask the Council to do that and endorse the resolution once it is passed. It would also behoove Josh Lopez to resign from his public post on the Housing Authority as a way to demonstrate he has a real understanding of the situation he exacerbated even if his initial intent was to do some good. There are always repercussions for our actions.
Then in an effort to move beyond this I would hope some of our religious leaders across the District would join together and speak out on these issues. We must find a way to move on and a big part of that is the recognition we must educate our residents and especially our children that as our mayor has said, "Hate is wrong and won't be tolerated in the District of Columbia."
Peter Rosenstein is a longtime LGBT rights and Democratic Party activist. He writes regularly for the Blade.
The post Hate once again rears its ugly head in D.C. appeared first on Washington Blade: Gay News, Politics, LGBT Rights.
Pulse survivor claims he is no longer gay
Posted: 02 May 2018 12:16 PM PDT
Luis Javier Ruiz, a survivor of the June 2016 Pulse nightclub shooting, has claimed he is no longer gay because he has found Christ.
In a Facebook post that has since been deleted, Ruiz shared that he believes God saved him from the "struggles of perversion."
"I should have been number 50! Going through old pictures of the night of Pulse, I remember my struggles of perversion, heavy drinking to drown out everything and having promiscuous sex that led to HIV. My struggles were real ! The enemy had its grip, and now God has taken me from that moment and has given me Christ Jesus," Ruiz wrote.
He continued, "I've grown to know His love in a deeper level. 2 out of the 49 were my close friends and are no longer with us. They lost their life that night. I should have been number 50 but now I have the chance to live in relationship and not religion – not just loving Christ but being in love with Christ and sharing His love. I know who I am and I am not defined with who the enemy says I use to be – but who Christ Jesus says I am."
Ruiz hinted at his new belief in an interview with the Florida Catholic in 2017.
"I survived because I believe God still had a purpose for me," Ruiz said at the time. "My life really did change after Pulse. I am a different person now. Life is really a blessing. … I hate that I lost so many friends, but at the same time I know these beautiful guys are all in heaven. My life has changed, but do hate the fact that it took this tragedy to change my life."
The Christian Post reports that Ruiz will attend the Freedom March at the National Sylvan Theater on Saturday, May 5. The event describes itself as a celebration of "freedom from homosexuality and transgenderism."
The Freedom March event page reposted Ruiz's Facebook message with the message "Share if you believe homosexuals can change."
The post Pulse survivor claims he is no longer gay appeared first on Washington Blade: Gay News, Politics, LGBT Rights.