---
Va. activists, legislators gearing up for 2019 legislative session
Posted: 08 Jan 2019 08:24 AM PST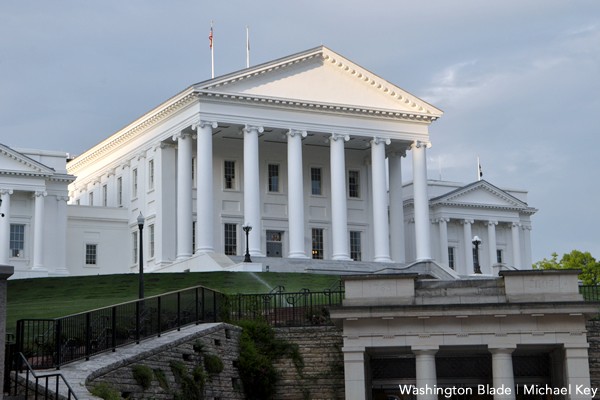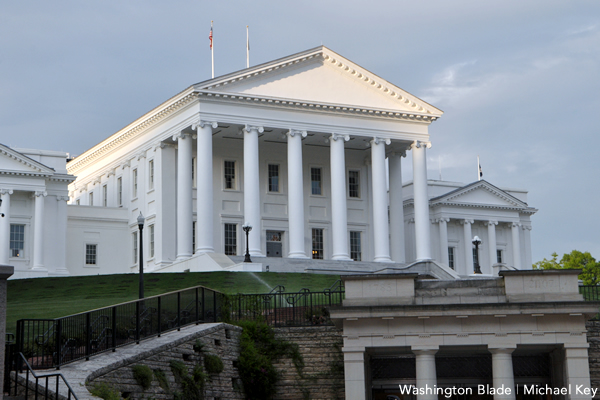 Equality Virginia Executive Director James Parrish says outlawing anti-LGBT discrimination in housing and public employment is one of his organization's top legislative priorities in 2019.
For the past five years, the Republican-controlled Virginia Senate has passed legislation banning discrimination in government employment. For the past three years, the state Senate has passed the Fair Housing Law prohibiting similar discrimination in housing. However, none of the legislation has gotten past the Virginia House of Delegates.
This year, Parrish says a majority of delegates in the House support both proposals.
For the past few years, resistance from Republican leadership has prevented the bills from becoming law. In 2018, House Speaker Bill Howell (R-Stafford County) moved the bills to a special committee where they died.
Parrish believes this move from the Republicans "backfired because there ended up being over an hour of testimony from community members on why we need these protections."
For the pieces of legislation to get past committee this year, they need the backing of one of three Republican delegates representing Virginia Beach. Parrish is optimistic the bills will receive this support given that state senators and city council members from the Virginia Beach area have signaled their approval of the bills.
"We feel like that gives all the necessary support to those delegates to show that their constituents are supportive of these two issues," he said.
"We know we have a pro-equality majority in the House to pass both of those measures if we can get them to the House floor," state Del. Danica Roem (D-Manassas) emphasized.
If these bills were to pass, Virginia would become the first Southern state to have statewide LGBT protections.
Outside of the housing and public employment nondiscrimination proposals, Equality Virginia and pro-LGBT legislators are also looking to reduce barriers to healthcare access for transgender people and remove the same-sex marriage ban from the Virginia constitution. Same-sex marriage has been legal since 2014 in Virginia, but its ban remains in Virginia constitution. State Sen. Adam Ebbin (D-Alexandria), the most senior LGBT official in the state Senate, says removing the ban would be "a symbolic gesture but one that we need to take."
To successfully repeal the constitutional amendment, a bill would need to pass both this year and next year with identical language. Voters would then have the final say on whether or not to redact the mention of marriage from the constitution. "It's a lot to go through," Ebbin told the Washington Blade.
Beyond codifying equal marriage rights for LGBT Virginians, Ebbin is hopeful about the chances of a package of LGBT protections supported by Attorney General Mark Herring. The legislation will designate attacks on the basis of sexual orientation and gender identity as hate crimes.
Ebbin applauds the work Herring has done thus far with the LGBT community. The attorney general, who refused to defend the marriage ban earlier in his career, has held roundtables across the state on hate crimes this past year. "He's really a pro-equality attorney general who has gone out of his way to try and understand the concerns of our community along with the entire public," said Ebbin.
Ebbin says he's optimistic about the prospect of passing protections for LGBT people this session largely because he believes LGBT equality is beginning to gather bipartisan support.
"We're seeing people with good voting records according to the Family Foundation being willing to depart from their preconceived notions about how they might vote," Ebbin told the Blade. "There are some Republican legislators in Virginia now who are now voting pro-equality while at the same time maintaining their pro-life and pro-gun stance."
The post Va. activists, legislators gearing up for 2019 legislative session appeared first on Washington Blade: Gay News, Politics, LGBT Rights.
Gay man killed in weekend D.C. murder spree
Posted: 08 Jan 2019 06:23 AM PST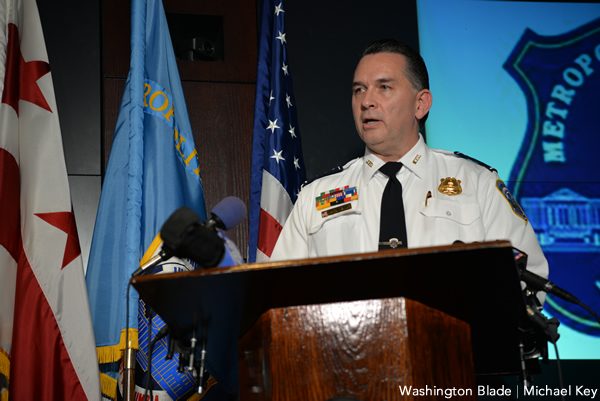 A 36-year-old gay man who was a former manager at Bloomingdale's department store in Chevy Chase, Md. was one of five people murdered in D.C. last weekend in a start-of-the-year crime spree that has troubled Mayor Muriel Bowser and Police Chief Peter Newsham.
D.C. police said officers responding to a call for help found Vongell Lugo unconscious and suffering from multiple stab wounds in the hallway of the Garfield House apartments where he lived at 2844 Wisconsin Ave., N.W. about 4:14 a.m. Sunday, Jan. 6.
A police statement says Lugo was pronounced dead at the scene a short time later after D.C. Fire and Emergency Medical Services personnel arrived.
A police incident report says probable cause was developed at the scene to arrest U.S. Navy Hospital Corpsman 3rd Class Collin J. Potter, 26, who was present at the scene, for Lugo's murder. Police initially charged Potter, who was stationed at the Marine Corps Base in Quantico, Va., with first-degree murder while armed.
The U.S. Attorney's Office, which prosecutes criminal cases in the District, lowered the charge to second-degree murder while armed at a presentment hearing in D.C. Superior Court on Monday afternoon.
At a news conference called by Bowser on Monday to discuss the city's plans for addressing a wide range of issues in 2019, Newsham provided details about each of the five murders that took place over the weekend, including the Lugo case, which he called a "domestic homicide."
Police have said they have no information so far to indicate any of the five murders were related to each other by a common perpetrator.
After the news conference Newsham told the Washington Blade in an interview that homicide investigators believe Lugo and Potter were in a relationship.
"We believe they knew each other and they had a relationship," Newsham told the Blade.
When asked if police ruled out the possibility that Potter could have targeted Lugo for a hate crime Newsham said: "I don't want to say that, but it appears that there was a domestic relationship at this point. But I don't want to completely rule that out because information can come forward. But it appears there was a domestic relationship. That's the information we have right now."
Similar to past cases of murders of LGBT people, D.C. police made no mention of Lugo's sexual orientation in the police news release announcing the murder and arrest in the case. Police have said they follow a policy of not disclosing the sexual orientation or gender identity of crime victims unless they have specific evidence indicating the victim was targeted because of his or her sexual orientation or gender identity.
A gay man who was a friend and former co-worker of Lugo said Lugo was well known as gay among his circle of friends in D.C. and Maryland, where he worked at the Chevy Chase Bloomingdale's.
"Yes, he was open about being gay," said the friend, who asked not to be identified. "He hung out mostly in straight bars, occasionally in gay bars," said the friend. "I just can't believe this. I'm so sad."
Court records show that prosecutors on Monday submitted a Gerstein Affidavit in connection with Potter's arrest. Such an affidavit usually provides specific information and evidence obtained by police to a judge to justify an arrest. The Blade was unable to immediately obtain a copy of the affidavit because the Superior Court's public information officers who respond to press inquiries had been furloughed as part of the federal government shutdown.
Under D.C.'s limited home rule charter the federal government operates the city's court system.
The available online court records show that Superior Court Judge Sean C. Staples ordered Potter held without bond pending a preliminary hearing scheduled for Jan. 18.
Potter's court appointed attorney, Matthew F. Davies, couldn't immediately be reached for comment. The Blade will report on additional information on the Lugo case when it becomes available.
During her news conference on Monday the Blade asked Bowser whether she and Chief Newsham could take steps to address anti-LGBT hate crimes following at least six unrelated assaults against gay men in 2018 that police listed as anti-gay hate crimes.
"Well certainly you know we are very focused on making sure the community feels comfortable making reports to us and knowing that all reports will be taken seriously and investigated and that we will seek justice for hate crimes against our LGBT community," Bowser said.
"And we take all of these crimes very seriously," she said. "And while it's anecdotal I feel that the community knows that they can call the police for help," she added.
The post Gay man killed in weekend D.C. murder spree appeared first on Washington Blade: Gay News, Politics, LGBT Rights.
New Michigan, Wisconsin guvs sign orders against anti-LGBT bias
Posted: 07 Jan 2019 06:14 PM PST
Newly seated governors in Michigan and Wisconsin signed on Monday executive orders against anti-LGBT discrimination as among the first acts in their new roles.
In Michigan, Gov. Gretchen Whitmer signed an executive order ED 2019-9, which bars discrimination against LGBT people in state employment, public services and state contracting.
Masen Davis, CEO of Freedom for All Americans, commented Whitmer in a statement for order saying it "provides important protections for LGBTQ Michiganders and their families."
"Employees of Michigan's executive branch and state contractors are now protected on the basis of sexual orientation and gender identity or expression, as is any person accessing programs, services, or activities the state government offers to the public," Davis said.
Meanwhile, Wisconsin Gov. Tony Evers signed an executive order against anti-LGBT discrimination in state employment and state contracting. Evers signed the order on his first day in office.
Wendy Strout, Wisconsin state director for the Human Rights Campaign, had similar high praise for Evers for signing the order.
"Discrimination in any form is wrong, and through his actions today — signing his first executive order since taking office — Gov. Evers continues to demonstrate that he will fight day in and day out to uphold the Wisconsin values of fairness, justice and equality," Strout said.
Michigan is one of 31 states that lack any explicit state law barring anti-LGBT discrimination, although last year the Michigan Civil Rights Commission affirm it would interpret the Eliot-Larsen Act, which bars sex discrimination in Michigan, to cases of anti-LGBT discrimination.
Wisconsin, on the other hand, was the first state to enact a law against sexual-orientation discrimination, but has never followed up with a similar anti-discrimination law barring transgender discrimination. Lawmakers have introduced legislation would ban anti-trans discrimination that is pending before the state legislature.
Whitmer's order expands a similar order former Michigan Gov. Rick Snyder, a Republican, signed last month with days remaining in office. However, the order Evers doesn't have the same precursor in Wisconsin. Former Wisconsin Gov. Scott Walker signed no similar order against anti-LGBT discrimination.
Incoming Kansas Gov. Laura Kelly has also said she'd sign an executive order against anti-LGBT upon taking office. Her inauguration is Jan. 14.
The post New Michigan, Wisconsin guvs sign orders against anti-LGBT bias appeared first on Washington Blade: Gay News, Politics, LGBT Rights.
Removal of marriage from new Cuba constitution divides LGBTI community
Posted: 07 Jan 2019 01:29 PM PST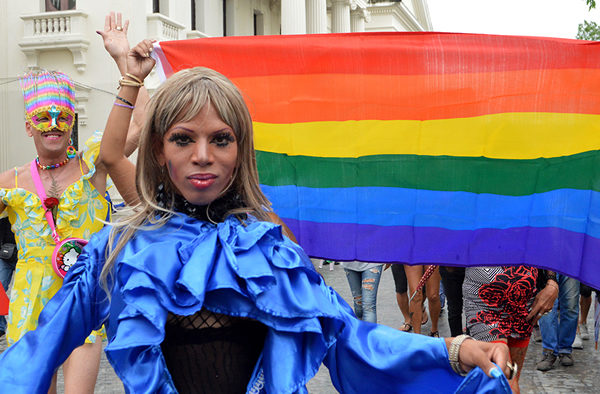 Editor's note: Tremenda Nota is the Washington Blade's media partner in Cuba. This article was originally published on Tremenda Nota's website on Jan. 2.
SANTA CLARA, Cuba — The LGBTI+ community remains divided after the National Assembly modified the marriage amendment in the draft of the new constitution. Part of it defends the yes vote and supports the official campaign, while another group says it will vote against the constitution.
On Saturday, Dec. 22, the same day the Cuban Parliament in Havana ended sessions where changes to the draft Cuban constitution were approved, a group of young people discussed them in Vidal Park in Santa Clara, 300 kilometers from the Cuban capital.
The decision to exclude Article 68, which defined marriage as "the union of two people," from the future constitution was received with bewilderment in the city, which is known in the country for its inclusive spaces for the LGBTI+ community.
According to the National Assembly, the suppression has the goal of "respecting all opinions," an argument that seems to echo the anti-marriage equality campaign from various evangelical churches.
Mariela Castro Espín had referenced to the "blackmail" of these religious groups in a recent interview, although nothing suggested the constitutional text would be modified for this reason and marriage would be subject to another referendum, as part of the Family Code, under a two year deadline.
Castro Espín directs the National Center for Sexual Education (CENESEX) and is also the country's most well-known official LGBTI+ rights activist. Her work has been criticized because it intends to work the agenda of a minority that has been historically marginalized into the political discourse of the same government that has persecuted it and has not to this day offered reparations.
Ramón Silverio is another activist and cultural promoter who directs El Mejunje, a community center known across the country for its drag shows.
Silverio feels that the LGBTI+ community "did not do much to defend (Article 68)."
"There was no counterpart," he admitted. "The churches had a lot of influence, combined with the homophobia that exists in society regarding the issue."
Marriage now appears to be described in Article 82, a passage written in technical and ambiguous language with the declared goal of not closing the door on the legality of partners of the same sex and gender, despite the controversial referendum option.
"We are putting the rights of the most vulnerable people and groups in a somewhat critical position when taking them to a popular referendum," warned Deputy Luis Ángel Adán Roble during Parlament's last session of 2018.
Adán Roble is the only deputy with a speech that mirrors LGBTI+ activism. In the closing session, however, he merely confirmed his support for the change and invited citizens to vote in favor of the draft constitution.
Yes or No?
Dagnis Romero, vice coordinator of the TransCuba Network in Villa Clara Province, spoke without hesitation of what she considers a "lack of respect." She is referring to the Article 68 modifications and the announcement of another referendum to approve the Family Code.
TransCuba is a group of transsexuals affiliated with CENESEX and lead by Malú Cano, a trans woman who frequently appears with Mariela Castro in the media and on social media.
Dagnis is 36-years-old and says she was deported to the island after visiting some Latin American cities. "I left this country because of the rampant discrimination that exists, I have not been able to operate, I have not been able to do anything," she explains.
Thirty-nine sex-reassignment surgeries have taken place in Cuba over the last decade, according to the Trabajadores newspaper in the middle of this year. A diagnosis of "gender dysphoria," a requirement that part of the international trans advocacy movement rejects, is still required in order to reach the operating room.
Romero categorizes the country as "very late" and says living according to her gender identity leaves her feeling isolated everyday.
"Now they are taking away from me the possibility of forming a home," she says in relation to the draft article.
Ramón Silverio, nevertheless, assures "a large part of this community has never been interested in marriage."
"I don't understand why there is this setback," said Abel Raúl, a young man with Christian parents who moved to Villa Clara from eastern Cuba.
Mariela Castro Espín, (a member of the National Assembly) since the beginning of the debates has insisted that "there is no setback" and everything is due to a misinterpretation of the parliament's first communiqué that was published on Twitter on Dec. 18.
CENESEX launched a social media campaign during the parliamentary sessions with the hashtag #IVoteYes and the slogan "Rewrite happiness."
Castro Espín was the furthest away during parliament's closing session and attributed the intention of numerous people to vote against the draft constitution over the exclusion of Article 68 the announcement of another popular consultation exclusively on marriage to the "counter revolution."
Raisel Nuñez Medina, another one of the young people who spoke with Tremenda Nota in the park in Santa Clara, considers the debates around marriage "were as if it was something abnormal, and there were thousands of more important things to discuss."
"I know couples who have lived in the same home for more than 30 years and had put their hopes in their legal union to make their future plans," he says.
Ramón Silverio, who agrees with CENESEX's position, supports Article 82 and wants to influence El Mejunje's clientele in order to get more votes in favor of the draft constitution.
"Since Sunday we have been conducting a campaign that includes exhaustive explanations of the article," he declared to Tremenda Nota. "I am convinced that the majority is going to vote yes in the referendum."
"For its part, an LGBTI+ group from Placetas, a city near Santa Clara, on Dec. 25 made an announcement on Facebook that left out propaganda from the yes and no (factions) and reflects on the inconsistencies of official activism.
The group considers that the version of the marriage article approved by the parliament "does not satisfy the demands of the LGBTI communities."
"Some activists were controlled by indications of waiting later," said a document signed by CENESEX collaborators that denounced the claims.
The revelation seems to allude to instructions sent by the institution (CENESEX) to its "community networks" in order to avoid answering questions or public acts against the homophobic campaign that various evangelical churches have promoted. The declaration suggests Placetas LGBTI will vote in favor of the new constitution, although its members also demanded the elimination from the constitutional text the provision that "authorizes" the right to marriage equality to go to a referendum.
The post Removal of marriage from new Cuba constitution divides LGBTI community appeared first on Washington Blade: Gay News, Politics, LGBT Rights.
Buying a home before you planned
Posted: 07 Jan 2019 11:54 AM PST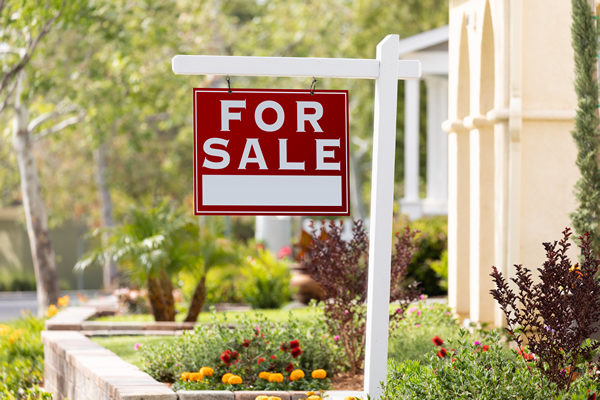 We've had several clients recently buy homes long before they thought they would. These clients came in for meetings and told us that they wouldn't be buying for at least a year. Four months later, they're in a new home. We're seeing this happen time and again so we thought we'd take a moment to examine this trend of buying a home before you planned on doing so.
Once buyers start thinking about a move and talking to a Realtor, the house hunting process tends to speed up. Buyers begin to envision themselves in their new neighborhood or city and in their new space. They get excited about the thought of more (or less) space or perhaps a more urban lifestyle. Once they start touring homes, they begin to realize just how much they want (and/or need) to be in a new home.
Why is it happening so much now?
Historically, we see the spring market really kick off President's Day weekend and sometimes even as early as MLK weekend.
We think the reason is twofold. First, is economics 101. Major economic indicators continue to be strong. Additionally, the Fed is likely to raise interest rates in the coming months. People thinking of making a move have accelerated their plans to do so.
Another key factor is very low housing inventory in the D.C. market. House hunters are jumping on properties that fit the bill, knowing that competition is only going to intensify in the months ahead.
We had two sets of recent clients buying a home before they had planned for the first time. During those initial meetings, both couples said they planned to wait a year or so before buying. However, once they got the ball rolling by talking to a lender, setting up searches to start looking at options, etc. their excitement (and seriousness) intensified.
Both couples began actively touring neighborhoods and properties and were in new homes within three months of our initial meetings.
Another couple, parents of past clients of ours, were relocating to our area from out of state to be closer to family. Before doing so, they planned to sell their out-of-state home first and make the move to the D.C. area in a year. While they were in town for the holidays, they came into the office for a meeting and initial strategy session. Sue took them on a neighborhood orientation tour so they could scope out the various neighborhoods in their price range near their grandkids. On that tour, they fell in love with a home that suited their needs perfectly. The ended up going for it – and getting it! As a result, they bought before they sold, which was not their initial plan. However, they ended up with the perfect home and are now able to spend lots of additional time with their grandchildren.
The Bottom Line
Whatever your target time frame is for a move, preparing early is the key. First, talk with a Realtor (and lender) early in the process. We can't stress this enough if considering buying a home before you planned on doing so. It will position you to move quickly when you do find the right property. By looking closely at searches and listings your agent sends, you'll begin to narrow in on what area and home styles you like the best. Perhaps most importantly, signing on with an agent early will provide you access to properties long before they hit the market. We've helped several clients buy (and sell) homes before they ever went live. Working with an agent is particularly important in a tight and competitive housing market like our current one.
If you are thinking of a move, please reach out today. We'd love to get the conversation started and help you find your next home.
Allison Goodhart DuShuttle is with Compass Real Estate. In 2017, the Goodhart Group helped 120 clients achieve their real estate goals. Led by Sue and Allison Goodhart, they have been named a Top Agent by both Washingtonian and Northern Virginia magazines. Allison can be reached at 703-362-3221 or allison@thegoodhartgroup.com. 
The post Buying a home before you planned appeared first on Washington Blade: Gay News, Politics, LGBT Rights.
American Moor returns to Washington
Posted: 07 Jan 2019 11:19 AM PST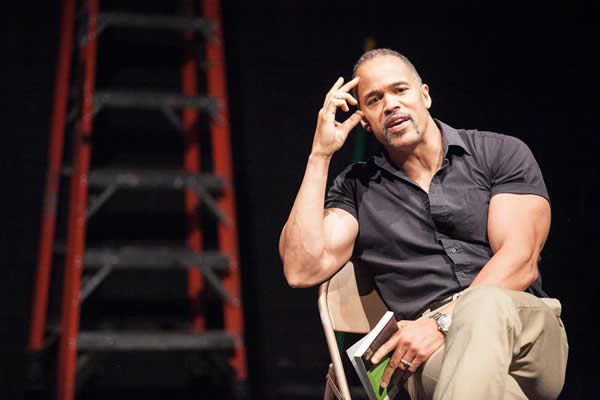 The veteran actor channels and questions a bard four centuries gone, like the New Horizons probe reporting back to earth amid the cosmic noise from four billion miles away—though unlike manned missions, the probe didn't stop to plant a flag as it passed Ultima Thule, an asteroid from the early solar system. Some claim possession of Shakespeare as they would a continent or a lunar crater, guarding their turf like gentrifiers calling police on black neighbors.
Keith Hamilton Cobb challenges this proprietorship, bringing his passionate, probing American Moor back to Washington's Anacostia Playhouse as Democrats retake the House of Representatives. Cobb took his play last year to London, Boston, and West Orange, New Jersey, portraying a tall, powerfully built, handsome black thespian in middle age auditioning for Othello.
The tension in the audition room resonates with that of our nation's history and its roiling present: the white director thinks he knows the large black protagonist better than the large black man standing before him. Confiding in the audience, the actor makes them his compatriots. Starring in his own play, Cobb critiques American regional theatre and its racial myopia from the inside as one who has loved Shakespeare since his youth—an actor who can do anything, his agent assures him, but whose prospective employers only see him as one thing.
"[T]hroughout my American life, whenever some white person, well-meaning or otherwise, has asked me to 'be open' they have invariably meant, 'See it my way.' And in this instance, in this play, that is unacceptable." He recognized his acting vocation early the way a person knows he's gay. Decades later, his seasoned brain and instrument have much to lend the enterprise, but the young director, confident he knows Shakespeare's intentions because he studied under a teacher twice removed from a Brit, is not as collaborative.
Lacking a time machine to allow consultation with a dead playwright, we can only interpret him through ourselves. As with the casting of Hamilton, our cultural inheritance crosses the human spectrum. Is Jessye Norman less glorious a soprano than Elisabeth Schwarzkopf on account of pigment?
"You are afraid of me," Cobb tells the director. He is an envoy from an unfamiliar world all around us. In our fear of displacement we squander our most precious resource: one another.
There are people who feed on brokenness, who feel diminished or threatened by others' strength or wisdom. But we cannot thrive on smallness. To make the work sing, the actor knows, requires bringing all of himself to it.
Independent film's low budgets gave black filmmakers like Ryan Coogler and Barry Jenkins freedom to tell their stories their way rather than subsume their projects to the whims of indifferent studio bosses. Their success offers a transformative moment at whose heart are artists holding to their visions and self-belief. In a similar spirit, the actor in Moor prods the director to risk all for love, like Desdemona—in this case love of the play, love of theatre.
At the start of the most diverse Congress in history, Nancy Pelosi invoked President Reagan's farewell address. Reagan said of his "shining city upon a hill," "[I]f there had to be city walls, the walls had doors and the doors were open to anyone with the will and the heart to get here." We have slid so far, Reagan sounds liberal. The "heterogeneous 116th" has only begun to fight.
The current spate of black film auteurs recalls the enrichment of Hollywood by German filmmakers who fled the Nazis in the 1930s, and the migrants whom Trump now slanders like a cut-rate Iago poisoning his marks' minds. The voices we need most, in the arts as in our imperiled republic, are often those we are least inclined to welcome.
Flexing still-powerful sinews, the actor urges: "Please… put down your little brief authority, as you are certainly most ignorant of what you are most assured, and talk with me." At stake are not just line readings but the very things pledged in Philadelphia in 1776: "our Lives, our Fortunes, and our sacred Honor."
American Moor, directed by Kim Weild, is at Anacostia Playhouse from Jan. 11 through Feb. 3.
Richard J. Rosendall is a writer and activist. He can be reached at rrosendall@me.com.
Copyright © 2019 by Richard J. Rosendall. All rights reserved.
The post American Moor returns to Washington appeared first on Washington Blade: Gay News, Politics, LGBT Rights.