---
The Thoughtful Raunch of <em>Sex Education</em>
Posted: 09 Jan 2019 04:00 AM PST
The Netflix algorithm is getting stronger. Consider Sex Education, a new British dramedy patched together so perspicaciously from pieces of existing hits that you can virtually see the stitches. Like The End of the F***ing World, it's a zany teen romance set in a mysterious Anglo-American hinterland that looks like a John Hughes movie but whose cultural references are pure Blighty (Butlins, Wotsits, SRE class, getting monged). Like Stranger Things, it's a tribute to a retro aesthetic of wood paneling and earth tones. And, like Big Mouth, it's a filthy sex comedy about lovable teenagers running amok in their witless, hormonal, priapic frenzies.
That it works so well is almost annoying. One of the assets in a TV show being such a grab bag of miscellaneous elements is that you're bound to find something to appreciate, whether it's graphic doodles of genitalia (tip o' the cap to American Vandal), heartfelt portrayals of teen anxiety, hirsute and strangely sexy Scandinavian handymen, or the moment toward the end of the first episode when Gillian Anderson recites a litany of slangy euphemisms for semen. (Pick your own favorite; mine is "man milk," delivered with alliterative emphasis.) Never mind that every episode is 20 minutes too long. Push aside the cultural dissonance. Here is a series that pulls off a curious trick: It's a woke raunch comedy, replete with graphic and humiliating sexual experiences, and yet bent on using them in a very sincere way.
Asa Butterfield (Hugo, The Boy in the Striped Pyjamas) plays Otis, a teenager living in a geographically indistinct community that looks like New England but sounds like an episode of Skins (it was actually filmed in Wales). The bane of his life is that his mother (Anderson) is a sex and relationships therapist who festoons their house with phallic art and warns his school friends about marijuana usage leading to early-onset impotence. Otis has a long-burning crush on Maeve (Emma Mackey), an enigmatic rebel living alone in a caravan site (British for trailer park) who wants to use Otis's parentage for profit: She sees his potential as the school's sex guru.
Never mind that Otis is a virgin so scarred by his family history that he can't even masturbate. Moordale High is populated entirely with horny and hopelessly confused students in need of a counselor. Everyone, in the words of Otis's best friend Eric, is "either thinking about shagging, about to shag, or actually shagging," and they're also doing it 21st-century style, with mass texts and dick pics and humiliating gifs. Laurie Nunn, the playwright who created the show, employs old-school archetypes too: Students are shoved into lockers and robbed of their lunch money, and the hierarchy of who's cool leans on meanness and money. But Sex Education's anxieties are modern ones, spanning porn and transphobia and erotic fiction about intergalactic alien sex.
Otis falls almost accidentally into his new hobby when he talks down a bully who's taken too many Viagra pills and is panicking in an abandoned bathroom stall. Otis's serene manner and empathetic advice impress Maeve, who starts hawking his time to the school's more sexually dysfunctional students (which is all of them). Butterfield is winsome and endearingly flappable in portraying Otis's personal life, but he exudes an odd kind of calm when he's issuing guidance. His clients call him a "sex savant," or a "Care Bear," or a "mum man," or "that weird sex kid who looks like a Victorian ghost." But he does help them, in the end.
And, by extension, he helps viewers. Like Big Mouth, Sex Education has all kinds of advice to offer regarding the confusing and impossibly complicated realm of modern sexuality. The show is graphic, gross, and inherently earnest: No matter how mortifying Otis might find his mother, he's internalized her refusal to judge anyone. Anderson, who most recently has embodied gravitas and aloofness on series including The Fall and War and Peace, seems to revel in the comic potential of her role as Jean, not to mention the opportunity to play a middle-aged woman with an extraordinarily healthy sex life. Jean's storylines, although not as frequent as they could be, add still more dimensions to the ways in which Sex Education comments on desire.
Is it weird that the best, most nuanced advice about sex and intimacy these days tends to be found on gross-out Netflix shows? Maybe. But it's also oddly cheering. The Brett Kavanaugh hearings offered all kinds of opportunities to revisit the influence that cultural products like Porky's and Revenge of the Nerds can have when it comes to adolescent sexual behavior. Sex Education—a show that's sensitive and sweet-natured and smutty to its core—seems to hint that no matter how bad it looks out there, there's hope to be had after all.
Posted: 09 Jan 2019 03:00 AM PST
Donald Trump devoted remarkably little of his Tuesday night Oval Office address to convincing Americans to support a border wall. He discussed his beloved barrier for only a few sentences, and didn't rebut any of the criticisms commonly leveled at it. He never explained how the federal government would take possession of the land needed to build the wall, why migrants wouldn't be able to climb over or dig under it, or even how much of the border it would actually cover.
This inattention fits a pattern. Trump has never shown much interest in actually building a wall. Last January, over cheeseburgers at the White House, Chuck Schumer agreed to fund Trump's wall in exchange for legalizing the undocumented "dreamers" who had come to the United States as children. But Trump dashed the deal by demanding cuts in legal immigration. Then, the following month, 54 senators—including all but three Democrats—voted for a bill to provide $25 billion for border security over 10 years, including "physical barriers" and "fencing" along with protections for the dreamers. But the White House spurned that legislation in favor of an enforcement-only bill that had no chance of passage. Nonetheless, Vermont Senator Patrick Leahy, the top Democrat on the Senate Appropriations Committee, recently noted that over the last two years, Congress has in fact "provided nearly $1.7 billion to build or replace fencing on the southern border." The administration has spent only 6 percent of those funds.
The real purpose of Trump's speech wasn't to convince Americans to support a wall. It was to convince them America faces an immigration "crisis." He used the word in his first sentence, and then another five times. And most his speech was a catalogue of horrors, a collection of reasons that, because of illegal immigration, Americans should lock themselves inside their houses and pray to make it through the night.
After blaming undocumented immigrants for the fact that "more Americans will die from drugs this year than were killed in the entire Vietnam War," Trump went to declare that ICE officers had apprehended migrants charged with "30,000 sex crimes, and 4,000 violent killings." Later, he told his audience about the "young policeman … savagely murdered in cold blood by an illegal alien," the "air force veteran … raped, murdered, and beaten to death with a hammer by an illegal alien," the "illegal alien … charged with murder for killing, beheading, and dismembering his neighbor" and the "MS-13 gang members … charged last year after viciously stabbing and beating a 16-year-old girl." Trump punctuated these stories by demanding that the Democrats stop allowing Americans "to be so horribly victimized" and by asking "how much more American blood must we shed before Congress does its job." How a border wall would stop all this carnage, he never really explained.
This is the Trump way. In 2016, he began his convention acceptance speech by declaring, "Our Convention occurs at a moment of crisis for our nation. The attacks on our police, and the terrorism in our cities, threaten our very way of life." He went on to discuss police officers "brutally executed," the "men, women, and children viciously mowed down" by terrorists and the various Americans "brutally murdered" by undocumented immigrants.
In that speech, too, Trump said little substantive about how he would solve these problems. But that wasn't the point. The point was that America's crises were so grave, and the threats it faced so terrifying, that Americans had to turn away from traditional politicians and jettison their normal ways of governing. When Trump endorsed torture, proposed a ban on Muslim immigration, and demanded "extreme vetting," and now, when he floats the idea of a national emergency, he is saying that only he can take the extreme measures necessary to answer America's extreme threats. In a December 2017 poll, two-thirds of Trump's strongest supporters told the Public Religion Research Institute, "Because things have gotten so far off track in this country, we need a leader who is willing to break some rules."
Trump's strategy of depicting America as a nation on the brink of catastrophe and awash in blood is unlikely to make congressional Democrats cave on the government shutdown. But it has its advantages. It primes Trump's base to support whatever rule-breaking, extra-constitutional behavior he decides to pursue, and thus pressures Washington Republicans to swallow his transgressions or else risk a backlash from the GOP base. Trump didn't declare a state of national emergency on Tuesday night, but he offered a rationale for doing so.
That's the advantage of declaring America to be in perpetual crisis. It means that when you're not winning by the normal rules, you give yourself the option to break them. Trump may lose the shutdown fight. But two years into his presidency, nobody truly knows how many rules he will be willing to break in order to ensure that he triumphs in the end.
Why Unpaid Federal Workers Don't Just Strike During a Shutdown
Posted: 09 Jan 2019 03:00 AM PST
Eric Young is the president of the union that represents the approximately 30,000 employees of the Federal Bureau of Prisons who are working during the government shutdown.
Young's members, scattered at 122 facilities located in largely rural areas across the country, aren't being paid and don't know when their next paycheck will come. Like the leaders of virtually every federal-employee union during the past three weeks, he has condemned the shutdown and its toll on innocent workers as "unconscionable."
"My personal opinion," Young told me over the phone from his office in Alabama, "is that it constitutes involuntary servitude."
Neither Young nor any of his partners in union leadership will urge their members to do the one thing that would seem most natural for employees facing the same treatment in the private sector: If they don't pay you, stay home.
"We can't call or advocate for a strike," Young said.
Since the enactment of the Taft-Hartley Act in 1947, federal employees have been legally prohibited from striking. That law was intended to prevent public-sector workers from leveraging a work stoppage that could cripple the U.S. government or major industries in negotiations for better pay, working conditions, and benefits. But it likely did not envision a scenario where the government would require its employees to work without paying them, as is the case now.
For hundreds of thousands of federal employees, the "involuntary servitude" that Young describes could continue indefinitely. President Donald Trump warned Democratic leaders last week that he could keep the government shuttered for "months or even years"—a scenario that union leaders told me they had never before contemplated. "A lot of things are possible under this president, so I think we have to start preparing," said Randy Erwin, the president of the National Federation of Federal Employees.
Government shutdowns have only been a feature—or, more accurately, a bug—of fiscal impasses since the enactment of the modern congressional budget process in the 1970s. The current shutdown is a partial one affecting roughly 800,000 federal employees. Roughly half of them are on furlough, while the other half, whose jobs are considered essential to public health and safety, must report to work even though Congress has not appropriated the funds to pay them. This category includes the Secret Service agents who protect the president and his family, the Transportation Security Agents, pilots, and air-traffic controllers who keep the aviation system running, the corrections officers who staff federal prisons, and, yes, the Border Patrol agents who guard the southern divide with Mexico along which Trump wants to build a wall.
If they don't show up, "they'd be considered absent without leave," said Jacque Simon, the policy director for the American Federation of Government Employees, by far the largest union representing federal employees. "When they're told to come to work, they are required to come to work." An AWOL designation could lead to disciplinary action, including termination. For longtime government employees, that could put in jeopardy a federal pension they've spent a career accruing, union leaders said.
By and large, federal employees have been reporting to work. The TSA has acknowledged, in response to a CNN report last week, that its agents have called out sick at higher rates since the shutdown began, but the TSA spokesman Michael Bilello said that the sick calls have had a "minimal impact" on air travel or wait times. The sick calls do not, as yet, appear to be widespread. Bilello said that 4.6 percent of employees had called out sick on Monday, compared with 3.8 percent of employees on the same date in 2018. "We understand that the current lapse in funding may be causing added stress for our workforce and want to continue to express that we are grateful to the more than 51,000 officers across the country who remain focused on the mission," he tweeted.
Faced with a potentially indefinite shutdown, the unions have turned to the courts for relief. The American Federation of Government Employees has filed a lawsuit against the Trump administration alleging that by requiring employees to work without pay, the government is in violation of the Fair Labor Standards Act, a 1938 law that mandates a minimum wage and overtime pay both to public- and private-sector workers. Another federal labor group, the National Treasury Employees Union, has filed a similar suit.
The unions are also holding rallies, highlighting the impact of the shutdown on federal workers who live paycheck to paycheck, and publicly urging Trump and congressional leaders to come to an agreement that reopens the government. That, however, is about as far as they'll go to protest the shutdown.
Despite taking the government to court, neither union is encouraging its members to take part in any kind of work stoppage. "We encourage everyone who is being told to come to work to go to work," Simon told me. "We are never going to advocate for something that's illegal."
As for reports of higher levels of sick calls by TSA agents, Simon said: "We aren't coordinating that. We aren't condoning that, and we don't even really think it's happening. We think it's been greatly exaggerated in the press."
Federal employees generally haven't tested the prohibition on strikes since President Ronald Reagan famously fired more than 11,000 air-traffic controllers who refused his order to return to work during contract talks in 1981. The controllers walked out in demand of higher pay and a shorter workweek. Federal workers have never staged a mass walkout to protest the lack of pay during a shutdown. But even in that circumstance, the anti-strike law would probably hold up, said Zachary Henige, an attorney representing two federal employees in their lawsuit agains the government over the current shutdown.
The law "is going to prohibit these employees from striking," Henegie said. "And I don't think whether they're being paid or not paid is going to impact that."
"The statute doesn't make a distinction about what they're protesting," he added.
A federal shutdown has never lasted more than three weeks, and Congress has always promptly approved retroactive pay for both furloughed employees and those who had to work through the impasse. "Even for shutdowns this length, they've been through it," Erwin said.
But Trump's threat to keep the government closed for "months or even years" could test the willingness of federal employees to remain on the job, especially as missed paychecks mount. "In theory," Erwin said, "you'd have to say, How long can I keep working with no paycheck? It's kind of unrealistic. At some point, there would have to be some kind of change to the status quo if this really is an unprecedented shutdown.
"I don't know when that would be at this point," he said.
The burden on corrections officers is particularly acute, Young said, because they are, along with TSA agents, among the lowest-paid federal employees still required to work. Federal prisons had been suffering from staffing shortages and budget cuts even before the shutdown. Many employees, he said, learned on Christmas Eve that their leave plans had been cancelled.
"You're going to have a lot of people starting to call in because they don't have gas money," Young warned. "It's going to be a real big problem in the near future if not right now."
"Basically, they're between a rock and a hard stone."
What Tucker Carlson Gets Right
Posted: 09 Jan 2019 03:00 AM PST
The Fox News host Tucker Carlson delivered a monologue on the market and the family last week. It quickly found a large audience, becoming a viral sensation online. It also attracted a host of critics from across the political spectrum. Some of the fiercest criticism came from conservatives, including writers such as Ben Shapiro and David French, who attacked the very argument that we believe Carlson largely got right: Contemporary capitalism, small government conservatism, and elite negligence have all played a role in the fall of the working-class family.
Let's review the three key points Carlson made regarding the erosion of marriage and family life in America. First, he argued that "increasingly, marriage is a luxury only the affluent in America can afford." French, a senior writer for National Review, objected to the idea that only the rich can marry, arguing that "affluence is not a prerequisite for marriage."
But Carlson is onto something. A half century ago, there were not big differences in marriage and family life by class; the vast majority of Americans got and stayed married. Starting in the late '60s, however, marriage eroded among the poor, and since the '80s, it has lost considerable ground among the working class. Today, only minorities of poor adults (26 percent) and working-class adults (39 percent) ages 18 to 55 are married; by contrast, a majority (56 percent) of middle- and upper-class Americans age 18 to 55 are married.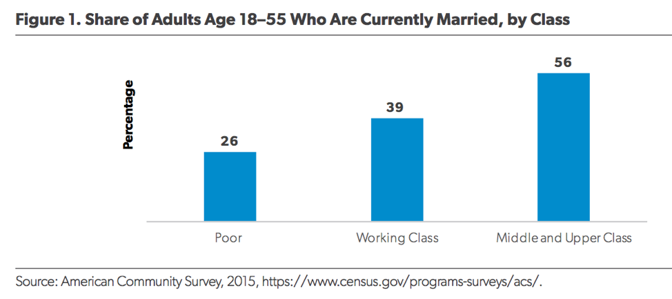 In fact, dramatic increases in nonmarital childbearing, divorce, and family instability among the working class mean that only about 55 percent of children with working-class mothers will reach age 14 in a home headed by two biological parents. That compares to about 77 percent of children with college-educated mothers in more middle- and upper-class homes. While affluence may not be a "prerequisite for marriage," it clearly helps to be educated and affluent if you wish to forge a strong and stable family in America today.
[Read: Educated Americans paved the way for divorce—then embraced marriage]
The question is why. Carlson fingers bad public policies, market forces, and cultural developments for eroding the economic, social, and cultural foundations of family life in working-class America. In particular, he thinks federal policies are partly to blame for the decline in manufacturing jobs and in less-educated men's wages. Because women still seek men who earn a decent wage, these declines in turn have led to a "drop in marriage, a spike in out-of-wedlock births, and all the familiar disasters that inevitably follow—more drug and alcohol abuse, higher incarceration rates, fewer families formed in the next generation."   
Carlson's last key argument is simply that elites are complicit in all of this. They have flourished in today's postindustrial economy, profited from policies and corporate moves that keep them at the top of the economic order, yet seem to evince little authentic concern that the currents they have ridden to success are undercutting the fortunes of those lower down the ladder. The "very same affluent married people, the ones making virtually all the decisions in our society, are doing pretty much nothing to help the people below them get and stay married," he said, adding, "This is negligence on a massive scale. Both parties ignore the crisis in marriage."
Carlson's conservative critics argue that the TV host is barking up the wrong tree. While acknowledging that "a series of tectonic cultural" and economic changes—from the "mass-scale loss of religious faith" to a shift away from manufacturing—have destabilized American family life, French faults working-class and poor Americans for their own troubles. In the final analysis, "the primary responsibility for creating a life of virtue and purpose rests with families and individuals"—not government programs or elites. Shapiro adds, "If we fail to make virtuous decisions on an individual level, we can't blame that on tariffs or payday lenders."
Granted, no matter what obstacles you face in America, you're more likely to overcome them if you believe that you're in control of your own life and follow what has been called the "success sequence"—getting at least a high-school degree, working full-time, marrying, and having children, in that order.
[Caitlin Zaloom: Does the U.S. still have a "middle class"?]
Yet it's possible to recognize the value of personal agency and nevertheless admit the extent to which the stagnation of working-class wages and increases in job instability for less-educated men have stemmed from elite policy choices. Appealing to a lack of virtue on the part of the poor or the working class is at best a category error, and at worst an all-purpose rhetorical device for neutralizing responsibility on the part of elite policy makers.
Declines in working-class marriage—and all the pathologies that have followed in their wake—cannot be divorced from policy and cultural choices that elites have made.
The work of the MIT economist David Autor and his colleagues, in particular, indicates that dramatic and sudden increases in global trade with China starting around 2000 affected both men's earnings and their marriageability. In their words, "Trade shocks to manufacturing industries have particularly negative impacts on the labor market prospects of men and degrade their marriage-market value along multiple dimensions: diminishing their relative earnings—particularly at the lower segment of the distribution—reducing their physical availability in trade-impacted labor markets, and increasing their participation in risky and damaging behaviors." They add that "adverse shocks to the supply of 'marriageable' men reduce the prevalence of marriage … but raise the fraction of children born to young and unwed mothers and living in poor single-parent households."
[Marco Rubio: Americans need to restore dignity of work]
These intertwined problems, then, were not the fault of a spontaneous decline in personal virtue. They were the fault of Washington elites who pursued a naive path of normalized trade with China that, in a matter of years, gutted millions of moderately educated workers of their decent-paying jobs, and without support in the way of adjustment assistance or wage insurance. Our elites had too much faith in a laissez-faire ideology that sees labor markets as automatically self-correcting but, in fact, exacted a terrible toll on scores of working-class families across the United States.
Cultural institutions also factor into this story. The primary shapers of our common culture—entertainers, journalists, educators, health-care professionals, politicians, and business executives—tend to challenge, downplay, or ignore the importance of strong and stable marriages in their public roles. Schools, child-care centers, and colleges, for instance, often celebrate atypical family structures or pass over the importance of marriage in classroom settings. In private, however, well-educated elites overwhelmingly value stable marriage for themselves and their kids. Indeed, they have "[reinvented] marriage as a child-rearing machine for a … knowledge economy" for themselves, as Richard Reeves, the co-director of the Brookings Center on Children and Families, has noted, adding that the "glue for these marriages" is largely "a joint commitment to high-investment parenting."
Just as Carlson suggested in his monologue, conservatives need to think more seriously about the role that contemporary capitalism, public policy, and culture have played in eroding the strength and stability of working-class family life. Americans share a collective responsibility for solving some of our most pressing social problems—and elites need to come to acknowledge their personal responsibility for bridging the class divide that has emerged on so many fronts.
Posted: 08 Jan 2019 08:08 PM PST
Well, that was the shortest, most easily resolved national emergency in U.S. history. Twelve hours ago, the president was preparing to set aside the regular process of law. By 9 p.m. eastern time? Not so much.
Perhaps somebody pointed out that 15-year civil-engineering projects do not look very convincingly like emergency measures. "My house is burning! Time to begin the process of calling for design proposals for a new fire station."
President Donald Trump is about to discover the reverse side of Richard Neustadt's famous observation that the most important presidential power is the power to persuade. Trump's conduct as candidate and president long ago deprived him of any power to persuade anyone not already predisposed to support him. To date, Trump has governed by leveraging his high approval rating within the Republican Party. From the point of view of former Speaker Paul Ryan and Majority Leader Mitch McConnell, Trump's 90 percent approval rating among Republicans mattered a lot more than his 39 percent approval rating among Americans in general.
[Read: What was the point of Trump's Oval Office address?]
House Speaker Nancy Pelosi is not susceptible to that "majority of the minority" logic. What she has to worry about is Trump's strength among Democratic-leaning voters. That strength, Trump squandered long ago.
There is a real immigration problem on the border. Central American migrants have figured out that by showing up at the border in family units, they will be admitted into the country pending the adjudication of an asylum claim. The asylum system is overwhelmed, adjudications take months or years—and long before then, the would-be migrants can vanish into the U.S. labor market. Few Central Americans prevail in their asylum claims. Almost all end up staying, anyway.
The solution to that problem is not a lengthy process of design, tendering, land expropriation, grading, and construction. The solution is to get more adjudicators into the asylum system now. If cases are resolved fast, and border-crossers removed promptly, the surge of asylum seekers will abate, as it abated in 2015 after the Barack Obama administration cracked down on the 2014 Central American border surge.
But Trump has never wanted a solution. He has wanted a divisive issue and a personal monument. Futile though that monument may be, he could have gotten it, too, had he been willing to trade something attractive to Democrats. But Trump was never willing to bargain. Senate Republicans would not let him: They saw no point in the border wall, and were unwilling to barter for it.
[George Packer: The suicide of a great democracy]
More fatefully, though, Trump's vision of leadership allows no room for bartering. He imagines the presidency to operate on the principle, "I command; you obey." More even than his wall, he wanted to coerce the Democrats into a surrender by the sheer force of his mighty will. Except Trump did not have the clout to achieve that.
"Leverage: don't make deals without it." The words appeared under Donald Trump's byline on page 55 of the 1987 best seller The Art of the Deal. Trump did not write them, and he seems not to have understood how to apply them. In this budget shutdown, Trump discarded his leverage from the very start, by declaring for the cameras that the budget shutdown was his decision, his responsibility. When the shutdown began to hurt, Trump and his surrogates hastily tried to transfer the onus—but it was too late. Everybody knew that it was Trump's doing, and that it was done for reasons rejected by large majorities of Americans.
The idea of invoking "emergency powers" was a last grasp for the leverage Trump had already abdicated, and it had to be abandoned for fear of what the courts and public opinion would say.
After the January 8 Oval Office address, little doubt remains of how this shutdown will end. Sooner or later—probably sooner—it will end the way Trump's threats of nuclear war upon North Korea ended: with a sudden Trump about-face. It is now only a matter of time. The polls will arrive over the next hours. Democrats and Republicans will both see that Trump did not move public opinion in his favor. They might see that Trump could not even motivate very many Americans to watch him. The panic slowly building among congressional Republicans will boil. Trump, trapped without a decent exit in a predicament of his own making, will yield everything and get nothing.
[James Fallows: The networks blew the call]
Trump will cope by locking himself into the Fox News closed-feedback system of flattering disinformation, emerging only to emit enraged tweets pretending he won big and denouncing the media for reporting otherwise. He might even convince himself to believe it. His political allies will repeat it without believing it.
But he will have lost. Lost humiliatingly. And he will have done it almost entirely to himself, before the amazed eyes of the opponents who, dumbfounded, watched him do it to himself, without a plan or even much of a reason, other than the empty and fleeting joy of feeling briefly powerful by inflicting pain.
What Was the Point of Trump's Oval Office Address?
Posted: 08 Jan 2019 07:59 PM PST
A president only gets one chance to make his first Oval Office address—making Donald Trump's reiteration of familiar talking points in a short speech Tuesday night all the more puzzling.
Over the course of roughly 10 minutes, Trump brought his case for more spending on border security directly to the American people, saying there is "a growing humanitarian and security crisis at our Southern border." Trump argued that crimes committed by unauthorized immigrants are a serious danger to the American people, and called on Democrats to give him $5.7 billion to fund a wall on the border. But the president didn't offer any new arguments. Nor did he declare a national emergency, a step he has said he is considering.
The speech was bewildering. Was this stiff oration given by the same man who captured the nation's attention—and elicited outrage—with his descent down a gold escalator in June 2015, his vow that "I alone can fix it" in summer 2016, or his invocation of "American carnage" in January 2017? It's hard to believe that master showman was the same person who sat behind the Resolute Desk on Tuesday.
[Read: Trump's strange, fleeting briefing-room cameo]
Though it may seem churlish or superficial to judge Trump's remarks on style rather than content, he has shown how important and effective style can be as a political tool—and moreover, there was little in the way of new substance on offer.
Early on, Trump seemed to be striving for an almost Reaganesque note, speaking with restraint and an unusual display of softer emotions. Though he sometimes ad-libs awkwardly while speaking from a script, Trump remained rigid in both elocution and posture Tuesday.
"America proudly welcomes millions of lawful immigrants that enrich our society and contribute to our nation, but all Americans are hurt by uncontrolled illegal migration," Trump said. "This is a humanitarian crisis: a crisis of the heart, and a crisis of the soul."
He also eschewed any discussion of his wall or any attacks on Democrats until the latter half of the speech. He noted that the Senate Democratic leader Chuck Schumer had supported a border fence in the past. He also replied to House Speaker Nancy Pelosi, who has called the proposed wall immoral, without mentioning her name.
"Then why do wealthy politicians build walls, fences, and gates around their homes?" Trump said. "They don't build walls because they hate the people on the outside, but because they love the people on the inside. The only thing that is immoral is the politicians to do nothing and continue to allow more innocent people to be so horribly victimized."
This was the tone for the final moments of the speech. "The president has chosen fear," Pelosi said during the Democratic rebuttal, and it's hard to imagine Trump disagreeing. Criticizing Democrats for not funding the wall, he listed a series of crimes committed by unauthorized immigrants, a tactic that dates back to his days on the campaign.
Notably, Trump seemed to implicitly rule out using an emergency declaration to build the wall with the military. "My administration is doing everything in our power to help those impacted by the situation, but the only solution is for Democrats to pass a spending bill that defends our borders and reopens the government," Trump said.
In making the case that there is an acute crisis at the border, Trump faces three major obstacles.
The first is that there's no obvious change at the border that makes the current moment more serious than six or 18 months ago. While illegal immigration to the United States is rising, it remains well below the recent peak, in 2000. Before the election, Trump drew attention to a "caravan" of migrants walking north through Mexico toward the United States, but that march largely dissipated as it neared the border, and the number of migrants involved—reportedly about 4,000—is small in comparison with the total number of unauthorized immigrants entering the country.
The second obstacle is a confusing explanation of the humanitarian problem. While the president noted the dangers facing migrants who try to enter the U.S., especially women and children, he didn't explain how hardening the border or building a wall would solve that crisis. The measures he is proposing treat symptoms without dealing with the underlying causes, especially violence in Central America's Northern Triangle.
The third is credibility. The Oval Office address seemed intended to give his standard talking points—which have purchase only with a small but passionate section of the electorate—more legitimacy by virtue of their proximity to the traditional trappings of the presidency. But Trump made several untrue statements. He said that "thousands of Americans have been brutally killed by those who illegally entered our country," a statistic that's meaningless without a time frame. He claimed both that the wall would be paid for by Mexico, under a new trade deal, and that it would pay for itself. He said he had asked for a steel barrier, rather than a concrete wall, at Democrats' request; he has offered that to Democrats, but they did not request it.
[Read: The real shutdown fight might only be getting started]
Pelosi and Schumer's brief rebuttal was somehow even more stilted than Trump's. Their remarks, delivered in sequence, were more directly partisan than the president's, criticizing him for keeping the government shut down even when Republican-backed bills would have reopened it.
"President Trump has chosen to hold hostage critical services for the health, safety, and well-being of the American people and withhold the paychecks of 800,000 innocent workers across the nation, many of them veterans," Pelosi said. "He promised to keep government shut down for months or years, no matter whom it hurts. That's just plain wrong."
While Pelosi and Schumer's remarks were presumably written before Trump spoke, they had nothing new to offer either, and the lack of any fresh information during Trump's address made their comments seem especially empty. As with the shutdown itself, it's hard to see what the point was of Tuesday night's speeches.
<em>The Atlantic </em>Daily: The Cuban Cricket Crisis
Posted: 08 Jan 2019 04:20 PM PST
What We're Following
The quiz question in the Monday, January 7 edition of the Daily incorrectly referred to T.M. Landry as a "New Orleans" private school. The school is located in Breaux Bridge, Louisiana. Thanks to our many sharp-eyed readers for pointing out the error.
Instagram meme accounts take on child porn. The platform is notoriously adept at ferreting out nudity, but users are still using it to find explicit photos of underage children by searching for a specific hashtag and trading links shared though direct messages. That is, until hundreds of accounts flooded the hashtag with memes to try and root out the child pornography. The issue spread widely and quickly, in part because many of these Instagram vigilantes and meme-account admins were themselves young teenagers.
Those mysterious high-pitched noises American diplomats living in Cuba were hearing, that in the past two years years led to reports of all sorts of troubling health effects and became a global incident, were just … crickets? When two scientists recently listened to a recording of the noise, they didn't hear evidence of governmental warfare, but something else entirely: the Indies short-tailed cricket, which makes a chirp identical to the sound in the recording. While not an explanation of the diplomats' illnesses, it's a useful reminder that animal noises are a lot more intricate, complicated, and unexpected than a dog's bark or cat's meow: Listen to some of these animal sounds here.
Trump will address the nation in a prime-time presidential address. The major networks have agreed to broadcast his speech on immigration and the government shutdown in real time, a decision that James Fallows says was a mistake that will let the president spread falsehoods and advance his spin on the situation. Trump eagerly wants to build a wall along the southern border, and tonight he's expected to mention alternatives on how to accomplish that if Congress keeps refusing to acquiesce to his demand. He could theoretically do so by declaring a national emergency—but there would still be plenty of hurdles before he could send troops to the border and have them build his wall.
---
Snapshot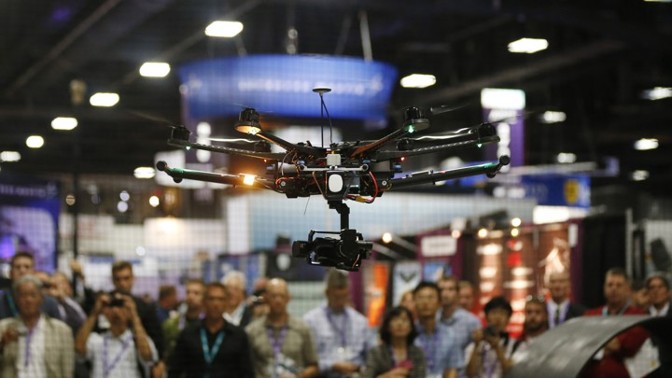 ---
Evening Read
Hitting the proverbial "Inbox Zero" when it comes to email is a Pyrrhic victory. Why not just let it go?
There is simply no way for anyone with a full-time job and multiple inboxes to keep up with the current email climate. Even after deleting and sorting my 2,700 unread messages, I awoke the next day to more than 400 more. The writer Emily Dreyfuss told me she has more than 300,000 unread messages in her inbox. After complaining about my email problem publicly on Facebook, friends in fashion, tech, corporate finance, law, advertising, and retail all bemoaned their multiple inboxes swelling with messages.

Some people still delude themselves into thinking they can manage their email. They adopt strange rituals: emailing first thing in the morning, never emailing in the morning, reading email but not responding to it, organizing everything into folders, emailing exclusively like a boss. Software fixes such as Gmail smart replies have made responding to email easier, but often a response just elicits more email.
Read the case for making peace with inbox infinity. (We recognize a hint of irony in including this story in an email newsletter and appreciate that you're still opening the Daily.)
---
What Do You Know … About Family?
1. This proportion of Americans don't know the first names of all of their grandparents, according to Ancestry.com.
Scroll down for the answer, or find it here.
2. The likelihood that a given marriage would end in divorce doubled, to 50 percent, between 1965 and 1980. But after 1980, the likelihood of divorce specifically among this group of Americans plummeted.
Scroll down for the answer, or find it here.
3. American children on average receive approximately this much in allowance money each year, according to the American Institute of Certified Public Accountants.
Scroll down for the answer, or find it here.
Answers: One-third / College-Educated Americans / $800
---
Urban Developments
Our partner site CityLab explores the cities of the future and investigates the biggest ideas and issues facing city dwellers around the world. Gracie McKenzie shares their top stories:
Before Saturday Night Live, Kate McKinnon once starred in a series of shorts as an angry SUV lobbyist railing against the pedestrianization of Times Square.

How many trees are in your city? It might seem like a straightforward question, but finding the answer can be a monumental task. A team of cartographers and applied scientists is turning to artificial intelligence to figure it out. See the resulting maps.

Despite the promise of Uber and Lyft, vehicle ownership (and traffic) is on the rise in America's biggest, most transit-oriented cities. So how is mobility really changing?
For more updates like these from the urban world, subscribe to CityLab's Daily newsletter.
---
Looking for our daily mini crossword? Try your hand at it here—the puzzle gets more difficult through the week.

Concerns, comments, questions, typos? Email Shan Wang at swang@theatlantic.com

Did you get this newsletter from a friend? Sign yourself up.
<em>The Atlantic</em> Politics & Policy Daily: Wall-to-Wall Coverage
Posted: 08 Jan 2019 02:51 PM PST
What We're Following Today
It's Tuesday, January 8. President Donald Trump will address the country at 9 p.m. ET about immigration, his proposed border wall, and the ongoing government shutdown, which is now in its 18th day.
House Speaker Nancy Pelosi and Senate Minority Leader Chuck Schumer will deliver a joint response from the Capitol, and Vermont Senator Bernie Sanders will live-stream his own separate remarks.
We'll Do It Live: All the major television networks are expected to carry the president's broadcast. This is a mistake, argues James Fallows, because "nearly everything Trump says on this topic is intentionally inflammatory and either carelessly or deliberately untrue."
Destined to Fail: Vice President Mike Pence spent the weekend leading negotiations to reopen the government, but he was never really expected to succeed. "Pence's negotiating partners saw him as a man sidelined," writes Elaina Plott, "a status that has increasingly defined the vice president's tenure."
An Ominous Sign: A report published today shows that carbon-dioxide emissions from the United States spiked in 2018, making it more likely that the country won't meet its Paris Agreement goals. (Though President Trump withdrew the U.S. from the agreement, the U.S. is still technically subject to the terms until next year.)
@PowerTransfer: With a new House majority comes the necessary transfer of ownership of government Twitter accounts. But there was an interesting wrinkle in the handover process.
---
Snapshot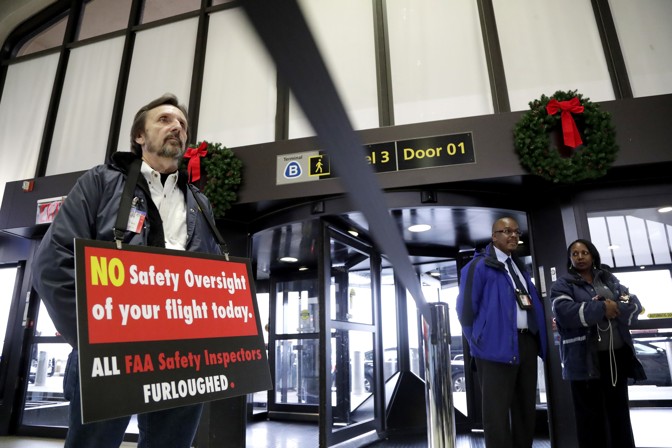 A Federal Aviation Administration employee, Michael Jessie, who is currently working without pay as an aviation-safety inspector, holds a sign while attending a news conference at Newark Liberty International Airport on Tuesday in Newark, New Jersey.
---
Ideas From The Atlantic
The Lincoln Memorial During a Government Shutdown (George Packer)
"Shuttered museums, federal workers who can't pay their bills, national parks with stinking toilets: This is what Trump thinks of American republicanism. This is what the suicide of a great democracy looks like." → Read on.
The U.S. Isn't Really Leaving Syria and Afghanistan (Dominic Tierney)
"In the modern era of complex civil wars and counterterrorism operations, a world power like the United States never really leaves." → Read on.
Despite Shutdown, Trump Pays to Deport Mauritanians (Franklin Foer)
"Anyone who has logged on to the internet this year knows of Trump's obsession with drumming up an artificial immigration crisis … But his government has the same single-minded fixation on removing immigrants who are long-term residents of the United States." → Read on.
The Case for Inbox Infinity (Taylor Lorenz)
"According to a recent study by the Radicati Group, a market-research firm, people across the globe sent and received 269 billion emails a day in 2017. By 2021, that number is projected to reach more than 333 billion. In 2019, I suggest you let it all go. There is simply no way for anyone with a full-time job and multiple inboxes to keep up with the current email climate." → Read on.
---
What Else We're Reading
Here's the Offer Trump Is Making to Democrats to End the Shutdown (Dara Lind, Vox)
Second Man in Two Years Found Dead at Home of Democratic Activist (Matthew Haag, The New York Times)
Hill GOP Support Grows for Trump to Make Emergency Declaration (Politico)
The Moral Superiority of Markets (Noah Rothman, Commentary)
How Cities Make Money by Fining the Poor (Matthew Shaer, The New York Times Magazine)
Why Centrists Are Obsessed With Alexandria Ocasio-Cortez (Ryan Cooper, The Week)
---
We're always looking for ways to improve The Politics & Policy Daily, and will be testing some formats throughout the new year. Concerns, comments, questions, typos? Let us know anytime here.

Were you forwarded this newsletter? Sign up for our daily politics email here.
There's No Winning for the Networks
Posted: 08 Jan 2019 05:35 PM PST
When David Westin was the president of ABC News during the Clinton, Bush, and early Obama years, the occasional request from the White House for a prime-time presidential address was almost always granted, debated only privately among network executives deciding whether to give up their airwaves.
"It was more or less assumed that we would take them … When we had prime-time addresses in the Oval Office, it was clearly a very newsworthy event," says Westin, who is now a  Bloomberg TV anchor. "But, as time went on, there were questions about whether the president was speaking as head of government or head of a political party."
The major networks this week debated a similar set of questions after President Donald Trump requested airtime Tuesday night. Only this time, their deliberations have been complicated by the president's posture toward the news media itself, and their hand-wringing is spilling out into public view. But while critics have been quick to blast the networks for ultimately acquiescing to Trump—accusing them of backing down from a president who repeatedly calls them "fake news" and giving a platform for Trump's distortions—the networks' decision making is more complicated than their relationship to the president and their fear of retaliation. The networks have no way to win.
"There are three things going on: a tradition of saying 'yes,' that they probably want to feel it's newsworthy and important, and that no news executive wants to be accused of partisan bias by not airing it," said the former CBS News president Andrew Heyward in an interview, emphasizing, however, that the final element was surely the smallest sliver of the pie.
When the president made his ask on Monday, the networks stuttered—and a routine decision-making procedure suddenly seemed conspicuous. Though all the major networks have since announced that they plan to air Trump's remarks, their agonizing ignited a flurry of meta-criticism on the nature of presidential addresses: whether they're innately newsworthy, whether they're intrinsically political, and whether a right of reply from Democrats should be granted. It also generated criticism about addresses from this particular president, as Americans who are critical of Trump debated what deference should be shown, if any, to a commander in chief who they believe consistently misleads the American people.
As Westin noted, airtime for presidential addresses is typically granted: The decision is close to a no-brainer in times of national emergency, such as a terrorist attack, or a time of outsize civic significance (think of former President Barack Obama's speech about the killing of Osama bin Laden). "In my day, and I was CBS news chief from 1996 to 2005, [it] was fairly routine in how it was handled," Heyward, now a visiting scholar at MIT and Arizona State University, told me. "I can't even recall a time where there was much debate over whether to air it or not."
Networks have to weigh whether these presidential announcements are newsworthy—and it's usually determined that they are. For overtly political speeches, like the one Trump is delivering tonight, a balancing test should be applied, Frank Sesno, the director of the George Washington University's School of Media and Public Affairs, told me. "You put the president's words and appearance against the observable facts," Sesno said, noting that bureau chiefs are looking for "a compelling news value" and "substance."
"It's his first Oval office speech, it's happening in the middle of a government shutdown, there's a new Congress, and he's made funding for the [border] wall contingent on finding a resolution to the government shutdown, which affects not only the 800,000 government employees but also people trying to take advantage of government services," Sesno said. "By those standards, it is a newsworthy event."
Sesno, who covered the White House from 1984 to 1991 and served as CNN's Washington bureau chief from 1996 to 2001, said that these requests are where the relationship between the White House and the press really matters: specifically, the credibility of the president and the press secretary. Westin told me that he once spent 40 minutes on the phone with Don Baer, former President Bill Clinton's communications director, arguing about the nature of such a request. "I think the deliberation about whether to air this revolves around a track record of falsehoods both from the president and the press secretary," Sesno said.
A former senior Obama White House communications official, who spoke on the condition of anonymity so as not to compromise current work, walked me through the standard operating procedure for making such requests: First, the press secretary or another top communications official would call whoever was the on-call bureau chief. (The major networks rotate who is on call at any given moment.) Then, that person would serve as a liaison to the other networks' bureau chiefs, filling them in on the details. Lastly, each bureau chief would run the request up their chain of command, where at the top sits the network president. The former official suggested that, in general, network presidents are directly involved in the final decision.
As for turning a president down, there's precedent going back decades. CBS chose against airing a presidential address from George W. Bush in November 2001—an incident Heyward said he only vaguely recalls. "This was the exception to the normal practice, so I'm sure it wasn't a decision taken lightly," Heyward said. Time magazine reported that month that Bush was planning a "high-level pep talk" in the wake of 9/11 and recent anthrax attacks: "Two major networks, locked in a battle over sweeps period ratings, opted not to broadcast the address," Time wrote. "NBC chose to air 'Friends,' the top-rated program on TV, while CBS stuck with the enormously popular 'Survivor.'" Heyward said he's "sure" the decision was based on "news value, not just what successful shows would be preempted." The most recent example of the networks denying a president airtime was in 2014, during Obama's second term. All the major broadcast networks declined the White House request for remarks on immigration, saying that the address was too political in nature.
In the wake of the major TV networks' decision to broadcast Trump's speech, some critics have challenged them to fact-check the president rigorously. Sesno agreed with that instinct, stressing that "the critical issue here is not whether it's covered but how it's covered." Trump's address will also be followed by a rebuttal from the Democratic leaders Chuck Schumer and Nancy Pelosi. This format, typically reserved for State of the Union addresses, also has recent precedent, as former Speaker John Boehner rebutted an Obama primetime speech in 2011. "It is reasonable and editorially justifiable on every level to have a response on this," Sesno said. "I think there needs to be a clear and concerted response when the issue is as fraught as this."
Of course, the responsibility to fact-check the president is shared beyond the networks. After Trump speaks, America's journalists across all forms of media will get to work to sift through the noise, separate fact from fiction, and contextualize what the president has to share with the nation.
What Trump Can and Can't Do to Get His Border Wall
Posted: 08 Jan 2019 02:55 PM PST
President Donald Trump tonight will hold a nationally televised speech to address the impasse over the border wall. Because Democrats have refused to appropriate approximately $5 billion for the construction project, Trump is reportedly mulling alternative avenues to deliver on his campaign promise.
Here's what he can do under the law, and what he can't.
Trump has two traditional statutory avenues.
He could ask Congress to pass a new piece of legislation specifically for the construction of a contiguous physical wall. But the Democrat-controlled House would never pass such a bill, and Senate Democrats could filibuster the legislation if it did.
To get around this blockade, Trump could cite his authority under the Secure Fence Act. The 2006 act, which garnered bipartisan support during the George W. Bush administration, allocated funding to construct "fencing" and "physical barriers" along a 700-mile stretch of mostly federally owned land at the border. (The Southwest border spans roughly 2,000 miles.) The law also permitted the secretary of Homeland Security to secure the border through actions that are "necessary and appropriate" for security purposes. But the existence of this provision gets Trump only so far; he still needs Democrats in Congress to release funding for additional fencing, and they're not going to do that.
[James Fallows: The networks blew the call]
Trump is now reportedly weighing the option of invoking his powers under the National Emergencies Act of 1976 to declare a national emergency, send the military to the border, seize land, and construct the wall using funds from the military budget. Trump has consistently stated, with little support, that illegal immigration across the U.S.-Mexico border has turned into a legitimate "national emergency."
Without question, Trump may invoke the 1976 act and declare a national emergency. Pursuant to Section 202(a) of the act, however, Congress may terminate the "emergency by concurrent resolution." If Congress succeeds in passing such a resolution, then the "national emergency" would be suspended, and any ongoing activity by the military along the border would be halted.
What if Congress doesn't pass a resolution?
Some have argued that, even under his emergency powers, Trump simply cannot require troops to build a border wall. Indeed, existing statutes prohibit the Army and Air Force from executing domestic law unless authorized by the Constitution or Congress.  But the law is not so clear-cut. For example, 10 U.S.C. 2808 authorizes the reallocation of certain military funds in an emergency, while 33 U.S.C. 2293 permits a similar reallocation for emergency circumstances involving civil works. (The latter section, however, only permits the military to participate in "authorized" works, such as civil-defense projects. And it would be difficult to argue that Congress has "authorized" a border wall beyond the 700 miles of fencing.)
[Read: What the president could do if he declares a state of emergency]
Trump's wall could also founder on private-property rights. One-third of the land along the border is owned by the federal government, but the rest is owned by individuals, American Indian tribes, and state and local governments.
Last Friday, Trump said he would use a "military version" of eminent domain to acquire the land he needs. It's true that Congress has delegated the power of eminent domain to executive agencies, including the Army Corps of Engineers. But the power to condemn land for a particular federal project must still be granted by Congress. The president cannot simply order the military to seize any land he wants—not even if he declares a state of emergency. Indeed, a plain reading of the National Emergencies Act does not expressly permit the military to seize private property at the president's command without additional statutory authorization from Congress.
It seems unlikely, then, that Trump will get his border wall unless Congress has a change of heart. The courts, however, may see things otherwise.
Intimacy in the Early Days of Online Dating
Posted: 08 Jan 2019 02:47 PM PST
August 2011. Gus, a 19-year-old homeschooled Christian from Joliet, Illinois, is trawling Facebook. He's just recovered from a debilitating bout of depression, and he's looking for someone to talk to. Through an online personality test, he finds a match: Jiyun, a 20-year-old from Korea, who moved to New York City with her family for her brother's cancer treatment. Gus messages her, and they begin chatting.
"I started to fall for him when I saw these tagged videos on Facebook," Jiyun reveals in Nancy Schwartzman's short documentary, xoxosms. "That was my first time actually seeing his face. I was like, 'Oh, wait, he's really cute. I like his voice.'" Jiyun found herself attracted to Gus's innocence, living a secluded life in a small town. He was fascinated by her urban lifestyle and international background. Over the course of two years, their correspondence would bloom into a long-distance relationship, archived in instant messages and video-chat footage.
Schwartzman, who was originally connected to Jiyun through her niece, asked the young couple if she could follow the progress of their relationship. "I wanted to make a film about how romance was unfolding in the digital landscape," Schwartzman told The Atlantic. "They were excited to participate. I saw the way Gus's face would light up when he saw [Jiyun] … they were totally in love, and it read so beautifully on camera."
"I'm experiencing this connection to you," Jiyun types to Gus at 1:52 a.m. "It's kind of confusing. I didn't even know there was a term for it until I Googled it. 'Emotional intimacy.' I never let myself be this vulnerable. Do you think it's surreal that we're talking like this?"
Ten months later, they would meet in person for the first time. Schwartzman followed Jiyun to Chicago, where she trained her camera on the teenagers as they acclimated to each other. At first, the encounter is endearingly awkward. But soon Jiyun and Gus find their footing. After they part, they decide to make a commitment to each other.
"All I really need is one solid cosmic connection to somebody," Gus confesses in the film. "I guess we'll see where life takes us and hopefully we can walk the rest of life on the same road."
Sadly, as with most first loves, Gus and Jiyun's didn't last. But Schwartzman believes there's a place for relationships that never transcend the physical limitations of the internet.
"Maybe some relationships work better online," Schwartzman said. "They can feel really supportive and romantic, and just enough of what you need. Maybe they don't ever have to move offline."
Posted: 08 Jan 2019 01:25 PM PST
Caves and tunnels have always been part of human life. We've grown more adept at shaping these underground shelters and passages over the millennia, and today we dig for hundreds of reasons. We excavate to find both literal and cultural treasures, digging mines and unearthing archaeological discoveries. We use caverns for stable storage, for entertainment, and for effective shelter from natural and man-made disasters. And as the planet's surface becomes more crowded and national borders are closed, tunnels provide pathways for vehicles and smugglers of every kind. Collected below are more recent subterranean scenes from around the world.
The Shutdown Makes Trump's Priorities Painfully Clear
Posted: 08 Jan 2019 11:30 AM PST
During the government shutdown, the Secret Service is protecting President Donald Trump and his administration without pay—yet the deportation of Africans continues apace. This week, 800,000 federal employees are expected to stop receiving paychecks, but Immigration and Customs Enforcement is shelling out for a pricey charter flight in an effort to remove a small handful of  Mauritanian immigrants, perhaps as few as two.
Anyone who has logged on to the internet this year knows of Trump's obsession with drumming up an artificial immigration crisis, warning of migrants surging across the southern border. But his government has the same single-minded fixation on removing immigrants who are long-term residents of the United States.
Last September, I wrote about how ICE has turned its attention to the Mauritanians of Columbus, Ohio. These West Africans were victims of ethnic cleansing. In the 1990s, they fled from the Arab government of their country, which had attempted to empty its borderlands of black people—a violent campaign that featured massacre, torture, rape, and enslavement. When the black Mauritanians came to the United States, they applied for asylum. Although they had a strong case for sanctuary, they didn't speak English. They were betrayed by scam artists they hired to fill out their asylum claims, and so were never granted the refuge that they deserved.
[Read: How Trump radicalized ICE]
Until the Trump era, the American immigration system implicitly conceded the validity of their claims. Although judges had ordered their removal, ICE never made the Mauritanians a priority. The government let them stay. Over the years, which turned into decades, the Mauritanians opened businesses; they became fans of Ohio State football; they were implanted in American soil and became citizens in all but name.
With the arrival of a new president in 2017, that sense of permanence and safety vanished in a flash. Pillars of the Mauritanian community were detained by ICE. Suddenly, ICE demanded that residents visit its offices with greater frequency; agents began to show up at private homes. ICE created a sense of fear that provoked some Mauritanians to flee to Canada of their own volition, rather than risk a return to their country of birth.
It doesn't take a bleeding-heart liberal to see the immorality of ICE's focus on the Mauritanians. In a very different context, members of the right-wing Freedom Caucus in the House have enumerated the despicable qualities of the Mauritanian government. They urged the IMF to stop funding the Mauritanian government, which the conservatives accused of having a "heinous human rights record." Even the Trump administration acknowledged this. Last November, it rewrote its trade agreement with Mauritania to punish the country for its continued practice of slavery. To return the black Mauritanians to their native land is to place them in the arms of a government that has tortured and imprisoned its citizens for the color of their skin.
[Read: Trump moves to deport Vietnam War refugees]
Last week, ICE brought four Mauritanian men from Ohio to Louisiana, in preparation for the flight. The Board of Immigration Appeals then stepped in, blocking the deportation of two of the men; the other two have appeals pending, but may be deported before they are decided. Although ICE is forging ahead with deportations, its public-affairs office was not available to comment on the cases, due to the shutdown.
Food stamps will likely go unfunded this month; workers will fail to make mortgage payments. Trump might not be able to find the cash to pay the agents who keep his family safe, but he has the cash to send longtime law-abiding residents to their likely doom. His priorities are perfectly clear.
The Instant Pot Will Not Solve All of Life's Problems
Posted: 08 Jan 2019 03:20 PM PST
There are a lot of fundamental problems with existence, but among the most pressing is that you need to feed yourself three times a day, basically every day, for, like, 80 years. If you're an American woman, the stakes of food preparation are likely to be even higher. Statistically, you'll probably get married and have at least one kid, and although your family will probably need you to get a full-time job, you'll also be saddled with the majority of the domestic labor, of which food acquisition and preparation is an omnipresent component.
Lately, women's trendiest ally in this battle is a kitchen-dwelling robot pod called an Instant Pot. The Instant Pot's massive popularity—Amazon sold 300,000 units of the product during 2018's Prime Day sale alone—is based on a simple promise. If users insert some ingredients, press some buttons, and pay careful attention to the details of a recipe, then out comes a hot meal of fresh ingredients, big enough to feed a family, in less time than traditional cooking methods take.
By inspiring hope for the automation of the domestic, the Instant Pot joins a lineage of kitchen gadgetry that includes the Crock-Pot and the microwave—consumer sensations that attempt to retrofit traditional women's work into modern women's lives. But like its predecessors, the Instant Pot can only do so much, even if those abilities include making everything from bone broth to cheesecake. While the Instant Pot might be the most sophisticated fix yet for Americans' dwindling opportunity to prepare their own food, it can't address the bigger problem of where that time and skill went in the first place, and how much more stands to be lost.
The Instant Pot is the right product at the right time, and by all indications, the vast majority of people who own one seem to adore it. Devotees of the device—often abbreviated as the "IP" online—sing its praises on social media, and Facebook in particular has been fertile ground for its word-of-mouth spread. When I asked around on my account, I expected mixed reactions; nothing is universally beloved on social media. But many people reported using their pots multiple times a week, and almost all of them were doing so to feed spouses and kids. A friend from high school, usually a bit of a curmudgeon, called his family's Instant Pot "fairly amazing." Another, the spouse of a college co-worker, said she uses hers to meal-prep for her household of 12. One guy said he and his wife were considering buying a third, smaller IP because they got so much use out of their first two.
[Read: In defense of kitchen gadgets]
Even Kaitlin Garske, a social-media manager and food writer from Michigan who wrote a popular article about not being impressed with her own Instant Pot, can see the allure for others. "I have friends who don't cook who got one for Christmas, and they were so happy to just put chicken in it and walk away," she says.
That act of walking away seems like the pot's most consistent draw. You don't have to stir anything or monitor your food's progress while using one, so although pressurizing and depressurizing it means many IP recipes actually don't cut that much time off their traditional alternatives, they change how that time can be spent. According to the New Yorker food correspondent and kitchen-gadget aficionado Helen Rosner, that's where the Instant Pot has an advantage over stove-top pressure cookers, which have been around for decades, especially in India and the Middle East. "You have to stand in the kitchen with those, and know how to use them, and monitor their behavior," she says. With the Instant Pot, you just "set it and forget it."
The pull of domestic multitasking is strong for American women. A recent study found that reducing time spent on household chores and performing multiple tasks at once are the main ways working mothers in the United States are able to dedicate time to their children, and the Instant Pot is optimized for efficiency not just in its use, but also in its acquisition. Amazon was long the only place to buy an Instant Pot, and according to Coco Morante, the author of an Instant Pot cookbook and founder of a half-million-member IP Facebook group, Amazon discounts are still such a huge sales driver that she can see them reflected in her membership. "Whenever there's an Amazon sale, there's a whole new crop of thousands of people who are excited about it," she says. Buying an Instant Pot has never required price comparisons or shopping around: You get the sale alert, you add the item to your cart, it's in your home in two days.
Once their new Instant Pot is in hand, shoppers turn to online resources such as Morante's to teach them exactly what they're supposed to do with it. The IP purports to do a bit of everything: It pressure-cooks, slow-cooks, sautés, steams, sears, and makes yogurt, among other things. Even its biggest proponents readily admit that using one isn't terribly intuitive, and success requires carefully following a good recipe. As a result, IP-centric collaborative resources have both taught millions of people the basics of the device and helped turn the isolation of family meal prep into a somewhat communal activity for the women (and Morante says it's mostly women) to whom the task generally falls. "You have this back-and-forth among the community where people are encouraging each other and sharing their recipes, and I think that really helps keep people's enthusiasm going," Morante says.
Even for enthusiastic home cooks, the relentless need to feed a family can turn the task into drudgery, so the Instant Pot and its community feel like a boon to both reluctant chefs and their more skilled counterparts. Still, it's not great that the need to make chili in a half hour is so widespread that millions of people are willing to shell out a hundred bucks for the ability to do some version of it several times a week. Even if American moms have achieved maximum productivity, the forces that require them to life-hack ever more clever ways to spend less time caring for themselves are still at work. Over the past 50 years, kitchen-gadget trends have come and gone, but their appeal in the United States has always been predicated on negotiating the expectations placed on women's time and energy, starting with the Crock-Pot's enormous popularity in the 1970s. Shifting cooking's burden of vigilance off a person and onto a machine wasn't necessary when women were largely relegated to the home during the day, but as more of them sought employment, work-arounds became necessary. Women were still expected to be the project managers of their households.
It's not a guarantee that finding an effective way to self-optimize will result in more personal time, for mothers or anyone else, though. As the journalist Anne Helen Petersen recently explained, for Millennials, increasing efficiency often doesn't have the positive results it promises. "The more work we do, the more efficient we've proven ourselves to be, the worse our jobs become: lower pay, worse benefits, less job security," she writes. "Our efficiency hasn't bucked wage stagnation; our steadfastness hasn't made us more valuable."
While some of those work-arounds are meant to accommodate modern schedules, others are meant to alleviate what Rosner says is a domestic-skill loss between generations. "In some cases, I think [these skills] were intentionally discarded by women who are like, 'I reject this, I reject my role as the keeper of the domestic flame, and I don't want to receive this knowledge from my mother or transmit this knowledge to my children,'" she says. But in the vacuum left by women unwilling or unable to perform domestic tasks such as cooking, no other family members rushed in to help. Instead, brands did. After Crock-Pots lost their luster, microwaves made leftovers easier to revive and frozen dinners a viable product category. George Foreman Grills helped moms prepare meat quickly while draining off the fat they weren't supposed to be feeding their families. Vitamix blenders helped them make sure everyone was getting enough fresh fruits and vegetables.
Now we have Instant Pots. The device seems tailor-made to address the symptoms of a laundry list of modern problems. In addition to having tight schedules, Millennials distrust the packaged foods of their youth, and many of the time-saving gadgets of the past have fallen out of favor with them—even microwaves. But if the Instant Pot is a good compromise between being overburdened at work and wanting to cook with fresh ingredients, it's still a compromise. It doesn't address the fact that work has seeped into an ever-larger portion of Americans' waking hours, taking time and energy away from the basic tasks of familial maintenance, or that a lot of people would rather have a little more time to take care of their families or a more helpful spouse instead of another gadget to do it for them.
Maybe the air fryer will fix those things. I hear those are supposed to be hot for 2019.
Teens Are Spamming Instagram to Fight an Apparent Network of Child Porn
Posted: 08 Jan 2019 11:08 AM PST
Updated at 2:00 p.m. ET on January 8, 2018.
A hashtag war has been brewing on Instagram between users who appear to be trading child pornography and the memers intent on stopping them.
A network of users on the platform has allegedly been using the hashtag #dropboxlinks to find and share explicit photos of underage children. Once these users connect, they are thought to trade the illicit material via links shared through Instagram direct messages.
After uncovering this network over the weekend, hundreds of meme accounts launched a callout campaign on Monday in an effort to root out alleged child pornography on the platform. They shared PSAs about the phenomenon and flooded the hashtag with memes in order to make it harder for those looking to trade links to find one another.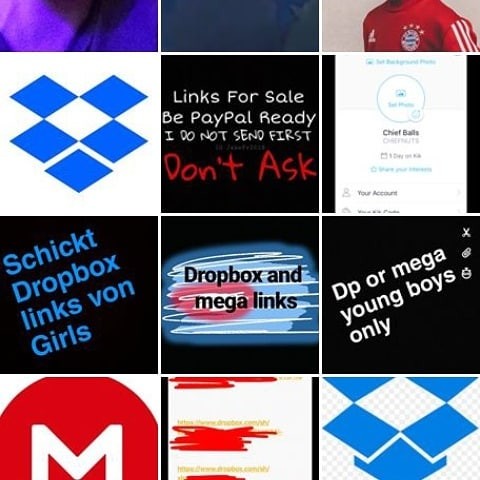 The viral campaign started when the Instagram meme account @ZZtails uploaded a video to Youtube on Monday morning. "This is going to be an actual serious video," says Jack, the 16-year-old founder and admin of @ZZtails, who, like all minors in this piece, is referred to by his first name only because of privacy concerns. Jack claims that he saw a call for Instagram users to report an account that "posted very sexually explicit photos of boys" over the weekend. As he investigated the account, he discovered that it was following the hashtag #dropboxlinks.
The alleged child-porn-trading users set up anonymous accounts with throwaway usernames or handles such as @dropbox_nudes_4_real (which has since been removed). The accounts that @ZZtails and other memers surfaced, which can also be found on the hashtag, contain blank posts with captions asking users to DM them for Dropbox links, which allegedly contain child porn or nudes.
"I'll trade, have all nude girl videos," one user commented in September 2018. "DM young girl dropbox," said another. "DM me slaves," said someone else. Many others commented "HMU to trade dropbox links" on various throwaway accounts. "Young boys only," another user posted several times. On Saturday, an account with the username @trade_dropbox_linkz posted "DM if u want young girl links."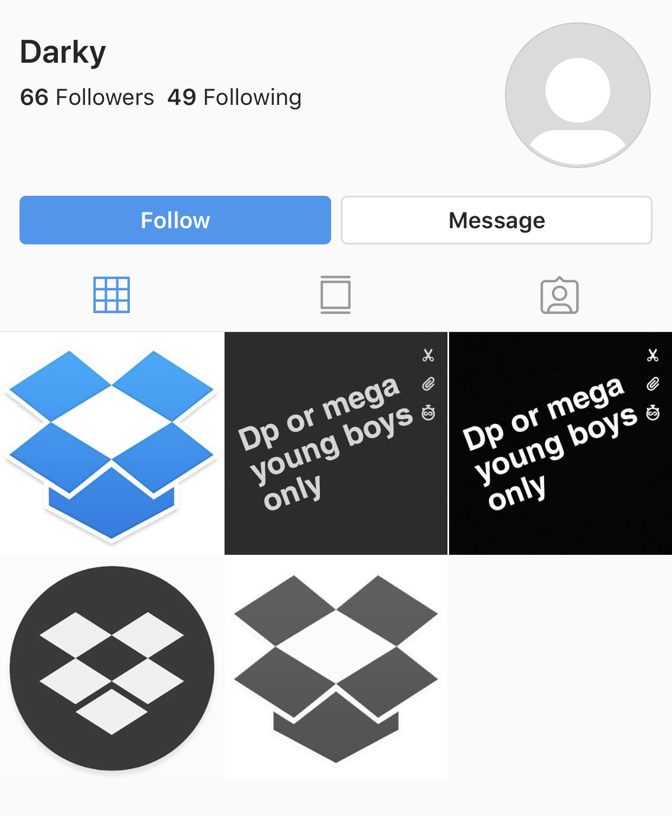 According to screenshots shared with The Atlantic, several memers who reported the accounts received messages from Instagram claiming that the platform's terms had not been violated. While they waited for Instagram to take action, meme-account holders banded together to spam related hashtags with memes. One memer who posted using the hashtag received a message from another user with links to illicit material, asking if he wanted to "trade boys."
Late Monday night, after an inquiry from The Atlantic, Instagram restricted the hashtags #dropboxlinks and #tradedropbox. "Keeping children and young people safe on Instagram is hugely important to us," an Instagram spokesperson said. "We do not allow content that endangers children, and we have blocked the hashtags in question." The platform also said it is "developing technology which proactively finds child nudity and child exploitative content when it's uploaded so we can act quickly."
When reached for comment on Tuesday, a Dropbox spokesperson said, "Child exploitation is a horrific crime and we condemn in the strongest possible terms anyone who abuses our platform to share it. We work with Instagram and other sites to ensure this type of content is taken down as soon as possible."
[Read: Instagram has a massive harassment problem]
"It's just disgusting," says Jacob, a 16-year-old who runs the meme account @Cucksilver. After searching the hashtag #dropboxlinks himself, Jacob said he was shocked at what it revealed. He posted several memes about it to his page, and reported the offending accounts.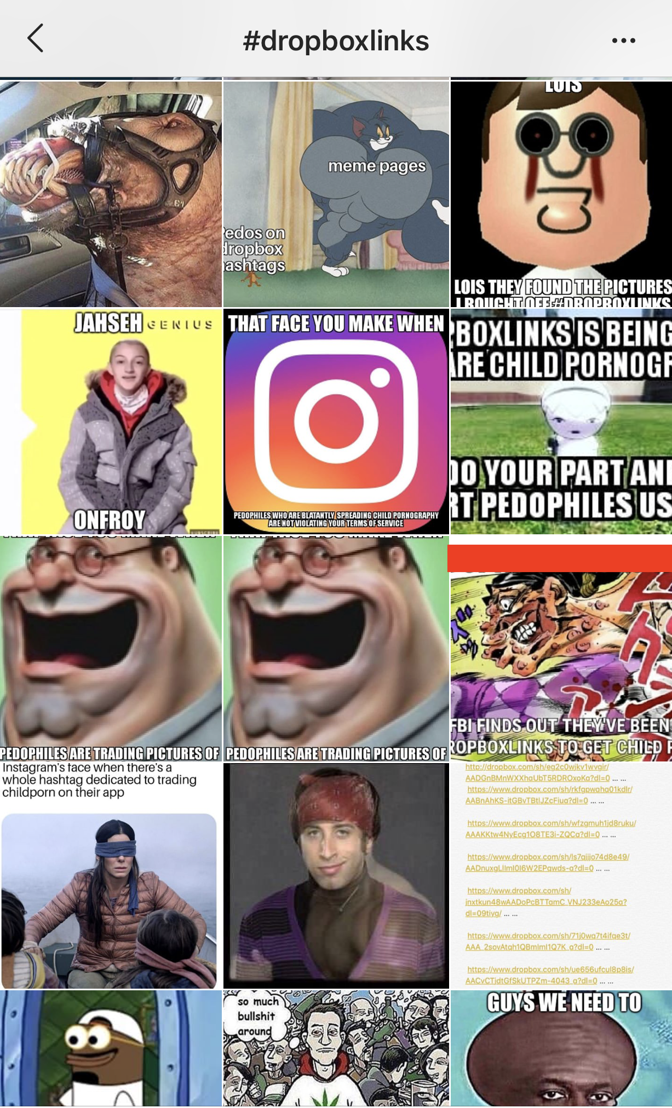 Jackson Weimer, a college student and the founder of several meme pages, says he wasn't surprised that meme accounts discovered the alleged problem before moderators from the platform itself. Memers usually follow a broad range of accounts and are intimately familiar with the platform's dark corners. "Meme accounts do a good job of … bringing awareness to stuff that's happening in the community. They do a good job of raising issues," he says.
Part of the reason this particular issue spread so fast and so far is because many meme-account admins are teenagers themselves. "They could be the people at risk for this type of stuff," Weimer said. "The fact that they're so young makes them connect with those kids who are in danger and being taken advantage of via those hashtags."
Many high schoolers without meme accounts spun up old pages or dedicated their main page to spamming the hashtag. "Kids my age shouldn't be able to see [child-porn-related content], even if it's just people offering or trying to sell it," Jack says. "No one of any age should have access to that stuff."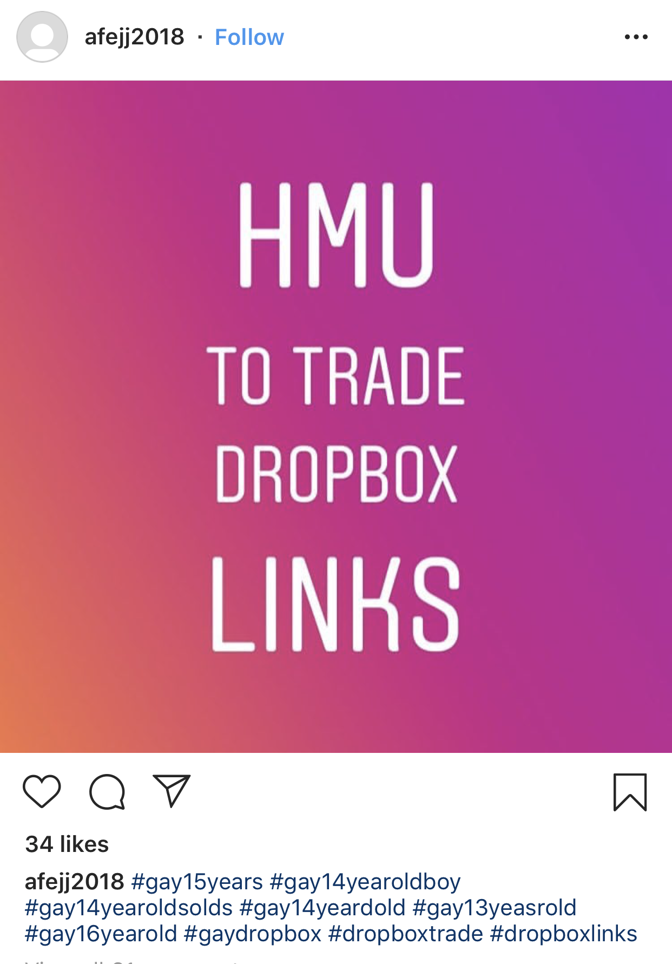 Facebook, which owns Instagram, has highlighted its quest to expand its content-moderation efforts over the past year, but some moderators say its efforts fall short. A team of 15,000 content moderators is tasked with moderating content from Facebook and Instagram's collective 3 billion monthly users. And while Instagram is notorious for its strict ban on female nipples, a post from a user showing breasts with the nipples covered above the caption "Dm to trade young girl pics or links" was allowed to stay up until Monday night.
"I think that Instagram has to take some sort of fault here," says Daniel, the 15-year-old admin of the meme account @bulk.bogan. "They need a better way to report tags or accounts like this."
[Read: Teens are being bullied "constantly" on Instagram]
Meanwhile, child pornography has proved to be a pervasive problem online. In 2017, Tumblr users engaged in a campaign known as the "Woody Collective" to reclaim formerly problematic blogs. In November, Tumblr was temporarily kicked off of Apple's App Store after its filtering technology failed to catch the illegal material. By December, Tumblr had banned all adult content on the platform in an effort to tamp down on illegal photos. TechCrunch reported last month that Facebook-owned WhatsApp was being used to spread child pornography. In December, Google was also forced to remove some third-party apps that led users to child pornography-sharing groups.
Despite Instagram's attempt at addressing the problem, many memers were still posting about #dropboxlinks on Tuesday morning. "I'm sure that all these people, if nothing more is done, they'll just flock to the next hashtag and keep doing what they're doing," Jack says.
Weimer agreed. "Meme accounts joke about a lot of random stuff, and a lot of times it's not all clean humor," he says. "But when it comes down to it, this isn't a joke. People need to take this stuff seriously."
Posted: 08 Jan 2019 10:09 AM PST
The Sopranos Sessions, by Matt Zoller Seitz and Alan Sepinwall, was published today. And while I have only skimmed early excerpts and fractions of the whole—I downloaded my copy in the wee, small hours of the morning—it looks to be the definitional take on the show that many of us had anticipated. Careful dissections of every episode, extended interviews with the famously recalcitrant creator David Chase: It's all there.
The big news, as those who have followed the book's rollout may know, is that after years of calculated ambiguity, Chase seems to accidentally acknowledge the answer to one of the greatest mysteries since the fate of Jimmy Hoffa: Is Tony dead? Here's the relevant interview exchange:
Sepinwall: When you said there was an end point, you don't mean Tony at Holsten's, you just meant, "I think I have two more years' worth of stories left in me."

Chase: Yes, I think I had that death scene around two years before the end … Tony was going to get called to a meeting with Johnny Sack in Manhattan, and he was going to go back through the Lincoln Tunnel for this meeting, and it was going to go black there and you never saw him again as he was heading back, the theory being that something bad happens to him at the meeting. But we didn't do that.

Seitz: You realize, of course, that you just referred to that as a death scene.

[A long pause follows]

Chase: Fuck you guys.
There's plenty more sparring back and forth, and I think the exchange leaves open the question of Tony's fate. Or rather, it would if that fate were not so utterly self-evident. Chase devoted vastly too much attention to the meticulous construction of his Tony Got Whacked puzzle for it to possibly be unintentional. I recommend the obsessive and meticulously persuasive 20,000 words of "The Sopranos: Definitive Explanation of 'The END.'" They are what convinced me, after several years of ambivalence, of precisely what Chase intended to do.
The problem, of course, is that Chase continues to deny that this was his intention, and suggests that the finale is open to multiple competing interpretations. Bollocks. In a 2015 interview, he made this case unusually aggressively, and suggested that much of the culmination of The Sopranos was dictated by Journey's "Don't Stop Believin'," which scored the final scene. I wrote about the abject horror of this revelation at the time, and to my surprise and modest delight, Chase evidently read the piece. Again, from his interview with Seitz and Sepinwall:
I was just reading something from The Atlantic that said, "David Chase Just Ruined the Finale of The Sopranos," because I'd said some kind of thing about how what I was trying to say was that life is very short and love is the only defense, so don't stop believing. The guy in The Atlantic said I ruined everything and I was better off when I kept my mouth shut—which he's probably right about!
Did Chase admit to Seitz and Sepinwall that Tony was killed in that final scene? Fans of the show may differ, and I recommend buying the book to see the full exchange, along with all its other extensive material and analysis. But you know which team I'm on. I am proudly "the guy in The Atlantic." I'm just happy that Chase apparently bears no ill will—and is even contemplating following my advice (with all possible respect) to keep his mouth shut. After the unintended confession that Seitz and Sepinwall seem to have coaxed out of him, it seems more relevant than ever.
Educated Americans Paved the Way for Divorce—Then Embraced Marriage
Posted: 08 Jan 2019 11:26 AM PST
The countercultural revolution of the 1960s and 1970s threw the American family into chaos. Young adults—educated liberals especially—revolted against the constraints of 1950s family life, engaging seriously with formerly fringe ideas like open marriage and full-time employment for mothers. The old rules were in tatters, and nobody really knew what the new rules were. The likelihood that a given marriage would end in divorce doubled, to 50 percent, between 1965 and 1980.
Academics and pundits of the era generally assumed that the retreat from marriage would continue apace. Some of these analysts focused on culture, arguing that the pursuit of individualism, personal growth, and liberation from traditional constraints would reduce marriage rates and increase divorce rates. Others focused on economics, arguing that the breakdown of traditional gender roles would undermine the division-of-labor benefits of marriage, rendering the arrangement less sensible and less appealing. Cultural and economic analysts often clashed, but they tended to agree that educated liberals would pave the path away from marriage.
Almost nobody anticipated what happened next. After 1980, the likelihood of divorce among college-educated Americans plummeted. Despite their loosened romantic and sexual values, educated liberals became more dedicated to family stability and intensive parenting. They did adopt the beliefs that marriage is optional and divorce is acceptable, but in their personal lives, they also sought to build and sustain an egalitarian, mutually fulfilling marriage. Today, educated liberals certainly value individuality and self-expression, but they tend to pursue family stability as a primary means of realizing those values.
[Read more: We expect too much from our romantic partners]
Poorer, less-educated Americans, especially those without a high-school degree, have exhibited the opposite trend. Although they are no less likely to cohabitate today than in previous eras, they are less likely to marry. When they do marry, they are less satisfied and more likely to divorce.
Social analysts have offered three major explanations for these marital difficulties. The first—that less-educated Americans have lost respect for the institution of marriage—is refuted by data. The psychologists Thomas Trail and Benjamin Karney conducted a definitive study asking Americans to indicate their agreement with the statement that "a happy, healthy marriage is one of the most important things in life." The agreement rates were virtually identical among Americans of all income and education levels—and quite high all around.
The second explanation is that poorer, less-educated Americans have a different, perhaps faulty, vision of how an ideal marriage should work. Given the marital turmoil that started in the 1960s, it was reasonable to hypothesize that different segments of American society would arrive at different visions of the optimal marriage, and that some of these visions might be more conducive to happiness and longevity than others. But here, too, the best evidence suggests that most Americans, across income and education levels, have adopted a new marital ideal in which spouses look to each other not only for love, but also for self-expression and personal growth. Most Americans agree, for example, that "understanding each other's hopes and dreams" is essential for a successful marriage—much more important than having sufficient savings, sharing values, or having good sex. Americans today want a partner who can help bring out their best self.
[Read: Love in the time of individualism]
The third explanation is that building and sustaining a marriage that meets these lofty aspirations typically requires substantial investments of time, attention, patience, and responsiveness, investments that are harder for poorer, less-educated Americans to make. When life happens—when the car breaks down or a ligament snaps—they are at greater risk for unemployment, eviction, and destitution. They tend to have less control over their schedules and less money to pay a babysitter, so they may struggle to get regular time alone with their spouse. When they find such time, they are more likely to arrive to the conversation feeling emotionally depleted from other stressors, and the topics of discussion—how to stretch the money this month, how to wrangle child care with a demanding work schedule—are often thornier. The evidence is generally supportive of this third explanation: a major reason why the marriages of poorer, less-educated Americans are struggling is that economic realities make it difficult to live up to the new cultural ideal. This struggle is leading many to opt out of marriage altogether and, for those who opt in, to make the path to marital success more challenging.
Education and income are not determinative, of course. Many people with college degrees and good salaries have terrible marriages, and many people without them have excellent marriages. But poorer, less-educated Americans will continue to struggle, on average, until their economic circumstances align better with the nation's new marital ideal.
Last Friday, the Labor Department reported that employers added over 300,000 jobs in December, and that wages have begun to rise at a good clip. If unemployment stays low and wages grow for the working class and poor, more Americans will be able to reap the benefits of our new marital ideal, enjoying a stable marriage that helps them pursue a meaningful life. If that transpires, educated liberals will indeed have paved the path—not to marital collapse, but to a stable and more fulfilling approach to family life.
Posted: 08 Jan 2019 10:25 AM PST
On Tuesday night, Donald Trump is planning to give an address on immigration, the southern border, and the government shutdown that has arisen from his insistence that any budget measure must include money for "the wall."
When plans for the speech were announced on Monday evening, I opined on Twitter that it would be better for the major broadcasts not to carry the speech. There would have been crystal-clear precedent for their turning him down: In 2014, when Barack Obama gave a speech on his immigration-policy plans, neither CBS nor NBC nor ABC aired it live, on the argument that circumstances made the message "too political." A closer parallel would be hard to find.
There was also a clearly unprecedented reason not to carry the speech: namely, that nearly everything Trump says on this topic is intentionally inflammatory and either carelessly or deliberately untrue. Politics always involves spin and selective emphasis, but the networks would know for sure ahead of time that they were using their resources to advance untruths.
But the networks said yes, they'll presumably air the speech, and the question now is what else they can do to cope with the reality of an office holder who doesn't care that he lies.
Below I make the case that the networks and other news organizations must themselves break precedent, to keep up with what Trump is trying to do. Knowing that Trump is going to attack the truth this evening, they must take active measures to defend it. They have this day to prepare. A commitment to real-time, onscreen fact-checking is at this point the most feasible goal for a speech mere hours away. In the longer run, all major media need to think about how to deal with the endless skein of choices like this they'll face in the next two years.
[Derek Thompson: Trump's lies are a virus, and news organizations are the host]
It's been nearly four years since Trump came onto the national-candidate scene. In that time, the "normal" media outlets have shown their near-helplessness against three of Trump's most important weapons and tools.
One is the total impossibility of reestablishing the dividing line between news and entertainment. Back during Bill Clinton's first term, I argued in Breaking the News that outlets had to be careful to remember that news and entertainment were not the same thing. Parents know that protein and vegetables are different from Mountain Dew and Spam. People filing suit or going on trial know that there's a difference between a TV-style Judge Judy and a real, working magistrate. Schools are designed to be different from comedy clubs. And so, I argued, people in charge of the news had to remember to make their information as interesting as news could possibly be, rather than the most objectively interesting spectacle ever. In a contest for attention between entertainment and anything else, entertainment will always win. That's what it's for.
The challenge for the news media was to "make the important interesting," rather than to search for the purely interesting. Car-crash footage or the last seconds of a sudden-death playoff game will always be more eye-catching than reports on a drought, or sexual-harassment patterns, or emergency-room standards, or a million other topics. But things that are merely interesting will never lack for coverage. The definition of news is that it attempts to explain things that matter, things that a democratic society needs to know about in order to make sane decisions.
Trump has been the most entertaining figure on the public stage since he came down the golden escalator in 2015. TV news, in particular, has therefore not been able to resist showing him (and his rallies) or talking about him. It's the civic equivalent of seeing that 9-year-olds are guzzling down Mountain Dew and asking for more Spam, and just giving them more. Trump's going live? Let's switch to the White House! This needs to change.
[Read: What Trump could mean for journalism]
The second, long discussed, is the difference between Trump and all previous figures when it comes to public lies. From Richard Nixon and long before to Bill Clinton and long after, normal public figures have told normal lies. That is, they have lied when they had to; they have lied when it was useful; they have lied when they thought they wouldn't get caught.
Trump just lies. He doesn't know, or he doesn't care, about the difference between claims that are true and those that are obviously made up. (Daniel Dale, of the Toronto Star, has indefatigably cataloged Trump's lies, at a rate of more than 100 a week.) Maybe 4,000 "terrorists" have been apprehended at the southern border? Maybe zero? Who can ever really know? Over the past week, Trump has claimed that former presidents "privately" told him they supported building his wall. All four living ex-presidents have taken the unusual step of denying that they said any such thing.
It is very hard for the press to fact-check or otherwise cope with a figure of this sort. In exposing someone's lies, they rely on the fact that he or she would care about being caught—much as religious or ethical leaders rely on the power of the guilty conscience.
Trump doesn't care. He can't be shamed. The press (except for Dale) tires of detailing his lies before Trump tires of telling them.
The third is the press' whipped-dog cringe in anticipation of criticism about any supposed bias toward the left. The simplest illustration, again, is the contrast between their handling of Obama's recent request in 2014 and this one by Trump. After the Obama decision, news executives lost not a moment of sleep out of concern about attacks from liberal groups for "right-wing bias." They thought about it as a news decision, and presented it that way. But the certainty of an "enemy of the people!" onslaught by Trump, Fox News, and their allies indisputably weighed on the executives' minds yesterday.
The network executives' position has a lot in common with that of the Senate Republicans. Each group knows with perfect clarity what Trump is actually doing. The Senate Republicans know that Trump is using the wall as a distraction and life raft. They know that because they unanimously approved, by voice vote, a plan to keep the government open, with no mention of the wall, before Trump panicked in the face of criticism from Ann Coulter and Fox News. They could pass that resolution again tomorrow—but they won't speak up in public, so fearful do they remain of being criticized, too. For their part, the network executives know exactly what Trump will do if given air time. (Though they also realize that the formal Oval Office speech is Trump's weakest venue. He's not good at reading prepared texts, with his trademark ad-libs of "That's so true" when he encounters lines he has clearly never seen before.) But they are giving it to him.
They were not afraid of criticism for turning down Obama. They are afraid about what would happen if they turned down Trump. You can think of lots of explanations. But the difference is clear.
An instructive parallel: During the 2016 campaign, James Comey's FBI was closemouthed about the ongoing investigations of Trump and his Russian connections. To have said anything about them would have opened the bureau to criticism of playing politics. But when it came to discussing Hillary Clinton's email situation, obviously the calculus of potential criticism was different. Again, you can think of explanations. My point for now is what military planners call the "asymmetric risk," which warped the FBI's behavior and that of much of the press.
[Read: Stop blaming the media for Trump]
These are real problems that can't be solved easily but that at least should be recognized as this election cycle begins. In The Washington Post, the former New York Times public editor Margaret Sullivan lays out a useful set of guidelines for avoiding the most obvious perils. Similarly: Jay Rosen of Press Think, Greg Sargent of The Washington Post, Dan Gillmor of Arizona State University, and many others. But Trump's speech offers an immediate test case.
A "second best" option would be to carry an opposing speech, as networks routinely do after the State of the Union address. That is better than nothing because some other figure—a governor, a senator, whoever else—can directly call out Trump's misstatements. But it is second best because it will inevitably cast what should be a contrast between reality and dark fantasy instead as a familiar Democrat-versus-Republican, "reasonable people can disagree" partisan dispute.
The better choice would be fearless real-time fact-checking, presenting in sync with Trump's misstatements the best ascertainable facts. You want a substantive example of how this can be done? Watch once more Chris Wallace's handling of Sarah Huckabee Sanders this past weekend on Fox News. (He knew what falsehood she had been circulating, he read up on it, and he was prepared to say, "But in fact …") In format, the fact-check approach during a speech would have to be different. But this is what split screens are for. The bottom panel of the screen, where "the scroll" is usually found, or a right-hand column, like the one ESPN uses on many shows, could be the fact-based Greek chorus. (If you prefer, the model could be Mystery Science Theater 3000.)
Either of these approaches would reflect some awareness that dealing with Trump is not like dealing with other public figures. We'll see how much the press has learned on this front, starting tonight.
<em>Bohemian Rhapsody</em>, <em>A Star Is Born</em>, and the Myth of Authenticity
Posted: 08 Jan 2019 09:01 AM PST
Accepting the Golden Globe for Best Actor in a Drama Motion Picture, Rami Malek thanked Freddie Mercury: "You beautiful man. This is for and because of you, gorgeous." He also gave a shout-out to the members of Queen who produced the Mercury biopic that shocked Hollywood by winning Best Drama on Sunday night. "To you, Brian May, and to you, Roger Taylor," he said, "for ensuring that authenticity and inclusivity exist in the music, and in the world, and in all of us."
Authenticity—what a fight starter! Bohemian Rhapsody, picked apart by cultural commentators for its divergences from the real story of Queen's rise, is great for its realness? A band that campily reimagined rock and roll as opera, that played with baby talk and disco beats, whose lead singer paraded about in royal finery, is the ensurer of authenticity? Wittingly or not, Malek was framing what might become the key division of this awards season's battle of the band movies.
[Read: The Golden Globes just threw a wrench into the Oscars race]
Pundits are puzzling out how Bohemian Rhapsody beat A Star Is Born, another musical drama, which featured bigger stars, won warmer reviews, and performed better at the U.S. box office. But fans of Rhapsody know how to feel. One tweet praised Rhapsody's "validity as a memoir and narrative of a factually based story about a band many of us loved." A Tumblr post with scores of likes defended Rhapsody on the grounds that "these actors had to study other people day and night, learn how [to] get every live performance on point, learn how to talk like someone else, act like someone else, even look like someone else." Another fan posted, "This is why bohemian rhapsody deserves all the awards," with a video comparing Queen's 1985 Live Aid performance with Malek's re-creation.
How fitting that truth and fiction are at issue with two mass-market rock-and-roll movies now positioned as rivals: Mass-market rock itself has long relied on fake identities turning real. Bohemian Rhapsody lays out how Farrokh Bulsara changed his name, downplayed his Parsi heritage, played coy about his sexuality, and yet became an icon of—as the Bohemian Rhapsody producer Graham King put it in the night's final speech—"the power of embracing your true self." A Star Is Born demonstrates this pop alchemy, too, as the unpolished Ally (Lady Gaga) adopts artificial sounds and hairdos, dismaying her earthy benefactor (Bradley Cooper), on the way to fame.
Deep down, though, Bohemian Rhapsody and A Star Is Born's approaches to "truth" are different. The Queen biopic did greatly concern itself with the trappings of nonfiction: Malek nailed every Mercury mannerism, two original band members consulted on the production, and the film concludes with that painstaking Live Aid reenactment. Still, there's a lot of fantasy. The screenwriters bent timelines and invented twists not merely for dramatic convenience, but also to present Queen's messy story in a bright and uplifting light. Drugs, infidelity, and illness appear only in glimpses, while the real draws of the film—the thing that makes the people who love it love it—are the heroic concert scenes, the light humor, and the inspirational themes.
A Star Is Born, meanwhile, is almost explicitly a work of mythology: It retells a fictional narrative arc that's been passed down over generations. But like so many great myths of ancient times, the story is brutal—so as to make a point about the real world. In every iteration of A Star Is Born, a young woman's rise is enabled by the support of a man who's eventually snuffed out, and Bradley Cooper and Lady Gaga's portrayal of that downturn in the movie's second half is particularly unsparing: a threnody of humiliation, urination, rehab, and (spoiler) death. It's so wrenching that Gaga has said that when she sits in screenings of A Star Is Born, she walks out before the end.
The Star story resonates in the real world in a number of ways and to varying degrees of coherence, playing on gender panic and genre disputes. But at its most fundamental level, it's the legend of Icarus—a precipitous rise comes with a precipitous fall. It's also a familiar pop-culture saga about greatness undone by addiction and self-loathing, forces whose persistence have been highlighted all too frequently of late by actual celebrity deaths. There's great joy in A Star Is Born, of course, but the power of the film is in how the highs dovetail with its attempts to understand suffering.
It's easy to forget that Bohemian Rhapsody is about addiction and self-loathing, too. Some viewers (myself included) felt that the movie too sanctimoniously portrayed Mercury's partying as a futile response to an emotional void, almost implying that he was at fault for contracting AIDS. But even so, the film doesn't dwell much on Mercury's tragedy. It hints at his indulgences furtively—a line of cocaine in a quick shot, a night cruising at the bar rendered in hazy montage—so as to present his personal ups and downs as mere complications to Queen's otherwise unified creative project. Instead of delving into his final years, the film opts to end with a triumphant concert.
[Read: The final judgment of Freddie Mercury]
That relatively feel-good, Disney-fied take on a famous doomed hedonist is what the culture already subsists on: The movie's not unlike a poster of Queen, or a wax statue of Mercury, cashing in on the goodwill the band has already amassed. The cheeriness that results obviously works for a lot of people, including Hollywood Foreign Press Association voters and the international audiences that have pushed Rhapsody to far outpace A Star Is Born in global ticket sales. It even, as Malek said, helps the cause of inclusivity, with it becoming the highest-grossing LGBT film ever.
But as the Bohemian Rhapsody crew celebrated its unexpected victory on Sunday, there were reminders of the ways in which the film's pick-and-choose version of authenticity finds echoes in the real world. Backstage, a reporter asked Rami Malek why Bryan Singer, who directed most of the film before being fired and who is facing a rape accusation, wasn't mentioned in the acceptance speeches. "There's only one thing we needed to do, and that was to celebrate Freddie Mercury in this film," Malek said. "Nothing was going to compromise us giving him the love, celebration, adulation he deserves." The uncomfortable truth, in other words, wasn't going to get in the way of glory.
The U.S. Isn't Really Leaving Syria and Afghanistan
Posted: 08 Jan 2019 07:33 AM PST
President Donald Trump caused a political furor when he announced in December that he would quickly withdraw all 2,000 American troops in Syria, together with half of the 14,000 U.S. soldiers in Afghanistan. Democrats (and many Republicans) condemned the exit strategy as a boon for America's enemies. Secretary of Defense James Mattis resigned in protest, as did the special envoy for the counter-ISIS campaign, Brett McGurk, and the Pentagon chief of staff, Kevin Sweeney. Other prominent voices praised the drawdown. In The New York Times, for example, Robert Kaplan called the campaign in Afghanistan "a vestigial limb of empire, and it is time to let it go." These critics and defenders of Trump's decision have one thing in common: They share the assumption that Washington is actually getting out of Syria and Afghanistan.
But that's not true.
In conventional campaigns against foreign countries, such as World War II, war and peace are clearly defined. The United States gears up for the fight and battles the enemy, there's a surrender ceremony, and then the troops come home and Americans close the book. But in the modern era of complex civil wars and counterterrorism operations, a world power like the United States never really leaves.
First of all, the withdrawal process in Syria and Afghanistan will happen much more slowly than Trump initially claimed. Shortly after his shock announcement, the president offered significant caveats. On December 23, he tweeted that he and Turkish President Recep Tayyip Erdoğan had discussed "the slow & highly coordinated pullout of U.S. troops from the area." On Sunday, Trump told reporters, "I never said we're doing it that quickly."
[David Frum: Why is Trump spouting Russian propaganda?]
The administration has added conditions for a departure from Syria that include defeating the last ISIS holdouts—"We won't be finally pulled out until ISIS is gone," Trump said—and protecting U.S. allies such as the Syrian Kurds. The U.S. National-Security Adviser John Bolton claimed that "the timetable flows from the policy decisions that we need to implement." If the administration applies these benchmarks strictly, then even the beginning of the end in Syria recedes into the Levant horizon. ISIS, or its successor groups, will never be "gone." ISIS militants can always abandon the physical caliphate and go underground, rebranding themselves as insurgents or terrorists. As for the Syrian Kurds, they will require protection indefinitely. They are threatened by two powerful enemies: Turkey, which considers Kurdish forces to essentially be terrorists, and Bashar al-Assad's regime. If the conditions for a U.S. exit extend to checking Iranian influence in Syria or defending Israel, then withdrawal becomes even more fanciful. Tehran saved Assad's regime at a cost of billions of dollars and is not about to leave.
On Monday, Trump claimed that he and his advisers were singing from the same hymnbook. "No different from my original statements, we will be leaving at a proper pace while at the same time continuing to fight ISIS and doing all else that is prudent and necessary!" he tweeted. Of course, taking prudent and necessary steps means slowing the pace of leaving.
Even if Trump fudges these benchmarks, or abandons them entirely, it's exceedingly difficult to physically bring troops home. The process of leaving is known as "retrograde," and is a logistical nightmare. The military has to box up and ship out a "Little America" of bases, Humvees, air conditioners, and even fast-food joints. Every gun and every bullet needs to be packed away, given to allies, or destroyed, to make sure they don't fall into enemy hands. Removing one brigade of 2,000 to 5,000 soldiers from a combat zone can take weeks or months. A larger footprint can mean months or years. In Syria and Afghanistan, U.S. forces have to leave through forbidding terrain in an active war zone, without a nearby port.
[Kori Schake: Trump just messed up the one thing he did better than Obama]
The kicker is that even if American troops do come home in a reasonably timely fashion, they will likely return before long. Recent U.S. campaigns in the Middle East have operated like a revolving door. In a globalized world, what happens in the Middle East affects U.S. interests and values. Recent presidents were all loathe to engage in prolonged conflicts in the region, but they were even less willing to—as they saw it—risk American security or lose a war.
After the U.S. invasion of Iraq in 2003, President George W. Bush was eager to avoid nation building and pursued an exit strategy known as "leave to win" based on training Iraqi security forces and reducing U.S. troop levels as speedily as possible. When violence worsened, however, Bush ordered tens of thousands of reinforcements to Iraq as part of the "surge" strategy.
President Barack Obama removed U.S. combat forces from Iraq in 2011 but sent troops back in 2014 to combat ISIS. In an interview with Obama, The Atlantic's Jeffrey Goldberg quoted an Al Pacino line from The Godfather: Part III: "Just when I thought I was out—" Before Goldberg could finish, Obama completed the quote: "—it pulls you back in." War, like organized crime, has a magnetic draw.
Obama withdrew U.S. troops from Afghanistan but kept in place a successor force of about 10,000. In 2017, after the Taliban made military gains, Trump agreed to send 3,000 more troops to Afghanistan, bringing the total to around 14,000. By removing 7,000 soldiers, Trump is half exiting from a war the United States already supposedly exited.
[George Packer: No peace for them and no honor for us]
Given this history, it's easy to imagine how the fight against a rebooted ISIS or a strengthened Taliban will lead U.S. forces once more unto the breach. Is Trump willing to see the Taliban recapture Kabul, with people escaping from rooftops by helicopter?
And in the unlikely scenario in which American forces are permanently removed from Syria and Afghanistan, the United States will inevitably remain a player in both conflicts. Washington will retain many levers of influence, including air operations, Special Forces missions, economic and military aid, and diplomatic sway.
The United States is not going to leave Syria and Afghanistan as speedily as the hawks fear or the doves hope. The departure of U.S. soldiers will be so slow that there may be time for the next war to begin before they reach the exit. "After many years," Trump said of U.S. troops, "they are coming home." The homecoming could, indeed, take many years.
The Peaceful Transition of Government Twitter Accounts
Posted: 08 Jan 2019 07:19 AM PST
The various committees of the House of Representatives are strange, human institutions. They are staffed by whoever holds the majority, which, since January of 2011, had been the Republicans, but is now the Democrats.
And with that change, the committees must deal with important business, such as establishing new chairpeople, deciding on organizing principles, and … handling the committee Twitter account.
The journalist Dave Levitan spotted a wrinkle in this Twitter handover process. For eight years, the Republicans ran the @HouseScience account. During that time, it accumulated a lot of followers (168,000) as Twitter grew into a mainstream service. Meanwhile, the Democrats had their own minority account—@SciCmteDems, which was clearly the Democrats and not an organ of the government—which accumulated almost 150,000 fewer followers.
Now, come 2019, what should happen? You might say that the new Democratic majority would take over the @HouseScience page, with all its followers. That's what happened to the @POTUS account during the Obama digital transition. The content was moved to @POTUS44, but the followers went with the presidential account.
[Read: What the @RealDonaldTrump ruling actually means]
In the House Science committee case, that's not what happened. Only the name @HouseScience went to the Democrats, replacing their old handle, @SciCmteDems, while the House Science Republicans went with @HouseScienceGOP, and kept all the account's followers. As Levitan put it, "How is that fair?"
At first, it might seem like yet another bit of partisan infighting, something you'd find under the definition of "petty." But it turns out that the transition was peaceful, a committee staffer told me. The incoming Democratic majority didn't want the audience that the Republicans had developed over the years. And furthermore, Twitter existed back in 2011, and during that changeover, the parties had enacted the swap in the same way. So, in a technical sense, it was fair.
Many other committees have adopted a similar method. They're following the House Administration Committee's very general guidance on how to deal with the digital switchover:
The URL name for an official website located in the HOUSE.GOV domain or name of a profile, page, channel, or similar presence on a third party site may not:
        1. Be a slogan.
        2. Imply in any manner that the House endorses or favors any specific commercial product, commodity, or service.
        3. Be deceptive and must accurately represent the Committee.
In this case, setting up the majority, which runs the committee, with the main account name is seen as "accurately represent[ing] the Committee" on the third-party site of Twitter.
There's some logic behind followers staying attached to the party rather than the account name, too. On social-media services, the ratio of engagement is an important factor in how popular a tweet becomes, and a Democratic majority tweeting to a Republican audience (or vice versa) might not find a lot of willing listeners, likers, and retweeters.
[Read: Can Twitter fit inside the Library of Congress?]
On the other hand, it stands to reason that many Americans followed @HouseScience not because of the partisan content that ran on the feed, but merely because they were unfamiliar with House rules and simply thought of it as a way of knowing when committee hearings might be. There's no way to disambiguate those two groups, though, and so the Republicans will take both with them.
Furthermore, with most social networks, there is a growth phase during which accounts add followers with ease, and then there is the rest of the time. For Twitter, that growth phase is long over. It is an accident of history that the Republicans were in power when Twitter was experiencing its most consequential period, and that contingency has created a information distribution advantage for them.
But that's assuming differences in the audience for a House committee Twitter account even matters, which remains an open question.
Why Mike Pence Couldn't End the Shutdown
Posted: 08 Jan 2019 08:21 AM PST
Mike Pence was set up to fail.
It seemed that way a lot over the past three weeks. In the days ahead of the federal funding deadline in December, it was the vice president who told Senate Republicans that the president would back a short-term spending bill to keep the government open. (The president then announced that he would not.) And it was Pence who, once the partial government shutdown was under way, told Senate Minority Leader Chuck Schumer that the White House would downsize its request for border-wall funding. (The president then announced that it would not.)
The shutdown had reached its third week when the vice president convened bipartisan meetings with congressional staffers to discuss, ostensibly, a path forward. Yet in those gatherings on Saturday and Sunday in the Eisenhower Executive Office Building, Pence, joined by Department of Homeland Security Secretary Kirstjen Nielsen and the White House senior adviser Jared Kushner, was likely reluctant to engage in the kind of detailed negotiations needed to break the impasse. Indeed, as The Washington Post first reported, he had not been authorized to pitch new funding levels for the border wall, as he had in his meeting with Schumer. (The vice president's office disputed this to me, noting that the meetings resulted in a revised budget request from the White House.)
[Read: Will the government ever reopen?]
The president underscored the futility of Sunday's confab before it even took place: "I don't expect to have anything happen at that meeting," he told reporters that morning, before heading to Camp David. "Ultimately, it's going to be solved by the principals."
In other words, Pence entered the talks under no illusion that progress lay waiting. The result was that Pence's negotiating partners saw him as a man sidelined, a status that has increasingly defined the vice president's tenure, according to interviews with lawmakers, aides, and current and former administration officials, many of whom requested anonymity in order to speak frankly and reveal confidential details.
[Read: Mike Pence's talent for being absent]
In Sunday's meeting, for example, Democratic staffers made clear that they would not negotiate border-wall funding until the government reopens, maintaining the position House Speaker Nancy Pelosi had staked out days before. According to two congressional staffers in the room, Pence responded by discussing funding for border-security items both parties might agree upon, such as drone technology. For Pence, the sources said, it appeared an attempt to maintain a smooth and congenial discussion. Nevertheless, with regard to the sticking point—$5.7 billion for a wall—both parties remained dug in. "I wish he'd been a bit more forceful," lamented one Republican aide who was in the room.
Pence has never been an outwardly aggressive negotiator on behalf of the president, preferring to project a calm, respectful, and reasonable demeanor to contrast Donald Trump's bombast. It's a posture that most lawmakers and aides I spoke to appreciated, praising Pence as a valuable sounding board for their frustrations with the White House, notably at Senate Republicans' weekly policy lunches, which he attends frequently. Yet when it comes to reaching a deal with Democrats to reopen the government, it has mattered almost none: On Monday, day 17 of the partial government shutdown, the White House announced its most serious threat yet to declare a national state of emergency over what it claims is a crisis at the U.S.-Mexico border.
Pence signaled his readiness to abandon talks with Democrats in favor of this move, telling reporters on Monday that the border represents a "humanitarian and national-security crisis."
"He's investing in GOP solidarity," a senior aide to a GOP member close to Pence told me, "not deal making with Democrats."
Should the administration declare a state of emergency, Pence's reputation as a mediator between the White House and Congress would likely take a hit. Such a declaration would symbolize the administration's failure not only to pick off Democrats, but also to maintain the total support of its own party: In the past week, moderate Senate Republicans such as Susan Collins of Maine, Cory Gardner of Colorado, and Thom Tillis of North Carolina said they were prepared to back the government's reopening with or without wall funding.
It was Pence who was supposed to help the Trump administration evade such situations. In the first year of Trump's tenure, the vice president was granted a wide berth to quietly craft deals with Republican lawmakers and guide the White House's messaging in Congress. It was, after all, much of the professed reason he'd been brought onboard, with the Trump campaign pitching him as an experienced Hill denizen who could make up for what Trump lacked in legislative know-how. Pence served for more than a decade in the House, holding leadership positions such as chair of the Republican conference. (Not all were convinced of Pence's legislative savvy: As my colleague McKay Coppins reported last year, some members who served alongside Pence referred to him as "Mike Dense.")
[Read: God's plan for Mike Pence]
Pence's supporters point to some early wins in Trump's administration as evidence of his skill as a Hill navigator. Multiple House Republican members and aides say the vice president was critical in helping pass legislation to repeal Obamacare, despite the effort's unpopularity with much of the public. (The measure ultimately died in the Senate.)
According to multiple current and former administration officials, however, as Trump's friction with Congress has increased, Pence's clout has suffered. Two sources, one close to the vice president and the other close to the president, both of whom requested anonymity in order to discuss internal conversations, affirmed to me that Pence was leading the Trump administration's negotiations on border security. Yet the fact remains that this weekend, the president gave his lead negotiator very little room to negotiate, sending Pence to a meeting that Trump himself said would yield nothing. This, coupled with the moments over the past month when Trump has publicly undermined Pence's messaging, has helped create a portrait of a vice president with diminishing influence.
A meeting on Wednesday of top White House officials and congressional leadership in the Situation Room illustrated this well. At one point, according to a source familiar with the matter, Pence claimed that Schumer never responded to the White House's downsized request for border-wall funding. Schumer responded that it was hard for him to take the figure seriously. He noted that at the same time Pence made the ask, two Saturdays before, a senior administrative official holding a background briefing call with reporters said the president would accept no less than $5 billion.
[George Packer: The suicide of a great democracy]
Even the president had said that day that he would only accept $5.6 billion, Schumer noted. "Didn't you, Mr. President?" he asked, according to the source.

"The president, with his arms folded, smirked and nodded," the source said.
The exchange represented another swipe at Pence's credibility, with the president declining to defend his vice president's motives in front of Democratic leadership. "If you were Nancy or Chuck, why would you spend time cutting a deal that may be dismissed out of hand by the ultimate decider?" one former senior White House official said.
Despite Trump's response at the meeting, Pence told reporters on Monday that the president had buy-in on his offer to Schumer. "I can neither [confirm] nor deny the numbers that have floated around about what was offered on the first day of the shutdown," he said. "But I can assure you, it came from the president of the United States. And Senator Schumer knows that." (As the former White House legislative-affairs director Marc Short put it to me: "Pence does not go rogue.")
Lawmakers and aides I spoke to sympathized with Pence's position. According to one veteran House Republican aide, it was almost always a "given" that when former Vice President Joe Biden communicated the White House's agenda to the Hill, Barack Obama would be quick to follow through. Conversely, when Pence communicates the president's position, "it ends up being accurate maybe 50 percent of the time." When a president deals more in "spontaneity" than in specificity, the aide added, legislative talks are bound to break down.
[Charles J. Sykes: A shutdown reveals the transformation of the GOP.]
Representative Mark Walker, the House Republican policy vice chair, echoed that sentiment: "The more specificity you have, the better you can negotiate.
"President Trump has a unique style of leadership," Walker added. "He's never really answered to a board, which allows you to cut on a dime. So people who work for him have to remember flexibility comes with the job description."
White House allies on the Hill and former administration officials acknowledged privately that the vice president may be more hamstrung than ever, unable to capitalize on many of the strengths he was originally chosen for. But crucially, those sources said, Pence has never expressed any displeasure with his circumstances, and would never suggest, even privately they say, that Trump's whims have made shuttle diplomacy difficult. "There's a reason Pence has avoided the fate of so many others," another former senior White House official told me. "He acquiesces entirely to the will of Trump 100 percent of the time."
According to the White House, Pence remains valued by his boss. "The President and Vice President could not be more closely aligned," White House Press Secretary Sarah Huckabee Sanders told me in an email. "They speak multiple times a day, discussing a wide range of issues. Since taking office, the Vice President has been an effective messenger for this Administration at home and abroad, and his over-10 years in Congress makes him a natural and valuable negotiator for the President as he works to secure the border and open the government."
Pence's ability to steer Trump toward compromise will be tested even more in the months to come, as House Democrats settle into the majority. For the first time in this presidency, the success of Trump's legislative ambitions will hinge almost entirely on Democratic buy-in.
Having a vice president who knows the Hill should be helpful in this respect: Biden and then–House Republican Majority Leader Eric Cantor, for example, enjoyed a close relationship that helped ease tensions during legislative battles. But House and Senate Democratic aides I spoke to don't foresee Pence forging a similar bond with Schumer or Pelosi, in large part because their bosses may not see the point. "I don't know that he has any authority whatsoever," one House Democratic leadership aide told me. "It's perplexing."
True or not, it's an impression that Pence doesn't seem to mind. As with many White House officials, Pence's favor with Trump—and with many of his voters—will likely depend more on loyalty than accomplishment.
One congressional Republican staffer I spoke to recalled a policy meeting with Trump and Pence in which the vice president said little. One of the few times he spoke, the source said, was to flag another staff member. "The president," he said, "would like a Diet Coke."
The Personality Trait That Makes People Feel Comfortable Around You
Posted: 08 Jan 2019 07:15 AM PST
Some people can walk into a room and instantly put everyone at ease. Others seem to make teeth clench and eyes roll no matter what they do. A small body of psychology research supports the idea that the way a person tends to make others feel is a consistent and measurable part of his personality. Researchers call it "affective presence."
This concept was first described nearly 10 years ago in a study by Noah Eisenkraft and Hillary Anger Elfenbein. They put business-school students into groups, had them enroll in all the same classes for a semester, and do every group project together. Then the members of each group rated how much every other member made them feel eight different emotions: stressed, bored, angry, sad, calm, relaxed, happy, and enthusiastic. The researchers found that a significant portion of group members' emotions could be accounted for by the affective presence of their peers.
It seems that "our own way of being has an emotional signature," says Elfenbein, a business professor at Washington University in St. Louis.
It's been known for some time that emotions are contagious: If one person feels angry, she may well infect her neighbor with that anger. But affective presence is an effect one has regardless of one's own feelings—those with positive affective presence make other people feel good, even if they personally are anxious or sad, and the opposite is true for those with negative affective presence.
"To use common, everyday words, some people are just annoying. It doesn't mean they're annoyed all the time," Elfenbein says. "They may be content because they're always getting their way. Some people bring out great things in others while they're themselves quite depressed."
[Read: Mixed signals: Why people misunderstand each other]
Unsurprisingly, people who consistently make others feel good are more central to their social networks—in Elfenbein's study, more of their classmates considered them to be friends. They also got more romantic interest from others in a separate speed-dating study.
Hector Madrid, an organizational-behavior professor at the Pontifical Catholic University of Chile, has taken a particular interest in how the affective presence of leaders in the workplace can influence their teams' performance. He and his collaborators have found that leaders who make other people feel good by their very presence have teams that are better at sharing information, which leads to more innovation. Subordinates are more likely to voice their ideas, too, to a leader with positive affective presence.
"When you propose novel ideas, that is in some way dangerous, because you are challenging the status quo," Madrid says. "People are not necessarily open to novel ideas, so in order to speak your ideas, you need to feel safe. Positive emotions are important for that."
Exactly what people are doing that sets others at ease or puts them off hasn't yet been studied. It may have to do with body language, or tone of voice, or being a good listener. Madrid suggests that further research might also find that some people have a strong affective presence (whether positive or negative), while others' affective presence is weaker. But both Madrid and Elfenbein suggest that a big part of affective presence may be how people regulate emotions—those of others and their own.
Throughout the day, one experiences emotional "blips" as Elfenbein puts it—blips of annoyance or excitement or sadness. The question is, "Can you regulate yourself so those blips don't infect other people?" she asks. "Can you smooth over the noise in your life so other people aren't affected by it?"
This "smoothing over"—or emotional regulation—could take the form of finding the positive in a bad situation, which can be healthy. But it could also take the form of suppressing one's own emotions just to keep other people comfortable, which is less so.
[Read: The dark side of emotional intelligence]
Elfenbein notes that positive affective presence isn't inherently good, either for the person themselves, or for their relationships with others. Psychopaths are notoriously charming, and may well use their positive affective presence for manipulative ends. Neither is negative affective presence necessarily always a bad thing in a leader—think of a football coach yelling at the team at halftime, motivating them to make a comeback. Elfenbein suspects that affective presence is closely related to emotional intelligence. And, she says, "You can use your intelligence to cure cancer, but you can also use it to be a criminal mastermind."
You are subscribed to email updates from The Atlantic.
To stop receiving these emails, you may unsubscribe now.
Email delivery powered by Google
Google, 1600 Amphitheatre Parkway, Mountain View, CA 94043, United States