---
Many Federal Workers Can't Afford Diapers During Shutdown
Posted: 19 Jan 2019 08:28 AM PST
Federal workers can't afford to buy diapers for their kids because of the government shutdown
Twenty-nine days into the government shutdown and the heartbreaking consequences continue. Many federal workers have been forced to turn to nonprofits for diaper donations. And those nonprofits are currently struggling to keep up with the demand because they've lost federal funding.
Here's what you can do to help.
HuffPost spoke to Jojo, a corrections officer at a Texas prison, who is one of the 420,000 federal employees working without pay. She's the only person in her family who's employed and she's struggling to afford diapers for her two sons. Jojo made a two-hour drive to Texas Diaper Bank to get some much-needed help.
The nonprofit has been ramping up their services and offering federal workers six months' worth of diapers and wipes. Before the shutdown, the diaper bank helped twenty families per day. Now, more and more calls are coming in from parents.
With the #GovernmentShutdown preventing 800,000 federal workers from being paid, many parents who work for the govt. cannot afford diapers. Today, on @parentsmagazine, I reported on the ways people are easing these families' burden + how to get involved. https://t.co/3C59zhR8pg

— Maressa Brown (@MaressaSylvie) January 19, 2019
It's incredible that this diaper bank is helping out with critical baby supplies, but this sudden uptick is causing a strain on their finances. They'll need donations to keep going.
"Nonprofits don't have more money because there's a shutdown," Joanne Goldblum, CEO and founder of the National Diaper Bank Network, tells HuffPost. "It impacts and pushes on the resources of organizations that are already straining to meet the needs of people who rely on them on a day-to-day basis."
The National Diaper Bank Network is another nonprofit worth donating to during this critical time. They work with 4,000 partner agencies throughout the country, supplying diapers for parents in need. You can head to their website and donate to your local bank here.
There are a few other nonprofits giving out free diapers that could use a financial boost. The Cloth Option, a Massachusetts nonprofit that offers reusable diapers, has been experiencing an increase in requests after announcing that they offer their service to federal workers.
"Our number of applicants has skyrocketed," Sadie Cora, chair of The Cloth Option's board of directors tells Parents. "We are working around the clock to get diaper packages in the mail. We are seeing many applications from federal employees and Coast Guard families, as well as families unsure if they will continue to receive their public assistance benefits that they depend on."
There's also It Takes a Village, Baby, a Virginia nonprofit supplying federal workers with diapers during the shutdown. Donors can head directly to the nonprofit's Amazon wishlist, and make immediate diaper donations.
Here's hoping that this devastating, hurtful, completely unnecessary shutdown ends immediately. In the meantime, many people can do their part to help out by donating to any of the outlets mentioned above.
The post Many Federal Workers Can't Afford Diapers During Shutdown appeared first on Scary Mommy.
Lay's Insanely Popular 'Fried Pickles With Ranch' Chips Are Back
Posted: 19 Jan 2019 06:44 AM PST
Pickles. Ranch. Chips. Could this be any better?
Last summer, Lay's released a huge line of limited-time chip flavors based on hometown favorites across the U.S. One of those flavors, the "Fried Pickles With Ranch" flavor, was incredibly popular — and now it's back.
You can now officially find these tasty chips at Sam's Club.
The "Fried Pickles With Ranch" flavor was part of Lay's Tates of America lineup, based on their "Do Us A Flavor" contest. Other…interesting flavors chosen as finalists in this contest were Chili Con Queso, Chesapeake Bay Crab Spice, Deep Dish Pizza, New England Lobster Roll, Thai Sweet Chili, and Pimento Cheese.
The "Fried Pickles With Ranch" was inspired by a deep-fried favorite of Midwesterners at state fairs. I cannot vouch for these chips, but as someone who has visited Ohio multiple times, I can vouch for fried pickles dipped in ranch. I want to feel shame, but I don't. It sounds gross, but it's delicious AF.
These bags will set you back $3.49 at Sam's Club, which, come on, is a helluva deal for a limited time offer. It's cheaper than the real thing, if memory serves me correctly.
People seem to be pretty jazzed about the return of these chips, which were only supposed to be a summertime thing.
A review of these "Fried Pickles With Ranch" chips at The Impulsive Buy says the pickle flavor is strong for the first few chips, then kinda dulls out after several bites: "It's a vicious circle for those who love pickle-flavored chips, but, I guess, heaven for those who love ranch-flavored snacks. There's a hint of dill in the aftertaste with the ranch-strong ones, but I wish EVERY CHIP had a better balance."
If you've ever had a love affair with salt and vinegar chips, you know exactly what that means. But that's not to say these chips aren't tasty AF, though.
No word on how long Sam's Club will have these babies for sale, so get your fried pickle on and order all the bags you want while you can.
The post Lay's Insanely Popular 'Fried Pickles With Ranch' Chips Are Back appeared first on Scary Mommy.
Brides Are Replacing Flowers With Cotton Candy Bouquets And They're Adorable AF
Posted: 19 Jan 2019 06:38 AM PST
If you're tired of the same old flower bouquets, check these out
When a bride walks down the aisle, all eyes are on her (as they should be). Besides the dress, her bouquet is one of the fun ways a bride can let her personality shine. While flowers still rule the day where bouquets are concerned, there's a new trend taking weddings by storm — cotton candy bouquets.
Not only do they look completely adorable, if you're a bridesmaid, why wouldn't you want an edible bouquet to get you through the day and night? Listen, we love our friends but weddings can be long. A portable bundle of sugar is the perfect way to keep you and your BFF's going throughout the festivities.
"Some brides are ditching the traditional flower bouquet for something different….and edible," Million Miles Wedding posted on their Instagram page. "Cotton Candy bouquets are fun and whimsical." We couldn't agree more.
Seriously, how cute are these? Depending on your colors, you could arguably get your cotton candy in any hue you desire (or a rainbow if you're really down for some fun).
Some may be thinking, "What if it's a super hot day, won't they melt into a sugary river running down the arms of your most favorite of family and friends?" Sure, that's something to consider. Since it would be rude to eat your bouquet before you walk down the aisle, consider one of these faux bouquets instead.
See, problem solved (and they compliment the dresses perfectly).
If you don't want to ditch the flowers entirely, you could do a little combo package which is quite possibly the cutest, most Lorax-y ball of fluffiness I've ever seen.
As someone who is seriously anti-flower anything, this is definitely a trend I could get behind. Cotton candy smells divine and it takes allergies off the table for anyone who may suffer. Plus, you could start an entire cotton candy theme with centerpieces so all the guests can partake in the sugary deliciousness.
Cotton candy isn't the only way to ditch traditional floral bouquets. Check out these donut bouquets or if you're feeling a little more saucy, there's even pizza bouquets.
The good news is there's plenty of options out there to please even the most particular of brides.
The post Brides Are Replacing Flowers With Cotton Candy Bouquets And They're Adorable AF appeared first on Scary Mommy.
The Satisfier Pro Will Blow Your Mind (Trust Me)
Posted: 18 Jan 2019 06:00 PM PST
So, I've heard about this new clit stick: the Satisfier Pro 2 Next Generation. It simulates oral sex and probably got its name because you feel like you are in another land in exactly 2 minutes and it's fucking glorious.
I realize I could have gently lulled you in, piqued your curiosity, teased you a bit, then let you know how life-changing this new taco-tickler is, but why waste your time?
You need this in your life. And because I'm a fan of helping my friends who have a clitoris out, I wanted you to know as soon as fucking possible that this is a must-have, and I'm gonna tell you why:
First, can we talk about the suction this fucker has? It's a vacuum for your vag and this is one Hoover you are going want to handle every damn day. And if you are really aching to know if it simulates oral sex, YES, YES, YES it fucking does. And I mean that in the When Harry Met Sally sense of the word.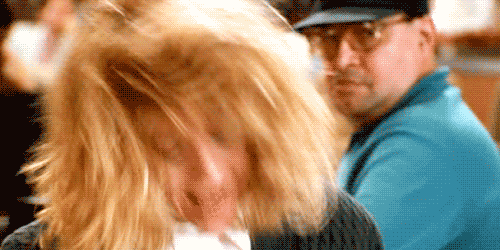 Oh, and P.S.: don't forget to use the silky silicone on your nips, too. Come to think of it, I need another one because I like to multitask. One for my boobs, one for my pearl and I'm set.
Second, while reading the directions on how to give my tumbleweed a tangle, it says once you have turned the toy on, free your clitoris from your precious labia, and place the oval head where you know it's going to make you tingle in all the right places, then you won't need to move the toy again.
Like, at all.
Well, I'm here to tell you (3 orgasms later), that's exactly right. We are talking multiple orgasms, people. Without moving your body, you will climax your way into feeling invincible. In fact, I cleaned the bathrooms and painted my ceilings after my first go-round with this pussy pleaser.
But please note: the directions also warn to start on lowest volume and I advise you to listen to that unless your goal is to have your vittles extra tender. I was a bit anxious and went for it, but quickly changed my mind to enjoy the pre-orgasm phase which I find exhilarating.
It won't be long though, and you will want to ramp her up to one of her other 11 levels.
I know, 11.
I find it's nice to speed up for a spell, ramp back down for a sec, then accelerate again until you don't want to let up on the gas because you are so damn primed to get yours. It's mind-blowing.
Lastly, I'll tell you this — this is the only toy you need in your tickle trunk. I have exactly 28 maybe 5 toys for my love button and this one will frost your cake like no other.
It's relatively small, is the perfect shade of blush (it's the little things, folks), multiple orgasms happen (it's also the big things), and people with a vagina who have had trouble orgasming swear by it.
Thought I would never have another orgasm in my life because I take medication that prevents me from it. I had used the best corded Wand 'Massager' on the market and it got to where it did nothing but make me numb and the head got very hot. So, this was my last hope. It has been 2 and 1/2 years without being able to have an orgasm. I was nervous that all the reviews would not help in my case. I WAS WRONG !!! — Amazon Review
Ok. Real talk. I NEVER write reviews. But it was reviews I read that led me to purchase this mystical device and now I feel like I have to share to encourage others. I have always had an incredibly difficult time reaching completion. Sometimes it can take my hours with high tech vibes and even then no guarantees. In top of what is already a difficult thing for me I'm also on some meds that kill sex drive. Fast forward to this device: I swear to all that is holy I finished two, TWO, back to back O's in under 20 minutes. Which for me is a GD miracle. I cried and then decided to write this review. — Amazon Review
One of the best parts is it's under $50. I have vibes that cost over $250 and this one blows (or sucks?) them all outta the park.
What are you waiting for? If you are a person with a clit, this is a legit toy for you.
Now, if you'll excuse me I've got some vacuuming to do.
Editors may receive samples and/or a share from purchases made via links on this page. All opinions are our own.
The post The Satisfier Pro Will Blow Your Mind (Trust Me) appeared first on Scary Mommy.
This Is Was The Greatest Gift On Our Son's Journey With Speech Therapy
Posted: 18 Jan 2019 06:00 PM PST
My son Anders has been in speech therapy since he was 2. Trying to teach a child how to speak is much harder than I ever imagined. I always just took my basic skills for granted, like knowing how to walk or go to the bathroom—props to my mom and dad.
Anders is now in second grade and will be nine in June. He's bright and studious, but his speech articulation is on a three-year-old level. Picture yourself four-and-a-half feet tall in a 70-pound bod, smart as can be, but when your words come out, nobody can understand them except those closest to you.
This summer, a friend of mine—who had good intentions—hurt my feelings. On a play date, she blurted out: "What are you going to do about Anders?" I was caught off-guard. "What do you mean?" I asked. I thought it could be a number of things … his picky eating, his sometimes impulsive and anti-social behavior. "His speech," she said. "I can't understand a single thing he's saying! You need to exhaust every resource, have him in therapy every day if that's what it takes!"
Her words stung. My husband and I had tried so many different things. First off, I knew daily therapy wasn't the answer. Not only is that expensive, but there's no way Anders—or likely any kid—would be on board with that much therapy. For therapy to work, they must be willing participants. But she was right about one thing: He still couldn't be understood. Why was it taking so long?
We had already ruled out cognitive issues, but I wanted to determine if there was some other physical reason for his articulation disorder, one that a specialist in the past had missed. In a matter of weeks, we had appointments with the pediatrician, the dentist, the ENT, the audiologist and the allergist. Anders even went to the hospital for a CT Scan to see if his tonsils or adenoids were bearing down on the back of his tongue and impeding speech. I actually wished that were the problem, that one surgery would fix everything. But that wasn't the case. All those appointments, all those co-pays, and we had no new answers. The only track it seems, is speech therapy, a journey we've been on for nearly seven years.
When Anders was 2, I remember entering his class and being amazed by the other kids' ability to speak and articulate. "Hello Anders' mom! I am Olivia. I am two, and I just went potty!" At the same age, Anders would say, "I Nah-Nah (Anders) an I wan BabaTruh (and I want firetruck)."
In the state of Alabama at the time, I applied for Early Intervention, a free speech therapy program for kids under three. He qualified, but every time the therapist came to our house for a session, he refused to participate. He was stubborn and combative. So I tried a different therapist, a private one under our insurance. A few times a week I carted Anders and his baby brother, William, to the next county over for the appointment. I remember one session in particular. Anders was sitting in front of the mirror trying yet failing to get out a "k" sound, when William started clucking from his car carrier in the corner, making a perfect sound from the back of his throat.
We moved to Orlando and our county had a free speech program at the public school for kids 3 and up. Sessions were two days a week during the school day, and since I worked 25 miles away, I hired my housekeeper to pick Anders up from daycare and drive him to speech therapy and back. The speech therapist canceled at least one session every week for one reason or another. There was little I could do—she was a veteran teacher and I wasn't paying for services—so I tried supplementing with a private therapist. Anders didn't like the new place nor the change to his routine. The therapist, a young professional in her 20s, held up a flash card of a pink pig and asked Anders to name it. He answered sarcastically, "A boo gaffe (blue giraffe)." $80 a session, down the drain.
We moved to Louisiana in time for Anders to start first grade. I called our new health insurance, and the lady at the 1-800 number said in an annoyingly cheerful voice that a speech therapist in our network was located "nearby in Baton Rouge." I was exasperated. "Nearby in Baton Rouge!? I have to drive 70 minutes through road construction, over the country's largest swamp, and through gridlock traffic over the Mississippi River! And do you know how long speech therapy sessions are for a child his age? Only 30 minutes!"
We enrolled Anders in a highly rated public school where he could get free speech therapy services. At Woodvale, he has thrived. He loves the routine and structure, and at a public school with such a mix of kids, he doesn't feel like the odd man out. He's gained confidence and excels academically, but his speech progress remains slow.
My friend's comment last summer did encourage me to seek more help for Anders. I check him out of school every week for private speech therapy at a rate of $78 per 40-minute session. Every time I swipe my credit card, I think about the families who cannot afford this. At our school, the speech therapists can only work on articulation, so the private therapist works on strengthening the muscles in his tongue and around his mouth. We are also adding occupational therapy to strengthen his core muscles and his overall posture. If his body feels uncentered and uncoordinated, perhaps it's harder for him to target the muscles in his mouth, to properly place his teeth and his tongue where they need to be in order to make the right sounds.
Speech has impacted more than Anders' ability to communicate. While he was born stubborn as a mule with a type-A personality, I believe his extreme desire for control is because he can't control his speech. He's a picky eater, and refuses to try new foods. His weak mouth muscles could make him intimidated by certain textures; he's unsure how foods will feel in his mouth and how his tongue and jaws will maneuver them.
The hardest of all (for me) is that it's difficult for Anders to make friends. While he's an introvert and a little socially awkward, when he does want to engage in friendships, his peers can't understand him. Sometimes my heart breaks for him. When I see the looks other kids give him I want to shout. HE'S NOT STUPID! He has so many funny and interesting things to say. Why can't you understand him like I can?
But then one day, the greatest gift came to me unexpectedly. It was Halloween and we dropped in on a new friend. The boys ran off to play, and before following them out of the room, their dad turned to me. "You know, I sounded just like Anders and was in speech therapy until 8th grade," he said. "I turned out all right. You'd never know now, would you?"
His words were crystal clear, a beautiful song of hope.
The post This Is Was The Greatest Gift On Our Son's Journey With Speech Therapy appeared first on Scary Mommy.
Even if I Don't Come, PLEASE Keep Inviting Me
Posted: 18 Jan 2019 06:00 PM PST
I know, I know. I've missed out on a lot of invitations and attempts to hang out.
I might have seemed distant, or maybe even not interested.
But here's the thing: I want to want to go. But something is holding me back, and I am working on that.
I am in the trenches – maybe it's the birth control that has thrown me completely off balance. Maybe it's the lack of sleep that leaves me with zero patience or energy to do things out of my norm. Perhaps it's the lack of "me time" and I don't feel like I could possibly be of good company if I can't even take care of myself first.
I am almost always upset with myself for not just getting dressed and going. If I were to explain to anyone else that I want to go, and it makes me down when I DO NOT GO… well, their solution would be to just do it!
But with all the factors of being a mom, sometimes you just don't have it in you at that point.
And I want other moms to know that's okay – because I also feel that way.
You know how it goes – you get the text, the Facebook invite, and you're having a good day so you respond.
The day comes?
It's a bad one – there is something that you can't put your finger on that just seems to hold you back. You look outside at all the other people doing fun stuff with their kids, and then you see your kids watching TV by themselves. There's a feeling in your chest, a nagging thought in your head that you can't describe but feels like quicksand consuming you if you dare try to do anything.
And it hits you. Not today.
So you make some excuse for why you can't go (because who wants to discuss depression or anxiety in a casual conversation about why they can't go to some event) and go through the rest of your day feeling guilty for not going to said event.
But you know what is nice?
Saying something to me after the fact. Something so that I know I haven't ruined a relationship with my issues. Something to let me know you're still there. "Hey! Missed ya today. We'll catch you next time!"
"We're having another little get together at the end of the month. Hope to see ya then!"
"I have some leftover food from the party that we saved – would love to drop them by and say hi!"
For someone who has anxiety or depression, a simple one-sentence text can be very reassuring.
And if I miss multiple?
Ask how I'm doing!
I might never bring up what's going on because I don't want to unload on you. Or I might feel like I'm getting too personal and you'll think I'm weird.
But we need to be more open with mental health issues, and often one of the best ways to get me to talk is to simply ask.
Someone showing concern about my absence can be seriously life changing.
Please don't assume that if I don't come that it has anything to do with you.
Even if we haven't met up in months, don't forget about me – keep asking.
The post Even if I Don't Come, PLEASE Keep Inviting Me appeared first on Scary Mommy.
After Years Of Looking For A BFF, I Realized My Mom Is My Best Friend
Posted: 18 Jan 2019 06:00 PM PST
I've never had much luck sustaining female friendships. When I was a lot younger, I spent most of my time being uncomfortable around other girls. Most of that discomfort stemmed from the years of harsh bullying I experienced during grade school, the rest from general anxiety. I made a few meaningful connections along the way, but they seldom stood the test of attending four different high schools.
Despite all of that, I have always been envious of long-term close female friendships. I even got close to having one of my own a couple of times. But eventually, all those relationships fizzled for some reason or another.
As I approached my early and then late twenties, I lost hope that I'd ever find my bosom buddy. Until one day, after years of searching, I found a best friend in one of the most unlikely places — my mom. 
During my teenage years, my mother and I were always in conflict. She wanted me to focus on my studies and stay out of trouble. But I was head over heels for a boy and more concerned with getting his attention than following the rules of the household.
During that time, we had a lot of heated discussions and said many words I wish I could take back. Eventually, prioritizing a teenage boy over my mother's advice led to me getting into a fight and being kicked out of school. Despite the way it looked, my mom knew I had excellent grades and it was my first time getting in severe trouble at school. She advocated for me unwaveringly so I could get a court date and leave alternative school. Thankfully the judge agreed that my record was otherwise pristine and we made the tough decision for me to transfer districts.
That transfer indirectly led to me living with my aunt for my senior year of high school. The drive included tollways and was nearly an hour away. It was my first time going multiple days without being able to see my mom, and it felt strange. It was also the first time I had the chance to miss her.
When I left for college and started going weeks at a time without coming home, I missed her even more. Accepting that I'd probably never see my mother regularly again hurt. I can still remember the day I sat in my apartment crying about growing up and becoming independent. I went from calling her once a day to several times a day.
I knew I could always go to my mother for unbiased advice and constructive criticisms, so she started being my go-to person to run my ideas by. We'd been through the hard times, so it just made sense. The more we talked, the more I learned about her. She wasn't as stern as I once believed, and she was adamant that my brother and I had to make our own mistakes in order to grow.
She was strong-willed and outspoken, like I was. I noticed that she was an excellent critical thinker. She wasn't just my mom–she was a really funny person.
She keeps me grounded and encourages me to consider the alternatives in a situation. And I help keep her hip to pop culture references. (Okay, I'm lying–she's better in tune with the references than I am.)
Our relationship hit a roadblock when I eloped after college graduation. Four months later, my new husband informed me he was going full-time military and I'd be further from my mom than ever. That decision led to a ripple effect — as our family grew, I felt like I was depriving my mom of a relationship with her grandchildren. We adjusted by taking turns flying between our duty station and my home state several times a year despite both of us being terrified of flying.
Over the years, both my mom and I have grown as people as our relationship has grown closer. I've considered my mom my best friend for about three years now. It's hard since now we live 800 miles away from each other, but we make up for the distance by multiple texts and phone calls a day and video messages.
I have my own daughter now. And I wish my mom could see her more. But my main wish is that I have is that someday my relationship with my daughter has even a fraction of the depth of the relationship I have with my mom.
She's everything I aspire to be in a woman and in a mother.
Even more, she's my best friend.
The post After Years Of Looking For A BFF, I Realized My Mom Is My Best Friend appeared first on Scary Mommy.
This Mother's Last Words Before She And Her Unborn Baby Died Will Haunt You
Posted: 18 Jan 2019 01:38 PM PST
'I'm literally dying' are the heartbreaking words an expectant, black mother shared hours before she and her unborn baby died in the hospital
Lashonda Hazard was a healthy, 27-year-old expecting mother. She died on January 7 at her local hospital after complaining of severe stomach pain. Her unborn baby died, too. According to a viral Facebook post, Hazard felt she wasn't being taken seriously by medical staff before dying.
Her last texts are utterly heartbreaking.
According to a GoFundMe page created by her best friend, Nicole Beasley, Hazard and her unborn child passed away "unexpectedly" at the Woman & Infant Hospital in Providence, Rhode Island due to "reasons unknown."
A viral Facebook post, also appearing on the page for Pantsuit Nation, shows screenshots from the hours before Hazard's death, where the mother-to-be verbalized the amount of severe pain she was in while in the hospital. She also made it clear she didn't feel she was being taken seriously, or having her concerns addressed in a way that gave her answers or made her feel better.
Shortly after, she was dead.
"I'm literally dying." No one, but especially not a pregnant mother, should be left feeling frustrated, scared, and bereft of answers while in a hospital. Black mothers and babies are especially vulnerable in situations like this in the U.S.
A national study conducted surrounding the five medical complications that are common causes of maternal death and injury showed that black women were two to three times more likely to die than white women who had the same condition.
In fact, the reason the maternal rate in the U.S. is so much higher than other affluent countries is directly related to the rate that black mothers die in our country versus white mothers. The World Health Organization estimates that black expectant and new mothers in the U.S. die at about the same rate as women in countries such as Mexico and Uzbekistan.
An open letter is being shared on Facebook in honor of Lashonda Hazard, titled "We Believe Black Women." In it, the author calls for justice for Hazard and other black mothers, and major calls for action. "In a world that does not believe or trust Black women, the level of risk has immeasurable consequences and the implications for quality of care and quality of life are urgent."
The letter specifically advocates for public funding at city and state levels for community-based programs that can help remedy "social inequities broadly, with a particular emphasis on Black Maternal Child Health." There is also a call to invest in the leadership of maternal health providers of color — particularly doulas, labor nurses, lactation consultants, midwives, obstetricians, and gynecologists.
It's a heartbreaking but sobering reality for many women in the black community, and it's completely unacceptable. Continuing the dialogue surrounding tragedies like Lashonda Hazard's is vital if we want to fight for change and eventually see it. These women deserve to be heard and believed, but more than that — they, and their babies, deserve to live.
The donations from the GoFundMe set up by Hazard's friend will go directly to her family so they can give her a proper funeral and burial. You can donate to the fund here.
The post This Mother's Last Words Before She And Her Unborn Baby Died Will Haunt You appeared first on Scary Mommy.
You are subscribed to email updates from Scary Mommy.
To stop receiving these emails, you may unsubscribe now.
Email delivery powered by Google
Google, 1600 Amphitheatre Parkway, Mountain View, CA 94043, United States