---
Trans women play visible role in Women's March
Posted: 20 Jan 2019 08:22 AM PST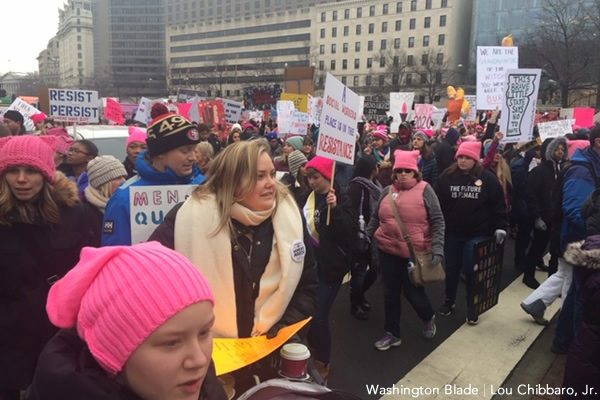 Two transgender women gave rousing speeches on the main stage at a rally for the National Women's March on Washington on Saturday.
The third annual Women's March and rally took place one day after march organizers released a sweeping 68-page Women's Agenda document that includes strongly worded support for LGBT equality, including a call for Congress to pass the LGBT rights bill known as the Equality Act.
Organizers said the Washington march was one of more than 300 marches and related events held on Saturday in U.S. cities and abroad in which hundreds of thousands of women and their allies participated.
Due to predictions of inclement weather organizers moved the location of the Washington march and rally from the National Mall to Freedom Plaza in downtown D.C. A shortened march route began at Freedom Plaza and traveled east on Pennsylvania Avenue, N.W., to the Trump Hotel at 11th Street and Pennsylvania Avenue before returning to Freedom Plaza.
Thousands of participants filled the street for several blocks and created a scene of a sea of people carrying colorful signs with a wide range of messages, many of which were critical of President Trump. "Abort Trump in the first term," said one sign. "The Warden is coming," said another.
Most, however, promoted women's rights, with many calling for passage of the Equal Rights Amendment.
"We drove down from New York last night because I can't imagine being anywhere else today," said a woman who identified herself as Morgan and who was with her friend Michelle.
Both identified themselves as lesbians.
"It was just really important for us to be here," said Michelle. "We weren't just going to sit down and let this all happen."
Most observes familiar with the first two women's marchers said Saturday's event drew far fewer people in D.C., New York and Los Angeles than the 2017 and 2018 Women's Marches. Some observers said the smaller turnout could have been due to a controversy surrounding allegations of anti-Semitism among members of the national Women's March organization.
But the two trans women speakers at the rally and LGBT participants in the Washington march praised march leaders for bringing together what they called a diverse coalition of progressive organizations and individuals, including Jewish, African American and Latino leaders who strongly support an agenda of intersectionality.
Among the marchers on Saturday was D.C. lesbian activist Robin Kane, who said she has been part of the Women's March movement since the first march in 2017 and has found it to be welcoming to everyone.
"I'm committed to this intersectional movement," she said. "We're at a crisis point in American democracy and this is the alternative, the beautiful intersectional alternative where we're working together to create the future that we want."
Harmony, a lesbian who came to the D.C. march from Cincinnati with her friend Abby, said she was hesitant to come at first after hearing reports of possible anti-Semitism among march leaders.
"But I came to the original Women's March in D.C. in 2017," she said. "And I'm still marching for those same beliefs, like equal rights for everyone. I think everyone who is still marching and still participating is still for those same principles," she said.
The two trans speakers, Jewish community activist Abby Stein and Bamby Salcedo, who serves as president and CEO of the TransLatin@ Coalition, were selected along with two lesbians to serve on the Women's March's 31-member Steering Committee.
"I'm a trans woman and a Jewish queer," Stein told several thousand people assembled for the rally at Freedom Plaza and surrounding streets. "I'm here today with my Jewish family and with my LGBTQ and transgender family," she said.
"Together we are screaming that we are here with every part of who we are," she said. We are who we are."
Stein was among a number of Jewish community leaders that urged Jewish women not to withdraw their participation from the march amidst some allegations that one of the march's national leaders declined to disassociate herself from Nation of Islam leader Louis Farrakhan, who has made anti-Semitic and homophobic statements in speeches.
Jewish activists supporting the march noted that march leaders, including the one who at one time praised Farrakhan for uplifting African American men but said she strongly disagreed with his anti-Semitic and anti-gay remarks, have spoken out strongly against anti-Semitism and have welcomed Jewish women into the leadership of the march.
"A lot of people out there, a lot of people in the media are trying to divide us," Stein said at the rally. "But we have stuck together…We've stuck together despite our differences," she said. "What brings us together is our differences."
Stein concluded her remarks by inviting the audience to join her in a chant denouncing different forms of prejudice and oppression by shouting, "Let it go."
"Anti-Semitism," Stein began the chant, with the crowd shouting, "Let it go!" Her litany continued with, "Transphobia, let it go! Homophobia let it go! Racism let it go! Islamophobia, let it go! Xenophobia, let it go! Ableism, let it go!"
Salcedo, who was accompanied by several other trans women, began her remarks in Spanish before switching to English. She noted that the organization she heads provides services to the transgender community in Los Angeles.
"Today is a historic day not just for me but for many trans women," she said. "Today trans women are visible to the whole world. We have to proudly raise our voice and say that trans women are women," she said, drawing loud applause.
"No one, not the government, no individuals, no companies or institutions get to dictate who we are as individuals," she said. "My truth is that I am a woman and that I belong here…and I thank the Women's March for honoring that."
Several other trans women followed Salcedo to the podium and introduced themselves as trans women, saying they too were grateful to be a part of the Women's March.
Salcedo then concluded her remarks by inviting the audience to join her in another chant, which the crowd enthusiastically joined: "Trans women are women! Trans Women are Women!"
In a gesture that LGBT activists are likely to view as encouraging, members of the audience began their own chant as Salcedo and the other trans women walked off the stage.
"We see you, we love you!" the crowd shouted in unison. "We see you, we love you!"
Other speakers, including Johnnetta B. Cole of the National Council of Negro Women, expressed support for LGBT rights and lesbian and trans women.
"We stand in solidarity with our sisters of all hues," Cole told the crowd. "We stand with all lesbian, bisexual and trans women."
At least eight LGBT advocacy organizations, including the National Black Justice Coalition and the Pride Fund to End Gun Violence, signed on as partners of the Women's March.
The Women's March Agenda document covers a wide range of progressive causes, including efforts to curtail climate change and the adoption of a Medicare for All approach to a national healthcare system.
Its LGBT rights platform takes an expansive view of LGBT equality.
"We firmly declare that Lesbian, Gay, Bisexual, Transgender, Queer, Intersex, Asexual, Gender non-conforming, and Non-Binary (LGBTQIA+) rights are human rights and that it is our obligation to uplift, expand and protect the rights of our gay, lesbian, bi, queer, trans, two-spirit or gender non-conforming siblings," the document says.
"This includes access to nonjudgmental, comprehensive health care with no exceptions or limitations; access to name and gender changes on identity documents; full anti-discrimination protections; access to education, employment, housing and benefits; and an end to police and state violence," it says.
In addition for calling on Congress to pass the Equality Act, which would ban discrimination based on sexual orientation and gender identity in the areas of employment, housing, and public accommodations, the agenda document calls for Congress to repeal two existing laws regulating prostitution.
"We call for an end to the criminalization of voluntary sex work by adults under federal law, including repeal of the Stop Enabling Sex Traffickers Act (SESTA) and the Fight Online Sex Trafficking Act (FOSTA) in recognition of the fact that sex work offers an important means of survival for some within the LGBTQIA+ community," the agenda document says.
"Adopting this policy proposal will enable LGBTQIA+ people to lead safer, more fulfilling lives by reducing the extent they are targeted within the criminal justice system and brutalized within the system of mass incarceration," it says.
The post Trans women play visible role in Women's March appeared first on Washington Blade: Gay News, Politics, LGBT Rights.
Gay dads, kids report discrimination
Posted: 19 Jan 2019 12:37 PM PST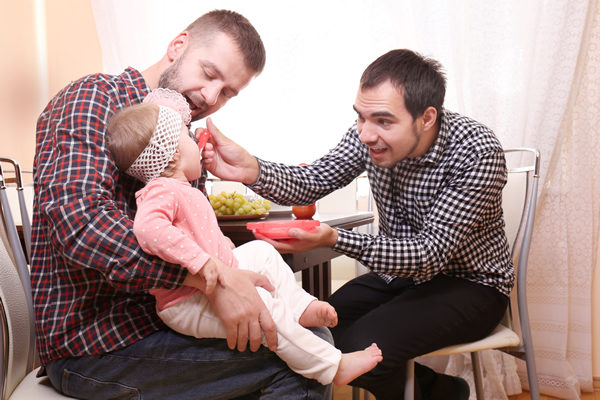 NEW YORK — Gay dads in a recent survey report widespread discrimination and stigmatization in the U.S. Reuters Health reports citing a study published in the academic journal Pediatrics. 
Nearly two-thirds of gay dads reported encountering stigma and half said they've avoided situations out of fear of mistreatment or discrimination.
Their children experience stigma, too. One-third of gay fathers said their kids were stigmatized by other children and one in five dads said their children had avoided forming friendships out of fear of mistreatment or discrimination, Reuters reports.
For the study, researchers surveyed 732 gay fathers with 1,316 children in 47 states. Researchers ranked states based on how many legal protections they offered to gay parents that covered things like marriage, civil unions, domestic partnerships, adoption, child custody and anti-bullying policies, Reuters reports.
Not surprisingly, gay fathers were more likely to report stigma affecting their lives in states with fewer legal protections. They also reported more active discrimination in states with fewer legal protections, particularly from family members and in religious settings, Reuters reports.
Many fathers reported barriers to becoming parents. About 41 percent had difficulties with adoption and one-third encountered problems arranging custody of children born in straight relationships.
The study can't prove whether parenting status or sexual orientation directly impacts discrimination and it wasn't nationally representative, Reuters reports.
The post Gay dads, kids report discrimination appeared first on Washington Blade: Gay News, Politics, LGBT Rights.
Bi vets especially at risk for PTSD
Posted: 19 Jan 2019 12:11 PM PST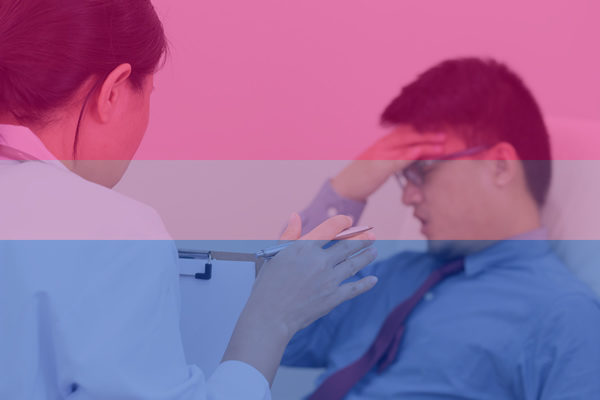 LOS ANGELES — New research indicates that service members and veterans who identify as bisexual may be at higher risk for mental health issues including PTSD and depression than their gay, lesbian or straight peers, MedicalXPress reports. 
Today, there are an estimated 1 million LGB veterans in the United States. Bisexual individuals represent the largest segment of the LGBT community and interestingly, both bi men and women are overrepresented among those who have served in the military, MedicalXPress reports.
In terms of active duty service members, 2 percent of men identify as gay and 2 percent identify as bisexual, while 7 percent of women identify as lesbian and 9 percent identify as bisexual. This is likely an incomplete picture, as bi people are less likely to be out than gays and lesbians and not everyone attracted to men and women identifies as bi, one of the researchers told MedicalXPress.
Researchers found that bisexual veterans are 2.5 times more likely to suffer from severe depression and 2.3 times more likely to suffer from post-traumatic stress disorder (PTSD) than their straight peers. The research broke new ground by confirming that bisexuals are three times more likely to suffer from severe depression and nearly twice as likely to suffer from PTSD than their gay and lesbian peers, MedicalXPress reports.
While further research is needed to evaluate the causal factors that may contribute to bisexual veterans' increased risk for depression and PTSD, a large body of existing research suggests that both depression and PTSD are often linked to trauma, MedicalXPress reports.
The post Bi vets especially at risk for PTSD appeared first on Washington Blade: Gay News, Politics, LGBT Rights.
Hollywood guru becomes psychic enthusiast in new memoir
Posted: 19 Jan 2019 11:24 AM PST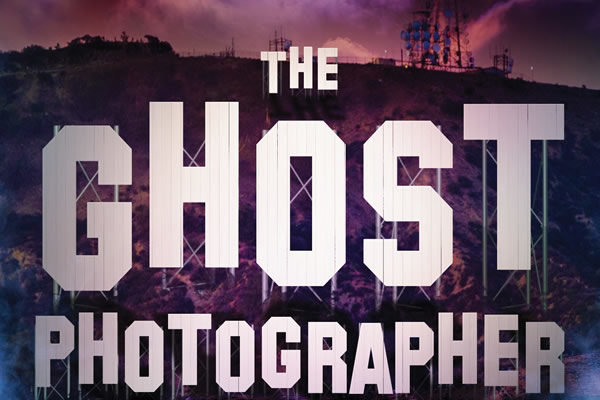 You know how they do it. It's a snap, really.
A little bit of computer imagery, film cells inserted here, a half-screen there and you've got a movie that'll scare the bejeebers out of anybody. You know how it's done, though; it's all special effects. Or, as in "The Ghost Photographer" by Julie Rieger, could it be real?
Growing up in Oklahoma, Julie Rieger figured she'd someday marry her childhood sweetheart, have kids and work at some local hangout, living "a normal and peaceful life." Instead, she came out at 23 and "officially gave up on organized religion," moved to California, married Suzanne, became a powerful Hollywood movie-maker and life was good — until her mother died of Alzheimer's.
The loss of her mother almost destroyed Rieger's world but there was one comforting moment: a friend who had "a gift" called Rieger as her mother lay dying, offering support in shared grief. When that friend died not long afterward, she visited Rieger in a dream and later, in a psychic reading. It opened a window to something Rieger had only scoffed at before.
"That first reading," Rieger says, "changed my life forever."
She began "not only paying attention" but was "on a mission to learn everything I possibly could," becoming an acolyte of the psychic-turned-mentor and immersing herself into a community that further supported her foray into what was on "the other side." She started collecting crystals and stones meant to protect, energize and promote healing. She learned about the "clairs" and how dangerous it is to open a portal to the other side without remembering to close it, too. She had a terrifying altercation with a "deep dark Debbie Downer." In short, she became "an evangelical spirit junkie."
"Spirits are all over the place," she says. "Our guides are by our side, ready to give us information if we only pay attention."
"The Ghost Photographer" is a very interesting book, but only partially for what it says. What it doesn't say is interesting in its omission.
Author Julie Rieger is an award-winning head of media at 20th Century Fox, but readers won't find much about Hollywood in this book. Refreshingly, there's no gossip and very little name-dropping. Instead, what you'll find is the story of a journey from soft skeptic to firm believer, told in tales that are sometimes super creepy and will sometimes make you roll your eyes. Rieger joshingly recalls such disbelief in herself.
For that reason, it's hard to ignore or dismiss as coincidence the stories she tells in this memoir. Rieger shares those tales with humor reminiscent of a high-school class clown, which tones them down some but the sentiment remains: the spirit world is interesting, complicated and real but if you're inexperienced, don't mess with it.
This book is an entertaining read in itself and informative if you're just dipping your toe into the paranormal. It's also possible that "The Ghost Photographer" could make a scoffer into a believer.
The post Hollywood guru becomes psychic enthusiast in new memoir appeared first on Washington Blade: Gay News, Politics, LGBT Rights.
New BENT party debuted Jan. 5 at 9:30 Club
Posted: 19 Jan 2019 11:16 AM PST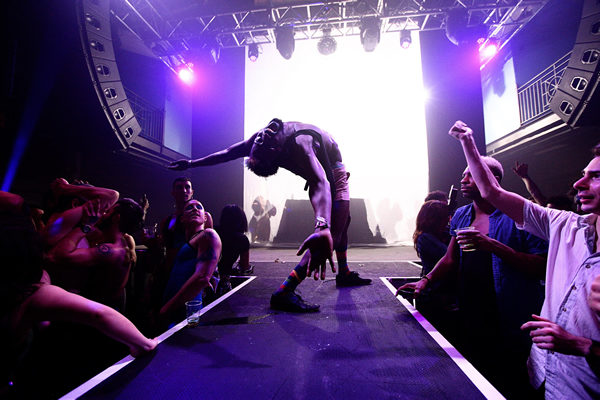 When one door closes — and then the whole building around that door is flattened by a real-life non-Miley wrecking ball — another one opens.
This first door, of course, was Town. The second is BENT, 9:30 Club's new queer-inclusive dance party. BENT launched Jan. 5 with streamers, glitter, leather-studded performers and all.
BENT aims to be Town's phoenix, says organizer and DJ Steve Lemmerman, arising from so many spilled vodka-sodas.
In the mourning summer of 2018, the staff of 9:30 Club gathered for an all-staff meeting, led by I.M.P. owner Seth Hurwitz (I.M.P. manages 9:30 Club, The Anthem and other venues). A longtime employee suggested a stronger gay nightlife presence, especially given the imminent shuttering of Town. And so the idea of BENT was born.
Lemmerman, known as DJ Lemz on stage, jumped at the opportunity.
"I offered myself as tribute, 'Hunger Games'-style," he says.
He and Hurwitz together got BENT off the ground. Lemmerman explain that the goal of the event is so that "the community in D.C. can come together to just have fun, leave their cares at door and dance the night away."
The sold-out late-night party was much more than highly danceable tunes, however. BENT takes its cues from weekends at Town, featuring shirtless, gender-bending dancers atop platforms across the main dance floor. Drag performances punctuated the evening, more forceful and energetic than ever, as the runway penetrated deep into the crowd. DJ Lemz himself also offered a heartfelt thanks to the crowd.
Lemmerman's goal with BENT is to "create new chapter for D.C. in our nightlife. I wanted to construct a beautiful home for many people to feel safe in, and to escape their lives if only for a night."
The party also is meant to "highlight as many people in this well-deserving community as possible." BENT certainly isn't a solo project. Lemmerman had company behind the booth from DJs like Keenan Orr and The Barber Streisand.
Meanwhile, on stage, Pussy Noir played both emcee and artist, the first time performing at 9:30 Club. Pussy Noir was joined by Donna Slash, Bombalicious Eklaver and others.
Noir noted that, "while big gay clubs are falling out of fashion, the queer population is ever increasing and so is the need for safe, fun and exciting spaces in which to exist. The best thing is the party is not gay, it's queer, and for us that means all people, all weirdos and all creative souls."
In the moody downstairs space of the club, DJ Jacq Jill held court for a sister party named HELLBENT. Lemmerman called it, "a showcase of the underground side of queer DJs. It's women-focused and I'm pumped for that."
Lemmerman, a Baltimore native, has been working the D.C. music space for several years. He started DJing at 9:30 Club at age 18, and later became a resident DJ at Nellie's. He also founded Sleaze almost two years ago, a queer party in the upstairs space of Wonderland Ballroom.
Lemmerman worked with collaborators like Guillaume Desnoe, the creative director for I.M.P., and Dustin Sugar-Moore, the marketing director, to reinvent the floor space of the venue. They worked to minimize the spotlight on the DJ and refocus on the center of the room so that partygoers could better meet each other.
Audrey Fix Schaefer, I.M.P. communications director, says, "having a first-time event like this to sell out made my heart explode. We'd love for this part to become permanent."
As for future iterations, she remained demure.
"There will always be surprises. We're going to keep it exciting and unpredictable — that'll be the hallmark."
For Lemmerman and his co-hosts, BENT signifies a celebration of every corner of queerdom. The party, he says, "received huge support, bringing in many different levels of our D.C. community. There's just so much passion from everyone."

The post New BENT party debuted Jan. 5 at 9:30 Club appeared first on Washington Blade: Gay News, Politics, LGBT Rights.
A crossover, an electric and a hybrid
Posted: 19 Jan 2019 11:06 AM PST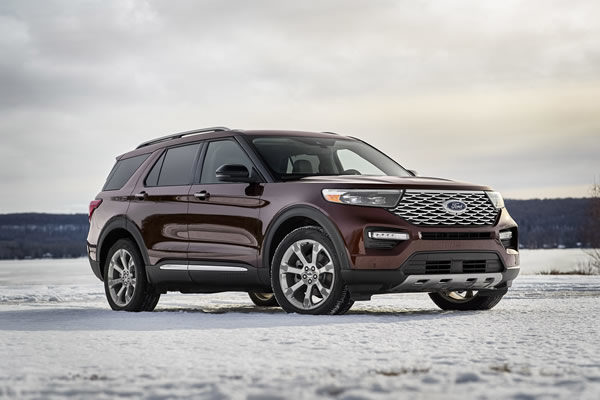 This year, sedans have lost their mojo, at least for now. As their market share decreases, the number of SUVs and other vehicles is exploding. Here are three top rides for any driver's shopping list.
CROSSOVER/SUV: FORD EXPLORER
$34,000
Mpg: N/A
Zero-60 mph: N/A
Two weeks ago, Ford launched its all-new Explorer. At the Detroit auto show this week, the automaker fired two more salvos in the crossover wars, announcing hybrid and high-performance models of the popular midsizer. It's too early to know mileage and other stats, though pricing for the base model is competitively priced at just $400 more than the previous version.
All are 2020 models, which go on sale later this year. While the Explorer gets a complete redo, I find it hard to tell much difference on the outside. The front fascia is most notable, with a windswept grille that borrows heavily from the ritzy Range Rover. Style-wise, Ford didn't want to mess with success and it works. Ford has whooped up the standard safety features, with blind-spot monitor, rear cross-traffic alert, lane-departure warning, pre-collision warning and automated emergency braking with pedestrian detection.
But the big news is in the cabin, especially the cargo space. Fold down the seats and there's enough room for a 4-foot-wide sheet of plywood to lay flat on the floor—or perhaps you just want a nice place to canoodle on a weekend camping trip. There's also more headroom, legroom and, yes, even more hip room for anyone with an expanding keister.
Geeks will love the tech gear, including smartphone and Waze navigation integrated into an eight-inch touchscreen (up from 4.2 inches in the old Explorer). A driver can even lock, unlock and start the car using a smartphone. And an optional 10.1-inch infotainment display juts up vertically like an iPad above the center console. Lest any passengers feel disconnected from their electronics, the Explorer boasts four USB ports, three 12-volt outlets, a 110-volt outlet and Wi-Fi for up to 10 devices.
ELECTRIC VEHICLE: JAGUAR I-PACE
$71,000
Range: 234 miles
Zero-60 mph: 4.5 seconds
It's sometimes hard to keep pace with Jaguar. Just two years ago, the automaker launched its first crossover, the wildly successful midsize F-Pace. Last year came the compact E-Pace. Now there's the I-Pace, Jaguar's first electric vehicle. (In hindsight, it might have made more sense to name this EV the E-Pace, but alas, it wasn't meant to be.)
Luckily, the I-Pace more than makes up for its confusing moniker in both style and substance. Those sinewy lines out-sashay even Tesla, the standard bearer of luxury EV design. Sure, a Tesla may have a longer battery range, but most Teslas cost more. And the I-Pace's impressive range of 234 miles still outpaces most EVs. Then there's the thrilling steering and acceleration.
Motoring around town is a treat, turning the most jaded commuter into an auto enthusiast. Jaguar even tossed in a faux exhaust rumble based on its Formula E racecar. Inside, there's plenty of room for passengers and cargo. Fit and finish are top drawer, of course, with streamlined dash and sculpted, supportive seats. There are touchscreens everywhere, and a space-age center console practically hovering in midair.
While handy options abound — including a head-up display and four-zone climate control — other add-ons really should have been standard: heated seats, heated steering wheel and surround-sound stereo. So beware price creep on must-have amenities. All in all, though, I found the I-Pace checked off quite a few boxes: a practical, five-seat crossover (check!), killer looks (check!) and incredibly sporty handling, cornering and braking (check! check! check!).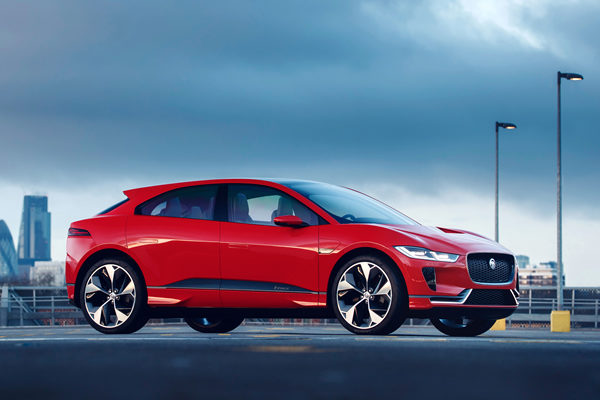 PLUG-IN HYBRID: BMW i8 ROADSTER
$165,000
Range: 118 miles (electricity/gas), 35 miles (gas only)
Zero-60 mph: 4.1 seconds
While the Jaguar I-Pace is exciting, the BMW i8 roadster is both exotic and erotic. Who knew sheet metal could be so seductive, mixing climactic curves with long, languid lines?
That evil grin of a grill had me at hello. Those sexy scissor doors were bewitching, beckoning me inside. And the deep, throaty exhaust growl was lascivious. But I wasn't the only one. No other vehicle I've tested turned as many heads as the i8. And this is a plug-in hybrid, not a high-test Lamborghini (though the i8 accelerates like one).
Forget the Batmobile, this is what Batman and Robin would drive on date night. And yet this sexpot, this car of any gearhead's fantasy is decadently impractical. Sure, the i8 rides like a dream, cresting hills and tackling switchbacks better than any contender in this price range. The techy cockpit — with tiered-level dashboard, an 8.8-inch freestanding display, and digital gauges that change color based on driving mode — would make any Tron fan drool.
The sultry two-tone exterior (echoed tastefully in the cabin) doesn't hurt, either. Nor does the folding soft top or dazzling, 12-speaker Harman Kardon stereo. But the i8 has no stowage, aside from a cubby behind the front seat and the trunk (if you can call it that) measuring a measly five cubic feet. Aside from taking limbo lessons, there's no graceful way to straddle the extra-wide doorsill while trying to slouch in and out of this low vehicle. Plus, there's only room for two. But practicality be damned: Sometimes you need to ignore the angel on your shoulder and embrace that devil called "form over function." That's when you follow your passion.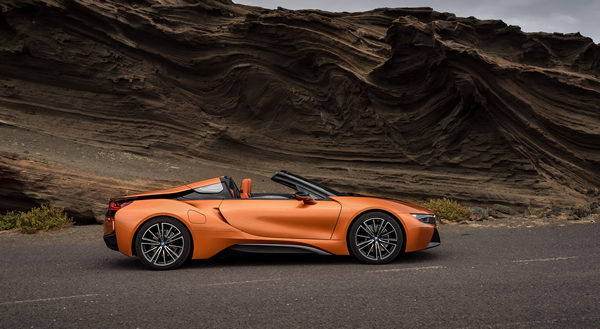 The post A crossover, an electric and a hybrid appeared first on Washington Blade: Gay News, Politics, LGBT Rights.
Big and small screen — a new age of queer entertainment
Posted: 19 Jan 2019 10:52 AM PST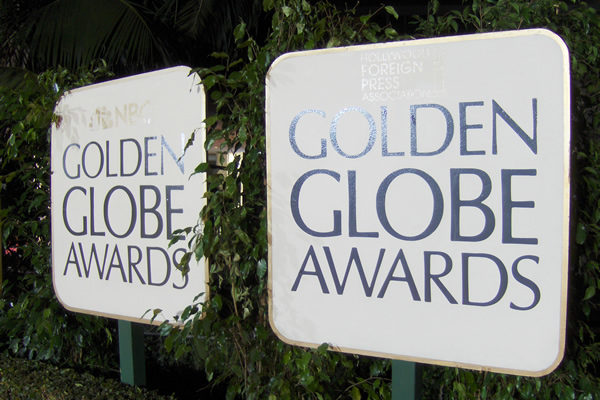 I do love award season — the Golden Globes, the Oscars, all of it. Straight people have their 'playoffs' and what not, we have the red carpet and honoring the best of Hollywood. It's sort of our thing, really. And out of all of the award season shows, the Globes has always been a favorite of mine. Why? Well, the whole thing is a little less stuffy than the Oscars and, as the night goes on, everyone gets a little smashed on camera. It's hilarious to watch. Just Google "Elizabeth Taylor Gladiator" and you'll see what I mean. It was perhaps her finest hour.
Something struck me as a bit odd, or at least interesting, while watching this year's Globes. First, it was pretty gay. And secondly, that was hardly news. Yes, as I've mentioned the Globes and the like are fairly gay affairs to begin with, but this time the make up of artist, subject matter, and general films and programs being honored in one single year was the gayest I can ever remember.
Think about it for second. From both the big and small screen you had "Pose," "Bohemian Rhapsody," "Can You Ever Forgive Me?," "Boy Erased," "A Very English Scandal," "Green Book" and "Assassination of Gianni Versace." That's a lot. Anyone of my generation and before can tell you that for years we were absolutely starved to see representations of ourselves in entertainment. For so long we had little to go to. And it's been fairly sparse even recently. I will still argue that we have not had a mainstream successful gay film since "The Birdcage." And that movie came out, so to speak, in 1996. Yes, I know what you are going to say — what about "Brokeback Mountain?" Well, again even that was 12 years ago, and even Hollywood was willing to only go so far with it. It lost to the calamity that was "Crash" at the 2006 Academy Awards in what still remains a sore spot for the gay community.
Of those being honored this year, "Bohemian Rhapsody" was a favorite. And while some criticized the film for straight-washing Freddie Mercury's queerness, I found a lot of that to be unfounded. Frankly, I thought his queerness, and more importantly his own struggles with it, were fairly front and center. But check out too "Can You Ever Forgive Me?" Melissa McCarthy continues to amaze me. Yes, she's sort of been pigeonholed into outlandish slapstick. But I've always found her to be a pretty meaningful actor. She's fantastic as lesbian-writer-turned-fraud Lee Israel. That, and the film gives a great glimpse into 1990s gay New York. And, for television, "Assassination of Gianni Versace" was some of the best I've seen in years. Gripping, eerie and for those of us who remember the Cunanan manhunt as it was actually happening, it was downright scary to watch.
But of all those mentioned here, the best in gay goes to Ben Whishaw, winning for his excellent portrayal of Norman Scott, a former model/former blackmailer, in "A Very English Scandal." Honestly, if you haven't seen it, it's worth getting Amazon Prime for. A three-part BBC miniseries both so deliciously absurd and remarkable, even more so when you learn it's all a true story.
But, of course I have to point out, of all the shows and actors honored, Whishaw was the only openly gay person playing an openly gay person. Sure, some of that's still Hollywood's problem to deal with. Essentially can out stars make it in the studio system? For years the answer, we were told, was no. But, it seems that cracks are starting to appear. If queer subject matter is now fodder for mainstream consumption, can we have queer actors front and center in those depictions?
That appears to be our next hurdle to clear.
Brock Thompson is a D.C.-based writer who contributes regularly to the Blade.
The post Big and small screen — a new age of queer entertainment appeared first on Washington Blade: Gay News, Politics, LGBT Rights.