---
Posted: 26 Jun 2019 10:42 AM PDT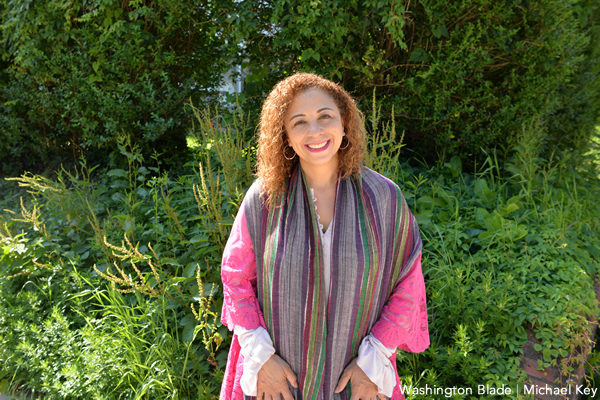 Though she's been doing standup longer than she's been putting out books, Gina Nicole Brown considers herself a writer first, then a performer.
"I don't really describe myself as a standup comic, but rather somebody who does standup comedy," says the 52-year-old bi, Rochester, N.Y., native.
She's been doing comedy off and on for six years.
"People have always said I was funny so I honestly just decided to do it one day," she says. "I wanted to see if my written thoughts got a pop in front of an audience."
They did, so she hasn't stopped. She took a standup class but says, like any craft, you "have to keep doing it to improve. It's not something you study for and take a test."
Her book "Teeth Should Not Be Optional: Random Thoughts from an Insomniac" came out last fall after a decision she made to more fully commit to her passion projects.
Brown will be one of the guests at "The Ask Rayceen Show" July edition on Wednesday, July 3 at 6 p.m. at the HRC Equality Center (1640 Rhode Island Ave., N.W.). It's free. The program will include the annual #AskRayceenPoetrySlam and a discussion of authors who will be at the OutWrite Book Festival Aug. 2-4. Details at askrayceen.com.
Brown is having a very Rayceen-alicious summer. She did standup at the June show, is on the panel for July and will be honored for her volunteer work at the August edition. Rayceen is always the first Wednesday of the month. Brown achieved Internet fame earlier this month when she won BuzzFeed's "Black Moms Try Other Black Moms' Soul Food" contest with her fried chicken and mac 'n cheese.
She's devoted her life to creative projects after 30 years in the corporate world and is working on a one-woman show now.
Brown is divorced and has two children, Gabrielle and Dominique. She came to Washington in 1985 for college. She lives in Chevy Chase and enjoys writing, theater and live music in her free time. She's on all major social media under her full name.
How long have you been out and who was the hardest person to tell?
I've been out since the early '90s, but I don't really have a dramatic story around it. I remember telling my mom, "Hey, I have a girlfriend so I think I might be a lesbian." She was like, "Oh, OK." If you want to talk to somebody, you can talk to X (referring to a family friend who was out). Then it never really came up again. And since I went back and forth between men and women, it was just a thing. I never really made a big deal about it and neither did anybody around me.
Who's your LGBTQ hero?
Ellen
What LGBTQ stereotype most annoys you?
As a bisexual, it's assumed we're all polyamorous or we're open to threesomes, foursomes or many-somes. There is nothing wrong with being poly or loving group activity, but I'm not into either and neither are all bisexuals.
What's your proudest professional achievement?
My book. I self-published (quelle horreur to traditionalists), and while it isn't a literary masterpiece (it's a book of quips), I did it myself through trial and error with Amazon's publishing site.
What terrifies you?
Not following my passion, but also following my passion. I don't want to leave this life never having made all attempts to pursue the life I envisioned for myself.
What's something trashy or vapid you love?
Watching "Claws." Let's be honest, the show is ridiculous and nothing about it is in any way realistic, but I dig it. I can't lie.
What's your greatest domestic skill?
Cooking is my best and possibly only good domestic skill. And I clean up after myself. I like a clean kitchen.
What's your favorite LGBTQ movie or show?
"The L Word." I wipe a daily tear from my cheek because the show isn't on anymore and nothing since has come close (there may be a pun in there, but I'm not sure). And "Pose," because duh.
What's your social media pet peeve?
"I'm so tired." That empty post. What am I supposed to do with that? Do I like it? Do I sad face it? We come out of the womb tired. Stop that nonsense. Or posting an article without a caption – so, you want me to weigh in on my thoughts for this controversial topic, but you have no opinion? If you post something, have a perspective.
What would the end of the LGBTQ movement look like to you?
A beautiful, fluid society where any being could live and love as they so choose.
What's the most overrated social custom?
Taking somebody else's last name. Or naming children Junior or the second or the third. I'm very big on being an individual and I'm not any less a part of you if our names aren't the same.
What was your religion, if any, as a child and what is it today?
I was raised (and confirmed) Episcopalian (ya know, Catholic without any of the rules). I guess I would say I'm still an Episcopalian, but I don't attend any sort of church. I find church walls very claustrophobic and I'm troubled by many extreme evangelicals' thoughts on love. They say God is love, but as my mother would say, actions speak a whole lot louder than words.
What's D.C.'s best hidden gem?
The original Thai X-ing on Florida Avenue (not the one on 9th). I'm not sure it's hidden, but it's a gem for sure. No menu. You have to be open to eating what's put before you. It's like going to somebody's house for dinner, but with many, many courses, and also the hosts don't talk to you. They just bring you food. The food is divine.
What's been the most memorable pop culture moment of your lifetime?
Laverne's L, Janet's nip slip.
What celebrity death hit you hardest?
Luther Vandross, Whitney Houston and Prince. I don't think Luther and Whitney could ever live as their true selves and that makes me sad. Prince was such an unparalleled talent that I miss all of what he brought to the music industry.
If you could redo one moment from your past, what would it be?
I spent three years with a domestic abuser. If I could remove that relationship and its associated PTSD, I would.
What are your obsessions?
The Oxford comma. Verb and subject agreement. My purse (don't ever touch it). My boots (all of them).
Finish this sentence — It's about damn time:
… we bring civility and decorum back to the White House.
What do you wish you'd known at 18?
Nobody really cares. They just don't. Find your tribe and do what you want to do. Make left turns. Get lost. And for the love of all that's good, stop participating in groupthink.
Why Washington?
For all its egotistical, self-centered, wonky ways, Washington has some really good people. On the surface, it seems very manicured and political, but if you dig a few layers down, you'll find there is depth here. The epidermis of every city, and its people, is that way. You have to make that initial cut into the skin and you'll see the blood of Washington.
The post QUEERY: Gina Nicole Brown appeared first on Washington Blade: Gay News, Politics, LGBT Rights.
Meryl Streep cast in Ryan Murphy's 'The Prom'
Posted: 26 Jun 2019 10:40 AM PDT
Meryl Streep has been tapped to star in Ryan Murphy's adaptation of the Tony-nominated musical "The Prom" for Netflix.
Deadline reports that Streep will be joined by other big names such as Ariana Grande, Nicole Kidman, James Corden, Awkwafina, Keegan-Michael Key and Andrew Rannells.
The story follows Emma, a lesbian teen who is banned from bringing her girlfriend to prom at a high school in a small Indiana town. Streep will portray Dee Dee Allen and Corden will play Barry Glickman, a Broadway playwriting duo whose latest play about Eleanor Roosevelt was a failure. Kidman has been cast as chorus member Angie Dickinson and Rannells will play actor Trent Oliver. Awkwafina will play publicist Ms. Sheldon.
The Broadway group hears about Emma's plight and travel to the Indiana small town to help with the goal of receiving good press along the way.
Grande will portray the popular daughter of the PTA and Key is Principal Hawkins, the principal of the school who is on Emma's side and a love interest of Streep's character.
A nationwide search is underway for an unknown actress to play the lead role of Emma.
Filming is scheduled to begin in December with plans for a fall 2020 release on Netflix.
The post Meryl Streep cast in Ryan Murphy's 'The Prom' appeared first on Washington Blade: Gay News, Politics, LGBT Rights.
Posted: 26 Jun 2019 10:07 AM PDT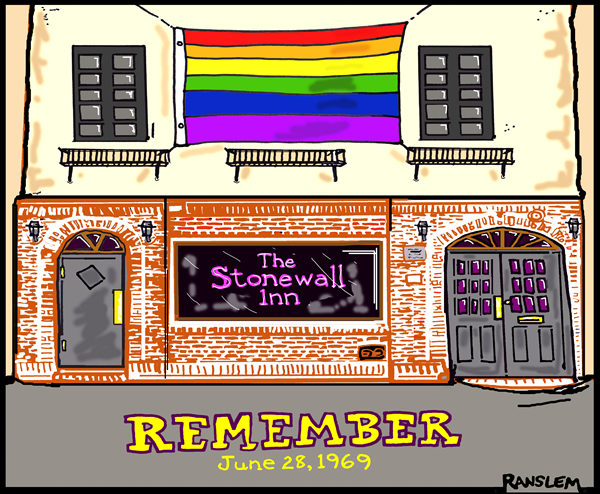 The post CARTOON: The Stonewall Inn appeared first on Washington Blade: Gay News, Politics, LGBT Rights.
Posted: 26 Jun 2019 09:32 AM PDT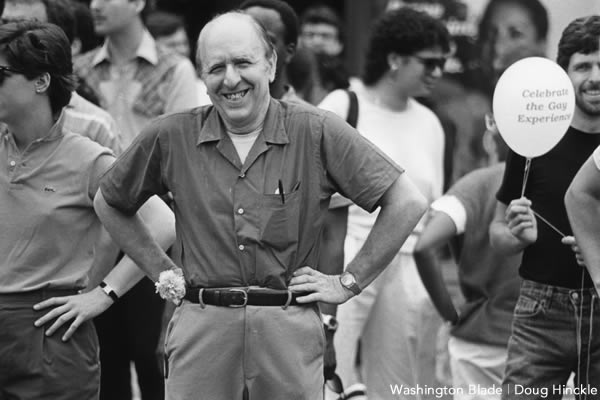 The Stonewall uprising was a flashpoint that fueled a great broadening of the LGBTQ rights movement. It was not the start. Pre-Stonewall organizations included multiple Mattachine groups and the Daughters of Bilitis. Pre-Stonewall incidents included the sit-in at Dewey's Lunch Counter in Philadelphia in 1965 and the riot at Compton's Cafeteria in San Francisco in 1966.
One of the most notable pre-Stonewall acts of resistance was when Frank Kameny went to court to fight his 1957 firing by the Army Map Service. The Supreme Court in 1961 refused to hear his appeal, but as Charles Francis writes, "Kameny's powerfully argued petition to the Court marked day one in a revolution of legal argumentation and law for a vast homosexual minority demanding equal citizenship." The post-Stonewall generation built on that.
To pretend that all we have gotten are crumbs since Stonewall, as some have, is to dishonor those who fought there and those who helped win progress since. The unseriousness of the argument is shown by a partial list of achievements since 1969: the American Psychiatric Association's removal of homosexuality from the Diagnostic and Statistical Manual of Mental Disorders. Workplace protections in Fortune 500 companies. The overturn of anti-sodomy laws. The end of the military gay ban. Openly gay ambassadors. Police liaison units. Greater cultural visibility and normalization. Marriage equality.
From the earliest post-Stonewall days to the present, the movement has always been marked by a divide between reformers and revolutionaries. At a recent rally in DC, a woman from No Justice No Pride called for abolishing police. I touted the police department's LGBT Liaison Unit.
The self-styled revolutionaries among us appear to have modeled themselves after the Cuban revolution rather than the American one. By noting that Stonewall was a riot, they appear to advocate perpetual revolution. This misses the point of the uprising. Anger is a great motivator, but those who refuse to channel it productively show they are more interested in collecting grievances than resolving them.
Effective advocacy requires acknowledging both the credits and the debits, as Ta-Nehisi Coates said in his recent testimony before Congress on reparations for slavery.
The work done by my generation and those that came before has changed expectations in the generations that have followed. To be sure, social progress is not evenly distributed. That and hunger for opportunity are factors in migration to cities like mine. But new media have a powerful reach, for good and ill. Landmark Supreme Court rulings from Lawrence to Obergefell liberated everyone. The ferocity of the right-wing backlash is actually proof of that.
Three decades ago, a gay chorus director said during a rehearsal, "This music sings itself." If that were true, I replied, then we could put down our sheet music and leave the room. He wasn't speaking literally, but I still found it insulting. Votes do not cast themselves either. We have to show up. We have to participate.
Openly gay and trans elected officials are a shining consequence of participation. The insurgent candidacy of South Bend Mayor Pete Buttigieg is a historic breakthrough that some of us do not fully appreciate. For example, Greta LaFleur, Associate Professor of American Studies at Yale University, wrote a self-parodic article titled "Heterosexuality Without Women" in the Los Angeles Review of Books in May. I don't wish to challenge her queer credentials, but twelve volumes of her claptrap could not make Pete and Chasten emblems of heterosexuality. This reminds me of former DC mayor Anthony Williams being accused of not being black enough.
Let's not judge the first credible openly gay candidate for president by some academic hothouse hierarchy of queerness, but by his leadership qualities, character, policies, record, and ability to connect with voters.
On the summer solstice, a vigil was held at Dupont Circle to protest anti-LGBTQ violence. As I arrived, a woman was walking around the circle yelling, "Trans rights are human rights!" into a bullhorn. As she passed, I said, "Tell it, sister." She looked at me, startled, then said, "Okay." It was as if she wasn't expecting agreement.
After fifty years, we are still learning to take yes for an answer.
Richard J. Rosendall is a writer and activist. He can be reached at rrosendall@me.com.
Copyright © 2019 by Richard J. Rosendall. All rights reserved.
The post From bar raids to Buttigieg appeared first on Washington Blade: Gay News, Politics, LGBT Rights.
Lesbian co-founders of Cuba fashion brand visit DC
Posted: 26 Jun 2019 08:50 AM PDT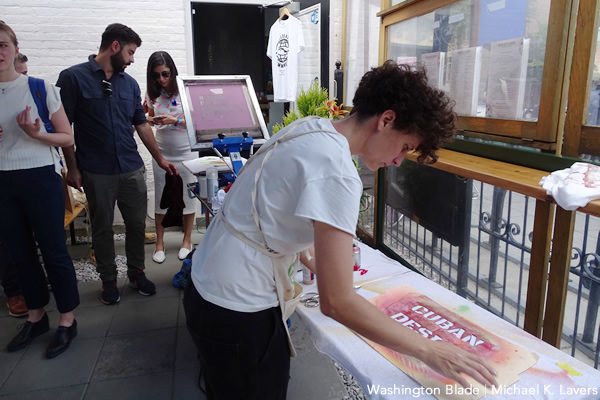 The lesbian co-founders of Cuba's first independent fashion brand visited the U.S. this month amid mounting tensions between their country's government and the Trump administration.
Idania del Río and Leire Fernández of Clandestina were two of the Cuban women entrepreneurs who participated in a panel discussion on June 18 that took place at the Washington Office on Latin America's offices in Dupont Circle.
The Center for Democracy in the Americas, a D.C.-based organization that supports U.S. engagement with Cuba, co-sponsored the panel that coincided with the opening of a Clandestina pop-up store at Dacha Beer Lounge in Shaw.
A second Clandestina pop-up store was open in Brooklyn, N.Y., from June 4 through Monday.
"We are designers and artists. We are entrepreneurs and creators. We are women, and men and anything in between," reads Clandestina's website. "We are LGBTQ, we are of every race and background and beliefs. Plus, we're funny. Hilarious, in fact. Super, super funny. ´Cause in this island there's more fun than inhabitants."
Del Río noted Clandestina began in 2015 after she returned to Havana from Uruguay where she had lived for several years. Del Río said she and Fernández met on the street and "started a few projects."
"Raúl Castro started to change some regulations about the private sector," said Del Río. "It was like an opportunity and we did this somehow."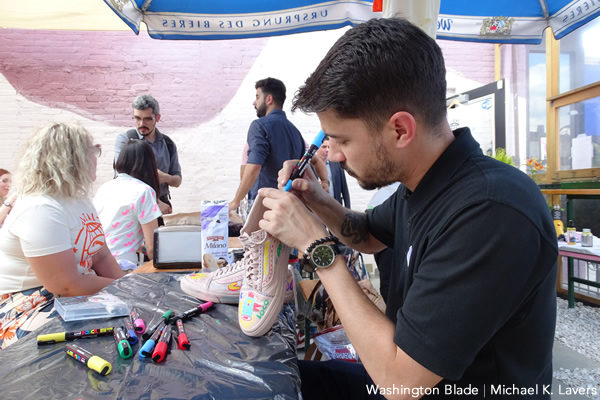 Clandestina has a store and studio in Old Havana and employs artists who are based in the Cuban capital. Clandestina's website also says it sells their clothing around the world.
"We believe in a more sustainable fashion industry; more fair and ethical," it reads. "We reuse and repurpose clothing and many other materials. We are inspired in upcycling and waste zero."
Celia Ledón, a fashion and costume designer who works with Clandestina, said the lack of fabric and other basic materials is among the myriad challenges the brand faces.
Ledón and the other women — including Gabriela Otaño of Cuba Educational Travel — who spoke on the panel said the introduction of 3G internet access on the Communist island late last year has had a positive impact on entrepreneurs, known as "cuentrapropistas" in Cuba. Ledón added she and the other women who work with Clandestina nevertheless continue to face challenges that include machismo.  
"I love to boss men around," she joked. "They have to do what I say."
Cuban LGBTI rights movement has 'affected us a lot'
The women were in D.C. less than a month after the Trump administration banned cruise ships and educational travel from the U.S. to Cuba. The White House made this announcement against the backdrop of increased tensions between the two countries over Havana's continued support of Venezuelan President Nicolás Maduro.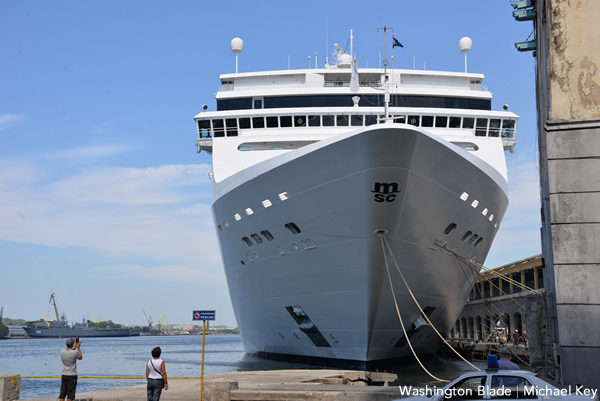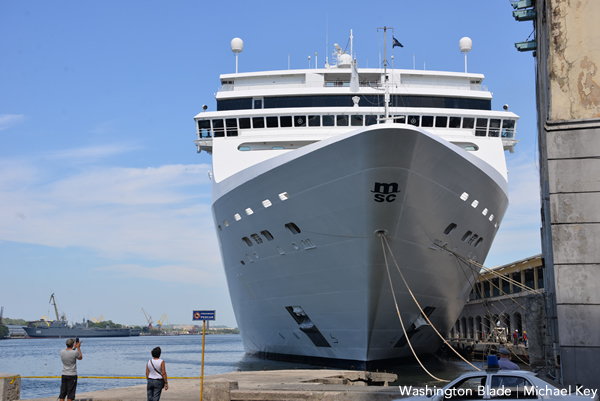 Police on May 11 arrested several people during an unsanctioned LGBTI march in Havana that Maykel González Vivero, publisher of Tremenda Nota, the Washington Blade's media partner in Cuba that remains blocked on the island, later described as "Havana's Stonewall." The Cuban government three days earlier prevented this reporter from entering the country.
Cuban voters on Feb. 24 overwhelmingly approved their country's new constitution. Independent LGBTI activists sharply criticized the government's decision to remove an amendment that would have extended marriage rights to same-sex couples after evangelical groups publicly criticized it.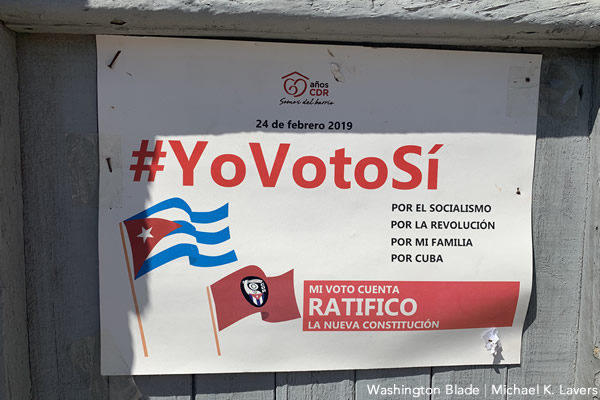 Fernández said the LGBTI rights movement has "affected us a lot."
"This is a very unique moment," she said in response to the Blade's questions.
Fernández also discussed the public debate over Cuba's new constitution that includes new Facebook groups.
"The community got hopeful and excited about the renovations in the constitution, but that took a very strange turn and became something different," she said. "We are still hopeful, but (it's) different. This is a good moment to make our stand and be strong and also, I think that the community is rising a little bit. You can see all these groups on Facebook … It's a very important platform now for people to organize and everything … We are on a proper path."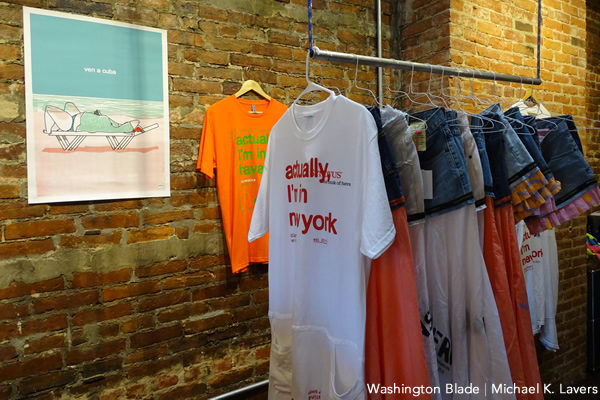 The post Lesbian co-founders of Cuba fashion brand visit DC appeared first on Washington Blade: Gay News, Politics, LGBT Rights.
'Harry Truman' amendment seeks to restore trans military service
Posted: 25 Jun 2019 07:50 PM PDT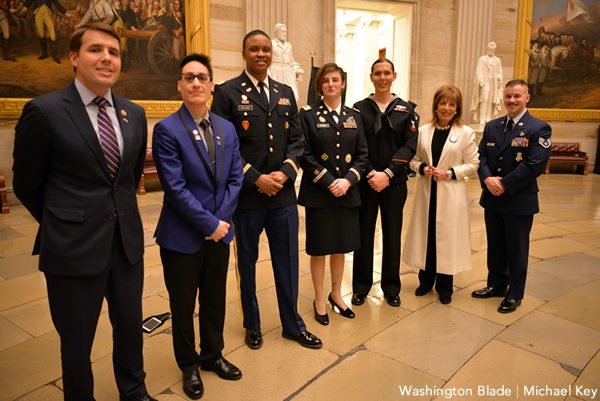 With major defense policy legislation pending before the U.S. House, House Democrats have proposed an amendment that would not only reverse President Trump's transgender military ban, but prohibit discrimination against LGBT service members for the first time under federal law.
The amendment, introduced by Rep. Jackie Speier (D-Calif.), was submitted to the House Rules Committee Tuesday for consideration as part of the fiscal year 2020 defense authorization bill.
Dubbed the "Harry Truman" amendment, the measure is modeled after the executive director Truman signed in 1948 desegregating the military.
The amendment states the military must consider applicant based on gender-neutral occupational standards and military occupational specialty, but "may not include any criteria relating to the race, color, national origin, religion, or sex (including gender identity or sexual orientation) of an individual."
Further, the amendment states any Defense Department personnel policy for members of the armed forces must "shall ensure equality of treatment and opportunity for all persons in the armed forces, without regard to race, color, national origin, religion, and sex (including gender identity and sexual orientation)."
Aaron Belkin, director of the San Francisco-based Palm Center, said in a statement the amendment "recognizes the success of the Truman policy on equal opportunity in the armed forces."
"History, research and the U.S. military have told us for years that equal treatment in the military enhances readiness and bolsters national security by helping secure the best talent, and ensuring good order and discipline by applying a single standard to all personnel," Belkin said.
If the amendment were to become law, it would reverse the transgender military ban the Trump administration implemented in April, allowing transgender people to enlist and serve once again similar to the policy at the end of the Obama administration.
Multiple polls have shown upwards of 70 percent of the American public support transgender military service, including a recent Gallup poll showing 71 percent support allowing transgender people to serve openly.
Joining Speier in introducing the amendment are Reps. Joseph Kennedy III (D-Mass.), Anthony Brown (D-Md.) and Susan Davis (D-Calif.). With massive public support and a Democratic majority in the House, the House Rules Committee will likely approve the amendment for floor consideration as part of the defense authorization bill.
The amendment will also likely far well on the House, but when the underlying defense authorization bill heads to the Republican-controlled Senate, where 60 votes are needed to end a legislative filibuster, the measure will face an uphill battle.
In addition to reversing the transgender ban, enactment the amendment would mark the first time U.S. code prohibited discrimination on any basis, not just gender identity. The Civil Rights of Act 1964, which bars discrimination on race, religion, sex and national origin — has an exemption for military service. 
When Congress repealed "Don't Ask, Don't Tell" in 2010, it left no policy in its place regarding gay people in the military, allowing the military to craft its own policy regarding their service. The Obama administration permitted openly gay people to serve in the military without any guidance under the law.
Currently, in the event service members face discrimination, they have to resort to their commanding officer or the military equal opportunity policy, which prohibits harassment, including sexual harassment and "unlawful discrimination on the basis of race, color, national origin, religion, sex (including gender identity), or sexual orientation." But the policy doesn't have the force of law, nor does it have any bearing on the Trump administration's transgender military ban.
(Belkin's support for the Speier amendment is somewhat of a reversal from his position in 2010 when Congress debated "Don't Ask, Don't Tell" repeal. Belkin argued for removing the non-discrimination provision from legislation proposed by then-Sen. Joseph Lieberman of Connecticut,
At the time, Belkin citing the need for compromise to make sure repeal happened, even though he admitted he was taking heat for it from the LGBT community. His views eventually won out.
"The piece of the compromise people have a problem with is that the amendment will not impose a requirement upon the Pentagon to implement nondiscrimination," Belkin said. "So, in other words, the Pentagon will have statutory legal discretion to implement whatever policy it wants, whether that's integration or discrimination. We are not afraid of the compromise. It's not perfect, but pretty darn good.")
Andy Blevins, a Navy veteran and executive director of the Modern Military Association of America, said in a statement the measure is a "critically important amendment" that would allow transgender people to serve in the military.
"What really matters for military service is whether a person is able, qualified and willing — not who they are or where they come from," Blevins said. "Passing this measure would send a powerful message of inclusion, strengthen military readiness, and allow the military to recruit the best and the brightest our nation has to offer."
The Speier amendment isn't the only amendment pending before the House Rules Committee regarding transgender military service.
Rep. Sheila Jackson Lee (D-Texas) has introduced a separate amendment that would bar the use of funds to implement Trump's transgender military ban. (The House just last week approved an amendment along these lines as part of separate minibus legislation.)
Brown and Rep. Chris Pappas (D-N.H.) also proposed an amendment that would require the U.S military to report to Congress on the number of transgender individuals who sought and were denied waivers under the transgender ban to accede into the armed forces.
On the anti-LGBT side, Rep. Steve King (R-Iowa) and Rep. Ralph Norman (R-S.C.) introduced an amendment that would ensure no funds are used for "transgender sensitivity training" or to "screen members of the Armed Forces, including reservists, regarding gender reassignment surgery." The poorly worded second part of the amendment seems to be an attempt to ban transition-related care.
The post 'Harry Truman' amendment seeks to restore trans military service appeared first on Washington Blade: Gay News, Politics, LGBT Rights.
Ralph Northam signs 'Jacob's Law' in Arlington
Posted: 25 Jun 2019 05:40 PM PDT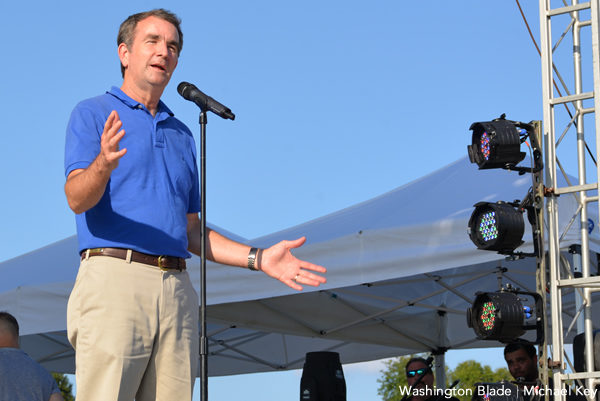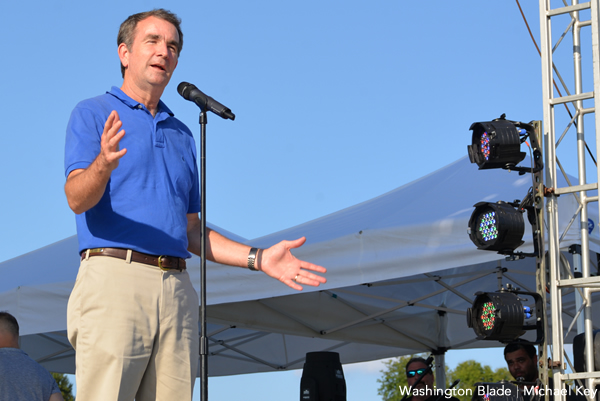 Virginia Gov. Ralph Northam on Tuesday signed a bill that makes the state's surrogacy laws gender neutral.
State Del. Richard Sullivan (D-Fairfax County) introduced the bill — known as "Jacob's Law" — after a gay couple who lives in his district became embroiled in a lengthy legal battle in Wisconsin in order to gain custody of their son. The couple, Jay Timmons and Rick Olsen, attended Tuesday's signing ceremony that took place in Arlington.
"There are many ways to create a family, and this legislation recognizes that," tweeted Northam.
I was proud to be in Arlington this morning with Jay, Rick, and their entire family to sign #JacobsLaw, which makes Virginia's surrogacy laws more inclusive.

Love is love—There are many ways to create a family, and this legislation recognizes that. pic.twitter.com/KpiI3ZkYBW

— Ralph Northam (@GovernorVA) June 25, 2019
The post Ralph Northam signs 'Jacob's Law' in Arlington appeared first on Washington Blade: Gay News, Politics, LGBT Rights.
Jake Shears says 'Let's Have a Kiki' broke up the Scissor Sisters
Posted: 25 Jun 2019 01:45 PM PDT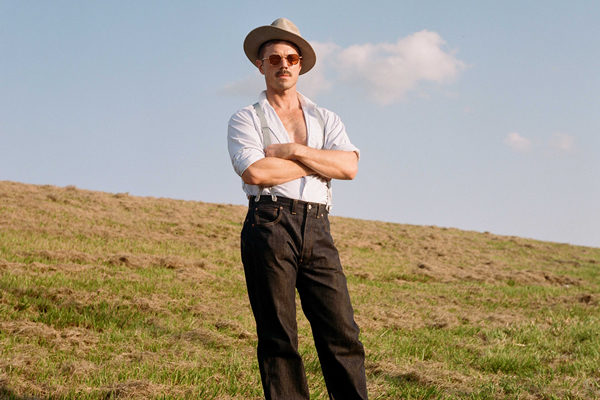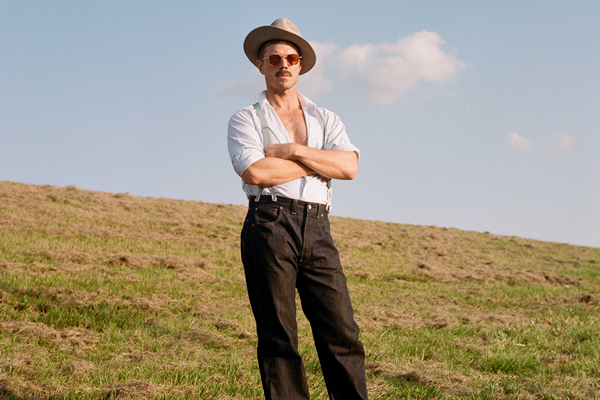 Former Scissor Sisters frontman Jake Shears revealed in an interview with GayCities that the group's demise was because of their hit single "Let's Have a Kiki."
"I didn't know what the fuck to say after that song, quite honestly," Shears told GayCities. "When that song came out and did what it did. I was just like, 'Well, there it is, I guess we did it.'"
He continued: "I thought, we've been recording and touring for 10 years, and I felt like it was time. This wasn't what anybody in the band had planned to do. So I thought it would be fun to end on a high note."
Shears also denied that the group broke up because of a rift between him and fellow lead singer Ana Matronic. He admits that"we got into some fights" but an argument wasn't the reason the group broke up.
However, a Scissor Sisters reunion could be in the works sometime in the future.
"That's not to say we're never going to do anything again," Shears says. "The Scissor Sisters will be back."
The post Jake Shears says 'Let's Have a Kiki' broke up the Scissor Sisters appeared first on Washington Blade: Gay News, Politics, LGBT Rights.
Before Stonewall, newspapers complicit with police in gay bar raids
Posted: 25 Jun 2019 01:34 PM PDT
Fifty years ago, members of the LGBT community tired of continuous police raids on gay bars were driven to riot in the streets of New York City after the latest incursion at the Stonewall Inn on the evening of June 26, 1969.
But police raids on gay bars in the days before the Stonewall riots went hand-in-hand with the subsequent reports in newspapers the next day outing individuals caught in the raids, which would have potentially blacklisted them for the remainder of their lives.
In terms of Washington news coverage, the authority on newspapers outing gay men caught in police raids is Edward Alwood, a former CNN correspondent and now adjunct lecturer at the Philip Merrill College of Journalism at University of Maryland, College Park.
Alwood wrote about the practice in his 1996 book "Straight News: Gays, Lesbians, and the News Media," and spoke about it in an interview with the Washington Blade.
"Washington was very different from New York," Alwood said, "in that so much of the gay community here was connected with the federal government, and for that reason…gay men were much more closeted here and much less likely to protest as they did in New York."
That perspective within D.C.'s gay community started to change, Alwood said, when gay rights pioneer Frank Kameny was outed, lost his job in the federal government as an astronomer and formed the Mattachine Society. Nonetheless, Alwood said during that time there would be newspaper articles reporting on gay raids that named individuals who were caught.
Reading from his book, Alwood said the D.C. press after World War II made vague references to homosexuals in describing street crimes, "particularly police campaigns to clean up public parks, including Lafayette Park across from the White House." (Lafayette Park had been a place where gay men would meet to have sex discreetly.)
The Washington Post in the 1940s, Alwood said, described how officers shuttled groups of men from the park to the city jail throughout one night in July 1947 as 41 were arrested in the park.
The Washington Star reported that the metropolitan police staged a raid just to see who the men were. Similarly, the Post celebrated a crackdown a year later, when a headline read, "One-Man Vice Squad Arrests Eight More."
"The article lavished praise on a handsome undercover officer who was deemed the the city's most successful weapon in combating vice," Alwood said. "Neither newspaper explained why the police felt compelled to target law-abiding citizens because they were considered unwelcome in public parks."
Alwood quoted Benjamin Bradlee, the Post editor during its Pentagon Papers and Watergate coverage in the 1970s, as dismissive of the coverage in reflections of the time when he started at the newspaper covering vice on the crime beat.
"The police sent these guys into men's rooms where they sort of lollygag around to see if anybody would make a pass at them," Alwood quoted Bradlee as saying. "They would make sure the press heard about it. The Post never made a big deal out of it. We had little one paragraph that had that no news value, of course, but that's what it was."
For lesbians, Alwood said, the situation was different. For starters, sodomy was an offense perceived as something only men could commit, he said, so homosexual acts weren't considered against the law. There were no lesbian bars, he said, so women met instead at women's homes.
"They had these social clubs, so that's part of the difference that happened, which is why so many more men wound up having their names and their ages and their street addresses listed in the newspapers," Alwood said.
Nonetheless, Alwood said there was coverage of lesbians. One piece in the Washington Times-Herald, drew on the Red Scare of a Russian threat during the Cold War for a sensational article.
Under the headline, "Reds entice women here in sex orgies," the article described an alleged plot by Russian agents to entice women employees of the State Department into homosexuality," Alwood said.
"Russian agents were waging a systematic campaign to bring women employees of the State Department under their control by enticing them into a life of lesbianism," Alwood said. "As many as 65 or 70 persons attended a single one of these lavish get-togethers, according to a congressional committee. Many were garbed in rich Oriental costumes to help them get into the spirit of things."
Such coverage isn't found today in Washington-area newspapers, which have been accepting of the D.C. LGBT community and seek to capitalize on LGBT events, such as Capital Pride. The Post, however, didn't respond to the Washington Blade's request for comment on past coverage outing gay men and whether any formal decision was made to change it.
Alwood said he's unaware of any one instance that indicated "any flipping of the switch, so to speak," but said the arrest of Walter Jenkins, a close aide to former President Lyndon Johnson, in 1964 on "moral charges" at the YMCA was a turning point.
"I think it was a wake-up call for journalists in this city because now it wasn't just anonymous low-ranking people in men's rooms and parks getting arrested, it was a high-level front page story of a presidential aide," Alwood said. "And I think as a result of that, I'm just guessing, more journalists, such as those at the Post, realized they knew gay people and they didn't fit the stereotype."
Also at that time, Alwood said, more and more D.C. gay groups were protesting police actions, which led to a re-examination of the strict laws.
One period that marked a change, Alwood said, was when Albert Finney became managing editor of the Post. During his tenure, Alwood said Finney assigned a reporter to write an in-depth series about gay people in D.C.
"The series was stunning for its time," Alwood said. "It was in-depth, bold, insightful. Though its premise rested on old stereotypes and clinical language, like homosexual, it pushed the boundaries of ignorance and denial to a new level of openness."
The post Before Stonewall, newspapers complicit with police in gay bar raids appeared first on Washington Blade: Gay News, Politics, LGBT Rights.
Brandon Flynn responds to rumors he's dating Richard Madden
Posted: 25 Jun 2019 01:29 PM PDT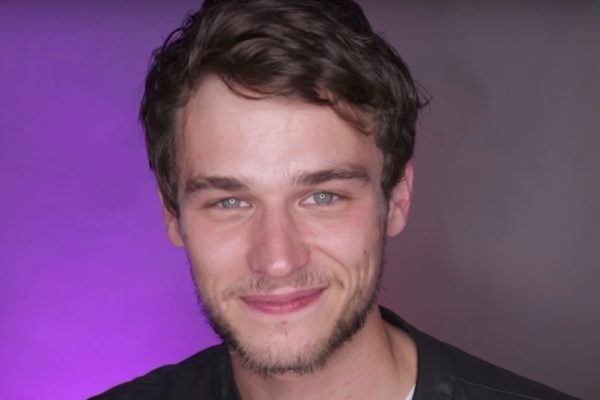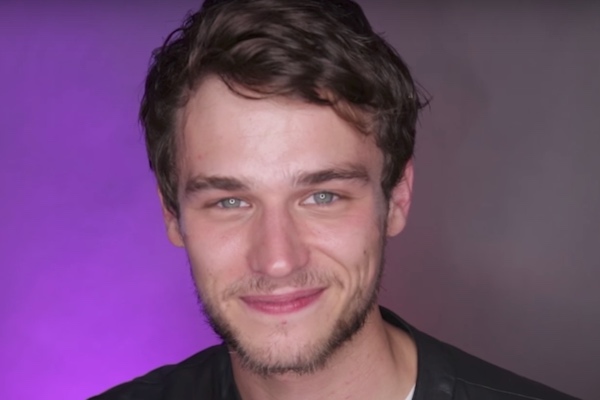 "13 Reasons Why" star Brandon Flynn got candid about what it's like for LGBTQ celebrities to have their dating lives analyzed in a new interview with Variety.
Flynn, 25, came out as part of the LGBTQ community in 2017. He recently moved in with "Game of Thrones" and "Rocketman" star Richard Madden. The pair have been spotted together around Los Angeles causing rumors to swirl that they could be dating.
"It's all just something to egg on some sort of rumor cycle that will just keep going around until you finally get something that will actually just make it all true or false," Flynn told Variety. "So, it's hard not to feel scandalized. It feels like a slight. But no one wants to write that article or read that article that would be like, 'Oh! Brandon is with this person and we are so happy for them.'"
He also believes there would be less speculation about his relationship with Madden if he was a woman.
"There's always something behind it and there's always some sort of scandal that wants to be revealed, and that's frustrating. And in fact, it wouldn't be there if I was with a woman," Flynn says.
Flynn previously dated singer Sam Smith for nine months.
The post Brandon Flynn responds to rumors he's dating Richard Madden appeared first on Washington Blade: Gay News, Politics, LGBT Rights.